Taking your car on a train in Europe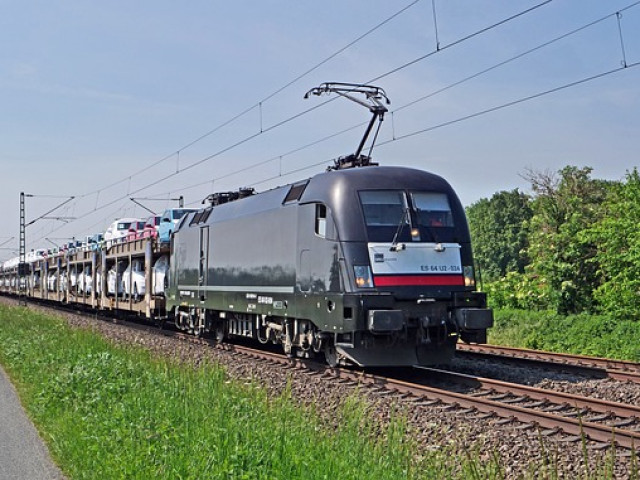 This is just a brief guide to the services available with links to the rail operators. In a nutshell you can get basically get from Northern France and Germany right down to Southern France and North Italy. You can also get into Austria, ideal if you're continuing on into Eastern Europe.
Discontinued services
French Motorail hasn't been operating from Calais since 2010, they used to run services from Calais to the south of France. The French Railways own service known as Auto Train is still operating services from Paris to destinations in southern France. More recently in April 2015 the Dutch Auto Slaap Trein stopped running services from The Netherlands to Italy.
The remaining services still running from 2016 onwards are detailed below.
French Railways Auto Train
Auto-Train is operated by the French Railways and runs services all year round from Paris down to Nice, Narbonne, Brive, Bordeaux, Toulouse, Biaritz, Avignon and Briancon.
Unlike most other motor rail services Auto-Train carries cars and passengers separately. The car will generally go first and you'll follow it on a passenger train a day later and collect it from the motorail terminal.
Costs follow a similar pattern to passenger trains in that early bookings are often a lot cheaper. As a general guide expect to pay something like £200 each way to get the car from Paris to Nice, your passenger tickets are unfortunately extra!
To book tickets for your car visit the French Rail website SNCF here: www.voyages-sncf.com
German Motorail
You can board the German Motorail service in the following cities:
In Germany: Berlin, Dusseldorf, Hamburg, Hildesheim, Lörrach, München-Ost, Neu-Isenburg.
In France: Avignon, Narbonne
In Italy: Alessandria, Bozen, Verona, Trieste
In Austria: Salzburg, Schwarzach, Villach, Vienna, Innsbruck
Connections on German Motorail
The following list shows where you can get to from each Motorail station.
Alessandria (Dusseldorf, Hamburg, Hildesheim, Neu-Isenburg)
Avignon (Berlin, Hamburg, Hildesheim)
Berlin (Avignon, Bozen, Innsbruck, Munich, Narbonne, Schwarzach St Viet, Trieste, Verona, Villach)
Bozen (Berlin, Dusseldorf, Hamburg, Hildesheim)
Dusseldorf (Alessandria, Bozen, Innsbruck, Munich, Narbonne, Schwarzach St Viet, Trieste, Verona, Villach)
Hamburg (Alessandria, Avignon, Bozen, Innsbruck, Lorrach, Munich, Narbonne, Schwarzach St Viet, Trieste, Verona, Villach)
Hildesheim (Alessandria, Avignon, Bozen, Innsbruck, Lorrach, Munich, Narbonne, Villach)
How To Travel Europe — By Bus, Train, Car & More
Whether it's hopping by sleeper train through Central Europe, road tripping through Eastern Europe, or catching budget flights for many a Mediterranean holiday, I've used every method to travel Europe.
Here, I'll share by best tips for getting around Europe cheaply and easily!
The best way to travel around Europe
Each mode of travel in Europe has its own pros and cons. But Europe is especially great to travel by public transport.
I'm Dutch and I've always loved traveling Europe by train or bus. But I noticed American friends are sometimes surprised at how good the services are in Europe when they first use it.
If you're from the US, forget about syrupy slow Amtrak trains or sketchy Greyhound buses, as European services are of much greater quality and network density.
There is also a wealth of budget airlines servicing all corners of the continent, sometimes flying you for peanuts. Air travel isn't the best for the environment, but it can be fast and cheap.
Tip: Not sure how to get from A to B? Just use Rome2Rio to get estimates for trains, buses, flights, rideshares, and driving.
Travel Europe by train
I just love traveling Europe by train. It's comfortable, you can watch the landscapes pass you by, there is little to no security hassle to deal with, the trains often arrive right at the heart of a city, and they give you more leg-space compared to buses or planes.
(It's also 10x to 20x better for the environment than flying!)
If you have any romantic notions around train travel then you'll surely love taking trains in Europe.
Trains are especially good in Scandinavia, Western Europe, and Central Europe. But trains can be quite poor (or nonexistent) in Eastern Europe and the Balkans.
Taking domestic trains
If you just need to use a local or regional train within a country, you can just get tickets from the local railway company. Sometimes it can be a good idea to book ahead your journey a day or two in advance (especially for busy holidays like Easter), but typically you can also just show up at the station and get your ticket there.
On these trains, there are usually no assigned seats and prices are fixed.
Taking long-distance trains
It's a different story with high-speed trains (such as France's TGV, Germany's ICE, or Spain's AVE), overnight trains, or long-distance international trains.
These do require a seat reservation or at least a ticket for the specific day. They also often have variable pricing, so booking early could save you money.
Sadly, the European rail system is still a crazy patchwork of different rail companies, ticketing systems, and languages. Some trains still need printed tickets, others just an e-ticket with a QR code. If you travel through many countries in Europe it can be frustrating having to figure this stuff out every time.
Luckily, some sites have made it easier in recent years. I highly recommend using RailEurope.com (formerly known as Loco2) where you can book trains from pretty much any rail company. After booking you also get clear instructions in English on how to use your tickets.
Unlimited train travel with Eurail
If you're planning a big backpacking trip through Europe, you may want to consider getting an Eurail pass. (Note: Eurail pass is for non-Europeans. The Interrail Pass is for European citizens.)
Eurail is a global pass that you pay once and can then use for unlimited travel within the number of days you've purchased. For example, the most popular EUrail pass gives you 10 travel days within 2 months — and during those 10 days, you can have unlimited travel on trains.
The time limit only starts when you start using the pass. You may still need to reserve seats on some train journeys, especially when using high-speed rail. 31 countries are included in the pass.
These passes will give you the best deal if you're under 28 years old. For example, you can get 10 days of unlimited 2nd class travel within 2 months for just $542. Or you can get 5 days of unlimited 2nd class travel within 1 month for $363. These prices go up if you're older.
If you plan to use trains a lot and if you'll travel long distances within Europe, I think these passes are great. If you'll be covering lots of ground it will probably cost less than buying individual tickets.
But if you plan to make smaller hops between cities (and so you're not using your 'unlimited travel' days to the maximum) or you want to use rail for only some of your travels, then an Eurail pass might make less sense for you. Try doing the math and see if it will actually save you money.
Travel Europe by bus
Low-cost bus companies let you hop around Europe with ease. Short domestic bus services can be booked locally, but for long-distance and international buses it's best to book them online.
Tip: Use Omio.com for booking buses in Europe. Be sure to always click 'Show more results from affiliates' to see cheaper services like Flixbus that are normally hidden.
For international bus connections, Eurolines has the biggest network. These days, they also face stiff competition from low-cost services like Megabus and Flixbus.
Buses are a great way to get around everywhere, but especially in Eastern Europe where the rail infrastructure isn't as good.
If you're on a budget, you should definitely try Flixbus. It mainly has routes going through Germany and Central- and Eastern Europe though its network is rapidly expanding.
Flixbus can be crazy cheap, especially if you book early, as it operates on a model similar to budget airlines like RyanAir. Flixbus works as a franchise so the type and quality of the buses vary a lot, though I've been fully satisfied with the Flixbuses I've been on. Just don't expect the Free Wi-Fi that's advertised to work, or actually exist.
I recently took a Flixbus between Lisbon and Seville for just €10, which is normally around €45 with other bus companies. That beats even the cheapest airlines.
Before writing this today I even saw Flixbus tickets on this same route for just €1! Granted, that was a 5.40 am bus that had to be booked a week ahead, but if you're traveling on a shoestring you'll surely want to keep your eyes peeled for such amazing sales.
Travel Europe by car
Traveling around Europe by car is a great idea, too. If you already have your own car, then you're all set!
If you want to rent a car, then there are a few things to know:
Make sure you can drive manual as most cars in Europe are
Not a European Union citizen? Then you'll probably need an International Driving Permit
Rental cars are usually quoted without insurance, but it's a legal requirement to always have third-party liability insurance. Add it during the reservation process or ensure you have your own
It's usually fine to cross borders between European Union member states, but going outside the EU (with a car rented within the EU) may be disallowed or incur extra fees
Rentalcars.com is a pretty good site to look for — wait for it — rental cars. After searching there, you can still check the companies and book with them directly, as this will cut out an unnecessary middleman. In Europe you'll find all the usual car rental companies like Avis, Hertz, Thrifty, etc. as well as Europcar.
Personally, I like to travel around Europe mainly by bus, train, or plane, but sometimes I'll get a rental car in location or for a mini-road trip for a week.
Another option is long-distance ride-sharing. The biggest platform for this in Europe by far is Blablacar.com.
It works vaguely like hitching between cities, except all the drivers have verified profiles and you pay them for their services. You can rate your profile from 'bla' up to 'bla-bla-bla' depending on how much you typically like to chat during a journey. I've had some mixed experiences with Blablacar, but on certain routes it can be a convenient and affordable option.
Travel Europe by camper van
Traveling by camper van will give you a whole different feel for Europe, as you're able to stop in scenic nature locations and go far beyond the usual city-hopping itineraries.
To do this properly you could buy or renovate a van yourself, just as my dad did in the '80s when he modded a vintage Type H Citroen and drove it from campsite to campsite through the Alps. (I really need to do something like it one day!)
But if you want to get just a little taste of the #VanLife, you can also easily rent a campervan for a European road trip.
Europe's largest provider of travel vans is Indiecampers. They were founded in Lisbon (where I live now), so I see their vans going up and down the Portuguese coast all the time, though they are currently based in dozens of locations all over Europe. They have a fleet of Millenial-friendly high-top campervans.
You can drive the vans all around the European Union, plus Iceland, Norway and Switzerland. The costs depend hugely on location and season, ranging from €39 per day in the winter off-season in Spain to about €169 per day during August in Germany.
Travel Europe by plane
If you want to hop around Europe quickly and cheaply, then planes can make that happen. Numerous budget airlines cross the skies in Europe, including easyJet, Wizz Air, Eurowings, Vueling, Level, and — the biggest and arguably most notorious of them all — RyanAir.
The base price for these flights can be very low, but keep in mind these airlines will ding you for anything extra. You'll have to pay to add checked-in luggage, for drinks or snacks on the flight, for seat selection, and many other things. The restrictions for carry-on luggage also differ per airline, with RyanAir being particularly stringent.
Sometimes I've found that a ticket with RyanAir is just barely cheaper than one with a full-service airline, at least once you start adding all the extra costs. Still, if you can limit your luggage to carry-on size, you can fly around Europe rather cheaply and easily.
I have many expert tips for booking flights. But generally, try researching flights using Kiwi.com, which I think is the most powerful search engine, but then book the tickets directly with the carrier. Avoid booking with sites like Gotogate, Travel2be, or eDreams (often linked by flight search engines) as they have poor customer service or terrible refund policies.
Consider the impact on the environment of flying, especially for shorter distances. You can also choose to offset the carbon emissions of your flight.
Some links may be affiliate links, meaning I may earn commission from products or services I recommend. For more, see site policies.
10 Reasons We Choose To Travel Europe By Train, Not By Plane!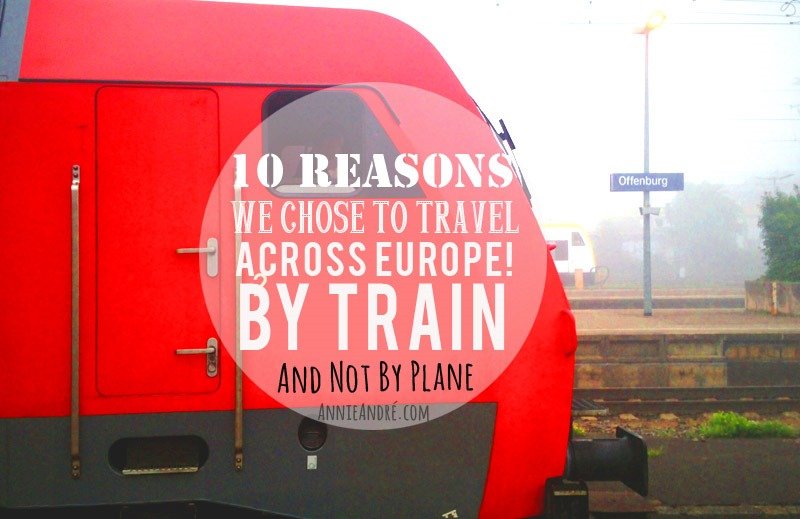 I'm a bilingual North American with Thai and French Canadian roots who's been living in the south of France for almost 10 years.
I love writing weird, wonderful, interesting, forgotten, and fascinating articles for intellectually curious people amazed by France, French culture, and world travel.
Read More.
If you're considering a visit to Europe and you're unsure or on the fence about whether you should travel Europe by train or not, then you should read this article where I share 10 of the top reasons we chose train travel over the usual plane travel.
Ten reasons why travelling across Europe by train is a must at least once in your life.
Sure there are faster, maybe even cheaper or less chaotic ways to travel across Europe, especially as a family of five, but let's face it, there is a certain "je ne sais quoi" about train travel.
Putting aside my romantic ideas and subjective point of view that train travel is magical, there are more practical reasons why we chose to spend our 3-week family summer vacation gallivanting across Europe by train v.s. by plane or by car.
We weighed all the pros and cons, and we took into consideration the varied tastes and interests of our three children, who ranged in age from 8 to 19. We also had a budget.
In the end, we somehow figured it all out. Here are the ten things that were important enough for us.
1- NO REGRETS: I didn't want to miss a once in a lifetime opportunity to slow travel across Europe as a family
Given that train travel was something I always wanted to do and the fact that everyone in the family, including our 8-year daughter and our moody 19-year-old son, were all keen on the idea of train travel, I knew we had to seize this opportunity.
As the kids get older, it's harder to plan a family trip with all five members due to our hectic schedules.
But it wasn't just the fact that we all wanted to do a vacation across Europe by train; it was the thought of one day leaving France having never slow travelled across Europe. Why would this leave me full of regret? Once we go back to North America, it becomes more difficult and expensive to fly to Europe and coordinate a family vacation with work and school schedules. I felt, no- I knew if I let this opportunity slip by, there might not be another one like it for a very long time or maybe not ever again.
Lastly, given how easy it is to travel from country to country and city to city by train in Europe, how could I not take advantage of train travel which brings me to the second reason we chose train travel.
2 LOW HANGING FRUIT: It's easy to visit multiple countries in a single day by train in Europe
The proximity of neighbouring countries, the relatively small size of Europe, and the fact that trains across Europe are all inter-connected means travelling from country to country is easy and relatively fast.
To give you some perspective, France is about the same size as Texas, and all of Europe can fit into the US about 2,5 times. Travelling from country to country is a bit like travelling from one state to the next state only easier because the trains take you anywhere and everywhere worthwhile in Europe.
If Cannes in the South of France (which is 1 hour from our residence ) is your starting point, here are some sample itineraries you could take.
Cannes to Zürich Switzerland roughly 800km ( 497 miles) and 10 hours by train .
Cannes to Milan, Italy is about 5 hours from our house.
Cannes to Barcelona Spain is about 6 hours,
And Cannes to Berlin, Germany, is about 15 hours.
Why wouldn't you take a multi-city trip via Rail Europe?
3- Train travel means you get to skip the hellish airport routine
Think about the process you have to go through when you travel by airplane. Do you look forward to it? Do you love it?
You not only have to drive to the airport, which is most likely an hour or more, you have to also wait in multiple lines, go through customs and check your bags. You usually have to arrive at the airport at least 2 hours before your flight departs.
Train travel eliminates a lot of this wasted time. You can even arrive at the train station minutes before the train is about to pull away from the station.
With train travel, you don't have to worry about bringing water or liquids on the train . Hell, if you wanted to bring a Swiss army knife on the train , that's ok too. (Blake, my husband, likes to travel with his).
4- Trains stop where all the action is and not some faraway airport
There is nothing worse than booking your cheap(ish) or maybe expensive airfare online, only to discover once you arrive at your vacation destination that you have an hour's taxi ride to get into the city. Not only does this put a dent in your holiday funds, but it's a huge time suck.
This brings me to another thing I love about train travel- most train stations in Europe are located smack dab in the middle of a city or town, not 67 miles away like the Munich Airport or 68 miles from Barcelona Girona airport.
This proximity makes it much easier to hit the ground running once you arrive at your holiday destination.
When we arrived at the Central station in Amsterdam, we were on a tram 5 minutes later, heading towards our first destination.
Same deal in Prague, we arrived at the central train station and jumped on the tram and were at our flat that we rented from Airbnb .
In Bremen, Germany, we got off the train and found restaurants to eat within minutes, then jumped on a tram directly to the flat we rented, again from Airbnb.
If we wanted, we could have stopped in a city like Amsterdam to have lunch, then catch a train to Antwerp, Belgium and arrive before dinner time. We thought about it but decided against it because everyone loved Amsterdam.
This stuff isn't possible with travel by Air.
5- More bang for your buck
Thanks to the internet and the growing number of companies willing to hire remote workers, virtual assistants and freelancers, my husband and I have been able to cobble together a modest living that allows us to work from home. The advantage is more time to work on personal endeavours and be home for the kids, but the downside is less money which is why I like to… no, I have to make sure we get the most bang for our buck when we travel.
Our Euro rail pass let us get on and off trains throughout Europe for a fixed price during a specified period, much like a monthly bus pass. This meant that we could visit multiple cities starting in the South of France up north to Holland and beyond if we wanted.
Some of the countries we visited on our train pass were Austria, Germany, Holland, The Czech Republic and a quick Jaunt back over Germany's border into France to see Strasburg. All within a three-week period. The same multi-trip itinerary by plane would have cost us a lot more and probably would have taken us much longer if you count all the time needed to get back and forth to the airports.
I like to think we got our money's worth.
6- Train travel is unique and becomes part of the enjoyment of your trip
If you're like us, the bulk of your travel has most likely been by plane (or by car), so taking another vacation by plane is nothing new. In fact, after a few trips, the whole process of boarding the plane, finding your seat, checking your bags and waiting in the security line can get rather irritating and uneventful.
With train travel, the journey and what you do on the train sets train travel apart and makes the voyage so unique.
You're not sitting crammed in your seat with your tray table up, waiting to get to your destination. It's hard to explain, but to me, it almost felt as if I was sitting in my living room relaxing and socializing only; the living room was moving really fast, and in a few hours, I could leave and be in a new country surrounded by people speaking a different language.
But there's more to it than that; I'm just not able to put it into words. Perhaps it's just the idea of train travel but being able to move about the train , look out the window and see the world go by makes all the difference in the world and separates train travel from airplane travel.
7- Train travel (with a Euro Rail pass) gives you more flexibility to make and change plans on the fly
When we set out to travel across Europe by train , we knew we wanted to visit certain cities like Prague and Amsterdam, but we also knew we might like to stop in unexpected cities if we had the choice.
Luckily there's a train pass that lets you take unexpected detours to other cities along the way, extend your stay in certain cities and cut other cities short.
It's called the Interrail family pass. It's only for residents of the EU. Tourists who are not part of the EU have to buy the Eurail pass. However, there's no official family pass if you travel together as a group or a family. Each adult and youth gets 15% off the ticket price, and children up to 11 travel free.
8- The view on trains is way better than on planes
Travelling by train brings new meaning to the saying "it's not the destination, it's the journey." When your flying 10,000 feet in the air, you get an amazing aerial view of the clouds going by, but when you're travelling by train, you see the world, people and how they live go by.
We saw Amsterdam's countryside, we saw into people's backyards in Italy, and we saw families jumping in a lake in Germany as we crossed over a bridge. You can't see any of that on a plane, and it made the trip unforgettable.
Pictured above, Blake and I are in the food cart staring out the window as we pass through Germany.
9- No one cares if your seat is back or the tray table is up on a train
One of the things I hate about car and plane travel is that you're pretty much restricted to your seat. On a plane, you have to put your seat upright for take-off and landing. You have to put your tray table up and turn off your electronics too.
You don't have to do any of this on a train , and you can actually get up and walk around or hang out in the area that connects two train cars together.
The seats are configured so that you can face each other and others where you share a small cabin. There usually is a dining car where you can grab a bite to eat and drink, which is nice.
10- You get to bond as a couple and as a family
Like most people, I wanted our family to take a vacation, bond, and get away from the stresses and rituals of daily routine and see one another in a different light. One where I'm not stressing out over homework, dishes and life in general. One where the kids didn't have us, parents, nagging them to clean their rooms and take care of chores. One where my husband Blake and I could just be ourselves and enjoy each other's company and talk about frivolous things like books and life.
According to a survey conducted by Kelton Global, which asked 1,000 parents with kids age 5-17, 97 percent of parents say that their children have gotten to know new things about them while taking family trips. Families tend to be more excited, silly and affectionate while on vacation.
Unlike plane travel, travelling by train is almost made for bonding in my opinion.
On a train , you're not condemned to remain crammed in your seat like a sardine for hours. You can move around if you like. Seating is usually pretty comfortable and roomy or configured to make socializing and chatting easy.
Thanks to the seating configuration on trains, we could find some semblance of privacy on most of the trains we travelled on.
On several trains, we found cars with empty seats. On other trains, we found four seats that faced each other and still other trains; we had small cabins big enough for six people with a door that closed like the photo pictured above.
The seating was comfortable, and we had plenty of time to relax and bond. It was the push we needed because if given a choice, many of us are just so busy with our daily lives that we never take the time to bond and be present for those closest to us.
We read, talked, argued, played games, slept, got on each other's nerves and just worried about the minutia of boarding our next train and what to see next. I can't tell you how nice it was to get away from our everyday life and have those moments on the train .
I'm not going to lie and tell you that spending three weeks travelling together in close quarters was a dream full of rainbows and unicorns because it wasn't. There were still times when we got on each other's nerves; the kids annoyed us, or vice versa. But I knew- just as women can endure painful childbirth and go on to remember childbirth as an endearing memory- I knew our train travel would leave us with meaningful, beautiful and unforgettable memories spent together across Europe.
And I was right.
Do I recommend train travel, and would I do it again?
Now that I've travelled on a train across Europe for three weeks with three kids and a husband, I can honestly say, "yes, I recommend train travel, and I would do it again."
Source https://www.europeanrailguide.com/howto/taking-your-car-on-a-train-in-europe
Source https://www.indietraveller.co/how-to-get-around-in-europe/
Source https://www.annieandre.com/10-reasons-euro-rail-train-travel-in-europe/