35+ Best Places to Travel Alone in Europe: Solo Travel Guide
Are you itching to take your first solo travel vacation but are unsure where to go? Given that there are so many options and considerations, choosing your ideal solo travel destination can be a tough task.
Sadly, there is no magic formula and creating your perfect place to travel alone is a carefully balanced recipe of the following ingredients:
– e.g. crime, terrorism threat
Affordability
Opportunities to meet other people whilst travelling
Convenience – e.g.travel infrastructure, visa requirements
Preferred activities – city or country, recharge or adventure?
Preferred climate
I argue that there's no such thing as a definitive list of perfect solo travel destinations but, as with many other life decisions, it boils down to balancing competing priorities. That said, it's good to have a few ideas and inspiration for starters.
To help you make this sometimes difficult choice, we'll consider why Europe is a great choice for solo travellers and list some of the best places to travel alone in Europe.
Some articles on this website contain affiliate links. This means that I may earn a small commission if you make a purchase through these links. As an Amazon Associate, I earn from qualifying purchases. Read the full disclosure here.
IN THIS ARTICLE
Travelling Alone in Europe
Europe is a fabulous destination for the first-time solo traveller.
It's relatively safe, easy to travel around and offers a vast choice of cultures and cuisine. Thanks to the European Union, many countries share a common currency and there are no borders to navigate, making country-hopping a breeze.
In fact, solo travel surveys indicate that nearly half of all seasoned travellers recommend Europe as the ideal destination for those travelling alone for the first time.
I've lived in London for many years and have been lucky to travel to most European countries, from the fairytale town of Colmar to the artistic treasures of Urbino.
That said, there are places in Europe that are more suited to solo travel than others.
Public transport and infrastructure are better in some destinations, and other places offer a vibrant and friendly local culture. If your travel budget is a consideration, the cost of living is lower in some places than in others.
Best Places to Visit in Europe as a Solo Traveller: City Breaks
1. Amsterdam, The Netherlands
By Umang of Travelmax
Amsterdam is a great place in Europe for solo travellers to visit.
The city has a large and vibrant community of travellers, be it leisure travellers or freelance digital nomads.
People hang out at hostels or connect with each other through communities such as Meetup or Couchsurfing. These hostels have a lot of regular events which are also open to those not staying there.
Couchsurfing events are a great way to meet locals in addition to fellow travellers (I remember joining a meet-up of Spanish-speaking folks in Amsterdam, which was such fun!).
In addition to this thriving community, Amsterdam is also home to tons of museums. If you have even a little curiosity regarding history or art, you can spend hours here, not really caring about having company.
Getting around Amsterdam is easy and it's a convenient base for day trips to other Dutch cities. The excellent tram network, comfortable buses and cycling infrastructure are a real boon for a solo traveller in Amsterdam.
The best sights in Amsterdam are the museums and Dam Square. The Jordaan area is also a good place to spend an evening chilling in cafes and pubs.
If you feel more adventurous, cross the river and go to the Noord region to enjoy the I AM HOLLAND experience and Adam's Lookout. The former experience gives you an epic virtual tour of The Netherlands, while the latter offers a stunning view of the city.
2. Athens, Greece
By Chrysoula of Athens and Beyond
Athens is a wonderful destination for solo travellers. Not only is it friendly, welcoming and easy to get around, but it is also home to some spectacular attractions.
You won't want to miss out on these just because you don't have a travel buddy.
With relatively cheap flights from Europe and beyond, some great hostels and an excellent range of bars, restaurants and cafes, Athens is an amazing destination for solo travellers taking a weekend break and for those travelling more extensively across Europe.
Choose centrally located accommodation in Athens so you can easily walk around the top sights.
These include the Acropolis (and Acropolis Museum), the Ancient Agora, Monastiraki, Plaka and Syntagma Square. Thankfully there are so many options within this area that you won't be hard pushed to find a decent hotel or Airbnb.
Athens also has some awesome tours that you can take (e.g. Local Food Tours, Street Art Tours) which are a great way to interact with both locals and other travellers.
As Athens has both easy-to-use public transport and taxis, you'll be able to explore the city safely. There are also some fun day trips that can be taken as tours out of the city.
3. Belgrade, Serbia
By Maggie of The World Was Here First
If you're looking for the perfect solo travel destination in Europe, you really can't go wrong with Belgrade, Serbia.
The capital of Serbia has lots to offer visitors and it is a great place to visit alone. There are countless things to do in Belgrade over two or three (or more!) days and the atmosphere of the city, along with the gregarious nature of the locals, make it ideal to visit on your own.
Belgrade is a popular city amongst backpackers and there are countless hostels throughout the city, where it is easy to meet other like-minded travellers.
There are also numerous free walking tours of the city's neighbourhoods. Ideal for meeting others while learning about the destination.
Belgrade locals are also easy-going and sociable and easy to talk to, so you never truly have to feel alone when visiting this dynamic city.
Some of the top sites in Belgrade include the fascinating Old Town, the wonderful pedestrian street of Knez Mihailova and, of course, the sprawling Kalemegdan fortress park overlooking the confluence of the Danube and Sava Rivers. There are also a number of interesting museums where you can learn more about Belgrade's history plus a great nightlife scene to experience.
All in all, Belgrade is an excellent place to visit in Europe if you are travelling alone.
4. Bruges, Belgium
By Bridget of The Flashpacker
Picture-postcard perfect Bruges is an idyllic destination for those travelling alone in Europe and an essential part of any Belgium itinerary.
It is picturesque, safe, easy to get to and there are lots of things to do. As it is a compact and walkable city, it is simple to navigate.
Bruges is famous for its meandering canals that lace their way through its perfectly preserved medieval centre, its magnificent Belfry, world-class museums and, of course, Belgian beer.
But for my money, one of the best things to do in this charming city is to take a self-guided Bruges chocolate tour. Belgium produces some of the finest chocolate in the world, and this is the ideal place to try the best of the best from the city's artisan producers.
5. Brussels, Belgium
By Bridget of The Flashpacker
The Belgian capital is one of Europe's liveliest cities. With just one day in Brussels, you can soak up its medieval architecture and stuff yourself silly with beer, waffles and chocolate.
The UNESCO-listed Grand Place is at the heart of Brussels' city centre and is lined with porticoed and frilly, late medieval buildings. This is also where the city's Christmas market takes place.
On the eastern side of the city, old architecture gives way to sleek skyscrapers, including the headquarters of the European Union.
Lovers of cartoons should follow the Comic Strip Walk or visit the Belgian Comic Strip Centre.
Brussels is also the best base from which to visit other Belgian cities. Ones for your bucket list include lovely Leuven and its botanic garden (De Kruidtuin Leuven), Mechelen and Hasselt (don't miss the Jenever Museum and Japanse Tuin Hasselt).
6. Budapest, Hungary
By Disha of Disha Discovers
There are so many great places to travel alone in Europe and Budapest is one of them.
Budapest is a safe city to visit, even at night. However, as with any big city, take precautions and be aware of your surroundings.
Also, Budapest is easy to navigate. The trams and buses are simple to use, there are lots of helpful maps that will guide you from place to place and the majority of the signs are written in English.
Budapest has great hostels and hotels, world-class attractions and first-rate restaurants and pubs that won't break the bank. As a solo traveller, you can find anything within your budget.
Some of the most iconic things to do in Budapest include the Parliament House, Dohany Street Synagogue, Fisherman's Bastion, the Jewish Quarter, St. Stephen's Basilica, the Chain Bridge, and Szechenyi Spa Baths.
>>> Are you looking for motivation to book your solo trip to Europe? If so, check out these inspirational quotations about travelling alone.
7. Cologne, Germany
By Bridget of The Flashpacker
For a German city with a rich historical legacy, visit Cologne.
It is best known for the UNESCO-listed Cologne Cathedral, one of the greatest churches in Christendom, and its toilet water, Eau de Cologne.
Germany's fourth-largest city is also home to the busiest railway bridge in the world, Hohenzollern Bridge (Hohenzollernbrücke), which is smothered in love locks. The other highlights of Cologne include its 12 great Romanesque churches, the Old Town's squares and buildings and its insanely popular Chocolate Museum.
Last but not least, don't leave town before trying the local Kölsch, the delicious local brew which has a hoppy and slightly sweet taste.
8. Copenhagen, Denmark
By Bridget of The Flashpacker
Denmark's capital city is effortlessly cool.
Copenhagen has the lot. A historic city centre with cobbled streets and candy-coloured gabled houses; a cutting-edge design scene and trendy shops, bars and restaurants.
Paying your respects to The Little Mermaid is pretty much obligatory but manage your expectations. At just four feet tall, she is a little underwhelming.
One of the best things to do in Copenhagen is to take a canal cruise from Nyhavn and Ved Stranden, allowing you to see the city from a different perspective. With its crayon-hued houses, the former rough sailors' district of Nyhavn has been transformed into the poster child of Copenhagen.
Finally, for a different side of Copenhagen, stroll through the hash-perfumed community of Freetown Christiana. There are not many cities that have a main drag called Pushers Street.
9. Dubrovnik, Croatia
By Kami of Kami & The Rest of the World
Dubrovnik, the gem of the Adriatic coast in Croatia, is a perfect destination for solo travellers. As it's not a dangerous city, you don't need to take special safety precautions; just use your common sense like anywhere else and you will be fine.
With all the great things to do in Dubrovnik, you will be busy all day long with sightseeing.
Be sure to walk the city walls around the Old Town. The views from there are incredible and with the ticket, you can also visit Fort Lovrijenac just outside the Old Town.
Fans of Game of Thrones will recognise many of Dubrovnik's sights from their television screen. One of the best activities in Dubrovnik though is just wandering around its narrow streets and enjoying the atmosphere of the town.
The city is very popular among tourists, especially in the summer season, but once the crowds are gone Dubrovnik is bliss.
10. Dublin, Ireland
By Emer and Nils of Let's Go Ireland
By day and by night, Dublin, the capital city of Ireland, has a diverse range of attractions to offer. As a solo tourist, you will feel right at home and have a packed Dublin itinerary exploring the city, its culture and top-class tourist sights.
The must-see attractions include the Guinness Storehouse with an unbeatable view of the Dublin skyline from the Gravity Bar, Trinity College and the medieval manuscript of the Book of Kells and the latest treasures found in the Chester Beatty Library.
Dublin is designated a UNESCO City of Literature. Join in the fun at the James Joyce Bloomsday Festival in June, or visit the Museum of Modern Literature to get a taste of Irish Literature at its finest.
If you want to learn more about the country's history, visit Kilmainham Gaol, the birthplace of modern Ireland
Ireland's capital is an excellent base for day trips with many locations to choose from, so you won't have to bother renting a car. From Howth harbour outside the city centre (reachable by train) to the Cliffs of Moher or to the Giant's Causeway, you will be spoilt for choice!
In the evenings, you can enjoy some great live music in the many pubs around the city. There is always music in Temple Bar, but it can be very touristy.
Try some of these other pubs for a more authentic atmosphere. Don't worry about being by yourself, it is very easy to strike up a conversation with most Irish people!
11. Glasgow, Scotland
By Kathi of Watch Me See
As a solo traveller, do you want to visit a city that is friendly and welcoming, gentle on your wallet, filled with fun people and dotted with amazing things to do? Look no further than Glasgow, Scotland.
The city's slogan "People Make Glasgow" could not be more true. The locals are super friendly, whether you need help with directions to want to meet new people in the pub.
There are numerous budget-friendly accommodation options from great hostels to quirky boutique guest houses. Most attractions and museums are free to visit, which makes it easy to soak up as much of Glasgow's history, art and culture as possible.
Glasgow has also many fantastic green spaces and a colourful street art trail with massive murals. There are several street food markets, cool shops filled with local designs and of course endless pubs with live music and banter.
I highly recommend taking a history tour with Glasgow Women's Library and looking into the city's historic involvement with the slave trade, signs of which can be seen in street names and buildings around the city.
And that's just in the city.
Glasgow is also a great place to base yourself if you want to take day trips to the Scottish countryside. Other cities like Stirling and Edinburgh are within easy reach. Beautiful castles, stunning Highland scenery and several Scottish islands are on your doorstep.
All of this and more makes Glasgow a perfect place to visit as a solo traveller.
12. Gothenburg, Sweden
By Roshni of The Wanderlust Within
Sweden's second city, Gothenburg is an underrated destination compared to the capital, Stockholm. But as the world's most sustainable destination four times in a row, it's a European city that will inspire any solo traveller.
Gothenburg is a very walkable city, filled with beautiful botanical gardens, local designer shops, and a strong Swedish fika culture. Gothenburg is a paradise for foodies and has a much more affordable price tag compared to Stockholm.
With free walking tours, it's easy for solo travellers to make friends and explore quaint neighbourhoods such as Haga, which is famous for baking the largest cinnamon rolls in Sweden.
The best time of year to visit the city is December for the Gothenburg Christmas markets. This is when the whole city turns into a festive winter wonderland.
Gothenburg has four Christmas markets, but the main one is Sweden's largest and is found at Liseberg Amusement Park. Liseberg is an icon in Sweden and includes thrilling rollercoaster rides, a seasonal ice skating show and over 80 Christmas stalls and shops.
The Christmas markets have a host of festive food choices, including a Swedish Christmas buffet dinner that is served on one long table so solo travellers can mingle together.
13. Helsinki, Finland
By Jordan of Inspired by Maps
Modest Helsinki, or Finland, might not be top of your list when considering places for a solo Europe escape, but it should be.
Tucked away in the northeast of Europe, Helsinki is an enigma; an excellent secret destination full of local charm and personality but minus the crowds. A short vacation with a difference.
Not only is it wonderfully weird and completely original, but it is utterly welcoming to everyone. And it is oh so safe! Helsinki is one of the safest cities in the world, and you can walk everywhere during the day without worry.
Finns are shy, reserved and independent, and love to spend time alone. However, this adds to Helsinki's appeal as a solo travel destination since most of its attractions can easily be undertaken by one person.
Dining alone, drinking coffee, sauna, you name it; being solo here is completely normal. And, especially as a female traveller, it would be unheard of for someone to come up and harass you for being alone.
Strolling around Helsinki is like being in an outdoor museum of architecture, with an eclectic mish-mash of magnificent neoclassical architecture, art nouveau constructs, and modern design. Inside top highlights include the Kiasma Museum, the Löyly Sauna, the Amos Rex, and the Moomin store.
And don't forget to visit the UNESCO World Heritage-listed Suomenlinna Island Fortress. You might not know much about Helsinki before visiting, but you'll never forget it afterwards.
14. Krakow, Poland
By Bridget of The Flashpacker
If you are looking for a budget-friendly solo travel destination with a first-rate bar scene, Krakow could be just the ticket. This is a city that hasn't sold its soul to tourism, and where it is possible to feast on a meal for 15 PLN washed down with a glass of craft beer for 5 PLN (around 4 GBP).
Join one of its excellent free walking tours – I loved the one exploring Krakow's Royal Road – to meet like-minded travellers. However, the whole city has a social vibe.
Reflect on Krakow's tragic past by visiting Kazimierz, the city's old Jewish Quarter, the former Jewish ghetto in Podgorze and the neighbouring Oskar Schindler's Enamel Factory. For many people, the chance to take a day trip to Auschwitz is reason enough to visit Krakow.
For something a little different, visit the UNESCO World Heritage Site of the Wieliczka Salt Mine, a labyrinthine network of tunnels lacing through the mine's salty depths. Just 12km south-east of Kraków, this is an easy day trip from Krakow.
15. La Valletta, Malta
By Wendy of The Nomadic Vegan
La Valletta, the capital of Malta, is a great European destination for solo travellers.
It's delightfully compact, with stone buildings piled on top of each other higgledy-piggledy. The entire Valletta peninsula is only a couple of kilometres long, so you can easily explore the whole city on foot. Just be prepared to climb lots of stairs.
Most locals here speak fluent English, so it's easy to make new friends
Valletta's role as the headquarters of the Knights of Malta from the 16th to 18th Centuries is a very important part of the city's history, and many of its best sights relate to this period. The knights' armoury can be visited inside the Palace of the Grand Masters, though the palace now serves as the parliament and president's office, so most of it is off-limits.
St. John's Co-Cathedral doesn't look like much from the outside, but the interior is covered head to toe in marble and frescoes and is incredibly ornate. If you love art, be sure to visit the Cathedral Museum, which displays two paintings by Caravaggio, who was once a knight himself.
And Valletta is the perfect base from which to explore the rest of this small island nation. Across the harbour from Valletta are three other cities: Birgu, Senglea and Bormla.
Most locals here speak fluent English, so it's easy to make new friends.
Finally, don't leave Valletta without trying some of the traditional Maltese foods like bigilla and pastizzi.
16. London, England
By Bridget of The Flashpacker
I may be biased, but my home town of London is one of the very best places to travel alone in Europe.
London has a cultural scene that is second-to-none, with world-class museums, including the British Museum, Tate Britain and Tate Modern, a theatrical and musical landscape to accommodate all tastes, excellent restaurants and, of course, a lively drinking culture.
Meet fellow travellers on one of the many walking tours – I recommend one of the London street art tours. Or tick off many of London's landmarks by taking a stroll along the Victoria Embankment or the South Bank.
Or see the sights from the water by taking a boat ride along the Thames (for the more adventurous you can ride in a RIB!). This is a great way to fully appreciate London's magnificent bridges.
On those rainy afternoons (and we do get a few of these!), visit a museum or gallery, get a bargain ticket for a theatre matinee performance, see a new cinematic release or an old classic or linger over a book in a coffee shop.
Finally, if you want a break from city life, take one of the many easy day trips from London, including Bohemian Brighton, the golden dunes of Camber Sands, the dreaming spires of Oxford and the Georgian splendour of Bath.
17. Lyon, France
By Leyla of Offbeat France
Lyon may be a big city – it is France's 2nd or 3rd, depending on your source – but that is precisely what makes it perfect for the solo traveller: an abundance of choice.
If you're new to Lyon, go see the murals.
These are scattered along the edges of the Old Town, as well as here and there throughout the rest of the city. They not only look realistic, but are huge and provide a strong sense of Lyon's personality.
Lyon is considered France's gastronomic heartland and if you believe French food is sublime, Lyon is amazing when it comes to food.
There are plenty of great restaurants but try a bouchon, a typical Lyonnais eatery. If the heavy fare is daunting, head for Les Halles Paul Bocuse, a covered market filled with shops that sell every kind of food you could expect to find in Lyon, and more.
Just bring along a large appetite.
Wandering around Old Lyon is always a pleasure, as is visiting the Roman Fourvière theatre. But for an intriguing view of Lyon, two things should grab your attention, both related to silk, of which Lyon was for years France's main supplier.
The first is the traboules in the old town: these are ancient tunnels that allowed weavers to carry bolts of silk from building to building without getting them wet when it rained.
The second must-see sights are the silk establishments on the Croix-Rousse hill; these are shops, or old buildings where workshops were once located, topping it off with a visit to the Maison des Canuts, the silk museum.
Lyon is perfectly safe for solo travellers during the day, but in the evening it is best to stick to the more touristed parts of town. It is, after all, a major city.
18. Munich, Germany
By Maria of Europe Up Close
Munich is a great destination for solo travellers to Europe.
The city has a friendly, supportive small-town feel but, at the same time, it is metropolitan enough to nurture a thriving traveller and ex-pat scene.
Munich has a good choice of accommodation and its public transport is excellent and easy to navigate, allowing you to explore every part of the city.
Here are some of the must-dos in Munich:
Munich Beer Halls. Everyone knows the Hofbräuhaus, but there are quite a few others that are not quite as touristy, like the Paulaner, or the Weißes Brauhaus.
What is great about these beer halls is that they usually have community tables that you share with others. That makes it easy to connect with other guests and chat.
Swimming in the Isar. If you travel to Munich in the summer, pack your swimsuit and go to the Isar Beaches. That is where the locals hang out and it is easy to connect with others.
Go on a Walking Tour. Munich has a lot of history and a walking tour is fun, inexpensive (sometimes even free), and you can meet other travellers. To get some non-touristy recommendations, ask the guide for his favourite bars and restaurants
Pro Tip: If a restaurant is busy and does not have empty tables, it is customary to join a party already seated. Simply ask if the seat is taken, and if they nod in approval you can join them.
This is a great way to find some company during meals if you are travelling alone.
19. Nuremberg, Germany
By Bridget of The Flashpacker
Nuremberg (Nürnberg) is both a wonderful destination for solo travellers in its own right and a fabulous base from which to explore Bavaria by train.
Nuremberg Old Town is home to magnificent medieval buildings, a thousand-year-old castle, Germany's tiniest (and some say tastiest) bratwurst and one of the country's biggest and best Christmas markets. But Nuremberg is perhaps best known for its dark Nazi past, as the city where Hitler liked to throw a really big party.
Easy day trips from Nuremberg include UNESCO-listed Bamberg, home to the smokiest beer on the planet, and Rothenburg ob der Tauber, the medieval city that inspired the Disney animation Pinocchio.
20. Paris, France
By Stephanie of The World As I See It
One of the best places to visit in Europe for solo travellers is Paris, France.
Easy public transport, many people speaking different languages and an abundance of fellow travellers help make Paris a great city to visit solo.
It's also a relatively safe city to visit if you are travelling alone. You can easily walk around many of the popular neighbourhoods and take the metro at night without feeling uncomfortable.
There are so many amazing things to do in Paris as a solo traveller.
Paris's top attractions include a visit to the Eiffel Tower, browsing the many museums like the Louvre and D'Orsay, people-watching at one of the hundreds of cafes, and strolling down the Champs-Elysees.
And don't forget to grab a baguette and a bottle of wine, and enjoy a picnic in one of the many lovely parks.
Some other great things that you visit in Paris are the Catacombs – if you dare! – and the stunning churches that dot the city, like Sacre-Coeur and Saint-Sulpice.
So, make sure you plan at least four days in Paris for your next solo adventure. It will be epic!
21. Prague, Czech Republic
By Marika of Clumsy Girl Travels
Prague is one of the prettiest medieval cities in the world and one of the best places to travel solo with lots to see and do.
Take a walking tour. Several companies offer free walking tours of the old town, the castle and even some lesser-known neighbourhoods, and this is a great way to meet other people who are travelling alone.
Enjoy a beer at Letna Park Beer Garden or Strahov Monastery. Both places offer spectacular views of the city.
Visiting a quirky museum like the Beer Museum (which includes a beer tasting), the Chocolate Museum or the Museum of Alchemists and Magicians, where you learn the darker side of Prague's history.
Along with things to do during the day, Prague has an excellent nightlife and food scene worth checking out. If you want dinner and a show, you should book a medieval dinner show or a dinner show with traditional Czech dancing.
If you want to party, Prague has a few pub crawls worth checking out.
With its colourful architecture, cobblestoned streets and countless things to do you are bound to have the best time exploring Prague on your own.
22. Pristina and Prizren, Kosovo
By Cass of Cassie the Hag
If you are travelling alone in Kosovo, make sure you visit its capital, Pristina, and its cultural heart, Prizren.
Solo travel in Kosovo feels safe, the locals are friendly and welcoming, especially at local cafes such as Half&Half Cafe in Pristina.
Hostels are well maintained and also very cheap (4 euros for both dorm rooms and meals!).
Bus routes between key cities are not only very budget-friendly but easy to navigate.
Pristina, Europe's newest capital, is trendy and home to underrated street art and to a diverse range of eateries, including modern and vegan cafes. Look out for the National Library, one of the world's ugliest buildings, and the Bill Clinton statue (yep, he's quite the hero in Kosovo!).
More cultural gems include the Cathedral of Saint Mother Teresa.
In Prizren, the Prizren Fortress has spectacular views over the city. There are also many museums to learn more about European, and more specifically Balkan, history.
Nature lovers and keen hikers can also take a day trip to Peja, where there are scenic trails, or journey to one of the less well-known national parks.
23. Reims, France
By Bridget of The Flashpacker
Reims is one of the loveliest cities in France, known for its magnificent cathedral and its champagne houses, all of which are UNESCO-listed.
Beneath Reims is a labyrinth of 200 km of caves that provide the perfect environment for the second fermentation of champagne. This is the shared real estate for the city's champagne houses.
It's very easy to put together a DIY champagne tour of Reims, even if you are travelling alone. From the Disneyesque Champagne Pommery to the elegance of Taittinger, there's a champagne house for everyone (and far worse ways of spending a day).
With flying buttresses a-plenty and an enigmatic smiling angel, Notre Dame de Reims is one of Europe's great Gothic cathedrals. This was the coronation site for most of the French kings and its architecture set the mould for cathedrals to follow.
24. St. Petersburg, Russia
By Ellis of Backpack Adventures
Due to the ongoing geopolitical situation, travel to Russia is not currently recommended. For current travel advice, check the advice of the UK FCO here.
St Petersburg in Russia is not only a gem of a city but is also one of the best places to travel alone in Europe.
Some of the major costs for solo travellers are taxis and hotels. However, St. Petersburg has an excellent public transport system that is easy to navigate.
Furthermore, the city has lots of hostels where it is easy to meet other travellers.
There are lots of solo travel-friendly things to do.
First of all, St. Petersburg is full of interesting museums that you can explore at your own pace. The most famous of these is the Hermitage, where you can easily spend a whole day.
As well as the museums, there are the 18th and 19th-Century palaces of the Romanov tsars and their families. These European palaces are not only worth a visit because of their opulent and extravagant rooms inside, but also for their beautiful palace gardens.
St Petersburg is a year-round destination. Visit in the summer for the long nights and to see the bridges open up over the Neva River. Go to St Petersburg in winter for cold, snowy days and the beauty of the frozen Neva.
25. Salzburg, Austria
By Carolyn of Holidays to Europe
With an abundance of stunning architecture, a pretty old town and its connection to some musical icons, both classical and modern, the Austrian city of Salzburg is a wonderful destination for solo travellers. And the city's excellent public transport connections to Austria and beyond make it one of the best places to visit in Europe.
Top sights in Salzburg include the Cathedral, the 12th Century Residenz, Mozart's Birthplace and Hohensalzburg Fortress, an imposing castle atop a hill overlooking the city. All can be found close to the Old Town in the compact centre of the city.
Getreidegasse and Linzer Gasse, two of Salzburg's most famous streets, are the places for retail therapy or to find the perfect souvenir. Amongst the shops and boutiques, you'll find one of the city's specialities on sale, a chocolate ball with a marzipan centre known as a Mozartkugel.
A short walk from the Old Town, and across the Salzach River, the Mirabell Palace and gardens are well worth a visit. Most visitors flock to the steps in front of Rose Hill to re-enact a famous scene from The Sound of Music.
Salzburg can be easily explored alone on foot, on a hop-on-hop-off bus, or even by horse-drawn carriage. But if you'd prefer some company, the Tourist Office offers a number of guided city tours every day.
26. Sibiu, Romania
By Jade of The Migrant Yogi
Sibiu, a small city in Romania's southern Transilvania, is an ideal destination in Europe for the solo traveller.
First and foremost, Romania in general, and Sibiu in particular, are super safe.
Walking home alone at night is not a problem, even as a solo female traveller. There are people who will approach you at restaurants and ask for money if you're sitting outside, but there are no aggressive tactics employed.
Sibiu is small and pedestrian-friendly, important if you're not partial to taking public transportation. You'll be able to walk amongst its colourful buildings and get lost in the winding cobblestone streets of the Old Town
There's no shortage of things to do in Sibiu, including restaurants serving delicious food, an impressive number of museums and open-air markets. You'll never be bored in the European Cultural Capital in 2007.
If you're partial to nature, Sibiu is located in the Carpathian Basin. There is plenty of hiking and trekking options nearby, not to mention some gorgeous green parks.
The people of Romania are very friendly and English is widely spoken among the younger generations.
Whether you're exploring Sibiu solo for a few days or a few months, this charming city will not disappoint.
27. Split, Croatia
By Bridget of The Flashpacker
For my money, Split is one of the most extraordinary cities in Europe. Over the millennia its UNESCO World Heritage Site of Diocletian's Palace has morphed into the tangle of churches, chapels and houses that now form Split's medieval hub.
This is truly living history, not some dry, roped-off archaeological site.
Game of Thrones fans are also in luck. Some of its scenes were filmed in Diocletian's Palace and a Split Game of Thrones tour is on offer.
Split is also home to one of the most bizarre museums I have ever visited (Froggyland) and a supermarket that is UNESCO-protected.
As this is a popular port of call for cruise ships, it's good to get off the beaten track in Spilt. Away from the day-trippers, there is a wonderful walk along the Marjan Peninsula to Telegrin, its highest point.
28. Vienna, Austria
By Bridget of The Flashpacker
For elegant cafe culture with a twist of Mozart, Vienna is one of the best places to travel alone in Europe.
With its imperial architecture, magnificent museums, classical music scene and cafes galore, Austria's capital is a superb destination for the solo traveller at any time of year.
Take a journey from Ancient Rome to the Renaissance by exploring the vast collection of the Kunsthistoriches Museum. Visit Schloss Schönbrunn, one of the Hapsburg Empire's palaces, in all its gilded glory.
But perhaps the jewel in Vienna's crown is the UNESCO World Heritage site of the Belvedere Palace, home to Gustav Klimt's The Kiss (1908).
Finally, if you are visiting Vienna at Christmas, don't leave the city before washing down a plate of Bratkartoffeln with glühwein (mulled wine) at one of the city's Christmas markets.
29. Wroclaw, Poland
By Veronika of Travel Geekery
Wroclaw, Poland's 4 th largest city, is a hidden gem in Central Europe and is an ideal solo travel destination for several reasons.
First, it's easy to get there, whether you want to fly in or prefer taking the bus or the train.
Second, it's safe. I wandered around in the evening and never felt unsafe. A close friend who calls Wroclaw home swears by the city's safety too.
Third, it's just so easy to walk around and explore. You can use public transport (trams & buses), but it's easy to see Wroclaw's main sights on foot as they're located within a walking distance of each other.
In the heart of Wroclaw Old Town lies the Market Square with beautiful merchant houses and a monumental Old Town Hall. Many visitors to Wroclaw enjoy tracing the famous Wroclaw dwarfs.
Walk through Butcher's Street and then stroll all the way to the lovely Tumski Island with its impressive cathedrals.
This beautiful city doesn't attract many visitors, yet there's so much to see and do in Wroclaw.
Best Places to Travel Alone in Europe: Natural Wonders
30. Bansko, Bulgaria
By Sarah of Lets Grow Cook
Bansko is Bulgaria's largest ski resort and one of the cheapest places to ski in Europe. But this mountain town is so much more than a ski resort.
Bansko is located two hours from Sofia and 2.5 hours from Plovdiv, Bulgaria's second city, and is served by great public transport connections. There are lots of places to stay here; self-catering accommodation, small family-run hotels and larger ones too, some with pools.
There are two great co-working locations here in Bansko and, as such, the town has a great social life for solo travellers. With co-living spaces and hostels available, plus apartments for US$180 a month, there are cheap options for places to stay as a single traveller.
The town is easy to navigate on foot and there are great hiking and mountain biking activities with superb groups on Facebook for visitors to find out about activities with others.
Eating out is cheap, with a great selection of Bulgarian mehanas, alongside more international foods. You'll also find takeaway and delivery options too.
From May onwards there are free outdoor festivals, including the Bansko Jazz festival, which has run for more than 20 years.
31. Highlands of Scotland
By Bridget of The Flashpacker
Studded with deep lochs and soaring mountains, the Scottish Highlands is blessed with some of the most dramatic scenery on the planet.
Better still, its abundance of outdoor activities provides ample opportunities for solo travellers to meet other people. If you prefer solitude, solo hiking is relatively safe as long as you don't too far off the beaten path.
And if you love train travel as much as I do, you're in luck. From catching the Caledonian Sleeper from London to the magical Harry Potter scenic train between Fort William and Mallaig, there's no shortage of awe-inspiring trips.
Base yourself in Fort William to ride the Jacobite steam train and visit glorious Glencoe. Make the lovely city of Inverness your second base, the jumping-off point for Loch Ness and the historic Culloden battlefield.
32. Lake Bled, Slovenia
By Bridget of The Flashpacker
Lovely Lake Bled is the jewel in Slovenia's crown.
This picturesque corner of Europe has many of the ingredients for a perfect solo travel break.
Slovenia is cheap by European standards, it's relatively safe and has a good travel infrastructure.
Lake Bled has an abundance of walking trails, a castle perched on a hillside and an enigmatic island to visit. Traditional boats plough the turquoise waters of the lake, but if you prefer to confine your travelling to dry land, there's the super scenic Bohinj Railway.
Lake Bled is a mecca for outdoor adventure enthusiasts and joining an organised tour to go canyoning / underground kayaking / ziplining / river rafting (delete as appropriate) is a fantastic way to meet other travellers.
If food and wine are more your thing, join a wine tasting session – Slovenian wines are very quaffable – and don't leave town before biting into a slice of feather-light Lake Bled Cake.
33. Lake District, England
By Demi of Around The World With Her
The North of England has a reputation as being extremely friendly, making the area a great place to visit for a solo traveller. The Lake District, a UNESCO world heritage site, is a wonderfully friendly destination.
Full of quaint towns and villages, the Lake District is very visitor friendly. Base yourself in a small town such as Ambleside or Windermere to be in the best possible location.
The main activity for most visitors is hiking, something that can easily be done as a solo traveller. Views around the Lake District are incredible, so don't forget your camera.
Local buses mean it is easy to get from town to town.
You can also travel a lot of the lakes by steamer boat. These traditional ferry boats are a great way to see the scenery from a different angle.
Or rent a bike and explore some of the cycle trails.
The Lake District is the kind of place where you say hello to everyone you meet whilst you are out and about.
If the sun is out, you will find everyone sitting in the afternoon in a scenic garden, enjoying a traditional English roast. Wander alone into any old English pub in the Lake District, and you are sure to make friends in a matter of minutes.
34. Northern Norway
By Alexander of Engineer On Tour
For natural wonders, Northern Norway is one of the best places to travel alone in Europe. From Arctic-connected Tromso up to Bodo, the "gateway to the North", the things you can witness are incredible.
Why is it an excellent place for a solo traveller?
Well, I usually prefer going to big party destinations, like Madrid or Berlin, together with friends. But when it comes to nature destinations, I prefer going alone, especially if it is something challenging like mountainous Norway.
Norway allows you to test yourself, and somehow, after returning home, you feel stronger.
Northern Norway connects world-famous mountain views and small comfortable towns. But you don't need to just visit tourist places.
Unknown fjords are just as beautiful. If you go alone, you can easily choose routes, hike difficulty, and type of landscape according to your preferences and fitness.
If you go to Northern Norway, make sure you visit Tromso, the centre of Arctic Exploration and Saami culture. Make it on a ship through the Northern archipelago and long Raften Pass. And visit the jewel of Northern Norway – the Lofoten Islands.
35. Provence, France
By Bridget of The Flashpacker
The ease with which you can explore Provence by train as a solo traveller, fields filled with fragrant lavender, ancient Roman ruins, picture-perfect walled medieval cities and some of the best food and wine in the world. These are just some of the reasons why this region of France is perfect for those who are travelling alone.
During a week in Provence, you can explore the 'three As" – the historic cities of Avignon, Arles and Aix-en-Provence. For the history buffs amongst you, visit the amphitheatre at Orange and the sensational Pont du Gard, the tallest aqueduct bridge of the Roman world.
Moving south, spend a day in revitalised Marseilles, visiting the MuCEM, Marseille's Museum of European and Mediterranean Civilisations, before relaxing in the quintessential Provençal portside town of Cassis.
And, of course, in summer there are the lavender and sunflower fields in full bloom.
Did you know that an Interrail Pass can save you time and money when you are travelling in Europe?
36. Reykjavik, Iceland
By Bridget of The Flashpacker
It's safe to say that Iceland isn't the most budget-friendly destination for those travelling alone.
However, its crime rate approaches zero and, as a solo female traveller, harassment is also rare. It is easy to book excursions online or via one of the agencies in downtown Reykjavik, and Iceland is also a mecca for outdoor activities.
And there are tips and tricks for cutting costs when you visit Iceland.
Although in and of itself, Reykjavik is a superb solo city break, it is the access it provides to Iceland's natural wonders that makes it outstanding.
Take a day tour of the Golden Circle, a 300 km circular route that loops from Reykjavik into central Iceland, to explore the country's rugged interior. Soak your cares away in the milky waters of the Blue Lagoon whilst sipping on a cool Icelandic beer.
Yes. Iceland is expensive but you can cut costs as a solo traveller by bagging a good deal on accommodation and exercising self-restraint when drinking alcohol and eating out.
And the relatively high cost of booze means that, unlike some other European cities, such as Tallinn, Reykjavik is yet to become stag party central. And surely that has to be a good thing?
37. Zermatt, Switzerland
By Bridget of The Flashpacker
If you are yearning to hike amongst mountain peaks, one of the best places to travel alone in Europe is Zermatt.
The appeal of the town itself and the relative ease with which you can explore its surroundings makes Zermatt a fantastic solo travel destination at any time of year.
The star of the show is the mighty Matterhorn, piercing the sky above the town like a harpoon tip.
To get the best view of the mountain, take a ride on the Gornergrat Railway. From here, there are also great hiking trails through mountain valleys and along woodland paths scattered with pine cones, accompanied by the soundtrack of gurgling mountain streams and distant cowbells.
To reach Zermatt, take the Glacier Express from St. Moritz, one of the world's great train journeys.
Best Places for Solo Travel in Europe: Countries
The eagle-eyed amongst you may be wondering why destinations in Italy, Spain and Portugal do not feature on this list of the best places to travel alone in Europe.
This is not because they are not great destinations for the solo traveller, but because it is impossible to narrow the choice down to one or two destinations in each of these countries.
Solo traveller destinations in Italy, Spain and Portugal, therefore, deserve articles in their own right. But here's why you should put these countries at the top of your destination list as a solo traveller.
Italy
By Bridget of The Flashpacker
This was one of the first countries that I visited as a solo traveller 30 years ago, and one to which I have returned more times than I can count.
For centuries, Italy's landscape, history and food have drawn travellers from across the globe (for me, add Italian coffee bars and gelato!). The famous hilltop towns of Tuscany draw travellers from near and far but Italy has many other smaller, lesser-known jewels such as the Etruscan towns of Tuscania and Civita di Bagnoregio in Lazio.
Italy is every Renaissance fangirl or fanboy's dream with world-famous art and architectural treasures too numerous to count. From Siena to San Gimignano, Urbino to the Uffizi, Cortona to Carrara's marble mines, there's something for everyone.
Over the years, Italy has developed a travel infrastructure that is second-to-none. There are choices of lodging to suit all budgets, places to eat in even the tiniest of hamlets and an extensive high-speed rail network.
There is a well-worn tourist trail, and English is widely spoken in Italy, especially in tourism hotspots and by younger people. And the familiarity that comes with unconscious immersion in the country's food and culture, from its iconic paintings and sculptures to Italian cinema, makes Italy a super easy country for the novice solo traveller.
READ THESE NEXT!
Spain
By Bridget of The Flashpacker
It has natural beauty in spades with wide, sandy beaches, rugged rocky coves and a highland plateau, straddled by dramatic mountain ranges.
Thanks to decades of mass tourism, it has an extremely well-developed infrastructure. There are accommodation choices to suit all budgets, restaurants are plentiful, English is widely spoken and the train network is extensive.
One of the things that Spain is most famous for is its rich historical heritage, and it is second only to Italy in the number of UNESCO World Heritage sites. These number Granada's majestic Alhambra Palace, Seville's Cathedral and its Alcázar palace, Antoni Gaudí's work in Barcelona (including the jaw-dropping La Sagrada Família) and Tarragona's Roman ruins (to mention but a few).
Safety is always important to the solo traveller and Spain ranks in the top 10% of the safest countries in the world. But, as ever, watch out for petty crime such as pickpocketing in the cities.
Portugal
By Bridget of The Flashpacker
Like Spain, it has a temperate climate and abundant natural beauty with a long beach-lined coastline, a mountainous north and the lush Duoro River valley, home to the oldest demarcated wine region in the world.
Although not as well developed as that of its Iberian neighbour, Portugal's travel infrastructure does allow independent exploration with its rail network covering major tourist hubs. And as Portugal is a relatively small country, this makes travel more manageable if you only have a few weeks to spare.
Solo travel in Europe: Final Thoughts
I hope that these recommendations inspire you to plan a future trip to Europe. For the most part, it's an easy part of the world to visit as a solo traveller and has enough diversity to satisfy most people.
If you are not sure whether you are ready to explore Europe independently, why not join a group tour?
As well as being a relatively hassle-free way of travelling, there are many other benefits of a group tour as a solo traveller. There are lots of group travel companies out there but two companies that I have used and can recommend are Exodus Travels and Explore Worldwide!
You'll have an expertly curated itinerary and you often gain valuable insights into the country, the people and its culture. Generally, there's safety in numbers. Finally, if you fear solo travel loneliness, there's the reassurance of ready-made travel companions.
I hope you get a chance to enjoy the places on this list and make lots of new travel friends in the process.
GETTING THERE
Skyscanner is my go-to platform to search for flights. I like having the ability to filter results by cabin class and to compare the price of flights across an entire month. Skyscanner also supports multi-city options in searching for open-jaw flights.
STAYING THERE
I book 80% of my accommodation with Booking.com. Rates are competitive and many reservations are cancellable without penalty.
Check accommodation reviews, and prices across a range of booking platforms, on TripAdvisor.
KEEPING HEALTHY
Pack the right travel medicines and first aid items to manage minor illnesses and cuts and scrapes like a pro.
TRAVEL INSURANCE
Wherever you travel in the world it's important to have comprehensive travel insurance to protect you against illness, injury, theft, and cancellations. Check if World Nomads will cover your needs.
As a mid-life traveller, I get my travel insurance from Staysure. It offers an excellent level of cover, including that against Covid-19, and has garnered 5-star reviews.
OTHER TRAVEL RESOURCES
Check out my Travel Resources page for the companies and other resources I use when planning my trips and whilst I am away.
Bridget
Bridget is an award-winning solo travel blogger whose mission is to empower others to travel alone, especially those in middle age and beyond. To get in touch, email her at hello@theflashpacker.net
Best Places In Europe To Travel Alone (For Women Travelers!)
Europe is home for me – I was born in France, raised in Spain and spent much of my adult life in Switzerland. Today, I live in Eastern France so Europe is my backyard and traveling solo in Europe is something I do all the time. BUT – you don't have to live here to visit the continent on your own!
Just be ready to catch your breath, because one sight after another, you'll be in awe. Here, St Peter's Basilica in Rome, stunning even in the rain
There's so much to see, the continent is so diverse, that being picky is useful. Below I'll run through some of the best places in Europe to travel alone, and why you should consider them.
Travel in Europe: a few things to know
Whatever you're looking for – culture, history, music, fun, romance, food – a backpacking trip through Europe will provide it. Your problem will always be too much to see rather than the other way around.
What exactly is Europe, anyway?
The core of Europe is made up of the 28 countries of the European Union: Austria, Belgium, Bulgaria, Croatia, Republic of Cyprus, Czech Republic, Denmark, Estonia, Finland, France, Germany, Greece, Hungary, Ireland, Italy, Latvia, Lithuania, Luxembourg, Malta, Netherlands, Poland, Portugal, Romania, Slovakia, Slovenia, Spain, Sweden and the UK.
Switzerland, Norway and Iceland are the only countries in the region NOT members of the European Union – but that doesn't mean they're not great European destinations! And as I write this, the UK is working its way out of the EU, which will bring the number of member countries back down to 27.
While European countries are incredibly different from one another, certain things will still be familiar enough – whether it's traffic lights, fast-food chains or consumer products. You'll never be too far from something you know – if you need it!
Choose your accommodation wisely
You'll find absolutely everything here, from the most basic campground and hostel to the most luxurious palaces. You'll also find a huge diversity of prices and unexpected bargains when hotels find themselves with lower occupancy than planned. I always check hotel prices for deals or look at several dates and neighborhoods. I was just looking for hotels in Paris and while most in the center were out of my price range, those one metro stop away were perfectly reasonable.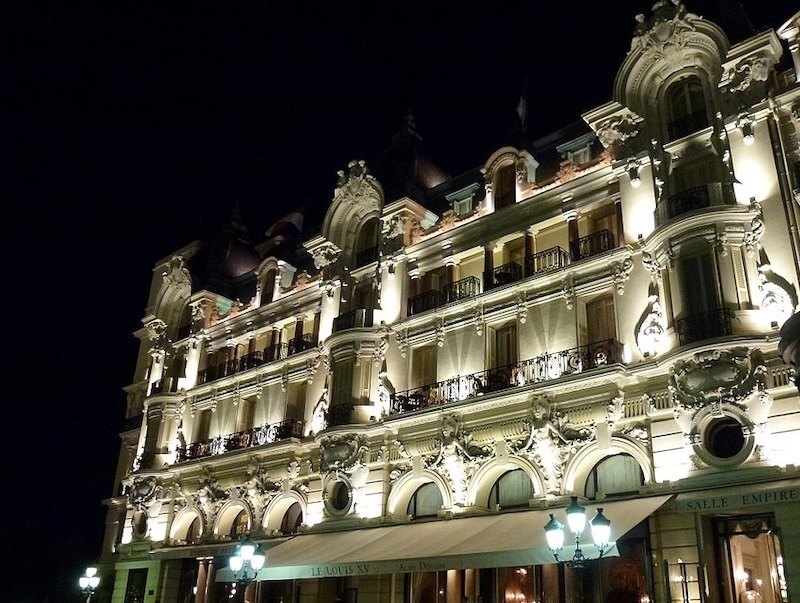 Europe has the full range of accommodation, from luxury palaces to couchsurfing or Airbnb… Here is the scrumptious Hotel de Paris in Monte Carlo. otterboris [CC BY 3.0], via Wikimedia Commons
Look for free walking tours
I like this model – the tour is free but you tip the guide whatever you think s/he was worth at the end. When you look at prices of some commercial walking tours, you'll get much more for less in those cities that have these tours. Just search "free walking tour in [city]". I've found them in most cities across Europe.
Take advantage of lunch
Eating out all the time can be expensive in many European countries, but a trip to Europe does require some serious food sampling. If you're on a budget, consider going out for lunches. Many cities have lunch specials so you can seek those out – even top-rated restaurants may have them so if you want to eat great food at great prices, perhaps save some of your picnics for the evening.
Speaking of restaurants, beware of multilingual menus. There are plenty of good restaurants that translate their menus, but usually, when you see a huge menu with everything but the kitchen sink in six languages, you can be pretty sure it will be mediocre. The owners don't expect you to return – you're only a tourist, after all. Food and service reflect that.
Consider avoiding summer
Apart from Scandinavia, the UK and the northernmost parts of Europe, summer is my least favorite season. There are crowds, prices are sky-high, hotels and restaurants are full, the weather is hot, and… this is the worst for me, but cities empty out of local people. A big part of travel is to interact with local people – so you don't want to visit when they're all left town.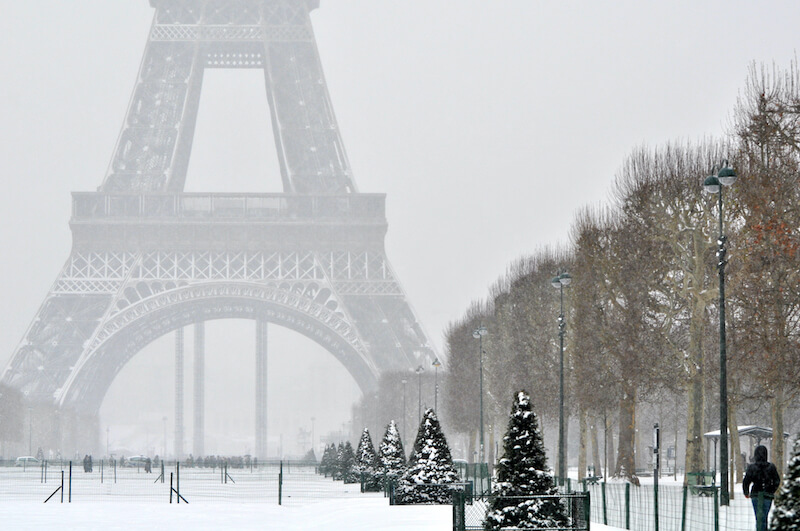 Winter can be glorious in Paris – the snow never lasts long but when it falls, it's magical
Planning a solo trip to Europe
Before you get on that plane you'll have done a lot of planning, I'll bet. If not, here are some suggestions that might help.
What to pack for Europe
Frankly, you wouldn't pack any differently for Europe than you would for a trip inside your own country. If you're headed to cities, pack normal city clothes. If you're going hiking or biking or into the countryside, pack sportier clothes.
One must-take, in my personal opinion, are good walking shoes, because let's face it, Europe isn't really where you'll go to laze on the beach all day (you'll find more and better beaches on other continents!)
Another essential item is an anti-theft purse of some kind. Cities, like cities anywhere, have pickpockets where tourists congregate, so better safe than sorry. I've seen and been the victim of too many European sleights-of-hand to trust my valuables to a tote or a stylish (easy to open) purse.
This European packing list for urban areas should help in all seasons outside deep winter.
How to get around Europe
I'm assuming you've managed to find a flight so let's start with how to get around the continent.
There are many ways to travel around Europe, but I'll keep it short and name the top four:
You can fly. That may sound counterintuitive but in Europe, flying is often one of the cheapest ways of getting from A to B. The discount airlines on the continent – EasyJet and Ryanair and many other smaller ones – can hop you around easily and cheaply.
You can take the train. This is my favorite mode of transport in Europe and you can keep prices down by buying a train pass if you're going long distances (here's a rundown on the best train passes) or if you're taking high-speed trains across countries. Local trains, on the other hand, can be incredibly cheap, but frequency will depend on the country. (Use Trainline if you want discounts for booking your train tickets ahead of time.)
You can take the bus. Europe has several major bus companies like Flixbus or Eurolines can take you clear across the continent for a few dollars and pretty good comfort (check out the Omio reservation platform for schedules and prices).
You can rent a car. Depending where you are, this might be a good solution. In some countries, like Switzerland, you can get anywhere by public transport. Yet in France next door, getting out into the gorgeous countryside may well require a car. It's not too expensive to rent a car, and you can compare prices here.
Best places in Europe to travel alone
Solo travel: France
I was born in Paris, but live in the foothills of the Jura Mountains and can see the Alps from my home (well, if I lean off the edge of my garden on a clear day I can see the right edge of the Mt Blanc…)
Thinking of France often means thinking of French food, not just the cuisine and the taste, but something called the "terroir", the place of origin, the fact that certain foods (and wines) can only come from certain places. French food isn't for everyone. Some things may seem quite exotic, but France's food also means incredibly fresh dairy, flaky pastries or mellow sauces. Being a foodie is one of the joys (and sometimes challenges) of living in France, but it's a challenge I'm prepared to meet.
Solo travel in France is quite easy. It's safe, public transport is fair to adequate in rural areas, and good to excellent in urban areas, and no one will skip a beat if you walk into a restaurant by yourself. If you're just starting your solo travels, this is one of the best places to do it.
Here are some pointers to get you started in case you don't know exactly where to go yet:
Solo Travel to Ireland and the UK
If you're coming from an anglophone culture, the US, parts of Canada, Australia, New Zealand, and a few others, coming to Europe for the first time will definitely be a discovery but by starting with the UK or Ireland, you at least won't have a language issue. Also, there are many settlers from the UK and Ireland in what were once British colonies so the culture will to a certain extent be familiar, even if the accents aren't.
When you travel Europe solo, the level of familiarity of these countries will increase your comfort and safety level. There is an excellent network of public transport throughout, including low-cost flights (often cheaper than the train) that can fly you from city to city.
Some large and attractive cities will keep you busy with great food, superb history, interesting bookshops and culture… I don't know the region half as well as I should and while I have visited London, I have yet to write about this incredible city.
Outside England, here are two particularly noteworthy cities, ideal for the female solo traveler:
Visiting Italy solo
I've been to Italy more times than I can count, and I even lived in Turin for a year as a teenager. Most of my trips are short, since I'm not far from the Franco-Italian border and going to Italy for a day is perfectly feasible.
Like many solo travelers I can easily hop a bus or a train. The airline network isn't quite as good as in some of its neighboring countries but that is made up by the excellent ground transportation network (check train and bus schedules here).
You'll be perfectly fine traveling solo in Italy, although it's worth noting that English is not commonly spoken (outside the most touristed areas) and people are warm and effusive, which is lovely but can be surprising if you come from more reserved places.
Italy is, of course, a country for foodies but it's also a destination for women who love fashion and style, centuries of history, literature and culture, and music, especially classical and opera. I may have visited often, but I still have so much more to see! Here's something to get you started with your solo travel Europe ideas.
Solo Travel to Portugal
Portugal, right on the edge of Europe, is a country I've only started to know in the last decade or so. Growing up in Spain, Portugal – despite being just next door – was a sort of blank space on the map to the left of Spain. No one I knew had ever been there, and at the time it was a poor country few people ever visited (at least from Spain).
How things have changed!
Portugal is the darling of solo travel to Europe, and it's an ideal destination for women in Europe alone.
The food is fresh and innovative, the scenery ranges from lush forests to stunning beaches, the architecture is unique and colorful, and people are welcoming, although slightly less effusive than their Mediterranean counterparts. We sometimes forget that although it is in southern Europe, Portugal faces the Atlantic.
Portuguese character is different from Spanish, more serious and achievement-oriented. I was struck by the graciousness of the Portuguese and their pride in their country, and I'd like to return again and again.
Solo Travel to Spain
If there's a country I can call home in Europe, this would be it. Although I was born in France, I didn't return until adulthood but I was brought up in Spain, spending most of my childhood and teenage years there long ago under the Franco regime.
I was mostly familiar with Madrid and the central part of Castilla, or Castile. Recently I've returned several times traveling alone and have started to discover the Basque country and Catalunya – and I've been hooked. For a relatively small country (it's about the size of France, not small but to put things into perspective, the US is 19 times larger) it is incredibly varied, so much so you'd think you were in a different country each time you cross a regional border. But then, the various independence movements in Spain do show that many people feel they are in different countries.
Spain is a wonderful country for solo travel: I've been doing it for decades and Spaniards are friendly and helpful even to those who don't speak the language. As is the case in many southern European countries, there is plenty of pickpocketing during tourist season so please, hang on to your belongings, especially in Barcelona but in cities generally.
Here are some highlights:
Solo Travel to Central and Northern Europe
Northern and Central Europe must certainly be among the safest regions for women traveling solo in Europe. Not only are they quite safe to visit, but they usually have excellent internal public transportation networks.
These countries are filled with history and medieval architecture, perfect for women who love culture. The food is spectacular, some of the world's greatest classical music comes from here, and if you're an art lover you'll be in heaven.
Both Northern and Central Europe are also easy to reach, whether via low-cost airlines (there are plenty) or by train (check here for Eurail passes).
For an overview of these extraordinary regions, here's where to start:
Solo Travel to Turkey
Turkey isn't technically part of Europe, at least the largest part of it is not. But it holds a special place in my heart.
My father was Turkish, and although I don't know any of my Turkish relatives, I feel a kinship with the country, one that keeps me returning whenever I can. I have a Turkish name, which always stumps the airport authorities when they try to speak to me in a language I haven't spoken since the age of three and have therefore forgotten.
Each time I go, I feel a certain familiarity. Maybe it's the cadence of the language, which tugs at certain ancient strings, or the cooking, which I remember from childhood. Although I can't condone the direction the country is now taking, I still feel drawn to it.
Solo Travel to Eastern Europe
I first visited Eastern Europe when it was part of the Soviet Bloc, when food was rationed and colors ranged from light grey to dark grey. Oh my, how things have changed!
When I first visited Prague in the early 1980s, the food was so bad I suggested friends bring along tins of tuna when they visited. Along the coast of former Yugoslavia, people looked so glum that one day I packed up and returned to Italy early.
Most countries of Eastern Europe are vibrant, exciting and filled with energy, and I can't get enough of them. Steeped in the strict history of the Iron Curtain, it's almost impossible to gauge the change that has taken place in just a few short decades.
Tips for your solo trip to Europe
Whether you're backpacking in Europe or glamping in luxury, here are a few things to help you hit the ground running:
Reserve your first night. It can be a bit daunting to alight in a new place for the first time, but nothing is worse than landing at night, tired, disorganized… save yourself some aggro and book a hotel. You don't have to stay there forever – just get your feet on the ground, have a nice hot shower and good breakfast, and get your bearings.
Use the tourist office. If you don't have a room and need some help, go see them. They're unfortunately only open during working hours but they can often help you book a room, or give you a few things you'll need, like a city map, a public transportation map, and information on special deals or passes for visitors.
Deal with navigation. If you're a user of Google Maps, at least download the maps you'll need before you arrive. My preferred option is Maps.me, because all their maps are available for instant download. Either way, you'll be able to navigate without excess roaming charges.
Get a SIM card. If you want to stay in touch with home or get online quickly, you can usually get a SIM card (if you have an unlocked phone) at the airport when you land. If you don't, you can always carry around a portable wifi (here's the one I have, which I love, but there are plenty of others on the market). With one of these, called a 'mifi' for mobile wifi, you buy a SIM card but put it into the mifi rather than into your phone. You won't be able to phone anywhere but you can use your Skype connection and access the internet.
Beware of your security. There are two things I never neglect when I travel. The first is my online security. I don't want my identity stolen or my bank balance decimated while I'm off having a good time, so I make sure I protect myself with a virtual private network for pennies a day. The other thing I want to do is protect my health and belongings, so I never leave without travel insurance (so far, it's saved me $25,000 on my travels). Until recently I used World Nomads but they don't sell to you if you're over 66 (over 70 in some countries) so I've been exploring these other options.
If you're not European, please make sure you've dealt with any potential visa issues. Here's some information on the Schengen visa to get you started.
Like to read books about a destination before you go? Check out my book review section on Europe.
This is the briefest of overviews about organizing your solo trip to Europe but I hope I've at least made you curious, or maybe even inspired you to come to my continent! I haven't seen it all, but I'm trying and I'll keep coming back to post to this page whenever I have a new European story for you.
The 17 Best Places in Europe for Solo Travelers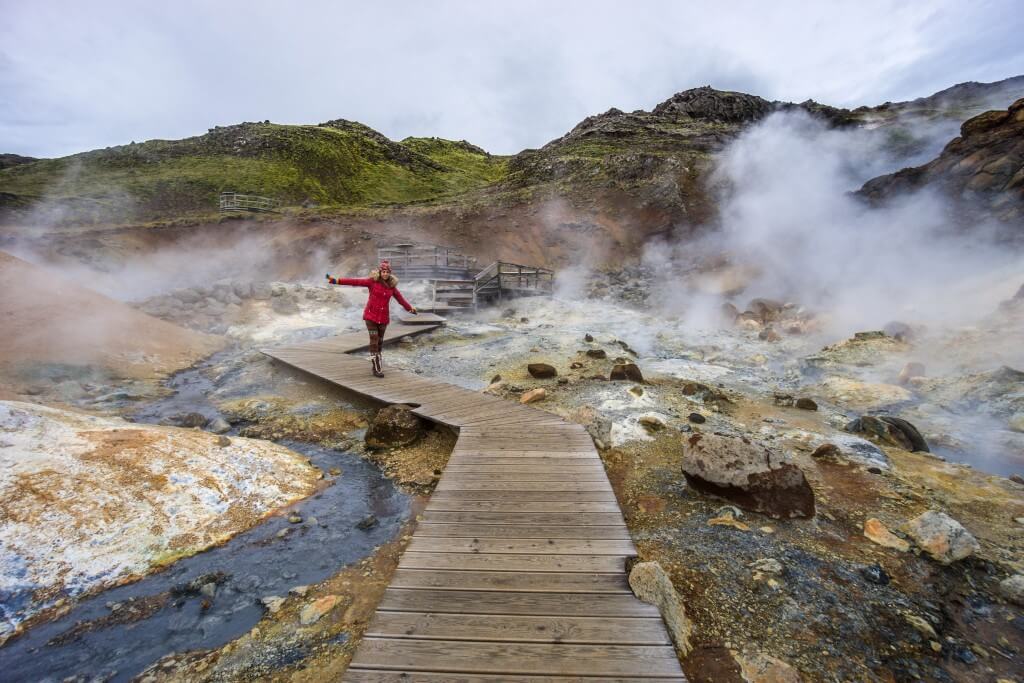 Iceland is the perfect place to travel alone for three big reasons: it's popular so there are other solo travelers around, it is the safest country in the world, and it is probably the most beautiful country in the world too.
When I was in Iceland, I noticed that the locals would leave their cars running when they went into the grocery store – that's how much they trust each other! I was also astounded by how often I had full cell phone coverage. I had initially planned on being disconnected the whole time while out camping in Iceland but in the end I felt like if anything happened while I was out driving on the ring road, it wouldn't be too hard to find some help.
The only downside is Iceland is pretty darn expensive. However if you do day trips from Reykjavík, plus stay in a hostel, you're bound to find someone to split things like car rental costs with.
Check out my Iceland guide for more info.
Berlin, Germany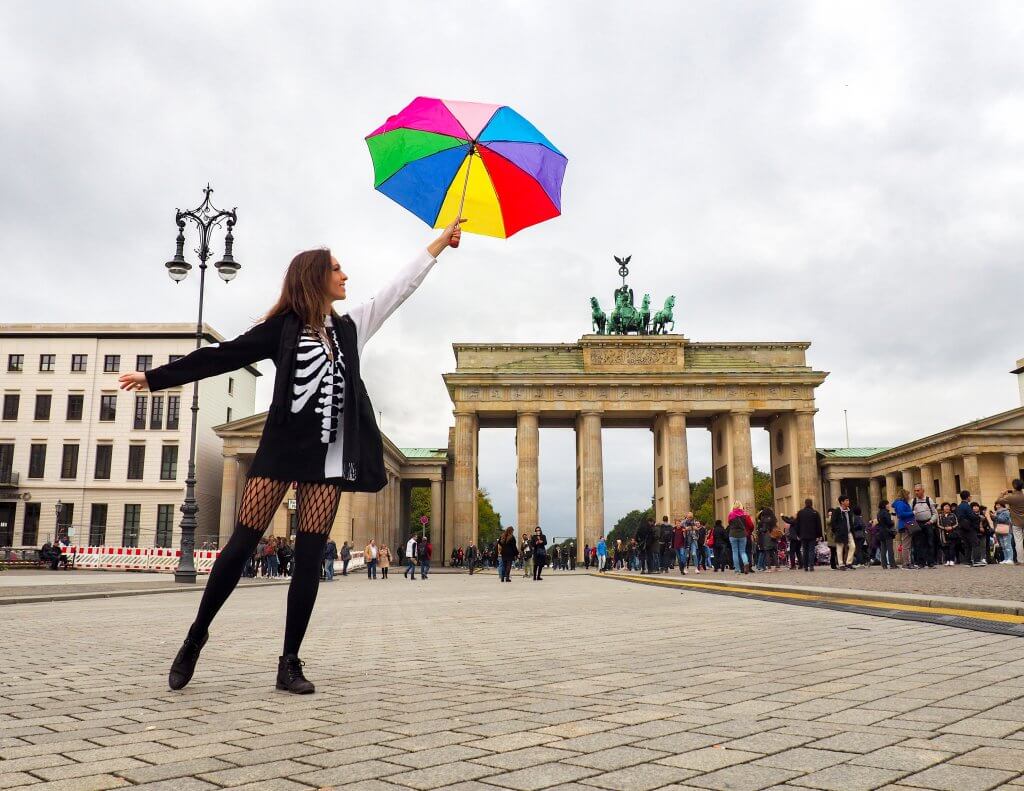 I love Berlin so much that I moved here, feeling instantly like part of the energy and intrigue upon landing in this quirky and artistic city.
Because of its promise of fantastic night life and counter culture, lots of young people come here with the intention of socializing. Whether out at a bar or nightclub or while taking one of the free walking tours, I find that meeting people in Berlin is easy. No matter what kind of person you are and what you're looking for, you can find your tribe here.
Check out my Germany guide for more info.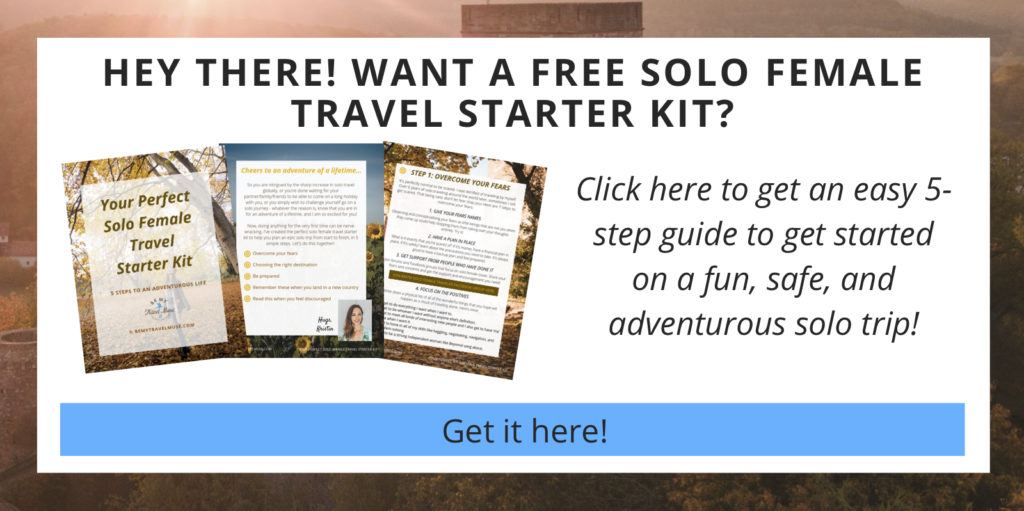 Granada, Spain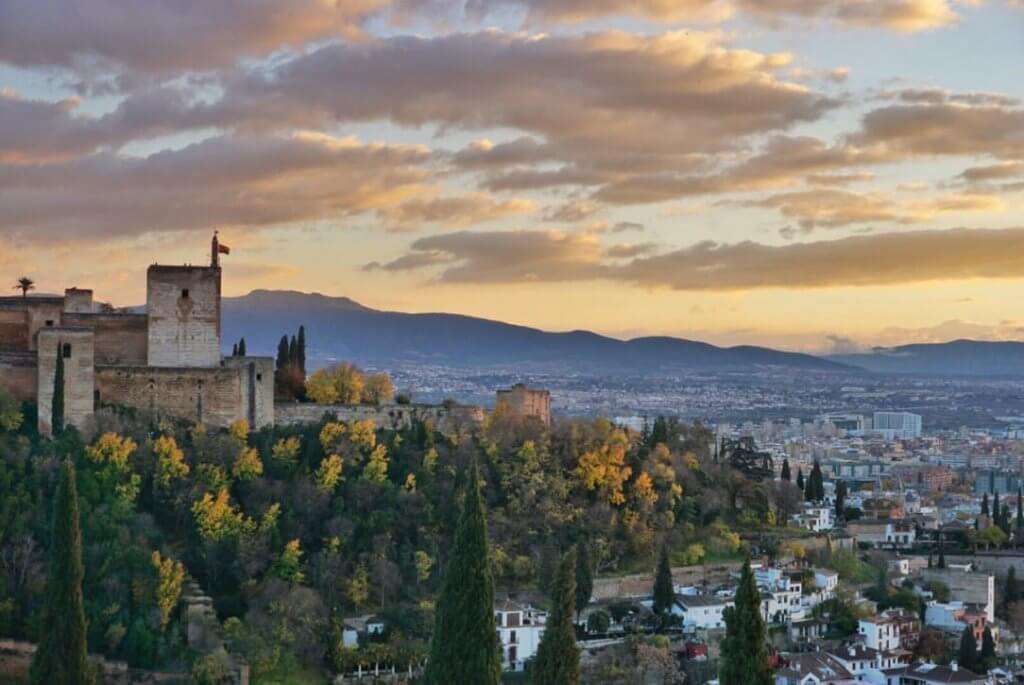 "I loved wandering around the city centre in Granada, and felt safe even at night. It's easy to make friends in hostels or even in bars, because everyone goes out for tapas and you don't feel out of place standing or sitting alone at a bar having a drink and some food, as opposed to needing to have a whole sit down meal alone somewhere else.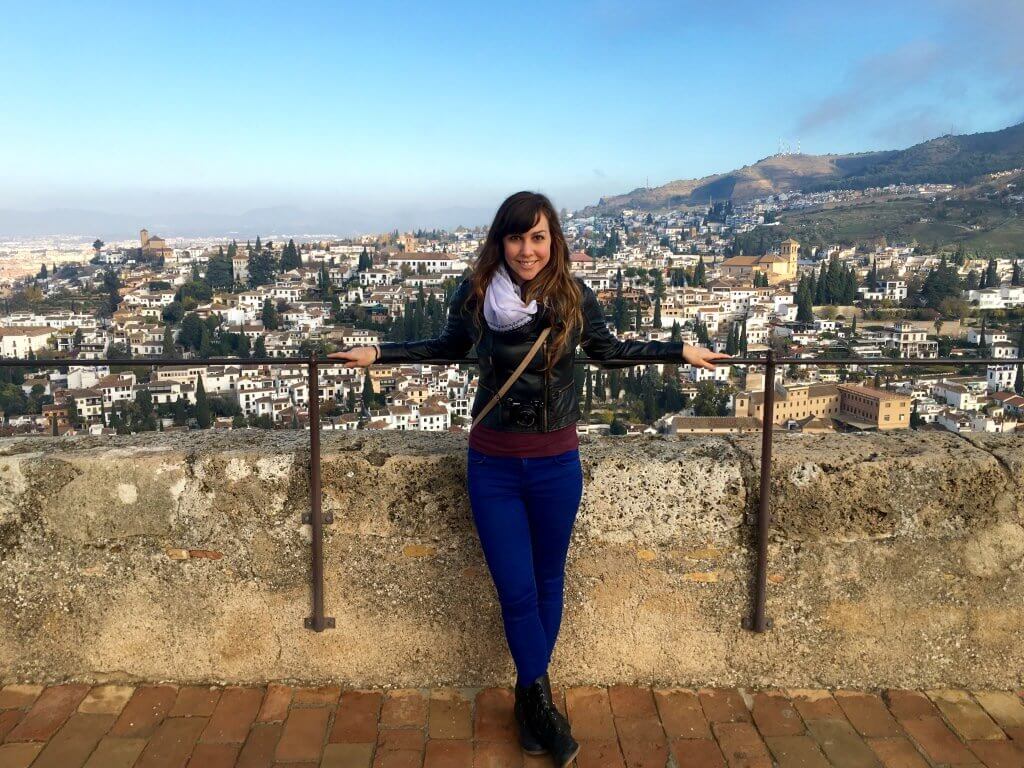 You can visit the Alhambra and spend as much time there as you like without having to worry about anyone else! Since it's a more touristy area of Spain you don't really need to worry about a language barrier either." – Sonja of Migrating Miss
Barcelona, Spain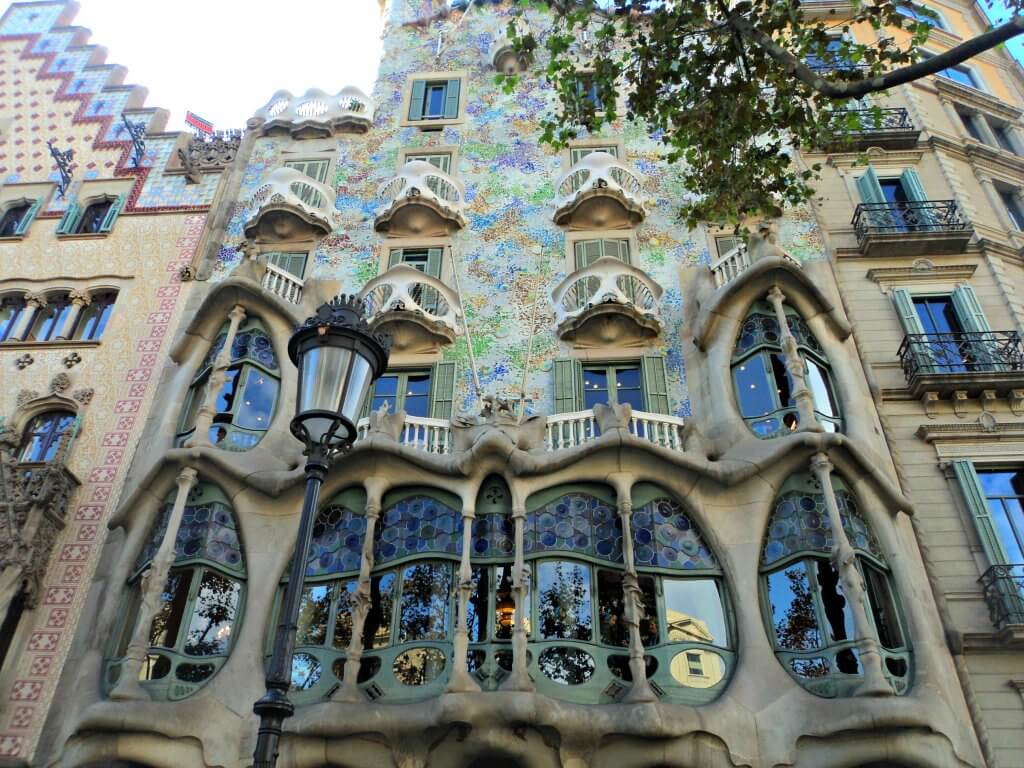 "The cosmopolitan capital of Catalonia, Barcelona is the perfect place to visit if you're a solo female travel. Spain in general is an inexpensive country, and Barcelona is no exception – from food, shopping and even using public transportation, Barcelona is a relatively cheap city to visit if you're on a budget!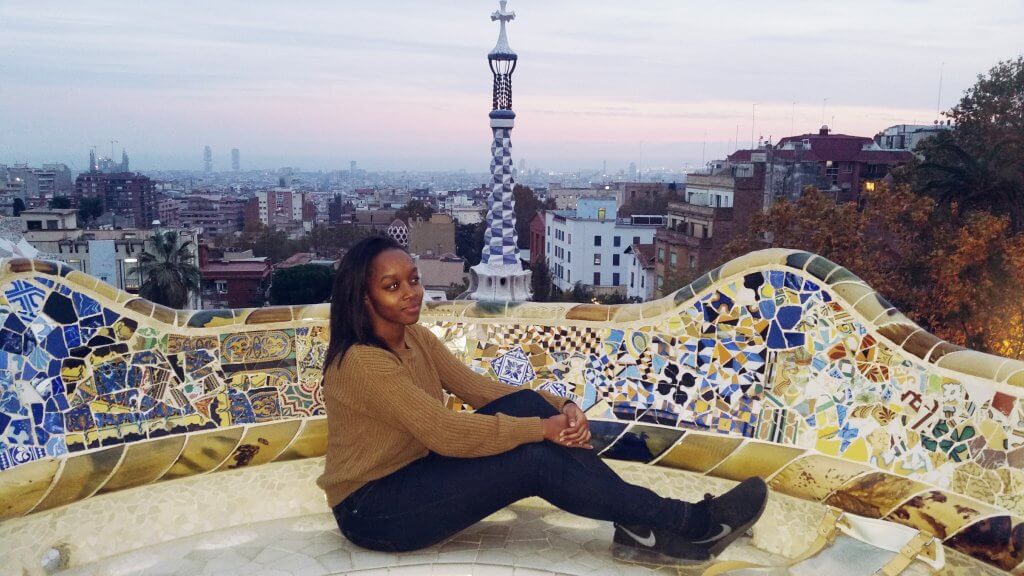 Although Barcelona is a big city, it's very safe to visit – I traveled solo in Barcelona last November and felt completely safe when I was out at night.. I also believe Barcelona is a great place to visit because of the rich: history, art, food, culture, etc. – there's something for everyone to enjoy in Barcelona!" – Paula of Curly Hair Adventures.
Bologna, Italy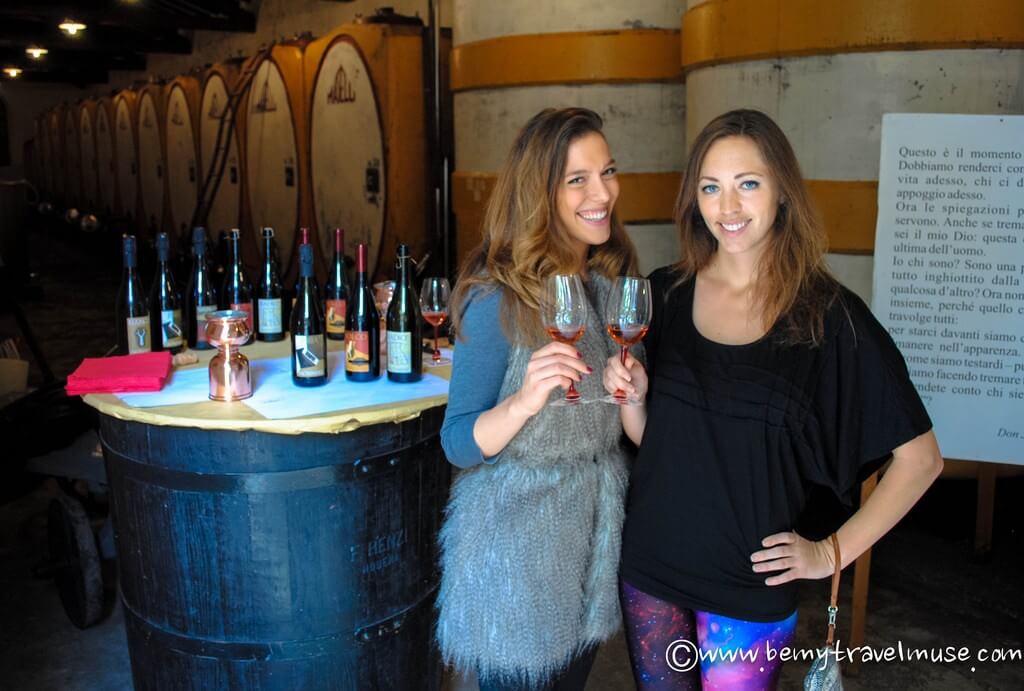 Bologna is fantastic for two reasons: the food and the locals. I found some of Italy's bigger cities to be stressful with all of the cat calling and the constant vigilance I had to keep over my backpack, but Bologna is different. Probably thanks to it being a university town, it feels safer and has a nice community of couchsurfers (which is how I met some wonderful people), au pairs, and students.
The locals in and around Bologna have been incredibly welcoming and friendly to me, and I will probably never get over how delicious the food is there.
Check out my Italy guide for more info.
Stockholm, Sweden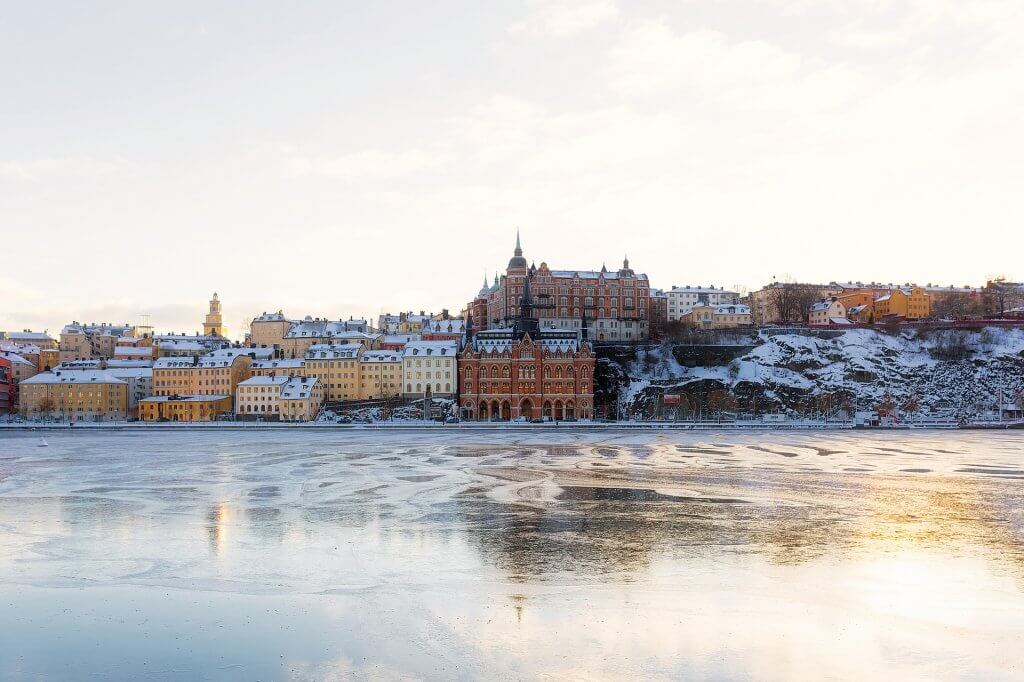 "Stockholm combines a pretty, walkable city centre with a very safe, egalitarian environment. The streets are clean and tidy, and in this country where women have long been treated as equal to men, a solo woman is nothing to be remarked upon. There is plenty to see and do: a historic centre with pretty winding streets, royal palaces to lose yourself exploring, and gorgeous islands a ferry ride away from the city centre where you can hike to your heart's content, or just sit on a rocky shoreline for hours with a good book, undisturbed.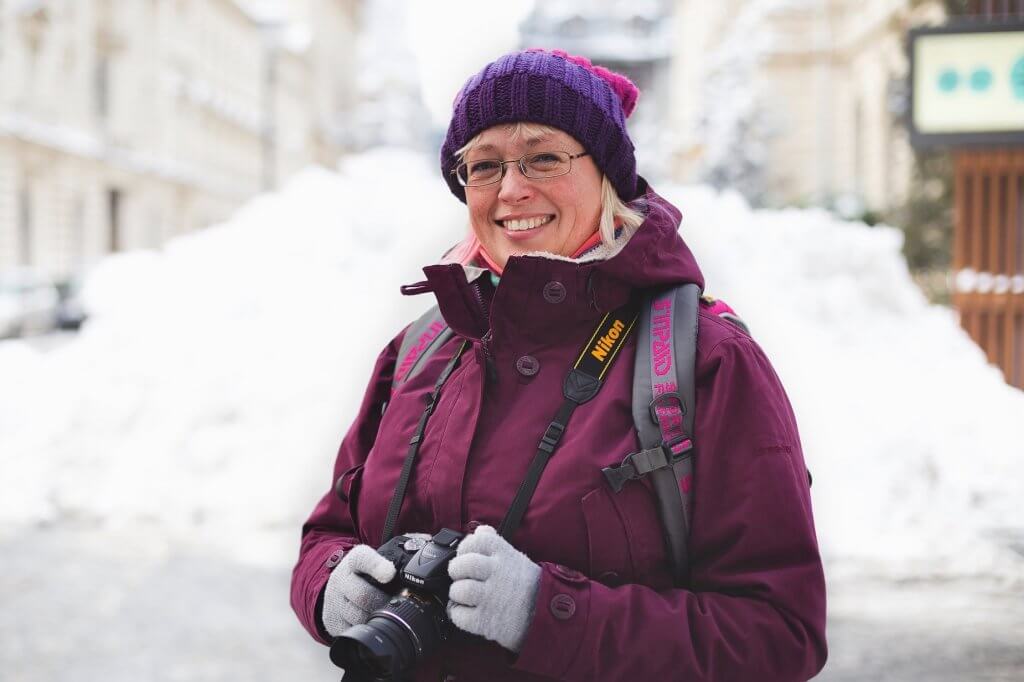 The light summer evenings mean it's not dark until well after 10pm, making it a safe place to wander after dinner, too. It's somewhere I keep going back to." – Jil of Reading The Book
Lisbon and Porto, Portugal
"I've done a long solo trip across Europe where, most of the time, I felt pretty safe. But Lisbon and Porto were special because they're extremely laid back and the people are very friendly.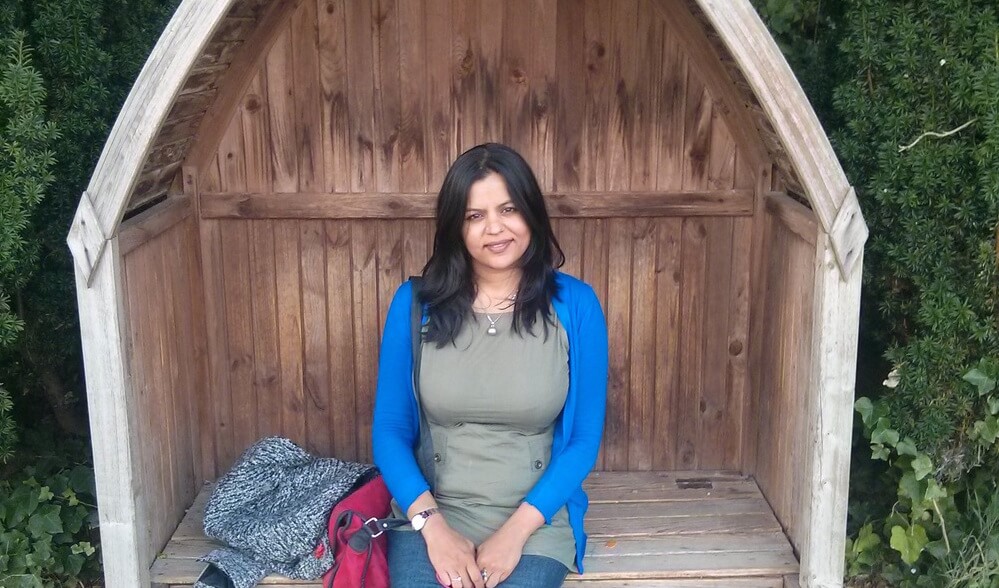 As a solo traveller, I felt extremely safe – and there were so many random acts of kindness. I even spent a night couch-surfing with the loveliest family in the mountains surrounding Porto who not only made me feel safe, but very welcome. Lisbon and Porto are very budget-friendly, the architecture is stunning and the food is delicious. The bars and cafes have character in both Porto and Lisbon. And the sunset in Lisbon is memorable – and it's free!" – Namrata of Ecophiles.
Edinburgh, Scotland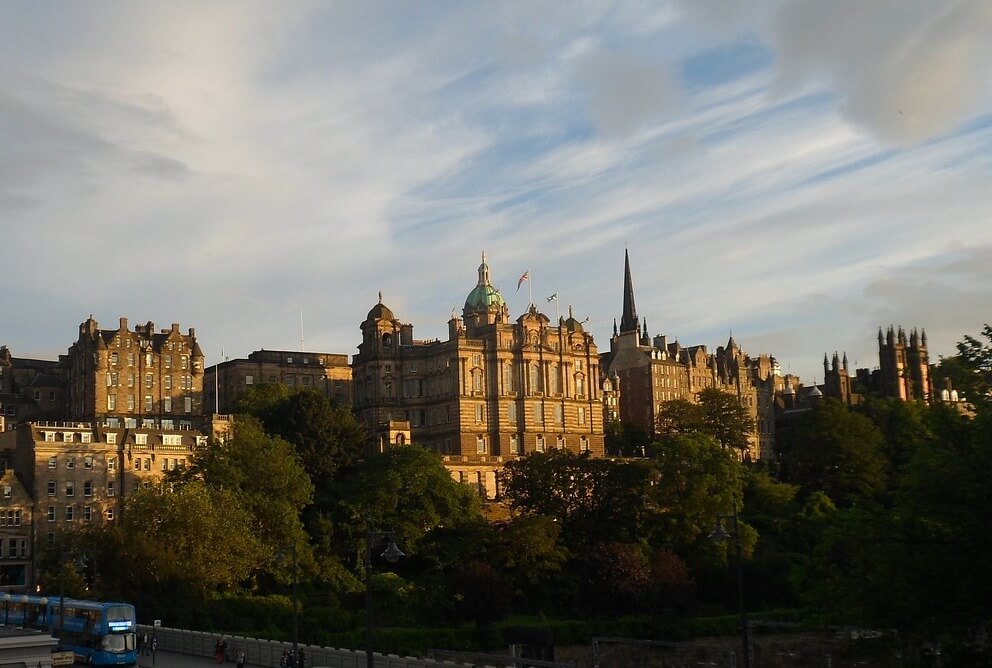 Upon landing in Edinburgh I just couldn't help but like the welcoming and easy to navigate city. I found the locals to be approachable and easy to talk to, and happy to help if I was lost or needed some guidance. Even in the evening, it feels safe to walk around.
Plus it's the perfect jumping off point to explore the rest of Scotland, a country that I've heard and seen from photos is breathtakingly beautiful. I can't wait to go back and explore more of it someday.
Montenegro, All Over
"As my plane was landing at the Podgorica airport, I was already gobsmacked. Montenegro looked GORGEOUS! I booked tickets here on a whim without much of a plan and within moments, I was patting myself on the back. Montenegro is full of friendly people and I never at any point felt unsafe during my stay.
I traveled up north in the Tara region to adventure down the canyon's rapids, down to Ulcinj to chill on the beach and hung out in the old city of Kotor. Prices were perfect, I had my own apartment with a sea view in Ulcinj for $23 USD a night (during shoulder season) and I had a two course meal with wine for 11 USD. Montenegro is a great place for solo females wanting some adventure or just a beach to chill out at." – Nina of Where In The World Is Nina.
Amsterdam, Netherlands
Amsterdam is a fantastic choice as a solo traveler simply because almost everyone who visits Europe goes there. Communication is easy because the Dutch are generally fantastic at English, and it's pretty small and compact and therefore easy to get around.
I spent hours, literally hours, exploring the various art museums there as well – a perfectly delightful solo activity. Basically, there is a lot to do and a lot of potential to meet others in a place as popular as Amsterdam. If you go in the spring, be sure to enjoy the tulips as well.
Oh, and you can get stroopwaffles there – delicious caramel waffle cookie things. Need I say more?
Budapest, Hungary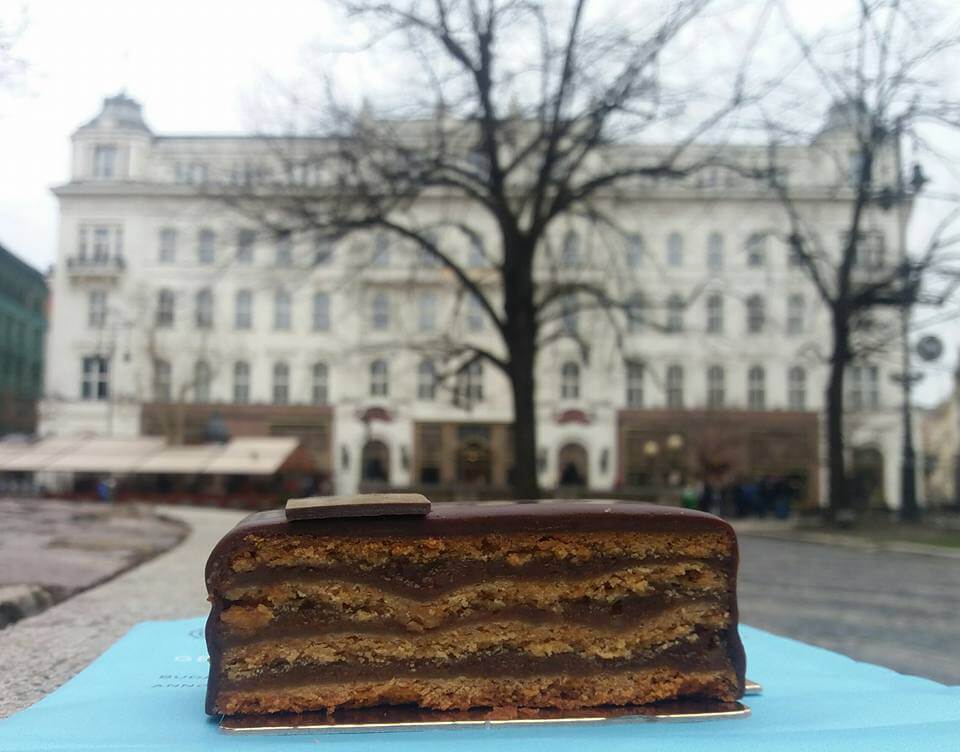 "Budapest is a fantastic European city for solo female travelers. It's incredibly budget friendly with low-cost boutique accommodation, delicious local food and wine that is a fraction of the cost of other European capital cities,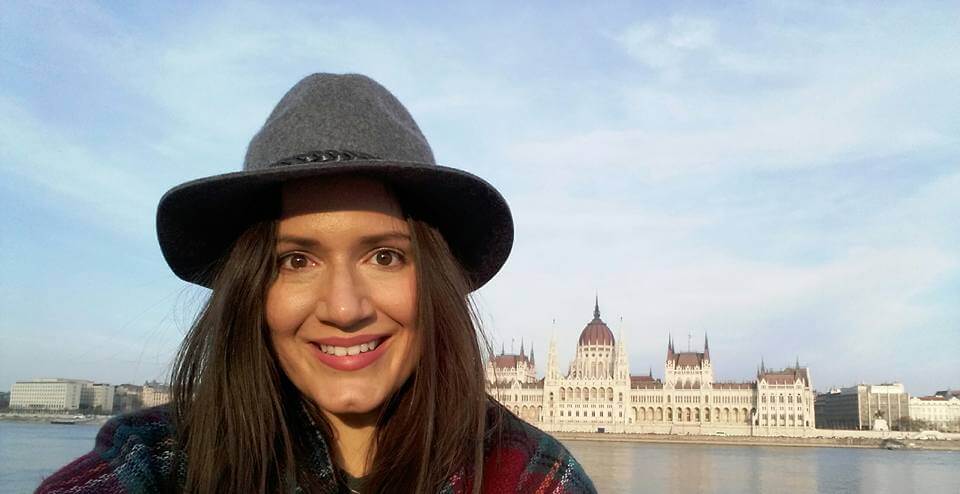 and wonderful experiences that are also affordable such as thermal bath spa days, exploring ancient castles, walking in historic districts to admire architecture, and frolicking in beautifully maintained parks. I've been to Budapest alone twice and never felt threatened during my trips. I met many other solo female travelers on wine cruises on the Danube river and at the many ruin pubs." – Lola of Miss Filatelista.
Belfast, Northern Ireland
You can't hope to meet a friendlier bunch than the people in Northern Ireland. Even if you don't feel like drinking alcohol, it's as easy as walking into a pub and just becoming part of the conversation. I can't tell you how many times I've made a group of new friends just by walking into a pub for lunch or dinner.
Northern Ireland is beautiful as well. Belfast is a great spot to start your explorations from, especially if you are a Game of Thrones fan!
Geneva, Switzerland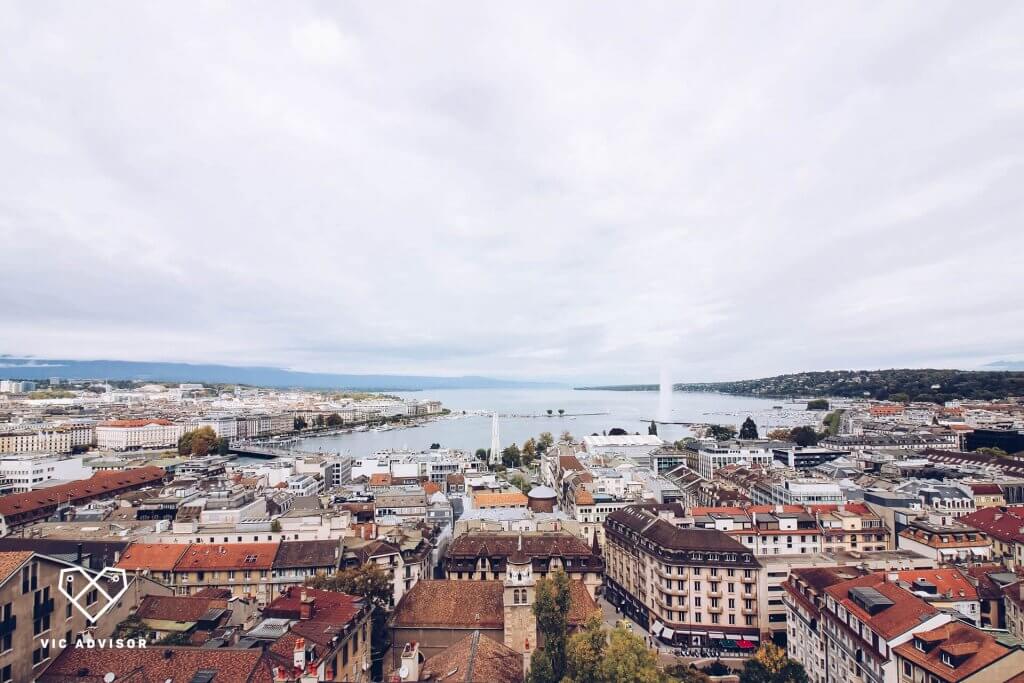 "I was drawn to the French Alps nearby, but thought the city itself was actually the perfect place for an independent trip (especially the first one), because it is a very international city, meaning you won't feel out of place no matter where you're from. Most people in the city speak English so communication is not a problem. While Geneva is known for being an expensive place, public transportation is free (if you stay in a hostel or hotel), and the city is also filled with water pumps you can use.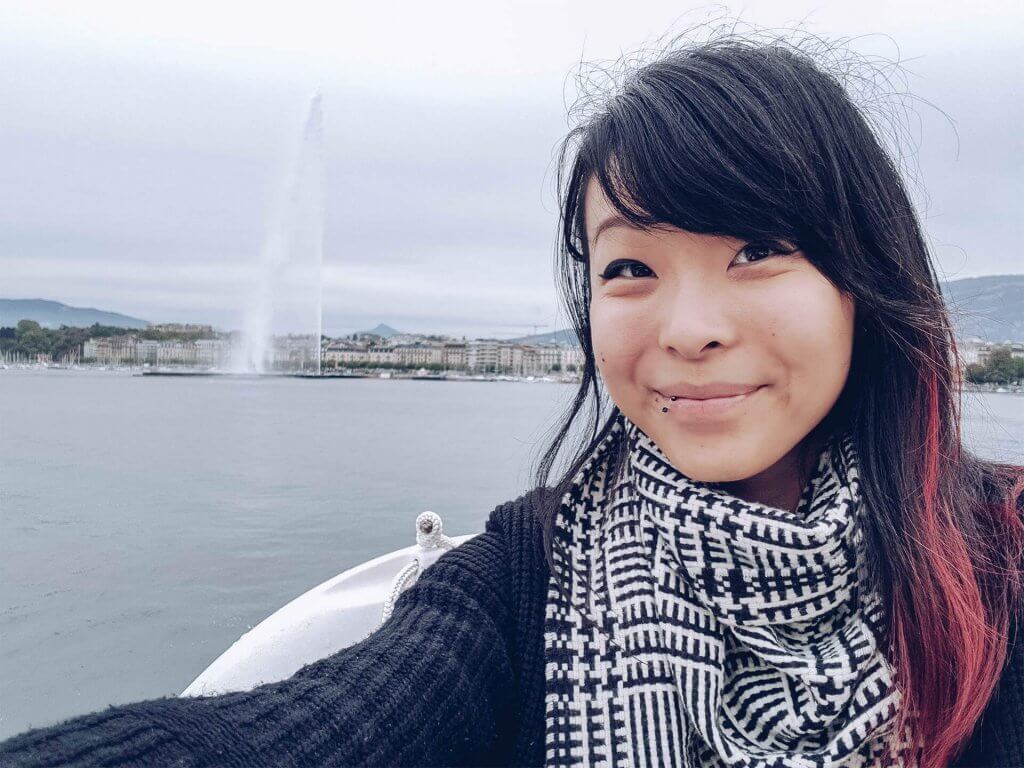 Finally, there's plenty to do in Geneva, even for a short break, and you get a city, lake, and mountain break all at once." – Victoria of Vic Advisor
Zermatt, Switzerland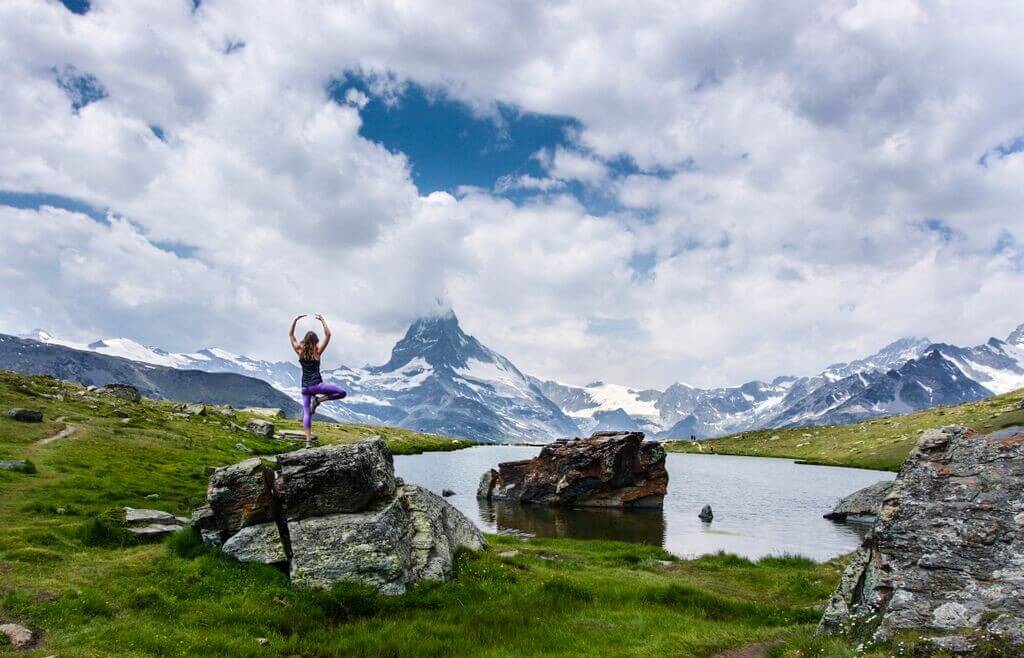 For those who love the mountains and hiking, but don't want to be on a trail all alone, heading to a popular area like Zermatt, Switzerland, can offer a nice combination of solitude in the mountains and people to meet.
On the popular trails, don't worry, you won't be the only one. They are also hostels in town where you can meet other travelers to hike with.
Check out my Switzerland guide for more info.
Avignon, France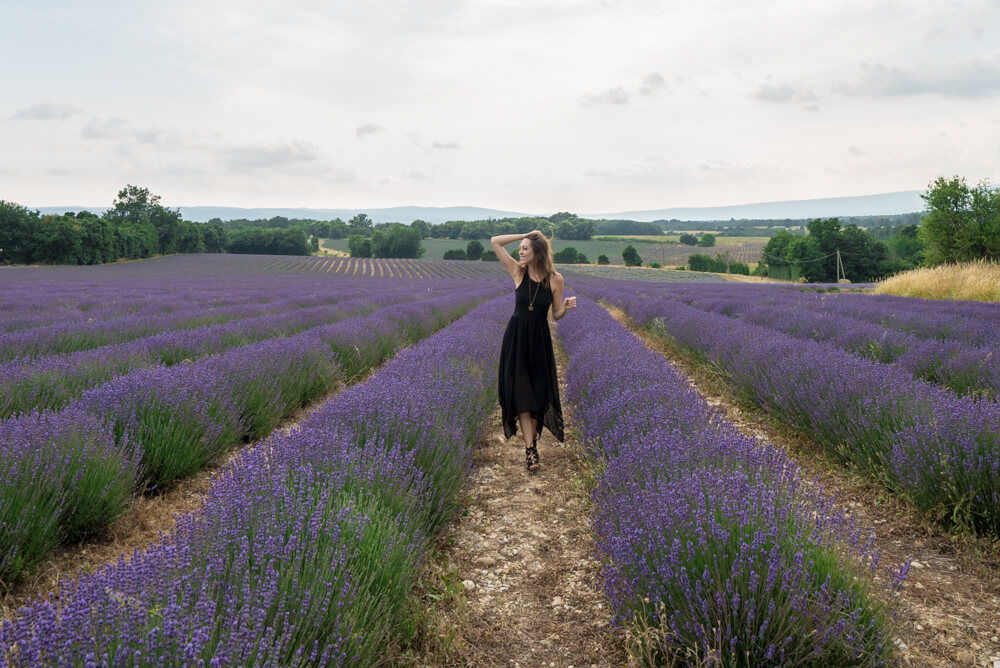 "I went there for my first solo trip after quitting my job to focus on the blog and my photography business. Avignon is a convenient and culture-filled destination in France's Provence region. Its compact, walled center is easily walkable and bustling at most hours of the day with locals enjoying wine in the sidewalk cafes and squares or hanging out on trendy (and cobblestoned) Rue des Teinturiers.
Must-visit spots include the vibrant indoor market, a local distillery producing pear brandy with the pears grown in the bottles, and the Palace of the Popes—now a UNESCO World Heritage that housed seven Popes in the 1300s when controversy cause the papacy to leave Rome. Thanks to great train connections, Avignon is also an ideal location from which to explore nearby towns in Provence." – Laura of Travel Addicts.
Skicircus, Austria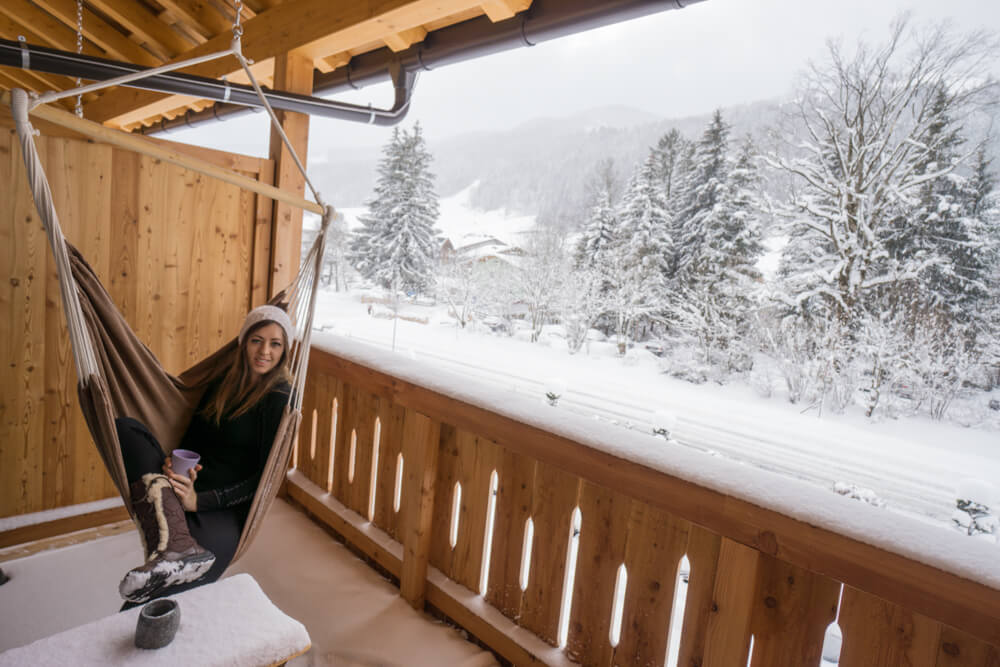 If you're looking for a winter ski spot that feels less uppity and more welcoming, take a look around Austria, particularly Skicircus. The nice thing about skiing in Austria is how social it is, and how cheap it is to ski and stay there. I was blown away that a lift ticket for access to over three major ski areas and over 270km of slopes in Skicircus was only €51. The same ticket would've probably been pushing $200 in the US.
Austria also has a pretty unique Apres-ski scene, my favorite of which was called Goaßstall in Hinterglemm – a literal goat stall blasting German Schlager songs, which everyone likes to sing and dance to together. You're going to meet cool people there. It's almost a guarantee.
Check out my Austria guide for more info.
Prague, Czech Republic
"Prague is a perfect destination for solo women, even for those just starting out. Of course, you still have to be cautious of your surroundings and not walk around drunk at night (even though I did that at a certain age), but overall, it's very safe here. The public transport works great and Uber does too, so you don't have to rely on taxis. Plus, you can easily communicate in English in most places. Prague also offers plenty of cool hostels where you can meet like-minded travellers. It's great to visit in any season, be it summer or winter ." – Veronika of Travel Geekery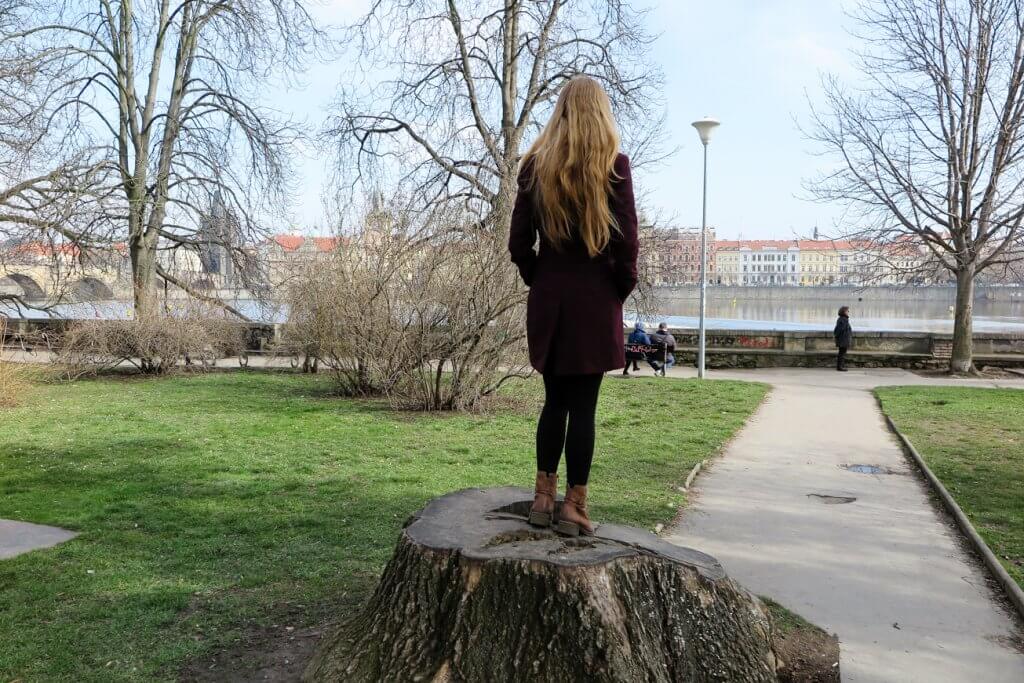 While my search is far from over, those are a few of my favorites for traveling alone in Europe. These are places where I felt safer, had an easier time meeting people, and enjoyed the scenery or the city vibe the most.
What are some of your favorite spots?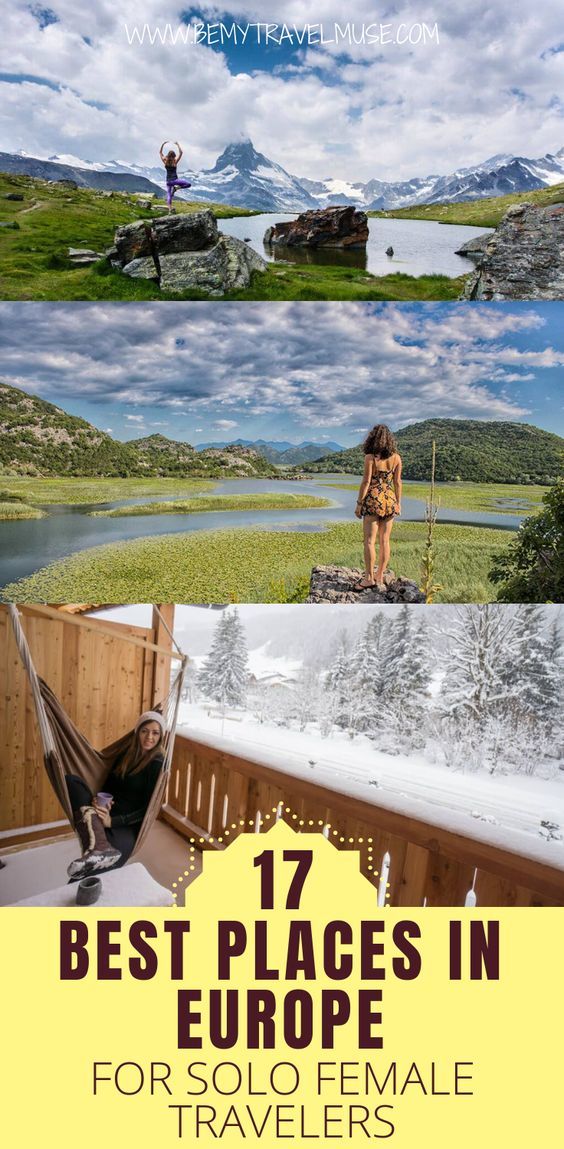 Read Next: Everything You Need to Know about Solo Female Travel in Europe
Get every new post delivered via email (3x posts per week, no spam, ever. Read our privacy policy here.)
Source https://www.theflashpacker.net/best-places-to-travel-alone-in-europe/
Source https://www.women-on-the-road.com/solo-europe.html
Source https://www.bemytravelmuse.com/best-places-solo-travel-europe/