Europe Travel Guide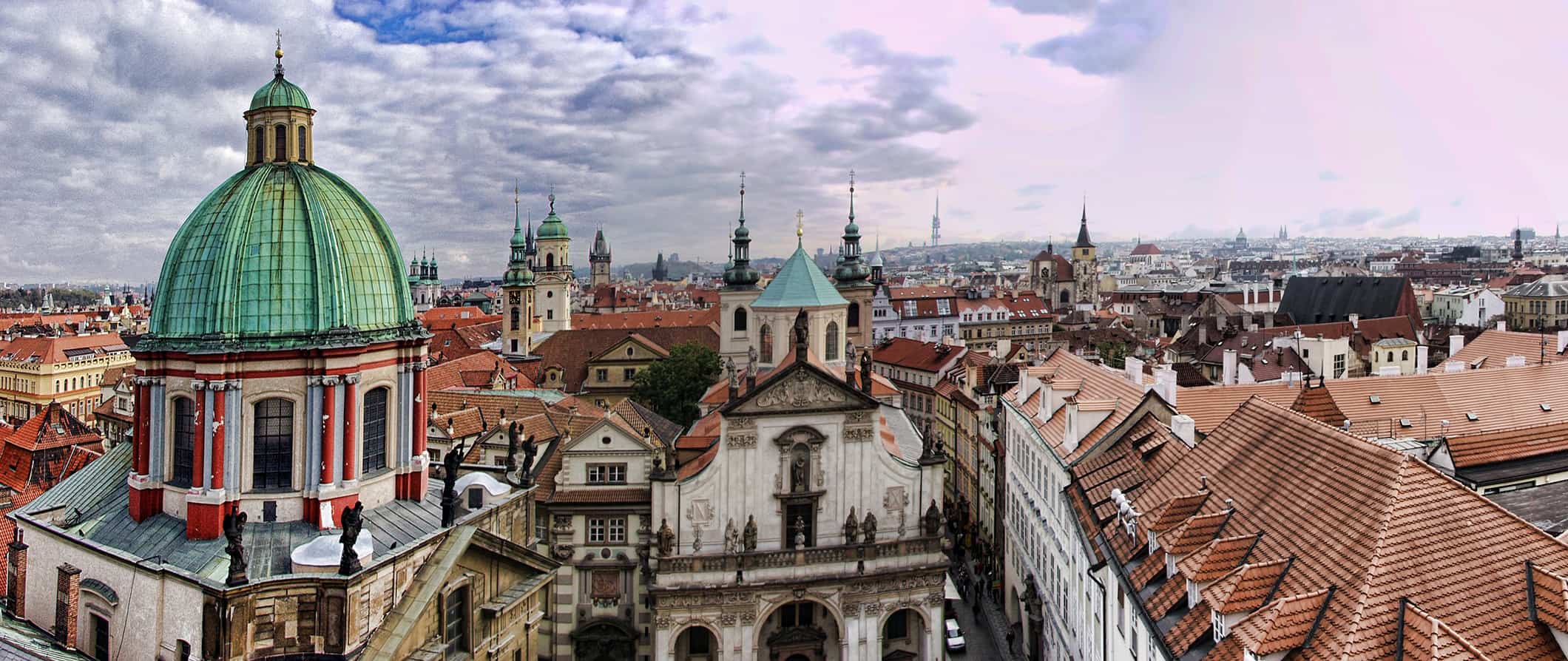 From beautiful Paris to smoke-filled coffeeshops in Amsterdam, Oktoberfest to La Tomatina, Europe is a massive, diverse continent with an unlimited assortment of things to see and do. You won't have any problem filling your time, whether you're backpacking Europe for a few months on a budget or just spending a few weeks there on a well-earned vacation.
The continent boasts wonderful beaches, historical architecture, amazing wine, and tons of world-class festivals. Every country is incredibly different from the next too, providing limitless variety in what you do during your trip.
I first backpacked Europe in 2006 and was hooked immediately. I've been visiting every year since, have run tours around the continent, and even wrote a book on traveling in Europe. It's a destination I love and never get tired of exploring.
This guide will give you an overview of Europe and the tips and tricks you need to start planning your trip. I've also written extensive travel guides to each country on the continent (linked below in this post) so you can get more in-depth information for your specific itinerary too!
Table of Contents
Click Here for Country Guides
Top 5 Things to See and Do in Europe
1. Tour the Greek Islands
These islands are the mecca of summer beach fun. The island of Ios is party central, Kos and Crete are popular destinations for Brits, Santorini has history, Mykonos has luxurious, and Naxos is quiet. With hundreds of islands, you can always find what you are looking for!
2. Ride the rails
Europe is famous for its international rail system. Rail passes like the Eurail pass make it easy to get from country to country on a relatively small budget (and with lots of flexibility). Riding the European rails is one of the best ways to get around and see the continent!
3. Get lost in Paris
The city of lights is everything people say it is. I fell in love with it the first time I stepped foot in Paris. The food, the wine, the atmosphere, the history; it's hard not to see the magic. It would take years to see everything here, but you can get a good feel of the city in a few days.
4. Go city hopping
There are so many amazing cities in Europe that we'd need a top 100 to list them all. Some of my personal favorites and must see cities are: London, Edinburgh, Amsterdam, Berlin, and Barcelona, Lisbon, Prague, Tallin, Florence, and Stockholm. Criss cross the continent, take in the culture, and enjoy all the historic cities!
5. Hit the Alps
Whether you go skiing in the winter or hiking in the summer, the Alps hold some of the most breathtaking views in all the world. The alps are great whether you're in Italy, France, or Switzerland — you can't go wrong no matter where you go as they are one of the greatest natural attractions on the continent!
Other Things to See and Do in Europe
1. Tour Amsterdam
I love Amsterdam so much that I lived here for a short period of time in 2006. Here cobblestone and brick streets weave around lovely canals as people ride their bikes to and fro. Amsterdam has a vibrant art and music scene and there's a ton of museums here like the Anne Frank house, FOAM, the history museum, and the hemp museum. Be sure you get out of the center into Jordaan and Oost with their wonderful outdoor cafes and fewer tourists.
2. Hang out in Barcelona
Barcelona is a city that goes 24 hours a day, 7 days a week. It truly could give NYC a run for the "city that never sleeps" title. Be prepared for late-night dinners and parties until dawn. Besides a great food and nightlife scene, there is a wonderful beach, tons of Gaudi architecture (including the iconic Sagrada Familia, which has been under construction for over 100 years!), incredible food tours, one of the best history museums in the country, and lots of outdoor spaces.
3. Visit Berlin
Hip and trendy Berlin is an energetic destination. It is one of Europe's most affordable capital cities, with a vibrant music and art scene and a growing foodie movement. Be sure to spend some time learning about the city's darker history via the many excellent museums, memorials, and landmarks. The East Side Gallery, a section of the Berlin Wall that's now painted with murals, and the Memorial to the Murdered Jews of Europe are two especially powerful reminders of Germany's past. For all periods of German history, don't miss the Deutsches Historisches Museum (German Historical Museum) – it's one of the best history museums in the world. Once you've had your fill of history, relax in Berlin's many green spaces, from Tempelhof Field, the site of a former airfield and popular local hangout spot, to Tiergarten, a tree-covered former hunting ground for 17th-century aristocrats.
4. Drink beer at Oktoberfest
Oktoberfest is a must for anyone going to Germany at the end of September. For two weeks, millions of people from all over the world gather for lots of beer, excitement, music, and wild fun. Watching thousands of people sing together, raising pint glasses for endless toasts, and the enjoying general party atmosphere makes you feel good about the world. (Or maybe that's just the beer?) Just be sure to book your accommodation well in advance and be prepared to pay top prices for them.
5. Experience London
Get a taste of English culture in diverse London. The museums here are some of the best in the world (most are free) and include the Tate, the British Museum, the City Museum, the National Gallery, the Historical Museum. There's no shortage of iconic sights here as well, with Big Ben, the House of Parliament, the London Eye, the Tower of London, Tower Bridge, and of course, Buckingham Palace. The city also offers great food and wonderful pub culture, perfect for after a long day seeing the sights. Head to Brick Lane on the weekends for some amazing food and craft markets. I prefer Paris to London, but there is something sophisticated and fun about London. Just watch those pints — London is not a cheap destination!
6. Get outdoors in Scandinavia
My favorite region in Europe is Scandinavia. The quality of life here is high, the people are beautiful and friendly, and the cities are clean and historic. Cycling the cities, taking canal tours, hiking the vast forested areas, archipelago hopping, enjoying fika (a Swedish coffee break), and warming up in saunas are just a few of the popular activities that await you here. True, this area of Europe is not cheap, but there are plenty of ways to reduce your expenses. Don't let the high prices scare you away. Highlights for me include Copenhagen, Stockholm, Gotland, Norway's fjords, and Lapland in Finland.
7. Get enchanted in Prague
Prague has an amazing history and is one of the most beautiful and picturesque cities I've ever seen. Highlights include the 9th-century Prague Castle, the magnificent Charles Bridge (built in the 14th century and one of the oldest standing bridges in the world), the 10th-century old square with its iconic astronomical clock, and the winding Jewish Quarter. During the weekends it heaves with people enjoying the bars, cheap beer, and delicious food so try to visit during the week (and in the spring or fall) to beat the crowds
8. Relax on the French Riviera
Here, you can pretend to live the high life for a little bit. Have fun in the sun, relax on the beach, swim in azure blue water, hobnob with the rich and famous, and sail on (or gaze at) gigantic yachts. As for cities, Nice is nice with its palm-tree-lined promenade, old town, and many art museums. The kingdom of Monaco with its tiny streets, beautiful buildings, and world-famous casino is just a skip away too.
9. Enjoy the great outdoors in Interlaken
Located in the beautiful mountains of Switzerland, Interlaken is a gorgeous place to unwind with fantastic hiking, delicious hot chocolate, and plenty of outdoor sports. The area is full of natural attractions to explore, including the St. Beatus Caves (complete with a legendary dragon), the cascading 500-meter-high (1,640 feet) Giessbach Waterfalls, the Jungfraujoch mountain railway (which leads to the highest train station on the continent), and a plethora of lakes (hence the town's name). It's a good alternative to all the cities and museums. Interlaken is also a popular party destination for backpackers and other young travelers.
10. Experience history in Rome
In this thriving historical city, you can't walk two feet without stumbling over a ruin, making Rome a history buff's dream. Its tiny streets are perfect for wandering as you explore the Colosseum, see the Forum and Palatine Hill, visit the Pantheon, spend time in Vatican City, admire the Spanish Steps, and toss coins into the famous Trevi Fountain. Rome also has amazing food (it's Italy, after all) and nightlife. Visit the Trastevere area for a taste of "local" Rome and chill bars. It's my favorite area in the city.
11. Hike around the Cinque Terre
Cinque Terre is my favorite part of Italy. These five beautiful cliffside towns are perched near warm waters and beautiful olive and grape groves. There are wondrous and strenuous hikes in these hills; for a real challenge, take trail #8. Or just walk the coastline for something less difficult. Many activities here revolve around the coastline: kayaking, swimming, having a beach picnic, or visiting the Technical Naval Museum. If you happen to be here in December or January, don't miss the Nativity Manarola, the world's biggest lighted nativity scene.
12. Tour Krakow
Krakow looks like it stepped out of a medieval postcard. It's a hip, trendy, and youthful city that's the center of education in Poland, meaning there are a lot of university students here. Most travelers come to party here (the vodka is cheap) but try to enjoy the city's history and food besides just the bars. Walk the Royal Road through the Old Town to the 13th-century Wawel Castle, tour Schindler's Factory (where Schindler saved over 1,200 Jews during World War II), and visit the sobering Auschwitz-Birkenau concentration camp. You can also take a fascinating day trip to the UNESCO World Heritage Wieliczka Salt Mine, a 13th-century mine with cavernous chambers, statues, chapels, chandeliers, and cathedrals all carved out of salt.
13. Visit the ruin bars in Budapest
The coolest nightlife in all of Europe is found in Budapest. Built in abandoned buildings, ruin bars feature funky art installations, repurposed furniture, and quirky decor. They are amazing, fun, and great places to meet locals, as people of all ages flock here. Open since 2001, Szimpla Kert is the original ruin bar and one of my favorites, along with Instant-Fogas Complex, which takes up an entire building and is actually many different bars in one. Don't skip the ruin bars — they're one of the most unique things about the city!
14. Explore Cornwall
The best part of England is outside London, yet unfortunately, not a lot of travelers leave London. Head west to the area of Cornwall for cheaper prices, welcoming locals, natural beauty, great hiking, rolling hills, plenty of medieval castles, and picturesque small towns. Overall, it's what you think of as "traditional England."
15. Walk the Camino
El Camino de Santiago (The Way of Saint James) is an ancient pilgrimage route that stretches from France all the way across northern Spain. It is an 800 kilometer (500 miles) trail that winds through incredible terrain, ending in Santiago de Compostela at the cathedral where St. James is supposedly buried. As a pilgrim, you get a "pilgrim's passport" which allows you to stay in affordable pilgrim-only hostels, making this a surprisingly budget-friendly adventure. While it usually takes over a month to complete, you can just walk a section if you don't have the time. To receive a "Compostela" (certificate of completion), you just need to walk the last 100 kilometers (62 miles), which generally takes 4-5 days.
16. Throw tomatoes during La Tomatina
By far my favorite festival, the largest food fight in the world happens during the last Wednesday of August in Bunol, Spain. What started in 1945 as a local brawl has turned into a massive event drawing tens of thousands of people from all over the world. For about an hour, everyone throws tomatoes at each other, leaving streets ankle deep in tomato juice. Afterward, everyone walks down to the river, cleans off, and then heads to the town square for sangria and music.
17. Find Dracula in Romania
Not a lot of people visit Romania but this underrated country in Eastern Europe has undiscovered yet picturesque medieval towns like Brasov (home to "Dracula's castle"), Sighisoara, and Sibiu; gorgeous beaches on the Black Sea; and incredible hiking in the Fagaras Mountains — all at dirt-cheap prices. Other major sights include frescoed Byzantine monasteries, the steepled wooden churches of Transylvania, the hip university town Cluj-Napoca, the post-communist capital of Bucharest, and the Danube Delta, a huge nature reserve.
18. Drink whisky in Islay
Whisky has a long history on Islay, an island off Scotland's west coast. It's been made there since the 16th-century — first in backyards and then, starting in the 19th-century, in large distilleries. Over the years, whisky from the island came to be considered a specialty and was used to flavor a lot of other blends on the mainland. There are currently nine working distilleries on the island, all located along the island's shores, with Laphroaig, Ardbeg, and Lagavulin being the most famous. Most distilleries here make single malt Scotch, meaning that only one type of grain (barley) is used. My visit here was amazing and, even if you don't like whisky, there are tons of good hikes and walks throughout this magnificent island.
19. Explore Iceland
Iceland is a magical country with majestic waterfalls, hidden hot springs around every corner, and sweeping vistas unlike anywhere else in the world. After my first visit, the country quickly became one of my favorite countries. With whale watching in the summer, the northern lights in the winter, and geothermal baths for soaking in year-round, there really is no bad time to visit! While Iceland's main draw is the epic natural landscapes, it's worth spending a couple of days in Reykjavik with its café culture, artsy feel, and brightly colored wooden row houses.
20. Sail the Croatian coast
With calm winds, short distances, a coastline littered with over 1,000 islands, and countless historical sites, Croatia is one of the world's best sailing destinations. If you can, go during the shoulder season, when you can find some great deals. Plan to stay at least a couple of days on one of the islands, with the most popular being Brac, Hvar, Krk, Cres, and Lošinj. However, don't be afraid to get off the beaten path and explore some of the lesser-known islands such as Silba, Vis, and Lastovo. If you want to splash out and spend a week partying on a yacht, check out The Yacht Week, which hosts week-long parties, complete with DJs, from May-September. You can book a full boat to share with friends or just a cabin if you're traveling solo. Prices start at 5,250 HRK per person and go up to 9,300 HRK.
21. Explore the Balkans
While the Balkans have become more popular with backpackers in recent years, it's still largely overlooked by most budget travelers, despite being an extremely budget-friendly region. The Balkan peninsula is home to great (and again, overlooked) wine, beautiful medieval towns like Kotor and Mostar, stunning mountainous landscapes, coffee culture, hearty yet inexpensive food, and museums covering the area's history, including the most recent turbulent events of the early 1990s. I especially loved my time in Albania.
22. Take a wine tour in the Loire Valley
Located in central France, the picturesque Loire Valley is a UNESCO World Heritage site and stretches 280 kilometers (174 miles) along the Loire River. One of the major wine-producing regions of France, the area is home to some of the best wine in the world, with over 1,000 vineyards open to the public. Even those who don't drink wine will enjoy the beautiful small towns, great food, and the region's over 300 impressive chateaux. It's an area not to be missed.
23.See Fado in Portugal
Fado is an important musical tradition in Portugal, originating in Lisbon and stretching back some 200 years. The word "fado" likely stems from the Latin word for fate, and it's very haunting, poetic, and emotional music. Most of the songs follow themes of loss and mourning, and the music was popular with the working class (especially sailors). Performances normally take place in restaurants during dinner. In Lisbon, head to Clube de Fado, Tasca do Chico, Parreirinha de Alfama, or Senhor Vinho.
24. Tour green Slovenia
Slovenia is one of Europe's least-visited destinations, which is mind-blowing to me because it's an amazing place to visit. Slovenia offers all the beauty of Western Europe but at a fraction of the cost and with a fraction of the crowds. Perfect for outdoor adventure lovers, Slovenia offers rugged mountains, untouched landscapes, fantastic ski resorts, plentiful wine, sprawling cave systems, incredible food, and postcard-perfect lakes, such as the famous Lake Bled with its castle on an island. Make sure to also spend a few days in the country's capital, Ljubljana, known as one of the continent's greenest and most livable cities.
For more information on specific countries in Europe, check out the guides below:
Europe Travel Costs
Accommodation – Accommodation pricing vary greatly by region.
In Western Europe, hostel dorm rooms cost between 15-35 EUR per night, depending on the room's size and the popularity of the hostel. I stayed in a 6-bed dorm in Berlin for 15 EUR, while the same one would have cost me around 32 EUR in Paris. A room in Paris costs on the higher end and a room in cheaper Athens costs on the lower end.
In Eastern Europe, hostel dorm rooms cost between 6-15 EUR per night depending on the size of the dorm room and the popularity of the hostel. The further east you go, the cheaper it gets. Expect to pay around 27-55 EUR per night for a private room that sleeps two.
In Scandinavia, hostel dorm beds cost around 22-42 EUR, while private rooms are 65-80 EUR. Budget hotels start around 85 EUR.
Most accommodations offer free linens, free Wi-Fi, and a lot offer free breakfast, but it's important to check specific websites for exact amenities.
Campsites cost between 9-15 EUR per night for a basic plot for two without electricity.
Food – Food traditions in Europe run deep, stretching back centuries to become integral parts of each country's culture. From baguettes in France to tapas in Spain, from hearty Eastern European stews and goulash to the fresh vegetables and olive oils of the Mediterranean, European cuisine varies as much as the countries themselves. Food prices differ greatly across the continent, so check individual country guides for specifics.
But no matter where you are, even in the more expensive countries, finding places to eat within your budget is easier than you might think. Throughout Western Europe, you can find small shops, street food stalls, or food trucks where you can get sandwiches, gyros, kebabs, slices of pizza, or sausages for between 3-7 EUR. These shops are most often found in train stations, bus stations, and main pedestrian areas, and offer cheap food alternatives that can have you eating on 9-15 EUR per day. Fast food (think McDonald's) costs around 7-10 EUR for a combo meal.
Turkish, Middle Eastern, and Vietnamese eateries abound in Germany, while Indian food is incredible and everywhere in the United Kingdom. Meals at these restaurants usually cost between 6-12 EUR.
Restaurant meals in casual, traditional eateries generally cost around 13-25 EUR for a main dish and drink. Food is much cheaper in the east than in the west, and in the west, northern regions like Scandinavia and the UK are more expensive than southern countries like Spain, Portugal, and Italy.
In Eastern Europe, even if you are eating out for all your meals, you can still get by on a food budget of as little as 10 EUR per day.
For drinks, a pint of beer is 2-5 EUR, a glass of wine is 2-7 EUR, a cappuccino is 2-5 EUR, and cocktails range from 4-10 EUR.
If you eat out, do so at lunch and get the prix-fixe menu (two-course or three-course set menu). Restaurants offer this set menu during lunch, and with prices between 10-20 EUR, it's a way better deal than the regular dinner menu. You can also get affordable lunches at outdoor markets. So many European cities have huge fresh food markets throughout town.
You can cook your own food for around 45-65 EUR per week. This gets you basic staples like rice, pasta, seasonal produce, bread, and some meat. You can save money by shopping at discount supermarkets like Profi, Lidl, Aldi, and Penny Market.
If you want to save big money on meals, head to one of the markets, pick up some cheese, wine, bread, meats, or anything else, and go to the park for a picnic. (Or grab a sandwich for later!) You'll find the locals doing the same thing, and it's one of the cheaper ways to get a true taste of local food.
Activities – Wine tours are likely the priciest activity at around 90-120 EUR per day. Going up the Eiffel Tower costs 16-26 EUR and visiting the Versailles Palace and Gardens costs 27 EUR. The Tower of London is about 35 EUR. Bike tours and river cruises cost 24-40 EUR. Most museums and tours start at around 14 EUR (it's cheaper of course in the east). Full-day tours cost between 55-100 EUR. Prices vary drastically per country, so it's hard to give a good general cost. See country information for more details.
Backpacking Europe Suggested Budgets
Prices for travel in Europe vary greatly depending on how far north, east, south, or west you travel.
If you stick to the budget accommodations, food, and tours listed here and ignore all my tips on saving money, you need about 65 EUR per day in Western Europe, 40 EUR in Eastern Europe, and about 85 EUR in Scandinavia.
Those numbers reflect a traveler who stays in hostels, cooks some meals and eats out cheaply, enjoys a few drinks, and sticks to free and cheap activities like hiking, walking tours, and enjoying nature. This is your typical backpacker budget. You aren't going to have a fancy time, but you aren't going to want for anything either.
However, by getting tourist cards and rail passes, avoiding flights, occasionally Couchsurfing or camping, cooking all your meals, and not drinking, you can travel a lot cheaper. On this budget, you could do Western Europe on 35 EUR per day, Eastern Europe on 20 EUR, and Scandinavia on 50 EUR. That would require you to take a train or a bus or hitchhike everywhere, skip most museums, and limit how often you go out.
Generally, the suggested daily budget for Europe is 35-70 EUR. You can use the chart below to get some idea of how much you need to budget daily, depending on your travel style. Prices are in EUR.
Europe Travel Guide: Money-Saving Tips
Individual country guides have more specific information on how to save money in them but here are some general tips on cutting your costs while you explore Europe:
Picnic – This continent has a lot of little shops where you can buy pre-made sandwiches or ingredients to make your own. Buy some food, eat outside, and watch the city and its people go by. It's a much more enjoyable and cheaper way to eat.
Eat local and cheap – Not into picnicking? Eat at local sandwich shops, pizza parlors, Maoz, Wok to Walks, and outdoor street vendors. Avoiding restaurants and eating at a lot of the local "grab n' go" places gives you a taste of the local cuisine at a much cheaper price.
Stay with a local – Hostels can add up really quickly. If you don't have any friends with whom you can stay, consider using Couchsurfing, which connects you with locals who let you stay with them for free. It's a great way to save on accommodation and meet a local who can share their insider tips and advice.
Camp in a garden – A very good camping service specific to Europe is Campspace, which allows you to pitch a tent in someone's backyard for free or a small fee (around 10-20 EUR). All of the garden owners have profiles that tell you what services and facilities they offer. Also, many countries allow wild camping (like Sweden), which can save you a fortune if you have a tent.
Take the bus – Budget bus companies like Flixbus can take you across the continent for cheap. It isn't glamorous, but with tickets starting at 5 EUR, you really can't complain!
Get a Rail Pass – Eurail Passes have saved me hundreds of dollars. If you are traveling far distances and through many countries, they are a great deal.
Take the free city tours – One of the great things about Europe is that you can find free walking tours in all the major cities. They can be a great way to see the city attractions, take in some history, and learn your bearings without spending any money. Just make sure to tip your guide at the end!
Plan accordingly – Plan your trip around Europe so you avoid doubling back. Transportation is a big expense so proper planning can save you a lot of money (and time). Go in a straight line or a loop.
Fly cheap – If you know where you are going and a train won't do, try to book flights early. You can often get round trip fares for as little as 5 EUR from many of the European discount airlines like Ryanair or Wizz.
Drink less – Those 5 EUR beers add up. Hit happy hours or pick and choose when you party. Hostel bars are a good place to get cheap drinks or buy your alcohol at the supermarket. Partying your way across the continent will destroy your bank balance in no time.
Get a city tourist card – Many local tourism offices sell a tourism card for all their attractions, tours, and restaurants. This card gives you free entry and substantial discounts on all the attractions and tours in a city, free local public transportation (a huge plus), and discounts at a few restaurants and shopping malls. They save a ton of money. If you plan on doing a lot of sightseeing, get one of these cards.
Rideshare – If you're flexible in your schedule, use the ridesharing service BlaBlaCar to catch rides with locals between cities (or countries) by paying a small fee. It's like Airbnb but for rides. I used this service in Switzerland and, not only did I save a lot of money, but I got to meet interesting people to and learn about local culture and life. Drivers are verified and it's perfectly safe (though sometimes rides don't show up (which is why you need to be flexible).
Bring a water bottle – The tap water is safe to drink in most of Europe, so bring a reusable water bottle to save money and reduce your plastic use. LifeStraw is my go-to brand as their bottles have built-in filters to ensure your water is always clean and safe.
Where to Stay in Europe
Looking for the best hostel in Europe? Check out this list of favorites (and for an even deeper selection of favorites, visit our specific city and country guides for even more options):
(Amsterdam, The Netherlands) (Barcelona, Spain) (Barcelona, Spain) (Brasov, Romania) (Bruges, Belgium) (Copenhagen, Denmark) (Dublin, Ireland) (Edinburgh, Scotland) (Ios, Greece) (Kiev, Ukraine) (Krakow, Poland) (Lisbon, Portugal) (Porto, Portugal) (Prague, Czech Republic) (Rome, Italy) (Sofia, Bulgaria) (Stockholm, Sweden) (Stockholm, Sweden) (Tallinn, Estonia)
How to Get Around Europe
A key part of backpacking Europe is choosing how you're going to travel to your next destination. Transportation around most European cities by local tram, subway, or bus is typically under 2 EUR for a one-way ticket. Intercity transportation varies widely.
Here's a breakdown of each option:
Budget Airlines – Budget airlines are so prolific that competition helps keep fares low. You can often find tickets where the fare is just 5 EUR round-trip! Companies like EasyJet, Ryanair, Wizz, and Vueling offer mind-blowingly cheap flights throughout Europe. Book at least a month early to scoop up great deals.
Make sure that the airport they fly into isn't too far out of your way (transportation from the secondary airport sometimes negates the savings from using the budget airline itself).
Also, keep in mind that you'll have to pay to check your baggage on these cheap flights. It costs about 25-39 EUR for one checked bag. If you wait to pay for your luggage at the gate, you end up paying almost double. Travel carry-on only to avoid this added cost.
Buses – Buses are not quite as comfortable as Europe's trains, although certain lines do have great amenities (like roomy seats and Wi-Fi). They also take a lot longer than trains. While buses are not the most efficient way to travel around the continent, they're certainly dependable, reliable, and cheap. You can find last-minute rides for as little as 5 EUR. A route from Berlin to Munich is about 25 EUR, while Paris to Bordeaux can be as low as 10 EUR. Longer routes, like Amsterdam to Copenhagen, start at around 47 EUR.
Each country has its own national bus service, but some lines also take you long distances internationally. Megabus, Eurolines, Flixbus, and Busabout are some of the most popular companies.
Trains – Train travel is a great way to see Europe, albeit sometimes not the most cost-effective or efficient. Most European rail companies allow customers to purchase tickets online in advance, which is recommended for faster trains or popular trains like France's TGV and Germany's Deutsche Bahn. Intercity train prices vary wildly from country to country, depending on whether you take the slow train or a high-speed train, and how far in advance you book.
For example, a high-speed train from Berlin to Munich costs around 38-60 EUR, Bordeaux to Paris is about 50-85 EUR, and Madrid to Barcelona ranges from 45-85 EUR. Non-high-speed trains and other intercity lines are a lot cheaper, generally costing about 40-50% of the price of high-speed trains. Eastern Europe inter-country trains usually cost between 45-100 EUR when the ticket is booked last minute. Short trains rides of 2-3 hours within countries cost about 27 EUR.
You may also want to consider getting a Eurail Pass, which allows travelers to explore Europe by providing a set number of stops in a specific time period. These passes are continent-wide, country specific, or regional. It can potentially save you hundreds of dollars.
Ridesharing/Car sharing – If your schedule is flexible, use a ridesharing service and catch rides with locals between cities (or countries). Drivers are verified and it's perfectly safe. BlaBlaCar is the most popular.
Hitchhiking – Hitchhiking in Europe is very safe, but it's not for everyone. Hitching is quite common around the continent and I've met a number of travelers who have done it (I, myself, traveled this way in Bulgaria and Iceland). Some countries are very supportive (Romania, Iceland, Germany) while others may be a bit more time-consuming (Italy, Spain). HitchWiki is the best website for hitchhiking info.
Here are my suggested articles for how to get around Europe:
When to Go to Europe
There's no wrong time to visit Europe. Peak season is summertime when Europe gets crowded. Prices increase during this time as well. But the overall atmosphere and weather are great during this time, so it's still worth visiting during peak season (just book your accommodation in advance — especially in August). Expect the most crowds in Western Europe.
Shoulder season is spring and fall (April-May and September-October). It's still warm during this time but there aren't as many crowds and prices are cheaper. This is my favorite time to visit Europe. The weather is good, the crowds fewer, and the prices lower.
Winter is from November to February. It gets cold, even as far south as it gets (like Greece). On the other hand, the Christmas season has a fantastic season, with Christmas markets and festivals galore! Daylight hours are shorter north, however, especially in Scandinavia. Unless you're here for holiday markets or winter sports, I'd stick to the countries in southern Europe (Greece, Malta, Italy, Spain) to avoid the worst of the cold.
How to Stay Safe in Europe
Europe is very safe for backpacking and solo traveling, even if you're traveling solo, and even as a solo female traveler. Violent crimes against tourists are very rare.
That said, there are scams and petty crimes you should watch out for, especially around popular tourist landmarks. Always keep your valuables out of reach on public transportation and in crowds just to be safe.
If you're worried about scams, you can read about common travel scams to avoid here.
If you rent a vehicle, don't leave any valuables in it overnight. Break-ins are rare, but it's always better to be safe than sorry. Also, be aware that the UK drives on the left and that most rental cars in Europe will have manual transmissions unless you request otherwise.
When hiking, always bring water and sunscreen. Be sure to check the weather before you depart and dress accordingly.
When at the bar, always keep an eye on your drink. Avoid walking home alone at night if you're intoxicated.
If you do experience an emergency, dial 112 for assistance.
Always trust your gut instinct. Make copies of your personal documents, including your passport and ID. Forward your itinerary along to loved ones so they'll know where you are.
For more information, I wrote a whole article about how Europe is safe to visit right now.
The most important piece of advice I can offer is to purchase good travel insurance. Travel insurance will protect you against illness, injury, theft, and cancellations. It's comprehensive protection in case anything goes wrong. I never go on a trip without it as I've had to use it many times in the past. You can use the widget below to find the policy right for you:
Europe Travel Guide: The Best Booking Resources
These are my favorite companies to use when I travel. They consistently have the best deals, offer world-class customer service and great value, and overall, are better than their competitors. They are the companies I use the most and are always the starting point in my search for travel deals.
Skyscanner – Skyscanner is my favorite flight search engine. They search small websites and budget airlines that larger search sites tend to miss. They are hands down the number one place to start.
Hostelworld – This is the best hostel accommodation site out there with the largest inventory, best search interface, and widest availability. – The best all around booking site that constantly provides the cheapest and lowest rates. They have the widest selection of budget accommodation. In all my tests, they've always had the cheapest rates out of all the booking websites.
HostelPass – This new card gives you up to 20% off hostels throughout Europe. It's a great way to save money. They're constantly adding new hostels too. I've always wanted something like this and glad it finallt exists.
Intrepid Travel – If you want to do group tours, go with Intrepid. They offer good small group tours that use local operators and leave a small environmental footprint. And, as a reader of this site, you'll get exclusive discounts with them too! – Get Your Guide is a huge online marketplace for tours and excursions. They have tons of tour options available in cities all around the world, including everything from cooking classes, walking tours, street art lessons, and more! – If you are going to Europe and taking a lot of high speed or long distance trains, get a rail pass. I've used a rail pass three times and saved hundreds of dollars each time. The math just works. – This website is the ultimate guide to train travel anywhere in the world. They have the most comprehensive information on routes, times, prices, and train conditions. If you are planning a long train journey or some epic train trip, consult this site. – This website allows you to see how to get from point A to point B the best and cheapest way possible. It will give you all the bus, train, plane, or boat routes that can get you there as well as how much they cost. – Flixbus has routes between 20 European countries with prices starting as low 5 EUR! Their buses include WiFi, electrical outlets, a free checked bag. – Safety Wing offers convenient and affordable plans tailored to digital nomads and long-term travelers. They have cheap monthly plans, great customer service, and an easy-to-use claims process that makes it perfect for those on the road.
Europe Gear and Packing Guide
If you're heading on the road and need some gear suggestions, here are my tips for the best travel backpack and for what to pack!
The Best Backpack for Travelers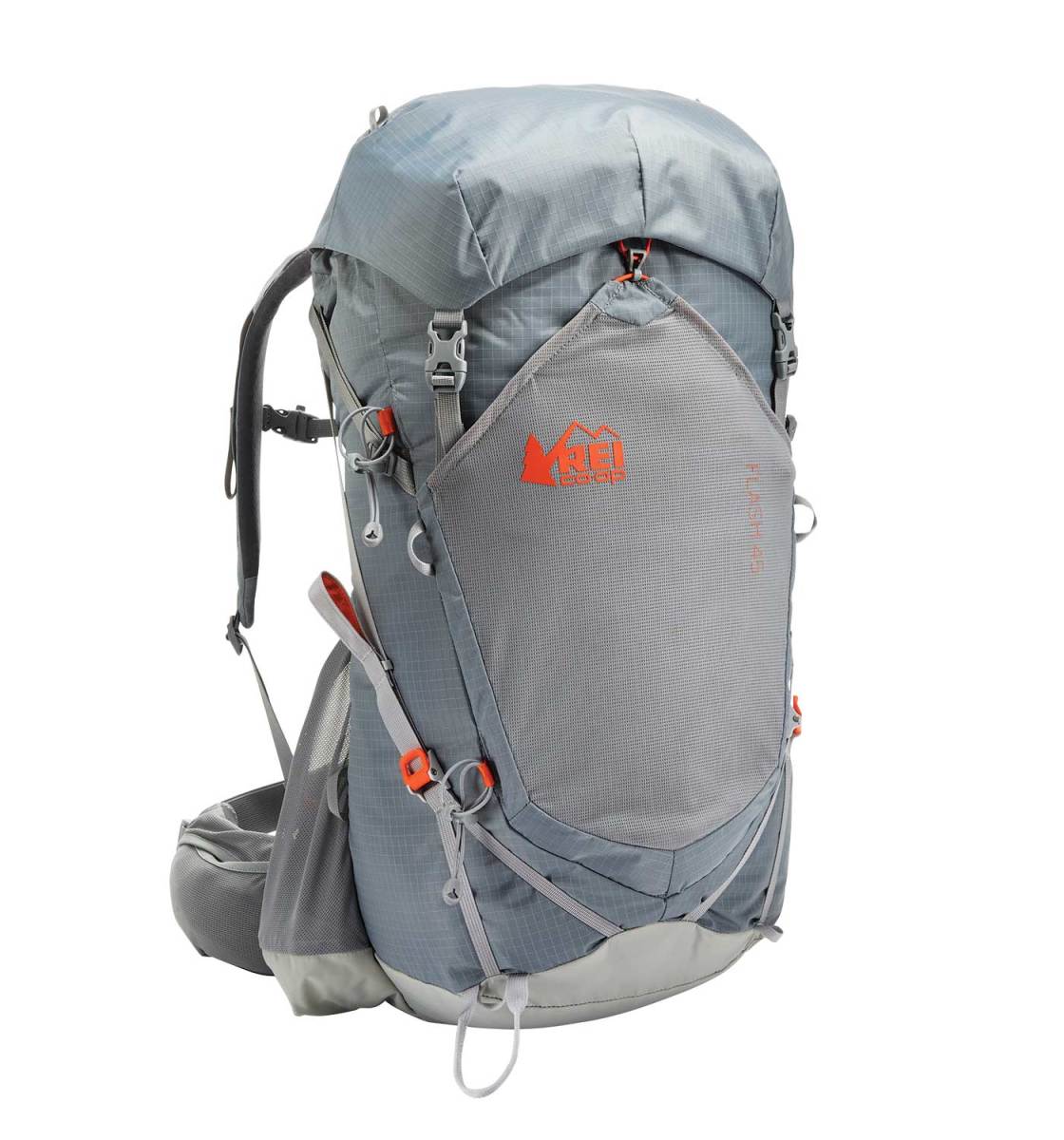 What's the best backpack for traveling long-term? I recommend the REI Flash 45 Pack. It's light and comfy, top loading, and fits perfectly in an airplane's overhead bin.
Size: 45-47L
Straps: Thick and cushy with compression technology that pulls the pack's load up and inwards so it doesn't feel as heavy.
Features: Removable top lid, pocket at the front, hydration compatible, contoured hip belt
If you want something different, refer to my article on how to choose the best travel backpack for tips on picking a pack and other backpack suggestions.
What to Pack for Your Trip
Clothes
1 pair of jeans (heavy and not easily dried, but I like them; a good alternative is khaki pants)
1 pair of shorts
1 bathing suit
5 T-shirts (Unbound Merino is my preferred company. If you're a member of TNN+, you can get 15% off your purchase)
1 long-sleeved T-shirt
1 pair of flip-flops
1 pair of sneakers
6 pairs of socks (I always end up losing half)
5 pairs of boxer shorts (I'm not a briefs guy!)
1 toothbrush
1 tube of toothpaste
1 razor
1 package of dental floss
1 small bottle of shampoo
1 small bottle of shower gel
1 towel
Deodorant
Small Medical Kit (safety is important. )
Miscellaneous
(safety first)
Zip-lock bags (keeps things from leaking or exploding)
Plastic bags (great for laundry) (this applies to everyone) (A water bottle with a purifier)
Female Travel Packing List
I'm not a woman, so I don't know what a woman wears, but Kristin Addis, our solo female travel guru, wrote this list as an addition to the basics above:
Clothing
1 swimsuit
1 sarong
1 pair of stretchy jeans (they wash and dry easily)
1 pair of leggings (if it's cold, they can go under your jeans, otherwise with a dress or shirt)
2-3 long-sleeve tops
2-3 T-shirts
3-4 spaghetti tops
1 light cardigan
Toiletries
1 dry shampoo spray & talc powder (keeps long hair grease-free in between washes)
1 hairbrush
Makeup you use
Hair bands & hair clips
Feminine hygiene products (you can opt to buy there too, but I prefer not to count on it, and most people have their preferred products)
For more on packing, check out these posts:
GO DEEPER: Nomadic Matt's In-Depth Budget Guide to Europe!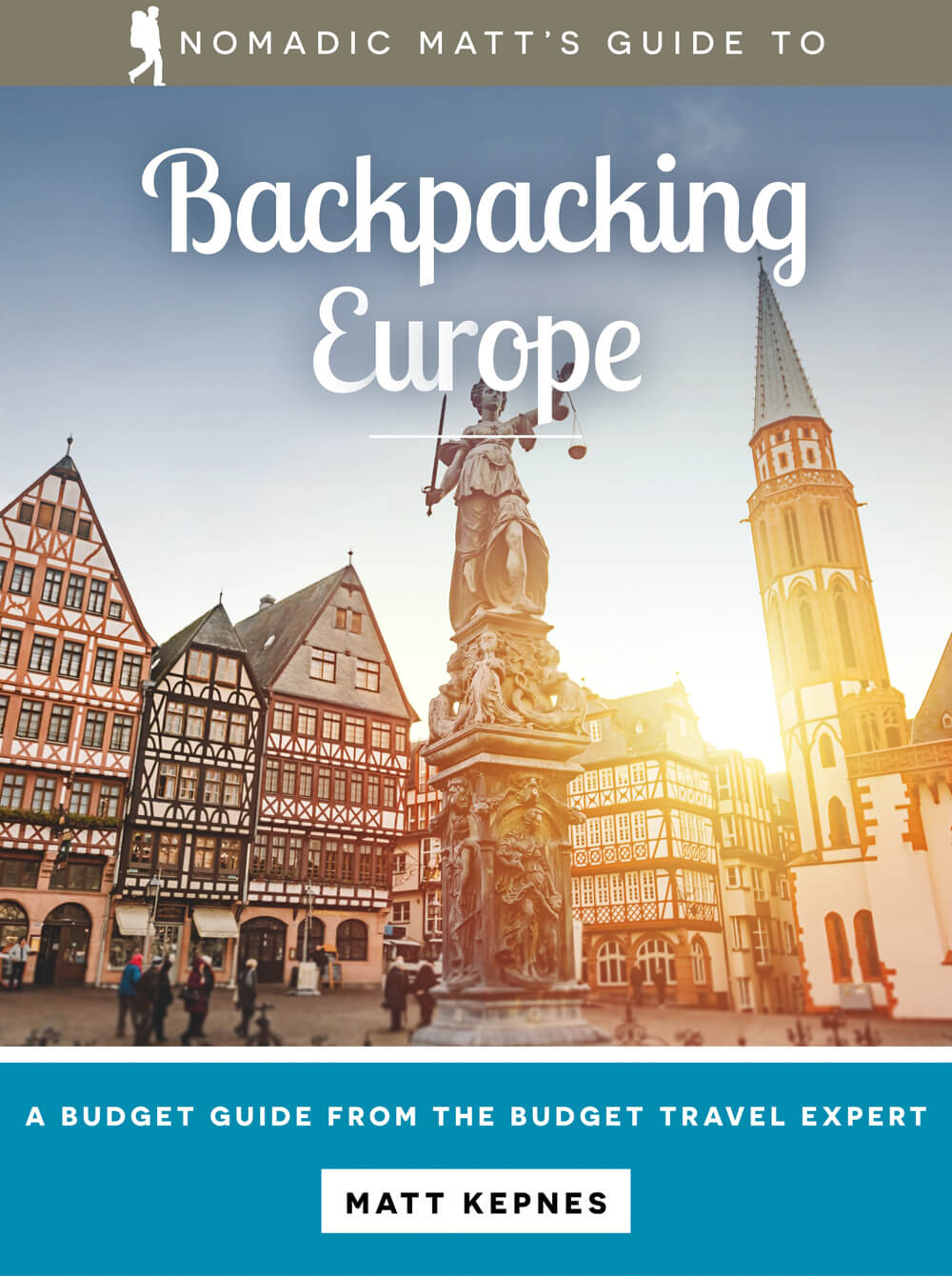 There's a lot of free information online but do you want to spend days searching for information? Prob not! That's why guidebooks exist.
While I have a lot of free tips on Europe, I also wrote an entire book that goes into great detail on everything you need to plan a trip here on a budget! You'll get suggested itineraries, budgets, even more ways to save money, my favorite restaurants, prices, practical information (i.e. phone numbers, websites, prices, safety advice, etc etc), and cultural tips.
Europe Travel Guide: Related Articles
Want more tips for your trip? Check out all the articles I've written on Europe travel and continue planning your trip:
7 Cheap Ways to Travel Across Europe
Last Updated: 5/10/2022 | May 10th, 2022
Traveling around Europe can be expensive. Airline tickets, high-speed trains, overnight trains, ferries — they all eat into your limited (and precious) travel budget.
Fortunately, there are ways to get around Europe on a budget. The sharing economy, new bus options, discounted train passes, and lots of budget airlines — there are tons of options for navigating Europe without breaking the bank.
I've been traveling Europe since I started backpacking there in 2006 and have seen so many things change over that time period. I've watched travel hacks come and go and prices change and change again. While COVID has impacted things, as the continent slowly reopens, I can honestly say that it's never been easier to get around Europe because there are so many new cheap ways to travel the continent.
Here are the best ways to travel around Europe on a budget:
1. Traveling Europe by FlixBus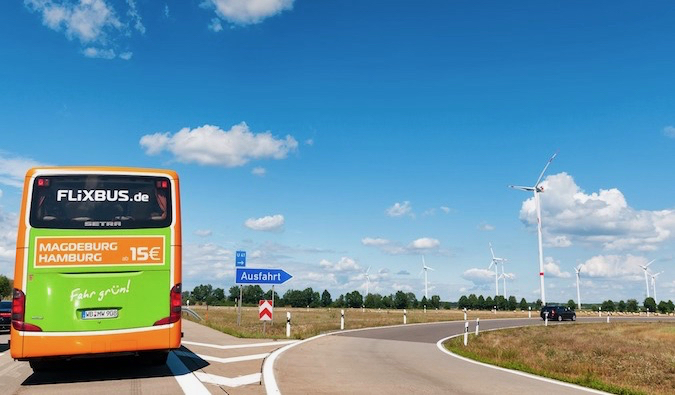 Over the last few years, a new company has entered the market and totally changed the bus system in Europe. German-based FlixBus acquired Megabus Europe and has routes all around the continent. Prices start as low as 5 EUR and their buses include Wi-Fi, electrical outlets, free baggage, and comfy seats. They're comparable to Megabus in pretty much every respect (Megabus still runs in the UK).
FlixBus quickly became my favorite non-train way to get across Europe cheaply. It's not fancy by any means, but it's the cheapest way to get around.
2. Traveling Europe by Busabout
Busabout is a hop-on/hop-off bus service. You can get on and off whenever you want along one of their set routes.
You can buy tickets that let you travel their whole network with a set number of stops. They have short passes for trips of 5-12 days as well as passes that last 6 months.
When you consider the soft benefits of a guide, the day trips included in your pass, and the ease of meeting people, Busabout becomes price comparable to trains and flights (though still more expensive than a regular public bus). The only downside to Busabout is that if you want to visit a city that is not on one of their routes, you have to make your own way there at an added cost.
Note: Busabout suspended its service in 2021 and 2022 due to COVID-19. Service will re-start in 2023.
3. Traveling Europe by Budget Airline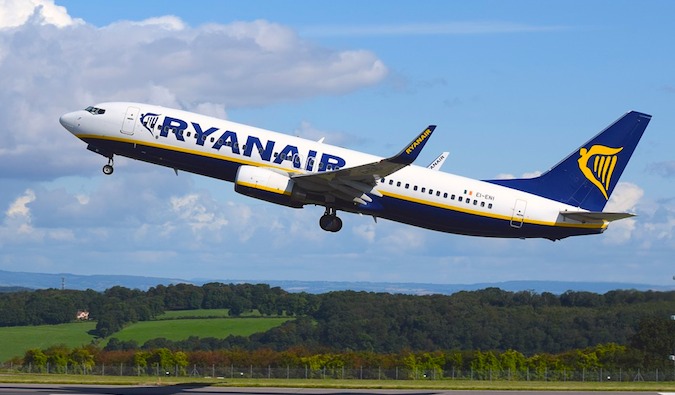 By far one of the cheapest ways to travel long-distance in Europe is by budget airline. These airlines are hugely prolific on the continent and competition has led to incredibly cheap fares. It's not uncommon to find flights for as little as 10 EUR!
I use Skyscanner and Momondo to search for the best deals. They do all the legwork!
Just remember that budget airlines make most of their money through fees. They are very strict about baggage limits or and many will ding you if you forget to print your boarding pass. Don't expect any complimentary drinks or meals either. But if you follow the rules and know what to expect you can save a ton of money!
Some of the budget airlines to check for cheap flights in Europe are:
Ryanair
Wizz Air
Norwegian Air
Easyjet
Eurowings
4. Traveling Europe with a Eurail Pass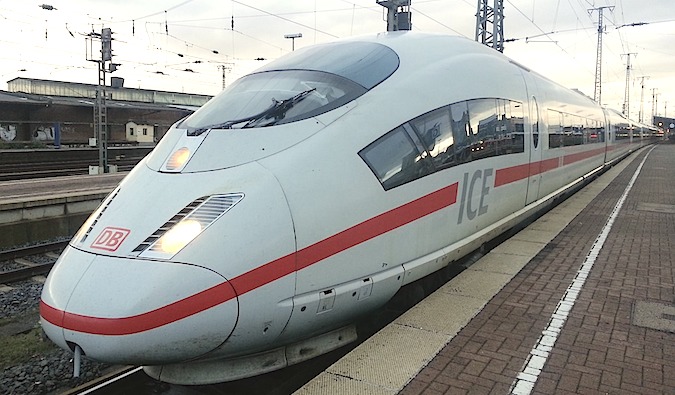 I love traveling by train: sitting in a big seat, relaxing with a book, and watching the stunning landscape go by. It's more comfortable than a bus and much less stressful than air travel. And the European rail system is one of the best and most extensive in the world.
If you're going to travel by train, it's hard to beat them on price and convenience for short city-to-city travel. For longer journeys (overnight journeys, between countries, or rides that require a high-speed line, like Paris to Bordeaux or Berlin to Munich), trains tend to be very expensive.
If you plan to travel around Europe and don't want to fly, getting a rail pass is your best money-saving travel option. Your cost per trip will be a lot lower than if you were to buy these tickets separately.
5. Traveling Europe Using BlaBlaCar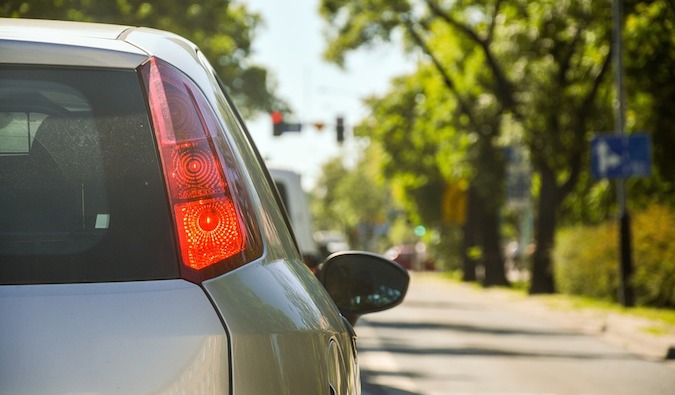 The rise of the sharing economy has allowed people to hitch a ride with locals going their way, and BlaBlaCar is the reigning king of this service. It's hugely popular and widespread in Europe, and I've used this service many times. It lets you rideshare with people who have extra space in their car. You find a ride, they agree to take you, and off you go. You just have to pay a small fee, which essentially covers the gas. You can find rides for as little as 5 EUR.
This is the BEST paid way to get around Europe because you get to meet a local, have a friendly conversation, save money, and get to where you're going faster. It's available in close to 20 countries in Europe.
While BlaBlaCar may not always be cheaper than the bus (FlixBus can be super cheap!) it's usually way faster and way more interesting!
6. Traveling Europe by Rental Car/Campervan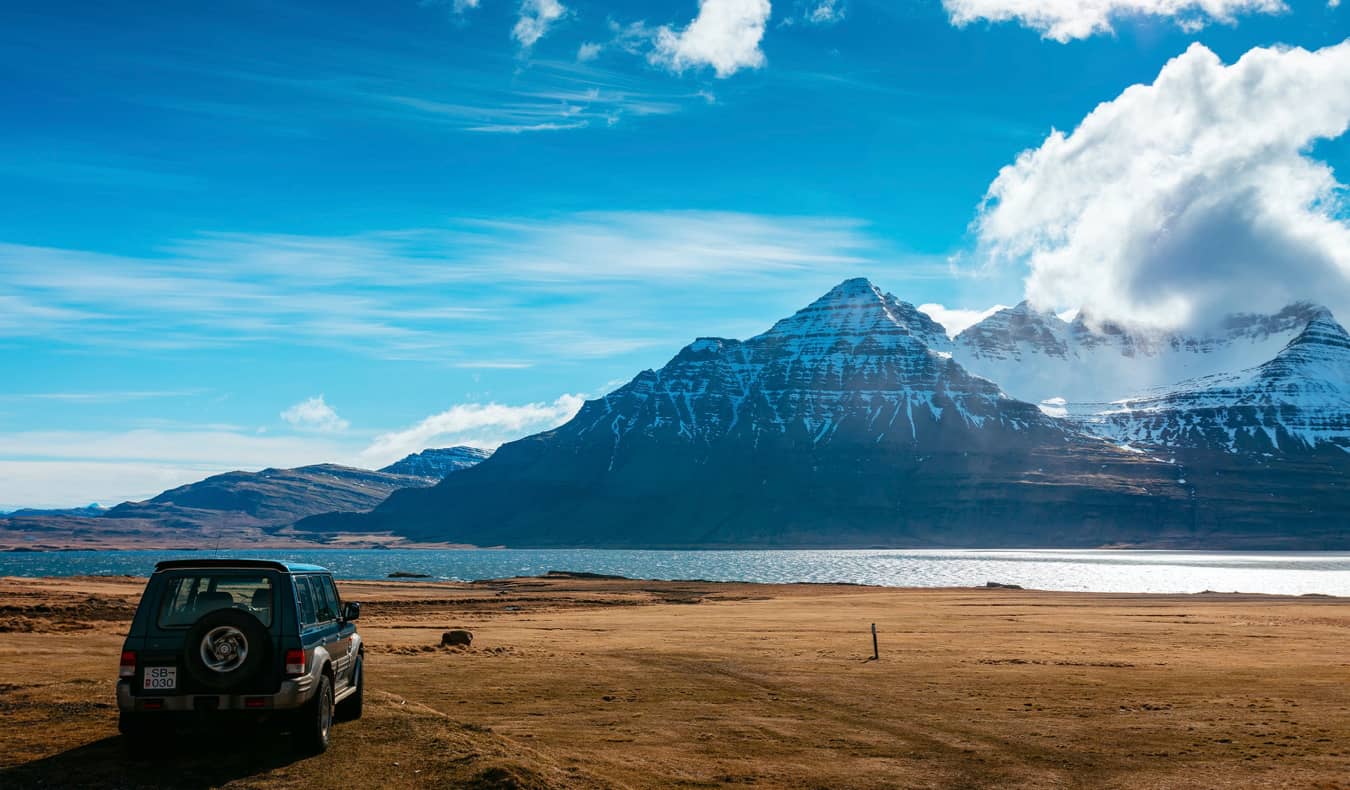 If you're traveling around a single country or small region of Europe, renting a car or campervan might be worth the price — especially if you can split the costs with someone. Car rentals can be found for as little as 25 EUR per day, making it a very affordable way to explore. While gas can be expensive, the border-free Schengen Area makes multi-country trips a breeze.
Campervans are particularly popular in countries like Iceland, Scotland, and Norway since those destinations offer a lot of hiking and camping opportunities. You can find campervans for as little as 60 EUR a day — super affordable when split with a travel partner! Use the app "park4night" to find free (and cheap) overnight parking all around Europe.
Note: Many countries in Europe require foreign drivers to have an International Driving Permit. You can get one in your home country before you arrive for around 20 EUR. (It's essentially just a copy of your license in other languages).
7. The Cheapest Way To Travel Europe: Hitchhiking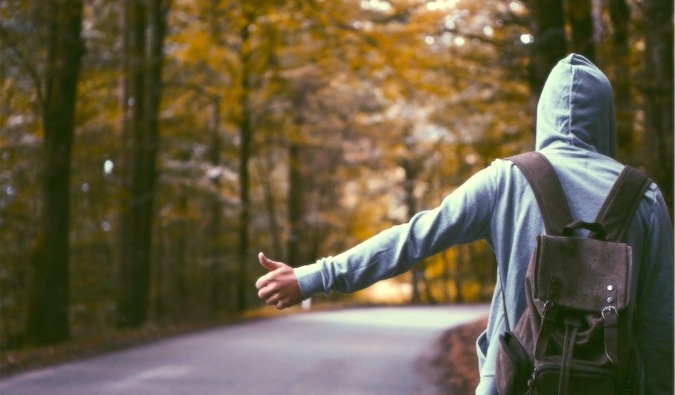 The best way to travel Europe cheaply is to not pay for it at all! Hitching is quite common — and a lot safer than you think. I've met tons of travelers who have done it without incident. I myself traveled this way in Bulgaria and Iceland without any problems.
Just keep in mind that it's important to use your head when hitchhiking. Always trust your instinct and use common sense. Keep your valuables on you in case you forget your bag in the car and never hesitate to text a friend or family member with the license plate before you get in. Write your destination on a sign and look presentable. That will help you find a ride faster.
Use the website Hitchwiki for tips to help ensure you have a fun and safe experience.
The BEST Way to Travel Europe: Mix and Match Your Transportation
As you can see, there are a lot of ways to get around Europe on a budget. But the best way is to MIX AND MATCH YOUR TRANSPORTATION. The key to traveling around Europe on the cheap is to know when to use each one of the listed transportation methods. For short trips, I like trains and BlaBlaCar. For medium-length trips (i.e. half a day), I'll take a bus, BlaBlaBla car, or train. For long distances, I fly or take a high-speed train or an overnight bus.
Too many travelers think it's an all-or-nothing thing. Like one way is always better than the other. That's not true. There's no one way to travel Europe. There are a ton — and you need to know when to use which method.
Ask yourself: What's more valuable? Time or money?
If you have more time, take the slower cheaper routes.
If you have more money and a shorter trip, fly and take the train.
In any given trip, I will take at least four of the above methods when getting around Europe! It's a mix and match kind of thing. One way isn't good 100% of the time.
If you have no preference on how you travel — and you just want the cheapest option (which is usually what I do) — use a website like Rome2Rio or Omio. All you have to do is enter where you are going and these sites will mix and match the various ways to get around the continent for the least amount of money. They will string together buses and trains and planes to construct the quickest trip for the least amount of money.
Remember: no one method works 100% of the time! Mix and match! Do that and you'll save tons of time and money!
Get Your In-Depth Budget Guide to Europe!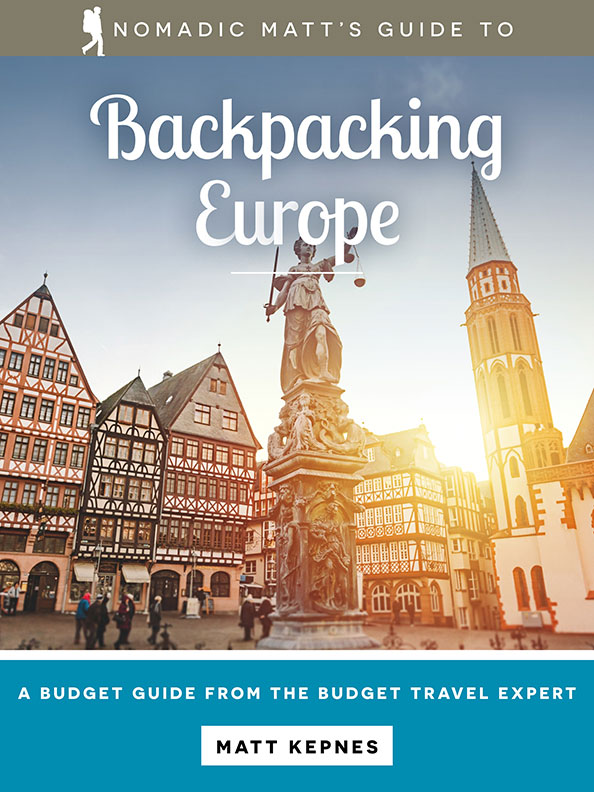 My detailed 200+ page guidebook is made for budget travelers like you! It cuts out the fluff found in other guides and gets straight to the practical information you need to travel while in Europe. It has suggested itineraries, budgets, ways to save money, on and off the beaten path things to see and do, non-touristy restaurants, markets, bars, safety tips, and much more! Click here to learn more and get your copy today.
Book Your Trip to Europe: Logistical Tips and Tricks
Book Your Flight
Find a cheap flight using Skyscanner or Momondo. They are my two favorite search engines because they search websites and airlines around the globe so you always know no stone is left unturned.
Book Your Accommodation
You can book your hostel with Hostelworld. If you want to stay somewhere other than a hostel, use Booking.com as they consistently return the cheapest rates for guesthouses and cheap hotels.
For suggestions on where to stay during your trip, here are my favorite hostels in Europe!
Don't Forget Travel Insurance
Travel insurance will protect you against illness, injury, theft, and cancellations. It's comprehensive protection in case anything goes wrong. I never go on a trip without it as I've had to use it many times in the past. I've been using World Nomads for fifteen years. My favorite companies that offer the best service and value are:
(for everyone below 70) (for those over 70) (for additional repatriation coverage)
Ready to Book Your Trip?
Check out my resource page for the best companies to use when you travel. I list all the ones I use when I travel. They are the best in class and you can't go wrong using them on your trip.
Want More Information on Europe?
Be sure to visit our robust destination guide on Europe for even more planning tips!
How to travel Europe Cheap? 51 Smart and Simple Travel Tips
We love hostels here at Hostelgeeks and would often choose to stay in a hostel over any other lodging option – even if money was no issue. Still, we know that one of the main reasons people often opt for hostels is that they're trying to save costs on traveling expenses.
Want to travel Europe cheap? Have a look at our ultimate guide to hostels in Europe.
Booking a hostel is a great way to save some money (and have a good time, too!). And if you go prepared with some in-the-know advice, you can save even more money while you're staying at the hostel. More savings = more travel fun!
Here is a list of the…
to get you started.
That's why we're here to help you with our expert tips on how you budget travelers can save money while traveling Europe (and staying at hostels).
Travel Europe Cheap: 51 Tips
Here are all 51 tips in a nutshell. Feel free to skip to ones that catch your eye or continue scrolling through the list.
Visit during off-season
Book a hostel with FREE breakfast (before you go)
Check the tourism board = important! yourself…
…Don't cook meals with travellers
Grab FREE STUFF
Join hostel events
Be careful about souvenirs
…and Google flights for public transport
Visit free museums
Avoidpub crawls
Shop at local markets like a pro
Go Couchsurfing in advance
Try the Trail Wallet app
Speak to hostel staff
Be smart with currency leftovers (+ $10 discount)
1. Visit Off Season
The prices during off season are significantly cheaper during high season – pretty simple to understand. Let us give you an example:
During August you can easily pay 25€ for a bed at a hostel in Barcelona. During January, the price can drop to 6€-7€. Quite a difference! The same goes for airlines and transport in general.
2. Choose a hostel offering breakfast
Your parents were right – a solid breakfast can help you start the day off right! If you book a hostel that offers breakfast in the price, not only you won't have to fuss about finding a place that's open in the morning, but you can also save the money on eating out.
Why? Even though the breakfast might not be included, it is worth it to go for it. Usually it is cheaper than going out, having breakfast at a local café.
Have a look at We Bologna Hostel. Their breakfasts comes only with local, high-quality products. And the coffee? Yes, this is important for us at Hostelgeeks, the coffee is one of the best coffees we had in a Hostel.
The standard (included) hostel breakfast is usually nothing exciting (think toast, juice, coffee, and maybe fruit, yogurt, or cereal if you're lucky), but some hostels really do go all-out for their morning meal.
Fill up at breakfast and you'll be ready for a big day of sightseeing!
3. Research free and cheap stuff to do (ahead of time!)
It's entirely possible to spend a weekend or longer in many major cities and never pay an entrance fee. If you do your reading ahead of time (and by "reading" we mean Googling), chances are you'll be able to come up with a pretty great itinerary that will cost you next to nothing.
Just walking around a quirky neighborhood can be a fantastic and totally free way to spend an afternoon in a new city!
Look up opening hours and days, too. Often times, museums are free on a certain day of the week or after a certain hour.
Here are a few guides to get you started (they all include free and cheap options):
Need more ideas? Check out all of our travel guides here.
4. Find a free place to stay
Do you have friends or family in interesting places? Plan a trip to visit them, or ask your friends to put you in contact with their friends living in that city you want to visit.
Don't know anyone? Try to find a host in advance on the following platforms:
Even better! Why not try out house & pet sitting? This means zero rent and bills. Check out our full TrustedHousesitters review.
5. Remember the official tourism board
You should also research offers the local tourism board has. You can usually find this by searching for "visit (city name)".
Many cities offer some sort of visitor's card to get discounts on sights, restaurants, and transportation.
Depending on what you're interested in doing, these can go a long way to helping you save. Be careful though – if you hate going museum-hopping, a card like this may only help you to spend money.
6. Carefully read up on what the hostel includes and doesn't include
Most hostels nowadays give you sheets for free, but not many include towels as well. Or maybe you're going to need WiFi for working on the road, but this particular hostel has a paid system.
In our opinion: No WiFi is a no-go!
Knowing stuff like this beforehand can help you to pack sensibly to avoid any extra expenditures at reception.
The hostel website is generally the best place to start looking for this information. Check also major hostel booking sites to read reviews guests have left as well.
7. Find out about potential bank fees
One thing that often comes as an unpleasant surprise to newbie travelers is the fees you can rack up while abroad. Inform yourself about your bank charges in case you use an AT.
Let your bank know where you're going to be; cards can get blocked for suspicious activity if you haven't let them know you'll be on the road.
Boring stuff, we know, but it can save you trouble (and money!) down the line.
8. Cook your meals yourself
A lot of hostels have kitchens you can access – with the basics (oil, salt…) . Cooking at the hostel is a smart way to save money. You can whip up some simple meals at a fraction of the cost it would take you to eat out. Pasta is a staple at many hostels for a reason!
We always love to try the local specialties when we travel, so why not take advantage of the local markets rather than going to a supermarket? You might find some seriously amazing food at rock-bottom prices.
And there is more: Many Hostels offer cooking classes, dinner nights and so on! Join those! They are usually very affordable – or even free. You do not just only save some coins, but also end up making new friends.
Have a look at Hostel Ruthensteiner, one of the top hostels in Vienna, and Ani&Haakien Hostel in Rotterdam. They both offer dinner nights you should join!
9. Don't cook your own meals!
This sounds paradox, right?! Well, have a look in which destination you are!
In destinations across the East-Europe, and South Europe it can be cheaper to eat out rather than cooking. In Spain you can go for Tapas, in Italy there is the famous Aperitivo.
Get some info at the hostel reception, to get an idea!
Here are some ideas:
22 restuarants & tricks – brunch, cocktails and blonde beer
10. Eat out for lunch, not dinner
Okay, and now it gets even more confusing. Lunch is often way, way cheaper than dinner, but you get to eat the same delicious food. If you're going to eat one meal out per day, choosing lunch over dinner is a smart way to get bargain prices without sacrificing any of the taste.
Especially in destinations like Barcelona, Lisbon, all over Italy, Zagreb and many more destinations, the restaurants have their daily menu. Take this into account!
11. Buddy up with other guests
If you're already planning on buying stuff to make dinner or to wash your clothes, offer to split the costs with other hostels guests. It's a great way to save some money and make friends in the process, too.
You can also use this strategy if you decide to go out at night and catch a taxi home. In some cities, if you split the cost of a taxi (or an Uber or Lyft) between a small group, it might actually be cheaper than using public transportation.
Some Hostels have their own black board where travelers can put their itineraries or requests. You can find people looking for sharing a cab to the airport, for renting a car for going to some special place, and so on. Keep an eye on that!
12. Pack some snacks with you
Another way you can reduce food costs?
Pack a few days' worth of snacks with you! It might sound silly, but if you're visiting countries with notoriously high prices (Norway, anyone?), you might save some serious cash this way.
13. Don't be afraid to book group rooms
Not surprisingly, these massive rooms are where the cheapest beds in the hostel are. If it's your first time booking a hostel, a room with 16 people may sound a little intimidating. If you're a seasoned traveler, it could sound tiresome instead!
But depending on the season, you may book a bed in a 16-person room and find out that it's nowhere near being full. It's luck of the draw, but keep in mind that just because a room can hold 16 people doesn't mean all 16 of those beds will be booked.
Even if all the beds are booked, you might discover that the room is full of interesting people to make friends with. Or perhaps incredibly boring, quiet, and tidy travelers – the ideal roommates!
In any case, don't write off the idea of a big shared room. It probably won't be as intimidating (or tiresome) as you expect.
14. Free stuff that other travelers leave behind
Often times, travelers leave behind bulky bottles of shampoo or leftover food when they leave. Some hostels have a place for this stuff so that current guests can use it.
When in doubt? Ask! Don't be that hostel guest who sneaks bits of other people's stuff.
15. Take care of your stuff
You know that saying "an ounce of prevention is better than a pound of cure"? When it comes to saving money in hotels, this definitely applies!
Hostels are generally safe, but you never know if you're going to end up sharing a room with a traveler with sticky fingers.
We dedicated a full article to the topic "Are Hostels safe?" including 10 tips.
Prevent unnecessary extra spending on replacing stuff by keeping your belongings safe, and avoid traveling with expensive and irreplaceable items. Have a look for lockers! Those are usually the best way to keep you valuable belongings safe!
16. Stay in smaller, less touristy cities
Touristy cities are normally more expensive than they eclipsed neighbor cities. Thinking about visiting Venice? Consider staying in Mestre, the city next to it, well connected with the train.
Here's our full guide to the best hostels in Venice, including 5 star Combo Hostel.
If you plan only to stay in the city during the day, consider stay in a nearby and less touristy city. But, if you want to take advantage of the nightlife in the city you are visiting make sure beforehand there is a way to come back to your accommodation with public transport.
If not, this saving trick can actually add up some extra cost.
17. Consider Cheaper Countries
How about Albania, North-Macedonia, Bosnia and Herzegovina, Poland?
They are incredible countries and have so much to offer! Actually, Montenegro is of my favorite countries in Europe… Good food, plenty of beautiful landscapes with affordable prices and few touristy spots.
18. Special Events going on at the hostel
On the note of making use of the hostel staff, don't forget to ask them if there are special events going on.
Maybe the hostel will be throwing a barbecue that's free for guests, or there will be a drinks offer for happy hour that can help you save money instead of going out.
Hostels sometimes also have discounts for certain tours or activities, like bike rentals.
Generally, the stuff that's going on will be budget-friendly – and a lot of fun, too!
19. Avoid Souvenirs aka. be creative with your souvenirs
Another budget travel tip to save money and space in your backpack/luggage. That does not mean you should not take memories! Maybe you need a new shirt? Buy one in the city you just felt in love with.
We are not talking about a city-themed tourism shirt á la "I love London".
Even a regular grey shirt bought at a store turns into a souvenir.
20. More slow travel
Moving slower is cheaper!
When traveling Europe, there is no need to jump from one city to the next. Instead, take a deep breath, and plan a few more days in one destination! This will save you especially some travel money on the transport.
Think about it. Your travel expenses are mainly:
accommodation
transport
activities
Food does not really count fully as an expense. After all, you would need to eat at home as well. Sure, when you eat out and try local dishes and stuff, this is an expense.
However, transport is something you can really save money on by simply not jumping on a bus or train every 3 days instead of each day.
21. Transport: Compare City Passes and offers
Many cities offer a city pass that includes transport, museums, …even some free drinks in certain restaurants! Have a look at these offers carefully because sometimes they are really a good deal.
I remember the first time I visited Amsterdam I bought the Amsterdam card and used it a lot. I can tell you I saved a lot, cause I visited many museums.
Over at GetYourGuide you can buy city cards in advance.
Sometimes it is also worth it if you just visit 2 museums and have unlimited public transport included.
You just have to be clear on what you would like to visit, what do these passes offer and decide if they are worth it for your trip or not.
22. Subscribe to Airlines…
In Europe, many airlines offer incredible great deals! We scored flights to the Canary Islands for only 25€, to London for only 17€, and to Paris even less: 12€!
The fastest and easiest way to find those cheap flights are the newsletter of the cheap airlines across Europe! Sign up for Ryanair, Norwegian, EasyJet and Vueling. You will be surprised.
Helpful: an honest review of Kiwi.com for finding flights.
23. …and Google Flights
Google Flights: This one is one of the best budget travel tips out there – seriously!
Google flights shows you the cheapest flights from your destination. Just pick your airport, budget and dates. And the magic will appear in form of itineraries.
You can also set up alarms when prices go down a certain amount, or just have a watch list of desired destinations.
24. Stay out of the city center
Show us a city center which is NOT more expensive than the suburbs! Having a caña (beer) around Plaza del Sol in Madrid is more expensive than the other parts of town. Makes sense right?! At restaurants, bars, cafés and so on you usually pay for the location as well.
So don't get a coffee in front of the Eiffel Tower, the Big Ben or the Colosseum.
25. Avoid roaming fees
Cell phone roaming charges is a big cost that can really leave your wallet reeling.
Check in with your cell phone provider so that you can be informed about potential fees.
If you want to save money while traveling on your cell phone, the easiest way is to always use WiFi. Most hostels nowadays offers it with no extra cost.
It is also a good idea to buy a SIM card from a local cellphone service provider when you arrive.
In Europe, there is a free roaming policy, meaning, if you have bought a SIM card in Spain, you will be able to use it in France, Uk,… with no extra charges.
However, things are getting also complicated in some countries, like Germany, where you can only buy a SIM card if you have a permanent address (they will send the SIM Card to you in around 2 weeks).
As for a great pocket WiFi in Europe, we tested the Hippocket WiFi. It is fast, cheap and simple to use! Check out our full review about Hippocket WiFi Europe here.
26. Search for "Free Things to do in …"
Pretty basic, right?!
Head over to Mr.Google and type in "Free Things to do in" + destination. You will most likely find plenty of websites talking about this.
And even better: Don't stay only on the first page. Go for the 2nd, 3rd and 4th page on Google. This is where you can find smaller websites talking about slightly different free things to do in that place you want to discover.
Here on Hostelgeeks we have free guides:
27. Walk more!
A friend of us walks everywhere! It can be quite annoying at one point, but he claims he sees way more of a city when he just keeps walking. Take this into account before paying for…
28. Avoid Cabs
Unnecessary cab rides! Sure, those cab rides can be a unique experience itself. Especially when the taxi drivers decides to hunt down a Iguana for dinner!
So, try to avoid cabs and you can save some money.
29. Rent a bike
More than walking, we love to rent a bike! Especially in bike-friendly cities like Haarlem, Amsterdam, and Barcelona, you can rent a bike for a few coins. You can discover the city in no time.
However, please make sure you make yourself familiar with the local rules and traffic.
30. Have a look for discount cards for public transport
When buying your tickets for public transport, have a look if there are special offers for tourists visiting a couple of days. Also, some cities offer bonus tickets, students discounts…
31. Get to know the days for visiting museums for free
In Europe, the Sunday is usually the day to visit a museum for free. The official tourism board of the destination is here the best place to get a quick answer to this.
32. Check free concerts by local bands
Try to figure out which websites the local use to find local concerts. Facebook is also a great tool to get ideas for events across a city.
33. Have a picnic in the park
Picnic is always a great idea. Buy some food and drinks at the supermarket, sit down at a public park, beach, mountain, … and enjoy your time. You are on holidays!
34. Avoid Pub Crawls
Fair enough, it is a different experiences to go for a pub crawl or join some tours to discover the nightlife. They can be pretty cool.
However, if you really travel on budget, avoid them. If you feel like a drink, go for it with fellow travelers. This is usually cheaper.
35. FourSquare Discounts
It is a good thing the app is not that popular like TripAdvisor or other huge platforms/ Apps. You can search on foursquare for places with special offers e.g. a free drink by checking in, 10% discount on the daily menu and so on.
Another big advantage: People love to rate the locations and create their own lists for food, bars, things to do, .… So, hope over to FourSquare and search for such lists and use the recommendations.
36. Shop at Local Markets (okay okay…not always cheaper!)
BUT: You can really score some big points and sweet deals. Obviously, we are not talking about the popular tourist markets here. The local markets have local prices, and you can sometimes have a free sample before buying.
37. Book your Hostel like a pro
There are many ways to book a hostel in a cheaper way. We created a special article about this including 11 booking hacks for hostels.
38. Check out local travel blogs!
Maybe there is a travel blogger living in your next destination? Check out her/ his blog!
There you can usually get some good ideas on things to do and some local tips for transport, restaurants, and special offers. Really good resource not to underestimate!
39. Free Tours!
Free Tours are tip-based tours by locals or expats showing you around the city. Some of them are basic walking tours, other can have a special theme.
Highly recommended to get a basic idea of the cities infrastructure, and history background.
Popular Free Tours in Europe are for instance Sandemans Free Tours. Here you can find a huge list of free walking tours across Europe.
40. Use Couchsurfing for Events
Couchsurfing is more than free accommodation.
It is a community of like-minded travelers. In big cities such as Barcelona, Paris, Madrid you can join plenty of couch surfing events. Usually those events are free and hold in places on budget.
Get a drink for a locals price and mingle with expats, locals and other travelers from Couchsurfing.
41. Book transport in advance (or simply online!)
SOME transport companies offer cheaper prices when booking online and/or in advance. Buses, ferries, planes, trains, …
In Croatia we booked our ferries ahead of time, and saved up to 30%. Pretty simple!
A lot of companies offer up to 20% discount when booking online. This is all you need to do: Book online!
Check out Flixbus – a bus company connecting many European cities. We wrote a big review of Flixbus here.
Also, don't forget about possible onward ticket requirements! Some countries expect to see proof of an onward flight ticket to your next destination before they let you in. No joke.
Onward Ticket is where you can book a $12 flight ticket to use as proof, even though you don't intend on using it. And yes, it's completely legal. Here is our full review of Onward Ticket.
42. Share a ride
To get to some places that have fewer connections, try a carsharing service.
BlaBlaCar works quite well in Europe!
We used it from Barcelona to Marseille, from Marseille to Zurich…. and met many interesting people. I recommend you to see the driver reviews and other information. Also important: be easy on your plans so you can find a ride easily.
43. 5€ can be more than 10€ – Spend your money wisely
Traveling on a budget means you have to make choices. No private room, but therefore only a 4-bed dorm. However, there are situations where you should spend more and go for it. It is called investing. Other moments you should give it a pass.
When it comes to a unique tour you really want to take for whatever reasons, you should do it. You can save the extra coins you spend here later on sacrifice a bike rental or going for a drink.
44. Take Overnight Trains/ Buses
Here you save accommodation for a night.
Especially in expensive destinations, this can be a good money-saver.
Have you heard of Omio? This website is great for booking affordable transport in Europe. From busses, to trains, to planes. Here's our full review of Omio.
45. Make sure you are insured
Before buying any insurance, make sure you don't have any.
If you are a European citizen, you are covered while traveling in Europe. kindly check that with your social security system and make sure you have all the papers (or card) you need with you before your trip. When traveling without these papers or card you will have to pay for your medical expenses in the country visited.
Also, if you have a private medical insurance, it might cover you while traveling abroad.
Not covered? Then consider getting a travel insurance. What looks like an extra cost can save your but in case of emergency.
Read: our reviews about WorldNomads and Safetywings.
46. Trail Wallet App – Keep track of your money
The ultimate budget travel tip: Know your wallet and bank account.
The App Trail Wallet is the best travel app we love to use here at Hostelgeeks. You can easily keep track of your money. You can split your expenses in categories:
Accommodation,
transport,
food,
entertainment,
and so on.
It allows you as well to export your export your trip data to an excel file, or you can just see the charts they create to see how much do you spend on each category.
Give it a try, we really like it.
47. Take a Tent!
We asked as well Steph from Big World Small Pockets about her best Europe Travel Tips to save money.
This is what Steph said:
The number 1 item I always advise people to take if they're looking to save money and travel more frequently, is a tent. This is one of my more unusual travel tips, but it can save you a fortune on accommodation costs. Nowadays, many hostels have camping spaces, which means you still get to enjoy all the amenities they offer, just at a cheaper rate. Tents also allow you more personal space than a dorm room and often you can camp in the hostel garden, which usually means a nicer set of surrounds than a 16 bed shared room!
Besides Europe, Australia, New Zealand and South Africa have lots of hostels with camping.
48. Don't sit for a coffee
In Italy, there are three prices for coffee.
One is for sitting down (the most expensive option), while the second option is drinking the coffee at the bar – medium-priced. The cheapest option is ordering the coffee for take away. And score: this is the cheapest way to do it!
Note: bring your own reusable (and collapsible) cup to reduce plastic.
49. Make good use of the hostel staff's resources
One of the best ways to get great insider advice on your destination is to ask the staff at your hostel. Seriously! This way we found so many hidden gems in Rhodes and got fantastic travel tips for Bologna.
Chances are, they'll be more than happy to help you out with suggestions on what to do, see, eat, and drink (particularly if it's one of the 5 Star Hostels).
If you're on a tight budget, then go ahead and let your hostel staff know that when you're asking for tips. Maybe they know about a super cheap and super tasty local restaurant, or they might be able to let you in on the secret to getting discounted entry into tourist sights. It never hurts to ask!
50. Pay attention to currency leftovers
Be careful and plan your expenses so you do not have high currency leftovers. When traveling around Europe, you might encounter different currencies:
Switzerland: Swiss franc
Croatia: euro
Albania: lek
If you have currency leftover, bear in mind banks will only accept to change bank notes. So, be smart about your currency leftovers and spend them in snacks -specially if you are traveling from a cheaper country to another with higher prices- or try to change your coins in the hostel with other travelers or in the reception.
51. Volunteer
This is a great way to save money, to meet new people and generally have a lot of fun!
Worldpackers is a fabulous platform for finding a wide range of volunteering opportunities in Europe, and across the world.
It's a community, too. So not only can you try new things, but you can also learn new skills from their online academy and read many useful blogs.
Since 1st April 2021, new members will recieve an extra 3 months added to their plan, meaning 15 months of access to the community for a price of 12 months. Not only that, but we've teamed up with Worldpackers to offer you a further $10 discount. You're welcome.
We've written a huge review of Worldpackers so that you're fully in the know before you sign up.
Psst! Make sure you use discount code "Hostelgeeks" when signing up.
Read our indepth article on how to travel the world for free for more information about Worldpackers + comparison of other major volunteer platforms.
Summary of traveling Europe cheap
So here you have more than 50 tips to travel Europe cheap. I am sure there are some other tricks that I might have forgotten to add in my list, so don't be shy and share them with us all.
Also, some of these tips can be applied internationally, not only in Europe.
Of course, staying in hostels is our number 1 trick. Hostels are a great place to meet other travelers and like-minded people.
Wanna more info about traveling around Europe? We have plenty, such as:
Best Travel Websites we recommend ❤️
(Fresh Update 2022)
Booking Hostels and Discounts
As a user of Hostelgeeks, you also have access to exclusive hostel discounts. For booking hostels, there are three sites you need to use:
– hostel price comparison
We recommend installing the Hostelworld App. It is very handy!
How to find cheaper Flights ✈️
The first websites you should check are Skyscanner, Kiwi.com, and Google Flights.
In our review about Skyscanner we walk you through the entire process how to find cheaper flights and how to reserve.
Travel Insurance made easy
We have used World Nomads on our travels around South East Asia and Europe.
We are currently using Safetywing and Iati Seguros. We wrote detailed guides about these insurances:
Our review of Safetywing, compared with World Nomads.
a detailed review of World Nomads Insurance
Smartest Travel Tools you need to know
– get a proof for onward travel – get your visa online fast – for activities and sightseeing tickets – for all types of transport
Get your Smart Packing List (Free Printable)
Knowing what to pack and what not pack is essential. For instance, you need a one-fits-all padlock.
Source https://www.nomadicmatt.com/travel-guides/europe-travel-tips/
Source https://www.nomadicmatt.com/travel-blogs/cheap-ways-to-travel-across-europe-2/
Source https://hostelgeeks.com/how-to-travel-europe-cheap-travel-tips/