US extends vaccine requirement for non-US travelers until January 8
The U.S. is open to tourists from all countries without testing requirement but vaccination is still required for all non-US citizens/residents.
US Reopening Tourism – LATEST UPDATES
November 10: TSA extended the vaccine mandate for non-US visitors
On November 7, the U.S. extended vaccine mandate for travelers until January 8. All non-US visitors still need to show a proof of the full vaccination against Covid-19. (Source: precisionvaccinations.com)
How can unvaccinated travel to the U.S.?
The only way unvaccinated travelers can visit the U.S. is to meet one of the exceptions. You can find all the details about exceptions on the C.D.C website.
Exceptions:
Persons on diplomatic or official foreign government travel
Persons with documented medical contraindications to receiving a COVID-19 vaccine
Children under 18 years of age
Persons issued a humanitarian or emergency exception
Sea crew members traveling with to a C-1 and D nonimmigrant visa
Persons with valid visas [excluding B-1 (business) or B-2 (tourism) visas] who are citizens of a foreign country with limited COVID-19 vaccine availability (See list for updates effective June 28, 2022)
Members of the U.S. Armed Forces or their spouses or children (under 18 years of age)
Persons whose entry would be in the national interest, as determined by the Secretary of State, Secretary of Transportation, or Secretary of Homeland Security (or their designees)
U.S. Reopening FAQs
Yes, U.S. requires proof of a Covid vaccine for land border crossinngs until at least January 8.
No, the testing required to enter the U.S. was dropped in June 2022 for all travelers entering.
Yes, the U.S. is fully open for regular tourism but the Covid-19 vaccine is still required.
The United States is still requiring Covid vaccine from non-US travelers and TSA has recently extended the mandate until at least January 8.
Even tho Covid restrictions and requirements are slowly losing importance around the world, there are more than 100 countries that still require Covid vaccines or tests for travel, and the U.S. is one of them.
November 2: Puerto Rico Officials scrap COVID-19-related domestic restrictions as of Oct. 31
Puerto Rican officials just lifted the island's COVID-19-related domestic regulations as of Oct. 31. Facemasks are no longer necessary for attendees at events with more than 1,000 participants. Additionally, event goers are no longer needed to show proof of vaccination or a negative COVID-19 test result upon admittance.
Travelers must continue to adhere to the federal regulations for travel from countries other than the United States and its territories. Nonresident foreign nationals aged 18 and up must be properly vaccinated before flying into Puerto Rico. Vaccination is not required for children under the age of 18, and it is not required for air travel from the mainland United States.
October – The United States, the last North American country requesting proof of vaccination
The United States is officially the last North American country to prevent unvaccinated travelers from entering the country.
As of today, visitors to the United States must present proof of a COVI-19 vaccination certificate to be allowed entry.
Over the past two years, the U.S. has banned travelers from the European Schengen area, the United Kingdom, South Africa, and Brazil from entering the country at various times.
But while it was once supported by its best allies, notably Canada, it now stands alone in its quest for Covid security.
June – US Lifts Covid-19 Testing for International Travelers
Travelers to the United States are no longer required to submit a negative Covid 19 test taken within one day prior to departure.
The Centers for Disease Control and Prevention stated on Friday that this requirement would be removed beginning early Sunday morning. The health service stated that it will continue to monitor the pandemic's progress and reevaluate the need for testing if the situation changes.
"This step is possible because of the progress we've made in our fight against COVID-19," said the U.S. Health Secretary Xavier Becerra.
How safe is it to travel to the States at the moment?
According to America's COVID Warning System, the country is overcoming the 4th wave of coronavirus infections.
COVID-19 cases in the U.S.
As of October 5, the U.S. has recorded 98,308,956 cases and 1,085,366 the highest death toll in the world.
Some of the current carrier flying from Europe to the U.S.
Lufthansa United
Air Europa
Royal Air Maroc
Air France
Alitalia, Delta Operated by Alitalia CityLiner
Delta
KLM, Delta Virgin Atlantic
Lufthansa, Air Canada 0perated by Air Canada Express – Sky Regional
Lufthansa, Air Canada operated by Air Canada Express – Jazz
Lufthansa, United operated by Mesa Airlines DBA United Express
Tap Air Portugal
Turkish Airlines
Virgin Atlantic
US reopening borders for tourism: Update Archives
September – US still requires Covid vaccine from non-US citizens
As of September 19, proof of Covid vaccination is still required for entry into the United States for all non-US citizens. There is no recent update from the government on when they are planning to drop this requirement.
February 18 – The CDC considers lifting indoor mask-wearing mandate across the US
The Centers for Disease Control and Prevention (CDC) director may recommend the US to lift the need to wear face coverings in indoor settings, said CDC Head Dr. Rochelle Walensky during a White House briefing.
"We want to give people a break from things like mask wearing when these metrics are better, and then have the ability to reach for them again should things worsen."
The CDC will review the number of severe cases and hospital capacity rather before making a final decision.
Also read: More US States Lifting Mask Mandates as COVID-19 Drops
January 15 – The US issues a "Do-not-travel" notice against Canada and Singapore
The CDC has issued the highest travel health advisory to Canada, Singapore and Curaçao due to the high incidence in COVID-19 cases in the previous week.
The CDC currently lists about 80 destinations throughout the world as Level Four.
Canadian health officials forecast the Omicron wave peak at 170,000 cases a day this month, with 2,000 hospitalizations also per day.
The CDC will revisit this travel advice on Monday.
December 22 – US considers lifting travel ban on Southern African countries
The US is reportedly considering lifting its ban on Southern African countries over the next few days.
According to the government, "we're letting in people from other countries that have as much or more infection than the Southern African countries."
"We likely are going to pull back on that pretty soon because we have enough infection in our own country," said Dr. Fauci at the National Press Club.
In less than three weeks, the Omicron variant already accounts for over 73% of the new infections in the U.S. said the CDC on Monday.
December 4 – The US government tightens travel restrictions for all travelers
All international arrivals are now required to present a negative COVID-19 test taken within 1 day of departure.
"Our doctors believe tightening testing requirements for pre-departure will help catch more cases, potential cases of people who may be positive and inside the country," a White House official said.
Also, domestic travelers using all types of public transportation such as trains, cruise ships or domestic flights will have to wear a face mask at all times or face fines of up to USD 3,000.
November 28 – The U.S. to ban all travel from South Africa and other 7 countries from Monday
The U.S. will ban travel from South Africa and other seven countries starting Monday as a new heavily mutated coronavirus variant emerges, announced White House officials on Friday.
Other countries included in the restriction are Botswana, Zimbabwe, Namibia, Lesotho, Eswatini, Mozambique and Malawi.
National and residents are allowed to come back.
"As we move forward," said the President in a statement, "we will continue to be guided by what the science and my medical team advises."
November 21 – The U.S. makes booster shots available to all people 18 and above
With an increasing number of countries requiring passengers to provide proof of booster shots to give them access to a number of tourist venues, the U.S.'s move to make booster doses available for most citizens brings relief for international travelers.
"Based on the compelling evidence, all adults over 18 should now have equitable access to a COVID-19 booster dose," says the CDC.
Despite the fact that more than 195 million Americans are fully vaccinated, Covid cases are on the rise in some locations as vaccine effectiveness declines over time.
The Pfizer booster dose was found to be 95 percent effective in a clinical trial involving 10,000 people aged 16 and up.
November 13 – Travelers experiencing long wait times at U.S. airports
Following the reopening on Nov. 8, large numbers of overseas travelers have begun to arrive in American airports.
Although this is wonderful news for families and the tourism sector, 21 months of closure did not seem to be enough time for American airports to prepare for such a large influx of passengers all at once.
Thousands of travelers have complained about having to wait over two hours to get through customs. Things are expected to worsen as the Christmas holidays approach.
"The expectation is that we could see wait times of up to eight hours," said Sherry Stein, the leader (SITA).
November 5 – The U.S. to welcome EU travelers as soon as ports of entry open on Nov. 8
Beginning Monday, the United States will drop entrance restrictions for vaccinated EU and Asian travelers, putting an end to historic restrictions that have kept the country partially isolated from the rest of the world for almost 21 months.
According to US Customs and Border Protection (CBP), the U.S. will reopen its air and land borders as soon as ports of entry start operations on Nov. 8
That means that border crossings that are open 24 hours a day will accept international travelers from midnight, while the rest will open during regular business hours.
October 15 – U.S. Government announces the reopening date for the European Union
White House has confirmed the reopening date for international tourism, current travel curbs will be lifted on November 8. Both land and air borders will reopen to fully vaccinated travelers.
Non-vaccinated air travelers will be also able to enter but they will need to show proof of a negative Covid-19 test.
The ban on non-vaccinated travelers will still remain in place on the Mexican and Canadian land borders.
October 20 – The U.S. is set to reopen land borders with Canada and Mexico in "early November"
The U.S. land borders, which have been shut down since March 2020, will reopen to Canadian and Mexican visitors at some point in November as long as they can prove they are fully vaccinated.
"We are pleased to be taking steps to resume regular travel in a safe and sustainable manner," Homeland Security Secretary said in a statement.
Essential travelers such as truck commercial drivers, students, and other essential personnel will have until January to present their vaccine certificates.
October 10 – U.S. Reveals the vaccines it will accept for EU travelers
There was a lot of uncertainty over which brand of vaccines the US would accept as a valid entry requirement for EU travelers, once it open its borders.
The U.S. Centers for Disease Control and Prevention (CDC) has revealed the country will accept the following:
Moderna
Pfizer/BioNTech
Janssen (Johnson & Johnson)
AstraZeneca, including Covishield
Sinopharm (Beijing)
Sinovac
The CDC also informed that more information will be released as soon as the travel protocols are completed.
The reopening date has not been announced yet.
October 2 – US, Canada, UK, and other G7 leaders met to discuss the future of international travel
Transport and health ministers of Canada, Germany, the U.K, the U.S, Japan, Italy, and France virtually met to discuss the future of international travel on Thursday.
Among other things, the U.S. committed to a number of principles "for a safe and sustainable reopening of travel." These include trusting scientific evidence, accepting both digital and non-digital test and vaccine passports, protecting users' private data, and supporting cleaner technologies for land, air, and maritime transport.
Sept. 24 – The U.S. lifts the ban on European Travel but reopening date remains unknown
This week, the U.S. announced that its long ban on European travel will end in "early November". But so far, they haven't provided an exact reopening date yet.
The head of the White House's COVID-19 Response Team, Jeff Zients, said that all travelers must be fully vaccinated, no exceptions.
The CDC will order commercial airlines to collect information from U.S.-bound visitors including their phone number and email address to act as a "public health surveillance system."
More information about the date and the requirements is expected to be revealed over the next few weeks.
September 16 – The U.S. works on a "new system for international travel" aiming to reopen borders
White House coronavirus response coordinator Jeff Zients said on Wednesday the country is working on a "new system for international travel" that will include contract tracing for international visitors when the country lifts its travel ban.
The government aims to replace the current restrictions with a "safer, stronger, and sustainable" system.
The official did not reveal when the new system will be put into motion or the metrics it will use.
September 21 – The U.S. to reopen for vaccinated EU and other travelers in November, says government
Jeff Zients, the White House Coronavirus Response Coordinator, announced that the U.S. will reopen to visitors from the European Union in "early November."
Additionally, fully vaccinated travelers from other 33 countries including China, India and Brazil will also be allowed to come back.
"We will move to this much stricter global system, so we will have a consistent approach across all countries," Zients said.
Visitors will need to present proof of vaccination and a negative Covid-19 test.
September 10 – Nine EU countries have reimposed entry restrictions for American travelers in the last 10 days
On August 31, the European Council recommended removing the U.S. from the "save travel list." Since then, 11 European countries have taken a stand on the U.S. situation.
As of today, Denmark, Netherlands, Spain, Italy, Germany, Czech Republic and France have enforced additional entry restrictions for Americans.
Netherlands, Spain, Czech Republic and France not only increased their restrictions but also completely barred the unvaccinated.
Sweden and Bulgaria have indefinitely closed their borders to all U.S. arrivals. Croatia, Portugal and Ireland will remain open.
August 31 – U.S. Updates Travel Advisory For Canada, Puerto Rico and Other Countries
Seven countries were moved up to Level 4 travel warning since they surpassed the limit of 500 new cases per 100,000 population over the last 28 days.
The affected countries this time were Switzerland, Saint Lucia, North Macedonia, Laos and Estonia due to their COVID-19 reports; and Oman and Azerbaijan because of raising concerns about terrorism.
Additionally, other 12 countries were moved up or down to the Level 3 travel advisory (high level of COVID).
Some of them because of their improvements in the fight against the pandemic, and some others like Canada and Germany because their efforts are not producing the expected results.
August 19 – U.S. officials and border mayors demand the White House to reopen international borders
A number of U.S. officials and border mayors are joining forces to request the White House to lift the travel restriction that has been in place for 18 months severely affecting their local economies.
A few weeks ago, Washington announced it will maintain restrictions on multiple countries and territories including the EU and China for the time being.
"The ultimate goal is to look for easing of restrictions on nonessential travel," as well as the "specifics on what we can, need or must do to achieve that." said San Diego Mayor Todd Gloria.
The government has not replied yet.
August 5 – the US works on a plan to request all international travelers to be fully vaccinated
The U.S. is reportedly putting in place a new system requiring all international arrivals to be fully vaccinated so they can be allowed to travel into the country, a White House official told Reuters.
"With limited exceptions (…) all foreign nationals traveling to the United States (from all countries) need to be fully vaccinated," said the official.
He also added that "working groups" are getting ready for "when the time is right to transition to this new system." However, the date when this plan will be set into motion was not released.
August 5 – the US works on a plan to request all international travelers to be fully vaccinated
The U.S. is reportedly putting in place a new system requiring all international arrivals to be fully vaccinated so they can be allowed to travel into the country, a White House official told Reuters.
"With limited exceptions (…) all foreign nationals traveling to the United States (from all countries) need to be fully vaccinated," said the official.
He also added that "working groups" are getting ready for "when the time is right to transition to this new system." However, the date when this plan will be set into motion was not released.
July 30 – Fully vaccinated Americans will be able to resume travel with the U.K. on August 2, but U.S. remains closed due to a delta variant and a surge in cases
While the U.S. continues to be closed for half of the world due to a surge in Covid cases, more countries have been adding it to the list of allowed visitors.
Effective August 2, double-vaccinated Americans and residents will be allowed to travel to the U.K. without quarantine.
There is a catch. Americans should've been vaccinated in the U.S. or in one EU country.
Although these travelers no longer need to quarantine, they will still be required to submit a negative PCR COVID-19 test before boarding and take another one on the second day of their stay in England.
This scheme does not apply to Scotland, Wales, and Northern Ireland for now.
July 16 – The U.S. borders will not reopen for EU or other travelers for the time being
"It defies logic. It defies science. It defies fact," Democratic Representative of New York, Brian Higgins told CNN, regarding the lack of transparency about the U.S. international borders reopening.
Another White official said that European Union, United Kingdom, Canadian and Mexican task groups have met with their American counterparts to discuss the aspects that would allow them to safely reopen the country.
However, another White House official told Reuters that "the Biden Administration is not in a rush to lift travel restrictions soon."
July 9 – The U.S. can't put a date on the international borders reopening, says government
The U.S. is unable to put a date on international travel reopening according to a White House official who spoke to Reuters on July 7.
"There are further discussions to be had before we can announce any next steps on travel reopening with any country," said the official.
This is the second time in less than 2 weeks that a Biden's administration official speaks about the impossibility to determine when the country will reopen for tourism.
On June 25, the US Secretary of State Antony J. Blinken also told reporters they could not give an approximate date and that everything will "have to be guided by the science and by medical expertise."
As of today, Schengen area residents who are not American citizens are only allowed if traveling under the National Interest Exception (NIE).
June 25 – U.S. to resume international tourism after September 6, said U.S. Commerce Secretary
The long-awaited reopening to EU tourists may be about to be over.
U.S. Secretary of Commerce Gina Raimondo has stated the country is actively seeking to open travel bubbles with key partners so they can resume international travel soon.
Although not a specific date was announced, Raimondo mentioned Labor Day, which is celebrated on September 6, as the potential date for free foreign travel.
"I'm hopeful that post-Labor Day we will see a nice uptick in business travel and international travel" […] "I can promise that getting business travel and international travel going again is a top priority," said Raimondo.
June 9 – U.S. to form task groups with Canada, Mexico, the EU and the U.K. to create a strategy to safely reopen borders soon
Multiple EU countries expected President Joe Biden's announcement about the U.S. border reopening during his visit to the U.K. for the very first G7 summit of his administration.
But instead, the White house has issued a statement informing the country will not reopen just yet.
"While we are not reopening travel today, we hope that these expert working groups will help us use our collective expertise to chart a path forward, with a goal of reopening international travel with our key partners when it is determined that it is safe to do so," reads the statement.
For now, the U.S. will form task groups with Canada, Mexico, the EU and the U.K to find the safest way to start international travel.
May 24 – The U.S. has not decided yet whether they will reopen to Europeans or not this summer
On May 19, all E.U. members agreed to welcome back Americans from June. E.U. countries can still enforce extra testing or quarantine requirements, but in principle, all vaccinated Americans will be allowed to visit Europe for tourism again.
Unfortunately, on the other side of the Atlantic things seem to be different. Biden administration has been reportedly holding meetings and contacting tourism industry leaders but reopening decisions have not been made yet.
Last week, White House spokesman Jen Psaki stated that no changes on current travel restrictions have been planned thus far when asked if the U.S. would allow vaccinated travelers to visit America Again. (Source: Reuters)
Here Are The Current Travel Restrictions For Americans Traveling To Europe
Editorial Note: We earn a commission from partner links on Forbes Advisor. Commissions do not affect our editors' opinions or evaluations.
Getty
Americans can still travel to European countries, although each country makes their own decisions about who can enter and what precautions are required to help prevent the spread of Covid-19.
Before deciding to travel to Europe, check the testing and vaccination requirements for your destination. Be sure to also consider any countries you transit as there may be testing or vaccination requirements even if you don't leave the airport. You'll also want to travel masks with you at all times, since some forms of transportation as well as public and private businesses may require them to enter. Many European countries specifically call for FFP2 masks (or similar-style masks such as KF94 or N95s).
Here are some of the latest European travel rules and restrictions for U.S. travelers.
Looking for Travel Insurance?
Compare Quotes With Over 22 Travel Insurers
France
U.S. citizens can travel to France with full proof of vaccination , which you may have to show to your airline and to border patrol.
Spain
U.S. citizens are not required to quarantine when arriving in Spain, but proof of vaccination or a recent negative test is required. Your test must be from within 72 hours prior to departure for PCR tests or 24 hours for antigen tests. Spain recently revised their requirements to define fully vaccinated travelers as those who received their final dose 14-270 days prior to arrival. Therefore, some travelers may need to obtain a booster dose prior to travel to Spain.
Before departure, you must complete a Health Control Form (FCS) and obtain and download the QR code to show at boarding and health controls upon arrival in Spain.
Requirements for Traveling to the U.S.
As of June 12, U.S. citizens returning from Europe to the United States no longer need to provide a negative Covid-19 test in order to return home. The Centers for Disease Control and Prevention (CDC) lifted the previous mandate that had required travelers to supply a negative Covid test or documentation of recovery in order to re-enter the U.S.
However, if you're not a U.S. citizen or are on an immigrant visa, you'll still need to show proof of vaccination to fly to the U.S. from Europe.
Get Travel Insurance Before Your Next Trip
Compare & Buy Travel Insurance
Was this article helpful?
Best Covid-19 Travel Insurance
Best Travel Insurance
Best "Cancel For Any Reason" Travel Insurance
Best Senior Travel Insurance
Best Cruise Insurance
Group Travel Insurance
Best Travel Credit Cards
How Much Is Travel Insurance?
How To Get Cheap Travel Insurance
Trip Cancellation Travel Insurance
Medical Evacuation Coverage Guide
Medical Insurance Guide
Reimbursement For A Travel Insurance Claim
Trip Cancellation Travel Insurance
Annual Multi-Trip Travel Insurance
Making A Travel Insurance Claim
Trip Interruption Insurance
More from
Chase Sapphire Reserve: Dining Perks To Tempt Your Tastebuds
By Forbes Advisor Brand Group
Weekly Travel Insurance Costs And Trends: Week Of Nov. 20, 2022—United States, Mexico And Israel Are The Most Popular Destinations
By Michelle Megna Editor
10 Worst U.S. Airports For Flight Cancellations Last Week
By Kelly Anne Smith Forbes Advisor Staff
Best Travel Insurance Companies Of November 2022
By Amy Danise Editor
Best Covid-19 Travel Insurance Plans Of November 2022
By Amy Danise Editor
10 Worst U.S. Airports For Flight Cancellations This Week
By Kelly Anne Smith Forbes Advisor Staff
Travel Insurance Outlook For 2023: Hello, Big Spender
By Michelle Megna Editor
Information provided on Forbes Advisor is for educational purposes only. Your financial situation is unique and the products and services we review may not be right for your circumstances. We do not offer financial advice, advisory or brokerage services, nor do we recommend or advise individuals or to buy or sell particular stocks or securities. Performance information may have changed since the time of publication. Past performance is not indicative of future results.
Forbes Advisor adheres to strict editorial integrity standards. To the best of our knowledge, all content is accurate as of the date posted, though offers contained herein may no longer be available. The opinions expressed are the author's alone and have not been provided, approved, or otherwise endorsed by our partners.
Becky Pokora is an avid traveler with a particular love for the outdoors. She's always looking for new ways to make travel easier, more memorable, and more affordable, particularly by using miles and points.
© 2022 Forbes Media LLC. All Rights Reserved.
The Forbes Advisor editorial team is independent and objective. To help support our reporting work, and to continue our ability to provide this content for free to our readers, we receive compensation from the companies that advertise on the Forbes Advisor site. This compensation comes from two main sources. First, we provide paid placements to advertisers to present their offers. The compensation we receive for those placements affects how and where advertisers' offers appear on the site. This site does not include all companies or products available within the market. Second, we also include links to advertisers' offers in some of our articles; these "affiliate links" may generate income for our site when you click on them. The compensation we receive from advertisers does not influence the recommendations or advice our editorial team provides in our articles or otherwise impact any of the editorial content on Forbes Advisor. While we work hard to provide accurate and up to date information that we think you will find relevant, Forbes Advisor does not and cannot guarantee that any information provided is complete and makes no representations or warranties in connection thereto, nor to the accuracy or applicability thereof. Here is a list of our partners who offer products that we have affiliate links for.
When can Americans fly to Europe? EU announces new travel rules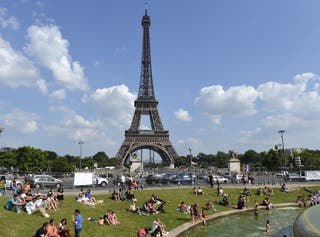 European Union ambassadors met on Wednesday to finalise plans to allow fully vaccinated people to fly to Europe without quarantine or Covid testing.
The US is expected to be included on a so-called "green list" of countries, from which all tourists will be allowed to enter the continent.
Residents of seven countries, including Australia, New Zealand, Singapore, and Israel, are currently allowed into the bloc for non-essential travel.
The US and UK, which now have low incidences of Covid-19 and high rates of vaccination, are expected to be added to that list in the coming days.
It will consider countries that have fewer than 75 Covid new infections per 100,000 people — the current eligible rate is below 25.
The US has 35 per 100,000, and the UK has 44, according to recent figures.
The EU's "green list" will also take into consideration the vaccination rates, and instances of variants, in non-EU countries.
It is all in the hope of salvaging some of the lucrative summer tourism season in 2021, after a disastrous 2020.
Just under 50 per cent of the adult population in the US is fully vaccinated, having received full doses of one of the approved vaccines. For the EU, it is 16 per cent.
Either way, EU ambassadors also agreed to ease restrictions for all fully vaccinated persons.
In order to be eligible to travel it is expected individuals will have to wait until 14 days after their second dose.
A formal adoption of the EU's plans will follow on Thursday, with a signing-off by EU trade ministers. The list of eligible countries will be updated every two weeks.
Talks are continuing over how to make US vaccine certificates eligible as proof of immunity for visitors.
Leading the push to open up are diplomats from countries such as Greece, Italy, and Spain that are more heavily dependent on tourism. They argue that increased levels of vaccination make the existing measure of infection rate less relevant.
Greece had already moved to accept US visitors with proof of vaccination or a negative Covid test.
Much of Europe remains under a "Do Not Travel Advisory" per the US State Department website, though it is thought that this may also change in the near future.
Current exceptions for Americans in the EU that are classified at the lower advisory level of "Reconsider Travel" are Spain, Denmark, Estonia, and Austria.
The UK, Bosnia, Albania, and Belarus are the non-EU countries that currently fall under that classification.
In a statement, the US state department told The Independent that remained "in close contact with our foreign counterparts and we are continuously adapting to evolving conditions."
"We appreciate the transparency and concerted efforts of our European partners and allies to combat this pandemic, [and] We look forward to the resumption of transatlantic travel as soon as our medical and public health professionals advise."
It added: "We are closely monitoring health and safety conditions across the globe, and will continue to update our destination-specific information for US travellers as conditions evolve."
Register for free to continue reading
Registration is a free and easy way to support our truly independent journalism
By registering, you will also enjoy limited access to Premium articles, exclusive newsletters, commenting, and virtual events with our leading journalists
Already have an account? sign in
By clicking 'Register' you confirm that your data has been entered correctly and you have read and agree to our Terms of use, Cookie policy and Privacy notice.
This site is protected by reCAPTCHA and the Google Privacy policy and Terms of service apply.
Register for free to continue reading
Registration is a free and easy way to support our truly independent journalism
By registering, you will also enjoy limited access to Premium articles, exclusive newsletters, commenting, and virtual events with our leading journalists
Already have an account? sign in
By clicking 'Register' you confirm that your data has been entered correctly and you have read and agree to our Terms of use, Cookie policy and Privacy notice.
This site is protected by reCAPTCHA and the Google Privacy policy and Terms of service apply.
Join our new commenting forum
Join thought-provoking conversations, follow other Independent readers and see their replies
Source https://www.travelinglifestyle.net/us-reopening-borders-to-tourism-who-can-enter/
Source https://www.forbes.com/advisor/travel-insurance/travel-restrictions-us-europe/
Source https://www.independent.co.uk/news/world/americas/when-americans-travel-europe-eu-b1850942.html