12 Muslim-Friendly Cities In Europe You'll Have To Visit (With Easy To Find Halal Food!)
Most Muslims worldwide would think twice about travelling to Europe as they feel it'll be hard to find halal food. But thanks to the presence of the Turks, the Moroccans, and the Algerians in the cities, you'll easily be able to find halal food all around these cities! Not only that but there are also mosques in certain areas, making it convenient for every Muslim traveller venturing into the city?
Credit: giphy Not sure where are the cities you should head to for a holiday? Fret not, we're here to guide you through some of the Muslim-friendly European cities you can visit!?
1. Berlin
From visiting the largest department store in Europe (KaDeWe) to taking a stroll in the Grunewald forest, Berlin has everything that'll entertain your wandering heart! This city pleases everyone from the shopping enthusiasts to the nature lovers, and whatever your personality is, you'll find this city magnificent nonetheless? Not to mention that it's the place where the iconic Berlin Wall is located!
Berlin is also the home of around 300,000 Muslims, which covers 10% of the whole population in the city! You'll easily find mosques around the city, such as the Berlin Central Mosque, Omar Ibn Al-Khattab Moschee, Wilmersdorfer Moschee, İbrahim Al-Khalil Moschee and Büyük Camii?
Berlin Central Mosque Credit: @2funyaman on Instagram Berlin also offers more than 60 halal restaurants! If you're on a tight budget during your trip, you can head down to Rayan Chicken for yummy Turkish food or Maroush for delicate Lebanese food?
2. Hamburg
Just like its sister city, Berlin, Hamburg also offers various tourist attractions ranging from historical places to countless museums and incredible architecture. And hey, it's a major port city in Northern Germany, and it's no surprise if you find some cool fish markets and water activities too?
Elbe Filarmoni Salonu, Hamburg Turkish people are the largest migrant community in the city, and their population is around 93,000. The number of Muslims in the city takes up 200,000 people, and it's more than 10 per cent of the city's population. There are more than 20 mosques in the city; some of the popular ones include Islamisches Zentrum and Centrum Moschee, just to name a few!
Islamisches Zentrum Credit: @zicoalbaiquni on Instagram For affordable Turkish food, enjoy Turkish barbecue at Restaurant Pamukkale Koz, taste Lebanese delicacies at Békaa Libanesisches Restaurant and Restaurant L'Orient or experience Persian cuisine at Restaurant Teheran! If Middle Eastern cuisine is not to your taste, Jawa Restaurant is also a good choice as it offers authentic Indonesian food?
3. Frankfurt
Say hello to the home of museums, fine arts and breathtaking architectural buildings? Beautifully located on the River Main, this old imperial city will bring romance back and have a classic sensation when you're in it! As its city's skyline is highly influenced by North American culture, it also earns the nicknames Manhattan and Chicago of the Main. If you visit this city, don't forget to enjoy the Römerberg (Frankfurt's Old Town Center) to witness the city's historical buildings. Goethe House and Museum is a good place for those in fine arts, while Senckenberg Natural History Museum offers a wonderful sensation for those who love museums with modern touches!
Römerberg Credit: Scott Jungling on Flickr The city comprises around 11.8% of Muslims and is one of the most Muslim-friendly cities in Germany. There are four main mosques in the city and they are: Pak Muhammadi Moschee, Bait-us-Sabuh, İslamische Gemeinde Mevlana and Islamische Gemeinde Rodgau.
Bayram Kebap Haus Credit: @thecherrycross on Instagram Although dominated by Turkish cuisines like Bayram Kebap Haus, Doy Doy Restaurant and Ramo's Grill & Kebap Haus, you can also taste some Persian delicacies at Kish restaurant. You can just as well satisfy your Asian appetite by visiting Thai Fun to enjoy some of the finest Thai delicacies around
4. Munich
Munich is a city that offers you endless tourist attractions such as the landmark Frauenkirche and historical buildings with marvellous architecture in the Altstadt old town. The Tierpark Hellabrunn is the world's biggest zoo; you definitely don't want to miss this when you visit this beloved city. If you're a fan of nature, you'll definitely be interested in visiting Englischer Garten, a gigantic natural park with iconic swimming holes!
Frauenkirche Credit: Sven Wusch on Flickr Have a taste of Afghan cuisines at Kababji Grill Haus! And if you're into food fusion, El Sham Restaurant offers you a great treat as they are a combination between Arabian food and German food If you're looking for a space to fulfil your prayers, drop by one of the most iconic mosques, Mosque Penzberg, and marvel at the traditional Islamic architecture and simple modern designs of this mosque
5. London
This city is a must-visit, and we're pretty sure most of you would find it an experience of a lifetime. From iconic Big Ben, spectacular London Eye, majestic Buckingham Palace, Tower of London and historic Westminster Abbey, this city offers you unstoppable beauty that's to die for!
London is also home to more than one million Muslims Some mosques you'll have to visit are The London Central Mosque, East London Mosque, Fazal Mosque and Leyton Mosque. There are also some Islamic centres in the city, such as Deptford Islamic Centre, East London Mosque & London Muslim Centre and The Islamic Cultural Centre. As the city has more than one million Muslim residents, halal food is not an issue. Turkish food, Pakistani food, Indian food or Middle Eastern food, you name it, and London has it!
Credit: Bang-Lish on FacebookP.S. If you need a guide for your trip to London, we've got you covered here!
6. Manchester
This city is the centre of arts, media, and higher education! Castlefield, Museum of Science and İndustry, National Football Museum, Manchester Art Gallery and Manchester Town Hall all show that Manchester is a crowd-pleaser as it suits all types of travel personalities? [caption align="alignnone" width="900"]
Ning Restaurant Credit: @thepastimebliss on Instagram Manchester is one of the most Muslim-friendly cities in England! The diversity in Manchester also showcases the variety of halal food this city has to offer. Ranging from Ethiopian delicacy (Habesha), Mediterranean beauty (Petra, Beirut and Jaffa Restaurant), and takeaways (Caspers UK and Kobeda Place), to even a street filled with many other halal food options (Wilmslow Road), you won't go hungry! Also, did you know that there are more than 5 mosques in Manchester?
7. Vienna
Vienna is Austria's capital and the largest city, and it's absolutely rich with beautiful sights The attractions vary from great palaces such as Schloss Schönbrunn, the uniquely enchanting Riesenrad Ferris Wheel, and the mindblowing Hofburg İmperial Palace!
Riesenrad Credit: @binarymeow on Instagram Some famous halal restaurants that you can check out are Quicky's (halal burgers), Asala Halal (Mediterranean food), Der Wiener Deewan (Pakistani food) and Sen Grill (Turkish barbeque)
Quicky's Burger Credit: @ramicup on Instagram So, has the presence of these halal eateries enticed you to visit Vienna yet
8. Barcelona
There are two main reasons to visit Barcelona: You're either a big fan of its famous football team or want to feel the city's romance! Either way, you will enjoy immersing yourself in this fascinating city. Barcelona is a pedestrian-friendly city, so it's great for you to discover the city on foot. A bonus point is that you can stay away from the bustling tourist bus?
Nou Camp Stadium The main mosque in Barcelona is Mezquita Tariq bin Ziyad, and the two Islamic centres in the city include Centre İslàmic de Barcelona and Minhaj Islamic Center! Bismillah Raval Kebabish (Turkish food), Sabor Persa (İranian cuisine), Lal Qila (Halal Indian food) and Zeeshan Kebabish (Pakistani food) are some of the restaurants you need to check. Restaurant Malaysia offers comforting Asian staples and if you are up for a good steak, El Asador de Aranda is a must-visit.
9. Paris
Well, this is one of the most romantic cities people have on their bucket lists. And news flash, it's also Muslim friendly too. The city is packed with iconic attractions such as Eiffel Tower, Notre Dame de Paris, the Louvre and Arc the Triomphe. And if you are a fashionista, this city is a dream come true. You can visit some free attractions such as the most haunting spot in Paris, Cimitière du Père Lachaise, or the beautiful waterfront, Canal St-Martin. [caption align="alignnone" width="900"]
Eiffel Tower Credit: @see.capture.remember on Instagram For your hunt for halal food in Paris, you can taste some Middle Eastern and Mediterranean delicacies at Le Helem and Chez le Libanais (Lebanese), Les Quatre Frères (Arabian) or Pacha Kebab (Turkish). If you're up for some fancy dinners, you can check out one of the best French fine dining restaurants at Alcazar
10. Brussels
Brussels is the capital city of Belgium and also the capital of the European Union. Most people would think about waffles when they hear about this city, and yes, they DO have some of the most delicious waffles in the world!
Credit: @travellensdiary on Instagram The city is home to beautiful attractions like Grand Place (Grote Markt), Belgian Comic Strip Center, Place Royale (Koningsplein), Belgian Royal Museum of Fine Arts and Atomium. Known for its beautiful historical buildings, this city will give you unending pleasures, and you would wish that you would be here again soon☺️
Atomium Halal food and mosques are things you should not worry about while travelling in Brussels! The city is packed with so many cultures, and you can easily find Arabian halal food (Bab El Hara) and Moroccan delicacy (Le Livre Jaune) and even Ethiopian halal cuisine (Kokob) in the city!
11. Copenhagen
With so many tourist attractions and most of them within walking distance of each other, Copenhagen is a place where you can enjoy the beauty of all sorts of sights! Nyhavn is a must-visit place where you can feel the city's romance, and marvel at beautiful buildings such as the Christiansborg Palace, Kronborg Castle and Amalienborg Palace!
Once you're done with that, get ready to bargain at Strøget, as it's Copenhagen's largest shopping area
Strøget, Copenhagen Credit: Lucky Girl Kris on Flickr Don't go hungry on your trip! Halal food can also be found at Al-Diwan, Kebabistan (Turkish cuisine) or Kabab-Ji Grill (Mediterranean Cuisine)!
12. Amsterdam
Whether hopping on your bike or taking a canal cruise, Amsterdam will give you the most memorable journey of your life. You'll want to visit over and over again as the beautiful city is home to fine arts, museums and beautiful parks? Not forgetting the countless cafes along the pretty cobbled streets! Don't miss out on The Rijksmuseum, The Anne Frank Museum, or The Van Gogh Museum in Amsterdam!
14% of Amsterdam's population consists of Muslims, showing a high growth level compared to the presence of Muslims in the 1990s! Moskee El-Tawheed Amsterdam, Westermoskee Aya Sofya, and Masjid Al-Karam are some of the most notable mosques in the city. Crystal (Steakhouse and Pizza), Restaurant Riaz (İndonesian food), MOZO (Moroccan cuisine), Daarbaand (Persian delicacy) and Istanbul Plaza Doner Kebab (Turkish food) are some of the highlights of halal cuisines in the city. So now you know you won't go hungry on your vacation
El Tawheed Mosque Credit: @hussin_momentomda on Instagram There you have it! We've provided you with 12 Muslim-Friendly European cities in this article, and now, there's nothing that prevents you from enjoying the beauty of this world. What are you waiting for? Book your tickets and show the world that it's not hard being a Muslim! Did we miss out on any Muslim-Friendly cities in Europe? Let us know in the comments below!?
7 Most Incredible Muslim Holiday Destinations
In this post, I'll be sharing our most spectacular Muslim holiday destinations.
In fact, I have travelled extensively to each destination featured in this post. So, you can be rest assured that I'm writing from first hand experience.
For example, Thailand which is on the list, I've lived in for three years. Whilst Malaysia is like my second home, the Maldives is probably the best travel experience I've ever had.
This post will detail halal-friendly travel destinations that consists of both Muslim and non-Muslim countries.
So, if your idea of Muslim-friendly holidays consist of cultural experiences, incredible scenery, and delicious halal food, then you'll love this post.
First, let's take a step back for a second.
What is a Muslim holiday destination?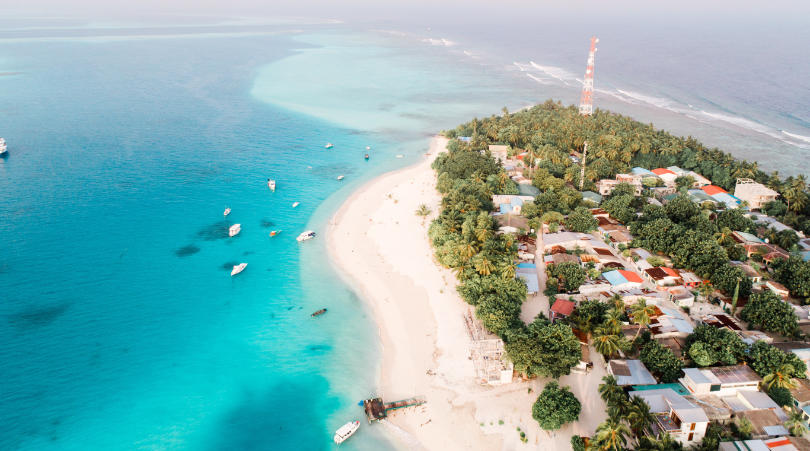 A Muslim holiday destination is any travel destination that meets all or some of the needs of Muslim travellers.
Additionally, a country may offer greater Muslim-friendly experiences in one region than another.
For example, after living in Thailand for three years, I know that Phuket is way better for halal tourism than Bangkok is.
Whilst the needs of Muslim travellers vary as people have diverse preferences, there usually is a few requirements that's common.
What should you expect from a halal holiday destination?
Discover below the three essential needs of halal-conscious travellers when in search of a halal holiday destination.
Prayer facilities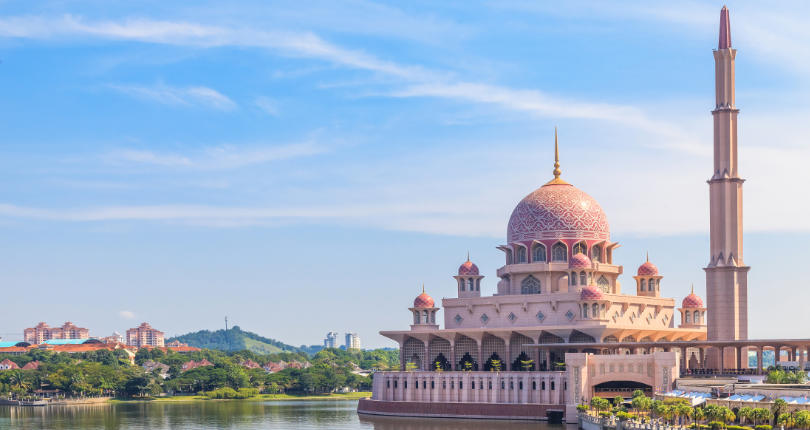 Easy access to prayer facilities is among the most important requirements for halal vacations. These prayer facilities can come in the form of prayer rooms in locations such as malls, airports and museums.
Although, praying in hotel or Airbnb rooms may suffice for some, the majority of Muslim travellers look forward to experiencing mosques in different countries.
Therefore, destinations with mosques at a short distance from tourist attractions and hotels are always great.
Halal food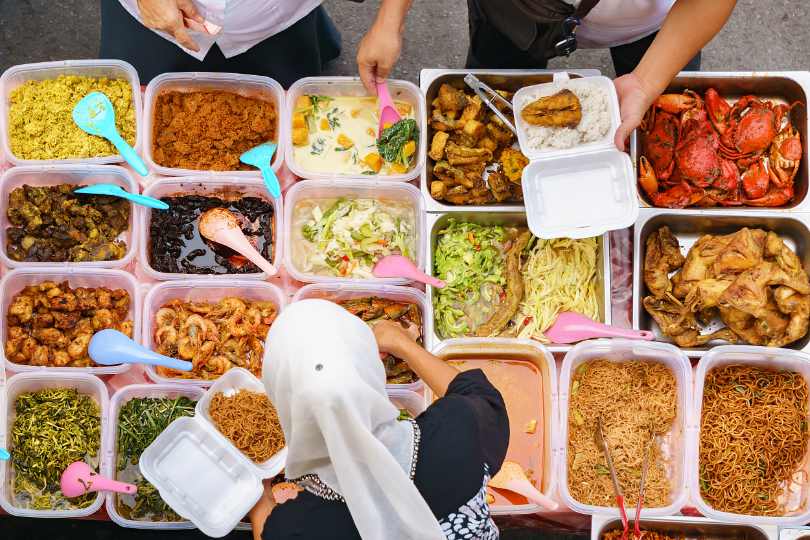 Halal food, maybe the most important of all?
Well, actually it is.
According to CrescentRaiting in their recent survey, halal food is the most important requirement for Muslim travellers.
I know that it is for me :).
Finding certified halal restaurants and hotels that serve halal food just makes the trip that much more convenient.
Specially, if you're travelling to a non-Muslim country and want to try the local dishes, it can sometimes be hard to find halal versions.
Lack of Islamaphobia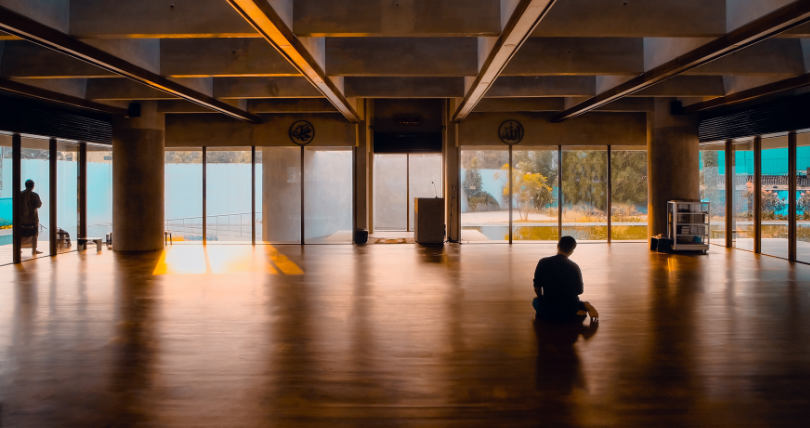 It is unfortunate that we have reached a time where Muslims need to verify if a travel destination is safe to visit.
Whether it's the safest Muslim countries to visit or countries that lack islamophobia, we're looking for a place where we can enjoy our trip without worry.
Particularly for Muslim women travellers, this is a primary concern, along with destinations that have no hijab or niqab ban.
Without any further delay, let's get started with our 7 best Muslim-friendly countries.
7 best Muslim holiday destinations
1. Maldives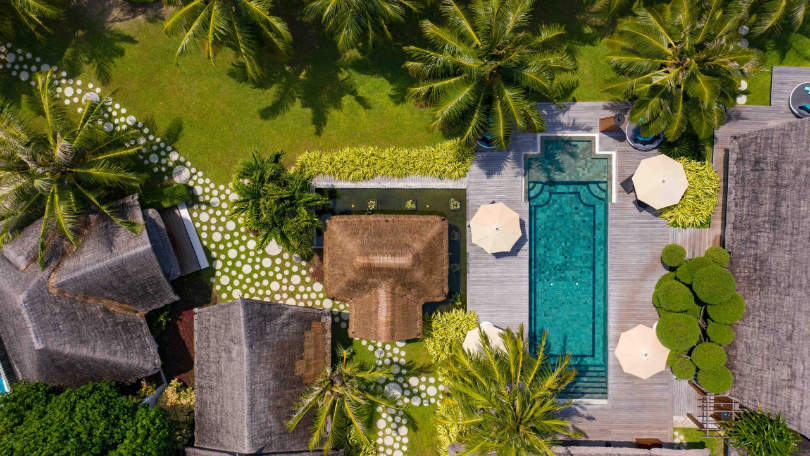 Image courtesy of Ozen Reserve Bolifushi
As far as halal tourism destinations go, Maldives may just be the perfect one. As a Muslim country, travellers in the Maldives are always a stone's throw away from halal amenities.
The country consists of about 1190 little, tropical islands, divided into separate atolls. These tiny dots in the Indian Ocean offer some of the best beaches in the world. Surrounded by water of all shades of blue, the beaches feature powder-white sand and shade from lofty palm trees.
The country boasts a diverse array of marine life, even right at the shores. By taking part in excursions such as diving or even snorkelling, you can spot manta rays, whale sharks, dolphins and more!
I particularly love the Maldives because regardless of your budget, you can experience the same paradise-like scenery.
For luxury halal holidays, experience the opulent Maldives halal resorts that feature halal restaurants and beach villas with private pools.
If you'd like a more affordable alternative, opt for a stay in one of the 185 local islands. The inhabited islands offer a complete Muslim-friendly environment where halal food in the Maldives is easily accessible.
In addition to that, you get to meet the amazing locals and immerse yourself in their culture. As an example, our Maldives island hopping tour is a great choice to travel the Maldives like a local.
2. Malaysia
Malaysia is an award-winning Muslim holiday destination. With a Muslim population of roughly 60%, it's a given that your Malaysia trip will cover all of your needs. Voted as one of the best Muslim tourist destinations, halal-concious travellers love Malasysia and it's not difficult to see why.
Let's start with food.
It's virtually impossible to be short of extremely delicious halal food in Malaysia. Some of the best meals I've ever eaten was in Penang, the food capital of Malaysia. The best was a clay-oven cooked tandoori chicken with naan bread at Kapitan Restaurant.
I still think about it from time to time.
What makes the country and its food special is the fact that the Malay, Indian and Chinese locals all contribute to the food scene. These three main cultures are woven into the fabric of this country, and they're harmoniously intertwined.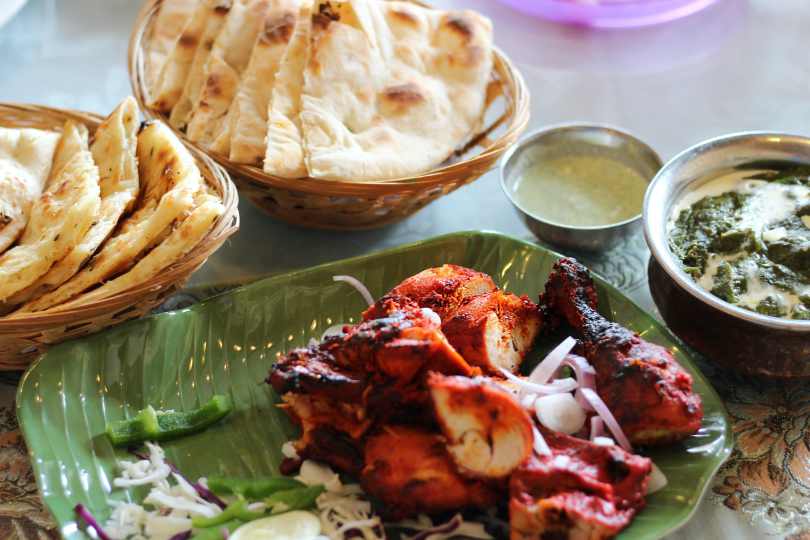 As for hotels and resorts in Malaysia, you can be rest assured that the country has high standards. As a Muslim country, all accommodation are used to catering for halal-conscious travellers. You can even find many that are completely alcohol-free.
A region worth mentioning in Malaysia is Langkawi. The island offers incredible beauty, rare wildlife and spectacular activities. Langkawi is a great option for Muslim couples on a halal honeymoon in Malaysia. That's because the island offers the ideal romantic setting for honeymooners, as well as offering a variety of private villas with pools.
3. Turkey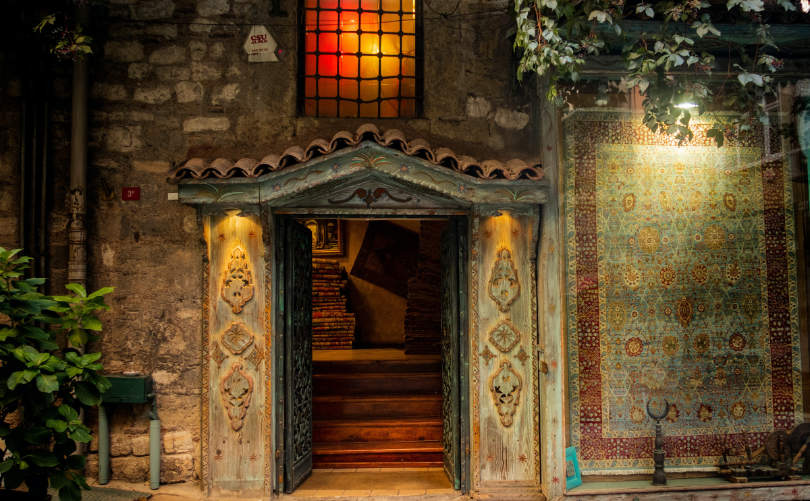 Istanbul is the 8th most visited city in the world, with roughly 13.7 million tourists in 2019.
As a result, Turkey has become one of the most popular halal holiday destinations. With so much history, heritage, and culture, it's easy to see why this vast country is attracting so many Muslim travellers.
Sitting between both Asia and Europe, Turkey offers a unique contrast in its landscape as well as its culture. The country is surrounded by four different seas, with each corner offering a completely different experience.
Turkey's halal tourism industry has skyrocketed in recent years with new openings of hotels and resorts that offer privacy and an alcohol-free environment. Certain properties, such as Wome Deluxe, also provide women-only beaches.
Halal restaurants in Turkey are common, even if you do not spot a halal sign or certification. As one of the main highlights of any trip, the food here is amazing! From meze platters consisting of hummus, cheese, olive oil and meat filled crispy pastries to tender kebabs marinated to perfection.
I'm getting hungry just typing that!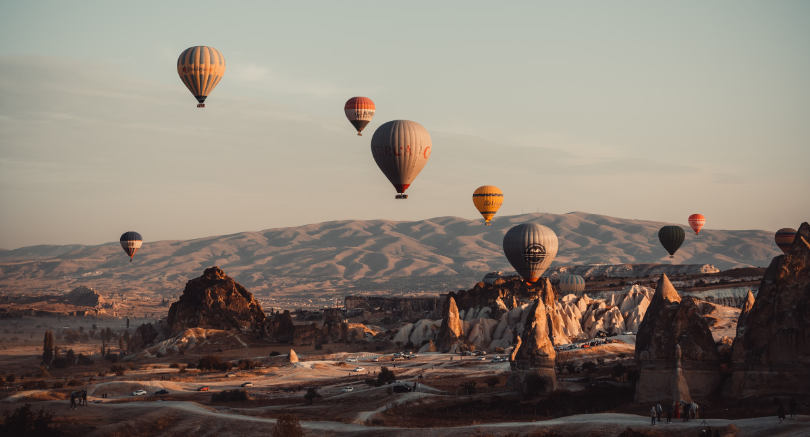 As for the history and heritage of Turkey, the country boasts 17 breathtaking sites included in UNESCO's World Heritage List. One of which is the Grome National Park and Rock Sites of Cappadocia.
This unearthly region, sculpted by erosion, is renowned for its landscape and unusual rock formations. Travellers enjoy taking a hot air balloon over this region to get a bird-eye view of the region.
4. United Arab Emirates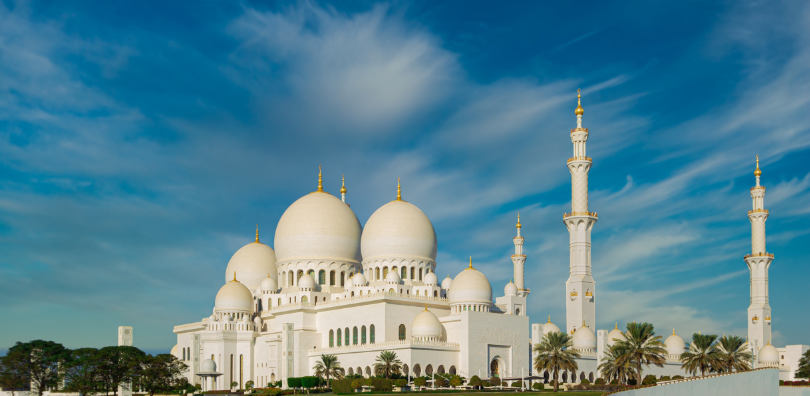 The United Arab Emirates (UAE) is one of those places that all travellers love. Well, it is actually Dubai that they love and want to see. One of the world's most iconic cities that was just a dry desert less than 40 years ago.
The UAE may be the most liberal and laid-back out of the gulf nations, but you can be rest assured that it is Muslim-friendly. When you zoom out of Dubai and view the rest of the six emirates, you'll start to get a real sense of this oil-rich country.
Let's start with the capital, Abu Dhabi.
The term Abu Dhabi means "Father of the Gazelle", which originates from the abundance of these animals in the region. This family-friendly and modern city offers a range of attractions and activities that will delight any traveller. It's even an ideal holiday destinations for muslim families.
Discover in Abu Dhabi the largest and most grand mosque in the UAE, Sheikh Zayed Bin Sultan al Nahyan Grand Mosque. With the capacity to hold 41,000 people, the mosque is an Islamic architectural masterpiece with design influences from past empires such as Persian and Mughal.
As an ideal halal beach holiday destination, the UAE offers countless beaches all around the country. From Dubai's world-renowned Jumeirah Beach and Palm Island, to the ladies only Al Bateen beach in Abu Dhabi.
For those that want to experience the expanse of the desert and life in the past, head out to Liwa Oasis. Located at the edge of Rub Al Khali (the Empty Quarter), Liwa Oasis is the birthplace of the rulers of the country and beloved by all locals. Every July, the Liwa Date Festival takes place to celebrate the country's national fruit.
11 Stunning Muslim Countries That Everyone Needs To Visit

A wise dude once said that everyone is wrong about other countries, and pretty much every traveller in the world nodded in agreement. Sigh. No, Colombia is not full of drug dealers, Africa isn't all about Ebola and Dubai isn't really a country, so I can't even. As travellers, we often have to defend our choices to visit certain countries. Some of the most misinformed myths in the world are about Muslim nations – about how travelling to any Muslim country is always dangerous, violent and unsafe for travellers.
Absurd generalisations about the Muslim world are unfortunately increasingly taking over. A lot of it comes from geographical ignorance (Arabia isn't a country either, FYI) and a persistent trend of misinformation worldwide.
As travellers, we know that we know nothing about other countries, and the only way to get started is to go see the world for yourself. Needless to say, Muslim countries are as diverse as Muslims themselves. Here's a list of some of the most beautiful Muslim countries in the world that need to be on your bucket list.
Note: All data on safety/danger is based on the latest UN report on Intentional Homicides. I have used the United States of America to index the level of mortal danger in these countries, and to illustrate a point. The report and the information in the article doesn't include danger from petty crime, theft and tourist scams. Or sharks.
Albania, a small country with a big heart
Muslim population: 58.8%
An exceptionally well-kept Balkan secret, Albania is an entire roster of attractions – everything from snowcapped mountains, to warm, glittering beaches; a bustling, cosmopolitan capital and a strong Islamic heritage. Albania has a remarkable and largely incongruous history of benevolence and acceptance. Albanian Muslims famously stood up for the Jews against the Nazis during the Holocaust, and every single Jewish refugee who came to Albania survived.
Why you should visit Albania: Because the secret is quickly getting out. Albania's beaches and mountains have been attracting a small, select bunch of travellers for years, which meant low prices and secluded places. This might soon change, so you might want to hurry up.
How dangerous is it? Unsurprisingly, Albania is actually safer than the United States (citation).
Neha Chauhan has been to Albania. Read everything about her trip here.
Indonesia, pretty much everyone's favourite tropical paradise
Muslim population: 87.2%
Not trying to be condescending, but a lot of people don't realise that Indonesia is the world's largest Muslim country. Pretty much the stock-photo of a tropical paradise, Indonesia's islands, beaches and cultural attractions draw millions of travellers every year. Religious diversity is part of Indonesia's fascinating heritage; more than 200 religions are practiced in the country, including Hinduism, Christianity and Confucianism. The diversity is prominently visible in the country's many monuments, mosques, temples and vernacular architecture.
Why you should visit Indonesia: Orang-utans! And volcanoes, beaches, surfing, nightlife, food, architecture and probably the world's best diving scene.
How dangerous is it? – A lot safer than the US. But there have been eight different incidents related to terrorism in the past decade, most of them on the island of Java. So travellers are advised to be cautious. However, Indonesia continues to remain a major backpacker magnet and the island of Bali is a major honeymoon destination.
Morocco, a cross-continental marvel
Muslim population: 99%
Few countries have the kind of appeal that Morocco musters. There's a bit of Europe in its large African heart; Moroccans speak both French and Arabic and enjoy their wine as much as their sheesha. Morocco is both desert and sea, both urban and nomadic; mesmerising, almost to a fault. Islam lies at the foundation of Morocco's contemporary life and is one of the cities like Marrakesh and Fes offer one of the world's most beautiful displays of Islamic architecture.
Why you should visit Morocco: If you have to ask, you are probably new to the wanderlust community. Morocco is one of the world's most fascinating countries with unbelievably beautiful, bustling cities, amazing food, beaches, snowy mountains and sandy desert.
How dangerous is it? Not at all. Morocco is almost four times safer than the United States. No travel warnings have been issued for Morocco in the history of travel warnings.
Kosovo, one of the world's newest countries
Muslim population: 95.6%
Kosovo emerged from one of the worst humanitarian disasters in recent history to become the world's newest country in 2008. Their claim to sovereignty is still debated, but Kosovo is recognised by more than a 100 countries. Travellers have consistently labelled Kosovo as one of the friendliest countries on the planet. The tiny landlocked country is picturesque in a characteristic Eastern-European sort of a way with idyllic villages, sprawling countryside and historic cities.
"Since the first moment after we got off the bus we were surprised, walking through the stoned streets felt absolutely lovely, everybody smiled and greeted us as we passed by. It was evident we were foreigners and the locals were quite delighted every time visitors from outside came after the long years of war. I guess I can better summarize it with the warm and happy feeling I got after I was standing on the curb, waiting to cross the street, and an old man with kindness in his eyes gently looked at me and along his warm smile he gave me a very soft pad on the back as saying "we are very happy that you are here".
How dangerous is it? Due to its geography, a little. But tourism in Kosovo has been without incident in the history of the country's existence. Overall, Kosovo isn't any more dangerous than other countries in Asia, but travel to Northern Kosovo is generally advised against..
Iran, the most misunderstood country in the world
Muslim Population: 99.7%
Iran's reputation in the media pretty much justifies the intent of this article. Anyone who's travelled to Iran (I haven't yet) raves about the hospitality, the food and the diversity of Iran. The country leaves quite an impression, especially due to the image that is so often associated with Iran.
Why you should visit Iran: For perspective. And the mountains. The last remaining vestige of Persian culture. The dolphins of Queshm, the mausoleums of Shiraz, the waterfalls and hot springs. Just look how pretty Iran is.
Here's what Josh Cahill, an avid travel blogger on Tripoto, has to say about his trip to Iran:
"The most common perception about Iran is that it is filled with terrorists and rebels and chances are that you will come back with a bullet wound on you. That is Bullshit! Iran is probably the most inviting country in the world and its people the nicest I have ever met in my entire life. A Persian person is the perfect human being and makes us Europeans, Americans especially and perhaps Australians look like terrorists. I can vouch for that."
How dangerous is it? As far as mortal safety is concerned, there is zilch to worry about. But travelling to Iran can make travel to some other countries difficult. The United States recently imposed a temporary travel ban (now overturned) on people flying from Iran (and six other Muslim countries), which might complicate matters for international travel. According to the UN report, Iran's average homicide rate is 4.8 per 100,000 people, only slightly more than the US (4.62 per 100,000).
Jordan, a place unlike anywhere else
Muslim population: 93.8%
The towering Wadis of Jordan, and the ancient cities nestled within them, are an earthly marvel unlike any other. Jordan's history spans millennia, and the country is blessed with some of the world's most enduring monuments and cities. Dead Sea borders Jordan on the south, framing the country with a jaw-dropping coastline.
Jordan is also among the wealthier countries of the world. The locals are affluent, although the strain from the recent influx of refugees from Syria is visible along its Western border towns.
Why you should visit Jordan: Oh, so much. The Dead Sea, Wadi Rum, Petra, the Biblical history.
How dangerous is it? Jordan is actually a lot safer than the United States, and many other travel-friendly countries such as Vietnam and South Korea, according to the UN report. But there was an attack in the city of Karak in December 2016. However, travellers have since continued to visit Jordan without incident.
Maldives, the most romantic place in the world
Muslim population: 100%
The fact that Maldives is an Islamic country, escapes most people's attention. Everybody's favourite honeymoon destination, Maldives and romance have almost become annoyingly inseparable. But Maldives is more than its luxury resorts and their private beaches. There are more than 200 inhabited islands in Maldives, of which most are quite unexplored.
Why you should visit Maldives: A lot in Maldives is tailor-made for couples looking for a romantic getaway, but the country is a gorgeous delight for any beach lover, and who isn't one? The diving and snorkelling is fantastic, with some of the most vibrant reefs and atolls on the planet.
How dangerous is it? Ummm. Please.
Turkey, where east meets west
Muslim Population: 98.6%
Turkey has always kinda been the poster-child of progressive Muslim countries and one of the biggest reasons is the influx of tourists from Europe, who flock its beaches and monuments by the millions and see for themselves what a Muslim country actually looks like. Although, Turkey has been prone to unpredictable violence in recent times, but large parts of it (especially in the south) continue to remain popular with travellers.
Why you should visit Turkey: For the culture, the food, the beaches and the history. Turkish hamams, Cappadocia, Ephesus, Pammukkale, Antalya and, of course, Istanbul.
How dangerous is it? Conflict in Syria, and trouble with Kurdis and ISIS has contributed to violence in recent years, and a lot of countries have issued travel warnings for Turkey. Travellers in Turkey should be careful due the threat of suicide bombings and terrorist attacks. But despite the warnings, tourism in Turkey remains steady-ish, considering.
Mayotte, the one you've probably never heard of
Muslim population: 98.8%
Where? Mayotte is a tiny island nation in the Indian ocean, quite close to Madagascar in Africa. Picture perfect, gorgeous and wonderfully diverse, the people of this tiny island nation speak four different languages. The country is an overseas territory of France, and is governed under the French law and primarily caters to luxury travellers, a vast majority of whom are French nationals, especially on Grand-Terre, the main island.
Why you should visit Mayotte: For a decadent French-African island adventure.
How dangerous is it? Let's just not worry about that here. Extremely, extremely safe.
Pakistan, the one everyone warns you about
Muslim population: 96.4%
I am gonna get flak for for this, but whatever.
Violence in parts of Pakistan makes travel and safety quite unpredictable. But the country remains on the bucket list of travellers around the world, including yours truly. The mountains and valleys of the Karakoram range are some of the most beautiful places on the planet, and continue to attract trekkers and travellers. Pakistan is also blessed with sprawling desert, pre-historic civilisation and a largely unexplored coastline.
Why you should visit Pakistan: Pakistan can be difficult to travel to. But anyone who's made it there, reports back with unforgettable experiences. A lot of the Pakistani countryside is largely unexplored, especially in the south. The Karakoram range rivals the Himalayas in scale and allure and the street-food is legendary, especially in Lahore.
How dangerous is it? Globally, there is a general travel advisory regarding travel to Pakistan. Terrorist activity, drone strikes and religious persecution make travel quite risky. However parts of Pakistan, such as Hunza Valley are considered safe to travel to. Here's what Christian, who recently drove through Pakistan, has to say about Northern Pakistan:
"Northern Pakistan is extremely safe, it is even safer than most of Europe these days. The locals are very welcoming and open minded, I got invited for food, tea and even the local moonshine everywhere I walked."
Kazakhstan, the paradise in Central Asia
Muslim population: 70.2%
You've probably heard about Kazakhstan, likely very recently because this hidden Central Asian gem has now emerged from obscurity and entered the travel circuit. Welcoming, progressive and unexplored, it ticks all the boxes for those seeking offbeat experiences and unexpected surprises, such as the nightlife in city of Astana and the futuristic skyline of Almaty.
Why you should visit Kazakhsthan: For Tian Shan, where the mountains are wild and the scenery will blow your brains.
How dangerous is it? Kazakhstan is peaceful, but violent crimes (not related to religious extremism) are higher than the global average, and also higher than the US. But for travellers, their's nothing to worry about.
There are 48 countries in the world with a majority Muslim population. Not included in this list are several tourism hotspots such as Malaysia, UAE, Egypt and Bahrain. There's no real justification for judging a country based on its religion, or judge followers of a global religion without context.
I hope this list provides some breadth to the discussion about Muslim countries. Please feel free to join in the discussion in the comment section below, or share your own experiences with the community on Tripoto.
Frequent searches leading to this page:-
Maldives holiday packages for family, Top Turkey Tour Packages With Price, best Muslim country in the world, best Muslim country to live, best Muslim country to visit, best Muslim country to study
Source https://www.havehalalwilltravel.com/muslim-friendly-cities-europe-halal
Source https://roohtravel.com/muslim-holiday-destinations/
Source https://www.tripoto.com/asia/trips/stunning-muslim-countries-that-everyone-needs-to-visit-589d74869163a