14 Cheapest Places to Travel in Europe in Winter – Let Magic Happen
Are you a budget traveler who is looking for the cheapest places to travel in Europe? For some reason, many people associate Europe with high costs and the word "expensive." When in reality, this continent has plenty of affordable destinations.
Winter in Europe is actually one of the best seasons to travel! Well, yes, for many reasons. There are fewer people, lower prices, it is easier to make bookings, and more places offer stress-free vacations. Over and above that, big cities and small villages look more like decorations from a movie. They are incredibly beautiful and the reason for that is not just Christmas lights.
Winter Europe is endlessly attractive to all types of travelers. On the one hand, it has a huge number of cultural monuments, history, and picturesque landscapes. On the other hand, traveling in Europe can get quite expensive.
Of course, even in expensive countries, you can travel on a tight budget. But if you want not only a cheap but comfortable vacation, then this list is for you!
Psst: Looking for a cheap country to live in Europe? See my other post!
Please note: This post contains affiliate links. I may earn a commission if you make a purchase by clicking a link (at no extra cost to you).
The Cheapest Places to Visit in Europe in December
December is that time of the year when everyone wants to travel in Europe. Because it feels enchanting everywhere. Since this is the highest tourist season, prices are mega inflated and hotels are fully booked. But there are a few countries, which are popular in summer, that do not see many tourists in winter. And each of them makes a list of cheap places to travel in Europe in winter.
Lithuania
One of the lesser-visited countries in Europe Lithuania holds so much magic during the holiday season. And it is such a cheap winter getaway here.
Most of the country is normally covered in snow around Christmas except for the coast. Although in the cities temperatures don't drop far below 0. December is a more gloomy month with snow on and off but you also get to see sunny days.
One of the big reasons people come to Lithuania in winter is Hot Springs. Did you know at all that Lithuania has thermal baths? I talk about them in greater detail in my guide to Vilnius. They are open all year round, even during the cold winter days. The best places for that are Druskininkai, Birstonas, and Palanga Spa Towns. But check my guide for more tips.
Surprisingly, winter sports are becoming more and more popular too. The country doesn't have any mountains but cross country skiing takes place every year. Snow season is a bit unpredictable in Lithuania but there are some weeks when the country is covered in snow and up in the hills the temperature can drop to -20C degrees. So pack warm clothes!
There are a few great places you can choose from to ski. Like Druskininkai Resort Town and Anyksciai. The last one is the largest ski resort in Lithuania.
If you like hiking, you absolutely have to visit Aukstaitija National Park. It offers many different paths through the woods for orienteering, nature walks and rest.
Georgia
Georgia. Definitely, you didn't think about this teeny-tiny country as one of the cheapest places to travel in Europe. And travel in winter. We lived in Tbilisi and would definitely return there again during December.
Georgia is a fantastic destination for budget travelers (and not only budget!) where you can have various experiences during one trip. From wine tasting, Kazbegi adventures, incredible road trips to sunbathing to skiing, Christmas markets, and cave explorations.
Winters in the capital of Georgia are soft. The temperature hardly goes below 0 degrees. And the city always gets beautifully decorated for the holidays. There are fewer tourists but all the shops and restaurants stay open so you can still enjoy amazing Georgian wine and cuisine. And to be honest, Tbilisi has some of the best restaurants and bars in Europe. You can be very busy only hopping from one place to another.
On the coast, winters are much softer. Anywhere between Batumi and Ureki, you can easily have +10C degrees or even higher during the day which allows you to get vitamin D and traverse two coastal regions.
Some mountain roads may close due to snowfalls, but there are still many places you can reach by car. See my guide on what to see in Georgia for first-timers if your visiting Georgia for the first time. I am also working on more content on this topic, feel free to browse through this page.
Montenegro
Come to visit Montenegro in December! So many tourists visit Montenegro in summer, not knowing how spectacular this country is in winter. We lived in Montenegro too and I want to encourage you guys, looking for affordable European vacations, come to Montenegro at the beginning of winter season.
It's going to be cheap, quiet and full of surprises. Also, December is the time of oranges, tangerines, persimmons, and kiwis.
The climate in different parts of Montenegro can vary greatly. On the coast it gets warm and in the north people ski. Since the country is very small, you can be skiing in the mountains and soaking up the sun on the coast during the same day.
Usually, the average December air temperature along the coast is +15 +17C degrees, but on many days it can be +20+22. Nights are much cooler and you may need a heater. But days, for the most part, see the gentle sun and calm sea. In the north, the average daily temperature ranges from -8 to +5 degrees which creates perfect conditions for skiing, snowboarding, and snow-related activities.
Despite the small size of the country, Montenegro has three climatic zones – coastal, northern and central. In the central part of Montenegro (Podgorica, Niksic, Cetinje) there is nothing to do in winter but the coastal part of the country and the north offer a lot of activities.
My best advice – choose to have Montenegro vacation on the coast if you plan to take excursions and see the historical part of the country. If you are interested in skiing then there are two well-known ski resorts to look into – Zabljak and Kolasin. There are several smaller ski resorts but with the poorly developed infrastructure, they are not worth your time. We personally visited Zabljak multiple times during different seasons and it was spectacular.
For more information on Montenegro in winter, check my detailed post. And see all my posts on Montenegro here.
Cyprus
Overall, Cyprus is not considered a really cheap destination. But that changes once winter comes. Holidays in Cyprus are the cheapest in winter, especially if you are making reservations at the last minute.
In the second part of November at the end of the season, prices for rental cars and accommodation drastically fall what turns it into an excellent destination for budget travelers.
Yes, you won't be able to swim in the sea but there is so much to do beyond the beach. Go on a scenic hike or walk with panoramic views, rent a car in one of many cities and go road tripping, visit a winery, one of the oldest villages, or spend a day in a spa that Cyprus is famous for.
Also do not forget that Cyprus is divided into two countries and if you go to the Turkish part of the island, your vacation will be much cheaper than in Turkey and at the same time cheaper than in South Cyprus. At the same time, you can safely go on excursions around the island, but in the end of the day return to your hotel. North Cyprus has quite a few chick all-inclusive hotels to stay in.
Check my winter travel in Cyprus post to find out more!
Estonia
Estonia is probably not the first country that comes to mind when thinking about cheap winter getaways in Europe in December. But Tallinn and surrounding cute towns have its charm during the holiday season. The city becomes like a fairytale town with a Santa Clause, Christmas markets, ice sculptures and lots of lights and decorations. Most lookout points of the city, from where you can get an amazing view, stay open for the public. By the way, if you are thinking about the best winter city breaks in Europe, consider Tallinn.
The country does not have tall mountains, yet winter sports are very popular. There are plenty of hills with well-built ski tracks. The most famous one is in Otepää. Besides that, many ice skating rinks open up all over the country.
A small northern baltic country brings more and more tourists every year but not so much in winter. That's why many tour operators and hotels lower their prices. The best time for budget visits is late fall, early winter, the second half of winter, and early spring. But December is just so magical.
The Best Holiday Destinations in January For Budget Travelers
There is just too much hype around travel in Europe in December. People try to plan their vacations not later than the beginning of January, implying that there won't be much to do after the Christmas season is over. But this is not true.
There are some lesser-visited countries where celebrations go in full swing in January and where this month of the year is simply the best time to visit. And as a bonus, the countries you find below are the cheapest places to travel in Europe.
Belarus
Have you ever thought of visiting Belarus for the winter holidays? Alright, let me ask you differently. Have you ever thought about visiting Belarus at all? Most travelers will shake their heads and say "no".
Belarus is one of the most underrated countries. Minsk alone is worth a visit during any season. Still, especially charming it gets during the holidays which country celebrates later than most of Europe.
Festive atmosphere, lots of decorations, lights everywhere and overall festive mood create this special vibe that lasts all the way into January. The most beautiful time in Minsk and Belarus, in general, is on New Year's Eve and in January. During this time, you can also witness a real Belarusian winter – with snow but not being too cold.
This destination is going to be one of the cheapest winter getaways yet fun. In January, the snow guarantees amazing sceneries. If you have done all Minsk sightseeing, go to a winter wonderland at Naroch Lake and Narachanski National park, rent a cabin around Brest city, go snowshoeing in Naliboki forest or visit castles in the vicinity of Minsk. The highest point of Belarus is only 300 meters, although it doesn't mean that skiing is not popular there.
Ukraine
Ukraine is a fantastic holidays destination in January for many reasons.
First of all, it is the cheapest snowy country in Europe. There is normally snow around the holidays and then it comes and goes until spring. Second, as in Belarus, the Ukrainian holiday season begins later than in the rest of Europe which means that decorations, celebrations and Christmas markets take place almost until February.
Ukrainians start decorating cities and preparing for holidays only in the third week of December. The country celebrates New Year on January 1st, Orthodox Christmas on January 7th, followed by "Old New Year" on January 14th and then one more major holiday of Epiphany on January 19th.
During all these days Ukrainian cities are beautifully decorated along with musical programs and concerts in all major cities. Christmas markets are lovely. They look similar to Christmas markets in other European countries and at the same time, there is something different about them.
Each market offers so many tasty foods along with many variations of Glintwine. Also, everything is so cheap! A lot of concerts are free, a meal at the market will cost on average between $3-$5, a large cup of Glintwine $2-$3 max. Nowhere in Europe, you will find such prices at the Christmas markets. So I can say with confidence that Ukraine is one of the cheapest European Christmas destinations.
Another important thing to consider is that Christmas markets and decorations stay up for a while. This is why January looks usually bright and festive. This past winter we had our last Glintwine on February 1st. It was the last day for the markets and considering that most markets in Europe close down by January 1st, some a week later, that is a big advantage if you are planning a trip after the holiday season is over everywhere else.
Remember that Ukraine also has Mountain Range – Carpathians with lovely ski resorts and the largest of them Bukovel. And this region in winter offers many beautiful accommodation options, hiking in the snow, and Classic Folclore experience.
There are also hot springs, covered and under the open sky. They keep their water pretty hot up to 36°C and no colder than 32°C on coldest days.
I have lots of tips and guides to Ukraine on my Ukraine travel blog. If you are visiting Kyiv in winter, here is another post on the best things to do.
Albania
Surprise, surprise, Albania is another best place to visit in winter for an affordable European vacation!
Usually, people know this country as a summer destination, avoiding it in winter. Although if you know where to go, you can have an unforgettable getaway. At this time of the year life in Albania is in full swing and this is the best season to travel to ski resorts (which are among the cheapest ski resorts in Europe), join a wine tour, pop into Tirana's famous museums, go on a road trip and visit one of many amazing spas or hot springs.
Albania is perhaps one of the most inconspicuous and undistinguished Balkan countries. For a long time, it was completely isolated from visitors. This is why it didn't have a chance to show its beauty on the world tourism arena. Yet. But it is developing fast and at any time of the year, in any place and under any circumstances, you will undoubtedly be welcome there!
Slovakia
Holidays in Slovakia in winter, particularly in January, are suitable for those budget travelers who prefer skiing, hot springs, and snow-related activities. Slovakia is a fantastic alternative to pricey Austria, Italy, southern Germany, France, and Switzerland. This is why, often in the Tatras, you can meet travelers from all these countries who come here to ski.
The High Tatras have high-quality slopes, snowboard parks, ski schools for children and adults, snow tubing, skating rinks, entertainment centers, and beautiful ski resorts. Even the nearby Polish Zakopane area is a bit more expensive. During a trip to this fascinating country, every vacationer can enjoy a fabulous atmosphere surrounded by mountains, centuries-old forests, and magnificent castles.
In Slovakia, you can ski at affordable priсes. There are a lot of comfortable, cozy and quiet hotels, resorts right next to the slopes and throughout the country as a whole. The cost of renting accommodation will be minimum two times cheaper than in those countries that have the Alps. Although the quality is in no way inferior. The food at the stores is cheap and the restaurants are quite affordable as well.
The main ski resorts in this area are Strbske Pleso, Smokovec, Tatranska Lomnica, Zdiar-Strednica and Bahledova Valley-Jezersko. The first three resorts have a single ski-pass. The High Tatras are a great choice for families with children since here you can engage in all kinds of winter sports. A few waterparks and hot springs are in the same area too. There is a railway line that connects all resorts with each other and with the city of Poprad, where the nearest airport is located.
At all ski resorts in Slovakia, without exception, there are shops, rental services, restaurants, cafes, and various entertainment facilities. They will make your stay even more comfortable and memorable.
Romania
Romania in winter is a country of entertainment and relaxation at a very low cost.
The Carpathian Mountains offer beautiful mountain peaks, the best ski slopes, and the freshest air. You only need to choose a place where to be based – in Brasov, Sighisoara or Sibiu.
Fans of outdoor activities will have the opportunity to ski on the slopes, enjoy the beautiful scenery and drive on scenic roads. The climate in this part of Romania is temperate continental, so winters are usually mild and snowy. Even though January is the coldest month, it is not going to be any colder than in most other European countries.
Do not imply that Romania in winter suits only those who love to ski. Nope. There is a lot to explore in this amazing country beyond ski resorts. There are ancient monasteries, fortresses, and castles. Welcome to Transylvania – the birthplace of Count Dracula! Castles near Brasov, Peles, Sibiu, and Bran in winter look mystical and stay quiet and empty.
Romania will delight you with warm hospitality and a wide range of wines. Did you know that Romania produces its own wine? Yes. When visiting, try some local wines and do some tasting. Also, in local restaurants, along with dishes of national cuisine, tourists can watch various performances with gypsy songs and dancing.
When visiting, make sure to rent a car and drive a scenic road from Bucharest to Brasov.
There is a good deal of places where to stay on a budget in Romania. If you end up in Brasov, prefer to stay in a hotel and can splurge a bit, I can highly speak of Teleferic Grand Hotel or Hotel Aro Palace. The first one has a beautiful, clean property and nice pool while the second one is just one stunning hotel with the best view of Brasov.
Cheap And Cool Places to Visit in Europe in February
There are actually so many places in Europe where you can go in February. Those cheap winter getaways I am going to mention below have mild winters and are easy to reach. In addition, February is usually the most unpopular month among tourists, so you can be sure that your experience will be very authentic.
Turkey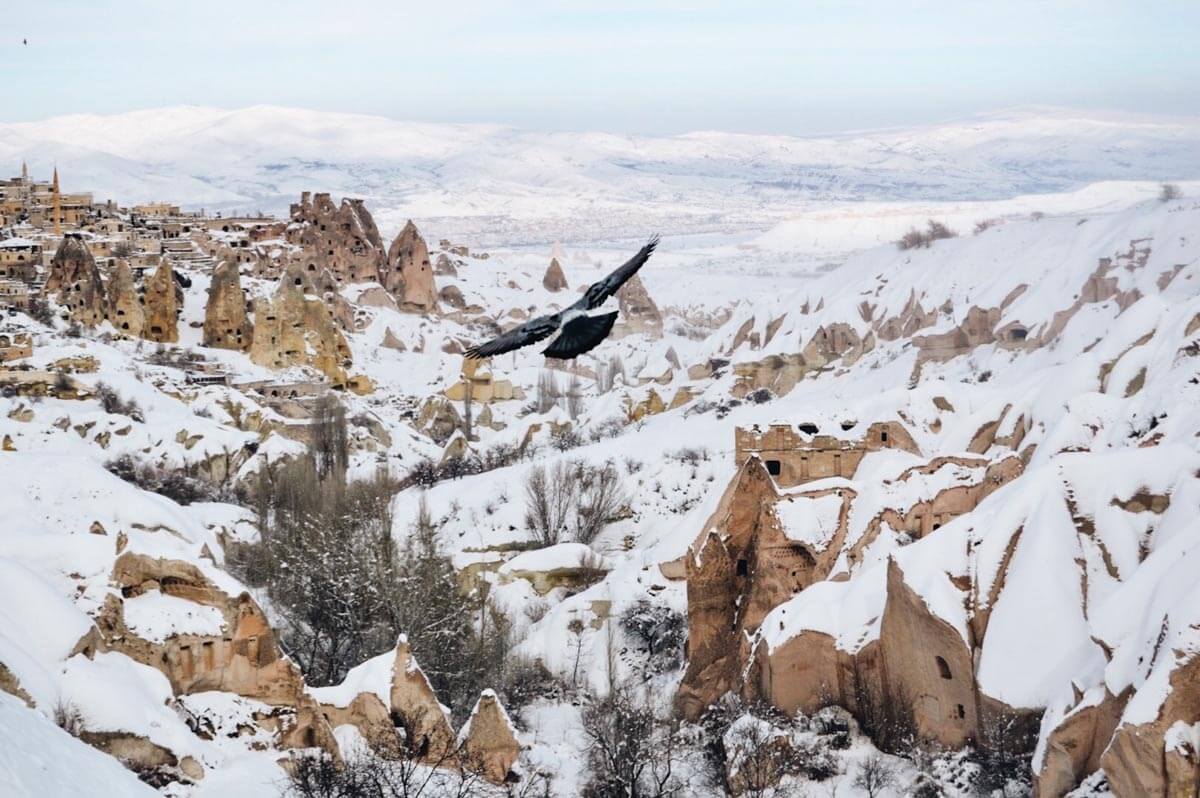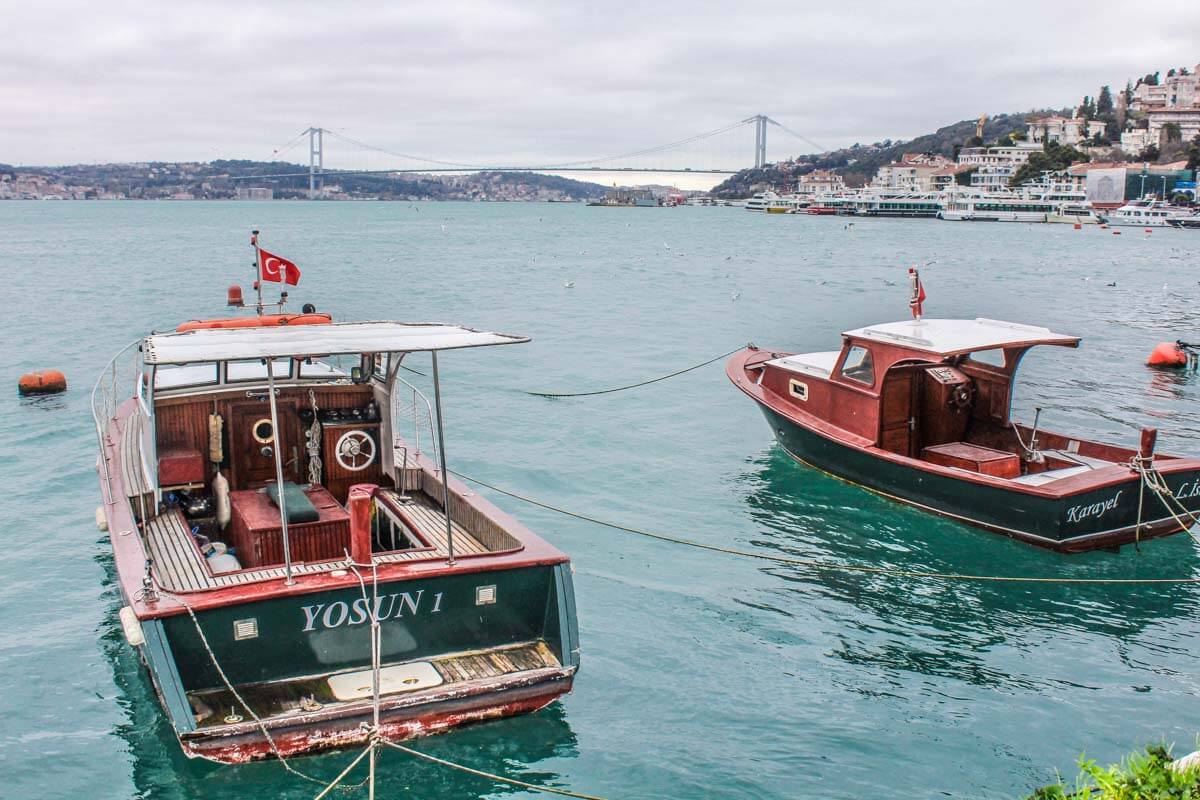 Turkey is a great place for someone who's looking for a very soft and sunny winter on a budget. Although some people will say that the winter months are fairly cold in Turkey, in my experience they are still much warmer than in most of the countries on the continent.
There can be enough sunny days when it gets warm enough to hang out on the beach and even sunbathe. The average temperature in February is 12-15C degrees but some days can be warmer. The water is too cold to swim, but this time of the year is the best for sightseeing, nature walks and visiting Turkish villages (like this cute Sirince village not far from Izmir). It is definitely the quietest time to visit Turkey.
Considering it's an offseason, expect accommodation and cafes to be cheaper than normally. Also, Turks don't seem to bargain as much (shopping lovers, this is the time to go.) You can also check the last minute travel packages, which often include all-inclusive deals, if you prefer it that way.
And if you get tired of quiet beaches, visit caves or the mountains that offer skiing, snowboarding, and other snowy activities. Car rentals are also much cheaper.
And of course Istanbul. There are so many incredible sightseeing spots, places where to eat, and always lots of things to do in this vibrant city. Istanbul neighborhoods have so much that you can stay busy for a long time. And in the winter season, Istanbul can turn into a wonderland.
More travel resources for winter travel in Turkey:
Serbia
Serbia is another country that makes a list of the cheapest places to travel in Europe. It is a quite popular destination for winter travelers but mainly because of the secret mountains and ski resorts. They make a great budget alternative to European resorts while holding up the good quality for slopes and accommodation. There plenty of resorts to choose from but the most known are Kopaonik Ski Resort and Stara Planina Resort.
The Kopaonik Ski Resort is probably the most famous, largest and modern place for skiing. There you would find 25 Sky Lifts and more than 60 km of ski tracks including tracks for night skiing. There are a lot of budget options for accommodation starting from $30 per night and up to luxury apartments.
Stara Planina Resort is a new but very modern and quickly developing resort with great infrastructure. The mountain tops are covered with snow for 5 months out of the year and have over 13 km of prepared tracks for all skill levels.
Belgrade in the wintertime is not for everyone. There is not too much snow but the dark gray architecture of the capital and lack of sun can make this city look too depressing for many people. Freezing cold winds that can last up to a week, only add to the atmosphere.
There are still things to see like Belgrade Fortress, Church of Saint Sava or Nikola Tesla Museum. Just don't stay in Belgrade for too long. Three days will be more than enough. It is better to visit this city when traveling in Europe in spring.
Spain
When deciding where to go in Europe in February, take a closer look at Spain. A favorite destination for many, Spain in February and in winter, in general, can offer travelers both a cultural program, ski resorts and amazing beach holiday. And most importantly, all those experiences are budget-friendly.
Madrid and Barcelona in winter are so pleasant. We visited both at this time of the year and couldn't be happier. Barcelona to Valencia drive is spectacular. After the rain, everything is green and blooming. A lot of places on that stretch of the road are incredibly quiet. Fewer tourists and balmy weather make February a perfect month to do sightseeing.
Mallorca and the Canary Islands are excellent places for winter sun in Europe. The daily temperature of the air is around 20C degrees. Swimming at this time is not too comfortable as the water is cool (many tourists from Northern countries still swim though) but sunbathing, swimming in hotels' pools and exploring natural landmarks are perfect activities.
Part of Andalusia, located in the very south not far from the African coast, experiences the mildest winter climate. Accommodation is inexpensive, famous attractions, such as the Alhambra Fortress-Palace in Grenada or Seville Cathedral for example, barely see any tourists. The lively nightlife and local tapas make these places especially attractive. If you are there and crave some snow, nearby Sierra Nevada is a short drive away.
And then the Northern coast of Spain. I cannot help mentioning a few words about this multifaceted region. Mark and I spent February and part of March in Santander, driving along the coast, visiting totally mind-boggling beaches and Picos de Europa national park, and got amazed by all that beauty that lays in the north of Spain.
|| RELATED POST ||
Hungary
Hungary is another choice for those who prefer a mild and cheap winter getaway. And honestly, this country is amazingly beautiful during each winter month.
The temperature rarely drops below 0 degrees, so you will almost never see snow around the cities. But no, it is not going to look depressing. Of course, if you can, come during the Christmas market time. During the holiday season, the city is stunning. But February is no less beautiful.
The average temperature in Hungary in February is around 5C degrees. Days can be spent exploring the sights, and evenings soaking in the hot springs.
Besides Budapest, there are many other cool towns to visit. Some of them are Eger, Miskolc, Debrecen, Szentendre, Esztergom, and Visegrad. Most of them have hot springs, cute old towns, historical sites, and delicious food. Car rental in Budapest in February is incredibly cheap, reserve it in advance and see all these places.
Szechenyi baths have a temperature of 25C degrees and this is the hottest thermal spring in Europe. Floating in pools is an amazing experience all year round but isn't it more fun to stay in pleasantly hot water under the open sky in the middle of February?
All the touristy activities stay open in Budapest in winter too. At the same time, many hotels offer winter discounts. Check them out here.
Did you travel to any of these countries during the wintertime? Share which one was your favorite! Can you add any other cheap winter breaks in Europe? I'd love to know, share it in the comments!
Anya is originally from Ukraine but in heart she is a citizen of the world. She is working online and that's why has an opportunity to travel a lot and live in different countries. At present time, she is based in Europe while waiting for the war in Ukraine to be over to be able to return home. On this blog, her main goal is to inspire others to travel to under-the-radar places and discover the world while working remotely.
Top 15 cheapest places to travel in Europe
Are you planning your European trip and you are wondering what the cheapest places to travel in Europe are? In this article, I will share with you my favourite cheapest places to travel in Europe and the cheapest places to stay in Europe while you are on your trip.
This list should serve you as a start to your research about the cheapest places in Europe, and I hope to add more places over time. But keep in mind that Europe can be an affordable destination if you stay away from the major touristic landmarks. Don't worry, we have other places just as old and cool, just that not a lot of people know about them.
Save this for later on Pinterest!
What are the cheapest places to travel in Europe?
Galway, Ireland
Galway is often referred to as the "Cultural Heart of Ireland" as it is the city that is associated with the Irish language, music, song and dance traditions. Galway is the cheapest place to visit in Europe since most of the places for you to see in this city are free.
What to see:
This is not just your ordinary square, it's a historical gathering place ever since medieval times and it has a lot of history to it. This is the best place for history lovers to visit.
In this museum, there are small displays of documents, photographs, memorabilia and medieval artefacts chronicling urban life. It is totally free to visit this museum.
This is a modern and airy, green-domed, renaissance-style Catholic cathedral, with a mosaic of JF Kennedy. It is also free to visit
Best area to stay:
In Galway, you can stay at the Woodquay hostel which is 18.48 euro per night, and it is located at 23/24 Woodquay, Galway, H91 P8RP.
Kotor, Montenegro
Kotor is a medieval old town on Montenegro's Adriatic coast, this is a very beautiful place if you love less populated places that have history and beautiful scenery. Kotor is among the top cheapest cities to travel to in Europe.
What to see:
You can do a tour of Kotor's Old city and get to climb the mountains to get a better view of the rooftops and bay, to climb you have to pay 8 euro. Kotor's old city is the most famous part of Kotor, where the Kotor history, culture, and tradition are being preserved.
This is a museum located in the old town and in this, you will see a collection of cat-related memorabilia, ephemera & vintage artwork. This is a fabulous trip for a cat person and for just 1 euro you get to enjoy the museum.
This Catholic cathedral was consecrated in 1166 but reconstructed after several earthquakes, and for only 2.55 euro you will experience this cathedral that has been the special occasions gathering square for people in Kotor for many centuries.
Best place to stay in:
For just 18.22 euro, you will stay at Montenegro Hostel B&B Kotor or for just 18.46 euro you can stay at Old Town Youth Hostel which is located at Stari Grad 284, Kotor 85330.
Krakow and Warsaw, Poland
Many attractions are free or cheapest places to visit in these two places. Here you can visit the Royal Castle of Warsaw which is free on Wednesday, the Chopin Museum which is free on Sunday and also you can climb the Old Town Hall tower for a great view of Krakow, this is a 13th-century Castle of the Teutonic Order in Malbork.
Where to stay:
When I tell you that Poland is the cheapest country to visit in Europe I mean it, there are hotels that are so cheap like Start Hotel Aramis, Wilanowska Hostel and Hostel Helvetia Warszawa.
Zagreb, Croatia
This city which is the capital of Croatia is an easily accessible one and it is highly distinguished by its 18th-19th architecture.
When in Zagreb, make sure you visit:
Museum of broken relationships
At just 5.28 euro ticket price you can visit this museum which pays tribute to and catalogues breakups from around the world. This museum displays personal objects from former lovers along with brief synopses.
At just 3.99 euros, you will get to learn about the cultural, artistic, economic and political history of Zagreb. This museum gives you Zagreb's 900 years of history and you also get to see 75000 prehistoric pieces.
It's a medieval stone gate into town with a Virgin Mary shrine popular for prayer & candle lighting. When you pay a 3.99 euro entrance fee you get to enter this sacred site.
Best place to stay in:
For 22.86 euro you can stay at Hostel Kings n' Queens which is located at Krajiška 4/1, Zagreb 10000 or you can stay at Palmers lodge hotel for 15.82 euro per night.
Bucharest, Romania
Romania is among the cheapest countries to travel in Europe. Bucharest, Romania's capital city, is rich in history, culture and art, and is also among the top cheap places to travel in Europe. Bucharest has a lovely old town, full of lively restaurants and bars, a lot of history to uncover and many museums and events that will enchant all visitors. If time allows it, I recommend spending a few days near Bucegi mountains, around Predeal or Sinaia. And why not spend a day in Brasov, which is only three hours away by train from Bucharest.
What to see:
● Tour of the Palace of Parliament
The palace of parliament is located atop Dealul Spirii in Bucharest. The palace of the parliament is the heaviest building in the world and it is the world's second-largest administrative building after Pentagon. Get a tour of the parliament to learn more about the history for just 8.13 euros. All tour are guided. That's why I recommend checking the schedule before getting there, to make sure there's an English tour available for when you want to visit.
This garden is home to 10,000 plant species and is now named after its founder, Dimitrie Brândză. This garden is located in the Cotroceni neighbourhood of Bucharest, Romania. If you are a nature lover, this place is the best for you to set your eyes in. The ticket price to visit the garden is 3 euros for an adult. If the greenhouses are open, make sure to visit them.
● Arcul de Triumf
Located in the northern part of Bucharest, Arcul de Triumf is a triumphal arch located on the Kiseleff Road. It's has a historical meaning to Romania as it was built after Romania gained its independence so that the troops could march under it. If you love to experience a little bit of history in your tours then Arcul de Triumf is the cheapest place to visit in Europe.
Where to stay:
One of the cheapest places to stay in when you are in Bucharest is Piata Uniri Cozy Inn, which you can pay up to 25.50 euro per night. Piata Unirii is located in the city centre.
Puglia, Italy
Puglia which is in the southern part of Italy has beautiful hill towns, centuries-old farmland and a Mediterranean coastline. Its capital, Bari, towns like Leece, Alberobello and Itria Valley are among the cheapest places to travel in Europe.
What to visit:
This valley is definitely the best place to visit when in Europe, it has charming villages, historic town, vineyards and the intriguing 'trulli' (whitewashed, cone-roofed houses) that will blow your mind away. While here don't forget to see Alberobello which is famous for its trulli houses, this old town is a UNESCO World Heritage Site.
Also known as the white city, this is a beautiful city on a hilltop that you can spend your day walking in a getting lost in its narrow streets and alleys.
This well-connected port town holds so much historical value as it was an ancient crossroads of people and cultures. Brindisi with its Roman ruins, fortresses, and old churches, is an ancient town that's well worth visiting.
Where to stay:
I would recommend renting an Airbnb for this trip as most hotels are around 52.75 euro a night, but some apartments and houses could be rented for less than 35.17 euro a night.
Sofia, Bulgaria
Bulgaria has been on the list of the cheapest countries to travel in Europe for some time now, and rightfully so. While not many think about Sofia as a touristic destination, the Bulgarian capital has a lot to offer and it's one of the most affordable city breaks in Europe. Sofia it's also the perfect start for a Bulgarian road trip. Trust me, I've been to Bulgaria many times, and I won't mind visiting it again.
What to visit:
National Museum of Military History
With just 8.49 euro ticket price admission, this museum is the cheapest place to go to in your European trip. Get to learn the military history in Sofia, Bulgaria by visiting this museum.
Boyana Church Museum
Get to visit this 1979 UNESCO World Heritage Centre in Sofia, this is a medieval Bulgarian Orthodox church situated on the outskirts of Sofia, the medieval paintings inside the church are what makes it outstanding, and at just 5.13 euros, you too can experience this perfectly preserved monuments of east European medieval art.
Vitosha Mountain
Fun fact Boyana Church Museum is located at the foot of Vitosha Mountain, so you get to hit two birds with one stone when you visit these places. A guided tour to Vitosha Mountain starts from 11.26 euro per person.
Where to stay:
Hostel Mostel located at Makedonia" 2, 1606 Sofia Center, Sofia, Bulgaria is a cheap place to stay while in Bulgaria at just 13.88 euros or you can also stay at Hostel 123 which is priced at 14.37 euro. During my last trip in Bulgaria, I stayed at Hyatt Regency Sofia. I know, it's not the cheapest hotel, but if you afford to splurge for a night, this is truly one of the best hotels in the city. The location is perfect, the service is exceptional and the rooms are extremely comfortable.
Prague, Czech Republic
Prague also nicknamed the City of a Hundred Spires is the capital city of the Czech Republic. Prague is known for its centuries of history and cultural heritage, where the medieval heart of Europe can be felt in its cobblestone streets.
Where to visit:
Prague Zoo
For just 9.92 euro you can visit this supposedly best zoo in the world, which is a perfect habitat for various species and accommodates a lot of animals and birds, there are more than 5000 animals. For that price, this is the cheapest place to visit in Europe.
KGB Museum
If you are a spy fan, then the KGB museum is for you, for just 10.55 euro get to see photos and memorabilia in this KGB archive.
Astronomical Clock
For 10.27 euro you can get to visit the Old Town Hall to experience the inner workings of this clock. And also you can climb on top to see the beautiful view of the city. When you get up, take a look down, at the people in front of the clock. That's one of the first things I did when I went to Prague for the first time. I adore that view.
Where to stay:
At just 15.82 euro you can stay at a&o Prague Rhea, which is located at V Uzlabine 3068/19. During my last visit, I stayed at Adeba Hotel, which is only 20 minutes away from the centre.
Budapest, Hungary
Budapest is the capital city of Hungary and it is bisected by the river Danube. There are a lot of things to do in Budapest. Taking a boat tour on the river Danube is an amazing way to see the city.
Where to visit:
Hungarian Parliament Building
For just 9.56 euro you will get a tour of this popular tourist destination in Hungary. This parliament is among the cheapest places to visit even though it is the third-largest Parliament building in the world. With this tour, you marvel at the great vaulted hall, the richly decorated central staircase, the Hungarian Crown Jewels, and the Hungarian Holy Crown.
Shoes on the Danube bank
This is a memorial site for 3500 people who were shot on the Danube. It is free to visit this memorial site.
Gellert Hill
Trekking this hill may be a little tough however the best views of Budapest and the Danube River are from this hill, and it is totally free to climb it.
Where to stay:
For your trip to Budapest, I highly encourage you to stay in hostels, you can get one for 10.55 euro, like Netizen Budapest Centre – Hostel, located at Budapest, Rákóczi út 54, 1074.
Sarajevo, Bosnia-Herzegovina
If you are a resilient person and you would love to witness how a country rebuilds after a war, Bosnia is definitely a place for you to visit. A visit to this country's capital city, Sarajevo, will be enough for you to learn all that you can. Here's where to visit when in Bosnia;
Museum of Crimes Against Humanity and Genocide 1992-1995
This museum was founded in July 2016 to sustain the memory of all the victims of the war that lasted from 1992- 1995. The founders of the museum themselves are victims who survived the war. At only 5.91 euro you will get to learn more about the history of the war and experience this museum.
Museum of Optical Illusions Sarajevo
The museum has interactive displays, and visitors are able to discover, on their own, rooms and illusions, at just 6.14 euro you too will experience and get to see over 100 items and installations for all generations.
Vrelo Bosne
For nature lovers, this is a must-visit place in Sarajevo. Vrelo Bosne is a public park that has numerous springs of the River Bosna at the foothills of Mount Igman. The entrance to the park is just 1.02 euro.
Where to stay:
You can stay at Guest House Bosnia House which is 21.10 euro per night and it is located at Ferhat Pase Sokolovica 41, Sarajevo 71210, or you can stay at Bed and Breakfast Vijecnica.
Athens, Greece
Once the heart of one of the most powerful civilisations in the Neolithic Age, Athens is also one of the cheapest places to travel in Europe. I visited Athens only once, and it happened to be during an unexpected cyclon. That was the weirdest trip I ever took. Spend a couple of days watching Netflix, as the streets were flooded and everything was closed. However, I managed to see cool stuff in Athens and also taste the best vegan restaurants in Athens, so it wasn't all for nothing. By the way, so you what is Athens famous for?
When in Athens, here are the best places to visit in this historic city;
Acropolis Museum
At just 10 euros, get to experience this museum that was built to house every artefact found on the rock and on the surrounding slopes, from the Greek Bronze Age to Roman and Byzantine Greece. If you love archaeology, this is the cheapest place to visit in Europe to learn more about that.
Parthenon
If you have a 20 euro ticket for Acropolis, you can also have free access to Parthenon using the ticket. This is a former temple on the Athenian Acropolis, Greece, dedicated to the goddess Athena, whom the people of Athens considered their patroness.
Temple of Olympian Zeus
If you are 25 years and older you pay 6 euro to visit this ancient temple, while those who are 25 and younger can enter for free. This is a former colossal temple at the centre of the Greek capital Athens. It was dedicated to "Olympian" Zeus, a name originating from his position as head of the Olympian gods. These three cheapest places to visit in Europe are every lover of history's dream.
Cheapest place to stay:
When in Athens, you can stay at Sparta Team Hotel which is located at Menandrou 21, Athina 105 52, and costing only 9.68 euro per night or you can stay at Alma Hotel which is located at Dorou 5, Athina 104 32, for just 21.11 euro a night.
Tallinn, Estonia
Tallinn is the capital city of Estonia and is an exciting mix of old and new. Being one of the cheapest destinations, you get to explore a lot without making big holes in your pockets. I absolutely adored all the stops on the extensive and wild Baltic road trip and I would do it again.
What to visit
Kadriorg
This romantic inner-city area nearby the coast can very well be the place where you'll find the heart of Tallinn.
Kadriorg palace and art museum surrounded by Kadriorg Park was once established by Tsar Peter the Great as a manifestation of love. The 18th-century park featuring fountains and streams is surrounded by equally historical wooden houses, with tree branches in bloom leaning over detailed door frames of these stunning masterpieces. You will enjoy visiting this place if you love history, and gardens, for only 5.50 euro for the palace, and 8 euro for the art museum while the park is free of charge and has no visiting hours.
Where to stay:
In Tallinn, you can stay at Old town hostel Alur for only 7.04 euro.
Sarande, Albania
A quintessential Mediterranean destination, Sarande is filled with beautiful beaches that feel like you are in a fantasy. In this cheapest country to travel in Europe, you can pick to visit tourist hotspots or secluded beaches in natural reserves.
What to see:
Butrint National Park
For just 5 euro you can spend your time wondering on this UNESCO world heritage site, which are ruins of an ancient & medieval city.
The Blue Eye Springs
For just 0.40 euro get to experience this beautiful spring in Albania. Just remember you can swim in the Blue Eye Albania, but the water is ice-cold.
Bistrica river
This river is 5 kilometres away from Saranda, and you can go rafting in this crystal clear water.
Best place to stay:
In Sarande you can stay at Casa Mia Hotel which is located at Rruga Idriz Alidhima Sarande, 9701, for only 18.47 euro.
Porto, Portugal
For some time now Cidade das Pontes (City of Bridges) as it is popularly known, Porto has been ranked as the cheap European destination.
What to see
Luís I Bridge
Fun fact, the Dom Luis l Bridge was designed by one of Eiffel's students. An entrance fee to this bridge is 11.04 euro.
San Francisco Church
With the entrance fee being only 4 euros, this church offers outstanding Baroque inner decoration.
Parque de Serralves
At only 20 euros get full access to everything in this park, which is a cultural institution that is ranking in the list of most-visited art museums in the world.
Where to stay:
In Porto, you can stay at So Cool Hostel Porto which is located at Rua da Boavista 783, 4050-110 Porto, and costs only 14.08 per night.
Erfurt, Germany
This is an old university city with a rich history that dates back more than 1,200 years. Once the meeting place of church Synods and Imperial Diets, it was here that the Congress of Erfurt took place in 1808 when Napoleon met with the Tsar of Russia and the German Princes in an attempt to reaffirm the old alliance.
Where to visit
Take a Tour of Erfurt Cathedral
This is where you will see the largest surviving medieval-era bell in the world, the Maria Gloriosa. Also known as the Erfurt Bell, it's famed the world over for the clarity of its tone. The cathedral's 15 tall windows in the choir are masterpieces of medieval stained glass and are unique in Germany for their size and unity of theme.
Egapark
This park is beautiful for long walks and for enjoying nature and beautiful scenery. Egapark is a landscaped 1960s park with Japanese, rose & sculpture gardens, a playground & glasshouses.
Thuringian Zoo Park
This is a large city zoo & conservation centre with naturalistic habitats, plus an aquarium & animal petting. At only a 15 euro entrance fee you get to enjoy the animals that are available in this zoo.
Best place to stay:
In Erfurt, you can stay at this cheapest hostel called Opera Hostel which is located at Walkmühlstraße 13, 99084 Erfurt, and this hostel only costs 23.75 euro per night.
Europe has some really cheap places that you can travel to, where you can see amazing scenery, beautiful architecture and learn about history. A lot of times people think you need to be extremely wealthy to travel but the truth is you can also go to these cheapest places in Europe and still get the same experience and luxury of travelling.
17 Cheapest Places to Fly to in Europe (Updated for 2023)
"What are the cheapest places to fly to in Europe?" This is a question I get a lot, and one that I've done a fair amount of research on over the years. I've visited 30 countries in Europe, always striving to find the best flight deals on sites like Skyscanner, Hopper, and Google Flights. It all comes down to three things: the airport, the airline, and the time of year. Keep reading to discover the cheapest European cities to fly into in 2023.
Right now, there are some amazing fares to (and around) Europe. This comes amid rising prices for domestic flights in the U.S., so there's truly no better time to go to Europe. Through the summer of 2023, you can find reasonably priced flights to the European continent – and I'm not only talking about budget airlines either. Sure, you can fly with Ryanair and easyJet or take a last-minute flight to find cheap European flights. But you can reap huge savings on premium airlines and flight routes as well.
The price of roundtrip flights to Europe will vary depending on when you'd like to visit (high vs. low season), the airline you take, and where you fly (to/from). For this article, I've analyzed the mean price of roundtrip tickets throughout the year for destinations with regular flight routes to and from the US. By taking an average throughout the year, I've filtered out the variability in seasonal flight prices. Here's more on how to discover the cheapest flights to Europe:
Other considerations when finding cheap places to fly into Europe
To find the cheapest places to fly to in Europe, I limited my search to major airports in the US. Sure, some small airports have cheap fares to Europe occasionally, but more likely than not, you'll be connecting at a larger US airport (i.e., Atlanta, Boston, Chicago, LA, NYC, or Philadelphia) before making your way across the pond.
As such, it's more practical to use data from larger US airports, which handle the vast majority of European flights. Smaller airports have fewer daily flights, a higher variability in prices, and less complete data. So, it doesn't make sense to include them when analyzing the cheapest places to fly into Europe from the US.
Note that prices can vary immensely between different U.S. cities. For example, a flight to Iceland will cost more if you're traveling from the west coast vs. east coast. If you're looking to visit Europe from a secondary airport like in Louisville, KY, you may have to connect somewhere and pay a little more. The price of a roundtrip fare may be different, but generally, the cheapest destinations to fly to in Europe should remain the same, regardless of where you're flying from.
From the Mediterranean to the Baltic Sea, here are the 17 cheapest places to fly to in Europe in 2023!
Cheapest Places to Fly to in Europe in 2023: European Cities with Cheap Flight Deals
Below are the cheapest flights to Europe from the US. Planning to visit Europe from another country – such as Canada or Australia? Skip to the bottom to see which flight routes are most affordable for you.
Reykjavik, Iceland
For most people in the US, this is the cheapest European city to fly to. Depending on the time of year and where you're flying from, you can expect to pay anywhere between $260-$550 roundtrip on Icelandair. The deals I'm seeing to Reykjavik right now are generally higher than in prior years. However, due to more transatlantic flights being added every day, I expect that prices will drop in the coming months.
Reykjavik, Iceland's capital, is the gateway to all the epic outdoor adventures that Iceland is known for. Relax at the Blue Lagoon, chase waterfalls and geysers on the Golden Circle, and take a road trip around the island to see nature at its finest. From seeing the northern lights in the winter to backpacking in the summer, you won't run out of fun things to do in Iceland anytime of year.
Even if you don't plan to stay in Iceland, it's still a cheap airport to fly into. From there, you're guaranteed to find cheap airfare to mainland Europe.
Amsterdam, The Netherlands
Looking for a cheap flight to Europe? Give Amsterdam a try. As the busiest airport in Europe, Amsterdam Schiphol Airport is a cheap and convenient airport to fly into. This is all thanks to KLM, a Dutch airline that offers direct flights to Amsterdam from nearly 20 U.S. cities. Expect to pay as low as $300-$450 roundtrip from major airports in the U.S.
From Amsterdam's main airport, you'll be connected by rail to countless destinations in the Netherlands, Belgium, France, and Luxembourg. In addition, with flights to more than 300 destinations in 117 countries around the world, Amsterdam is a popular place for layovers. I recently had a 10-hour layover here, which was plenty of time to explore the city center before heading off to Austria. Cheap Europe flights truly don't get any better than Holland!
London, UK
In 2023 you can expect to pay $380-$730 for a roundtrip fare to London from many US cities. The cheaper flights are connections through airports like Reykjavik (Icelandair) and Lisbon (TAP Air Portugal). From a select number of major US airports, you can pay a little more for a direct flight to London Heathrow Airport with British Airways or Norwegian Air.
As the capital of the UK, London is one of the most popular European destinations. Explore iconic sights like Buckingham Palace and Big Ben and eat your way through London's international food scene. It certainly isn't a cheap city once you're there, but it won't cost a lot to get to.
Dublin, Ireland
Dublin is a cheap place to fly to from several states across the US. Most of the cheapest fares are between $400-$750, depending on the airline and number of layovers. Expect to pay a little more for a direct flight with Aer Lingus or Delta.
With great beer, medieval castles, and abounding scenery, there's so much to see in and around Dublin. In addition to being the capital of Ireland, it's also the cultural hub of the country with a charm that's unlike other European capitals. Be sure to explore the west of Ireland as well to really experience the best that this country has to offer.
Barcelona, Spain
Over the past couple of years, many budget airlines have been sprouting up between the US and Europe. One of the best is LEVEL, which offers super cheap fares to Barcelona from NYC, Boston, and San Francisco. You can also bank on Iberia and Vueling — two international airlines based in Spain — to get you to Madrid and Barcelona. In 2023, the cheapest roundtrip fares to Barcelona from many US airports are between $260-$700.
Barcelona is one of the most beautiful European cities for art and architecture lovers. Marvel at Antoni Gaudi's Sagrada Familia and Park Güell, which are among the most unique sights in all of Spain. Or, hit the beach, eat tapas and paella, and watch a soccer game at Barcelona's famous stadium, Camp Nou. There's so much to see and do in Barcelona, and the cheap flight prices certainly make it enticing.
Lisbon, Portugal
Is Lisbon one of the cheapest places to fly to in Europe? Absolutely!
Lisbon is cheap and accessible to get to from the US, thanks to airlines like TAP Air Portugal and Azores Airlines (formerly SATA). Roundtrip fares range from $350-$600 from much of the US, including both east coast and west coast cities.
Once you get to Lisbon, the colorful capital city of Portugal, you'll quickly see what makes it so special. Lisbon boasts 7 imposing hills, each overlooking the vibrant cityscape and coastline below. It's a grittier version of San Francisco, and even has a Golden Gate Bridge doppelgänger to prove it. As the second oldest European capital (after Athens), Lisbon is home to countless historic and cultural treasures, including Belém Tower and São Jorge Castle.
During a trip to Lisbon, don't forget to try the Pastéis de nata, a delicious custard tart that the city is known for!
Madrid, Spain is one of the cheapest places to fly to in Europe from several US cities
Madrid's international airport is the second largest in Europe by size and the fifth largest in terms of passenger traffic. It's no wonder, then, that Madrid is among the cheapest places to fly into Europe in 2023.
During the off season, you can find cheap fares ranging from $400 to $745 roundtrip from most US cities. Expect to pay less on connecting flights through Lisbon (TAP Air), Istanbul (Turkish Airlines), or Paris (Air France). Air Europa, Spain's third largest airline after Iberia and Vueling, is currently offering some amazing nonstop fares from Miami and NYC. Direct flights operated by Iberia will cost a little more.
Once you arrive in Madrid, you'll have a lot to take in. The Spanish capital is home to world-class attractions, including the Prado Museum, Royal Palace of Madrid, and Plaza Mayor. Madrid is also famous for its food and football (soccer) clubs. You won't run out of things to do, and fortunately for budget travelers like ourselves, the prices in Madrid are very reasonable! Next to Lisbon, it's one of the cheapest major cities to visit in Western Europe.
Rome, Italy
With direct flights from 10 U.S. cities, Rome is another cheapest city to fly into Europe. Rome Fiumicino Airport ("Leonardo da Vinci") is the busiest airport in Italy, so it's no wonder you can find lots of great airfare deals here.
Over the years, I've found many incredibly low fares to Rome from Boston. This includes a $325 roundtrip fare this past year. For the 2022-2023 timeframe, expect to spend between $500-600 for an economy flight from the east coast of the US.
Rome is a hub for many budget airlines, including Ryanair, easyJet, Wizz, Vueling, and more. From the Italian capital, it's cheap and convenient to get to places in Italy, Greece, Spain, and Malta. So, it's easy to see why this has some of the best cheap European flights.
Oslo, Norway
This European city flies under the radar but is nevertheless one of the cheapest places to get to in Europe from the USA.
Take a direct flight to Oslo with Scandinavian Airlines (SAS), the main airline carrier in Norway, Denmark, and Sweden. Or pay a little less for a connecting flight through a major European airport. The cheapest flights to Oslo in 2023 tend to hover between $350-$800 from cities like Boston, Chicago, LA, Miami, New York, San Francisco, and Washington D.C.
Oslo is best known for its maritime heritage, most notably its Viking past and delicious seafood. It's definitely worth visiting, but be warned: it's going to cost you a pretty penny once you get there!
Helsinki, Finland is among the cheapest European cities to fly to in 2023
Helsinki is one of the cheapest places to fly to in Europe from NYC, Boston, and LAX (among other major cities). Expect to pay between $450 and $820 roundtrip, with the upper part of that range accounting for Finnair, which offers non-stop services from several U.S. cities.
Helsinki is best known for its seaside charm, sustainability, and contemporary architecture. It's easy to fall in love with a city so beautiful, and the locals agree, who consistently rank it among the happiest cities in the world.
Zurich, Switzerland
Zurich is a European city that's cheap to get to, but expensive once you get there. Its international airport is regularly listed among the top ten airports in the world according to Skytrax World Airport Awards (2016-2019). Many travelers from the US fly to Zurich before continuing by train or car to the Swiss Alps.
Swiss Air Lines is the flag carrier of Switzerland, servicing many routes between Europe and the US. You're looking to pay between $420 and $715 roundtrip on the cheapest dates throughout the year.
If you'd like to visit the most beautiful part of the Alps, flying into Zurich is your best bet. As the largest city in Switzerland, Zurich is seamlessly connected to the rest of the country via public transportation. There are lots of awesome day trips nearby, too!
Frankfurt, Germany
Some of the cheapest flights to Europe from the US go through Frankfurt. Expect to pay between $480 and $690 for a roundtrip fare from large US airports; the cheaper flights tend to have layovers while the pricier ones are direct flights with Lufthansa and Singapore Airlines.
Having traveled extensively throughout Germany, I can't say that Frankfurt is one of my favorite places to visit. However, it will get you close to popular destinations like Heidelberg, Würzburg, and Rothenburg ob der Tauber. The northernmost point of the Romantic Road, a top tourist route in Germany, isn't far away. And you'll also be within reach of Rhine River sightseeing cruises, which depart from the Rhine Gorge and Mannheim.
Paris, France
Paris is among the cheapest European cities to fly to from the US, including Chicago, Philadelphia, LAX, Seattle, Dallas, NYC, and more. France's capital is home to three airports, with most non-stop flights going to Charles de Gaulle Airport. Some reasonably priced airlines include United, American Airlines, and Air France, each offering direct flights to Paris from major US cities. Expect to pay as low as $300-$500 on connecting flights with other major airlines.
Paris is a top bucket list-worthy destination in Europe, home to iconic sights like the Eiffel Tower, Notre-Dame Cathedral, and Louvre Museum. You can spend a week here and barely scratch the surface, so be sure to give yourself plenty of time to explore one of Europe's prettiest cities!
Copenhagen, Denmark
Seeking a cheap European city to fly into? Copenhagen is a solid option. As the second busiest airport in Scandinavia, you can find many cheap flights in Europe to here. This includes direct flights from 7 destinations in the USA. Expect to spend anywhere between $350-$850 roundtrip from major airports on both coasts.
From Copenhagen, you'll be well connected to destinations throughout Northern Europe, as well as the Faroe Islands. You can also find cheap fares to cities like London, Paris, Rome, and Barcelona. Is this one of the cheapest flights to Europe? You bet!
Milan, Italy is among the cheapest places to fly to in all of Europe
From time to time, American travelers can find amazing flight deals to Milan. Big cities like NYC have daily non-stop flights to Milan via American Airlines, Delta, and Alitalia. Even in smaller cities, like Burlington VT and Louisville KY, it's not uncommon to find cheap flights throughout the year. The best deals that are currently available in 2023 range from $400-$800 roundtrip. As is the case with most European destinations, the cheapest time to fly to Milan is in the winter (January and February).
Milan is considered the fashion capital of the world, as it's home to countless high-end designer and luxury stores. But a trip to Milan isn't complete without a visit to its grandiose gothic cathedral, the Duomo di Milano, and its sprawling restaurant scene. The surrounding Lombardy region also merits a visit.
While many destinations in Italy are filled with historic charm, Milan offers a more contemporary, cosmopolitan vibe. This definitely makes it among the most unique places to visit in Europe!
Istanbul, Turkey
Wedged between Europe and Asia, Istanbul is one of the cheapest European cities to fly to any time of year. This is made possible by Turkish Airlines, the largest airline carrier in the world, which services 315+ destinations.
Expect to pay somewhere between $470 and $840 on roundtrip fares from the US. Sometimes, you can get an even better deal by doing a layover in Istanbul en route to another destination. Turkish Airlines offers a stopover program where you can receive free hotels and a city tour during a long layover.
Istanbul is one of the most incredible cities I've ever visited, and I'd recommend it to anyone who loves history, shopping, and food. Explore the Hagia Sophia, Blue Mosque, and Grand Bazaar, and you'll see why it's one of the most unique destinations to visit in Europe!
Cork, Ireland
This is a funny one. Cork isn't your typical world-class city, but surprisingly, you'll find some amazing flight deals here from select US destinations. Every once in a while, as I'm perusing cheap flights to Europe, I'm inclined to take one…though I haven't been yet!
Fun fact: Cork is the second largest city in Ireland and is considered the foodie capital of the country!
Visiting cheap airports in Europe from other parts of the world
Here are some budget-friendly flight routes to Europe from other countries around the globe.
Canada
Looking for cheapest places to fly to in Europe from Canada? Whether you're looking to depart from Vancouver, Toronto, Montreal, or Calgary, here are some cheapest airports in Europe to fly into. Note that these destinations are in order based on average flight prices over the past 6 months:
1. London Heathrow Airport – London, UK
2. Charles de Gaulle Airport – Paris, France
3. Schiphol Airport – Amsterdam, The Netherlands
4. Dublin Airport – Dublin, Ireland
5. Brussels Airport – Brussels, Belgium
Australia offers some cheap flights to Europe, too
Given its sheer distance away, there are not a whole lot of cheap airports to fly into Europe from Australia. However, from Melbourne, Perth, and Sydney, you can reach 48 cities across Europe. Here are the most budget-friendly airports:
1. London Heathrow Airport – London, UK
2. Charles de Gaulle Airport – Paris, France
3. Berlin Brandenburg Airport – Berlin, Germany
4. Madrid-Barajas Airport – Madrid, Spain
5. Rome Fiumicino Airport – Rome, Italy
Discovering the cheapest places to fly to in Europe
Though the cities above are almost always the cheapest destinations to get to in Europe, you will discover other great deals from time to time. I've found incredibly cheap fares to secondary and tertiary destinations in Europe, and I attribute this to the following tips:
Tips for finding the cheapest place to fly into Europe
– Book your flights at least 3 months in advance. The best flight deals are posted way ahead of time. Sure, you can occasionally find last-minute deals, but I wouldn't bank on that. As the date of the flight draws near and seats fill up, airlines tend to hike up the prices. Be sure to browse 3+ months in advance, and you're all but guaranteed the lowest rate on airfare.
– Compare multiple search engines. I always start my flight search with Skyscanner, but then check a couple of other sites including Hopper and Google Flights before pulling the trigger. Most of the time, Skyscanner comes in at the cheapest, but sometimes one of the latter options offers a flight deal to Europe that I can't refuse.
– Sign up for airline newsletters. There are lots of sites out there that show discounted flight fares, including Scott's Cheap Flights. Sign up for this newsletter, and others, which you can find in my other article: top travel hacks for flying.
– Be flexible with your dates. Give yourself a little bit of wiggle room on the dates, and you'll be able to unlock the cheapest fares. Try to avoid major holidays like Christmas, and choose midweek over weekends. I've found that the spring and fall are amazing for flying to Europe, where you can luck out on the weather and save a bundle in the process.
– Fly during off times. Late-night and early-morning flights are king if you want to cheap it out when you're flying to Europe. I prefer taking late flights, anyway, because it gets me into Europe by mid-to late-morning. That way, I can hit the ground running and not lose a travel day.
Frequently Asked Questions (FAQs) about Flying to Europe on a Budget
What is the cheapest month to fly to Europe?
Historically, the cheapest time to fly to Europe is in the early spring and late fall months. This includes March, April, October, and November.
How far in advance should I book a flight to Europe for cheap fares?
For low-priced fares, plan to book flights to Europe at least 3-4 months in advance. This is the timeframe when airlines tend to have the most availability.
What is the cheapest European country to fly into?
Overall, the cheapest European city to fly to is Reykjavik, Iceland. In mainland Europe, the most budget-friendly city to get to is Paris.
Which U.S. city has most flights to Europe?
John F. Kennedy International Airport in New York has 14 direct flights to Europe on several airlines. This makes it among the cheapest airports to get to Europe from the US.
Here are more travel tips and hacks when flying:
For more travel tips, be sure to subscribe to my blog and follow my Instagram account, where I share details about how I've been able to travel the world on the cheap. Happy Travels -Jon
Source https://www.roadiscalling.com/cheapest-places-to-travel-in-europe-winter-getaways/
Source https://juliasomething.com/cheapest-places-to-travel-in-europe/#:~:text=Puglia,%20Italy%20Puglia%20which%20is%20in%20the%20southern,among%20the%20cheapest%20places%20to%20travel%20in%20Europe.
Source https://www.myglobalviewpoint.com/cheapest-places-to-fly-to-in-europe/