12 Of the Absolute Best Places to Travel in Europe With Kids
THIS POST MAY CONTAIN COMPENSATED LINKS. FIND MORE INFO IN MY DISCLAIMER.
Home » BEST PLACES TO TRAVEL IN EUROPE WITH KIDS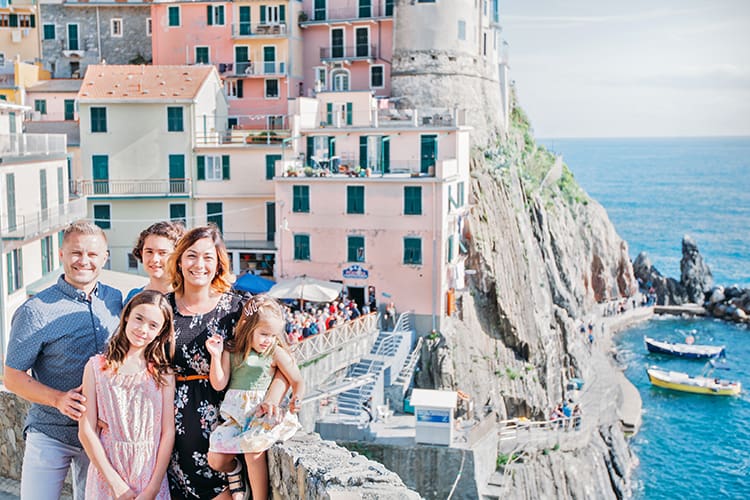 Share with others
Wondering where to go in Europe with kids? Unfortunately, not all destinations are very kid-friendly.
So it can be challenging to figure out which places will not only be the most fun for you and your kids but also has a culture that is welcoming to kids – even better if they absolutely love kids.
Some of you might also still have little kids, so finding a destination that is great for babies and toddlers might be important to you too.
So to compile a helpful list of the best places to travel in Europe with kids, we called on the help of well-traveled families to share their expertise in traveling with their kids around this beautiful continent.
Asking them for their opinions and collating the results to bring you the 12 best destinations to travel to in Europe with kids!
Here are the best places to travel in Europe with kids.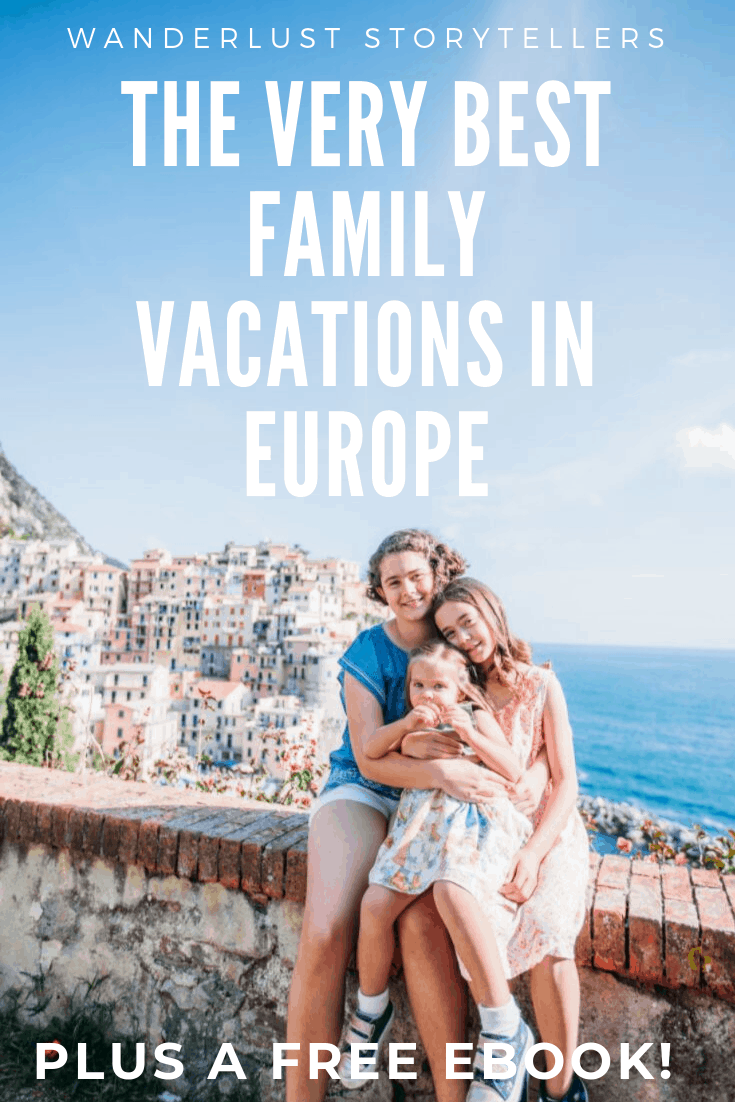 Europe is a wonderland of green fields, lush mountains, blue seas, and so much more. It's also a very family-friendly destination with many of the best cities to travel in Europe with kids! The transport is easy and generally, language is communicable. You can also visit Europe all year around – here is a great post about when to visit Europe.
We find that the absolute best family holidays in Europe are always the ones that we found to be a joy to travel around with the children!
These places and cities offer so many fun and exciting activities and outings to do as a family that you may want to consider on your next European family vacation!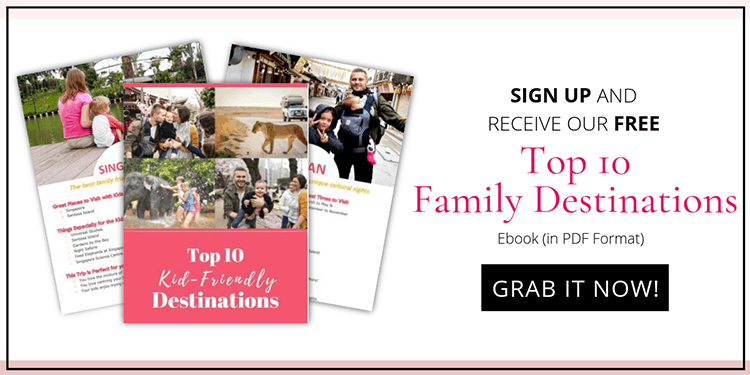 1. Sweden with Kids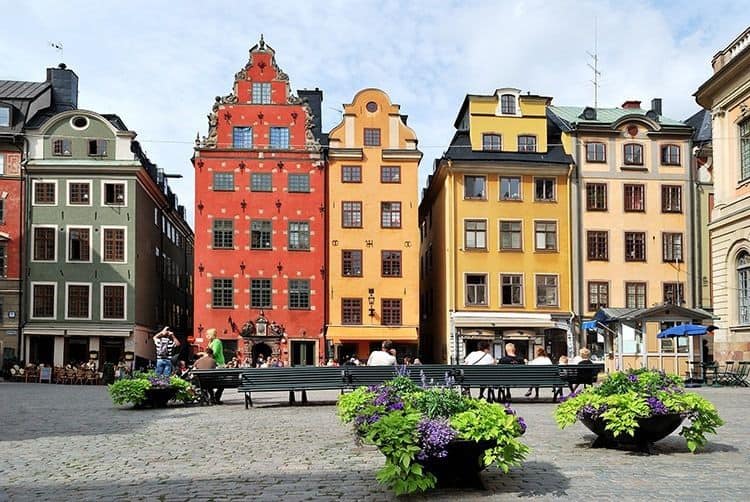 Sweden and especially Stockholm, was voted as one of the best places in Europe for kids! It's popular among families for good reason.
There are many different attractions, scenic gardens, and parks to visit, and it's a stroller-friendly destination and one of the best European family vacations!
Where to Go with Kids in Sweden:
There are loads of museums and galleries for great educational visits and many zoos and amusement parks to keep the kids entertained across various cities in Sweden; however, Stockholm is one of our favorites!
Here are some of our favorite things to do in Stockholm with kids:
Stockholm Kids Attractions:
The kids will love Stockholm's Land and Water tour to show your kids the remains of a capsized ship has a range of activities that both adults and kids will enjoy!
It's also an English-speaking country, so you'll have no problem communicating your needs and getting them met on this European vacation with kids!
If you are looking for the best way to move around town, you can book your Stockholm taxi here!
2. Austria with Kids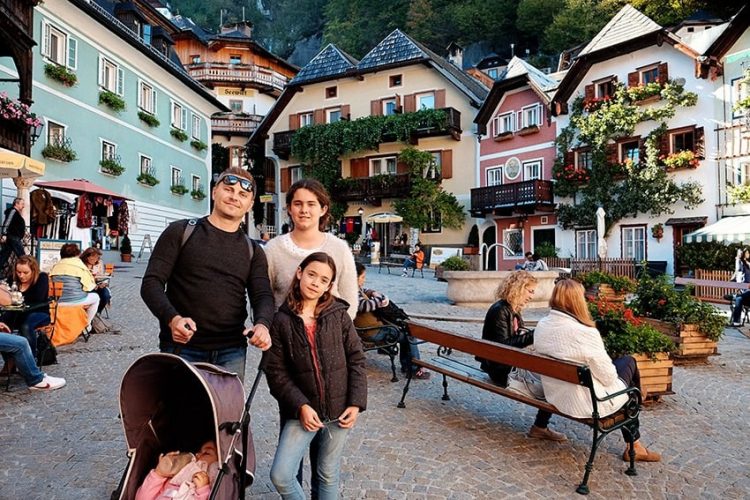 If you are looking for a great country to visit with kids, it's hard to beat Austria. It has the oldest amusement park in the world, salt mines that are walkable, the world's biggest ice caves as well as dinosaur parks.
Where to Go with Kids in Austria:
Austria has a plethora of interesting things to do and fun places to visit that will excite the whole family! A country characterized by mountain villages, baroque architecture and fascinating history and rugged alpine terrain.
From the world's oldest amusement park to the world's largest ice cave, here are the best things to do in Austria in Europe with kids:
Vienna Kids Attractions
Visit the world's oldest amusement park!
Take the kids to enjoy the attractions at Schönbrunn Palace , which has a maze and a large zoo to explore! Grab skip-the-line tickets online here.
Check out the ZOOM Children's museum, with numerous exhibitions and events for kids!
Discover the flora and fauna at Haus des Meeres
Salzburg Kids Attractions
Marvel at the world's largest ice cave in Werfen. Book your tour from Saltzburg here.
Take a trip to the famous Hallstatt Salt Mine.
This means that there are a variety of different ways to keep your children entertained no matter how old they are. No wonder this country is a hot favourite as one of the best places to travel in Europe with kids!
The best time to visit Austria is in April and May or September and October. The weather tends to be mild, it's not as crowded as the busy summer months and hotel rates are generally cheaper during this time.
3. Croatia with Kids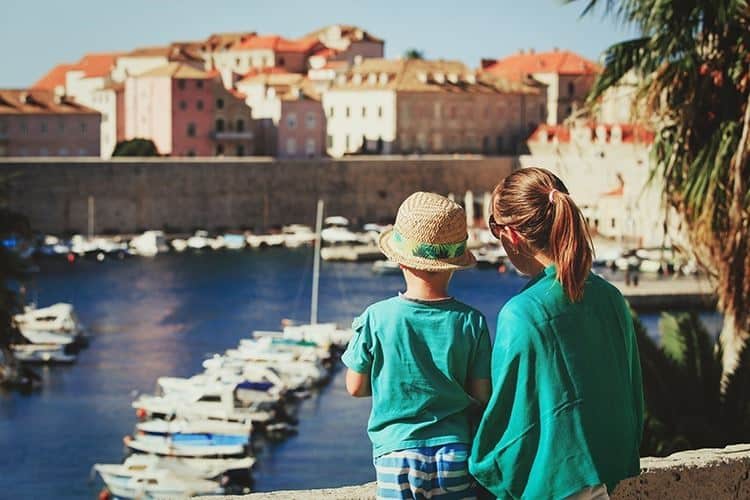 Not many people realize just how family-friendly Croatia is. The best time to visit this country is in June or September when it's not as crowded or hot.
Croatia is one of the best places in Europe with kids because, t hroughout Croatia, you will find that there are strong family values which makes it a very welcoming country for those that are traveling with children.
Where to Go with Kids in Croatia:
Croatia has many safe beaches and hiking trails that suit all abilities, as well as a handful of interactive museums and ancient towns and fortresses that will make the kids feel like they're in a fairytale!
Some of our favorite destinations in Croatia include both Dubrovnik and Split. Here are some ideas of what to do in both of these:
Dubrovnik Kids Attractions
See the scenery of marine life, and discover amazing caves from a sea kayak! Book your 3-hour tour here.
Explore the Old Town walls and castles in the historic center!
Split Kids Attractions
Explore the Krka waterfalls and go swimming in the blue waters. Book your full-day tour from Split here.
The kids will love the famous Blue Cave and exploring Hvar. Book your 5 Islands tour from Split here.
Many individuals will go above and beyond to make sure that the needs of you and your children are met throughout your time here. Our kids really loved their trip through Austria and without a doubt I can confidenty say that is is one of the best places for kids in Europe.
4. The Netherlands with Kids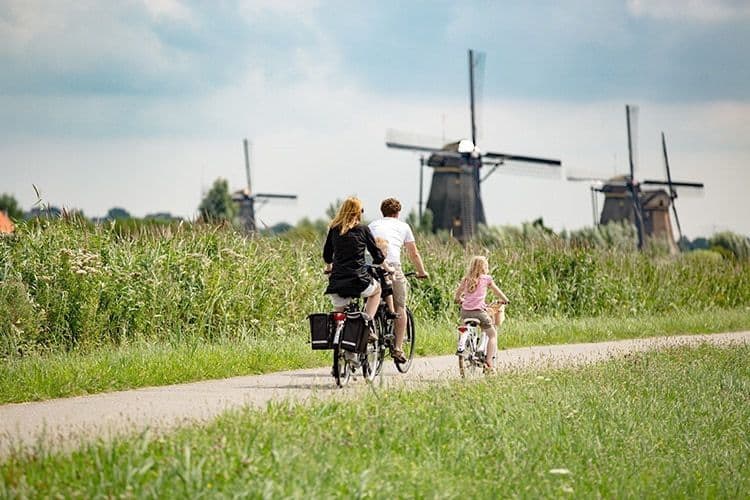 Holland is one of the best places in Europe to visit with kids and has numerous attractions that will make your family vacation fun and unforgettable! From zoos to historical squares and lively markets!
We love how children are often catered to and you can easily find someone who speaks English if you are in need of assistance.
Where to Go with Kids in the Netherlands
Public transportation is incredibly efficient, so you can easily explore the country and see a lot of the attractions.
But of course, we know that most of you would be keen to explore Amsterdam, so here are some of our favorite kids attractions in Amsterdam.
Amsterdam Kids Attractions:
Take the kids to play glow-in-the-dark minigolf. You can grab some online tickets here.
Go on an educational visit to the museums ! You can grab some Skip-the-Line tickets for a private guided tour through both Rijksmuseum & Van Gogh Museum here.
Enjoy an outdoor tour to the Dutch countryside's windmills and factories. Book your half-day tour here.
Have fun on the rides at the Efteling theme park! Grab your ticket online here.
It's a good idea to purchase a Museumkaart because it will allow you to access a lot of different attractions, and many times, skip the lines.
We really believe that the Netherlands is one of the best places to travel Europe with kids, whether they are young or older! You can find more info on what to do with kids in Amsterdam here.
5. England with Kids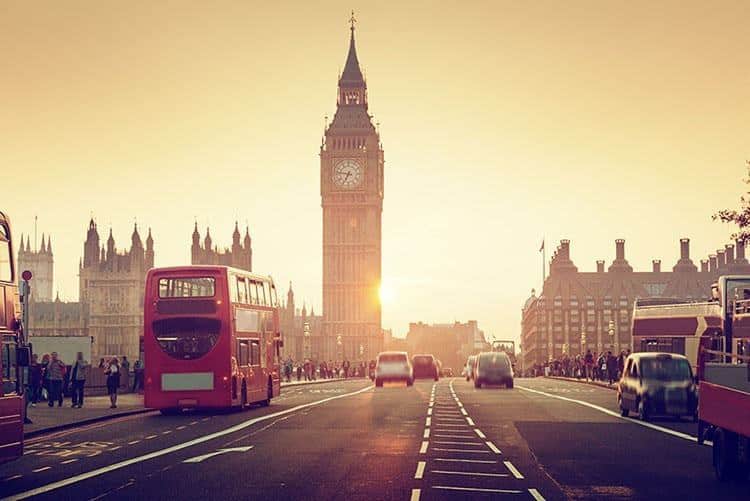 Another one of the top favourite countries that proudly takes up its place on the best places to visit in Europe with kids list. The locals speak English, there are efficient public transportation systems in place and the locals are very friendly.
All our favorite features to tick the boxes as one of the best places to visit with kids in Europe.
Where to Go with Kids in England:
We love visiting London with our kids. There's also so much for kids to do, including going on a Harry Potter Tour, riding the tube to a local market, visiting Legoland or taking a trek to see Big Ben. Here is a list of our favorite kids attractions:
London Kids Attractions:
Explore the best sights on a Harry Potter Tour. Book your spots on the Harry Potter walking tour here.
Fun for the whole family on a bus Hop-On-Hop-Off. Book your tickets here.
Visit SEA LIFE and learn about the incredible marine life. Secure some tickets online here.
The kids will love seeing all the animals at the Zoo! Grab your tickets online here.
Get the family's blood rushing at the London Dungeon. Grab your tickets online here
In fact, because there are just so many attractions and sights to see throughout the country, you may find yourself having to save some of the sights you wanted to see for your next trip as there just won't be enough time to do it all.
Further Reading: Plan your trip with the help of this comprehensive England Travel Guide by The Trusted Traveller.
6. Italy with Kids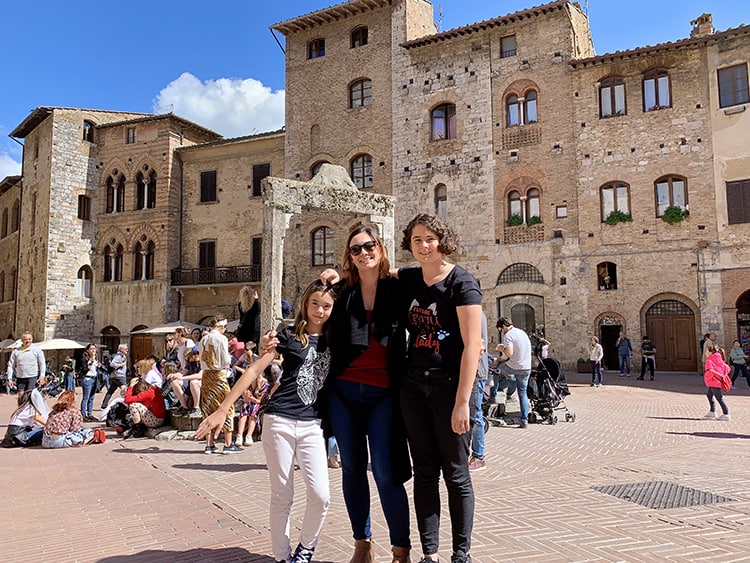 Italy was a favorite of ours when traveling around Europe with kids. With a beautiful Mediterranean coastline and ancient ruins and famous art and historic influences, there is so much to be discovered for the whole family!
Don't forget to enjoy some gelato or a good slice of pizza while you are in Italy.
Where to Go with Kids in Italy:
Italy is a large country that can take up to 12 hours to travel from one side to the other, so you may want to choose a particular part of Italy to visit with your family in Europe.
We spent 3 months traveling around Italy with our kids and there are so many wonderful places to visit. I know that Rome and Florence are two popular destinations, so here are some ideas of what to do in each:
Rome Kids Attractions:
The Colosseum is enjoyed by a lot of travelers as it's very unique. Make sure you also take your children to the Spanish Steps as long as they are up for a bit of a climb.
Explore the famous Colosseum! Grab your Skip-the-Line tickets with a guided tour here.
Walk along with the gorgeous Spanish steps
Take a rickshaw ride around the city
Take a tour of the Vatican and Sistine Chapel. Grab your Skip-the-Line tickets here.
Further Reading: Grab some super helpful tips for families travelling to Rome with Kids, and check out how to create a great Rome 2 Day Itinerary for your family here.
Florence Kids Attractions:
Admire the incredible art at the Uffizi Museum (more suitable for older kids). Grab your tickets online here.
Climb the famous Duomo for an amazing view! Grab your tickets for the tour here.
Take the kids for a pizza and gelato-making class!
Many families make Italy their top choice for travel each year. There's a lot to do here, no matter how old your children are. It might just be my pick as the best place in Europe for kids – but don't just take my word for it, book your trip and try it out for yourself!
7. Belgium with Kids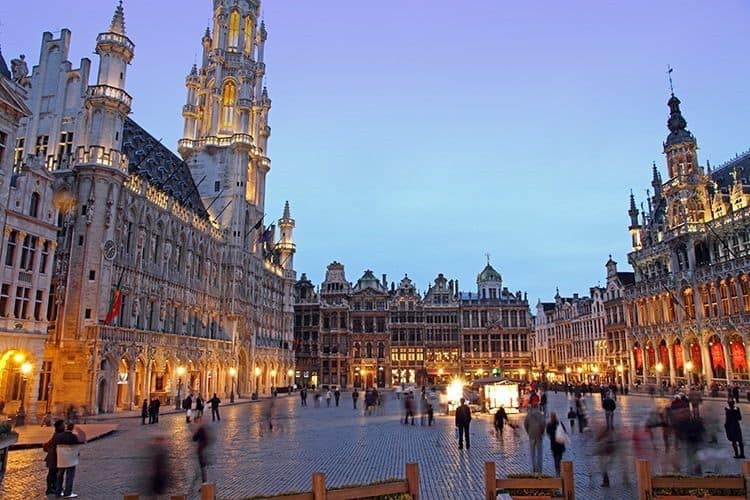 Known for its waffles, how could families not love Belgium? This country is smaller compared to other countries in Europe, but what it lacks in size it makes up for in culture and food.
Where to Go with Kids in Belgium:
Belgium is a great country to explore with kids as you can easily move around by train. We absolutely adore Brussels and Bruges. Here are some suggestions of kids attractions in both of these beautiful cities:
Brussels Kids Attractions:
Families must visit Brussels to check out the Grand Palace or the Tintin Boutique (to pick up some comic books).
Take the kids to see the amazing Atomium. Grab your admission tickets here. !
Bruges Kids Attractions:
Take the family on a history and magic tour of Bruges to see the city! Grab some tickets for the tour here.
Check out the amazing 3D Sculpture of Musea that was produced by 40 artists. Grab tickets online here. as a family
It's also worth visiting Bruges to see both the Chocolate and French Fry Museums .
Traveling Tip: Best way to get around Brussels is by taxi. You can book your Brussels taxi here
8. Spain with Kids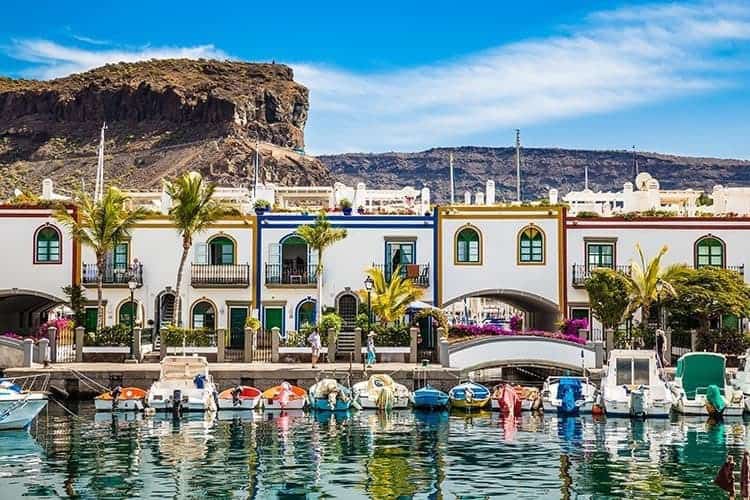 This country isn't just for adults. Children can have a great time here too. It has a rich history and plenty of places to explore.
Where to Go with Kids in Spain:
Spain is a beautiful country with so much to offer any type of traveler. Thanks to the country's high-speed trains, you can access a lot of destinations in a short period of time, but Barcelona was one of our favorites for the kids!
Barcelona Kids Attractions:
Visit the zoo and entertain the kids with a dolphin show! Grab your tickets here.
There are many parks and beaches to visit if your children are in need of a little bit of downtime.
Families can also enjoy a lot of historic treasures including Isabella's Alcazar and Sagrada Familia.
9. Germany with Kids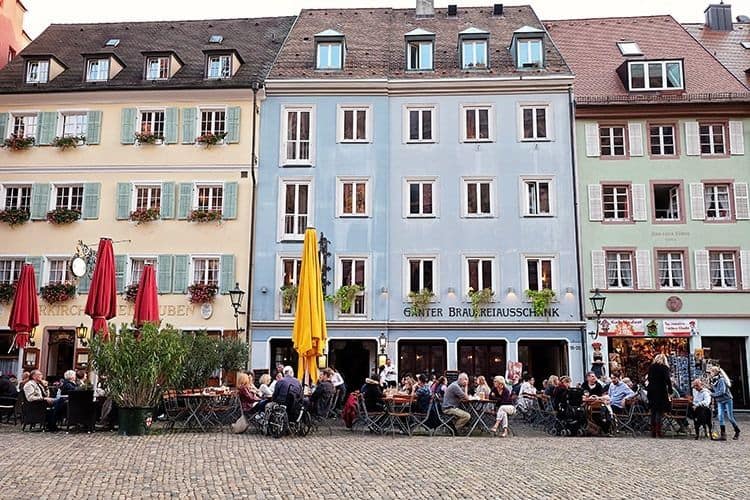 One of the main reasons why Germany is a great destination to travel to with children is that it has affordable public transportation. This means that you can save money by not having to rent a car and can splurge on some of the many activities here.
A lot of individuals do speak English in this country and are more than happy to help tourists with whatever they need.
The winter months are the best time to visit Germany with children as travelers can visit the memorable Berlin Christmas markets.
Where to Go with Kids in Germany:
Families will love the interactive museums and informative outings to keep the kids entertained while exploring the best places in Germany to travel with kids!
You can start out by planning your trip around popular destinations such as Berlin and Munich.
Berlin Kids Attractions:
Explore the many sights and landmarks in Berlin on a Hop-On-Hop-Off tour.
Take the kids to the Legoland Discovery Center!
Visit the Berlin Zoo and Tierpark
Munich Kids Attractions:
Kids will love the amazing fairytale-like castles from Munich! Book your day trip here.
Explore the beautiful parks and incredible architecture of the churches and cathedrals.
Germany is definitely one of the best places in Europe for kids, with its other worldly charm with castles and medieval towns and all the mythical parks and safe outdoor areas to explore.
10. Denmark with Kids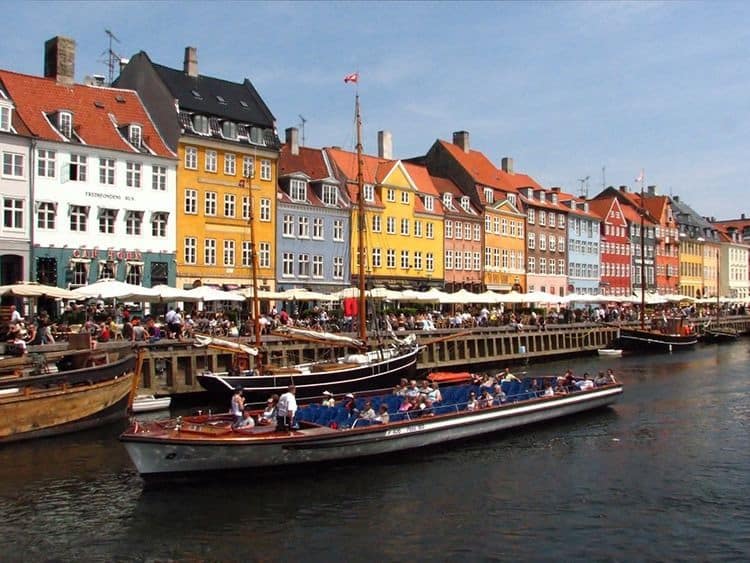 Wondering where to go with kids in Europe that is a little under-the-radar?
Denmark is often forgotten about when planning family travel to Europe. It's a shame as it's very family-friendly. The public transportation system is extremely efficient which makes it easy to see a lot of the sights while you are here.
Many businesses will go out of their way to accommodate families, and children in Denmark are rarely made to feel unwelcome by the locals!
Where to go with Kids in Denmark:
Copenhagen is a great city to visit with little ones as there's a lot to do. The Tivoli Gardens was one of our favorites and has theatres, gardens, and plenty of rides to keep children entertained. We can also recommend Odense.
Here are some ideas of what to do in each of these destinations.
Copenhagen Kids Attractions:
Spend a day of fun for the whole family on the rides at Tivoli Gardens. Grab your skip-the-line tickets here.
Kids will love trying to navigate the maze at the escape room in Copenhagen! Book your 1-hour escape room experience here.
Go on a tour of the must-see untold stories of Copenhagen to see the best sights and learn all about the city
Odense Kids Attractions:
Navigate the charming streets and lovely green parks all around
Take the kids to Odense Zoo to see all the animals and shows
Enjoy the museums
Denmark is filled with theme parks, amusement parks, zoos, and child-friendly beaches that make it one of the best places to travel in Europe with kids.
11. France with Kids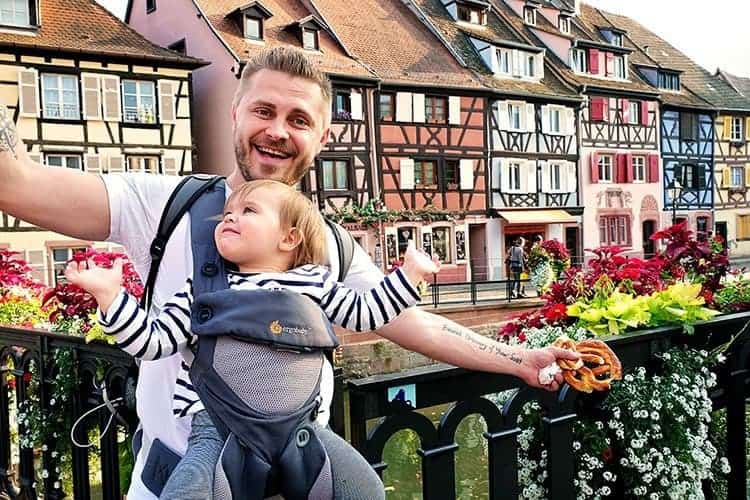 Being one of the most popular countries to visit for all travelers, it should come as no surprise that France is a great place for families to visit in Europe!
However as a word of caution, whilst we list France as one of the be st places to take kids in Europe, I didn't find their culture as welcoming to babies and toddlers. Perfect for older kids though!
Where to Visit in France with Kids:
France has many alpine villages and breathtaking architecture to explore and has many gardens and outdoor activities that make it a great place for a European family vacation!
Of course, you can't go to France and not visit Paris, but we also really love places such as Nice and Colmar for family trips too.
Paris Kids Attractions:
Kids will create memories they cherish forever as they find themselves in awe looking at the Eiffel Tower, enjoy the exhibits at The Natural History Museum and be amazed at the Paris Catacombs.
Walk around Luxembourg Gardens and take the kids for a spin on the old-fashioned carousel in Tuileries Gardens
Go on a cruise on the Seine river with a unique perspective on the famous landmarks of Paris
Ascend the Eiffel Tower and marvel at the view over Paris. Grab your skip-the-lin with host tickets online here.
Go to Disneyland ! A must-do in Paris with kids! Grab your tickets online here.
It is also great to rent a car and go on a road trip to see cities such as Nice and Colmar!
Tip: Despite having a decent public transportation system, you may find yourself doing a lot of walking. Make sure you plan for plenty of breaks and wear comfortable shoes.
12. Czech with Kids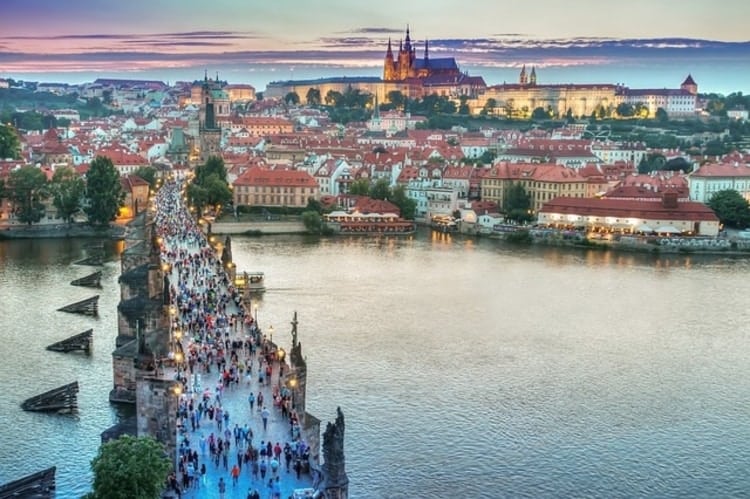 Czech is one of the most fascinating countries to visit with kids in Europe. It's full of historical sights and amazing castles with intricate infrastructure, and has many medieval museums to explore!
After the endless stream of exhibitions and walking gets to the kids, it's also a great place to find some fun child-specific attractions!
Where to go in Czech with Kids:
Czech is a country of many wonders, but one of the best European cities for Kids has to be its capital, Prague. Children often travel free or for a discounted price and have cheaper admission fees to many of the attractions!
Prague Kids Attractions:
Visit the Prague Castle and explore its fairytale-like wonder! Grab your small group tour here.
Visit Mořský Svět, the country's largest water tank that is filled with lots of fish!
Enjoy the rides at Prague's Aquapalace Waterworld! Grab your tickets online here.
Check out the National Technical Museum, which is an oversized room stuffed with huge locomotives and old-fashioned cars.
The kids will love the Prague Zoo. It's a well-tended zoo with an extensive collection of exotic animals.
Typically completely forgotten about, Czech definitely deserves a spot on the best places to go in Europe with kids listicle.
Summary of the Best Family Holiday Destinations in Europe
I know that was probably a bit of a mouth full and I thought it might be a good idea to quickly give you an easy to scan list of best European countries to visit with kids which were mentioned above:
Sweden
Austria
Croatia
Netherlands
England
Italy
Belgium
Spain
Germany
Denmark
France
Czech
Hopefully one of those kid-friendly countries in Europe made your heart fill with excitement.
Final Thoughts on Your Next European Family Vacation
Europe is a continent that is full of magic and awe-inspiring places that you don't need to be an adult to appreciate! These were some of the best European vacations with kids.
From the magnificent castles to the cultural ebbs and flows of each incredibly unique place, there is just so much hidden in the mountains and valleys of this vast continent.
These amazing cities were easy to explore with children, and offered safe environments and efficient transport systems that made them some of the best places for family vacations in Europe!
TOP TIP FOR PLACES TO STAY
If you are looking to book accommodation, check out comparison websites, like Cozycozy. The website compares accommodation options all in one place using 100+ providers like Airbnb, booking.com, Vrbo, and other big names. This way you are sure to find the best accommodation according to your budget and needs such as family-friendly accommodation from guesthouses, hotels, b&b, hostels, treehouses, and houseboats, you name it and you find it.
Europe with Kids: 40 Tips for an Amazing Trip!
Eight countries in five weeks! Our family trip to Europe in Spring 2015 was a whirlwind. Fast paced, eye-opening, stressful at times but amazingly worthwhile. Exploring Europe with kids is a must. There is so much to see and do in Europe and it's all relatively close together. But if you're planning a European family vacation, be aware that it might be a little harder than you think. Family European vacations can be hard work, especially with little kids.
Fear not! If you want a family vacation Europe is still a good choice. I've have come up with a list of tips for family vacations to Europe to help you make your trip amazing.
What You'll Find in This Post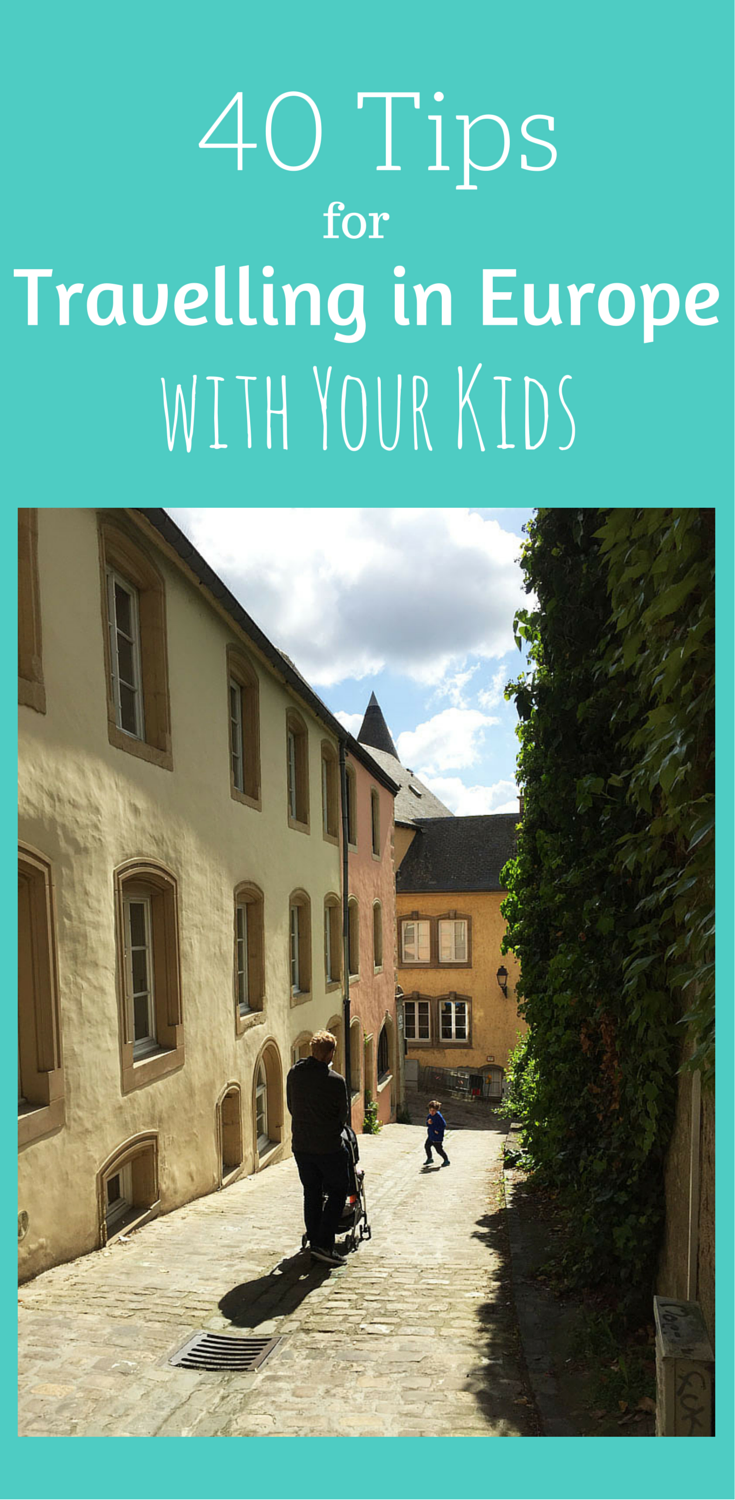 Europe with Kids: 40 Tips to Have an Amazing Family Trip to Europe!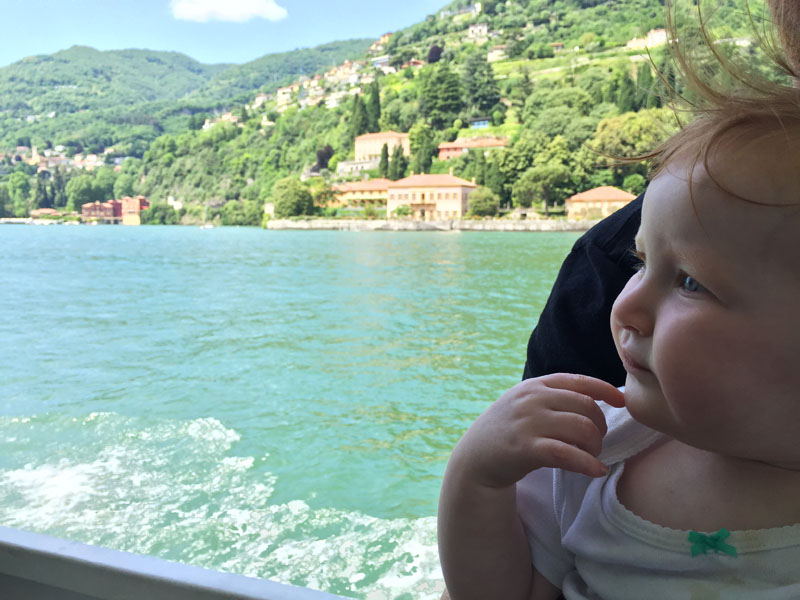 Hazel in Lake Como, Italy
Planning a Trip to Europe with Your Kids
1. It can be tempting to squeeze in more and more countries when you're planning your European itinerary. Try not to! We did 8 countries in 5 weeks in Europe in May and it was exhausting! Concentrating on two or three countries is better. You get to know the language, food and customs of a country rather than switching all the time and feeling confused.
2. Plan down days into your itinerary. If you think you'd normally need three days in Paris, stay for five. When travelling with kids you need time to do normal things like visit playgrounds, get groceries and do laundry.
3. Get out of the cities! While Europe is full of amazing cities, they can be hard work. Choosing smaller towns can be much more manageable and enjoyable with kids. Pick Lake Como instead of Milan, Nice instead of Paris.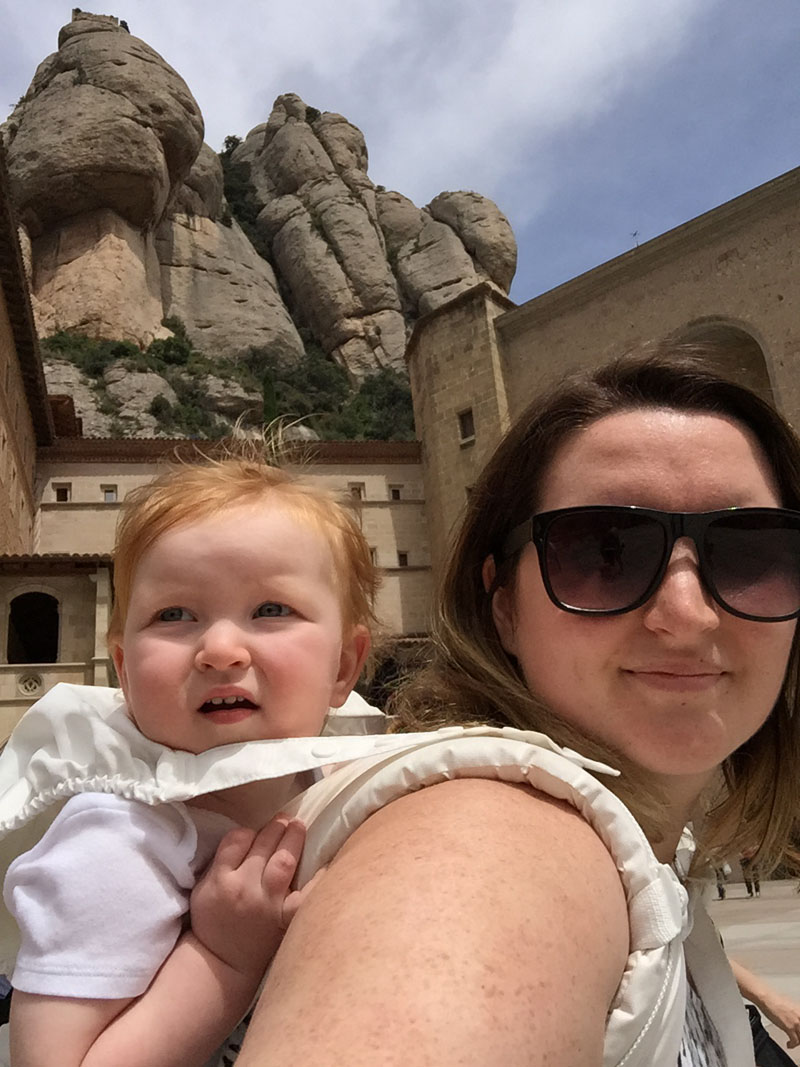 Hazel & Bethaney in Montserrat, Spain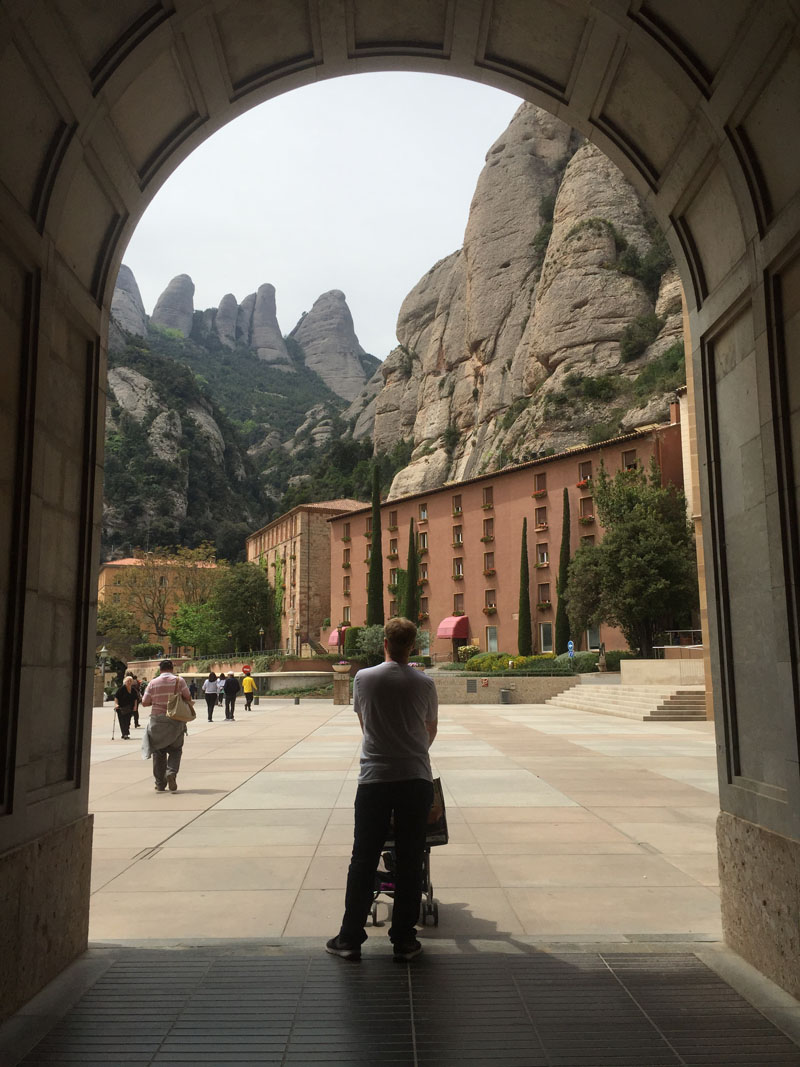 Lee Pushing the Stroller Around Montserrat in Spain
Tips for Flying in Europe with Your Kids
4. If you're arriving in Europe on a long haul flight, bear in mind that you will all be jet lagged for at least the first 2-3 days. This can mean early mornings and waking for a couple hours in the night. Prepare in advance by bringing some cereal, UHT, plastic bowls & spoons in your luggage (these folding travel ones are great!) especially if you are arriving late at night. There is nothing worse than being up at 5am with hungry, cranky kids and no food!
5. Bring your own snacks and entertainment when flying. These are extras you'll have to pay for when travelling on European budget airlines.
6. Realise that budget airlines are not always the cheapest option when you add in travelling to airports that are far from the city centre, picking seats together and adding in baggage fees. Full service airlines might end up being cheaper all in.
7. Print your boarding pass and check in online before you leave home. You won't believe how much some airlines charge if you have to do this at the airport. It's €70 for airport check in and €15 to print your boarding pass on Ryanair.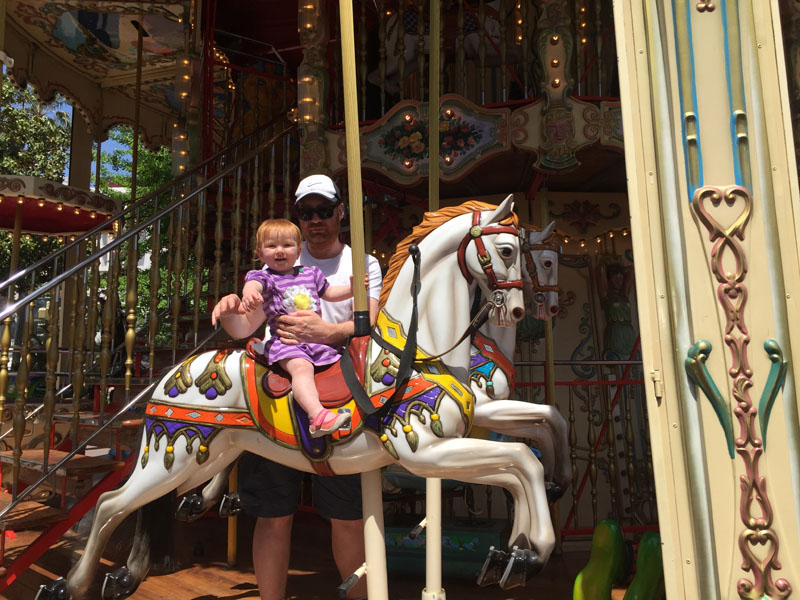 Hazel Riding a Carousel in Nice, France
Packing Tips for Travelling to Europe with Kids
9. Get your luggage down to one checked bag for the entire family. You'll save money on airline baggage fees and it will be a lot easier getting to and from train stations. (See how we travel the world with only one suitcase in this post.)
10. If you've got older kids who can carry their own bag, get it down to carry on only. You'll save even more on budget airlines baggage fees.
11. If you're travelling exclusively by train in Europe with your kids, try to get everyone's bags down to carry on only. We found it extremely difficult to manage a large suitcase plus kids on Europe's trains.
12. Use packing cubes to organise your luggage. They are amazing. These are our favourite packing cubes. Colour-coded packing cubes for each family member are a great idea. You won't have to go searching through your suitcase for anyone's belonging when clothes are packed this way. We also do one family-sized packing cube for pyjamas and one for swim gear so we can get them on everyone quickly. Read my guide to the best packing cubes here.
13. Ziploc bags are also useful for organising toiletries. We do one for every day toiletries, one for occasional toiletries and one for first aid supplies. Ziploc bags are also great for organising toys and electronic cables.
14. If you want to bring a stroller, make it a small folding one like this. You need a stroller that you can fold up quickly and carry with ease. This is essential for navigating metro stations without elevators and crowded trains.
15. An Ergo baby carrier will be a lifesaver in Europe if you're travelling with babies or toddlers. There are a lot of stairs to navigate in metro stations, train stations and at tourist attractions so having a stroller isn't always practical.
16. Bring your own refillable drink bottles. These collapsible ones are great for travel. Tap water in Europe is generally pretty safe to drink.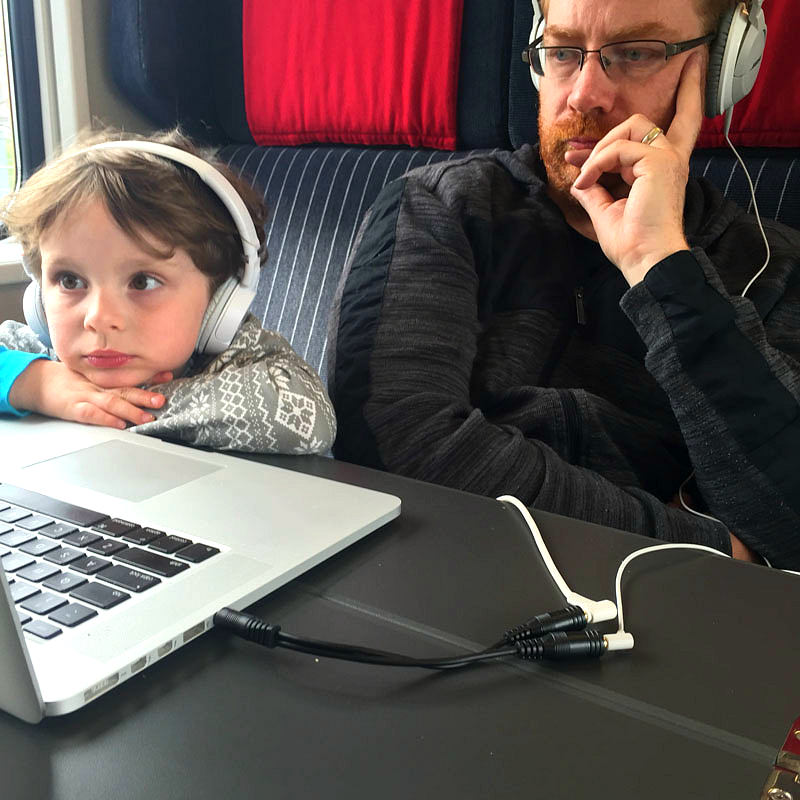 Using Headphone Splitters to Watch a Movie on the Train in Switzerland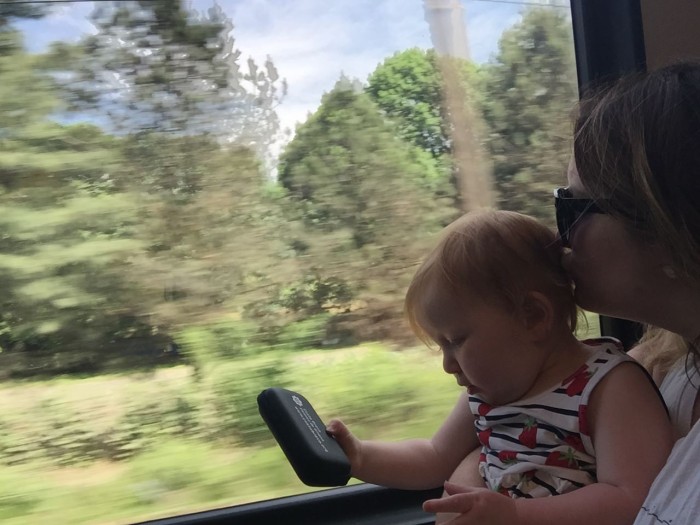 Bethaney and Hazel on the Train in Italy
Travelling in Europe by Train with Your Kids
17. Get a Eurail pass. Kids travel free! Kids under four won't need a pass at all. Kids 4-11 years will need a pass but that's free too.
18. Pick seats near the end of a carriage so you can keep an eye on luggage & strollers placed in the luggage racks and so you can get off the train with ease.
19. Train stations in Europe are NOT stroller (or large suitcase or wheelchair) friendly. Many of them don't have elevators or even escalators and all seem to have lots of stairs in order to reach different platforms. Come up with a stroller/luggage strategy to get around this by having one parent carry the bags up the stairs to the platform and the other wait with kids and stroller for them to return and help get up the stairs. It's the worst part of travelling by train!
20. Bring your own snacks & drinks. While there might be a restaurant car on board you can't rely on it. Our Italian train didn't have a restaurant car but did have a snack cart that went up the aisle twice on our 4+ hour journey. It was very expensive at 4€ for a small orange juice.
21. While you might enjoy gazing out the window watching Europe roll by, your kids will need a little something to do on board the train. Bring colouring supplies, audio books on your iPhone and preload a few movies on your iPad or laptop. Buy headphone splitters so two kids can watch the same movie at once.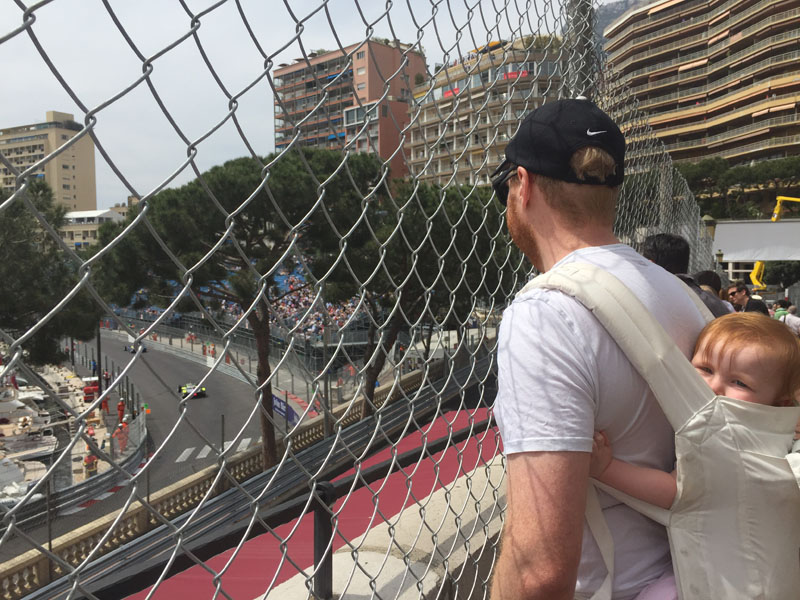 Hazel & Lee Watching the ePrix in Monaco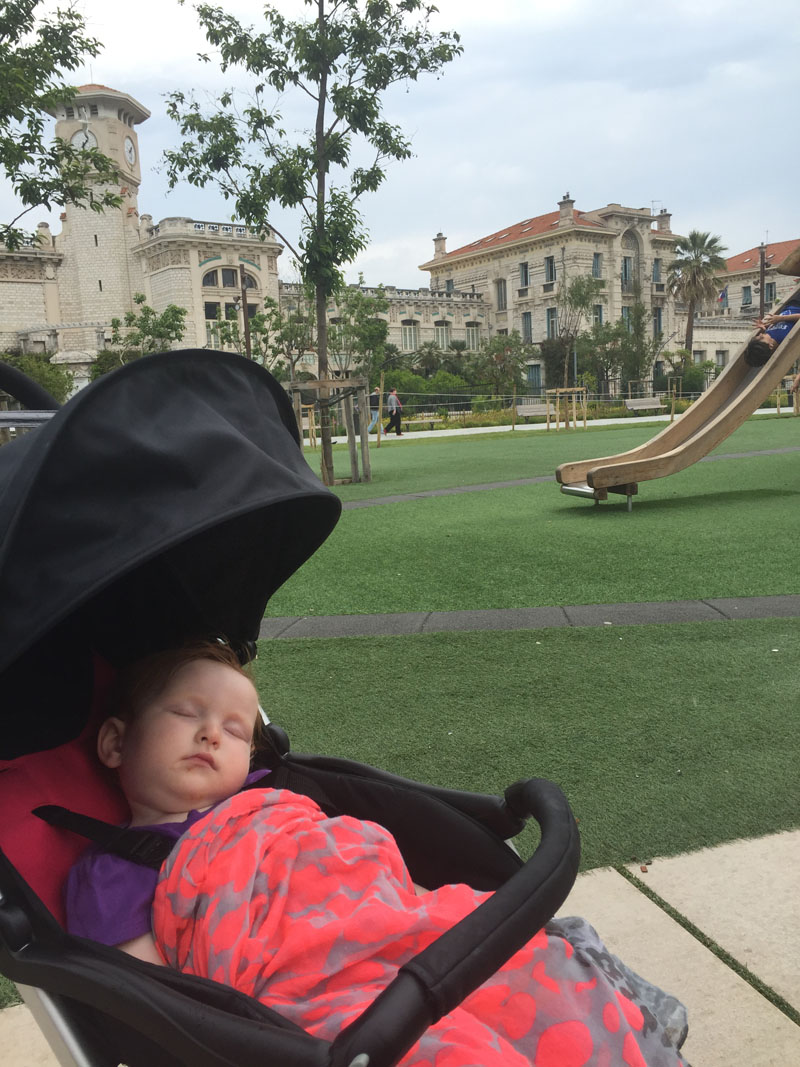 Hazel Sleeping in the Stroller at the Playground in Nice, France
Getting Around in Cities in Europe with Kids
22. Coming off a long flight? Or departing on an early one? Consider booking a car service, like Taxi Barcelona, to pick you up at the airport and drop you at your hotel or apartment (and vice versa). The last thing you want to do after a long flight is navigate a metro system in a foreign city with suitcases and tired kids. You can also request car seats which is great for both sleepy kids and tired parents!
23. The good news: In most cities, kids under five don't pay for Metro tickets in Europe. Yay!
24. The bad news: In Metro stations, there's often a gate for entry and exit with strollers however there is rarely anyone around to open it, even if you push the call button. You'll have to lift them up and over the turnstiles. Have one parent go through and the other pass the stroller over.
25. Come up with a family plan for getting separated on the Metro. It can happen! If a kid gets on a train and Mom & Dad don't make it on, they get off at the next stop and wait on the platform. If a kid gets left on the platform, they wait for Mom or Dad to come back to get them. If they feel worried or scared, they look for another mother to help them. Make sure every family member knows the drill. It's also a good idea to come up with a family safe word. Something that your kids know means they can trust another adult is helping them on your behalf.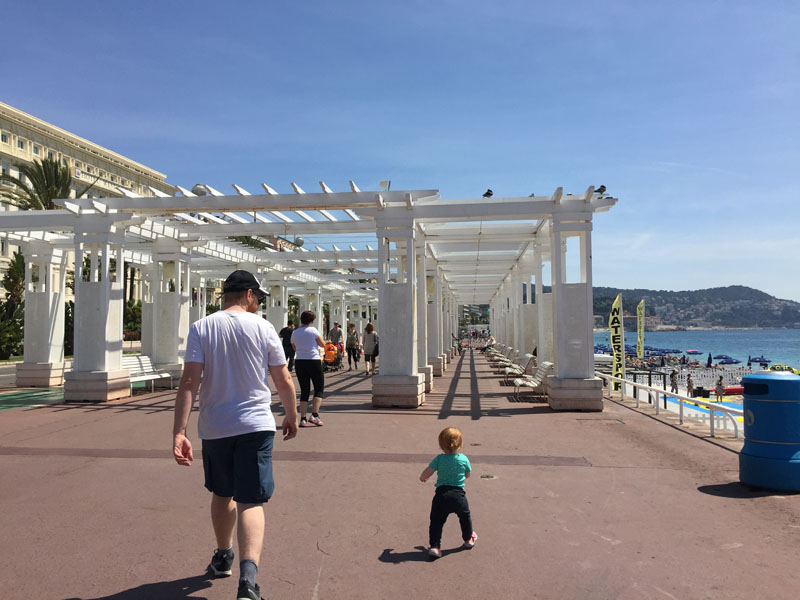 Hazel & Lee Walking on the Promenade Anglais in Nice, France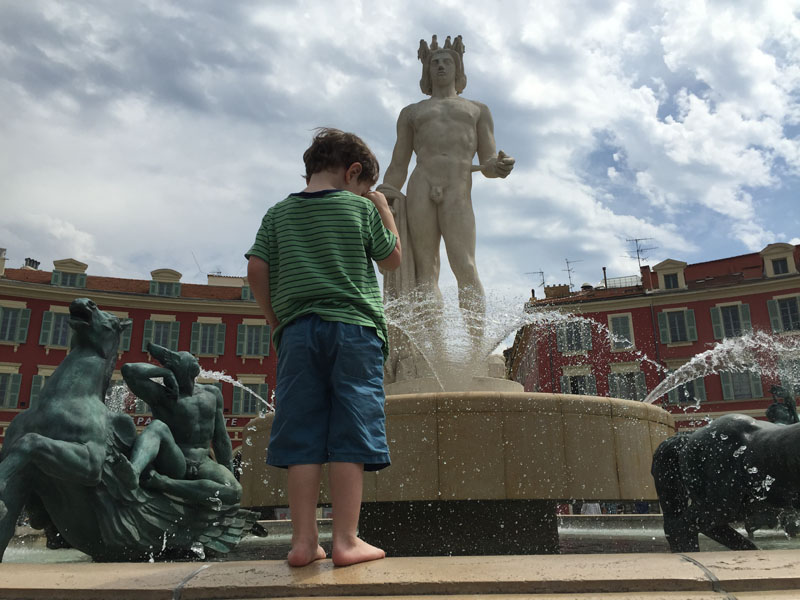 Reuben Standing On a Fountain in Nice, France
Booking Family-Friendly Accommodation in Europe
26. Hotel rooms in Europe are small and often have occupancy restrictions. Before you book any hotels read their policy on children. If you're using a booking site like Hotels.com or Agoda it's always laid out in the hotel information. Seek out hotels that say things like "Children under 12 stay for free using existing bedding" rather than "Children under 2 stay for free using existing bedding". Not only does that mean a more flexible, child-friendly hotel it probably also indicated large enough rooms.
27. Some hotels, and chains like Mecure in particular, will provide rollaway beds for free in Europe. Check before you book by calling or emailing the hotel directly.
28. If you're booking an apartment, realise that in Europe "two rooms" often means a bedroom and a living room, not two bedrooms. Be sure to read descriptions carefully.
29. If you're on a budget, look for apartments with the number of beds you need, rather than the number of rooms. If it's just for a few nights a family can take a one-bedroom apartment with a fold out couch. Or better yet, bring your own portable toddler bed. We never travel without one!
30. Check the "Elevator" box when booking on Airbnb or you might end up in a 5th floor walk up! Want to try out Airbnb? Click here to get a $20 off coupon.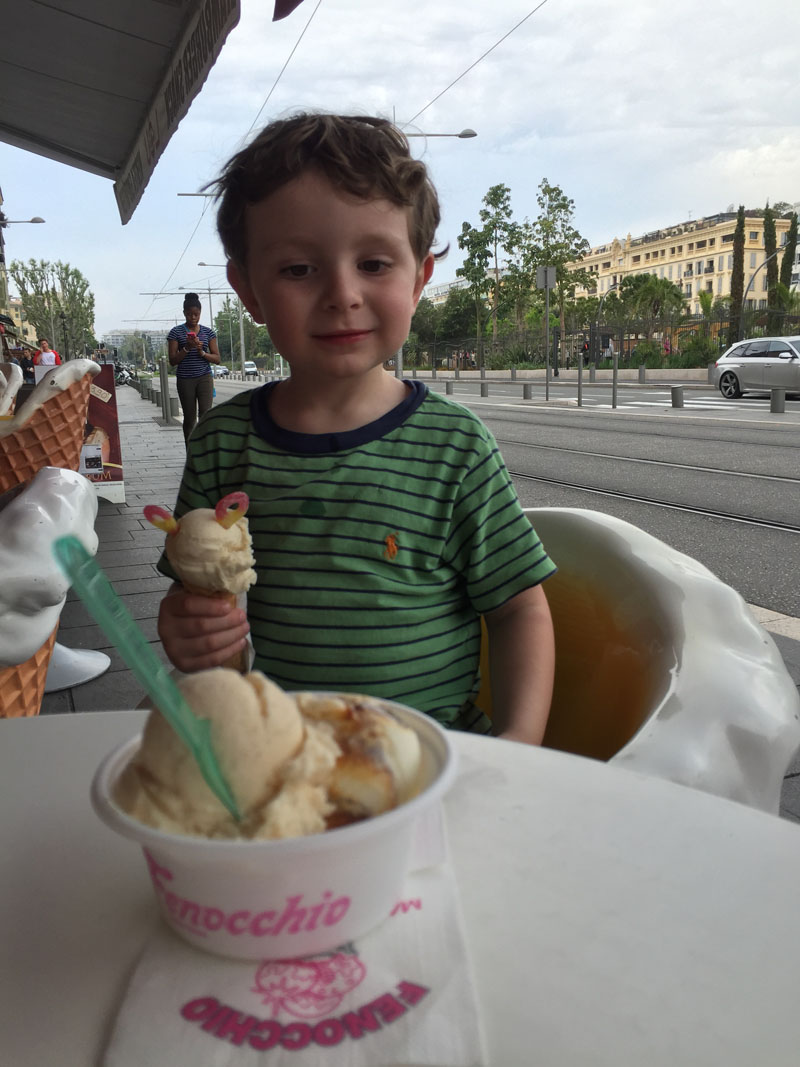 Reuben Eating Ice Cream at Fennochio in Nice, France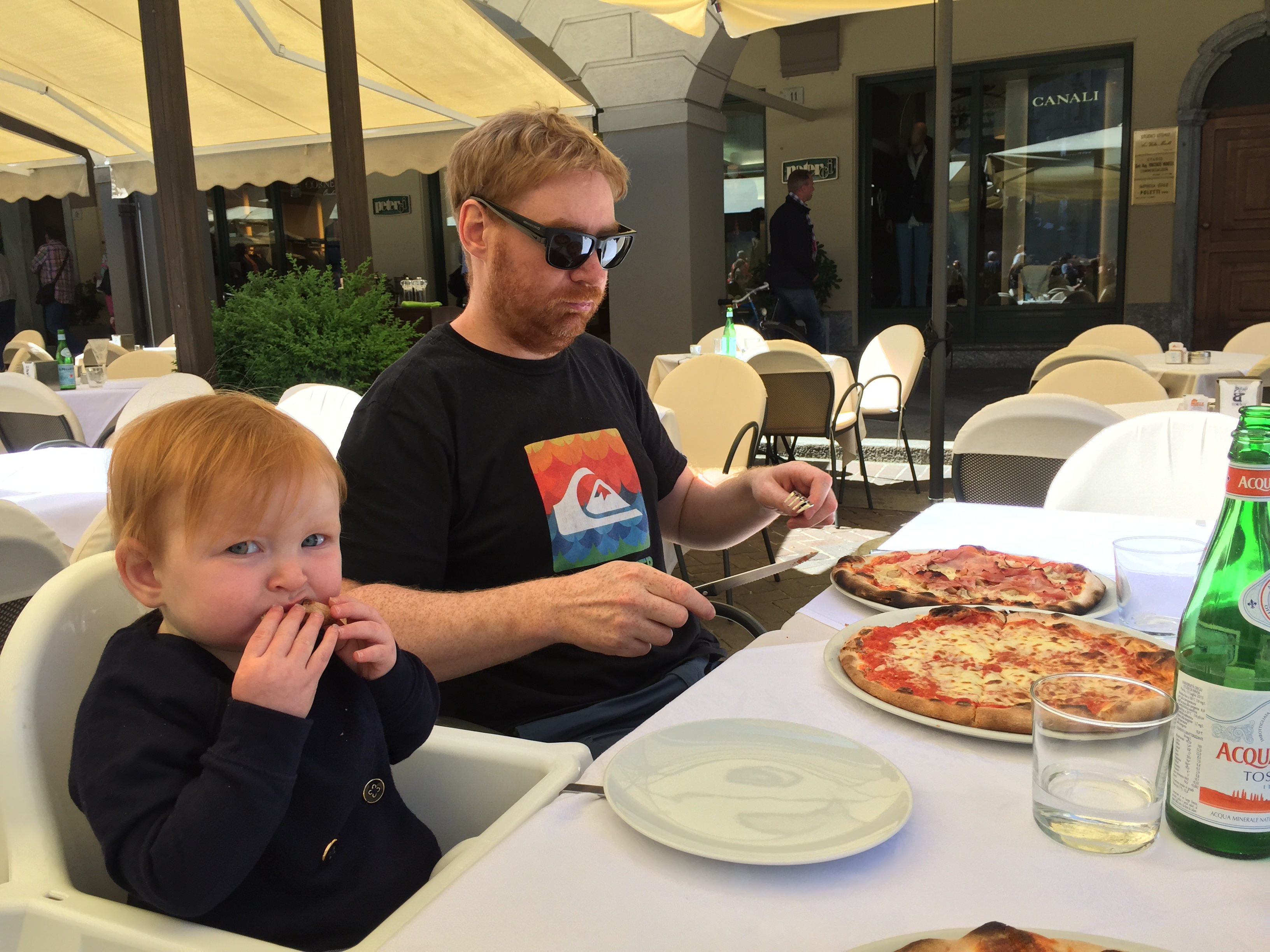 Hazel Eating Pizza in Lake Como, Italy
Eating Out in Europe with Your Kids
31. Kids still need highchairs? You might want to bring your own with you as they aren't as common in restaurants in Europe as in North America, Australia and New Zealand. Something like this can fit into your luggage easily and be taken out at dinner time in the bottom of your stroller. We found highchairs few and far between in restaurants in Spain and France. They were more common in Italy and Holland.
32. Dinner is eaten late in Europe. It's common for restaurants not to open until 7pm or later in many countries, particularly in Spain. Have a late lunch out and then eat snacks for dinner back in your apartment or hotel. Or have a dinner of bar snacks & tapas over drinks.
33. You won't find kids meals in restaurants in Europe. Adult portions are certainly smaller than in North America so kids may be fine with an adult portion of pasta.
34. If the weather is good, picnicking is a great idea in Europe. Europe does ham, cheese, bread and yoghurt really well! Food in supermarkets is quite inexpensive, even in pricier countries like Switzerland.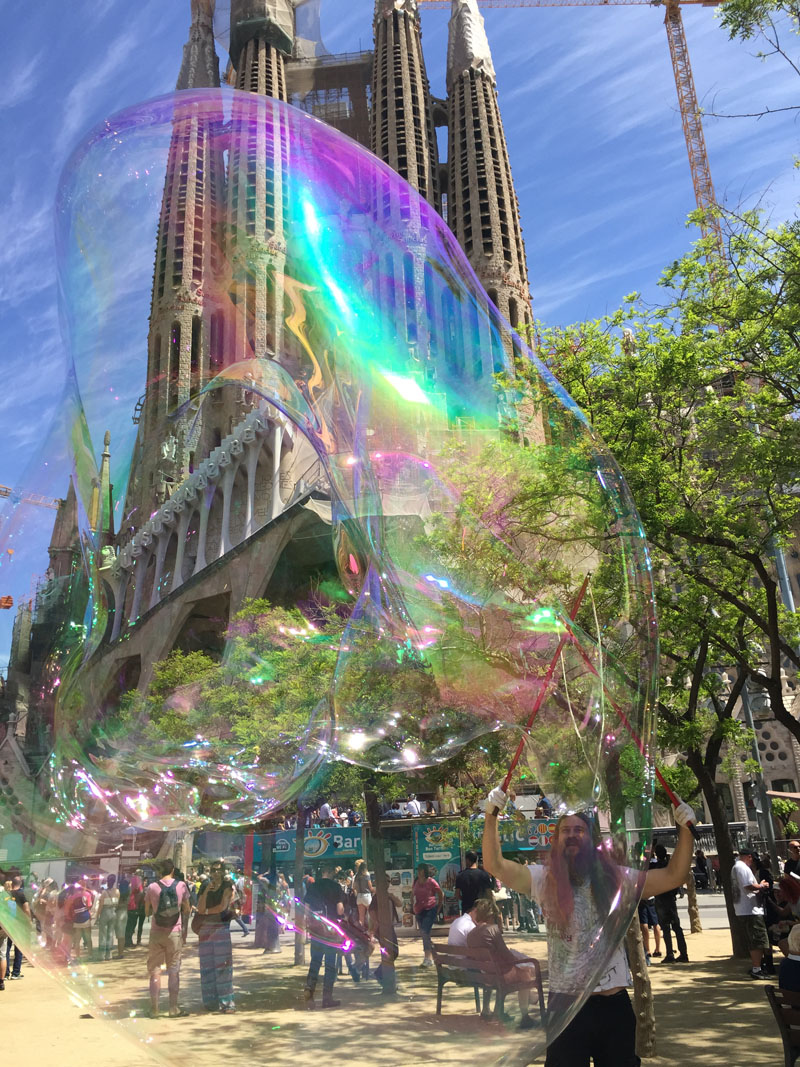 Admiring Sagrada Familia Through the Bubbles, Spain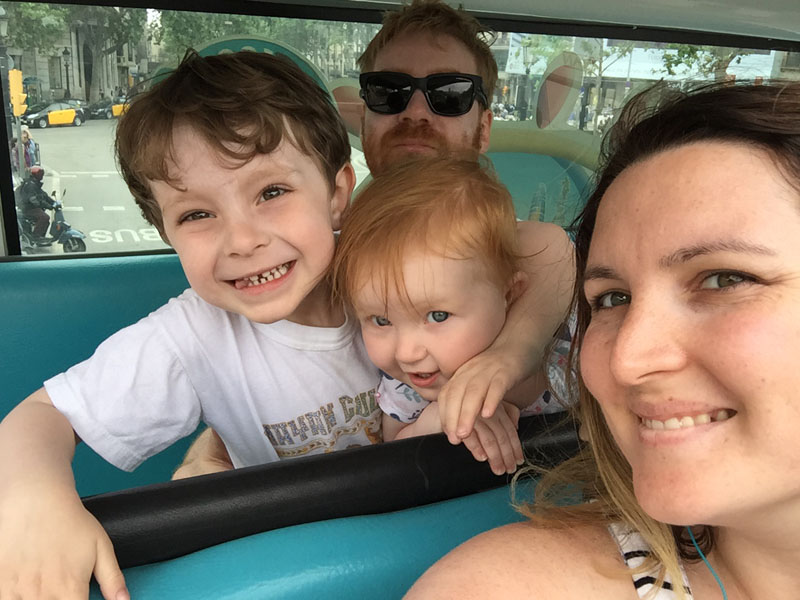 Flashpacker Family on a Hop On, Hop Off Bus in Barcelona, Spain
Sightseeing in Europe with Your Kids
35. A hop on, hop off bus tour is a great way to see the highlights of the city without making your kids walk for miles and miles. Bring a jacket, even if it's warm, as the top deck can get windy and cold. Don't forget to apply sunscreen either! If you have kids headphones bring them along as many buses have an audio commentary. Earbuds are given out for use on board but they are hard to keep in kids ears.
36. Boat tours are another way to easily and comfortably explore a city with kids. Many of Europe's greatest cities have beautiful water ways running right through them. Riding a bateau down the Seine or zipping around Amsterdam in a canal boat is a fun way to explore with kids. There's usually a running commentary for the parents too.
37. Lines can be long at many of Europe's most popular tourist attractions. If you're a two parent family, have one parent queue while the other takes the kids for an ice cream or to a park nearby. If you're in Barcelona, there is a playground and ice cream kiosk right opposite the Sagrada Familia!
38. You'll probably want to visit some of Europe's finest art galleries and museums on your travels. Your kids won't necessarily love this. Go anyway! There are ways you can visit the things you want to see in Europe with your kids in tow. Power through as quickly as you can and see the highlights. Put your kids in charge of the museum map. Have them search for specific items in paintings, a mini scavenger hunt. Schedule your visit during baby's nap time. Sandwich your visit between playground visits. Bribe your kids with ice cream. Do what needs to be done mama!
39. There are carousels everywhere in Europe! Often near or right outside major tourist attractions. Riding a carousel at the bottom of the Eiffel Tower can be just as memorable as going up it.
40. Remember, you're building memories not checking off items on a bucket list. Sometimes it's not important what you see but simply that you're out exploring Europe with your kids, having a good time.
Europe With Kids: Steps for a Successful European Family Vacation
I absolutely love Europe. The first time I traveled there, I was captivated by the delicious food, the quaint towns, the Christmas markets, and the various cultures that can be found throughout the continent. So, when I had children, I wanted to bring them to Europe as early as possible. But a European family vacation is a both a bit time and money commitment, so you want to make sure you plan for it to be the best vacation possible.
Introducing your kids to foreign cultures, people, food, and landmarks can be such a rewarding experience. I absolutely recommend bringing your children there for at least one family trip to Europe. Traveling with children to Europe can be so much fun. Here are our tips for visiting Europe with kids. Have you been?
Europe With Kids: Steps for a Successful European Family Vacation
Choosing the Right Age to Travel To Europe
The first thing that you'll need to do is figure out what the right age is to visit Europe. This really depends upon what you are hoping to get out of your vacation. If you want to travel to Europe, and happen to have children with you, you can probably go when the kids are younger because you won't be looking for them to completely understand everything they see. But, if you want your kids to learn and see things that they may have heard about in school, you may consider waiting until your children are older.
For us, we decided to wait until the kids were old enough to handle a long, overnight flight without too much difficulty. That ended up being when they were 10 and 11. We definitely weren't interested in flying to Europe with a toddler, although many do that with no issues. We just wanted it to be a little easier on us.
It's a good idea to think about how your kids handle travel, and then make your decision based upon that. You'll want to plan the trip well in advance and make sure that you are set up for success.
Deciding Where to Go in Europe With Kids
Once you've decided when to take your kids, you'll want to figure out where to go in Europe. It's a huge continent with so many different options.
Perhaps you want to visit a spot with beautiful scenery, like Italy. Or maybe you'd prefer going somewhere with rich history, like Greece. Some families want to visit specific tourist attractions, like the Eiffel Tower in Paris, the Tower of London in London, or Neuschwanstein Castle in Germany , which looks like a castle from a fairy tale.
If you don't have a very specific destination in mind, think about whether you want to go to only one place, or tour several different cities/countries. That will determine how long you need to go, and how much preparation you need to do in advance.
For our first trip to Europe, we wanted to go to Italy. We love Italian food, and my husband's mother is from Italy. The kids had heard so much about it and wanted to see it. My husband and I also wanted to travel there, so it was the perfect spot.
For our second trip, we decided on Greece. My son and daughter had learned about ancient Greece in school and we felt that it was the perfect timing for a trip to visit. Both kids wanted to go there as well.
This past year, we decided on England and France. Although my husband and I had both visited several times, the kids really wanted to see both of those countries, as well as all of the popular monuments and attractions (we also went to Disneyland Paris, which they really enjoyed).
If you don't know which country to visit, you may consider sticking with England, Scotland, Wales, or Ireland, where English is spoken. They are much easier trips because of that, and are also easy flights from the US (especially England).
Involving kids in the decision making process is always a good idea, especially if your kids are old enough. Making them part of the process can really make them feel responsible for the trip.
European countries that you may consider include:
England
France
Portugal
The rest of the United Kingdom
Norway
Germany
Spain
Greece
Italy
Switzerland
Consider a Guided Tour to Europe With Kids
If you are a regular reader here, you know that we love traveling with Adventures by Disney to Europe. While you can absolutely plan your own trip to Europe, a guided tour may be a great option if you aren't sure where to start.
Guided tours allow you to see so many different things in one trip. You won't need to worry about figuring out the best time to visit specific attractions, or how to avoid crowds. Instead, your guides will have everything planned for you.
You also won't need to decide where to stay or how to get from one place to another. Everything will be arranged in advance. You just have to show up when they tell you to. My kids have also made some great friends on our tours and have always enjoyed hanging out with other kids. Some guided tour companies, like Adventures by Disney, cater specifically to families traveling with kids.
Another child friendly option is to take a European cruise. A cruise can make it easy to see multiple countries without too much effort. Instead of wasting time on a bus, you can enjoy all of the cruise ship amenities while you are traveling to the next spot on your itinerary. If you do decide to take a European cruise, you will need to plan out all of your excursions in advance. That way, you can take advantage of all of the fabulous locations you'll be seeing. It can be easier, especially if traveling with young children, because you won't have to switch hotels to see multiple places.
Planning Your Trip to Europe With Kids
Of course, if you want to plan your own trip from start to finish, that is absolutely an option. You'll just want to dedicate some time to plan, because there's a lot you'll want to do before you go.
Once you know where you want to go, you'll want to figure out when to travel. If you have older kids, it can be more challenging to find a good time to travel for a longer period of time. For us, we struggle to find time when the kids aren't in sports, school, or theater. We usually end up with just two or three weeks to choose from, typically in the summer.
Check the weather during your planned vacation time. Summer is extremely popular in Europe, and some destinations can be very hot. We were in Greece in August, and it was pretty brutal. We still loved that trip, and would do it again. But it was important to be prepared.
You'll also want to think about how much time you want to spend in each location, if visiting multiple spots. I've always wanted more time in every place I've visited on our European trips. Try to balance the amount of time in each place with the amount of places you go to. If at all possible, it's a great idea to spend about two weeks in Europe. That's sometimes difficult with our schedule, but we never go for less than 9 nights (including the red eye flight there).
If you haven't already been to the spots you are visiting, you'll want to do some research. You will want to figure out what hotels to stay in and what attractions to visit. You'll also want to get any tips on when to visit. For instance, you'll probably want to visit some destinations early in the morning. In other cases, like with the London Eye, you may have the option to purchase tickets that let you skip the line.
Start to fill in your daily schedule, then research ticket options and tickets for each attraction. Purchase tickets in advance in cases where you need to book a specific time for your visit. When we went to the Buckingham Palace State Rooms, I purchased those tickets weeks in advance to ensure availability.
You'll also want to figure out how you'll get from place to place. Will you use public transportation? Or perhaps you'll need to rent a car? If so, you'll want to make sure that your license and insurance will be valid for your rental.
Choosing a great family hotel is also important. Hotel rooms in Europe tend to be smaller than those in the United States, so keep that in mind when looking for the perfect spot. Location can be important, especially in cities, so it's a good idea to look at reviews and/or ask friends for recommendations. In some places, we've had to get two connecting hotel rooms to accommodate our family of four. American chains can often have more amenities that US travelers are used to. But there are also some great, charming, family friendly local hotels and inns as well.
Booking airfare to Europe is my least favorite thing to do. There are often many confusing options with various layovers. Before you purchase, consider booking an extra day at the start of your trip, just to get acclimated to the time change. I have a really hard time sleeping on planes, so I often need a full day to recuperate before I'm ready to start touring. Be sure to get your seating assignments together, even if you have to pay extra to do that in advance. You won't want to be separated from your kids for a flight of that length.
Final Research For Your Trip
Once you have the essentials planned and booked, you'll still have a few things that you want to do. You may consider booking some tours – either city tours, or tours of specific attractions (separate from the admission). While some of these things can be purchased once you are in Europe, it may be easier to do research before you go. You may also consider a day trip to other locations, and that's something that's easier planned in advance.
Before you go, you'll also want to do a little bit of research on money. Determine whether you'll want to bring foreign currency with you, or if you'll get some when you are there. We typically use the ATMs in the country we are visiting. But I'll occasionally bring along foreign currency, especially if I have some left over from a prior trip.
Because you'll probably want to use your credit cards on your trip, you'll want to check to see what the foreign transaction fees are. They can add up, but many cards won't charge a fee. You should also contact your banks to make sure that they know you are traveling overseas.
Tipping customs vary by country. Before you leave, find out if tipping is customary at your destination.
Well in advance of your trip, you should also review your documentation. Keep in mind that many countries will require your passport to be valid for at least 6 months prior to your trip.
Packing for Your Trip to Europe
I am always stressed packing for an overseas trip. It's important that we have everything we need, especially if it's something that may be challenging to find at our destination. Using vacation packing lists is a great way to make sure that you don't forget anything. Look at the weather at your destination, as well as your plans, to make sure you have the right type of clothing packed.
It's also important that you pack any toiletries and medications you may need. I tend to overpack these types of things for a trip to Europe with kids.
You may also need some other things (see our European packing list here):
Lightweight backpack
European adaptors (make sure you have the right one – England, for instance, uses a different one than continental Europe)
A Note on Food Allergies and European Travel
My daughter is allergic to nuts and my son is allergic to peas. While we don't let their allergies stop us from traveling, we make sure that we are very careful about what they eat when we are in Europe. We always err on the side of caution, and follow the motto "better safe than sorry".
Before leaving, look at the most popular dishes of your destination to see if they contain allergens. During our recent trip to England and France this summer, we were most concerned about the mashed peas in England and the macarons in France.
We also have laminated cards made in the language of our destination explaining their allergies. We hand these to our servers so there's no confusion in our communication.
I also pack cereal bars in our carry-ons for the flight. I'm super cautious about the airline food, so I usually make sure that my daughter has safe food for our flights.
While this may seem like a lot of steps to planning a perfect trip to Europe with kids, it's the best way to make sure you have a successful trip. Have you been to Europe with kids?
Source https://www.wanderluststorytellers.com/best-places-to-travel-in-europe-with-kids/
Source https://flashpackerfamily.com/40-tips-travelling-europe-kids/
Source https://www.familytravelmagazine.com/europe-with-kids/