The 10 best LGBT destinations in Europe
If you're on the hunt for a brilliant LBGT destination in Europe, relax – we've found ten of the best.
Amsterdam
With a long-standing reputation as one of the world's most liberal cities, Amsterdam is a welcoming place for LGBT travellers, with a host of gay-friendly establishments just waiting to be explored.
Wander along picturesque canals and admire the city's distinctive architecture before checking out the bustling gay bars in the Amstel and Kerkstraat areas, and along Regulliersdwarsstraat. If you can, visit in August, when the city's canals burst into colour for Amsterdam Pride, the world's only pride parade on water.
Copenhagen
Denmark was the first country in the world to legally recognise same-sex partnerships, so its edgy capital Copenhagen naturally ranks high on any list of gay-friendly destinations.
With fantastic museums, parks and shopping galore, plus a bustling nightlife with plenty of LGBT options, this is an ideal choice for a city break. Copenhagen is also home to the oldest openly gay bar in Europe, and has even named the space next to City Hall Tower 'Rainbow Square' to honour the ongoing battle for equal rights.
Mykonos
The sun-drenched Greek island of Mykonos has long been a popular destination for LGBT travellers, so much so that the tourism industry now largely revolves around a gay audience. With spectacular beaches, turquoise waters and welcoming locals, it's easy to see the appeal – making Mykonos the ideal destination for a chilled-out beach escape.
There's plenty of gay-friendly accommodation, bars and eating places around the island, as well as the famous Super Paradise Beach, a popular hang-out for gay and straight visitors alike.
Manchester
With its intriguing mix of gritty industrial history, handsome buildings and vibrant nightlife, Manchester is one of the UK's most visited cities. The Gay Village area around Canal Street is home to a great assortment of LGBT-friendly bars, restaurants and cafés, and the annual Manchester Pride is one of the biggest celebrations of its kind in the UK.
Pride is sponsored in part by the Radisson Blu Edwardian, Manchester – the brand is known for offering gay-friendly hotels in destinations across Europe.
Stockholm
Sleek, stylish and effortlessly cool, Stockholm has a well-deserved reputation for cutting-edge art and design. The Swedish capital is also known for its laid-back, tolerant culture, so it's hardly surprising there's a booming gay scene here.
Stockholm Pride attracts millions of spectators each year, and there are plenty of gay-friendly bars, clubs and restaurants in the downtown district. If you're looking for something a bit more low-key, check out the city's many gay-friendly cafés, which are perfect for a spot of people-watching, Scandinavian-style.
Madrid
Sunny Madrid is home to Europe's largest LGBT community and biggest gay pride celebration, the Madrid Orgullo, which runs for a week each July and draws around 2 million visitors. The Spanish capital is also famous for its legendary nightlife, which begins late and runs until the small hours of the morning.
This scene includes a vast selection of LGBT-oriented bars, clubs and restaurants concentrated in the Chueca district. Located just off Gran Vía in the city centre, the area is known for its relaxed, friendly atmosphere – making this the perfect place to enjoy some tasty tapas and late-night beers.
Reykjavik
Known for its spectacular landscapes, geothermal hot springs and views of the Northern Lights, Iceland is an increasingly popular European holiday destination.
The country also boasts a progressive stance on equal rights, and its capital, Reykjavik, is home to a vibrant LGBT community. There's an excellent selection of gay-friendly bars and restaurants, and a massive annual Pride celebration.
Berlin
Trendy, innovative and always on the cutting-edge, Berlin's open-minded approach to life has long made it a popular destination for LGBT visitors.
With a rich history and cultural scene, coupled witha famously energetic nightlife, this is a city that truly caters to every taste, from the relatively tame to the decidedly eccentric. There's a thriving gay scene in the Schöneberg district, with plenty of gay-friendly bars and other establishments lining the streets around Motzstrasse, Fuggerstrasse and Nollendorfenplatz, not to mention attractions such as the Schwules Museum – one of the world's most important museums dedicated to LGBT life and culture.
Paris
As one of the world's most romantic cities, Paris ranks high on many a traveller's must-see list. Along with world-famous attractions such as the Louvre, the Eiffel Tower and Notre Dame Cathedral, you can also visit a number of sites with significance for the LGBT community, such as the grave of Oscar Wilde and the former homes of Gertrude Stein and Alice B. Toklas, among others.
Plus, there are dozens of gay-friendly cafés, bistros, bars and even LGBT-specific shops – enough to keep even the most enthusiastic visitor busy for weeks.
Lisbon
Packed with charming cobbled streets, world-class art galleries and some exceptionally unique architecture, Lisbon is the perfect mix of quaint history and modern style. It also has an electric gay scene centred on Príncipe Real and Bairro Alto, where you'll find an eclectic mix of bars, clubs and outdoor drinking areas.
Another great way to make the most of Portugal's sunny weather is to check out Beach 19, a popular gay nudist beach set in a scenic nature reserve.
Ready to go on vacation? If you are heading to one of these destinations or, why not, if you are thinking about visiting more than one in a year, remember that Columbus Direct is offering 10% off annual multi trip travel insurance for Europe; with this policy you can travel as many times as you like, so long as each journey begins and ends in the UK. In the rare event of a flight delay, you and up to four friends will be able to enjoy FREE* airport lounge access, all part of your Columbus Direct travel insurance! So you'll be able to enjoy complimentary food and drinks while you wait!
The Ultimate Guide To LGBTQ Travel in Eastern Europe
E astern Europe offers travelers a taste of the former Soviet Union, with babushkas hawking caviar by the kilo in bustling market halls and grand incense-fogged Orthodox churches. Hidden behind the Iron Curtain until 30 years ago, today there are many gay friendly places in Eastern Europe for travelers to explore.
But there is another side to Eastern European travel for the LGBTQ community. We need to keep in mind that gay rights and the general perspective of the people toward queer folx in the region is really quite retrograde. Spending time in Eastern Europe often feels a little like stepping back in time, to the era before equal rights, gay marriage and the general acceptance of LGBTQ people.
Though being gay is technically legal in all of the countries we are looking at in this guide, the reality on the ground might make you question this. The largely conservative populations of Eastern European countries aren't always open-minded, and many people have never been exposed to queer folx. But this is changing — albeit very slowly — and LGBTQ visibility in these countries may just further the cause for equality.
General advice for travel in this region
My personal advice is to be a little more discreet. If being discreet is something you can't stomach, it might be worth sticking to the most gay friendly places in Eastern Europe on the list. In most major cities, you're unlikely to have issues sharing a double room with your same-sex partner or friend, but in smaller towns and villages, you may come across issues. Public displays of affection between same-sex partners — especially two males — would most likely attract unwelcome attention, even in larger cities. And in certain countries — Russia, Ukraine, Romania, Georgia and rural Hungary — LGBTQ travelers should be cautious and make sure to do research before planning a trip to make sure any issues are minimized.
A perfect Eastern European adventure would ideally include both large cities and some smaller towns, so you can really get a taste of the culture. The problem here is that outside of large cities, gay and lesbian life is sadly nowhere to be seen. The internet is really the only way to make contact with other gay people, but using dating apps in Eastern Europe is strongly advised against. Because of this, it's best to stick with trusted friends (and friends of friends).
There are easier places for LGBTQ travelers to explore, but what you'll find here is a region of Europe that is culturally rich, complex, and illuminating. Here's the lowdown on seven popular countries that are — despite their flaws — worthwhile travel destinations, ranked from the least to the most gay friendly places in Eastern Europe.
1. Russia
The largest and perhaps most interesting country in Eastern Europe, Russia can be a complicated visit for many in the LGBTQ community. Nothing is ever what it seems — like those nesting matryoshka dolls that tourists buy in souvenir markets. When traveling in the Russian Federation, it's best to keep in mind that since 2013, there has been a law in place that basically makes it illegal to engage in the "promotion of homosexuality to minors," which they term "gay propaganda." Unfortunately, the vague way this law is written allows it to be widely applied by the police. Even holding hands with a same-sex partner outside a school could potentially trigger arrest, so it's wise to be cautious.
St. Petersburg and Moscow both hold yearly pride marches which have always been shrouded in controversy. Police often arrest LGBTQ activists now that they're shielded by the gay propaganda law. Because of this, visiting Russia for gay pride is currently not advised. Nevertheless, fun times can be had at some safe spaces — mainly bars and clubs –including Central Station, which has locations in both cities, Blue Oyster Bar in St. Petersburg, and Mono Bar in Moscow.
My personal experience from traveling in Russia
My personal impression from traveling around Russia is that most people keep to themselves and very few people go out looking for trouble, but you may notice some people staring. My partner and I were once denied a hotel room because it only had one bed, but this wasn't common. The Transsiberian Express staff didn't think anything of us rooming together, perhaps because the beds are singles on the train. Overall, it's far from the most gay friendly place in Eastern Europe, but it's an incredible place to visit.
2. Ukraine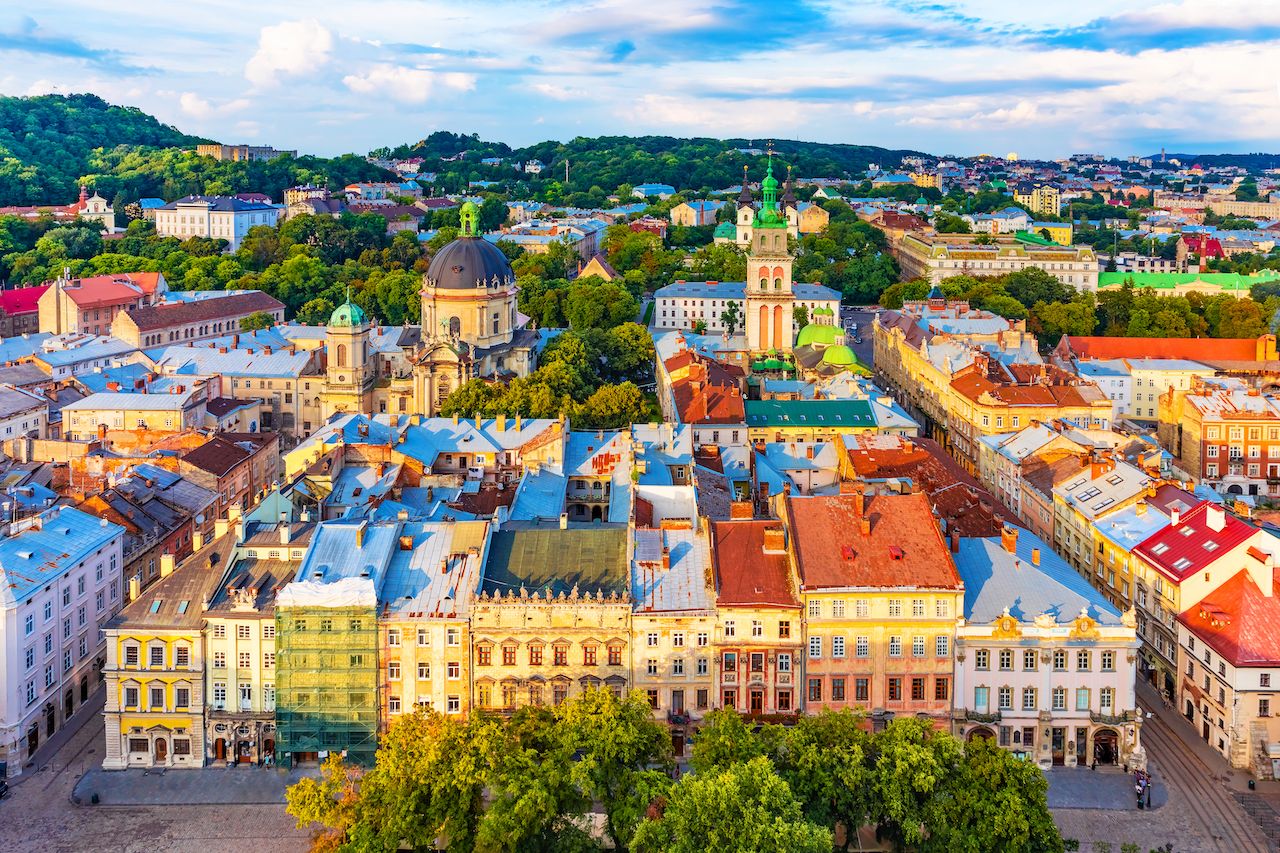 Ukraine and its capital Kyiv made me feel like I was immersed in a near-future sci-fi film, with soaring Orthodox towers and statues juxtaposed with gritty grids of socialist tower blocks. Kyiv isn't bursting with safe LGBTQ spaces, but there's LIFT, a gay dance club, plus many underground clubs such as Resident Advisor.
Kyiv is bustling and fascinating but in the western part of the country — very close to the Polish border — there's the lovely college town of Lviv. A city of 700,000 people, Lviv is packed to the brim with history and stunning architecture. It's also lively with many bars and restaurants, lending it more of a Western European feel due to its large population of students.
My personal experience from traveling in Ukraine
I found Ukraine to be warm and welcoming, although the locals do clock foreigners quite easily. "Don't tell people this," I was advised by a couple in their 20s that my partner and I were sharing a table with at a Kyiv Christmas market after we told them we were a gay couple. Nevertheless, this couple didn't seem to mind that we are gay and we ended up chatting for another half hour before polite goodbyes. The clerk at the hostel we stayed at — Dream Hostel in Podil — didn't bat an eye when we asked for a room with a double bed.
3. Georgia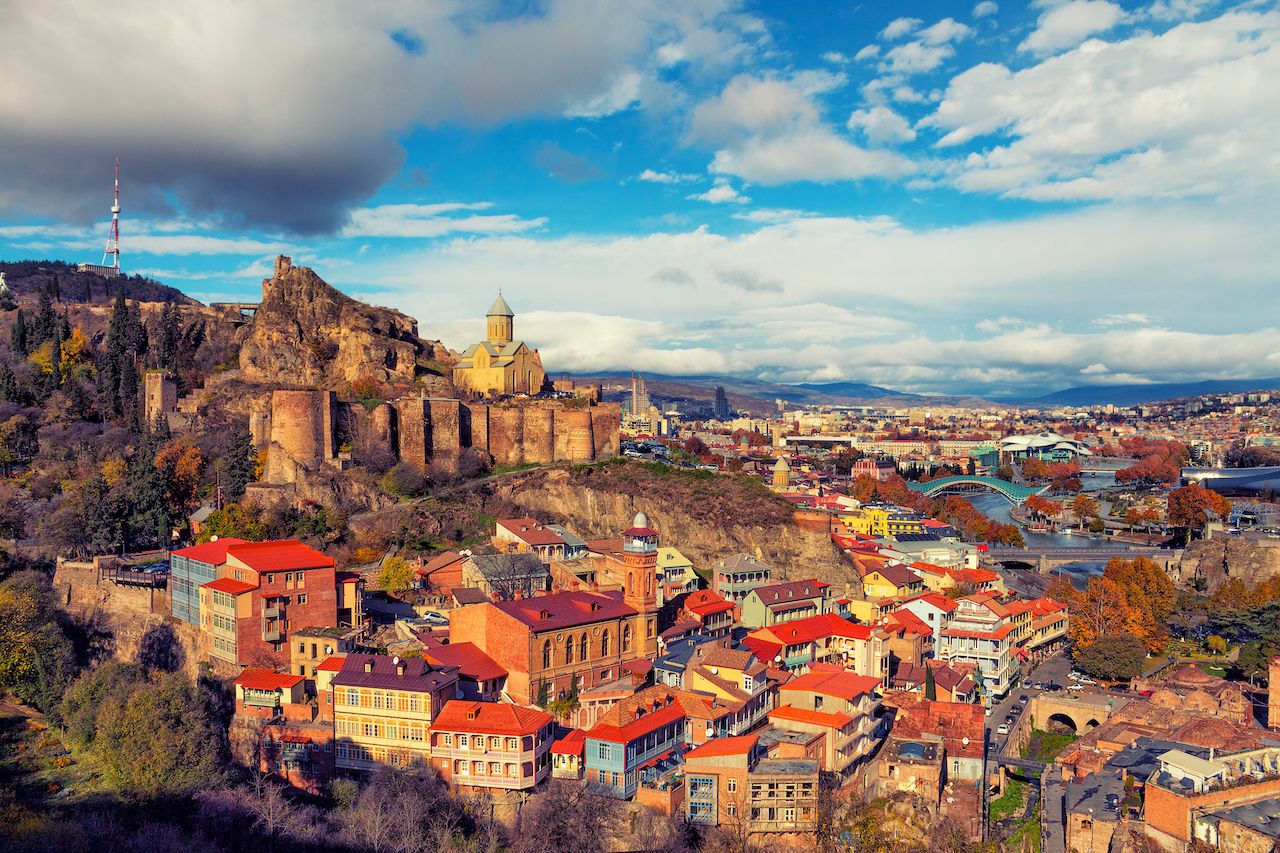 Mountains and caves, the oldest wine growing region on earth and fascinating cities filled with unique wooden architecture and ancient stone towers, Georgia is an up-and-coming destination, partially because it allows visa-free travel for US citizens for up to 365 days.
The LGBTQ community of Georgia is currently facing harsh resistance from its largely conservative population and the leadership of the Georgian Orthodox Church. This year, yet another pride month was marred with violence, counter-protests and arrests.
Tbilisi has recently gained a stellar reputation as one of the globe's top DJ scenes, with superstars flying in for endless nights at mega club and LGBTQ safe space Bassiani. There's also Café Gallery, the kind of warm and welcoming space that every city needs, a gallery/café/bar/club that accepts all types of people, from gay to straight to trans, and from young to old.
My personal experience from traveling in Georgia
The spaces mentioned above embody one of the secrets of LGBTQ life in not-so-friendly places — the communities are usually quite bonded and highly supportive of one another, making Georgia, at least in safe bubbles, one of the most gay friendly places in Eastern Europe.
4. Hungary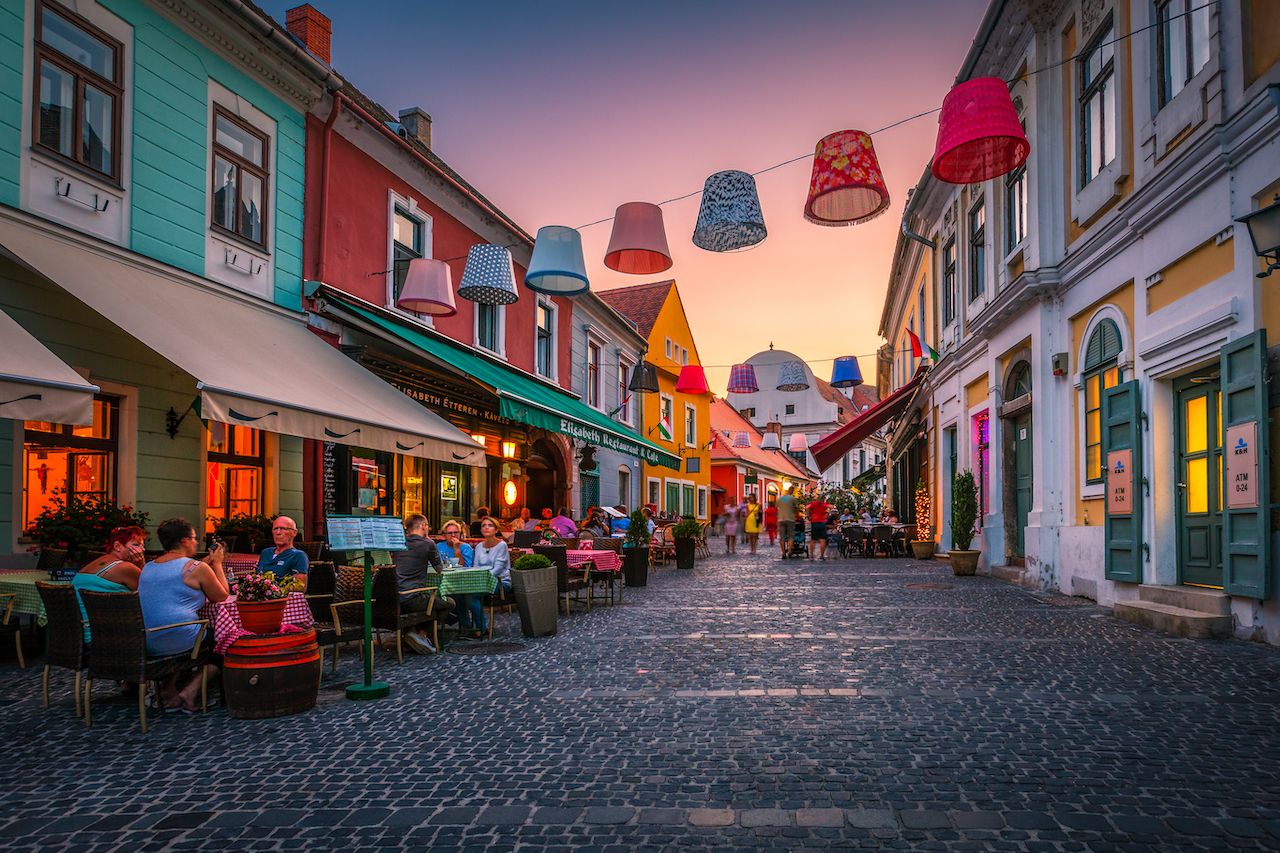 Hungary is grand, green, and impressive, and its capital, Budapest, is crammed with impressive buildings, scrappy ruin bars, and several monumental public spas with naturally warm spring-filled pools.
Although it's known as one of Europe's burgeoning party capitals, this reputation is changing. This is because Prime Minister Victor Orban has turned the clock back a few decades during his term by signing legislation that removes protections from transgender people. In 2021, he enacted further legislation that censors LGBT positive content from movies, books, or public advertisements, and severely restricts sex education in school, forbidding any information thought to "encourage gender change or homosexuality." Though the law is similar to Russia's anti-LGBTQ law, the public reaction has been very different as thousands joined this year's pride march to protest the legislation.
My personal experience from traveling in Hungary
Hungary is a fascinating country and was recently on the track to become a lot more liberal, but Orban has set it back considerably. This doesn't mean, however, that the people aren't accepting, because in general, they are, even in this conservative society. In the countryside and in smaller towns, due diligence is recommended because the lingering anti-LGBTQ sentiment of Soviet times hasn't completely faded away.
5. Romania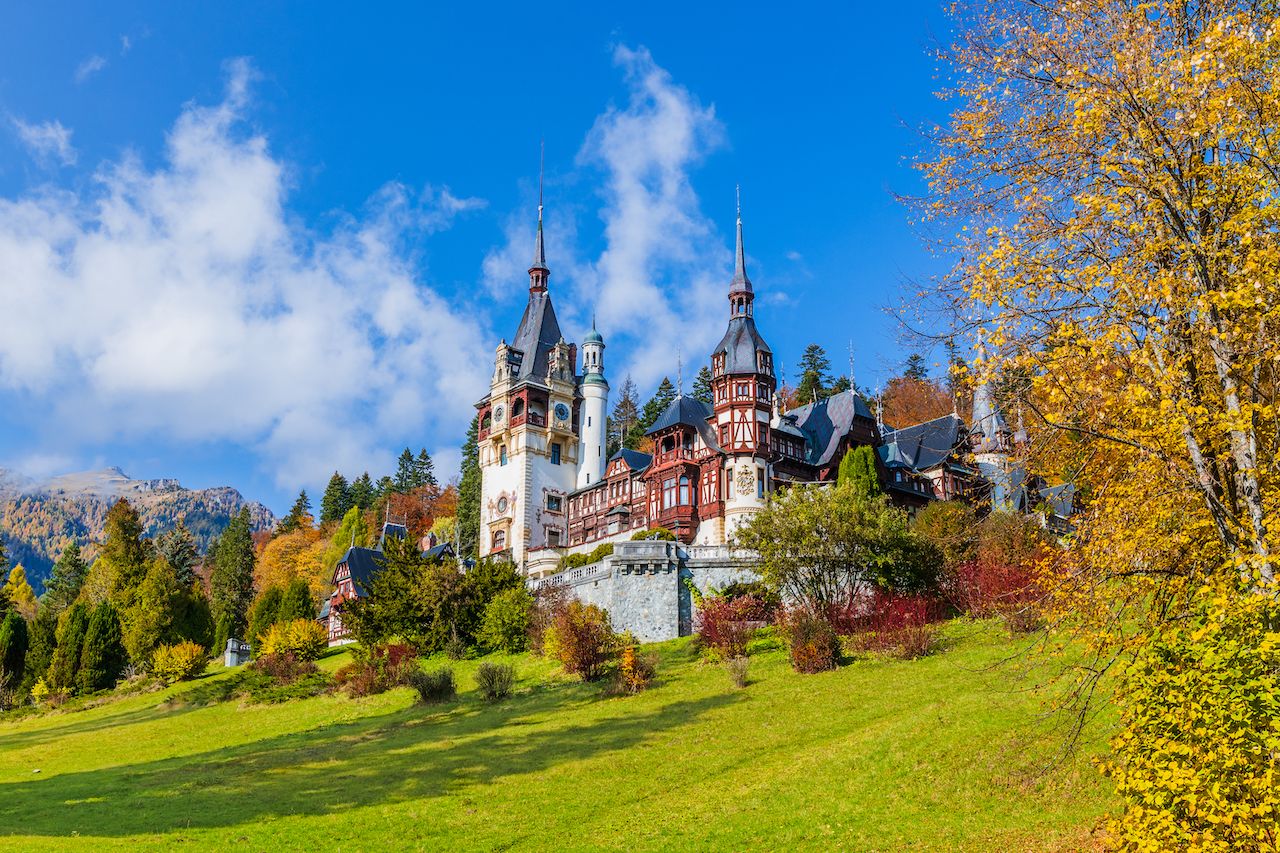 Mountainous and peppered with romantic storybook villages, Romania is also home to a heaving, enormous capital city — Bucharest. Romania's urban centers feel very safe, but nevertheless, it is advised that public displays of affection should be avoided because many people — police officers in particular — still garner some homophobia. There's an active struggle for LGBTQ equal rights in the country but progress is being made towards legalizing same-sex marriage with almost 50% of the population declaring support this year.
Bucharest and Cluj-Napoca are the safest cities for LGBTQ travelers. Thor's Hammer is a warm and welcoming gay bar in Bucharest and Cluj, a college town, is an accepting and safe environment for queer folx, mainly because the town has a young population.
My personal experience from traveling in Romania
I have never worried about travel in Romania and I've never felt any undue attention directed at my partner and I, but travelers should nonetheless exercise caution here. It is wise to contact the human rights non-profit Accept Association for advice on where to go and what to do before booking a trip.
6. Poland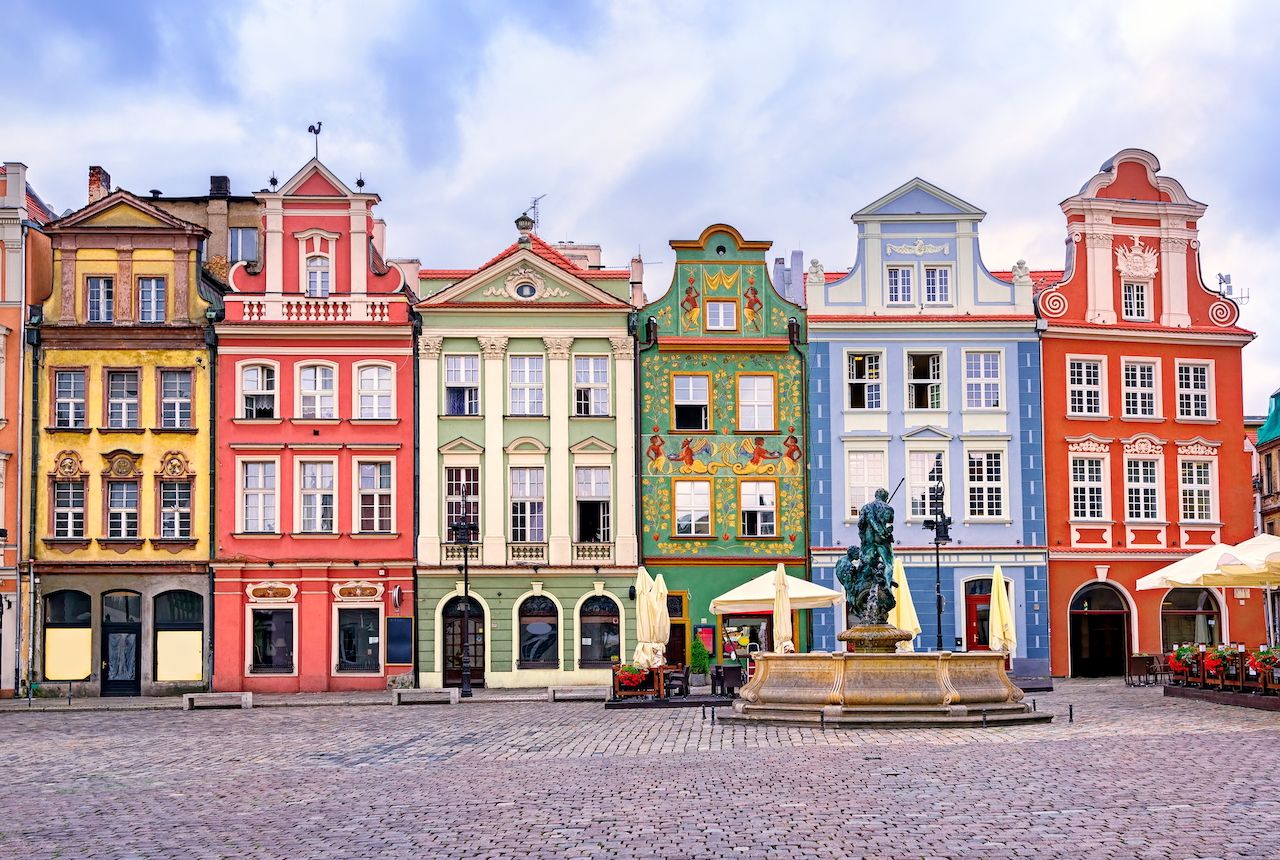 For LGBTQ travelers, Poland is a tale of two cities. In Warsaw and Krakow, gay people live relatively open lives, but when you leave the major cities, you find whole regions where there are literally no LGBTQ zones. But this isn't to say that Poland isn't progressing — in Slupsk on the Baltic Sea, the mayor is openly gay.
My personal experience from traveling in Poland
Personally, I have always found Poland to feel more akin to Germany rather than other places in Eastern Europe. With that being said, when in smaller towns and rural areas, I found it best to avoid undue attention by not displaying affection in public and requesting single beds in small hotels and inns.
7. Czech Republic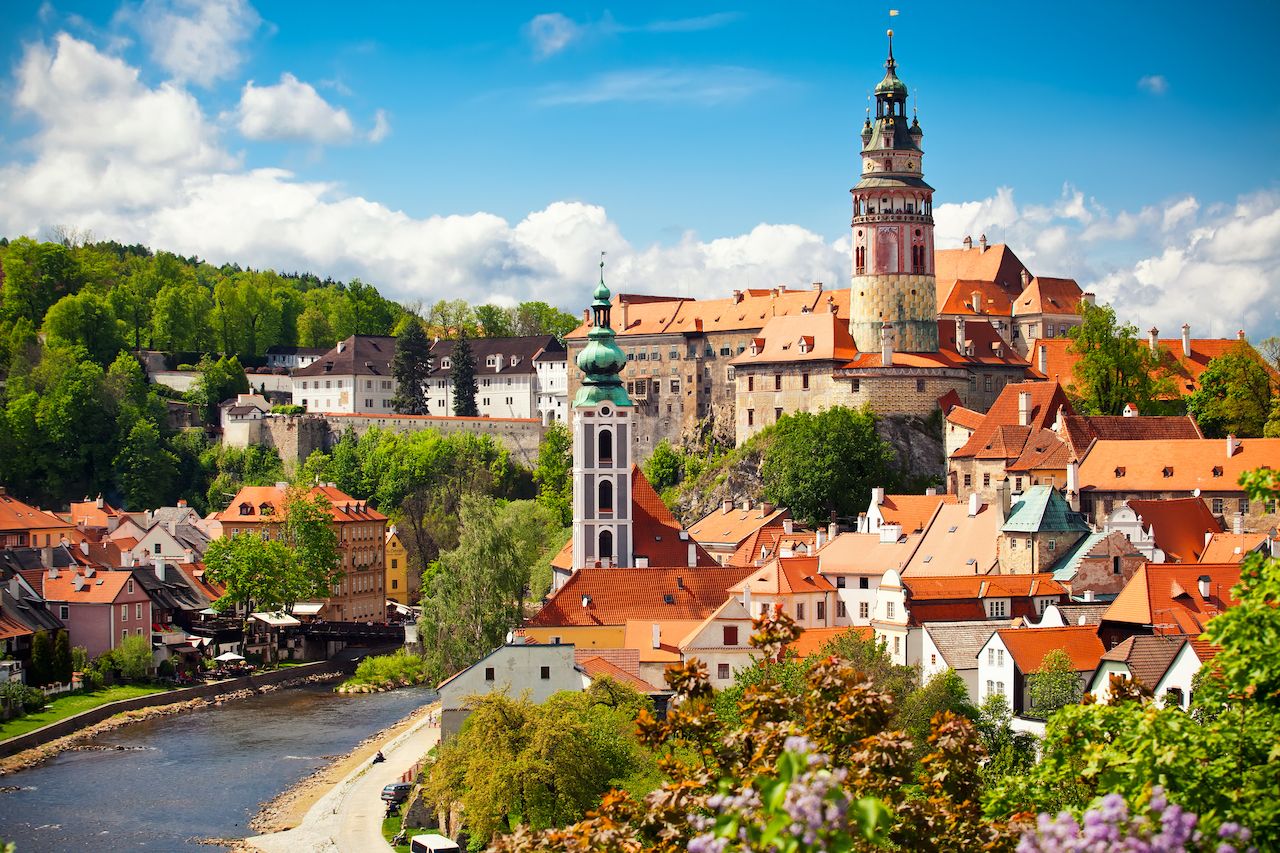 Much has been written about Prague, with its completely intact and charming old town, castles, thriving hipster and expat scenes, affordable prices, and mass tourism. It really is a special place and the Czechs are open and accepting to outsiders. Gay partnerships have been legal since 2006 and compared to the rest of the countries on this list, the Czech Republic is a virtual gay paradise. Here, LGBTQ travelers can still get a taste of that alluring former socialist Soviet feel but also feel relatively safe. Prague Saints, an LGBTQ travel agency, have an ongoing list of safe spaces and events that travelers can consult.
My personal experience from traveling in the Czech Republic
To me, the Czech Republic feels more like Western Europe these days, and in truth, it was always in the far reaches of the Soviet Union's influence. Today, LGBTQ travelers can feel like themselves, especially in Prague, but there may be some lingering strange looks in smaller towns and rural locations, so as always, use caution and maintain discretion.
The 7 Most Fabulous Vacation Destinations for LGBTQ Travelers in 2022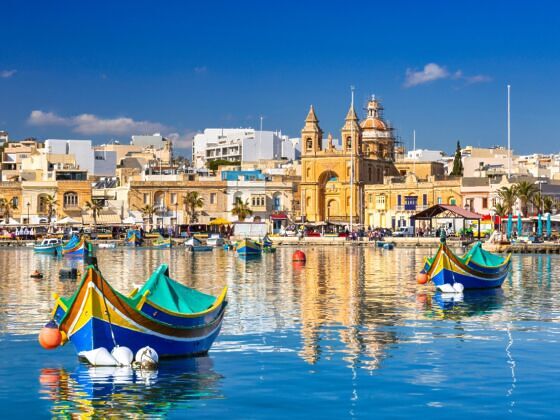 A fter nearly two years where LGBTQ travelers made peace with expecting the unexpected, it's time to change the narrative by queering the adage. What if expecting the unexpected means discovering places far from gay travel destinations like Puerto Vallarta, Mykonos, or NYC and leaning into the unknown?
What if travel in 2022 is about becoming a modern Magellan by steering clear of the well-trod path?
LGBTQ travelers tend to stick to LGBTQ-friendly locations — and for good reasons. Visiting destinations known for queer inclusivity can be safe, relaxing, and liberating. But this year, consider breaking with tradition. Many parts of the world are becoming increasingly accepting of the LGBTQ community. Opting to visit some of these less-frequented locales often means lower prices, fewer tourists, more opportunities for authentic local experiences, and the chance of becoming a true LGBTQ trendsetter.
As countries continue opening borders to visitors, consider the world your rainbow-colored oyster. Take advantage of its spoils by putting one of these seven surprising gay travel destinations on your gaydar for 2022.
We hope you love the spaces and stays we recommend! Just so you know, Matador may collect a small commission from the links on this page if you decide to book a stay. Listed prices are accurate as of the time of publication.
1. Zipolite, Mexico
The bohemian beach destination no one told you about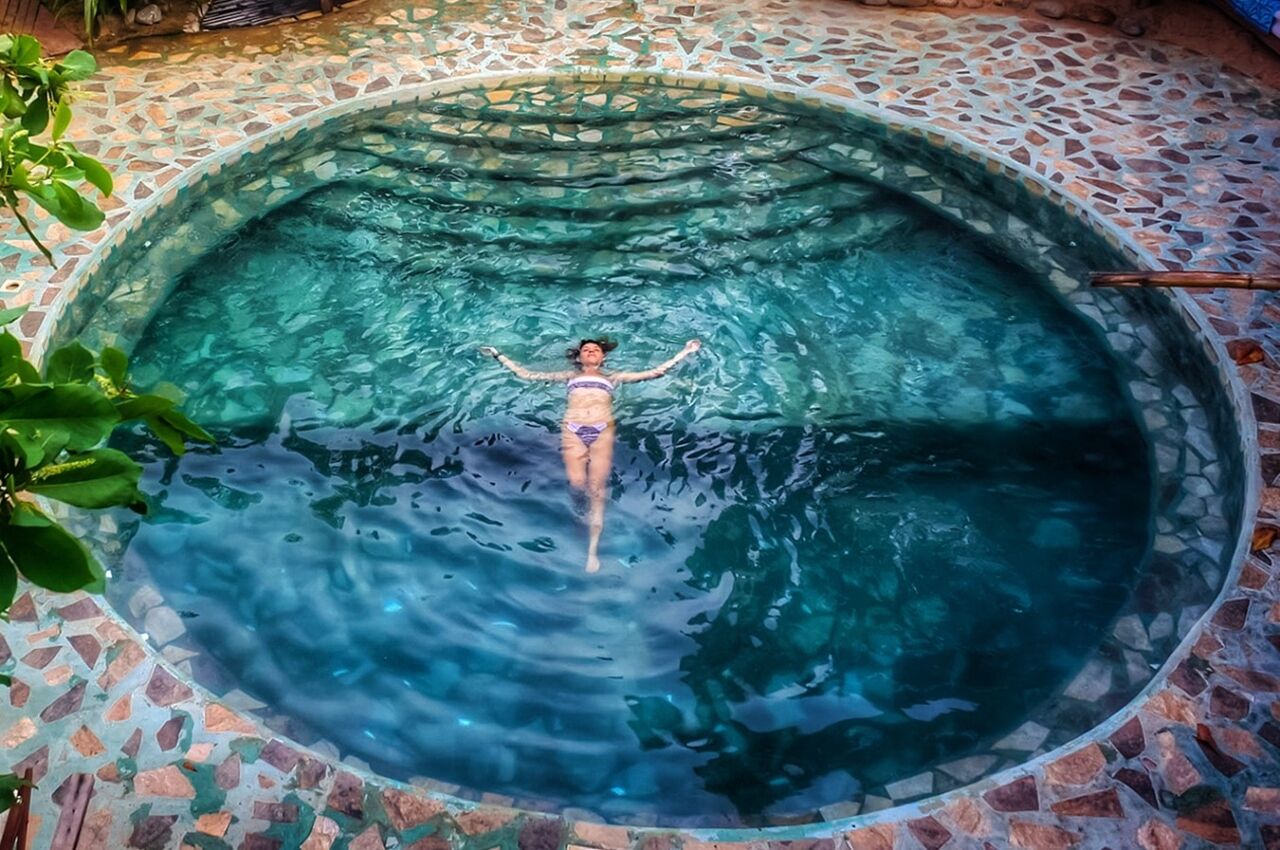 Sail south of Puerto Vallarta's resort-packed streets, and you'll eventually land on the banks of Zipolite — Oaxaca's best-kept LGBTQ secret. This beachfront bohemia is a far cry from the bustling resorts that colonize the country's most famous destinations. It's also a literal beach-bum oasis: Playa Zipolite is Mexico's only legal nude beach — a mile-long expanse where gray-haired hippies bake their precious jewels on the glitter-gold shoreline.
The town's anything-goes attitude toward swimwear extends to LGBTQ life. Playa del Amor, the gay beach, attracts a diversity of visitors; it's not uncommon to see groups of gay men and older straight couples sharing the shade under thatched-roof palapas. ChiZme, Zipolite's inaugural gay bar (which opened in 2018), is an all-are-welcome watering hole. Even Demetria, a gay beach bar, enjoys the company of a mixed crowd. It's easy to see why – the outdoor seating knows no prejudice when it's time to soak up the sunset.
A trip to Zipolite is a non-stop siesta – a way of life supported by the region's spotty cell service. Be it clothes or connectivity, a vacation to this haven is about shedding the world's worries and enjoying what this untouched coastline offers in abundance: sun, sand, and a chance to unwind.
Where to stay
No shirt, no shoes, no problem — that's what you'll find at "hetero-friendly" Casa Nudista, an LGBTQ hotel where guests can toss their pants off upon stepping inside. Guests stay in refreshingly bare-bones bungalows and have access to an on-site pool and cafe. Even if you don't stay here, stop by for a visit — it's only a two-minute stroll from the beach. A day pass gives guests access to the hotel's shared amenities. On Saturdays, a nude pool party kicks off in the late afternoon.
2. Park City, Utah
The adventurous gay ski getaway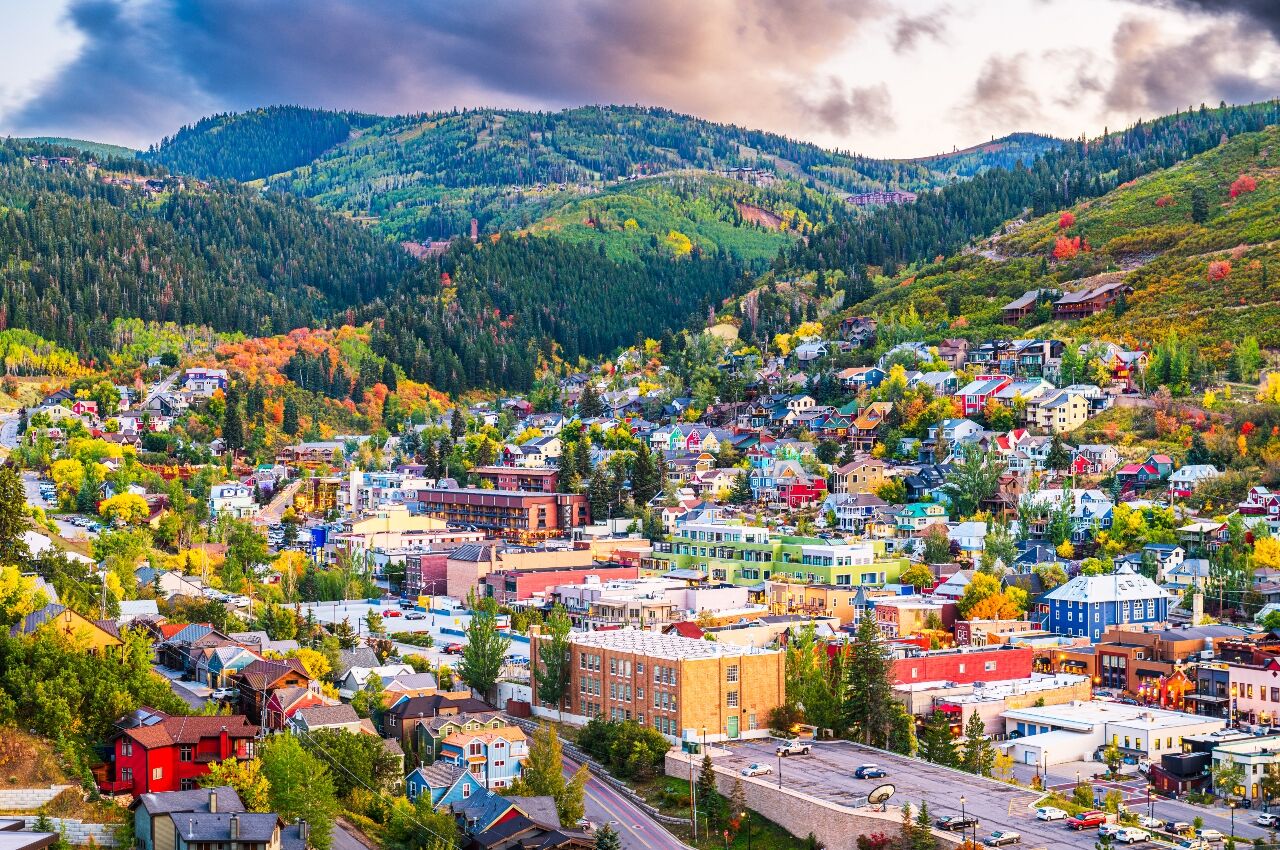 If cities were drag artists, Park City would be a Drag Race winner. This tiny Utah town tucked into the dramatic Wasatch Mountains is the ultimate shape-shifter. In January, it dolls up like Hollywood-in-miniature for the Sundance Film Festival. In February, it transforms into a queer circuit club for the annual gay ski week Elevation Utah. The city dresses in rainbows to celebrate in June, and though the rest of the year isn't decidedly queer, Park City always welcomes a colorful mix of visitors who inject this rural enclave with progressive values.
Park City's proximity to Salt Lake City is an added bonus. Located thirty minutes away by car, SLC boasts more LGBTQ residents per capita than uber-queer Los Angeles; LGBTQ politicians in city council outnumber straight officials by six to four. Of course, visitors will still find conservative pockets in other parts of Utah, but even those seem to be slowly changing their attitude toward queer life: in 2021, the state voted to recognize June as LGBTQ month.
For the quintessential Park City experience, visit in winter, when the snow-covered acropolis attracts a global roster of LGBTQ skiers. After last year's hiatus, Elevation Utah will come roaring back to the mountains from February 23-27 with outdoor adventures and indoor dance parties to celebrate the gay-led organization's 20th anniversary.
If hitting the slopes sounds unappealing, consider a trip in summer or fall. Park City is an ideal home base for outdoor enthusiasts interested in hiking craggy peaks and wild woodlands just outside of town.
Where to stay
Park City Peaks Hotel, the official host hotel for Elevation Utah, is a midcentury-modern boutique retreat with easy access to the town's top sites. A free local bus stops in front of the hotel and shuttles guests to the ski resorts and downtown.
3. Belgrade, Serbia
The Pride celebration that serves a greater purpose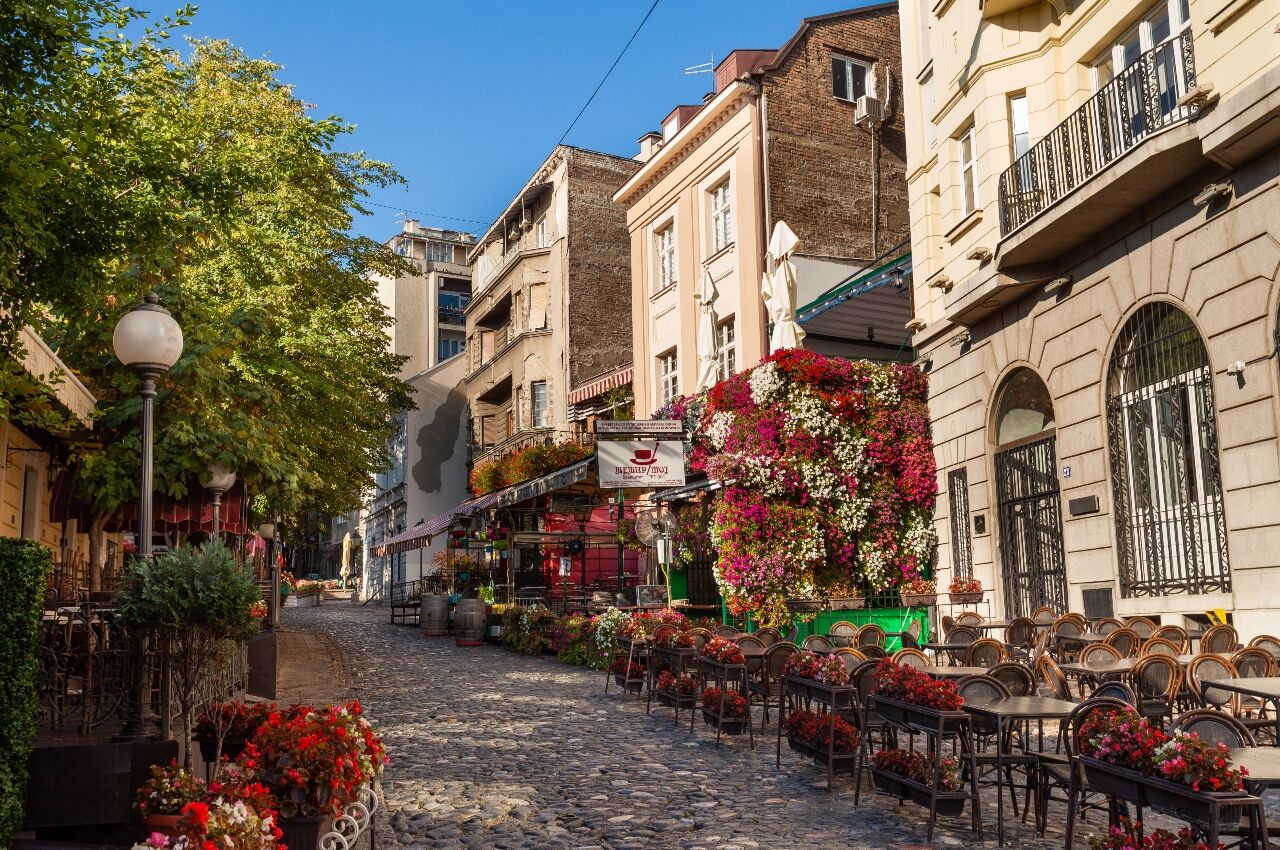 In September 2022, Belgrade will host EuroPride — an exciting development for a city with a tumultuous queer history.
"The first Pride was a protest" may be a slogan honoring Marsha P. Johnson-era America, but it's a modern memory in Belgrade. When the Serbian city held its first Pride march in 2001, it ended in violent clashes incited by right-wing extremists. The march returned in 2010 and was met with extremists who threw Molotov cocktails and shot rubber bullets. But in the past decade, LGBTQ life has improved significantly, and this year's Pride gathering is a sign of the city's growth.
Considering Serbia's tenuous relationship with the rainbow flag, there are a surprising amount of LGBTQ haunts in Belgrade. Smiley, a cozy queer bar, serves coffee by day and cocktails by night. Musk Machine is a swanky gay nightclub open on weekends. Many of the bars around the Cetinjska district cater to queer-friendly crowds, and the nudist section of Savka Lake Beach attracts an LGBTQ crew.
What makes Belgrade a worthy LGBTQ destination isn't its all-are-welcome energy but its gritty mash-up of old and new. There's Hapsburg-era architecture next door to post-war modernist structures. Orthodox grandmothers from communist Yugoslavia share dinner tables with a generation raised with a lesbian Prime Minister. Like the Danube and Sava Rivers, culture here clashes head first and at the city's heart. In this turning tide, Belgrade is finding its queer footing in a manner both messy and mesmerizing.
Where to stay
Don't let the humorless Bauhaus facade fool you — Square Nine's Scandi-style interior feels like a warm hug. It might be hard to leave the embrace of the gezellig suites, but getting stuck inside would be a shame. The hotel is only a short stroll away from Belgrade's trendiest pedestrian strip and some of the best LGBTQ bars in the Balkans.
4. Baltimore, Maryland
America's queerest up-and-coming city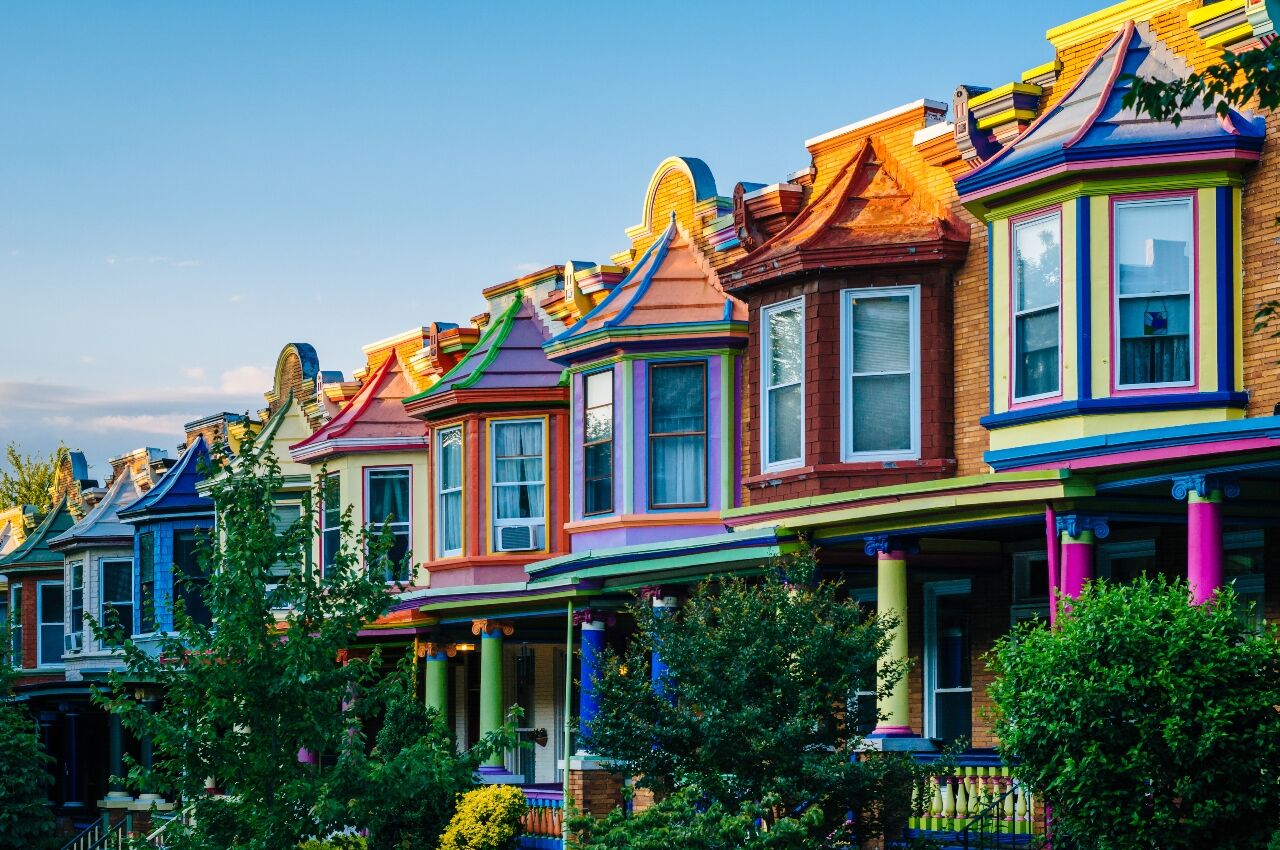 Baltimore often gets overlooked as elegant Washington DC's scrappy little sister, but it's not called Charm City for lack of appeal. Quirky, artsy, and seriously stylish — this once-trusted industrial town is polished to become one the coolest destinations on America's East Coast.
The city's wonders might be news for many travelers, but they're old hat for LGBTQ residents. Baltimore is where gay filmmaker John Waters and drag diva Divine got their start in the 1960s. Leon's — a gay leather bar — started slinging drinks in 1957 and never stopped. Mount Vernon, a historic district adorned with 19th-century architecture, has been the town's de facto gayborhood for decades, and queer locals have been celebrating the art of drag since at least the 1930s. According to data from the American Community Survey released in 2021, Baltimore currently has a higher percentage of same-sex married households than LGBTQ hotspots like NYC, Los Angeles, and its next-door neighbor, DC.
The divey Drinkery, recently-opened Central Bar, and friendly Rowan Tree are a few of Baltimore's best local gay bars. Gertrude's, a gay-run eatery renowned for their Chesapeake Bay crab, is a must for local cuisine. An annual Pride parade takes place every June, and Black Pride takes place in September. But a trip to Maryland's biggest metropole shouldn't only be focused on queer fun. Nosh on artisanal treats at Mount Vernon Marketplace, check out out-of-the-box art at the American Visionary Art Museum, and step inside the opulent Evergreen House to ogle Gilded Age artifacts. Baltimore is chockablock with treasures waiting to be uncovered.
Where to Stay
The recently-renovated Hotel Revival, located in Baltimore's LGBTQ-friendly Mount Vernon, offers colorful accommodations in a former private mansion built in 1929. Head to Topside, the hotel's rooftop bar, for unmatched views of the nearby Washington Monument.
5. Quito, Ecuador
A South American capital at the forefront of LGBTQ rights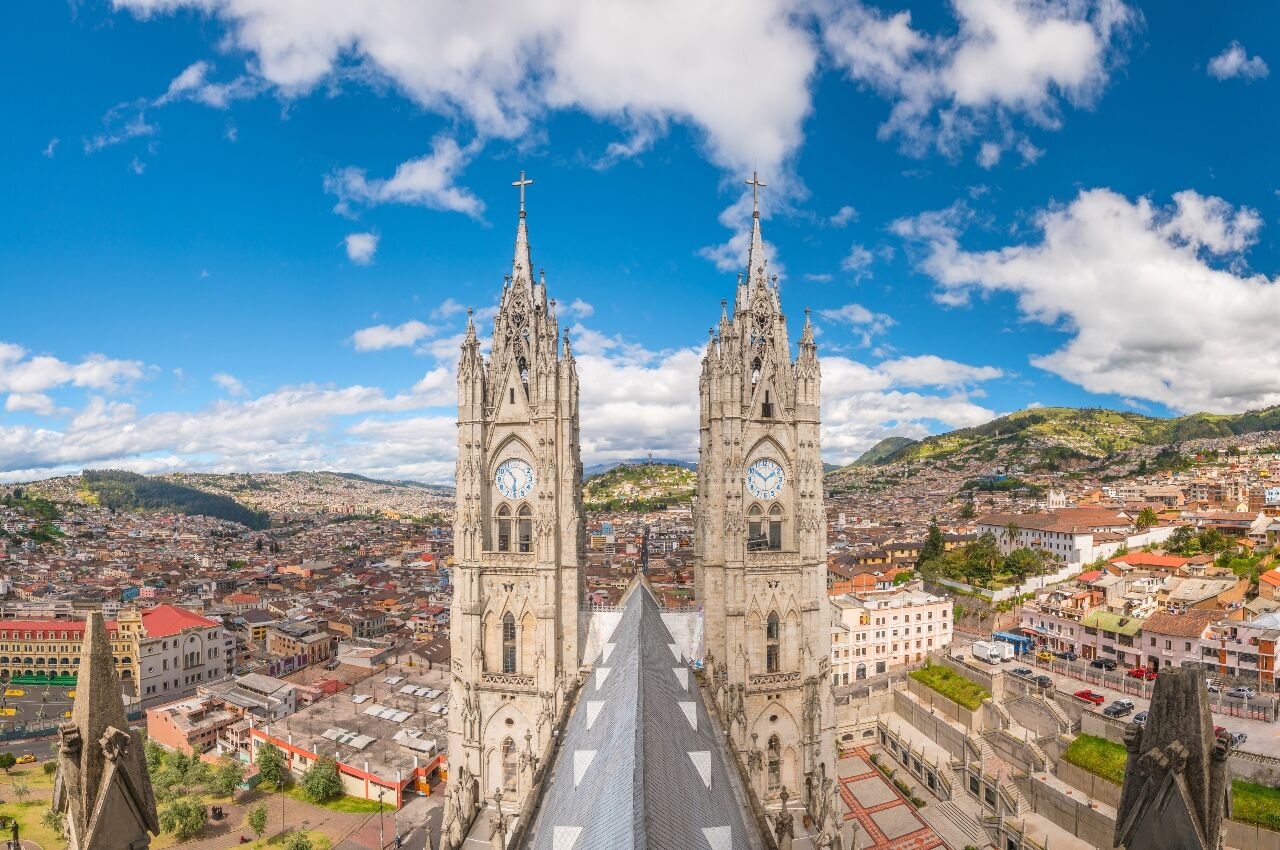 Ecuador's heavenly capital, perched 9,350 feet above sea level, is a city close to God. Church spires shoot into the sky like the nearby Pichincha Volcano. A reliable fog blankets the city around bedtime and flies away on angel wings in the morning. It's hard not to consider the Catholic religion's pivotal role in culture while walking through Old Town — the UNESCO World Heritage Site is filled with Spanish Colonial facades and dozens of places to worship. But this celestial metropolis isn't stuck in old-school ideology. Quito boasts one of the most liberated LGBTQ communities in Latin America.
In 2019, Ecuador legalized same-sex marriage. As of 2016, Ecuadorians have the right to self-declare their gender identity on legal documents. The country is one of a handful in the world that outlaws conversion therapy, and the constitution grants equal rights to all regardless of sexual orientation or gender identity.
Quito is the country's queer capital, and the Mariscal district, also known as the Zona Rosa, is its beating heart. This is where you'll find El Hueco, a gay dance club that welcomes a mixed crowd. Further afield lies Kika, a slick gay spot that turns into an up-all-night Discoteca at 11:00 PM. La Disco Bitch is where queer 20-somethings groove to Latin pop. The city's Pride festival takes place every June, and in November, Quito's LGBT film festival celebrates the latest in queer cinema.
Most LGBTQ-centric offerings take place at night, leaving visitors time to explore Quito's surrounding wilds during the day. Taking the Teleférico aerial tram up to Cruz Loma is a must: the viewing platform, located roughly 13,000 feet above sea level, overlooks Quito and its surrounding mountains. Cotopaxi National Park, home to the snow-capped Volcán Cotopaxi, is only an hour away and makes for a refreshing day trip. Travelers to the Galápagos Islands will likely fly through Quito on their way toward the Pacific Coast, and tacking on a few days to see the Ecuadorian Andes is a worthwhile detour before hitting the high seas.
Where to stay
Book one of the kitschy-themed rooms at Ikala Quito Hotel, located in Zona Rosa, for its dash of local flavor. The decor in each suite draws parallels to what you'll find in Ecuador – Ancient Incan history, colonial grandeur, tropical climes, and rugged mountains. Breakfast is included, so you can grab a meal before you hit the ground running.
6. Malta
The world's most progressive country for queer folks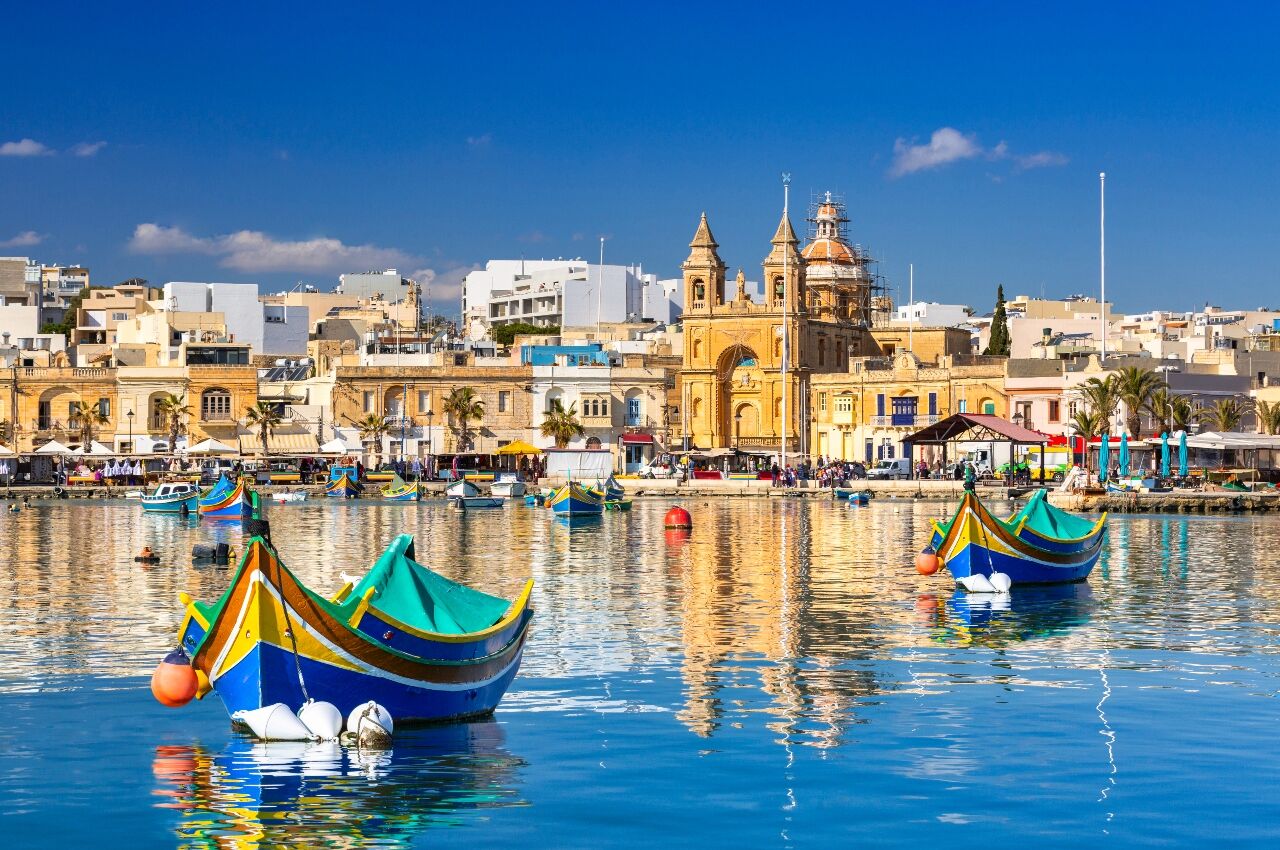 Malta might be one of Europe's tiniest nations, but when it comes to LGBTQ rights, no country has taken bigger strides toward equality. According to the Spartacus Gay Travel Index from 2021, the only nation more queer-friendly than Malta is perpetually-kind Canada. Malta is a place where same-sex couples stroll hand-in-hand without worry and where gender identity is a non-issue.
The country's inclusive attitude is a reflection of its hodge-podge culture. This pearl of an archipelago, located south of Sicily and surrounded by the cerulean Mediterranean, has attracted a lengthy list of conquerors who have all left their mark. Roman, Arab, Spanish, French, and British influences can be found in local architecture, language, art, cuisine, and customs. Valletta, the capital, welcomes visitors with its modern Renzo Piano-designed gate and pampers them inside Baroque sandstone townhouses and sun-drenched Italian palazzos. It takes only a few minutes to leave the big-city buzz for a countryside swept with wildflowers and scrubby pines. Deep-sea adventures and secret swimming holes await on the coastline, and the next great experience is always a short drive away.
The queer scene isn't as large as a Meditteranean magnet like Mykonos, but it's still mighty. Pembroke Beach, the unofficial gay seaside hang, is a fifteen-minute drive from Valletta, as is Michelangelo, Malta's gay nightclub. Maori, a lesbian-owned bar adorned with quirky art, peers over the HMS Maori shipwreck off the Valletta coast. The Birdcage Lounge, a queer-friendly cocktail bar, hosts drag shows and kooky cabarets in the nearby village of Rabat. Lollipop, a house-and-disco dance party, throws queer-centric pop-up events once or twice a month.
Where to stay
The super-swanky Rosselli AX Privilege is a lux boutique hotel that pairs Valletta history with sleek modern amenities. Between the stylish suites, outdoor pool with panoramic views, and on-site Michelin-starred restaurant, a stay here will make you feel like Maltese nobility. The truth isn't far off — this Baroque palazzo was originally the 17th-century home of a Knights of Malta member.
7. Winnipeg, Canada
The LGBTQ enclave at Canada's geographic center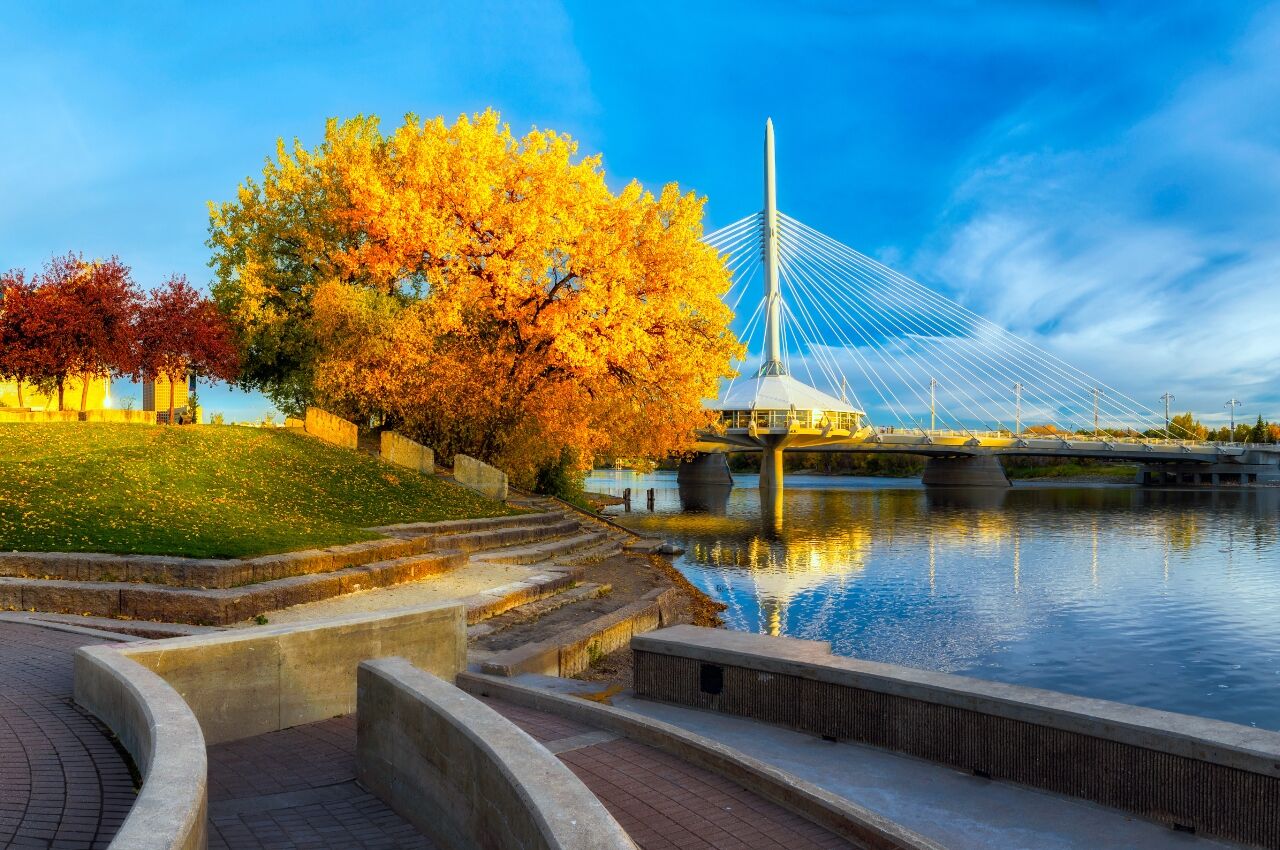 Canada regularly ranks among the safest countries for LGBTQ travelers thanks to its liberal laws and friendly population. Montreal, Toronto, and Vancouver are its obvious centerpieces, with vibrant gayborhoods that support diverse LGBTQ communities. But these aren't the only Canadian metropoles with lavender likability. Winnipeg, the prairie capital of the Great White North, is home to an exciting queer scene worth international praise.
In 1998, Winnipeg made headlines by electing Glen Murray, the first openly gay mayor to serve a major North American city. Pride Winnipeg, an annual ten-day festival, started painting the town in rainbows in 1987. Reel Pride Film Festival, a non-profit that shares queer stories in cinema, started turning local silver screens kaleidoscopic in 1985. When the Canadian Museum for Human Rights opened in Winnipeg in 2008, it became the world's first museum dedicated solely to exploring human rights. Queer life is as much a part of Winnipeg as the Red River running through it.
LGBTQ culture centers around artsy Osborne Village – home to indie theaters, crafty boutiques, and trendy eateries that serve international fare. For after-hours fun, locals head to Club 200 — a decades-old gay disco — and Fame Nightclub, known for its top-tier drag shows and themed parties.
'Winterpeg,' an apt nickname, is located due North of Minnesota and smack-dab in the middle of Canada, which translates to temperate summers and beer-freezing winters. In warmer months, the city hums with farmers' markets and outdoor concerts. When the Red River ices over, locals head to Arctic Winter Glacier Park for skating and tobogganing. If the cold becomes too much to bear, gay men heat up at the Adonis Men's Spa. But no one worries about winter in the 'Peg – it's the kind of city where folks don't fuss about frigid temperatures. Instead, they dress in layers, strap on some snowshoes, and make the most of their city's frosted spectacle.
Where to stay
The Alt Hotel Winnipeg, located near the city's artsy center, is a colorful fortress with ultramodern rooms. Osborne Village is a five-minute drive away, and Club 200 is within walking distance.
Source https://www.columbusdirect.com/content/the-10-best-lgbt-destinations-in-europe/
Source https://matadornetwork.com/read/guide-lgbtq-travel-eastern-europe/
Source https://matadornetwork.com/read/gay-travel-destinations/