How travel from european union to brithish virgin islands
Planning a vacation in the British Virgin Islands? This post discusses some tips and tricks to making the journey from wherever you are to the British Virgin Islands. One of the first tips to know is that for most people, you don't actually need to fly to the BVI themselves. The post also gives tips if you are not able to pass through the United States on your way to the British Virgin Islands. Actually did you know the cheapest way from Europe to the BVI is not through the US? Read on.
If you want to get to the British Virgin Islands from the US, your best bet is to fly to the USVI.
Let's start these travel tips by looking at where the BVI are located. Then we will look at more specific tips if you are flying from the US. Following that we will explore "non-US" options. Then we can cover the ferry system in operation. Finally we look at the last mile: taxis and rental cars in the BVI.
Where are the BVIs located?
The British Virgin Islands lie at the top of the leeward islands, just east of Puerto Rico. Now let's look at a close-up view of the individual islands in the BVI, focusing on the four main islands: Tortola, Virgin Gorda, Anegada and Jost van Dyke. If you would like a pdf of this map, click here and we will send you one.
The above chart shows a typical sailing route around the British Virgin Islands, starting in Tortola, heading past the southern Islands like Norman, Peter, Cooper, exploring Virgin Gorda, then Anegada, on to Jost Van Dyke, then back to Tortola. If you want one sent to you here is the link once again.
Your starting point matters
Where you begin your journey is important to how you get there (sounds elementary but it needs to be said). The three main points of entry are the US, Canada and "non-US" (mainly Europe).
Coming from the United States
Most people enter the Virgin Islands from one of the major US hubs, flying into the US Virgin Islands (namely St Thomas, airport code STT). This airport offers non-stop flights from New York, Miami and Atlanta among others. The fact that there are larger jets making regular trips means efficiency is relatively high, so prices are low. For instance you can find return tickets between New York and St Thomas for $350.
Coming from Canada
Many Canadians head to the Virgin Islands during the winter months. One-stop flights between Toronto and St Thomas make this a very doable proposition. You can find return flights for less than $500 with the major carriers.
Coming from European Countries
"I'm flying from Europe and want the best way to get to the BVI"
We hear this a lot. You have a few options. If you want to travel through the US, you can look at a transatlantic flight between London and New York. Then as described above you can connect between New York and St Thomas. If you are not willing or able to pass US territory (or want to get an even better deal much of the time), see below.
"I'm just am not able to fly through the US at all"
For those travellers who simply cannot obtain the requisite US visa, all is not lost. One option is to fly to St Martin (SXM) and connect with the local carrier (such as Liat) to Beef Island in Tortola (EIS). The main airport in St Martin is on the Dutch side so is well serviced with daily flights from Amsterdam's Schipol Airport (AMS) – just over 8 hours and just under $800 for a one way ticket.
There are cheaper options (especially if you are coming from France). You can fly nonstop from Paris Orly to Guadeloupe for $500 one way. Once you have reached St Martin, Martinique or Guadeloupe, a local carrier can take you to Tortola's Beef Island airport for around $160 one-way. One point to note; any time you take the smaller local airlines, you will find prices are high and reliability is less than certain.
"I hate ferries, can I fly the last bit?"
Certainly. If you are prone to sea sickness this is an option (although swapping a ferry for a small plane may not be the best trade ever in the history of trades). Although the ferries are used by most travelers, you are able to fly between the USVI and BVI – you tend to fly via San Juan (SJU). I haven't mentioned San Juan in Puerto Rico but that is a valid way to get into the BVI. It's just that due to generally poor connections it is not recommended. However if you wish to spend a couple of days there as part of your holiday go right ahead.
"What are the local airlines like?"
The main airlines servicing the various Caribbean islands are Liat, Seaborne and Cape Air. There have been very few safety issues to worry about (ie. don't worry). The main thing people talk about is the reliability of the airlines. Allow yourself a grace period between when the airline is scheduled to arrive and when you need to arrive.
Ferries
Ferries between St Thomas (main island in the USVI) and Tortola (main island in the BVI) take around one hour. The main providers are Native Son Ferry, Inter Island Boat Services, Road Town Fast Ferry and Smith's Ferry Services. Of that list, some are twin-hull catamarans and so tend to be more efficient and less noisy than the others. The cost of the ferry is approximately $40 one way and a slight discount for return. Note that you will need to pay a $20 departure tax when leaving the BVI.
Auto Rental in the BVI
The BVI suits car rental. It takes almost an hour to drive from one end of the island to the other. The trick here is to book in advance. By this we mean make your booking on one of the car rental aggregators such as Rentalcars.com and Expedia before you get to the BVI. You can save up to 50% by doing this. Day rates for a small Suzuki Jimny on a "walk in rental" basis are around $65. Booking in advance will get you a better deal.
Taxis in the BVI
Taxis are not cheap yet friendly in these parts. A trip from Beef Island airport (EIS) to Road Town (the main town in Tortola) will cost around $14 per person if there are a couple of you, with a minimum spend of $27 (meaning if you are on your own it will cost $27, and if you are more than three people it will be $12 per person). Here are some other trips' estimated prices:
Beef Island (Airport) to Road Town: $27/person (1pax), $14/person (2pax), $12/person (3 or more pax)
Beef Island to West End: $50/person (1pax), $25/person (2pax), $20/person (3+pax)
Road Town to West End: $27/person (1pax), $14/person (2pax), $12/person (3+pax)
Buses in the BVI
There is a bus service but its main objective is to look after workers and school children. As such I would suggest against relying on a bus to deliver you on the last mile.
Hitchhiking
If you are a solo traveler on a budget (or if you get stuck somewhere), hitchhiking is a perfectly valid way to get around. Just be prepared to wait a while.
Conclusion
The British Virgin Islands are a tremendous place to have a vacation. You might find your best bet is to fly between New York (or Miami) and St Thomas, then take a ferry to Tortola. Once in Tortola your two main options are to take a taxi (expensive) or rent a car (book online in advance).
Sailing Virgins offers world-class sailing instruction in a fantastic location. Hop on our boat for a liveaboard adventure around the various islands. Check out our courses by clicking the Courses tab above. For a free pdf showing a sailing map of the BVI, click the button below.
Getting to, Travel to, Visit Tortola, British Virgin Islands
The British Virgin Islands has connection hubs that you must usually fly to before connecting on a direct flight or ferry ride to Tortola, British Virgin Islands.
If you are not familiar with these "connection hubs" that get you to the British Virgin Islands please visit the below link before continuing to read.
Getting to Tortola via the Connection Hubs
Getting to Tortola via ST. Thomas USVI (used by many U.S.A. visitors)
Let's continue. Usually the most affordable way to get to the British Virgin Islands from the United States of America is to fly to connection hub St. Thomas, United States Virgin Islands and then Travel to Tortola, BVI via Ferry Services. Flight from St.Thomas USVI to Tortola BVI are available but are more seldom and expensive but we'll get to that later. The connection hub St. Thomas USVI has direct flights from New York, Atlanta, Florida and much more.
Airlines that operate to St. Thomas USVI includes American Airlines, Delta Spirit Airlines, Continental Airlines and US Airways and more.
What you should consider when using this route to get to Tortola BVI.
Ferries do not operate at night. The last ferry usually leaves St. Thomas for Tortola BVI at around 4:30pm.
Ferry schedules between Tortola, BVI and ST. Thomas. USVI and travel information.

ISLANDS MAP OF BVI & FERRY ROUTE MAP
Your plane flight should arrive in St.Thomas by 3:30pm to give you enough time to make a connection with the ferries from St.Thomas to Tortola.
Getting to Tortola via San Juan, Puerto Rico
Flight can be booked directly to Terrance B Lettsome International Airport (EIS) on Beef Island, British Virgin Islands. There is a small Bridge that connects Beef Island to Tortola. There are no airports on Tortola. Simply use the airport code (EIS) on airline reservation sites to book a continual flight straight through to the BVI. At times a connecting flight to Puerto Rico and then on to Tortola may seem a little more expensive than flying into St.Thomas but it is less hassle than using the ferries because you wouldn't have the worries of taking your luggage to the ferries or flights, getting in too late to catch the ferries from St.Thomas USVI.
Airline that operate to San Juan, Puerto Rico includes American Airlines, Delta, Continental Airlines, Spirit Airlines, US Airways, United Airlines, Air Canada, Air Transit and Air Tran.
At the current time American Airlines in conjunction with American Eagle partner brings most visitors to the British Virgin Islands from around the world.
Air carriers with schedule flights between San Juan, Puerto Rico and Tortola, British Virgin Islands include:-
American Eagle (works in conjunction to American Airlines to bring visitor to the BVI)
Cape Air (works in conjunction with Continental Airlines to bring visitors to the BVI)
LIAT
Air Sunshine
Island Birds – 1 (284) 495-2002
Fly BVI – 1 (284) 495-1747
Air Center Helicopters – 1 (340) 775-7335
Ace Flight Center –
Getting to Tortola Via Antigua, St. Maarten, Barbados (used by many European travellers)
European travellers can find themselves in the British Virgin Islands by connection through the Caribbean hubs such as Barbados, West Indies (BGI), Antigua West Indies (ANU) and ST. Maarten (SXM).
Airlines from Europe to these hub include Virgin Atlantic, Air France and KLM Royal Dutch Airlines. These airlines on arriving in the Caribbean connects travellers to LIAT Airline which transport passenger throughout the different Caribbean Islands including Tortola, British Virgin Islands. .
Tortola British Virgin Islands: The Ultimate Travel Guide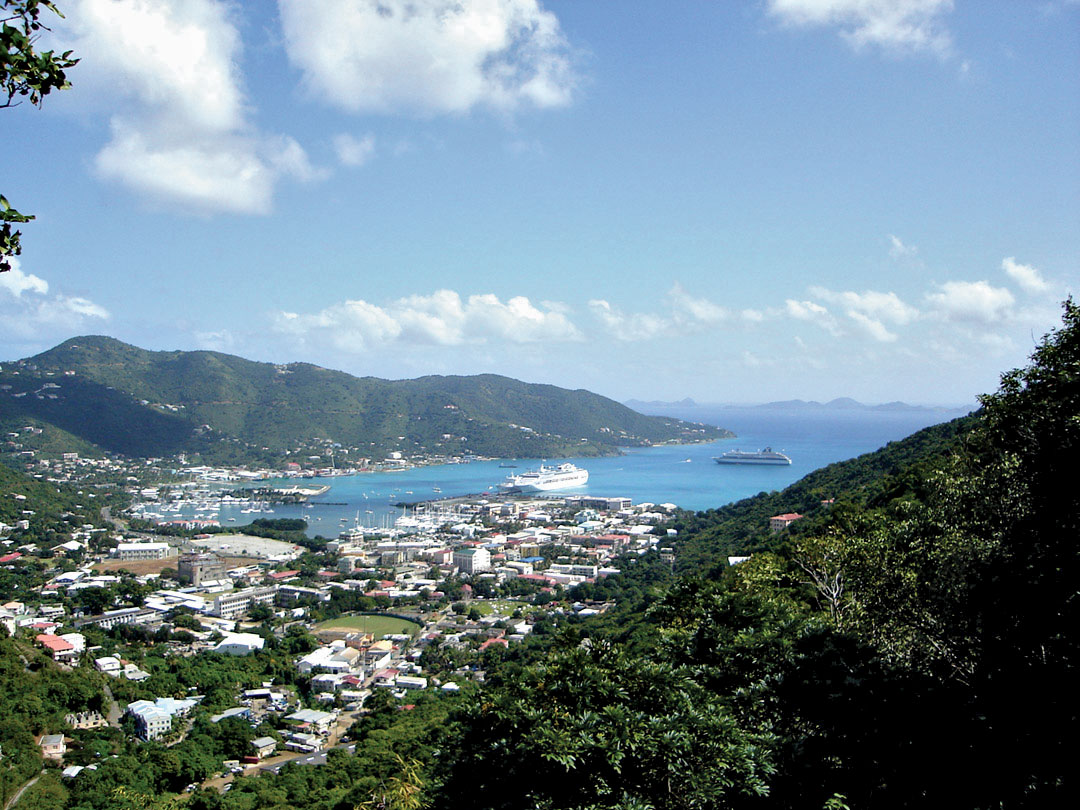 Tortola British Virgin Islands is the largest and also the most populated island in the Virgin Islands archipelago. Green mountains, white-sand beaches, and spectacular harbors filled with yachts are the attractive symbols of Tortola, the British Virgin Islands' capital island. Also, watersports and Sage Mountain National Park is more highlighted.
Apart from the dozens of palm-shaded stunning beaches, this island has the ruins of past West Indies and, on the other hand, luxury hotels. Therefore, it attracts tons of tourists annually. Here's the ultimate travel guide for Tortola , British Virgin Islands.
Tortola British Virgin Islands
Is Tortola a country?
No, Tortola is not a country. It is the largest capital island of the British Virgin Islands Archipelago. And this archipelago exists on the border, which separates the Atlantic Ocean from the Caribbean Sea. Therefore it is also called the British Overseas Territory . So, this island has a territory archipelago features like the US Virgin Islands and the Spanish Virgin Islands.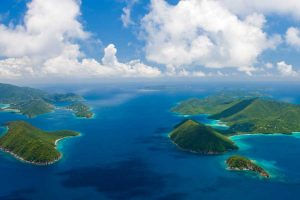 If someone asks whether the British Virgin Island is a separate country or under the UK government, then here's the answer.
It operates as a parliamentary democracy. But the ultimate executive authority is in the hands of The Queen . And the Governor of the British Virgin Islands is taking the relevant actions on behalf of her. And that governor is appointed by the monarch or The Queen by taking the British Government's advice. Therefore, the British Government handled the major aspects like defense service and foreign affairs under their constitution.
And the other members of the Virgin Islands government (like the head of the government, members of the government, and the opposition side) are elected by a general election.
The most important part is that this archipelago's citizens consider as the citizens of the British Overseas Territories Citizens. And after 2002, they got full British Citizenship. But yet, it is neither directly subjected to the European Union law nor a part of the EU. (Tortola British Virgin Islands)
Tortola British Virgin Islands
The Virgin Islands consist of four major islands. They are Tortola, Virgin Gorda, Jost Van Dyke, and Anegada . And also there are fifty other small islands and cays. All of those are not inhabited. But around 15 are inhabited.
Out of all, Tortola is the largest one. And it is the home to the Virgin Island's capital Road Town . Tortola extends for 20km long and 5km wide. Out of the total archipelago population of 27,800, around 23,000 live in Tortola. And the highest peak ( Mount Sage ) of the island is at 543m. Also, Tortola faces common minor earthquakes due to its location near an earthquake fault.
The meaning of Tortola is " The Land of Turtle Dove ." And it was named by Christopher Columbus, the Italian explorer. (Tortola British Virgin Islands)
Hotels in Tortola British Virgin Islands
Locating on the east side of Puerto Rico , the British Virgin Islands extend by connecting the Atlantic Ocean with the Caribbean Sea. But, it mostly has a subtropical climate, just like the Caribbean countries. So, you'll find plenty of awesome hotels to spend a unique holiday.
If you are looking for the best hotels in Tortola, just search here. You can find any hotel for your budget.
What is Tortola known for?
Tortola is the largest island and the capital of the British Virgin Islands. And it considers as a commercial hub as well. And as a vibrant hub of the financial and government sectors, Tortola earns more capital from the tourism industry. Since it is the gateway to the whole archipelago, many luxury yachts and cruises are attracted annually with plenty of tourists.
So, Tortola is mostly known for many beach activities, water activities, hikes, and party things since it has the optimum climate for all those things. (Tortola British Virgin Islands)
Tortola British Virgin Islands Weather
Tortola has a maritime tropical climate with high temperatures throughout the year. Actually, it is blessed with the Caribbean climate. Since the waterfall levels are low, there are basically two seasons. They are wet and dry.
The dry season exists from January to July. The temperature varies from 21 to 28 Celsius. And the rainfall is very low while the daytime exists for long hours. Therefore, Tortola and other islands are the best time to travel from January to April as both temperature and rainfall are low. (compared with other months.
The wet season starts in August and exists until December. The rainfall increases and becomes to its peak in October and December. Mostly in the half of the day, it gets rainfall. So, storms are frequent. And there's a probability of hurricanes occurring. So, it is not recommended to travel in this season to any of the BVIs.
Even the temperatures are higher than the dry season. The ocean water temperature comes to its peak in September and October (around 30 Celcius).
Things to do in Tortola British Virgin Islands
Tortola is the gateway to the British Virgin Islands Archipelago filled with stunning beaches, colorful marine lives, hilly landscapes, and some past ruins. So, here are the best things to do in Tortola when you are on the Virgin Islands tour.
Smuggler's Cove Beach: Tortola British Virgin Islands

Locating at the westernmost part of Tortola, Smuggler's Cove Beach is a secluded and remote one. Therefore, you cannot see a busy resort surrounding by a lot of tourists here. That's why I love this place more. And while you are experiencing this peaceful environment, it offers some other spectacular chances too. (Tortola British Virgin Islands)
Like great snorkeling opportunities with sea turtles just nearby the shore, this beach is sheltered with trees. The only negative point regarding this place is accessibility. It isn't easy to travel due to its unpaved road. But, I don't think you should wait due to just a road. Because it is totally worth visiting this warm and clear water containing
Cane Garden Bay Tortola
Cane Garden Bay Tortola is one of the most popular places. Its shape is like a crescent with having crystal blue water in the bay. Surrounded by lush green hills, the water inside the barrier reef is protected from the wind. And the beach is a little busy with several anchored boats. (Tortola British Virgin Islands)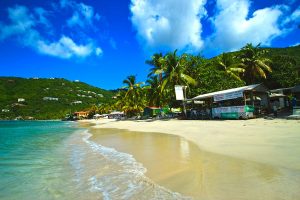 The beach offers you the chance to snorkeling and water sports as well. Sailing, cruising, and fishing like water activities are famous here. Not only that, but the enjoyable evenings with island music also will make your journey more unforgettable.
Road Town Tortola
As I mentioned earlier, Road Town is the capital of the British Virgin Islands Archipelago. And it the home to "Road Bay," Tortola's main harbor. Due to that transportation importance, Road Town is the commercial hub for the entire islands. (Tortola British Virgin Islands)
And it is also surrounded by greeny mountains by offering a naturally rich picture. The harbor is always busy with charter yachts, ferries, cruise ships, and many more. Dolphin Discovery Tortola , Virgin Islands Folk Museum, J.R. O'Neal Botanical Gardens, and the Government House with British colonial architecture are the most highlighted ones.
On the other hand, since this is the commercial hub, there are eateries on Waterfront Drive.
Soper's Hole Tortola
Soper's Hole in Tortola is a famous former pirate's place. But now, it is a famous harbor with a lot of ferries and terminals. Since it is deep and sheltered, it has all the suitable features for a harbor. And also, this is historically an important place since the first Dutch settlers landed here in 1648. (Tortola British Virgin Islands)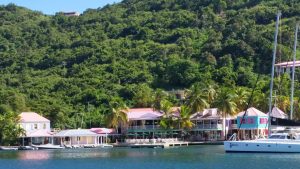 Here, a bridge connects the Sope's Hole Marina and Frenchman's Cay, an island in the Caribbean Sea. Sope's Hole Marina has shops West Indian-style restaurants.
Sage Mountain National Park Tortola
Sage Mountain is the first established national park from the entire Virgin Islands. Having the highest peak of the island, the park is located 305m above sea level. Mount Sage is the highest peak of all the other islands in the archipelago, with 523m.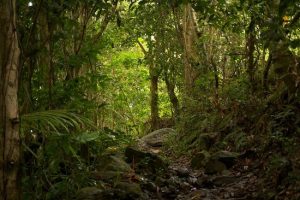 So, the hikers are also warmly welcomed to this park. Having two looped trails, they are filled with unique subtropical natural things with wildlife. For example, martens, kestrels, and hummingbirds like wildlife are there.
Norman Island Tortola
Locating 10km southwest of Tortola, Norman Island does not have inhabitants. And it is the largest inhabitant island out of all the Virgin Islands. But, the island is filled with snorkelers, swimmers, and sailors since this is ideal for all those things. (Tortola British Virgin Islands)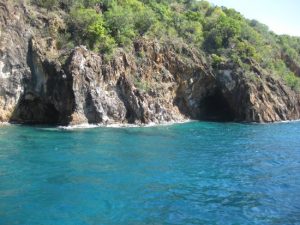 On the other hand, this island is known as the buried treasure since the people are believed to have underwater treasure caves here. Especially after Robert Louis Stevenson wrote "Treasure Island" by referring to this Norman Island, the belief expanded.
As a traveler, I don't care about those treasures. The real treasure is the four caves that exist under the island are ideal for snorkeling and diving. So, I highly recommend you to travel and dive through these caves for a nice adventure. (Caves are long, around 24m).
Another one of the famous diving sites in the whole BVI is Santa Monica Rock. The site is located 1.6km to the south side of Norman Island. And it is a larger open ocean with different types of fish and sharks like nurse sharks. (Tortola British Virgin Islands)
Tortola British Virgin Islands: Peter Island
Peter Island is the largest private island with 720 hectares in the archipelago. Locating 6.5 km away from Road Town in Tortola British Virgin Islands, Peter Island has a rich history. It has historical stories of slave trading, pirates, and famous explorers. But after all of these stories, a rich sailor bought this island. And he started Peter Island Resort and Spa .
This island is a complete tourist package containing snorkeling, diving, beaches, hiking trails, and biking tracks-like opportunities.
Enjoy water activities
Tortola British Virgin Islands is famous for its different kinds of water activities. And there are many watersport services offered by different hotel resorts as well. The watersports with fly boards, jet skis, standup paddleboards, and Hobie waves-like things are available to have fun with your colleagues.
Tortola British Virgin Islands Cruise Port
As I explained earlier, Tortola Island cruise port Road Town is situated on Baughers Bay. Cruise tourists throughout the world attract to Tortola for cruise plans. But, I must say Tortola cruise port is not as busy as other cruise ports in the Caribbean Sea.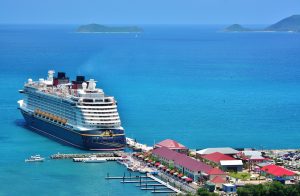 The Tortola cruise pier was opened in 2015. And further expanded to accommodate larger vessels. Since that time, Disney and NCL Norwegian cruise ships attract annually more than 500,000 tourists to Tortola.
The British Virgin Islands' port authority handles all the cruises and tourists' facilities at the Tortola port. The port has a berthing capacity for 2 large cruise ships at a time. And once the tourists come to the cruise terminal at the port, it has a walking distance to the Road Town city in Tortola.
There are some daily ferry services from Tortola port to nearby islands as well. (For example: to Cruz Bay in St. John Island)
On the other side, there's " Tortola Pier Park, " which was opened in 2014. It contains more enjoyable items like restaurants, pier bars, shopping markets, boat museums, tourist kiosks, and many more. Actually, it is just like a waterfront marketplace or a shopping village. (Tortola British Virgin Islands)
Is Tortola Safe for tourists?
The British Virgin Islands Archipelago is a safe place to travel. Even Tortola is a safe place to travel. But, in general, there are some safety tips you should keep in mind when you are in Tortola.
Do not try illegal fishing : Since Tortola is a beach island with many fish resources, people tend to fish more. But, there are very tough rules and regulations to protect the fish resource in Tortola. Therefore, if you travel there for fishing, then do aware of the correct rules.
Be careful of dangerous drivers when you rent vehicles in Tortola because some drivers are thieves. So, always use your hotel's transportation or trustworthy transportation service.
Get rid of scorpions because scorpions are everywhere on the island. So, surely check your shoes when wearing them.
Source https://info.sailingvirgins.com/blog/best-ways-to-get-to-the-bvi
Source https://www.bvivacation.com/getting-travel-flights-british-virgin-islands/trip-visit-to-Tortola-airport-EIS-beef-island-terrance-B-Lettsome-BVI.php
Source https://traveladvo.com/tortola-british-virgin-islands-the-ultimate-travel-guide/