Is It Safe to Travel to Europe?
Elizabeth Heath has lived in the Umbria region of Italy since 2009 and has been writing for TripSavvy since 2017. She has also written for Frommer's, The Washington Post, Travel + Leisure, and more.
Jillian Dara is a freelance journalist and fact-checker. Her work has appeared in Travel + Leisure, USA Today, Michelin Guides, Hemispheres, DuJour, and Forbes.
When we first wrote this article in March of 2020, it was difficult to imagine that a year later, the entire world would still be in the grips of the coronavirus. The World Health Organization (WHO) had just declared the pandemic, yet it still seemed impossible that the virus would spread so rampantly or last so long, or that travel to Europe—or just about anywhere—would grind to a halt for more than a year. A year later, more than one million Europeans have died from COVID-19, and most of the continent is still very much in the grips of the virus.
Yet there does seem to be a light at the end of the tunnel. As vaccine rollouts accelerate, especially in the U.S., travelers filled with that oft-mentioned "pent-up desire" are looking at whether it's safe to travel to Europe and when they'll be able to go. And while it's too soon to travel to most countries in Europe right now, we maybe have a clearer idea of when it might be possible to visit the continent again.
As we've learned with all things related to the coronavirus pandemic, the situation is constantly in flux and there are a lot of "ifs," "maybes," and "it depends." But for right now, here's a run-down of current restrictions, travel bans, and advisories for travel to Europe.
The Risks of Travel to Europe
As more and more Americans are vaccinated, they're naturally anxious to get back to traveling, and Europe has long been a favorite destination. But Europe, which at first seemed to get the coronavirus infection rate under control quicker than the rest of the world, is once again in a bad way. As of April 5, there were more than 100,000 new infections per day across Europe, the majority in France, Germany, Poland, and Italy. Variants of the disease, which may or may not respond to vaccines, are present throughout the continent. So the short answer is even if you could travel to Europe—more on that below—it's still not safe to do so.
Travel Restrictions and Closures in Europe
Most of Europe remains under some form of lockdown, meaning its own citizens aren't permitted to undertake non-essential travel between countries. In many cases, as in Italy and France, residents can't leave their own towns other than for essential business. By June, the European Union (EU) hopes to have in place its Digital Green Certificate program, which would allow EU citizens and residents who are vaccinated or can provide proof of immunity or a negative test, to move more freely within EU borders.
The EU enacted an entry ban on non-essential travel from non-EU countries last March. While that blanket ban has been eased, the EU is encouraging its member states to err on the side of caution. As a result, most EU countries are still not welcoming U.S. travelers, Those countries that are permitting Americans to enter generally require proof of a negative COVID-19 PCR test taken no more than 72 hours prior to departure. Some countries will require visitors from the U.S. and other countries to quarantine for anywhere from five to 14 days upon their arrival.
Travelers willing to test, quarantine, or jump through other hoops should keep in mind that even if they can enter a European country, they might not be able to do or see much. In Italy, for instance, state-run and most private museums, monuments, and archaeological sites remain closed. A large swath of the country is still on "Zone Red" lockdown, meaning, for example, that you currently wouldn't be able to travel between Puglia (a Zone Red) and Rome (in Lazio, an Orange Zone). Across the country, bars and restaurants are closed except for carry out, so if you want to sit in that lovely piazza and drink a glass of wine at an outdoor cafe, you're out of luck. Many hotels remain closed, simply because there aren't enough guests to justify remaining open—and the scene in Italy is the same as in most of the EU.
There are rumblings in the EU that the continent will reopen to travelers by this summer, but that depends on how vaccine distribution—currently at a snail's pace—picks up and whether the daily infection rates go down. Greece says it will reopen to EU and non-EU travelers by mid-May, providing they test negative for Covid or present proof of Covid antibodies or a vaccine. France also stated it might allow fully vaccinated travelers (including Americans) to visit starting in early May. Iceland is currently open to all travelers who can provide proof of a vaccine or prior infection—others can test upon arrival and quarantine for five to six days before they're free to roam. At the moment, none of the other most-visited EU countries—Italy, Germany, and Spain—have announced similar plans.
U.S. Government Advisories
At the start of the pandemic, the U.S. Centers for Disease Control (CDC), placed all of Europe under a "Level Orange" travel advisory, meaning that U.S. residents should avoid all but essential travel to Europe. A year later, and Europe is under a "Level Red" advisory, which simply means you should avoid all travel. U.S. passport holders returning from the EU are currently required to show a negative test 72 hours before flying and are advised to isolate at home for several days upon return.
Think About Europe for Later This Year
As hard as it is to wait to travel, it's still prudent to wait a little longer before packing your bags for Europe. As things start to improve, we may be able to look to Europe by late summer or fall—an especially safe bet if you can book fully refundable travel. But for now, so many of the things you come to Europe for—its culture, cuisine, history, and people—are still not accessible. We encourage our readers to discover, explore, and appreciate destinations across the world, and we will continue to celebrate the joys of travel within the context of health and safety. Once the virus abates and travel warnings and bans are lifted, it will be safe to return to Europe and travel freely and securely.
TripSavvy uses only high-quality, trusted sources, including peer-reviewed studies, to support the facts within our articles. Read our editorial policy to learn more about how we keep our content accurate, reliable and trustworthy.
No, it is not safe to visit Europe this summer*
Is it safe to visit Europe this summer? No, it is not.
It's not just the dangerous new delta variant fueling a surge in European COVID cases. There's also widespread confusion about vaccine certification and testing requirements — and the strong possibility of another lockdown.
If you're planning to go abroad this summer, you might want to think twice.
Dustin Elliott, "European travel ban" (2021) Oil on canvas. For more information, https://www.instagram.com/stillstabbin/
I had hoped to have better news as summer began. I wanted to declare that you have a green light to visit Europe, a favorite destination for Americans. But as 2021 nears the halfway mark, things aren't turning out as we expected.
There's an exception to my "Europe-isn't-safe" rule. I'll get to that in a minute.
What do you think?
But first, back to you: Do you have plans to visit Europe this summer? Are you keeping those plans or postponing? Push the red button to leave your comment.
Beware of the delta variant
On Friday, I met with the ambassador of a European country, and we had a frank conversation about the risks of traveling to Europe this summer. There's a lot of concern about the delta variant ravaging Europe. Here's the U.K.'s fourth wave, for example:
SUPPORT THE JOURNALISM ON THIS NEWSLETTER
Please consider subscribing to the full version of Elliott Confidential . Last week, I reported on Airnbnbs confusing new refund policies . These exclusives are ONLY AVAILABLE TO PAYING SUBSCRIBERS. For just $95 a year, you'll never miss an issue and you'll support the journalism on this newsletter. Here's how to become a subscriber.
Officials told me that they'd taken every precaution they could, even prioritizing vaccines for hospitality workers to reassure visitors. But no one expected this more aggressive and transmissible delta strain. Most alarming is the even newer delta plus variant, which could lift cases even higher.
Here in the States, health officials are warning Americans to continue wearing masks and practice social distancing as they assess the dangers of these delta strains.
Even so, European officials told me they were welcoming Americans. Most remarkably, they said their certification requirements were minimal. If you show an easy-to-forge CDC Vaccination Record Card , they will trust it and let you into the country. However, you can't qualify for the new EU Digital COVID Certificate , also known as a vaccination passport. So if you go, you may find some public events like festivals or restaurants with indoor seating off-limits to you.
I pressed officials on the safety issue. Isn't it too soon to bring tourists back? Given that some EU countries are already thinking about another lockdown, doesn't it make sense to wait?
No, they told me. This is just one of many risks of travel, and there has always been some risk in traveling.
"When has travel ever been safe?" one official asked me.
What are the requirements for travel to Europe?
There's more bad news. The requirements for visiting Europe are constantly shifting. That translates into a greater chance of a vacation-ending paperwork problem.
Take Britain, for example. The State Department revised its advisory this month , making the U.K. a Level 3 country. But it still urges Americans to avoid travel there. The British government's own assessment is downright scary . The U.S. is currently on its "amber" list , and if you come to the U.K., you have to follow the amber list rules, including testing and quarantine.
I told you this was complicated.
Each country in the EU has its own entry requirements . The rules change almost by the hour. The U.K. example I listed will probably be out of date by next week. New entry requirements are expected July 1 for most of Europe.
Generally speaking, if you're traveling to Europe this summer, you'll probably still have to either submit to a COVID test or undergo a quarantine on entry or exit. If the delta variant spreads, you may also get stuck in another lockdown.
And nothing ruins a vacation like a pandemic lockdown. Believe me, I've experienced it.
Is it too late to cancel your European vacation?
So if you're looking at a summer vacation to Europe and thinking, "This delta variant is scary. I should cancel," I have some good news. If you followed my advice, you've booked a flexible vacation with travel insurance. So this is the time to cancel and take the ticket credit or to call your travel insurance company and invoke your "cancel for any reason" policy.
Hey, a 75 percent refund is better than nothing, right?
Most folks will just postpone their vacations to later this year or next summer. I'm hopeful that the madness will be over by then. But as with all things COVID, there are no guarantees.
But you're probably wondering about that asterisk in the headline. Is it safe for anyone to travel to Europe this summer?
If you want a sure thing, the answer is: Absolutely not. In our weekly Washington Post live event last Monday, one reader asked me if it was OK to book a nonrefundable train ticket in Germany. I would only do that if you can afford to lose the ticket or if you have a travel insurance policy that covers you.
So who should go? I think if you're fully vaccinated, healthy and don't mind a little risk, there are pockets of safe travel destinations this summer. Germany, France and Spain still have low COVID rates. Some Greek islands are COVID-free. And there's Gibraltar, where most of the eligible population is vaccinated.
It is not safe to visit Europe (and it will never be)
If anyone tells you there's never been a better time to book a vacation to Europe, be skeptical. If you don't believe me, at least read the State Department travel advisory for the country you want to visit. Things are not going back to normal any time soon, unfortunately.
Maybe my European officials are right. It will never be completely safe to visit Europe or any other country for that matter. If you're unvaccinated or have a pre-existing condition, you definitely want to avoid any kind of international travel right now. But if you've had your shots, and you like the adrenaline rush of taking a risk on vacation, the asterisk may apply to you.
Full disclosure: I'm planning to return to Europe, too. But not until 2022.
OK, the comments are open. Do you think the pandemic is over? Or that people are overreacting to the new delta variant? Please be nice to each other.
Will summer travel be affected by the Ukraine invasion? We asked the experts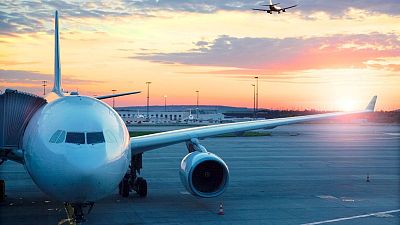 With the world's eyes on Ukraine, it's not surprising that travel firms have seen a slowdown in sales for the first time this year.
Travel agents are reporting a "nervousness" from customers, according to Travel Weekly. Travellers are hesitant about where and when they choose to travel. But the extent of the damage to travel businesses will only become clear around Easter, when summer holiday bookings traditionally peak.
"The conflict could add much pressure to an already challenging economic environment and weigh on travel demand in 2022," the UN World Tourism Organisation (UNWTO) tells Euronews Travel. The recent spike in oil prices and its adverse effect on economies, "could translate into higher transport and accommodation prices, supply shortages, and threaten consumer demand and investment plans."
Lost holidays are hardly the worst of the crisis, but for countries like Cyprus and the Seychelles where tourism is one of the key economic pillars, the impact on peoples' livelihoods is a real cause for concern – especially for the third summer of the pandemic.
Those who have put long-distance trips on hold during the pandemic are undoubtedly keen to get back out by plane, train and boat. But what impact could the conflict have on these travel plans?
There could be less US tourists in Europe this summer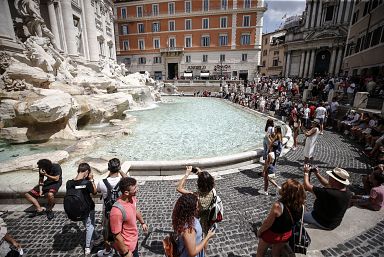 Tourists crowd Rome's Trevi Fountain last summer. Cecilia Fabiano/LaPresse via AP
Concerned about the outbreak of war, some American tourists may decide to avoid Europe altogether.
"The US and Asian markets, which are now starting to open and tend to be more risk averse, may be particularly affected in respect to travel in general and to Europe in particular," UNWTO says.
Travel between Europe and Asia will also be impacted by most European airlines having to re-route around Russian airspace, with Finnair particularly affected as a carrier connecting the continents.
Eastern Europe is still safe to travel over, says the EASA
The EASA is the EU agency charged with monitoring sky safety for passengers. It issued a 'Conflict Zone Information Bulletin'(CZIB) on 24 February, immediately after the invasion, warning airlines not to fly over Ukraine, as well as parts of Moldova, Belarus and Russia.
Weeks on, that risk zone has not been extended, meaning there is no danger to passengers flying to neighbouring countries Poland, Slovakia, Romania, Estonia, Latvia, Lithuania and Turkey.
The UK Foreign Office has also not altered its advice to citizens wanting to holiday in Poland, for example, though it notes that Russian military strikes have taken place in Ukraine within 20km of the Polish border.
Despite this, there are reports of tourism sales falling in Eastern European nations. Advantage Travel Partnership (the UK's largest independent travel group) saw bookings to Turkey fall by 23 per cent week on week, Travel Weekly reports.
UN protection for tourists
In a recent interview, Holiday Village managing director Paula Nuttall posed the question, "If the war carries on, would some people be prepared to lose a £60 deposit on a holiday?
Concerns about losing out on money are another reason why some are put off, or putting off, their travel plans right now.
But a framework that emerged out of the pandemic should provide a safety net in these troubled times. In December 2021, the UN tourism body approved an International Code for the Protection of Tourists, setting minimum standards for their protection and rights during emergency situations.
Tourists are entitled to a full refund for cancelled trips under the new guidance, supported by more than 100 member states.
Source https://www.tripsavvy.com/travel-to-europe-safety-information-4799670
Source https://www.elliottconfidential.com/p/no-it-is-not-safe-to-visit-europe
Source https://www.euronews.com/travel/2022/03/18/will-summer-travel-be-affected-by-the-ukraine-invasion-we-asked-the-experts