Places To Travel Without a Passport: A Guide for US Citizens
Ever wondered about places where you can travel without a passport? Maybe you're a quick decision-maker when it comes to taking a flight away from day-to-day hassles or you just don't feel like renewing your out-of-date passport or even grappling with the visa application formalities. In either case, be sure there are plenty of exotic options out there for US citizens, waiting for you to unlock their secret jewels. Let's follow on to see which destinations we are passport-free to access. Here's a quick shortened list:
Now let's dive a little bit deep into what these places to travel without a passport got to offer.
A quick reminder: Most of these locations require a passport if you're traveling by air.
Places To Visit Without a Passport
1. Canada
If you're looking for a culturally diverse environment with a peaceful society, then you've come to the right place! Canada is one of the best examples of safety, tolerance, and multiculturalism. Not to mention the brilliant lakes, rivers, and mountains that carve out jaw-dropping scenery for visitors to indulge in.
Go for the Canadian Rockies if you'd like to experience wildlife adventures. Or else if you're more into living the urban feel with modern skyscrapers but still want to have the option to visit historical sites, then Toronto and Vancouver are the best options. June to August is the best season to visit Niagara Falls. If you're a jazz-lover, be sure not to miss the Montreal Jazz Festival at the end of June. Although Canada is one of the places you can go without a passport, this is valid only through arrivals through land or sea.
Best Places To Live in Canada
2. Mexico
Like a kaleidoscope of wonders, Mexico always has a great taste to offer for culture-seeking travelers. Painted in beautiful colors, Mexico is definitely a top reply that should be coming to your mind as a US citizen when the question of "where can I go without a passport?" suddenly pops up. Worth a try even only for its mouth-watering cuisine.
Music, art, and dance live in the heart of Mexico City – a gorgeous ancient capital with some marvelous architecture, contemporary galleries, and vibrant daily life. Tranquility is what you will find in Costa Maya if you're seeking a laid-back occasion. Guadalajara is the mariachi land, a great place to feed your craft shopping needs, and one of the best options to eat out in Western Mexico. And it goes without saying that one should explore along the breath-taking shores of the Pacific Coastline, a surfer's heaven backed by splendid towns in all their natural beauty.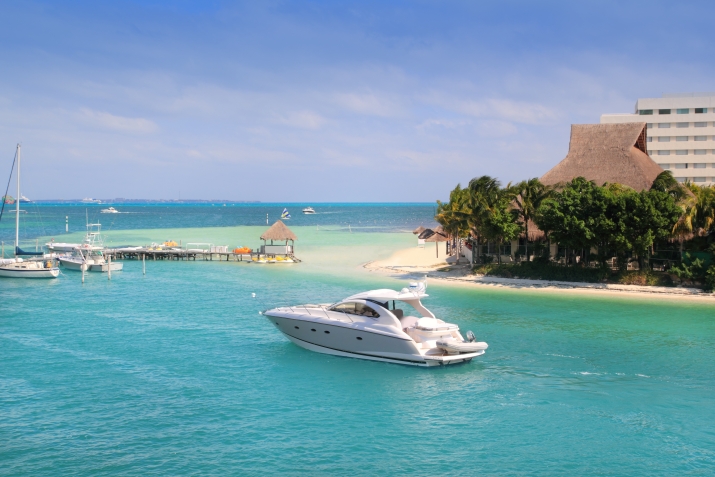 3. Puerto Rico
Another no-passport heaven with crystal-clear azure waters and sun-washed beaches is the island of Puerto Rico, a true delight for Caribbean experience seekers. The Spanish influence is felt all over the island which is a heritage from colonial times. It's very close to Miami, a perfect getaway for a tropical vacation. A myriad number of things to do in Puerto Rico and it's only a step away from the US mainland. So it is on the top list of places to go without a passport.
Old San Juan is too good to miss when you're in Puerto Rico. This capital is where you will sense the Spanish flair the most. During the day, have a great time sightseeing around historical places. Attractions are mostly to be reached on foot. When it comes to nightlife San Juan is also rich and lively. You have a chance to select from a variety of great nightclubs and bars.
4. The Virgin Islands
St. Thomas, St. John, and St. Croix comprise the Virgin Islands which are among the great places to go without a passport. Better not mix them with the British Virgin Islands which require a passport. Verdant hills, white sands, and glamorous waters are the common features of all. But each has its own attractions as well.
St. Thomas is famed for its National Park to the east of the island, St. John with all its natural beauty is a glorious escape for honeymooners, while you can explore the colonial heritage in St. Croix or even visit the Cruzan Rum Distillery.
5. American Samoa
No more worries about where you can travel without a passport. A gleaming archipelago lying in the South Pacific Ocean, with five volcanic islands and two atolls, American Samoa awaits to embrace you with all of its unspoiled beauty of stunning beaches and tropical rainforests. Excellent choice for an off-the-beaten-track destination.
The largest island Tutuila is home to the capital Pago Pago, an exotic paradise that is quite unlike other Polynesian destinations. It's not the right place if crowds or fancy outlets are what you're chasing but you can still sense the true feel of Samoan native culture prevailing here. Pick Ofu which has a well-earned reputation for glittering beaches of white sands.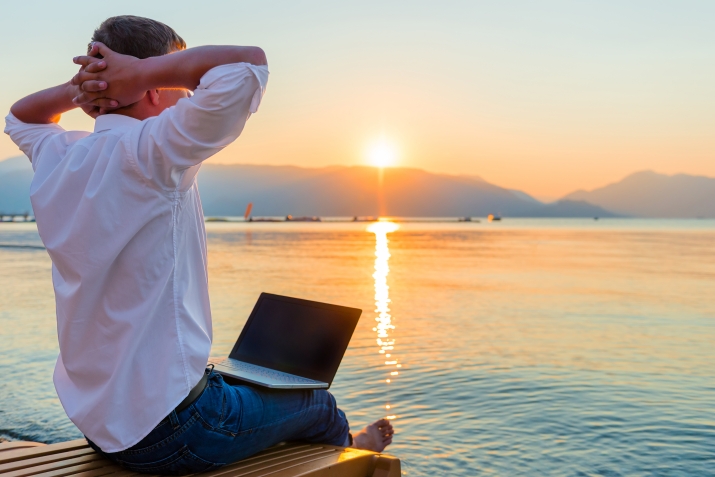 6. Northern Mariana Islands
Scattered in the Micronesia region of the northwestern Pacific Ocean, these islands are superb choices for a peaceful and calm getaway. They had the misfortune of serving as military outposts during World War II, so there are many war memorials to discover especially in Saipan, the capital and also the largest of the islands.
If you haven't been to the Grotto Cave yet then it's a perfect excuse for traveling to Saipan. The Grotto is a collapsed underwater karst cave whose dream-like deep waters hide many wonders to explore both for divers and plain swimmers. This is vibrant, multicolored sea life at its best! Other most popular islands are Rota and Tinian, where you'll find history entangled with secluded picturesque beaches. Swim or dive, at your discretion, high spirits guaranteed!
7. Guam
This unique island is well-known for its stunning tropical beaches, beautiful scuba diving locations, and its well-known cliff-side overlook. Technically the tallest mountain on Earth, Mount Lamlam, and 32 waterfalls are located on the island of Guam.
Guam is one of the places US citizens can travel without a passport. Once you're there, you can discover Guam's 4,000 years of fascinating history, which includes pre-colonial culture, archeological sites, the landing site of Magellan's ships, Spanish forts, and WWII battle sites.
Guam is undoubtedly a fantastic spot to unwind, decompress, and recover while doing nothing but taking in the warm breezes and sunshine, but GUAM also stands for beaches, aquatic activities, sports, adventures, local attractions, and nightlife. As a single tourist, a couple, or a family, there are several activities to do.
Places You Can Go Without Passport: The Bottom Line
There you have it. We've compiled a list of seven popular destinations without a passport for those who wish to satisfy their travel thirst.
What are the other places to travel without a passport? Feel free to recommend.
Is my passport valid for travel to Europe?
If your passport is more than ten years old or there is less than three months before it expires, you may not be able to use it to travel to countries within the EU. The rules came into effect after Brexit, with Ireland being the only exception. Here's what you need to know.
Main photo: Alamy
What documents do I need to travel from the UK?
A valid passport is essential for travelling outside of the UK. For travel to the EU and EFTA countries (Iceland, Liechtenstein, Norway and Switzerland), it needs to be less than ten years old when you enter the country and have at least three months left on it the day after you leave. The only exception is if you are travelling to Ireland — which is part of the Common Travel Area with the UK — where you can travel up to the day your passport expires.
Depending on where you are travelling to, for what purpose and for how long, you may also need to get a visa. After Brexit, UK nationals are only permitted to stay in EU countries for a maximum of 90 days out of 180, after which a visa or other entry permit may be needed. You will need to check the entry requirements for each individual country you are visiting.
If you are planning to drive or hire a car, you will need to take your driving licence. And if you only have a paper version of the licence, or your licence was issued in Gibraltar, Guernsey, Jersey or the Isle of Man, you may need to apply for an International Driving Licence, which costs £5.50 from the Post Office. Those taking their own cars across the border will also need relevant insurance and vehicle registration details as well as a UK sticker on the vehicle.
When travelling to EU countries, you may also want to apply for and take your UK Global Health Insurance Card (UK GHIC). This free benefit replaced the European Health Insurance Card (EHIC) for most UK nationals after Brexit. It entitles you to the same access to public medical care as residents. In some cases, having the card with you is a requisite of ensuring your travel insurance is valid.
Can you travel to Europe without a passport from the UK?
In most cases, you will need your passport to travel to Europe. Ireland is the only exception, although the government still advises taking your passport with you, and airlines will typically insist on it.
What if I lose my passport?
If you have lost your passport, or you do not have time to get a new one before you travel, you may be able to apply for an emergency travel document. These cost £100 and you will need to attend a British embassy in person after you have applied online. The document contains your exact itinerary and if you decide to change your plans at the last minute you will need a new document.
Can you travel with an expired passport within Europe?
In theory, yes, because land borders within the Schengen area are open and ID checks are only carried out in exceptional circumstances. For example, the Spanish government has said that its citizens may enter the country on an expired passport or ID after its authenticity has been checked; however, a valid travel document is still required to leave the country. In the case of the UK, your passport will be checked at all border controls and you will need to make sure it's valid for travel.
Passport control at Heathrow Airport (Getty Images)
How long do you need on your passport to travel to Spain?
Like most countries in the EU, Spain requires those travelling on a British passport to have at least three months remaining after the day you plan to leave. You also need to check that it is less than ten years old when you enter Spain.
How long do you need on your passport to travel to Greece?
For Greece, the usual EU passport validity rules apply. This means it needs to be less than ten years old when you enter the country and have at least three months left on it the day after you leave.
How long do you need on your passport to travel to Portugal?
EU passport validity rules also apply in Portugal. So your passport needs to be less than ten years old when you enter the country and have at least three months left on it the day after you leave.
How long do you need on your passport to travel to the USA?
For entry into the USA, your passport needs to be valid for the duration of your stay although it doesn't need to have any additional validity on it. However, you may need an Esta or visa for entry.
How long do you need on your passport to travel to Turkey?
Turkey requires UK passport holders to have at least six months remaining on their passports from the day they arrive. It also needs to have a full blank page for the entry and exit stamps.
Take me there
Wanting to visit Europe but yet to book your trip? Here are the best packages from TUI Holidays* and Expedia*. And if you're still unsure of where you want to go or what type of holiday to book, get in touch here and one of the Designer Travel experts will be in contact to help you arrange your perfect tailor-made break.
Here's a selection of some of the best European tour itineraries from our Times Travel partners.
The days of easy-breezy travel to the EU have changed. Here are the new travel rules you need to know
Exclusive deals, straight to your inbox
Subscribe for weekly inspiration and deals from The Times and The Sunday Times.
How to Travel Europe Without a Car
So you've decided to take a Europe vacation, but now you're not sure how to get around. What should you do? Here are some tips. Start with a budget. Also, consider using public transportation to travel around. And make sure you get a rail pass. Then, you can explore the continent! But before you decide on where to stay, here are a few tips to get you started. After all, the European continent is a big place, so it helps to have a plan!
Budget options
If you are planning a trip to Europe, you might be wondering about budget options to stay in various cities. While it is possible to find cheap airline tickets, you should remember that these are often subject to unexpected add-ons. When booking your accommodations, try to book them far in advance. You can also buy discount rail passes that allow you to travel by train throughout Europe. However, these passes are often subject to unexpected add-ons, so you might want to think about flying instead of taking the train. There are other budget options to consider, as well.
While most people think of expensive cities when they think of traveling to Europe, the cost of accommodation in Eastern Europe is significantly lower than in Western countries. Countries such as Poland, the Czech Republic, Hungary, and the Baltic states are relatively affordable and have a wealth of historic and cultural treasures. Countries that are not on the Euro are also less expensive. You can also consider visiting countries like Romania, Turkey, and Albania. Although these countries are not very popular among travelers, they offer great travel options for a budget.
If you are on a budget, it is possible to find cheap flights by combining trains, buses, and planes. However, you should be aware that flea markets are notorious for ripping off tourists. So, you must haggle to make sure that you get the lowest price. There are also budget airlines that connect far-off cities. The competition between these airlines is fierce and you can find the cheapest flights by using online travel sites or calling the airlines directly. However, be aware that budget airlines often use small airports, so it may take some extra time to get to your destination.
Getting around by public transportation
Getting around Europe by public transportation is an excellent way to save money while getting to your destination quickly. You can find tickets for as little as EUR1 and Flixbus can take you to your destination for a reasonable price. You will have to book your ticket at least a week in advance. It is also a good way to get around if you don't have a car. There are several different options available to you, so you should find something that works for you.
Getting around Europe by train can be confusing – most cities have more than one station. You'll want to read the board carefully and remember where you're supposed to get off at a particular stop. You can also change trains within a single journey – some train companies have multiple platforms, so be sure to read your tickets carefully. To avoid getting on a train that isn't going to get you anywhere, use the internet to search for trains by company, number, or departure time.
Trains are generally comfortable and easy to use – train seats tend to be larger than those of planes. Trains are also more comfortable – you can get up and move around anytime you'd like. Many trains have tables between seats to provide more leg room, and they're generally on time. Trains are especially convenient in Western and Central Europe, while buses are poor in Eastern and Balkan regions. For travelers looking to save money, traveling by train is an excellent way to get around Europe.
If you're only going to be traveling for a few days, you should buy tickets in advance. Many trains in Europe require seat reservations, so planning ahead is important. Also, you should be aware of the costs and benefits of different passes. There are different types of trains available, including overnight international trains and high-speed trains. Once you know how much money you'll save, you can then decide which is best for your needs.
Getting a visa
Before you leave for Europe, you must get a Schengen visa. This is a necessity if you plan to work in a Schengen country or stay longer than 90 days in a Schengen country. You should always apply for a Schengen visa at the embassy of the first country you plan to visit. If you plan to work in a Schengen country, you need a work permit.
A valid passport is required for traveling abroad. It should be valid for at least three months after the trip. Children's passports are valid for five years, not 10 years. Also, make sure to carry your passport while visiting the Schengen area, since many countries re-impose border controls without prior notice. Having the right documentation is critical in many cases. However, there are several things to keep in mind.
You must have a means of subsistence to travel in Europe. Getting a visa to travel in Europe is not a complicated process, but it is important to have sufficient funds to support yourself throughout your trip. Depending on the country, the authorities may ask for bank statements, travel insurance policies, and lodging proof. If you do not have any of these, you may be turned away. Nevertheless, it is not difficult to get a Schengen visa, as long as you follow the correct procedures.
If you plan on traveling to one or more Schengen countries, make sure to get a valid ETIAS travel authorization from the government. While a Schengen travel authorization will not require a visa, it will ensure your safety while in the European Union. If you're not sure what visa you need, make sure to read up on the new Schengen rules. In addition, be aware that COVID restrictions have started to loosen up in some parts of Europe.
Getting a rail pass
One of the easiest ways to save money when traveling in Europe is to buy a rail pass. The cost of getting a rail pass to travel Europe can vary greatly depending on how long you're traveling. For example, you might want to buy a 14-day rail pass for your trip to France, but if you plan to travel only in France, you may want to consider a point-to-point ticket to get from Paris to Amsterdam.
The first thing you should do is plan your travel route. This way, you won't be rushed in getting to your hotel, and you won't have to worry about getting lost in the middle of nowhere. Also, make sure to plan out how many days you'll be traveling so you can figure out how much you'll need to pay for seat reservations. There are two different types of rail passes in Europe, the Eurail pass and the Interrail pass. The type of rail pass you need will depend on whether you're an EU citizen or a non-EU national.
Once you've chosen which rail pass to buy, you can get on the train. You can buy a one-country rail pass if you're traveling to a single country, or you can buy a Eurail Global Pass, which covers unlimited train travel in 33 countries across Europe. You can use either one depending on your travel schedule, and you can choose a ticket that suits your needs best. There are several different kinds of passes available for different age groups.
When choosing a rail pass, make sure you know what your travel plans are before purchasing one. The shorter your travel itinerary is, the more likely you'll save money on the price of rail tickets. Similarly, you shouldn't buy a rail pass that is too limited in the number of days you plan to travel. If you're going on a whirlwind trip, figure out how much point-to-point tickets will cost. You can also consult cost estimate maps to estimate how much the various tickets will cost.
Getting a visa for your first trip to Europe
If this is your first time traveling to Europe, you may be wondering what to pack and how to get a visa. Luckily, there are several simple tips to help you get through the visa application process. Start by researching your travel plans to determine the most ideal destinations. When choosing a region to visit, you can focus on one specific country or several countries nearby. The most popular regions to visit include Northern Europe, Western Europe, and the Balkans.
If you are a US citizen, you are not required to apply for a visa for your first trip to Europe. You simply need to have a valid passport for at least six months after you return. The more time you plan your trip, the easier it will be to get a visa. To increase your chances of getting a visa for your first trip to Europe, consider booking a tour. The flight and hotel you choose are the most expensive parts of your trip. If you are on a budget, read our 6 Tips to Find Cheap Flights to Europe, and our 6 Tried and True Ways to Find Cheap Accommodation in Europe.
The best way to avoid the hassle of applying for a visa is to get an ETIAS travel authorization. This travel authorization is now required for American citizens traveling to the Schengen zone. The ETIAS system is similar to the U.S. Electronic System for Travel Authorization (ESTA), and can be used for multiple trips to Europe. However, some countries may not accept this type of travel authorization, so be sure to check with your national government before you travel.
Source https://govisafree.com/places-to-travel-without-passport/
Source https://www.thetimes.co.uk/travel/advice/is-my-passport-valid-for-travel-to-europe
Source https://thetravelingradar.com/how-to-travel-europe-without-a-car/