Combining Australia and New Zealand: questions to ask yourself
You could go from the Red Centre's desert panoramas to tropical Queensland, and follow it all up with the glaciers, sea cliffs and snowy mountain ranges of South Island. Or, embark on a wildlife-themed trip, going from the underwater wonderlands of the Ningaloo or Great Barrier reefs to New Zealand's Kaikoura, one of the world's best whale-watching destinations. Combining Australia and New Zealand in the same trip lets you experience wildly contrasting topographies and ecosystems within the space of a few weeks. And, thanks to constantly improving flight connections, it's easier than ever to travel between the two.
It's natural you might want to visit Australia and New Zealand in one go: they're so close, and you're already taking a long plane journey to get to either place. There are lots of ways to split your time between the two countries — this Australia and New Zealand Uncovered trip outline is just a starting point.
But, for a really fulfilling trip, there are a few things you'll need to mull over.
How much time do I have?

Lake Wanaka
Allow a minimum of three weeks. Any less than that, and I encourage you to focus on only one country.
Five weeks would give you time to see three different areas of Australia without feeling rushed — Sydney, Uluru/Ayers Rock and the Great Barrier Reef is a popular grouping. Then, you could head over to New Zealand for a ten-day road trip through the South Island's standout scenery.
When do I want to go?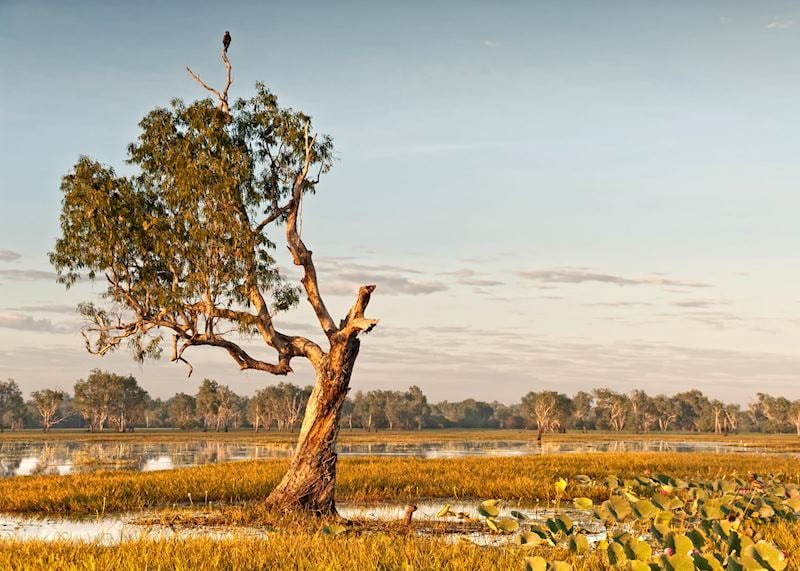 Kakadu National Park
This question determines where exactly you'll go, so it needs to be considered upfront. It's really about coordinating the optimum times to go to different areas of Australia with the best time to travel to New Zealand.
I speak to many people who are set on cramming their visit into the Austral summer (December to March), to make the most of the Southern Hemisphere's warmer weather. This works well for New Zealand, but there are a few caveats for Australia.
Anywhere in Australia south of Brisbane enjoys warm weather and blue skies between December and March. But, this same period coincides with cyclone season in Queensland and the Great Barrier Reef. Visiting over the Christmas period can also rule out Kakadu National Park and the Northern Territory, which gets heavy rainfall at this time of year.
So, if you're planning to travel between December and March, think about the breadth of what Australia has to offer. The Outback isn't limited to Australia's Top End. As long as you're prepared for the baking sun, you can also experience the Outback in South Australia's Ikara-Flinders Ranges National Park — a land of clefted sandstone foothills, lonely homesteads, behemoth rock formations and roaming emus.
You can find out more about 'the Flinders' (as it's known) in our guide to South Australia's landscapes and wildlife. And, as an escape from the Outback's heat, you could always follow up the Flinders with a few cool glasses of wine in the vineyards of the Clare or Barossa valleys.
If you're not wedded to a December–March travel period, consider timing your trip for October and November instead. You could catch the tail end of the fine weather in Queensland in October, before moving on to a springtime Sydney. By the time you reach New Zealand in late October to early November, the days will be getting longer and becoming increasingly warmer.
If you want to see Australia's Top End at its finest, go between May and September, but bear in mind that you'll have less daylight in New Zealand at this time of year.
How many flights am I prepared to take?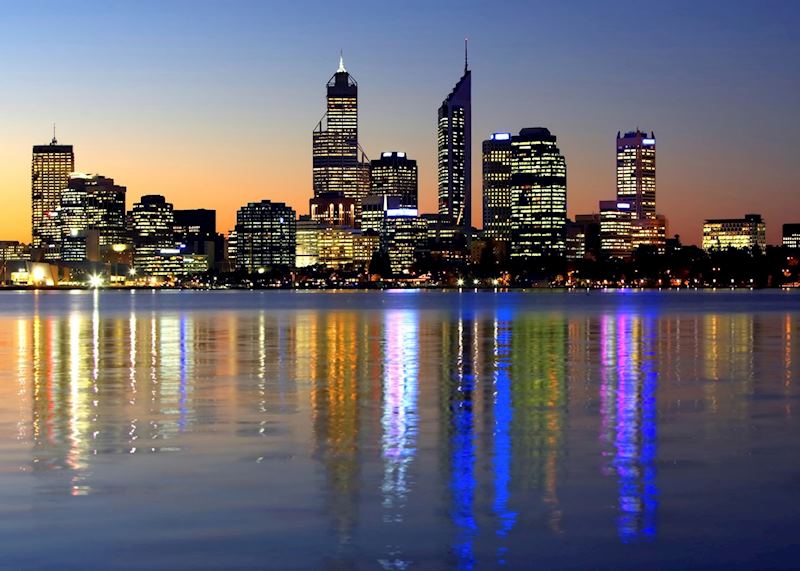 Perth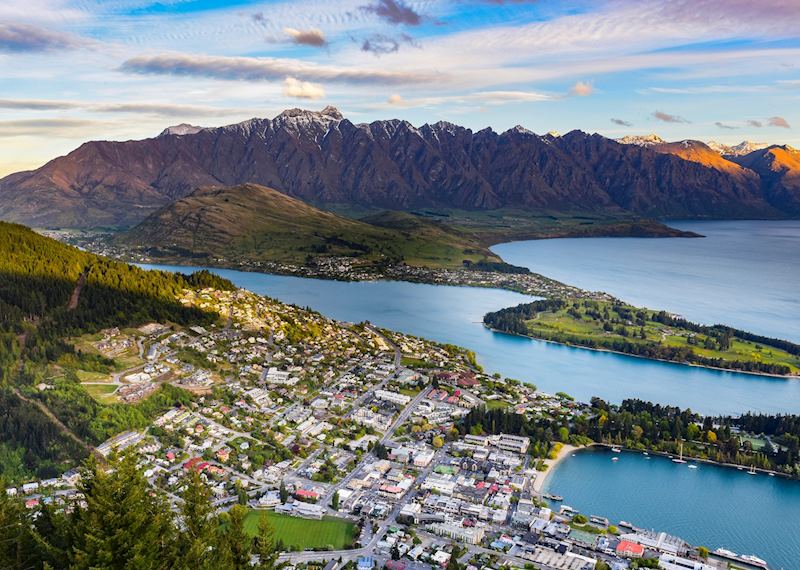 Queenstown
You have lots of options for flying between and Australia and New Zealand. Flight times are relatively short (it's three hours from Sydney to Auckland, the same amount of time it takes to fly from Sydney to Uluru).
You're not restricted to the major gateway cities of Auckland, Sydney, Queenstown and Melbourne, either. You could, say, fly from Christchurch to Perth, combining the South Island's scenic big hitters with time on the beaches and in the winelands of Western Australia's Margaret River Region.
When combining Australia and New Zealand, I always try to cut down on empty transit time. This can even make you reconsider how much you want to fit in to your trip: how many days do you really want to spend hanging around airports?
You can also break up your flying. You might fly into Sydney, then swing across to Queenstown to start exploring the South Island, before flying to Melbourne to drive the Great Ocean Road. There's nothing to say you can't go to Australia twice.
Nor do you have to use Sydney as your starting point. Fly direct to Cairns from Singapore or Hong Kong. Start with the Daintree Forest and the Great Barrier Reef, then hop down to Uluru/Ayers Rock, and culminate your Australia leg in Sydney before flying on to New Zealand.
How can I narrow down where I want to go?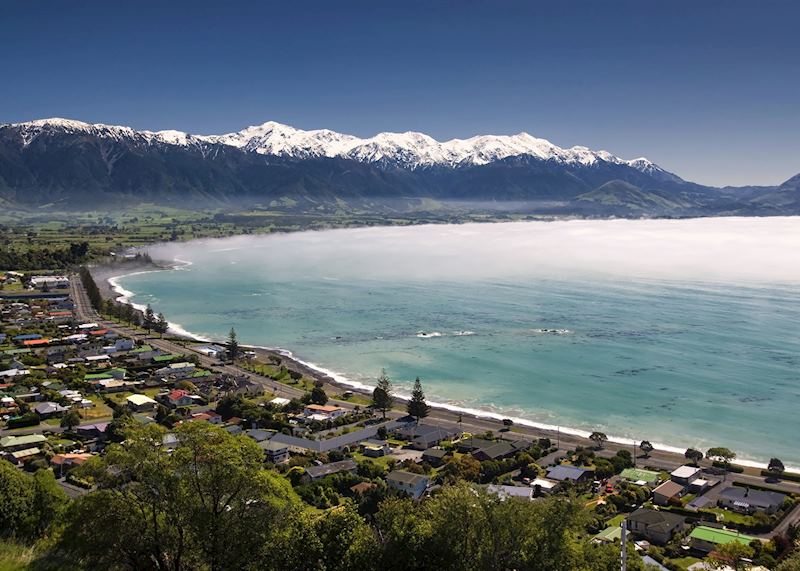 Kaikoura
This is a tough one — you have to accept you won't see everything. Start by thinking about each country in isolation and having an honest conversation with yourself about what you really want to see in each.
As I touched on earlier, the beauty of Australia and New Zealand is that despite their proximity, they're scenically very distinct. In only a matter of weeks, you can go from shaking the dust off your boots in the Outback to strapping on crampons and walking on a glacier.
If you really don't know where to start with New Zealand, opt for a classic South Island road trip. This is where you'll find not only alpine panoramas, winelands and fjords, but also year-round whales, dusky dolphins, fur seals and more in Kaikoura.
With Australia, think about its varying ecosystems and which ones particularly appeal to you. The great knuckle-like, rust-red monolith of Uluru exerts a magnetic pull on some; others are less enthralled. The Great Barrier Reef often sits near the top of many Australia wish lists, but, if you've previously visited extensive coral reefs in other parts of the world, you might want to try something new.
When it comes to the cities, I usually argue the case for including Sydney, Melbourne and New Zealand's capital Wellington. But, in my book, you can skip over Auckland, New Zealand's biggest city: it shares many of the same characteristics of Sydney (a glittering marina and shiny high-rises). It's also possible to fly directly from Sydney to Wellington.
However, if you're an avid birdwatcher, Auckland might come higher up your list. You might, say, be intrigued by the possibility of visiting one of the predator-free island reserves off Auckland's coast.
If viewing wildlife is important for you, you might wish to spend longer in Australia — New Zealand doesn't have the standout species nor the zoological variety of Australia.
However, it's a rewarding destination if you're especially drawn to marine life or birdlife, as our guide to observing New Zealand's wildlife explains. There are several places to see the reclusive kiwi, for example, from a hatchery in Rotorua to the untamed Stewart Island in New Zealand's far south.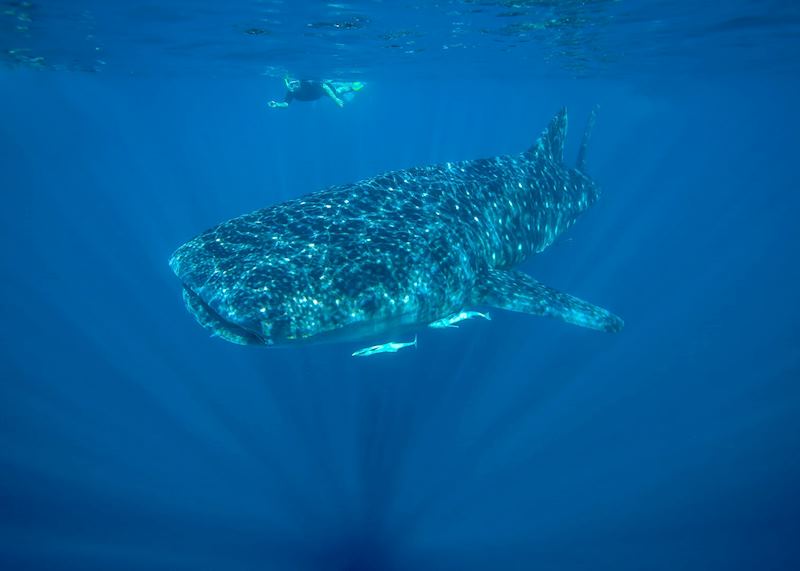 Whale shark, Ningaloo Marine Park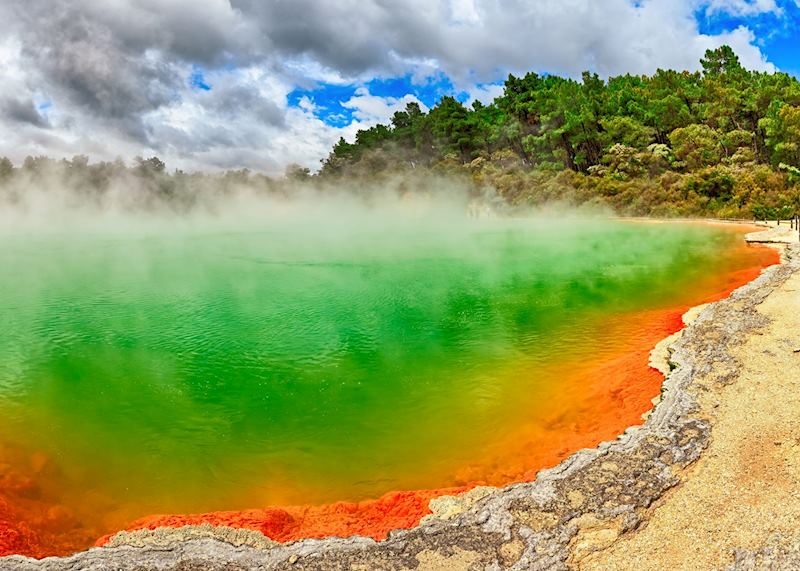 Rotorua
Australia also has much to offer beyond its koalas, kangaroos, and other headline species: the Ningaloo Reef in Western Australia is brimming with sea turtles, reef sharks, and in some places, the rare dugong. And, Kangaroo Island in South Australia is worth the extra journey time. Nicknamed the Australian Galapagos, its wildlife (including echidnas, wallabies and koalas) thrives in the island's unspoiled environment and the guides here are second to none.
You might also think about not duplicating experiences. If you plan to drive the Great Ocean Road, stopping off at its coves and beaches, perhaps you can afford to forget the beaches of New Zealand's Coromandel Peninsula.
Instead, think about what can't be replicated by each country. I'm a fan of the Grampians, a waterfall-sluiced mountain range in Victoria, but they pale into comparison to New Zealand's Southern Alps or the North Island's volcanoes.
In short, it's about combining the best of both places, according to your personal interests.
Finally, try not to do too much. It's tempting to squeeze as much as you can into a combined Australia and New Zealand trip, but you'll have a better experience if you're not just careering around both countries, spending a night here and a night there.
If witnessing the geothermal showground of Rotorua is a priority for you, don't just limit your experience to one geothermal park. Stay for three days and mountain bike among the spurting fumaroles of Whakarewarewa Forest Park, one of the best places to go cycling in New Zealand. Or, explore the Inferno Crater Lake of the Waimangu Volcanic Valley, which is ringed with a champagne shade of silica terracing.
Similarly, if you're visiting Uluru, I urge you to escape the crowds thronging Ayers Rock Resort and spend a day visiting Mount Conner, an immense flat-topped monolith set on a private cattle station. It's the Outback as it was meant to be seen — without another soul in sight. You can find out more about the lure of Mount Conner in our blog about experiences you might not know existed.
How To Travel Between Islands in Greece: The Ultimate Guide
The Greek islands have long been a popular holiday destination for sun-seeking travelers. From the crumbling monuments of Rhodes to the white-washed villages of Santorini, every island in Greece has its own charming character. With so much to see, and often so little time, it's unsurprising island-hopping by boat and plane has become the most popular way to travel in and around islands in Greece. However, with over 200 islands to visit, figuring out how to navigate multiple islands in one holiday itinerary can be pretty tricky.
Surrounded by the bright blue waters, the Greek Islands are divided into several groups, with some of the most popular including the Ionian Islands and the Cyclades. Whilst many of these well-trodden spots now provide easy access for visitors with international flights arriving daily, finding your way to the lesser-known islands of Greece can still prove a challenge.
So, to help make planning your trip that little bit easier, we have put together the ultimate guide to traveling between the islands of Greece with some super-useful top tips.
Table of Contents
Best Islands to Visit in Greece
Photo by David Tip via Unsplash
No two islands in Greece are quite the same. Although some have become more commercialized in recent years, each and every islet is shaped by thousands of years of history. Deciding which Greek island — or islands — is best to visit for you will be dependent on who you're travelling with, what you enjoy doing and how much time you wish to spend there.
Crete is the largest of the Greek Islands, located almost 100 miles to the south of the mainland. This mountainous getaway is top of the list for many travelers visiting the Greek islands, with everything from beautiful beaches to historical castles, plus lots of organized tours and easily accessible attractions for tourists. Further north, the emerald isle of Corfu is only a two-hour flight away. Another firm favorite with tourists looking to experience the islands of Greece, here you'll find the UNESCO World Heritage protected Old Town and countless ancient buildings.
Undeniably, the Cyclades is home to some of Greece's most well-known destinations, including the infamous isles of Mykonos and Santorini. Packed with tiny white-walled streets and boasting famous clifftop sunsets, every trip to Greece should include one of these two inspiring islets. If you really can't decide which of the two to visit, don't worry — they're only a few hours apart by ferry!
If you're looking to venture further off the beaten track, there's also lots of lesser-known islands in Greece to explore whilst on your island-hopping journey. Try water sports like windsurfing off the breezy coast of Naxos; sail around the secluded coves and caves of Meganissi or sample local delicacies made by locals in one of many Kimolos' traditional tavernas.
How to travel around the Greek Islands
Photo by Matthieu Oger via Unsplash
Travel by Boat
With crystal clear water in whichever direction you glance, it's hardly surprising traveling by boat is the most common way to visit the Greek islands. Countless ferry connections operate between the islands — and from the mainland — during the peak of summer. These services vary in size and frequency; it's worth remembering that whilst a car ferry might transport you between islands in two or three hours, a smaller and more traditional vessel might take much longer. It's also important to consider that boat services can also sometimes be delayed or postponed due to high winds, poor visibility or stormy weather, although this is much less common during the warmer months.
If it's your first time visiting the islands of Greece, ferries between the Cyclades are some of the easiest to navigate. You can travel from Mykonos to Santorini in two-and-a-half hours, perfect for a day trip or for those who prefer not to spend too much time at sea. Daily ferries from Rhodes also stop at many of the lesser-known Cyclades islands, including Syros, Naxos and Paros. If you're feeling more adventurous, you'll find a ferry or boat connection to nearly every Greek island from one of Athens' three main ferry ports, with Piraeus being the biggest and busiest.
TOP TIP: If you struggle with sea sickness, stick to bigger boats and ferries, like the car ferry. These are more stable and less prone to rolling with the waves, meaning you're less likely to experience feeling unwell.
Travel by Plane
Although some people may prefer taking to the skies when traveling between destinations, inter-island flights in Greece are often hard to come by. Of course, international flights arrive into tourist destinations like Crete, Rhodes and Corfu daily, and flights from Athens to the islands are frequent, operated by local airlines; however, finding flights between smaller islands isn't as simple. If you don't wish to travel between the islands of Greece by ferry after arriving at your first destination, you could always look to travel at a slower pace by hiring a private yacht or catamaran – but expect to pay the price.
When should I visit the islands of Greece?
Photo by Jeet Dhanoa via Unsplash
Of course, the summer months – from May to September – are the best time to experience the peak of summer sunshine in Greece. However, July and August are typically exceptionally busy, so it's best to arrive before or after this if possible.
If traveling in the summer, keep in mind that flights, ferries and accommodation will book up quickly, so it pays to be prepared. Conversely, if you travel out of season, ferry schedules are reduced and can be further affected by bad weather, so ensure you have time and money to allow some flexibility in your plans in case you do encounter any unexpected delays.
How long should you spend island-hopping in Greece?
Photo by Dimitris Kiriakakis via Unsplash
Deciding how long to spend exploring the islands of Greece will depend on exactly how you want to spend your time and how long you have. If you want to spend less than a week in Greece, it would be a good idea to stick to one group of Greek islands. Ferries are typically a slow mode of transportation to take, so whether it's the Cyclades or the Aegean islands, traveling only to nearby islets which share more frequent ferry routes will mean you'll have the chance to visit more of these breathtaking destinations in the short time you're there.
If you have ten days or two weeks to spend discovering the Greek islands, you can broaden your horizons and venture much further. If you're starting your trip in Athens, the Argo-Saronic islands are a fantastic starting point. Located less than an hour from the port of Piraeus, these islands feature everything from golden sand beaches to pine-clad forests, making them a popular choice with Athenians for a weekend break. From there, the world – or Greece – is your oyster; venture on to the Dodecanese islands to discover neoclassical towns and mountainous landscapes, capture photographs of the unforgettable sunsets from a cliff top in the Cyclades and stop to see the small Sporades island of Skopelos, the filming location for popular movie Mamma Mia.
How much does it cost to travel between islands in Greece?
Photo by Johnny Chen via Unsplash
So you know how to travel, but how much is it going to cost? If you decide to travel around the Greek islands by ferry, prices can vary depending on which route you take and the time you're traveling, with the highest prices typically during the summer. Tickets can range from 10 euros up to over 100 euros, but if you're looking to save some money and stick to your budget, there are easy ways to do this.
Regular services between some of the most popular islands – for example, Mykonos and Santorini – tend to be the cheapest routes, but this sailing would take approximately four hours to cross the waters. However, by spending a little extra, you could cut your journey time by up to two hours. Another savvy way to keep track of your spending is to check online for tickets in advance; there may not be a huge difference in price, but every little helps, and booking before arriving in the port will also give you peace of mind that you can hop aboard with ease.
Alternatively, if you're traveling by plane, you'll find prices are typically based on which island you're looking to fly to – but don't assume they'll always cost more than traveling by ferry. Santorini is notoriously expensive (not just for flights), but islands like Rhodes, Crete and Corfu tend to be more affordable if booked closer to the time of travel. Of course, it's also dependent on the time of year – flights between January and March will inevitably be some of the cheapest. If you are traveling with strict costs in mind, ferry is definitely the best way to travel in Greece – and if you want to avoid encountering any budget-blowing fares, try to keep to the quieter and less popularized islands like Naxos and Paros.
Can I Travel to Greece Again? And Other FAQs
All the key developments regarding the coronavirus measures in Greece, and the re-opening of the country to international tourism – regularly updated.
Last Updated: 6/5/2021
Summer is approaching again leading many to ask: Can I travel to Greece again?
What are the travel requirements to enter Greece? Does one need to be vaccinated to travel to Greece? (Short answer no: only a negative PCR test is required).
In this article we will seek to provide the most up-date-information about the situation in Greece and developments regarding tourism and international travel to the country. As the situation is likely to remain fluid, we will be regularly updating this article with the latest developments.
Greece's Tourism Minister has announced that Greece will be open to tourists this summer. The country is gradually opening its borders and lifting the requirement that visitors self-isolate, unless they test positive for Covid-19.
All travelers will, however, be required to provide a document proving that they have either:
been vaccinated
tested negative
The new procedure is currently being tested with travelers from the EU+Schengen, USA, UK, Israel, Serbia, UAE, Australia, New Zealand, South Korea, Thailand, Rwanda, Singapore and Russia. If all goes well, it will be applied to all travelers on May 14 (or possibly sooner, according to a statement by the Tourism Minister). More details regarding the new procedures and regulations will be added to this article as they are announced.
Below you will find the answers to frequently asked questions about if and how one might travel to Greece right now.
IS GREECE OPEN TO TOURISM RIGHT NOW?
Greece is opening its borders to tourists gradually. While only essential travel is permitted within the country, travelers from abroad are allowed to enter the country through 9 airports (Athens, Thessaloniki, Heraklion, Corfu, Rhodes, Kos, Chania, Mykonos and Santorini), and transit flights within the country are allowed to reach your final destination.
Many of the lockdown restrictions have been lifted: along with many hotels, archeological sites and museums have reopened, as have stores, beaches and restaurants (though they must currently close at 00.30).
FROM WHICH EUROPEAN COUNTRIES IS AIR TRAVEL ALLOWED TO GREECE?
Travelers from EU+ countries can fly to Greece (the EU+ consists of the EU plus Switzerland, Norway, Lichtenstein and Iceland).
All travelers flying to Greece are obliged to present either a vaccination certificate (14 days must have past since the last vaccination dose), or a negative Covid-19 test (performed up to 72 hours prior to entering the country) upon arrival. The certificate or test must bear the name and passport number of the traveler. Travelers will also be subject to sample rapid antigen testing.
Additionally, travelers will have to fill a Passenger Locator Form (PLF) – see below for details.
Passenger Locator Forms and more information are available here.
A woman poses on the Acropolis with Lycabettus Hill in the background
A woman poses on the Acropolis with Lycabettus Hill in the background
CAN I TRAVEL FROM OUTSIDE OF THE EU (and EU +)?
The following regulations and restrictions are currently in effect:
Greece remains aligned with advice from the European Commission in determining if a non-EU+ country is considered at high risk of infection and at the moment is allowing nationals from the following 12 non-EU+ countries to enter without the requirement for isolation: USA, UK, Israel, Serbia, UAE, Australia, New Zealand, South Korea, Thailand, Rwanda, Singapore and Russia.
All travelers flying to Greece are obliged to present either: a negative Covid-19 test (performed up to 72 hours prior to entering the country), or a vaccination certificate (14 days must have past since the last vaccination dose). The certificate or test must bear the name and passport number of the traveler. Travelers will also be subject to sample rapid antigen testing.
Additionally, travelers will have to fill a Passenger Locator Form (PLF) – see below for details.
The number of permanent residents of Russia allowed into the country per week is currently 4000, and these travelers may enter the country by air only.
The HCAA notes that Greek repatriation programs are excluded from all aviation directives.
CAN I VISIT GREECE FROM THE USA?
Yes. Since mid-April, travelers from the USA are among those allowed to enter Greece with no requirement to self-isolate. See above (CAN I TRAVEL FROM OUTSIDE OF THE EU).
What is the EU+?
The EU+ consists of the EU plus Switzerland, Norway, Lichtenstein and Iceland.
WHAT DO I HAVE TO DO BEFORE TRAVELING TO GREECE? WHEN I ARRIVE WILL I NEED TO GO INTO QUARANTINE?
Upon arrival, international travelers flying to Greece will have to present either: a negative Covid-19 test performed up to 72 hours prior to entering the country, or a vaccination certificate proving he/she has been vaccinated with a vaccine from one of the following: Pfizer BioNtech, Moderna, Astra Zeneca/Oxford, Novavax, Johnson + Johnson/Janssen, Sinovac Biotech, Gamaleya (Sputnik), Cansino Biologics, or Sinopharm, no less than 14 days before arrival.
All international travelers arriving to Greece must also fill in a Passenger Locator Form (PLF) no later than 23:59 of the day before arrival. Upon submission of the PLF, travelers will receive an email confirmation.
On the day they are to travel (at 00.01), each passenger will receive a unique QR code on the basis of their submitted PLF which they will have to show (either on their mobile phone or printed) upon arrival to screening personnel.
Depending on the QR code, travelers will then be directed either to the exit, or to a screening area, where they will be tested for COVID-19. Those selected to be tested will still be free to move on immediately to their final destinations as declared in their PLF.
If the test result is positive, the visitor will be notified and quarantined under supervision for at least 10 days.
The Greek Government has recommended that all visitors download the Visit Greece app (GDPR compliant) for free, prior to their arrival in Greece, and notes that all travelers must comply with all of the necessary preventive hygiene measures (use of masks and physical distancing) according to local guidance.
IF I LAND IN ATHENS CAN I TRAVEL TO OTHER PARTS OF GREECE?
According to the Hellenic Civil Aviation Authority, domestic flights can be boarded for essential travels only – including health, business, family reunification, or to return to one's permanent residence.
However, a flight connection within the country is not considered domestic traveling: a transit flight counts as one trip.
For example, if your destination is a Greek island and you have booked a transit flight through Athens, you may proceed with your trip provided you clearly indicate your final destination on the PLF.
According to the General Secretariat for Civil Protection, passengers with a connecting flight in Greece must carry their PLF and negative Covid-19 test result or vaccination certificate until their final destination is reached.
For domestic travel not needed to reach the final destination stated on your PLF, please note that:
If you are traveling for health reasons, you must carry with you a written proof from your doctor.
If you are traveling to be reunited with a parent, you must write and carry with you a signed declaration clearly stating your name and your parental link with the family member.
If you are returning to your permanent residence you must carry official proof of that residence (such as the Greek E1 Income Tax Form).
If you are traveling for work, you must carry a signed document from your employer that justifies your travel or, if you are self-employed, a self-written document.
A plane comes into land at Corfu airport
Source https://www.audleytravel.com/australasia/region-guides/combining-australia-and-new-zealand
Source https://www.jtgtravel.com/europe/greece/how-to-travel-between-islands-in-greece/
Source https://www.greece-is.com/when-can-i-travel-to-greece-again/