Is my passport valid for travel to Europe?
If your passport is more than ten years old or there is less than three months before it expires, you may not be able to use it to travel to countries within the EU. The rules came into effect after Brexit, with Ireland being the only exception. Here's what you need to know.
Main photo: Alamy
What documents do I need to travel from the UK?
A valid passport is essential for travelling outside of the UK. For travel to the EU and EFTA countries (Iceland, Liechtenstein, Norway and Switzerland), it needs to be less than ten years old when you enter the country and have at least three months left on it the day after you leave. The only exception is if you are travelling to Ireland — which is part of the Common Travel Area with the UK — where you can travel up to the day your passport expires.
Depending on where you are travelling to, for what purpose and for how long, you may also need to get a visa. After Brexit, UK nationals are only permitted to stay in EU countries for a maximum of 90 days out of 180, after which a visa or other entry permit may be needed. You will need to check the entry requirements for each individual country you are visiting.
If you are planning to drive or hire a car, you will need to take your driving licence. And if you only have a paper version of the licence, or your licence was issued in Gibraltar, Guernsey, Jersey or the Isle of Man, you may need to apply for an International Driving Licence, which costs £5.50 from the Post Office. Those taking their own cars across the border will also need relevant insurance and vehicle registration details as well as a UK sticker on the vehicle.
When travelling to EU countries, you may also want to apply for and take your UK Global Health Insurance Card (UK GHIC). This free benefit replaced the European Health Insurance Card (EHIC) for most UK nationals after Brexit. It entitles you to the same access to public medical care as residents. In some cases, having the card with you is a requisite of ensuring your travel insurance is valid.
Can you travel to Europe without a passport from the UK?
In most cases, you will need your passport to travel to Europe. Ireland is the only exception, although the government still advises taking your passport with you, and airlines will typically insist on it.
What if I lose my passport?
If you have lost your passport, or you do not have time to get a new one before you travel, you may be able to apply for an emergency travel document. These cost £100 and you will need to attend a British embassy in person after you have applied online. The document contains your exact itinerary and if you decide to change your plans at the last minute you will need a new document.
Can you travel with an expired passport within Europe?
In theory, yes, because land borders within the Schengen area are open and ID checks are only carried out in exceptional circumstances. For example, the Spanish government has said that its citizens may enter the country on an expired passport or ID after its authenticity has been checked; however, a valid travel document is still required to leave the country. In the case of the UK, your passport will be checked at all border controls and you will need to make sure it's valid for travel.
Passport control at Heathrow Airport (Getty Images)
How long do you need on your passport to travel to Spain?
Like most countries in the EU, Spain requires those travelling on a British passport to have at least three months remaining after the day you plan to leave. You also need to check that it is less than ten years old when you enter Spain.
How long do you need on your passport to travel to Greece?
For Greece, the usual EU passport validity rules apply. This means it needs to be less than ten years old when you enter the country and have at least three months left on it the day after you leave.
How long do you need on your passport to travel to Portugal?
EU passport validity rules also apply in Portugal. So your passport needs to be less than ten years old when you enter the country and have at least three months left on it the day after you leave.
How long do you need on your passport to travel to the USA?
For entry into the USA, your passport needs to be valid for the duration of your stay although it doesn't need to have any additional validity on it. However, you may need an Esta or visa for entry.
How long do you need on your passport to travel to Turkey?
Turkey requires UK passport holders to have at least six months remaining on their passports from the day they arrive. It also needs to have a full blank page for the entry and exit stamps.
Take me there
Wanting to visit Europe but yet to book your trip? Here are the best packages from TUI Holidays* and Expedia*. And if you're still unsure of where you want to go or what type of holiday to book, get in touch here and one of the Designer Travel experts will be in contact to help you arrange your perfect tailor-made break.
Here's a selection of some of the best European tour itineraries from our Times Travel partners.
The days of easy-breezy travel to the EU have changed. Here are the new travel rules you need to know
Exclusive deals, straight to your inbox
Subscribe for weekly inspiration and deals from The Times and The Sunday Times.
Do I Need A Visa To Travel To Europe? European Visa Guide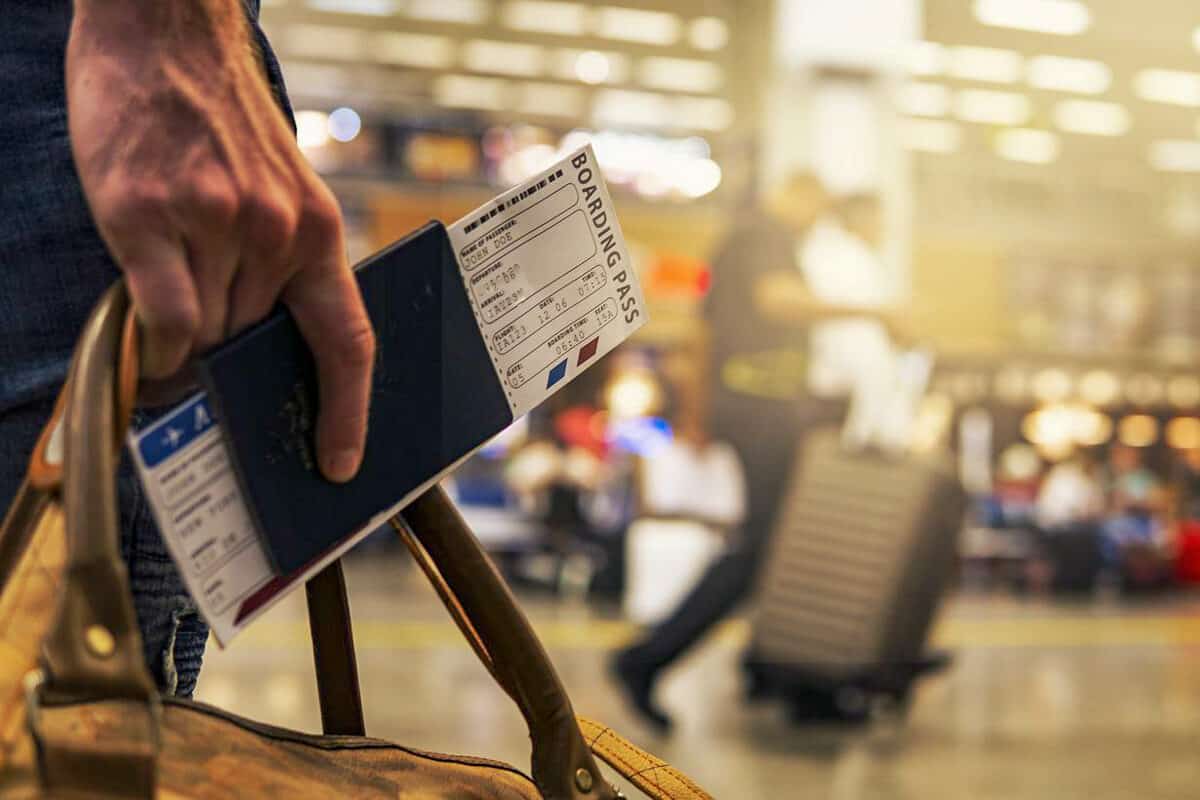 As you plan for your next trip to Europe, visas may not be the first thing on your mind. However, it is critically important to arrange your European visa ahead of time, to ensure that your trip can go off without a hitch.
Depending on where you're from, you may be exempt from needing a visa to travel to Europe, but for most travelers, a Schengen visa will be more than sufficient for a backpacking trip.
Although visas for Europe can be tricky to understand at first, by the end of this guide, you will know exactly what you need to do to apply for one.
Related: (opens in new tab)
Disclaimer: The following information reflects Europe Backpacker's understanding of the Schengen visa rules. While this article has been extensively researched and is updated regularly to ensure the information is as current as it can be, we cannot be held responsible for any errors or omissions.
European Visa Guide for Travelers
Who Needs a Visa To Enter Europe?
In a nutshell, mutual agreements between countries in Europe (and the EU) determine whether or not you need a visa to travel within Europe. As a rule of thumb, most non-EU citizens will require a Schengen visa, but nationals from around 60 countries are exempt. Whether or not you need a visa to enter Europe depends on your country of origin (or which country's passport you are using to travel.)
You can see a full list here, but many countries in Asia, North America, and South America are exempt from the Schengen visa and can travel through the Schengen bloc visa-free. This includes the U.S., Canada, the UK, Japan, and Australia, among other places.
On the other hand, you may need an airport transit visa to change airplanes within Europe, even if you aren't leaving the airport. This will depend on your nationality. It's always a good idea to check the specific requirements for your country of origin.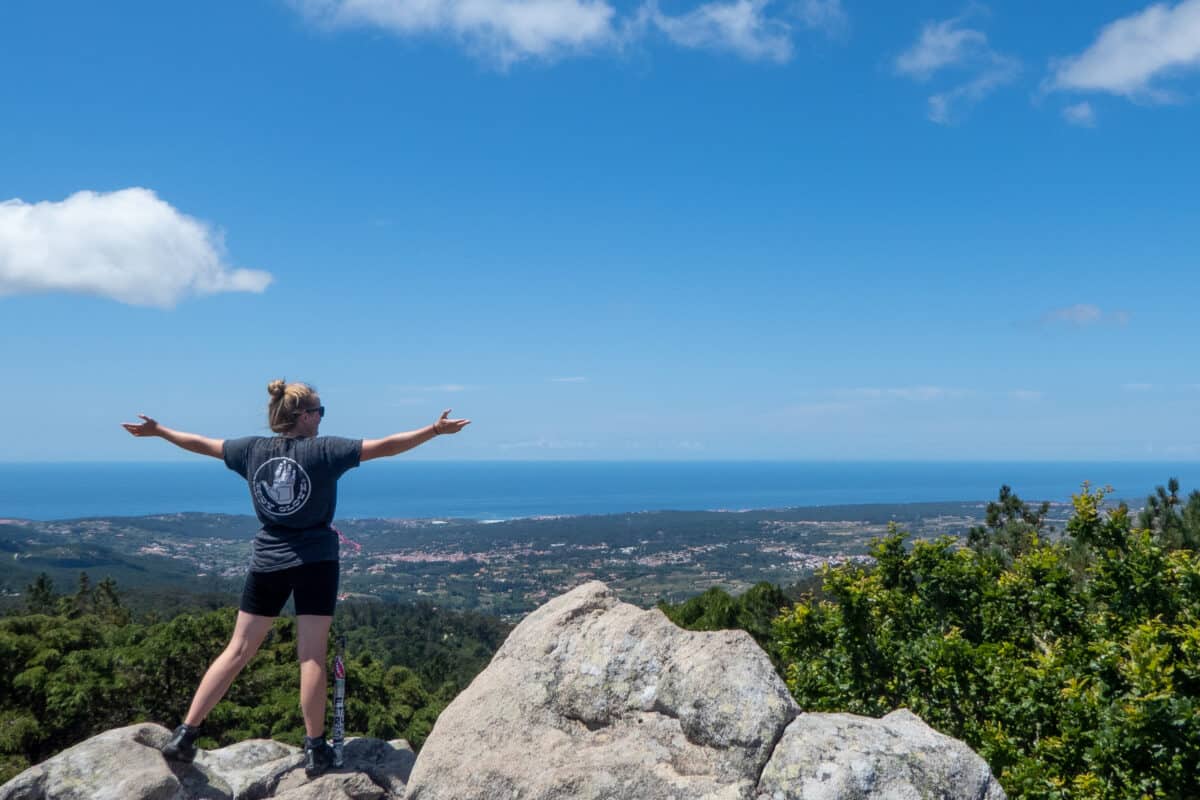 What Is a Schengen Visa?
The Schengen visa is a 'short-stay' visa, which allows the holder to travel within the Schengen Area and other participating countries for a period of 90 days. A big perk of the Schengen area is that you do not have to go through border control procedures between member countries. This means that Schengen nationals can work and live in other member-states, and visitors like you are allowed free movement within your visa's time frame. Of course, make sure you always have your passport with you – especially when traveling by air, as agents will likely still ask for identification.
The Schengen Area comprises 26 countries in Europe: Austria, Belgium, the Czech Republic, Denmark, Estonia, Finland, France, Germany, Greece, Hungary, Iceland, Italy, Latvia, Liechtenstein, Lithuania, Luxembourg, Malta, the Netherlands, Norway, Poland, Portugal, Slovakia, Slovenia, Spain, Sweden, and Switzerland.
Note that while most of these countries are also members of the European Union, a few aren't, namely Iceland, Liechtenstein, Norway, and Switzerland. Relatedly, a few EU member-states are not part of the Schengen border-free area, including, Bulgaria, Romania, Croatia, Cyprus, and Ireland. Travel procedures may differ slightly in these countries.
Which Countries Use the Schengen Visa?
The Schengen visa gives you unlimited access to travel within member states of the Schengen Area, as well as several other places. There are several countries that are not part of the Schengen Area but still allow you to travel to them if you have a valid Schengen visa. These include Albania, Belarus, Bosnia and Herzegovina, Bulgaria, Croatia, Cyprus, Georgia, Kosovo, Montenegro, North Macedonia, Romania, Serbia, and Turkey.
The territories of Andorra, Monaco, and Vatican City are technically not part of Schengen but are considered 'de facto' members because they do not impose border controls. Interestingly, outside of Europe, a valid Schengen visa also allows you to travel to Colombia, Sao Tome and Principe, Antigua, and Mexico.
Note that requirements vary widely from country to country, so be sure to check the specifics prior to traveling.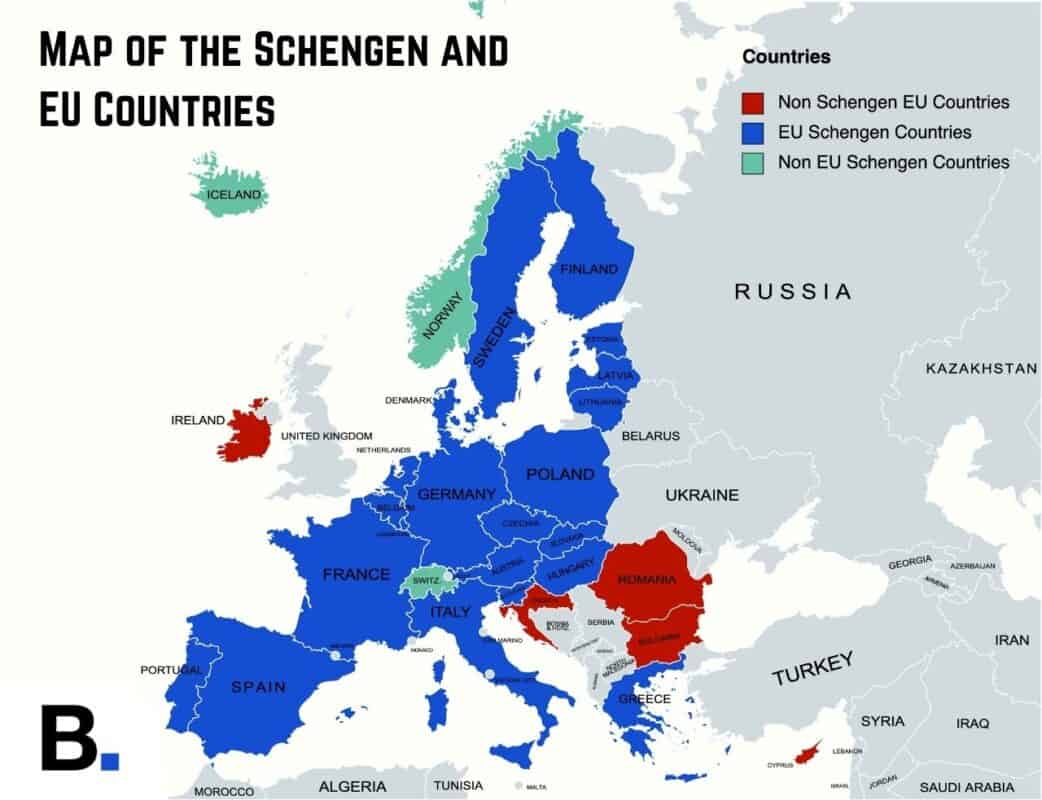 Which European Countries Don't Use the Schengen Visa?
While most countries in Europe use the Schengen visa, there are a few exceptions. Ireland, Moldova, Ukraine, and the United Kingdom do not use the Schengen visa. If you're visiting these countries, make sure to check what you need to do to get a visa, as it varies depending on the country.
It is important to remember that the United Kingdom is no longer part of the European Union, and travel rules have changed. Be sure to pay special attention to the entry requirements if you're planning to travel to the UK.
How To Apply for a Schengen Visa
If you are traveling from a country that requires a visa and your primary reason for visiting is tourism (such as a backpacking trip), you will apply for the tourism Schengen visa. Note that there are separate visas for visiting family or friends, business, culture and sport, and studying – if one of these categories better fits your situation, make sure you apply for that type of visa.
You should always apply for a Schengen visa directly from an embassy, consulate, or its designated representative in your country. They may utilize a contractor service to process applications, but the information should be clear and available on their website. Official embassy websites can be found on the European Union's website here, which is a great place to start the process.
To start your application, there are a few rules of thumb depending on your situation:
If you are visiting one country, apply for the visa there.
If you are visiting more than two countries, apply for the visa wherever you will be spending the most time.
If you will be spending an equal amount of time in each country you visit, apply for the visa wherever you first enter the Schengen area.
The earliest that you can apply for a visa is 6 months ahead of your trip, and the latest is 15 days. Due to different processing times, it's recommended that you apply at least 3 weeks before you start your journey to ensure you get the visa in time, but earlier is always better!
You will also have to book an appointment for an interview. How and where the appointment is booked varies depending on the country. Some countries require that you make the appointment in-person and then attend in-person as well, while some allow you to make appointments online or over the phone.
At your appointment, you will need to bring two copies of your completed Schengen visa form; your passport; two passport photos; and other items like proof of travel insurance (we recommend SafetyWing), round-trip flight reservation, and accommodation. The visa form is streamlined for all Schengen member-states.
Biometric data (fingerprints) will also be collected, and a photo is taken of you for their system. This data is kept for five years, so if you apply for a second visa in that time frame, you won't have to give your fingerprints again.
Travel Documents Required for Non-EU Citizens
At a minimum, you will need ​​your passport to travel to Europe. Per EU regulations, it must be valid for at least three months after you leave and must have been issued within the past 10 years. Again, many countries also ask for other documentation in order to grant your visa, which can include proof of lodging, proof of return ticket, or an invitation letter if you are visiting Europe for a particular reason.
You may also be asked to provide proof of travel insurance and proof of health insurance too. While the application form is streamlined, individual countries can request different supplementary documents. Make sure to check the requirements for the country you're visiting ahead of this step. It's never a bad idea to supply more information than is strictly asked for if you have it!
How Much Does a Schengen Visa Cost?
A Schengen visa costs €80. This is a flat administrative fee set by the Schengen member countries and does not vary. Once your application is approved, you will receive a sticker to place in your passport. The sticker has your photo, as well as validity dates, the countries you can enter, and a unique visa number.
If you are able to enter the whole Schengen area, it will just say "Schengen States" or "Etats Schengen." If you are restricted to certain countries, the respective country codes will be listed. This will be a 1 or 2 letter acronym: e.g. Portugal is P, Netherlands is NL.
Remember to apply for your visa only through the embassy or consulate in your country. If they use a contractor or similar service to process applications, they'll point you in the right direction. Scams are uncommon but do exist. You should be easily able to avoid them if you only communicate with the correct embassy or consulate directly.
It has been announced that in 2023, the European Travel Information and Authorisation System (ETIAS) will be launched. Any traveller who is visiting the EU or Schengen Area visa-free will need to complete an online form that comes with a €7 ($7USD) admin fee per person. This includes travellers from the US, UK, Japan, Singapore and others.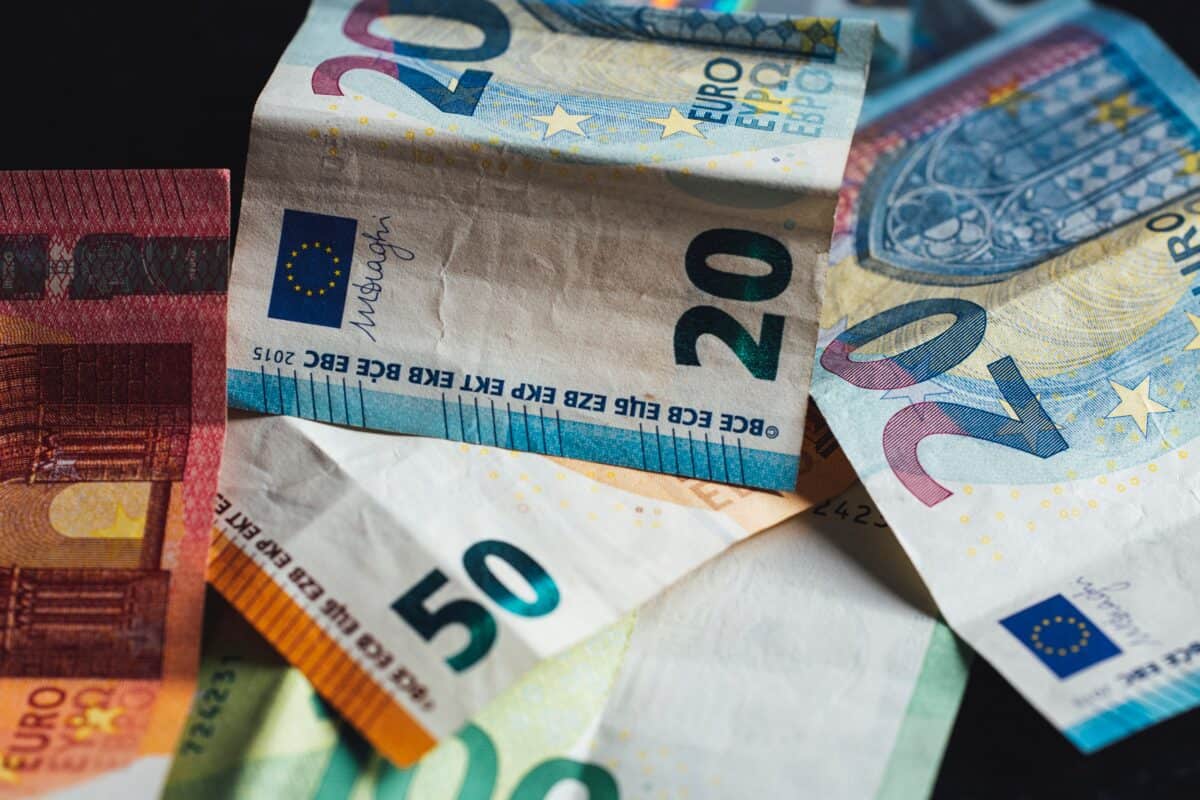 Entry Requirements for Non-EU Citizens
In addition to the travel documents mentioned above, you may be asked to provide means of subsistence. This is proof of income or proof of your ability to sustain yourself financially during your trip.
Authorities may ask you for bank statements or similar to ensure that you can support your activities while in the Schengen area. The amount varies depending on where you are visiting but is often around €50 per day plus the cost of a hotel room. Countries with a higher cost of living will require proof of more funds.
Schengen Visa FAQs
Do I need a visa to travel to Europe? Whether or not you need a visa depends on where you come from and what countries you're visiting. Most non-EU citizens will need a visa to visit Europe. Nationals of countries on the exempt list do not need a visa to enter.
What is a Schengen visa? The Schengen visa is a 'short-stay' visa, which allows you to travel within the Schengen Area and other participating countries for a period of 90 days.
Do UK citizens need a visa for Europe? No, the UK is on the list of visa-exempt countries.
Do American citizens need a visa for Europe? No, the US is on the list of visa-exempt countries.
What are common reasons Schengen visa applications get declined? Most declined applications are declined due to an error on the application or suspicion of false data provided (e.g. fake passport.) If you made a mistake on your application, you can appeal the decision with the correct data. Your application may also be declined if you do not satisfy the application criteria, such as proof of means of subsistence.
Are you required to submit biometric data for a Schengen visa? Yes. In addition to other identification documents, biometric data (fingerprints) will be recorded at your application appointment.
How long in advance can I apply for a Schengen visa? You can apply up to six months in advance of your trip.
How much does a Schengen visa cost? There is a flat administrative fee of €80.
When you plan your trip to Europe, don't forget to check if you need a visa. If you are not an EU citizen, there is a good chance that you will need a European visa, unless you are from a visa-exempt country. Most non-EU citizens will be best served by a Schengen visa. This visa includes the 26 Schengen bloc countries as well as several other places in Europe and offers you free movement between them for 90 days.
It's not as hard to secure a Schengen visa as you might think – simply follow these steps:
Check if you need a visa
If you do, contact the consulate or embassy nearest to you for the country you are seeking to get a visa for and make an appointment
Fill out the application form correctly prior to your appointment, and print out two copies. Bring the form, your passport, passport photos, and any required supplementary information (proof of lodging, etc.) with you
When you receive your visa, stick it in your passport
Enjoy your trip!
What has your experience been like getting a Schengen visa? Any tips we missed? Let us know in the comments!
Traveling to Europe with a Biometric Passport
U.S. citizens will soon need to register with ETIAS, the European visa waiver, before going to any of the 26 Schengen Area nations.
Currently, Americans can visit Europe using just a valid passport. However, with the launch of ETIAS scheduled for November 2023, that is about to change. ETIAS is not a visa but it will become a mandatory entry requirement.
To apply for ETIAS, citizens of the U.S. need a biometric passport. This is because ETIAS is fully digital: rather than having to print out the permit and carry around a physical document, the visa waiver is linked to the passport electronically. A much more convenient solution for travelers.
But what exactly is a biometric passport and how does it differ from the traditional version? Answers to these questions can be found below in addition to advice for obtaining an ETIAS visa waiver online.
Differences Between Biometric and Normal Passports
Normal passports, or machine-readable passports, have been gradually replaced by biometric versions in recent years and adopted by countries across the world.
The main difference between the 2 types of travel documents is that the ePassport contains a microprocessor chip which is embedded inside it.
This chip contains biometric information that can be used to identify the holder accurately. As traditional passports do not contain the chip they are therefore less secure.
What information does a biometric chip in a passport contain?
Both machine-readable and biometric travel documents hold the following information which is essential for identifying travelers:
Full name
Date of birth
Photograph
Additional biographical information such as birthplace
In both documents, the data is found within machine-readable lines whilst biometric lines also have an electronic chip that stores these details.
As well as the details listed above, ePassports also store certain biometrics, measurements of a person's unique physical features.
It is the ability to store this information that makes the biometric passport far more secure than its predecessor.
Are all United States passports biometric?
All passports issued in the United States of America since 2007 have been ePassports.
Given that U.S. passports are valid for 10 years, all valid American passports should now be biometric passports.
How to tell whether a passport is biometric or not
Only individuals with a biometric passport can apply for ETIAS. Electronic passports can be identified by the small camera symbol which is printed on the cover.
This is the international sign for the ePassport and is displayed at electronic gates at airports.
Thanks to advances in technology, the chip is now so fine it is almost impossible to feel it embedded in the page.
How Do Biometric Passports Work?
Everyone has unique biometrics. By measuring the space between specific points on the face it is possible to identify an individual and, therefore, ensure that the passport was issued to the person attempting to use it.
Airports now have ePassport gates where people are asked to scan their documents whilst looking into a screen. At this point, the facial measurements are cross-checked against those contained on the chip.
Used in place of manual inspection, electronic passport gates remove the human-error element and also reduce waiting times at the border.
Advantages of the Biometric Passport
Biometric passports are newer and more modern than machine-readable documents and, therefore, much more secure.
The use of Public Key Infrastructure (PKI) to authenticate the information stored on the chip makes it incredibly difficult and expensive to forge.
Biometric passport holders are, in this way, protected from fraudsters who may have previously attempted to create a fake document using the information printed on the passport's biographical page.
How is biometric passport information kept secure?
Biometric passports use several mechanisms to ensure that the data stored on the electronic chip is kept safe.
The following systems are all used to prevent attacks and the theft of information:
Basic Access Control (BAC) protects the communication channel between the electronic chip and the reader
Active Authentication (AA) stops biometric passport chips from being cloned
Passive Authentication (PA) is used to detect any modification of the chip
Extended Access Control (EAC) safeguards iris and fingerprint scans
Traditional passports were unable to offer such high levels of protection, making them more vulnerable to cloning, theft, and fraud.
Applying for ETIAS with a Biometric U.S. Passport
One of the greatest advantages of a biometric American passport is that it makes it possible to visit Top European destinations without a visa.
To enjoy visa-free access, American citizens traveling to Europe must register with ETIAS. This is done online by completing the short ETIAS form with a few basic personal details and passport data.
The data provided is automatically cross-checked against several security databases, allowing for quick identification of individuals who may pose a risk to Europe.
Provided nothing is flagged up, the ETIAS request is approved and the permit is linked to the holder's passport chip electronically.
It is not possible to transfer an ETIAS visa waiver from one passport to another
Due to this electronic link, an ETIAS visa waiver is only valid in conjunction with the associated passport.
To apply for ETIAS with dual citizenship, it's important to ensure the details of the passport that will be used to enter the Schengen Area are provided.
For the same reason, should the passport expire before the visa waiver, it is necessary to make a new ETIAS request using the renewed travel document.
As long as the passport does not expire, the authorization remains valid for 3 years and can be used for multiple stays of up to 90 days in a 180-day period.
ETIAS holders can travel throughout the Schengen Area, the permit is valid for all 26 countries with no need to obtain a separate authorization for each nation.
Benjamin Murphy is a freelance travel writer from Ohio, specializing in the European Union's myriad of options for travel. After moving to the UK, he began collaborating with various media outlets, covering travel advice and entry requirements in an ever-changing tourism industry.
Related Posts
Do Americans Need a Vaccine Certificate to Travel to Europe?
The European Union has a vaccination certificate scheme. Travelers with this electronic document are able to enter the different.
EU to Implement Digital Green Pass Vaccine Certificate
A Digital Green Pass will be implemented for traveling to Europe, Ursula von der Leyden, the President of the.
COVID-19 PCR Test to Travel to Europe from the U.S.
Many EU countries now require that travelers arriving from the U.S. and other third countries are tested for coronavirus.
Source https://www.thetimes.co.uk/travel/advice/is-my-passport-valid-for-travel-to-europe
Source https://europebackpacker.com/europe-visa/
Source https://www.etias.us/traveling-europe-biometric-us-passport/