Travel FX Euro Exchange Rates Compared

Travel FX consistently offer the best exchange rates and top our polls in user satisfaction and also have a 5* rating on Trustpilot . They offer payment by bank transfer, debit card or credit card and the whole process is very slick. All deliveries are sent by Royal Mail Special delivery. They also conveniently offer international money transfers and a buy back service for unused foreign currency at the best prices typically. We highly recommend them.
Covent Garden FX
Covent Garden FX is a family-owned and operated Bureau De Change located in the heart of Central London. Established for over 20 years, they offer extremely competitive exchange rates with no commission and no fees.
Currency Online Group
Currency Online Group offers guaranteed exchange rates commission free for all currencies and amounts. They have never and will never charge fees, and believe all currency exchange should be fee free.
ACE FX
ACE-FX offer click-and-collect from their London based branches, and also offer a competitive home delivery service.
The Currency Club
The Currency Club is an online supplier, offering competitive currency exchange rates on global currencies also offering free home delivery of your travel cash on every online currency order you make.
Sterling FX
Sterling FX have over 35 years experience in the foreign exchange sector. Exchange rates tend to be competitive and they offer excellent customer service.
Eurochange
Established in 1975, Eurochange are the foreign exchange experts, with over 40 years' experience. They have an experienced team with excellent reviews offering an array of financial services.
Post Office
Post Office offer relatively competitive rates, 0% commission, and next-day delivery on holiday money exchange.
Asda Travel Money is a currency provider offered by the U.K. supermarket chain. The travel money service does not live up to the low-cost reputation of the Asda brand as they are less competitive on price than many other providers.
Tesco Money
Tesco Travel Money Bureau has a range of foreign currencies, including Euros and US Dollars, instantly available for purchase online. The online exchange rates are better than you can find in their branches but still less competitive when compared to other suppliers.
Ramsdens
Ramsdens offer travel money services allowing you to buy currency online then collect it in a local Ramsdens store. You can choose from up to 50 different currencies and collect your cash from selected Ramsden's branches across the UK.
Manor FX
ManorFX is a supplier based in Slough. They offer currency exchange rates on over 60 currencies also offering home delivery of your travel cash from Monday to Saturday. They also have a 9.9 trust score on trustpilot.
Sainsburys Bank
Sainsbury's Bank Travel Money is part of the Sainsbury's Supermarket brand and a household name, however, their rates are much less competitive on price than many other providers.
Tui offers a range of travel money services, including foreign currency.
John Lewis
The well-established brand has a great reputation, so it's no surprise that John Lewis travel money service is a popular currency exchange provider. Choose from 60 currencies, with the option to have currency delivered directly to your home.
Hays Travel
Hays Travel offers 0% commission on currency and has hundreds of branches on the high street across the UK.
Marks and Spencer
Marks & Spencer travel money is part of the well-established brand, so it's no surprise that they are a popular currency exchange provider. However, their exchange rates are not as competitive as many other providers
Natwest
NatWest travel money is a financial service offered by NatWest Bank, the UK household name, primarily recognized for its general and high street banking services. This page covers their online travel rates and service only.
HSBC UK
HSBC travel money is a financial service offered by the well-known bank HSBC. Their exchange rates are poor compared to other online travel money providers.
Barclays
Barclays Travel Money is only available to Barclays debit card or Barclaycard holders. Their rates tend to be very poor when compared to other online travel money providers.
Our Review on Travel FX: Pros and Cons
Pros: What we like :
✔ They are one of our most competitive currency suppliers, often showing the best exchange rates for travel money
✔ Option to pay by debit card or bank transfer
✔ Hassle-free home delivery of travel money
✔ Their services are safe, secure and regulated
✔ Travel FX reviews are very positive on popular consumer review sites and often report five star, excellent service
Cons: What we like less:
✓No options for money collection, you can't order currency and pickup at a local branch or bureau de change
Questions about Travel FX
As Travel FX are a foreign currency broker they access wholesale rates that are updated every minute. Most banks and brokers, especially in high street branches, set their rate in the morning and do not move it throughout the day. If there is a major exchange rate movement during the day you will only benefit from it through Travel FX.
Travel FX makes most of their money on the difference between the exchange rate they offer to customers and the base exchange rate.
You can see all today's best exchange rates and easily compare all the providers with our holiday money comparison tool.
Travel FX holiday money is a delivery service only. They do not have a physical branch or bureau de change where you can collect currency.
See the latest Travel FX travel money exchange rates here or go here to compare the best tourist rates for all the travel money providers.
The minimum order is £300, with a minimum of £100 per currency.
If you request more than £10,000, Travel FX will need to carry out additional identity checks. in those cases you will need to provide a copy of your passport, driving license or officially recognized photo I.D. You will also need to provide a copy of a utility bill (not mobile phone) or bank statement dated within the last three months that shows your home address.
If you want to order travel money for home delivery, you just need to visit Travel FX's website and you can place an order online.
You just need to enter the following information into a simple form:
✓ Your personal details
✓ The amount of pounds you're exchanging into the foreign currency
✓ Select the currency you're exchanging your pounds into and select how you want to pay. With Travel FX this has to be bank transfer.
Then, once you have made the bank transfer and Travel FX have received the payment, they will send you your travel money.
Yes, subject to minimum order values. Individual or combined orders below £700 attract a £5.00 handling fee. Any individual currency order below £300.00 will attract a £2 additional currency fee.
You can pay by bank transfer, internet or telephone banking, BACS or CHAPS. Travel FX does not accept cash payments into our accounts, card payments or Cheques under any circumstances.
Your travel money will be mailed to the delivery address you specify on your order, usually using Royal Mail Special Delivery Service.
If your order is above £700 there are no commission or postage charges to pay on your order. If your order total is below £700, a £5.00 handling fee will occur. Any individual currency order below £300.00 will attract a £2.00 handling fee.
If you specifically require a particular note denomination or a delivery time outside of the Royal Mail standard schedule then a charge may apply.
Travel FX only offer buyback for currency they have sold you. However, their partner company The FX Company do offer a buyback service on leftover travel money from any travel money provider . Click here to use our holiday money buy back comparison tool.
What is the Travel FX Euro rate?
The Travel FX Euro rate is currently 1.1422.
The worst exchange rate is 1.0990. The difference between the highest and the lowest is 3.78%. This means that if you are buying £750 worth of euros you will get €32.40 more euros by buying with the best euro provider.
This shows you it pays to shop around and get the best rates on travel money!
Euro Exchange Rate Over The Last Week
This shows you the best pound to euro exchange rate recorded daily from our UK suppliers over the last week.
In the last 7 days, the rate for Euros has risen by 0.31%.
If you were to order £1,000 today you would get €3.50 more euros for your money than last week.
How to get the Best Euro Exchange Rate
We compare the pound to euro exchange rates from many of the UK's biggest travel money providers including exclusively online providers as well as some of the well-known high street banks and supermarket travel money services. Our clever algorithms ensure you get the latest euro rates and see who is offering the best euro to pound currency deals.
Compare Travel cash is a free service that takes the pain and effort out of finding the best exchange rates for buying euro online. Don't forget the price we quote is the price you pay, we calculate the amount including any fees and delivery costs!
Buying Euros online FAQs
Hundreds of customers safely buy euros through online travel money providers sites every day and have a great experience. However, as with ordering anything online, the process is never completely risk-free and you should always take care when transferring money to any company.
Compare Travel Cash undertake comprehensive checks on all of our online travel money providers and monitor them to make sure they meet our high standards and continue to do so. Having said that, no company is guaranteed not to come into trouble and we cannot guarantee the solvency of any of the providers listed on our website. We always recommend that you conduct your own due diligence before placing an order with any company.
Its simple! Choose the travel money provider you would like to buys euros from, then:
1. Fill in your details.
2. Select your preferred payment option and make the payment. – Each currency supplier will have different payment options, but the options are usually bank transfer, debit card, with some suppliers offering payment by Apple Pay and Android pay.
3.Enter your delivery preferences whether you want your currency delivered to your door or collection (depending on the supplier).
4.Once your order has been confirmed your order will be prepared and your currency sent to you by registered delivery, some suppliers even offer next day delivery.
Not Usually! We constantly update our exchange rates as they change for each supplier, we try to do this in almost real-time, (in normal circumstances not more than 1 minute difference). Also we sometimes have exclusive offers that you won't find by going direct.
Of course! If you want to exchange euros into pounds you can see the best buy back rate on euros and many other currencies using our buy back comparison tool.
Using ATMs abroad: How to avoid unfair exchange rates and hidden fees
Many seasoned travelers have discovered that the quickest and often cheapest way to get cash while traveling abroad is directly from an ATM. Airport exchange bureaus know you have nowhere else to go, so their fees can often be quite high. Other exchange options vary in quality and convenience. Even your bank will likely subject you to punishing hidden fees in their exchange rates.
So it's good news that finding the best exchange rate can be as easy as finding an ATM. All cash withdrawals, no matter their size, are exchanged based on the wholesale – the real – exchange rate of the day. If you're not careful though, you can pay fees that will cancel out any savings.
Here are a few things you should be aware of.
Different types of foreign ATM fees
Most bank ATMs charge fees. In some cases, these fees are only charged if you aren't a member of that particular bank. To help avoid these fees, check what foreign banks your local bank partners with. Some ATMs, however, charge all users.
Do your homework on the four various fees charged, and your pocketbook will thank you later.
Fee 1: An International or transaction ATM fee
This fee is added when you use a foreign ATM. Many banks charge higher fees for international withdrawals. You'll either pay a flat rate (between £1-5 or $1-5) or a percentage of your total withdrawal (generally between 1-3%).
Fee 2: A conversion charge
These days most larger banks add an additional 'conversion fee' of between 1-3% of the transaction. It's an unfortunate hidden surcharge that banks often charge for foreign ATM withdrawals. These fees are most common from American, British and Australian banks.
Which means it's likely that you'll pay a combined flat fee for using an ATM network, plus a percentage of the value of the withdrawn cash.
Fee 3: A surcharge
A surcharge is added by the ATM as a fee for using the machine.
The good news is you'll be notified on the ATM screen and it will ask your permission to proceed with the transaction. Your best chance of avoiding this might be to use ATMs at major banks or post offices. Smaller banks and independently owned ATMs mean a higher risk of surcharges.
Fee 4: Poor ATM exchange rates
ATM exchange rates are all tied to the interbank currency rates traded on the global financial market. The rates constantly fluctuate, but will likely hover around the same figure for months at a time.
With a quick Google search, you can find out what the current exchange rate is. Or just use an online currency converter to find out how much your money's worth. That way, when you run across an ATM, you can decide for yourself whether the ATM is providing a fair exchange rate. You'd be surprised how many sneak in fees by offering a less than optimal amount.
ATM Networks
Your card is probably linked to over a million ATMs globally through a financial computer system. This is known as an interbank network. Through the network, you can conduct similar transactions at any ATM inside the network. For example, the Cirrus network owns Mastercard, Maestro, and Cirrus. If you see one or more of those three logos on an ATM, that means it's a part of the Cirrus network. Not only that, but each network has an online ATM locator so you can find the nearest in advance.
PLUS Network (Visa)
The PLUS system is an interbank network that covers all Visa cards. They're located in 200 countries and territories around the world. PLUS is the local network most common in the United States and is also used in Canada. You're also likely to find PLUS ATMs in India and Indonesia, where many interbank networks have a presence. Find the nearest one by using the PLUS/Visa ATM locator online.
Cirrus Network (MasterCard and Maestro)
Cirrus is an interbank network operated by MasterCard found in 93 countries. It links MasterCard, Maestro, Diners Club cards to its network. The network is frequently found in the United States, Canada, Venezuela, Chile, and Saudi Arabia. In India and Bangladesh, the Cirrus network serves as both a local and international interbank network.Use their online locator to find Cirrus ATMs.
Maestro Network (Mastercard and Maestro)
Maestro is a multi-national debit card service that is also operated by MasterCard. Within Europe, Maestro is MasterCard's main debit brand. By default, Maestro cards are linked to the Cirrus network, but often you'll still find the logo on ATMs. Search for your nearest Maestro/Mastercard ATM.
STAR Network
STAR is an interbank network in the United States. It's the largest American interbank network, servicing 2 million ATMs and more than 5,700 banks and financial institutions. STAR has their own ATM locator online.
NYCE Network
The New York Currency Exchange (NYCE) connects the ATMs of various financial institutions in Canada and the United States. You'll find their machines mostly in the Midwest and Northeast. Search for NYCE ATMs online.
Interac Network (Canadian banks)
Interac is a Canadian nonprofit interbank network connected to several major Canadian banks. Originally several big banks in Canada (RBC, CIBC, Scotiabank, TD and Desjardins) got together and founded it to help. Today it still operates with fees meant only to cover their basic costs. There are more than 80 member organizations and more than 59,000 ATMs in Canada. Find an Interac ATM on their website.
Other networks
Other large interbank networks all over the world include China's Union Pay, Groupement des Cartes Bancaires CB in France, Girocard in Germany, Yucho in Japan, LINK in the United Kingdom and Pulse in the U.S.A.
Reducing your hidden ATM fees
1. Avoid something called Dynamic Currency Conversion (DCC)
Some ATMs may offer you the choice of paying in your home currency. This option is called Dynamic Currency Conversion.
For example, if you're a Brit from the UK using a Chinese ATM, you may be offered the choice to pay for your transaction in British pounds. On the surface, it seems like a helpful service. After all, doing your mental calculations in pounds would be easier than yuan. However, what you gain in familiarity you lose in cost.
When you accept or choose DCC, you're giving the foreign ATM merchant permission to do the currency conversion on your behalf. Though this may not seem like a big deal, it actually is.
You're essentially asking a foreign ATM provider to make up an exchange rate for you. If you chose to pay in the local currency, then this means your home bank will be responsible for the currency conversion. By and large, banks give their customers fair exchange rates on these transactions. So best to stick with your local bank's deal and, therefore, always choose to pay in the local currency.
2. Withdraw carefully
While it's never a good idea to travel with loads of cash on hand, you can avoid frequent ATM fees by withdrawing large amounts of cash at one time. Try to map out a rough budget in advance. Planning your withdrawals will mean you don't end up with a lot of spare cash at the end of your trip.
3. Pick a bank in the Global ATM Network
A large network of banks have come together and waived international withdrawal fees. When you're traveling, you can find a friendly ATM on nearly every continent. The network covers Asia, Europe, Africa, North and South America and parts of Australasia. Participating banks include Bank of America, Scotiabank, Barclays, Deutsche Bank and BNP Paribas.
Each bank uses the network differently, which means some banks waive more of the fees than others. For example, Bank of America still charges a 3% conversion fee. Scotiabank is more generous, and waives all ATM fees and access fees. So be sure to speak to your bank before leaving on your trip.
4. Find a low-fee card
Some banks charge fewer fees than others. For example, HSBC has ATMs all over the world and only charges $2.50 per ATM transaction, even at non-HSBC ATMs. And Capital One doesn't charge any withdrawal fees themselves, but the local bank will still likely charge you. With enough research, you can find cards that suit your travel needs; some are better than others.
5. Know that credit unions are your friend
If you have access to one, credit unions and smaller banks tend to have lower international transaction fees. Their ATM fees tend to be solely a percentage of the withdrawn amount with no additional flat fee. That means if you're only withdrawing a small amount, it may be worth it. Credit unions only charge currency conversion fees, and do not tend to include other types of fees.
Now you have the facts. When you go abroad, skip the kiosk and head straight to an ATM. They're always open for business, they're everywhere, and they're usually your most cost-effective option.
How to minimize exhange rates with european travel
We want your Euros to go further so we offer competitive Euro rates and will beat competitors within 5 miles with our Exchange Rate Guarantee.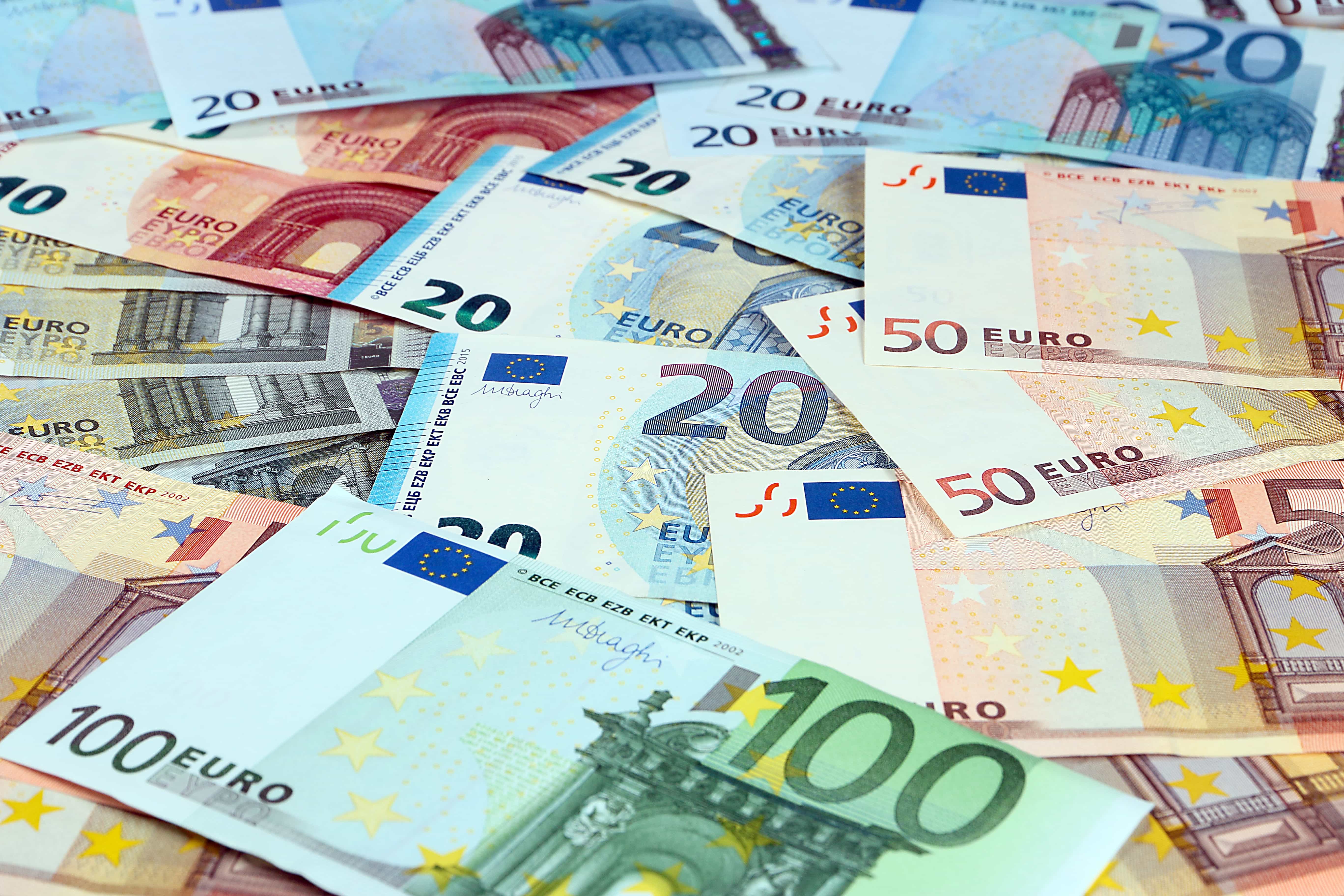 Should I Buy Euros Now or Wait?
Getting ready for a European trip can be stressful, but picking up your Euro travel money doesn't have to be.
Buying Euros before you travel means you'll have cash when you land. You won't have to worry about finding an ATM, paying card fees, or getting a bad rate.
Pound to Euro: Euro Exchange Rate
The Pound to Euro exchange rate changes on almost a daily basis, So it's natural to worry about your Euro travel money.
We want your Euros to go further so we offer competitive Euro rates, and will beat competitors within 5 miles with our Price Promise.
Where Can I Spend My Euros?
The Euro (€) was officially adopted on 16th December 1995 in Madrid, but physical coins and banknotes only entered circulation in 2002. Since then, many countries have opted to abandon their original currency in favour of the Euro. Today, it's the official currency in 19 of the 27 member states. Over 341 million people use it every day, making it the 2nd most widely used currency in the world.
(Austria, Belgium, Cyprus, Estonia, Finland, France, Germany, Greece, Ireland, Italy, Latvia, Lithuania, Luxembourg, Malta, Netherlands, Portugal, Slovakia, Slovenia, Spain).
Other Countries that Accept the Euro
Some non-EU countries also use or widely accept the Euro like Andorra, Monaco, Vatican City, and San Marino.
Many French-speaking African countries secure their currencies against the Euro, including Burkina Faso, Cameroon, Central African Republic, Chad, Republic of Congo, Côte D'Ivoire, Equatorial Guinea, Gabon, Guinea-Bissau, Mali, Niger, Senegal, and Togo.
Source https://www.comparetravelcash.co.uk/Travel-FX_travel_money_exchange_rate_Euros_1000
Source https://wise.com/us/blog/atms-abroad-avoid-bad-exchange-rate
Source https://money.asda.com/travel/travel-money/currencies/euro/