Should You Change Your Travel Plans Because of Monkeypox?
Over the past few days, Portugal, Spain, France, the U.K., Italy, and Canada have reported cases of monkeypox. On May 18, a U.S. resident in the Massachusettes also tested positive after returning from Canada. The CDC is currently investigating the situation and the World Health Organization has scheduled an emergency meeting.
What Is Monkeypox and How Does It Spread?
Monkeypox is a rare infection caused by the monkeypox virus. It was first discovered in 1958 in monkeys kept for research, but the first case of human monkeypox was reported in 1970 in the Democratic Republic of the Congo. Ten other African countries have also identified cases of human monkeypox, including South Sudan, Cameroon, Benin, Gabon, Liberia, Nigeria, the Republic of the Congo, the Central African Republic, Sierra Leone, and Cote d'Ivoire. Non-endemic countries such as Israel, Singapore, the U.S., and the U.K. have had a few cases, too.
According to the CDC , the main carrier (natural reservoir) of monkeypox isn't known, but African rodents and monkeys may host the virus and infect people. A person can contract monkeypox if they come in contact with a sick animal. Animal bites and scratches, touching blood or bodily fluids, eating meat from an infected animal, or coming in contact with contaminated bedding can cause animal-to-human transmission.
Human-to-human transmission is much less likely. The CDC website says, "Human-to-human transmission is thought to occur primarily through large respiratory droplets. Respiratory droplets generally cannot travel more than a few feet, so prolonged face-to-face contact is required. Other human-to-human methods of transmission include direct contact with body fluids or lesion material, and indirect contact with lesion material, such as through contaminated clothing or linens."
Top Picks for You
Recommended Fodor's Video
In simple terms, if you touch an infected person's scabs or blisters or get too close if they're sneezing and coughing, or touch their clothing or bedding, you can catch it.
Scientists are studying how easily the virus can be transmitted through sexual contact. The U.K. Health Security Agency (UKHSA) said in a statement, "Monkeypox has not previously been described as a sexually transmitted infection, though it can be passed on by direct contact during sex."
Monkeypox is related to smallpox, but it is milder and less contagious. The symptoms include fever, headache, swollen lymph nodes, muscle aches, and smallpox-like rashes. There is no safe, known treatment for the infection. However, most people recover from the illness in two to four weeks. In Africa, it causes death in 1 in 10 cases.
Is There a Vaccine?
Smallpox vaccines work against monkeypox, too. But kids aren't vaccinated against smallpox anymore since it has been eradicated. Hence, immunity to monkeypox is low. The U.K. government has bought stocks of the smallpox vaccine to protect citizens against monkeypox, and Spain is planning to order doses, too.
In the U.S., there is an approved vaccine to prevent monkeypox. According to the CDC, "The Advisory Committee on Immunization Practices (ACIP) is currently evaluating JYNNEOS for the protection of people at risk of occupational exposure to orthopoxviruses such as smallpox and monkeypox in a pre-event setting."
Have There Been Cases in the U.S. in the Past?
Yes. In July 2021, someone who had traveled from Nigeria tested positive in Texas. There was another case confirmed in November 2021 in a Maryland resident who had also returned from Nigeria. No additional cases were identified.
In 2003, 47 non-fatal cases of human monkeypox were reported in the U.S. in Indiana, Illinois, Kansas, Ohio, Missouri, and Wisconsin. This was the first time human monkeypox was reported outside of Africa. These cases were not travel-related. A shipment of animals was imported from Ghana to Texas, including rodents that were infected with the monkeypox virus. In an Illinois facility of an animal vendor, these rodents transferred the virus to prairie dogs that were sold as pets and these dogs infected humans. The CDC mentions that human-to-human infections weren't the cause of the spread.
How Bad Is the Current Outbreak?
The outbreak is small with 68 suspected cases around the world so far.
Virologist Dr. Angela Rasmussen explained in a series of tweets that it is "not easily transmissible person-to-person and requires close proximity over an extended period of time." She also said that monkeypox is not new—it is endemic in parts of Africa and can cause human infections. However, "what's new is this unprecedented global spread, via travel and potentially sexual networks," she tweeted .
Health officials are trying to determine the cause of the spread. The U.K. Health Security Agency (UKHSA) confirmed that the earliest known person to be identified with the rare infection on May 7 had recently traveled to Nigeria. However, the new cases have had no travel history to countries endemic to monkeypox. Dr. Susan Hopkins, the chief medical advisor to UKHSA, said, "These latest cases, together with reports of cases in countries across Europe, confirms our initial concerns that there could be spread of monkeypox within our communities."
The agency has been reiterating that the virus doesn't easily spread between people, so the risk to the general population remains low.
Should You Change Your Travel Plans?
At this point, no. But the CDC recommends travelers to endemic countries avoid contact with sick animals and avoid eating or handling bushmeat. Hand hygiene and the use of sanitizers are emphasized. If you get sick after returning from a country where monkeypox exists, talk to your healthcare provider and pay attention to any rash or lesions.
Should you be concerned about monkeypox ahead of travel this summer?
Should you be concerned about monkeypox ahead of travel this summer?
Jun 1, 2022 • 4 min read
Just when you thought it was safer to get back on an airplane comes word that there is a potential outbreak of something called monkeypox. You're not alone in wondering what this ominous-sounding virus is, how to hopefully avoid contracting it, and if this is going to change your summer travel plans.
On May 6, doctors confirmed that a British citizen who had arrived from Nigeria two days earlier had symptoms of monkeypox, a virus that manifests itself a week or two after exposure. Symptoms include skin rashes, fatigue, headache, high fever, shivering, swollen lymph nodes and muscle pains.
What is monkeypox?
Monkeypox is a virus that is transmitted through bodily fluids, direct contact with skin lesions or through clothing, towels or bedding that has come in contact with bodily fluids. It can also be transmitted through respiratory droplets, but such transmission is thought to happen after extended exposure. The illness generally lasts two to four weeks.
The Centers for Disease Control and Prevention, or CDC, has recently issued a monkeypox alert for travelers, raising the risk classification from level 1 (Practice Usual Precautions) to level 2 (Practice Enhanced Precautions). If it gets to level 3—and it's not there yet—it would be a warning for people to "avoid nonessential travel."
"Even though the alert is disconcerting, especially as we continue to face ongoing COVID concerns, the risk to the general public remains extremely low at this time," said Holly Phillips, MD, Board Certified Internist in practice in Manhattan. "Monkeypox does not spread as readily as COVID or many other common viruses and the highly visible physical manifestations could lead to faster and more effective quarantining of affected individuals helping to control spread."
Get trusted guidance to the world's most breathtaking experiences delivered to your inbox weekly with our email newsletter.
The virus is detected in African monkeys and spread to humans through biting and scratching © Lidia fotografie / Shutterstock
Are there destinations that are higher risk of monkeypox?
According to the CDC, monkeypox is more common in central and western Africa, particularly in tropical forested areas. "Cases are rare among travelers, but have occurred," according to the CDC website.
Dr. Phillips added, "Travelers should be aware of the illness, how it is spread, and be careful to avoid known contacts. However, it's not necessary to edit or cancel travel plans at this time." Monkeypox is spread from animals to humans through being bitten or scratched by an infected animal. It is also spread through direct contact with bodily fluids from an infected person and through contact with materials that have touched bodily fluids or sores. It is important to ensure that hotel bedding and towels are clean.
What to do if you think you catch monkeypox when traveling
The CDC is cautioning that anyone who has recently traveled to central and west African countries and has symptoms to contact their healthcare provider immediately. The CDC also recommends that travelers should avoid eating wild game, particularly "bushmeat"; avoid contact with live or dead animals, particularly rodents; and keep a distance from people, particularly those with skin lesions.
Is there a vaccine for monkeypox?
According to the WHO website, there are several smallpox vaccines that are effective against monkeypox and there's even a monkeypox vaccine that was developed in 2019. WHO is currently working with the manufacturer to improve access to the vaccine. But at the moment WHO and other health organizations are not yet recommending the general public try to get the monkeypox vaccine.
Most travel insurance policies will cover monkeypox treatment but be sure to read through all the fine print on your policy or call the travel insurance company to find out before your trip.
Before your summer travels begin, Dr. Phillips suggests making yourself aware of the signs and symptoms. "Don't hesitate to get checked out if you think you may have been exposed or if you develop any unexplained skin symptoms," she said. "Overall, being informed and aware of local illnesses and conditions, monkeypox and others, is your best protection during travel."
Sustainable Escapes
This is Lonely Planet's guide to the world's best eco-friendly resorts and experiences. From eco-lodges with cutting-edge sustainability initiatives to tours designed to protect wildlife and empower communities.
Sustainable Escapes
This is Lonely Planet's guide to the world's best eco-friendly resorts and experiences. From eco-lodges with cutting-edge sustainability initiatives to tours designed to protect wildlife and empower communities.
Explore related stories
The 12 most unmissable things to do in Switzerland
No country has it all, but sensational Switzerland certainly comes close. Here are the 12 best things to do when you get there.
A reason to travel to Bergamo and Brescia in 2023: Italy's new capitals of culture
Hit early and hard at the start of the COVID-19 pandemic, these cities have been chosen as a symbol of renaissance, hope and rebirth through culture.
US national parks will be free to enter this Friday in honor of Veterans Day
The National Park Service (NPS) will waive entrance fees at every site in the US on Friday, November 11.
Explore Germany for less than €50 a month in 2023 (slowly)
You can use busses, trains, and trams in Germany for less than €50 per month
A reason to travel to Hauts-de-France in 2023: Europe's new region of gastronomy
Perfect for a gourmet getaway: this northernmost region of France was awarded the European Region of Gastronomy 2023.
Explore these 8 'haunted' places in the USA
Ghostly encounters have been reported in many different locations. 8 places to go in the US for a spirited encounter.
What to eat and drink in Switzerland
Cheese, chocolate and rösti, oh my! Different regions of Switzerland draw on culinary influences from its neighbouring countries.
The 10 best beaches in England
England has beaches to spare, from golden Cornish sands to wild, untamed beaches on the edge of the Yorkshire moors. Here's our pick of the best.
Why the Scottish Borders shouldn't be overlooked
To explore Scotland away from the crowds, travel south to the Borders and start with these eight spectacular stops.
Monkeypox: Everything you need to know about travelling safely this summer
After two years of restrictions, infections and yo-yo borders, the last thing anyone wants is another public health crisis.
The World Health Organisation (WHO) will meet next week to determine whether monkeypox – an ominous-sounding infection cropping up in dozens of countries – is a "global health emergency of international concern."
Around 1,800 people have contracted the virus since April this year, with Europe accounting for 85 per cent of these cases.
As the continent gears up for a bumper summer of tourism, officials have urged that massive events could speed up the spread.
"Monkeypox will be opportunistic in its fight for survival, and its spread will depend on the conditions provided to it," warned Dr. Hans Kluge, WHO's European director.
Here's what the new virus will mean for your summer holidays – and how you can protect yourself while travelling.
What is monkeypox and how dangerous is it?
Monkeypox is a rare viral disease in the smallpox family. It is 'zoonotic,' meaning it originally spread to humans from animals.
Before the current outbreak, most infections occurred in tropical parts of central and west African countries like Nigeria, the Central African Republic and the Democratic Republic of the Congo. Until recently – and with the exception of a small US outbreak in 2003 – the virus has never been reported outside of endemic countries.
There are two main variants of the virus: the milder west African strain (which is currently circulating) and the more severe central African strain. The milder variant has a mortality rate between 1 per cent and 3.6 per cent, but usually clears up on its own without causing serious illness.
There is no monkeypox vaccine, but a smallpox vaccine provides an 85 per cent protection rate against the new virus. Most people are not inoculated against smallpox, as it has been eliminated from the community – but many countries have purchased additional supplies of the vaccine in anticipation of more monkeypox cases.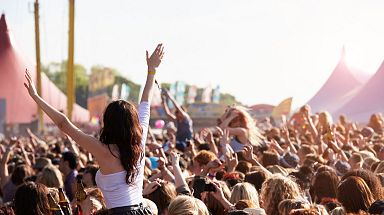 The WHO is concerned that monkeypox will spread at music festivals this summer Monkey Business Images / Canva
What are the symptoms of monkeypox?
Initial monkeypox symptoms include fever, muscle aches, backache, swollen lymph nodes, headaches, chills and exhaustion.
The most obvious symptom – a chicken pox-like rash that spreads around the body – follows shortly afterwards.
Anyone who discovers an unusual rash or lesion on any part of their body should seek medical advice.
How does monkeypox spread?
Unlike COVID-19, monkeypox is not airborne. Instead, it spreads through close contact with an infected person. The virus can enter the body through broken skin or through the eyes, nose or mouth, and lingers on materials like clothing or bedding.
Most of the cases in the current outbreak have been sexually transmitted.
"So far in Europe, the majority – though not all – of reported patients, have been among men who have sex with men. Many – but not all patients – report multiple and sometimes anonymous sexual partners," Dr Kluge explains.
"But – and this is important – we must remember that the monkeypox virus is not in itself attached to any specific group. Stigmatising certain populations undermines the public health response."
You can also catch monkeypox if you are bitten by or eat the flesh of an infected animal. Despite its name, the virus is more common in squirrels and rodents than it is in monkeys.
Will monkeypox cause travel disruptions?
The WHO warns that summer events – like music festivals, pride events, and 'spontaneous touristic gatherings' – could accelerate the spread of the virus.
The risk is increased where young, sexually active people gather in large numbers. In May, the Spanish 'Gran Canaria pride festival' attended by 80,000 people spawned several cases.
However, this is not a reason to cancel such events, Dr Kluge insists. Instead, organisers should use them to raise awareness about the disease.
"Venue closure or event cancellation does not reduce sexual contact but rather shifts the activities to other settings, including private parties, which are less accessible to community outreach or public health interventions," he continues.
At this stage, monkeypox is unlikely to cause mass cancellations or border closures.
However, your travel plans could be disrupted if you catch the virus while travelling, as the WHO recommends isolating until symptoms have completely disappeared.
Some countries – like Belgium – have mandated a 21-day quarantine for positive cases.
How can you avoid catching monkeypox while travelling?
At the moment, there is no reason to cancel your summer plans. The risk of widespread infection is low, claims the UK Health Security Agency (UKHSA).
But there are ways to minimise the chances you get sick. Practising good hygiene and safe sex are the two most effective ways to do this.
While travelling, staying clean and being careful about who you're in close contact with will minimise your chances of getting ill. The WHO recommends regularly washing hands, using hand sanitiser and avoiding large crowds where possible.
Though not all countries have released travel guidelines regarding monkeypox, the American Centre for Disease Control recommends travellers also exercise caution around animals.
"Don't touch live or dead wild animals. Do not touch or eat products that come from wild animals. Avoid touching materials, such as bedding, that have been used by animals," the advice reads.
Source https://www.fodors.com/news/news/should-i-change-my-travel-plans-because-of-monkeypox
Source https://www.lonelyplanet.com/news/monkeypox-travel-summer
Source https://www.euronews.com/travel/2022/06/16/monkeypox-everything-you-need-to-know-about-travelling-safely-this-summer