Forget the name of a movie? Describe it and this scary-accurate site will find it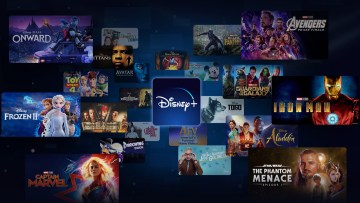 What movie is this where all the old actors from old action film get together in a single movie and blow up lots of stuff? Which is the one where Brad Pitt plays death? And remember that movie where Tom Hanks's best friend is a volleyball? Wait, what was that one movie where that girl was terminally ill but she got married anyway? What's the name of the Tom Holland/Mark Wahlberg movie that came out recently?
It can be beyond aggravating when you have the name of a movie on the tip of your tongue but just can't seem to get it out. However, there's a site that can take the things you do remember about the movie and use them to find the name you're thinking of.
It's scary-accurate, and it's one of the coolest things I've seen in a long time. So how do you you find the name of a movie?
Find any movie with What Is My Movie, even if you forgot the name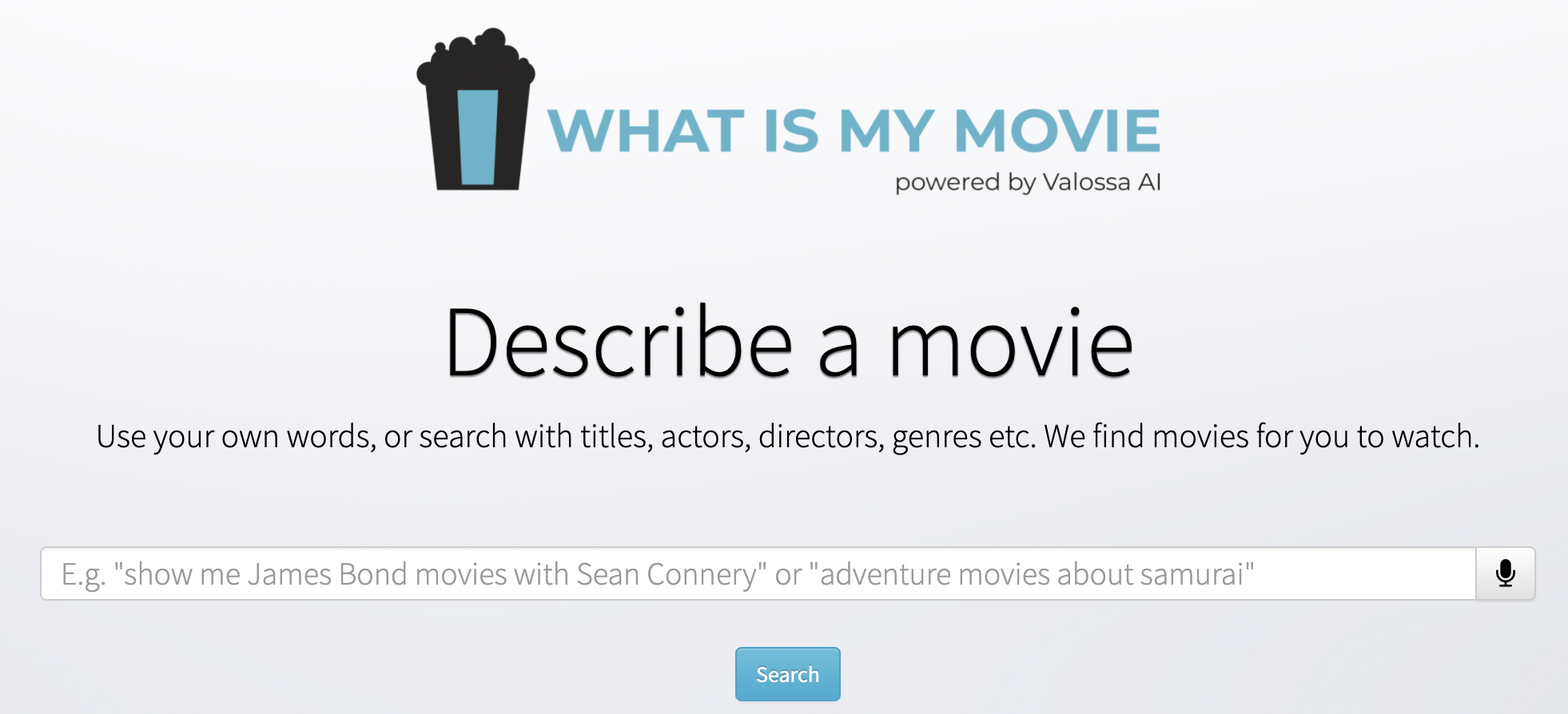 A site called simply "What is my movie?" was created to showcase some next-level fuzzy search and deep search technology. It was developed by Finnish startup Valossa, a company that was founded by computer science researchers and engineers from Finland's University of Oulu.
"We aspire to create a new, descriptive way of searching video content," the team said on its website. "Our technology understands the contents of video files itself. Ranging from text to pattern recognition, we reach down into data that has not been searchable in the past."
The site continues, "Whatismymovie.com has been developed by the tech team of Valossa that has its roots in the Computer Science and Engineering research conducted at the University of Oulu. We have an extensive research background on automatic content recognition and video data analysis. The demonstrations on this site have been developed for research purposes and Proof of Concept for the industry. Deep Content technology has also been piloted with the broadcasters for TV content."
What is my movie is crazy scary-accurate

The group's "Deep Content" technology analyzes video content in ways that typical search engines cannot, and it uses that data to deliver impressive matches even when the search terms provided at very vague.
I had a whole lot of fun testing out the site's tech. Impressively, I have yet to stump it.
Since Valossa's tech digs deep into the video content itself, you can even use quotes to find the movie you're looking for.
How to find the name of a movie by a scene?
Another awesome feature is you can even describe elements of a specific scene and the results are always on point.
It's a hugely useful site. It also just so happens to be an impressive showcase for Valossa's tech. You can check it out right here. Can you stump it?
Different ways of searching to name that movie you're thinking of
You can even get more granular with your searching as you progress. If you just remember actors, you can search "actor based matches". For those who remember a handful of words from the title, the "title based matches" are great. For example, if you type in A River into the search bar, you'll get A River Runs Through It, Where the River Runs Black, All The Rivers Run, and more options.
There are also "director based matches", "general matches" and "traditional search" you can opt for to better narrow down your guesses. Also, you can also search with your Amazon Alexa device. Turning on that skill is simple. If you enable the Valossa Movie Finder skill, you'll be able to ask Alexa your movie-related questions to better find your answers. This is great for anyone who uses the Echo frequently.
This article was originally published on March 18th, 2016, and has been updated.
This article talks about:
Zach Epstein has been the Executive Editor at BGR for more than 10 years. He manages BGR's editorial team and ensures that best practices are adhered to. He also oversees the Ecommerce team and directs the daily flow of all content.
Zach first joined BGR in 2007 as a Staff Writer covering business, technology, and entertainment. His work has been quoted by countless top news organizations, and he was recently named one of the world's top 10 "power mobile influencers" by Forbes. Prior to BGR, Zach worked as an executive in marketing and business development with two private telcos.
BACKPACKING ASIA – 40 THINGS YOU NEED TO KNOW BEFORE TRAVELING ASIA
As a guideline, travelers in Southeast Asia should get the Hepatitis A, Hepatitis B, Typhoid, and Diphtheria/tetanus/polio (combined into one shot) vaccinations but in some areas, you may need to take malaria tablets and/or get your yellow fever jab. If you are spending an extended period of time in remote areas then you may consider getting the Japanese Encephalitis and the rabies jab.
Plan around the weather – Check the weather for each of your destinations and plan around the heat. Avoid monsoon season and aim for the low season to get the best deals.
Know what you are looking for – If you are planning a trip to Asia, decide what you are looking for! Asia is massive, so do your research and decide what you want. If it's temples and culture then Myanmar and Cambodia. History then Vietnam and China. Unusual Tech destinations than Tokyo and Taiwan. Famous Landmarks then India and Kuala Lumpur. Jungle and Adventure then Malaysia and Borneo. Beautiful beaches than Thailand or the Philippines. For great food, try South Korea and Singapore.
Book your first night – Make sure you have your first night booked in a hotel. After a long flight, you will need a decent night's sleep to sort out your jet lag.
Travel Insurance – linked to the above, get your travel insurance! There are too many stories of 20-something backpackers getting into a horrific accident and not affording the hospital bills because they weren't insured. Get decent insurance! We use World Nomads to get the best offer and to be fully covered. You can even get money back on delayed flights.
Learn greetings and "is it spicy?" – Some areas of Asia will be full of locals who can speak English; at least enough to help you out. Some areas will speak very little if any. Learn hello and thank you to help you with your trip (I write them down on the notes app on my phone). I also learn the word 'spicy' before heading to any local restaurant and market. By shaking my head and hand and saying spicy, the vendor normally figures out I don't want extra chili!
Book or not to book? – Booking your flight there then 'winging it' is fine to do in Asia. Unless it is the peak season, most hotels and hostels have available rooms whilst most buses, flights, trains, and tours can be booked a few days in advance, if that. I personally prefer to book my travel and accommodation before leaving so I can get the best deals and know how much cash I have left for sightseeing, food, and entertainment. Then we book tours and sightseeing trips whilst in a country. Plus, when you book your accommodation in advance, you can choose one of the best hostels in Asia to stay in.
BEFORE YOU GO TO ASIA
Currency – In some countries around Asia, the US Dollar is used as well as their national currency. Laos, Vietnam and Cambodia are countries that prefer the dollar and you can get reasonable exchange rates at ATMs. However, make sure you do have some local currency too as markets and small shops may not take USD.
Bring a light bag – A light bag is perfect for days exploring a new city. Make sure it has a zip and is preferably a shoulder/tote/satchel bag.
Don't be afraid – Before traveling to Asia, I was genuinely concerned about our safety and belongings. We had heard and read so many horror stories about travel around Asia but were still drawn to exploring it. Apart from a few overpriced cab rides and one awful drink in Phuket (oh and our taxi did crash into a lorry in China but we were fine!), there was really nothing to actually worry about.
Tissues – This one is weird but ladies, take some tissues with you that you can pop in your handbag before heading out. Not all toilets around Asia will offer such luxury and no one likes having to 'shake it dry'.
Backpack or not? – If you plan on taking a lot of buses and trains around Asia, then take a backpack – not sure how best to pack? Read the Backpack Hack for the best packing tips. Buses rarely offer large storage space, with smaller buses putting luggage around your feet, under chairs, and in-between seats. However, if you will be flying the majority of your trip, a suitcase is just fine and is our preferred choice for trips.
Visas – Myanmar, Vietnam, and China require visas before arrival so do your research and get them sorted before you leave.
Get reading – This one may sound biased but once you have decided your destinations, get online to read blogs, websites, and Tripadvisor and watch youtube videos of your chosen places. You can learn where is best to eat and stay, how to travel, local scams in the area to avoid, popular attractions, off-the-beaten-track attractions, and so on.
BUDGETING A TRIP TO ASIA
Plan your budget – Asia can be as expensive or as cheap as you wish. It is possible to spend as little as £20 a day but I recommend at least £50 a day (per couple) is a good amount to budget.
For example, a typical day in Vietnam for us would cost: Private double room with ensuite: £11, breakfast (pancakes and juice from the nearby restaurant): £4, taxi ride: 60p, attractions (museum entrance and park): 52p per person, lunch (overeating) at a local market: £4, attractions (Pagoda searching and general wandering around taking street photos): free, dinner (three-course, sit down restaurant including two alcoholic drinks each): £15, beer at a local bar: £1.20 and cocktails at local bar £1.60 = One day cost £37.92.
We have a series of Cost of travel posts to help you plan your trip.
Bring extra – You can travel cheap but make sure you bring extra cash along so you can have some fun! There are so many people we have met on our travels who aren't enjoying everything a place has to offer, in order to afford their trip. What is the point of traveling if you are not going to see or do anything?!
Expensive places to visit – Tokyo, Singapore, Hong Kong, Brunei, South Korea, Borneo, and some areas of the Philippines and China can all be expensive places to visit. However, there is always a reason for that and it is usually because they are worth visiting. Try and afford to visit at least one of these places on your trip: My Pick? Tokyo!
Cheapest places to visit in Asia – There are some awesome and cheap places to visit in South East Asia – we have a post on the cheapest destinations in Asia, perfect for those on a tight budget.
Haggle – Across Asia, you will be met with higher prices because you are a foreigner. Practice the art of haggling and if it's too much, walk away – chances are there is probably a stall around the corner selling the same stuff.
Currency – In some countries around Asia, the US Dollar is used as well as their national currency. Laos, Vietnam and Cambodia are countries that prefer the dollar and you can get reasonable exchange rates at ATMs. However, make sure you do have some local currency too as markets and small shops may not take USD.
Cash in remote areas – Remote areas of a country are unlikely to have ATM machines at all so plan and take out plenty of cash whilst you're in the city.
Expect to get ripped off – Unfortunately, it will definitely happen at some point in your trip. You will get into a taxi that refuses to use the meter, have a tuk-tuk try and take you to his mate's suit store, or be massively overcharged for something weird looking on a stick. Haggle when you can, get out of taxis and make the most of your trip. On our first visit to Bangkok, we got frustrated with the taxis but after walking out of one or two, we always found someone around the corner who would use the meter.
HOW TO GET AROUND SOUTHEAST ASIA
Slow down – Everything in Asia seems to slow down. You can save a lot of money by taking the slow route to another country via bus or train rather than plane. Plus, by taking the bus, you can visit the smaller, lesser-known destinations in the country.
VIP Buses – VIP and first-class buses can be worth it for long journeys. They always include air conditioning, often an on-bus toilet, and can be much faster than second or third-class buses. Shop around and never accept the first price.
Multi-trip flights – If you are planning everything in advance and wish to fly, you can save some money by booking all your flights at once. We prefer to use the multi-flight option on skyscanner.
Rent a scooter – Renting a scooter around Asia, particularly Southeast Asia, is a great way to get around, see the countryside and save your cash for the bar. Licenses aren't always needed but bring your driving license from home just in case.
Fly – Air Asia is the main budget airline, with flights as low as £15! Check their website in advance and get booking your trip. Ok, buses, trains, and coaches may be more scenic and give you a sense of the countryside but flying is always more convenient and faster.
Outward travel – For some countries, you will need to know how you are traveling onward after your visit. In Japan, we had to show the booking of our outward flight so check online for policies, more so if your destination(s) is an island.
TRAVELING ASIA
Local water – Don't drink water from the taps, it isn't clean and will make you sick.
Ice – That being said, ice is often clean as it is usually made in factories using filtered water. We don't worry about ice (as it is definitely needed whilst in Asia) and we have never become sick from the ice.
Respect local beliefs – Whether it's not touching people's heads, walking on the other side of the road from a monk, or removing your shoes, read the signs and follow the rules. You're a guest in the country so be as respectful as you would be if you were a guest at your in-law's home (my rule of thumb).
Stay away from "extra strong" buckets – I will be honest, I don't know if this is specific to Phuket or just Thailand or to the whole of Asia, but check your straw when drinking from a bucket. We were offered an 'extra strong' bucket on our first trip to Thailand and it turned out, there was something in the straws. A lady at the hotel said this happens often…so double check!
Stay healthy – As boring as it sounds, make sure you drink enough water and get some greens in your diet too. There is nothing worse than feeling like crap whilst sitting on an 8-hour bus journey or trying to climb a mountain/explore a city/get lost in a temple.
Scuba Dive – Whilst in Asia, try and find an opportunity to scuba dive! Tours are considerably cheaper than those in North America and Europe, with PADI courses at cheap rates found in Thailand, the Philippines, and India.
WHERE TO GO IN ASIA
There are 49 countries in Asia, all offering something interesting and unique. However, we are sharing some of our favourites, for those looking for inspiration.
Japan – Known for its forward-thinking technology, Japan is an incredible place to visit. Try the delicious food, visit the historic palaces and temples and enjoy the many, many theme parks around the country. Spend at least 5 days in Tokyo and don't miss our video on how to save money in Tokyo too.
Thailand – Thailand has something for everyone; from bustling Bangkok and its exciting markets to beautiful beaches on the islands and tropical forests in the North. As ex-pats living here, we have a blog sharing all things Thailand to help you plan your trip.
The Philippines – For those looking for a laid back vibe and a bit of adventure, the beautiful Philippines is for you. Enjoy the lifestyle and beach resorts in Cebu City, appreciate the white beaches of Boracay, take advantage of the dive sites in the Philippines and watch Manila transform every day.
China – After living in China for 2 years, we were fortunate to see a lot of this diverse country. With stunning countryside and rice fields, an amazing ice festival, exciting cities, and unusual and interesting attractions along with history and culture in every corner; China needs to be number 1 on your Asia bucket list.
Singapore – Clean, modern, trendy and fashionable, Singapore is a fantastic place to visit whilst you are in Asia. This is one of the more expensive cities in Asia compared to its South East Asia neighbors, but spending a few days here visiting the malls, trying the food, and catching some amazing views and sunsets in Singapore is completely worth it.
South Korea – Immerse yourself in the exciting culture of South Korea, with tasty street food, breathtaking architecture, and unique culture.
India – Known for its beautiful Indian palaces, mosques, temples, and monuments, India is a photographer's dream. Get out of your comfort zone and visit the incredible sites this country has to offer.
Cambodia – Known for the ancient temple ruins of Angkor Wat, Cambodia should not be missed on your Asia travels. Travel here is cheap, the people are super friendly and this is the perfect place to visit on your first backpacking Asia trip.
Vietnam – Another South East Asia destination, Vietnam is becoming more and more accessible for tourists. Learn about the history of the country whilst in the cities but head out along the coastline, visiting smaller cities and towns for a different perspective.
Macau – Known as the Vegas of Asia, this country is unique in a predominately non-gambling area of the world. The Cotai strip is a fun, exhilarating place to stay for a few nights whilst the Portuguese-styled Old Town takes you back in time.
Nepal – A hiker's dream, Nepal is still vastly untouched by tourism. Visit the biggest mountain in the world and experience local life in the city.
Dubai and the UAE – Dubai, Qatar, Abu Dhabi, and Kuwait offer a whole different experience compared to South East Asia. With luxurious hotels, high-end restaurants, and sparkling new malls, the UAE is definitely worth a visit, at least for a few days. Plus, many of these countries make for the perfect stopover as you travel across Asia.
We hope you have an amazing tie in Asia! Let us know where you are heading in the comments below
This site uses Akismet to reduce spam. Learn how your comment data is processed.
What guy travels to asia from california to save dogs
For millions of compassionate people, the topic of the brutal dog meat trade is instantly upsetting. And for good reason. Dogs have long been our constant, non-judgmental, affectionate companions, always there to lift our spirits. So when animal lovers learn that in China alone, 10 MILLION dogs and 4 MILLION cats are slaughtered for their meat every single year, we instantly want to stop the abusive trade from happening.
Sometimes the fight to end the dog meat trade can feel hopeless, but thankfully, there are countless organizations, activists, and celebrities using their voices to end the dog meat trade. If you're looking for non-profit organizations to support in the fight to end the dog meat trade, check out the ones below to inspire you!
1. Soi Dog Foundation
Soi Dog Foundation, a non-profit organization with a mission to "improve the welfare of dogs and cats in Asia," has been on the ground working to end the dog meat trade. In Thailand, the non-profit was successful in ending the trade, and now the organization is working on expanding their efforts to neighboring countries. Not only does Soi Dog work on implementing bans on the trade, the organization also rescues dogs from the industry and works to adopt them out to loving, forever families.
If you'd like to support Soi Dog in their noble mission to end the dog meat trade, click here to find out how you can help.
2. Humane Society International
As one of the most prominent animal welfare organizations, Humane Society International (HSI) has been on the forefront of ending the dog meat trade. HSI works to train officials to help improve the enforcement of laws, works with local partner groups on the ground to provide veterinary and shelter care for rescued animals, and works to raise global awareness of the suffering involved in the dog meat trade.
To find out more about HSI's important work and how you can get involved, click here.
3. Animals Asia
Animals Asia, a non-profit organization based in Hong Kong, tackles the issue of the dog meat trade from multiple angles. Animals Asia provides funding and training to about 100 animal welfare groups in China who are on the ground rescuing dogs and cats from the trade. Animals Asia's four-year undercover investigation into the dog meat industry in China uncovered no large-scale breeding facilities in the country, meaning that "meat dogs" are often companion animals stolen from their homes or stray dogs. Their investigation has further helped raise public awareness around this important issue.
For more information on Animals Asia work to end the dog meat trade, check out their website.
4. Change For Animals Foundation
Change For Animals Foundation is a UK-based non-profit organization that works to end the dog meat trade in Asia, including in Indonesia, Vietnam, and South Korea, through celebrity and public awareness campaigns. Change For Animals has worked closely with HSI in closing multiple dog meat farms and helping to rescue hundreds of dogs from unfathomable conditions.
For more information on Change For Animals, check out their website and get involved in their mission!
5. Coexistence of Animal Rights on Earth
Founded in 2002 by So Youn Park, Coexistence of Animal Rights on Earth is a South Korean animal rights organization that promotes a cruelty-free lifestyle. As the largest animal rights organization in South Korea, the non-profit actively seeks to raise awareness on numerous issues, including the dog meat trade. The organization often hosts demonstrations and lobbies the South Korean government for improvements to animal welfare legislation.
For more information on Coexistence of Animal Rights on Earth, check out their website!
How You Can Help
While there are many groups actively working to permanently end the dog meat trade, that doesn't mean that your voice doesn't matter! In fact, the more voices we have to raise awareness, the better. If you're interested in helping end the dog meat trade, there are many actions you can take, such as holding a fundraiser for your favorite organization, signing petitions, sharing articles on your Facebook and Twitter, and wearing a t-shirt around your city sporting an animal-friendly message. If you have other ideas on how to get involved, leave a comment below to share with fellow animal lovers!
For more information on the dog meat trade, check out these other One Green Planet articles:
Source https://bgr.com/entertainment/find-movie-forgot-name-using-description/
Source https://www.creativetravelguide.com/backpacking-asia-traveling-asia/
Source https://www.onegreenplanet.org/animalsandnature/organizations-rescue-dogs-meat-trade/