Have children and adventure and travel
Wild Adventures (also known as travelling with children) ~~
I was about to write a bland blog about How To Travel With Children. About 420 words in, I thought 'this is boring ~ anyone could write this'. So I decided to share the "fun" of some of our family travel experiences.
My husband and I did not have many opportunities of travel when we were growing up. We decided, when the kids were young, that we wanted to give them as many traveling adventures as we could. If you read my first blog, you know that I have 2 grown children. We are blessed enough to be able to say that we have traveled in all of the "Lower 48" with them. (I admit that sometimes the visit to a state may have been just a few miles in, so that we could at least say we had been there. Is that cheating?)
Travel by car hint: On a road trip, DO NOT give your 18-month-old son SweeTarts after breakfast in an attempt to keep him happy & quiet. You will find yourself – I happened to be pregnant at the time – on the side of the road, cleaning up a mess after he gets sick all over himself, car seat, blanket, and back seat. Your son will be crying. You might also have a grumpy husband if yours is like mine and feels the need to "Make Time" while on a road trip.
Travel by air hint: DO NOT give your 3-year-old daughter gum right before takeoff in an attempt to keep her happy & quiet. The theory is that it will help alleviate ear pain from change in air pressure. You will find yourself cleaning up a crying, sticky child's face, hair, clothes, hands and a sticky airplane seat. You might also notice that your fellow travelers are grumpy. Your flight attendant might be on the grumpy side, too.
Additional hint: DO NOT forget to pack your health insurance card. That way, when your 5-year-old son splits open his chin from jumping into the hotel pool while turning to catch himself, you will have it handy for your trip to the emergency room. If I close my eyes, I can still see what the inside of his chin looks like. Also, be prepared. You will have a grumpy 5-year-old as he watches his 3-year-old sister swim and he is not allowed in the pool because he can't get his stitches wet.
Sad about the stitches.
While I shared a few of the not-so-fun experiences of our family travel, there are many, many more happy times. We will never regret any of our family vacations and, instead, we are thankful that we had the means and opportunity to take our kids on so many adventures.
Why You Should Consider Adventurous Family Vacations For Your Next Holiday With Kids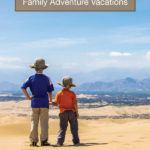 There was a time when the thought of taking children to destinations such as Jordan, Peru, and Iceland would draw stares of disbelief. People would talk behind your back and question your sanity. But those days are gone. In fact, Family adventure vacations have exploded in popularity in recent years. Now, when parents are considering where to travel with children, they have as much chance of booking a family adventure vacation as they do a trip to Disney World. Even those parents who are looking for resort-style luxury in destinations such as the Caribbean are often combining adventure activities with their beach time and margaritas.
And as more and more publicity surrounds adventure family travel, the popularity of this style of travel is only going to increase. Family adventure vacations are something that benefits both the families who experience them, but also the industry as a whole. Adventure travelers tend to spend longer at their destinations. They often spend more money on experiences and activities than those who stay at resorts. And because many of these activities are locally run, this investment often pumps more money into the local economies than resort-style travel does. Families benefit from a richer experience. They leave a destination with a better appreciation of its importance, its people, and its culture. And the growth that these experiences spark lives on for a lifetime.
What Are Family Adventure Vacations?
Table of Contents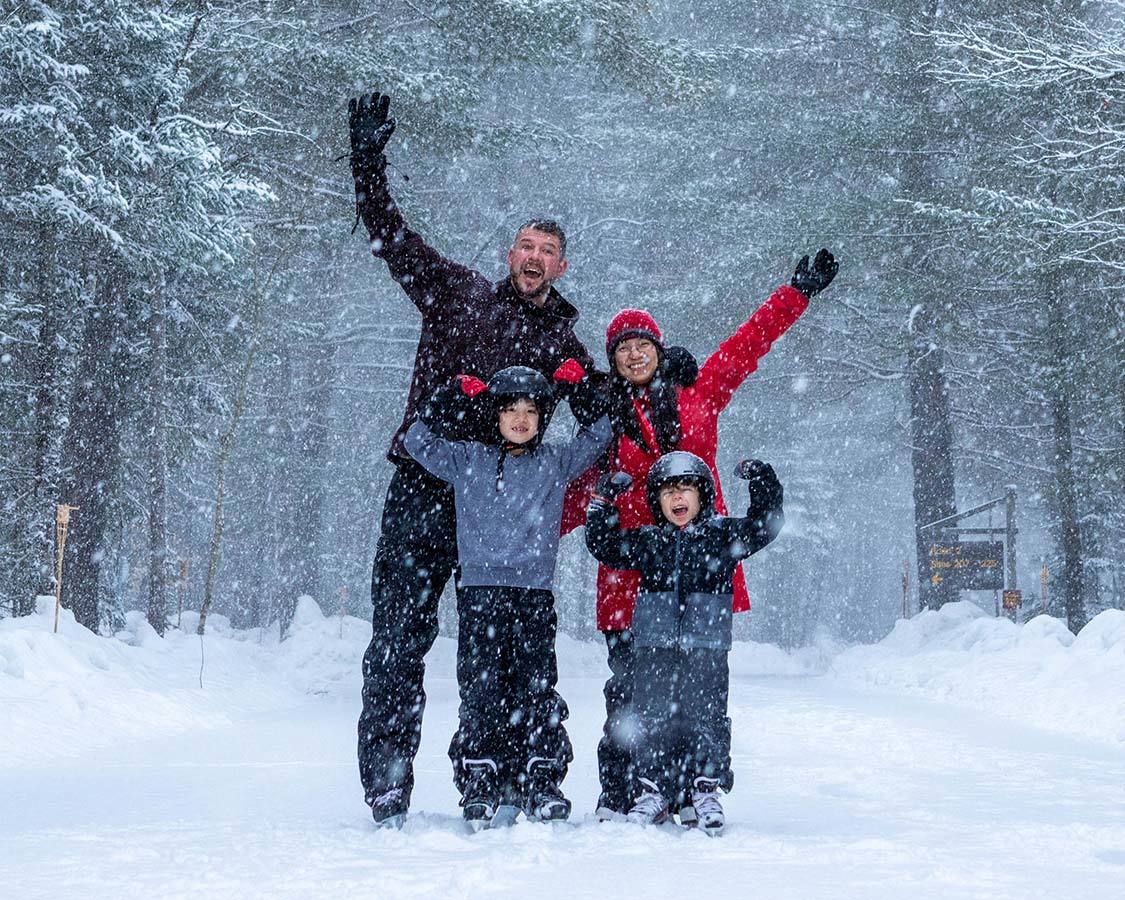 Forest skating trails in Ontario, Canada
Many people experience adventure vacations in different ways. But at its heart, adventure family vacations involve exploring new destinations while taking the road less traveled. Adventure vacations are all about trying something new, pushing your comfort zones, and allowing yourself (and your family) to come out of the experience having grown in a physical, spiritual, and/or emotional way.
Adventure family travel often pushes your body or mind to accept something that you might not normally consider. Whether that be trying new foods, as we did in Shanghai, China, experiencing new cultures like during our experiences in Jordan and throughout Peru, or testing your mettle through adventurous activities such as our SCUBA diving experience in Hawaii, or zip lining from a mountain in the Philippines.
Adventure travel with kids doesn't have to involve death-defying antics like sandboarding. Sometimes it can be as simple as our hiking trip in Iceland. Or even visiting a nearby town or conservation area that you might not otherwise experience. But, the ultimate goal is to do something that you might not otherwise try. To push your family to grow through new experiences. And most importantly, to have fun!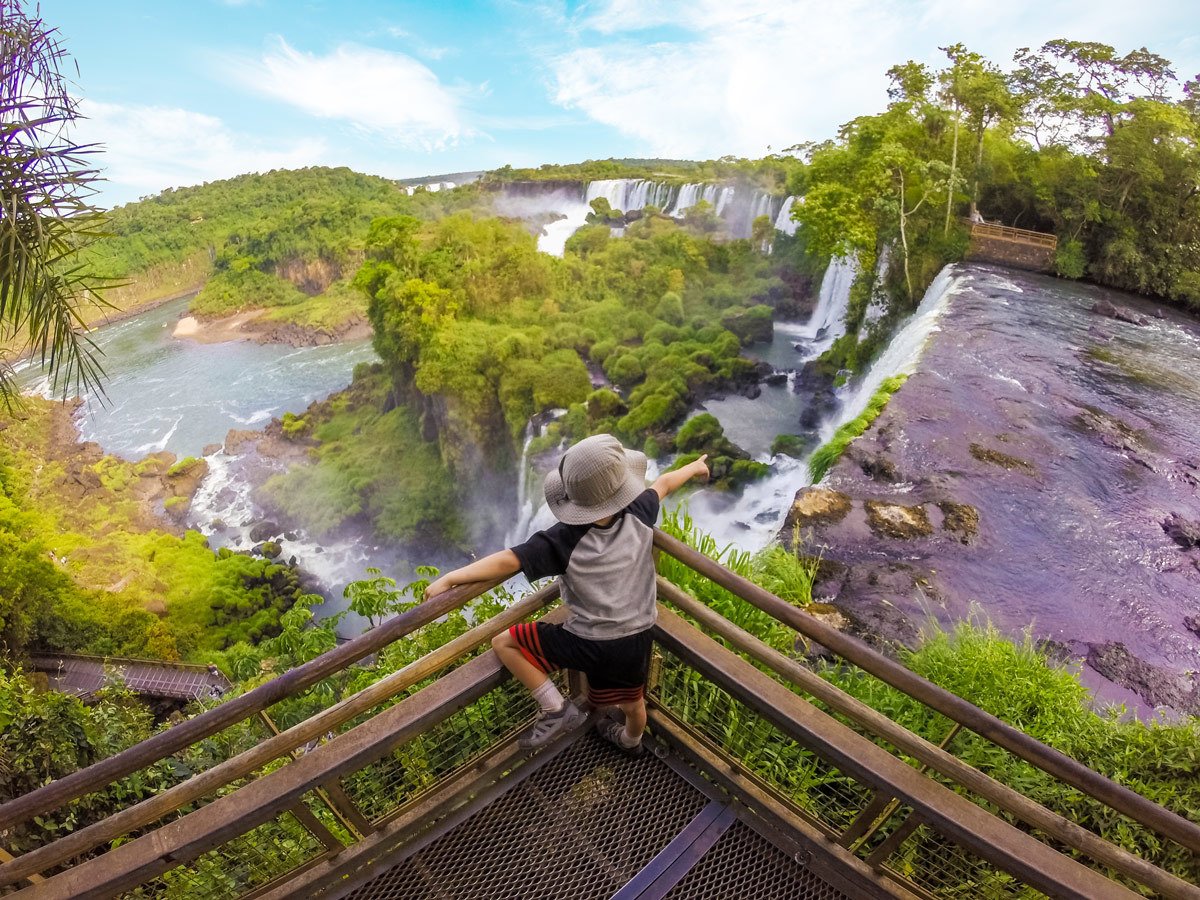 Chasing Waterfalls in Iguazu, Argentina
How Do You Take Adventure Vacations With Kids?
Family adventure holidays used to be solely a DIY option. Not long ago companies only catered to adventure-spirited solo and couple travelers. But in recent years several niche operators have carved out an industry that focuses on the adventure-spirited family. Companies such as Alpine Elements Activity Holidays cater to active family travel, offering skiing, mountain biking, and rafting holidays with families in focus.
Other companies such as Intrepid Travel and G Adventures have begun offering packages that cater to families who are looking for immersive cultural experiences. Slowly but surely, the industry is coming around to the idea that yes, families are a market for adventure travel. And that means that the future is bright for those looking to push themselves into new experiences.
Because of the growth of companies offering family adventure, it has never been easy for families to explore deeper into the destinations that they are interested in traveling beyond traditional resorts and theme park destinations.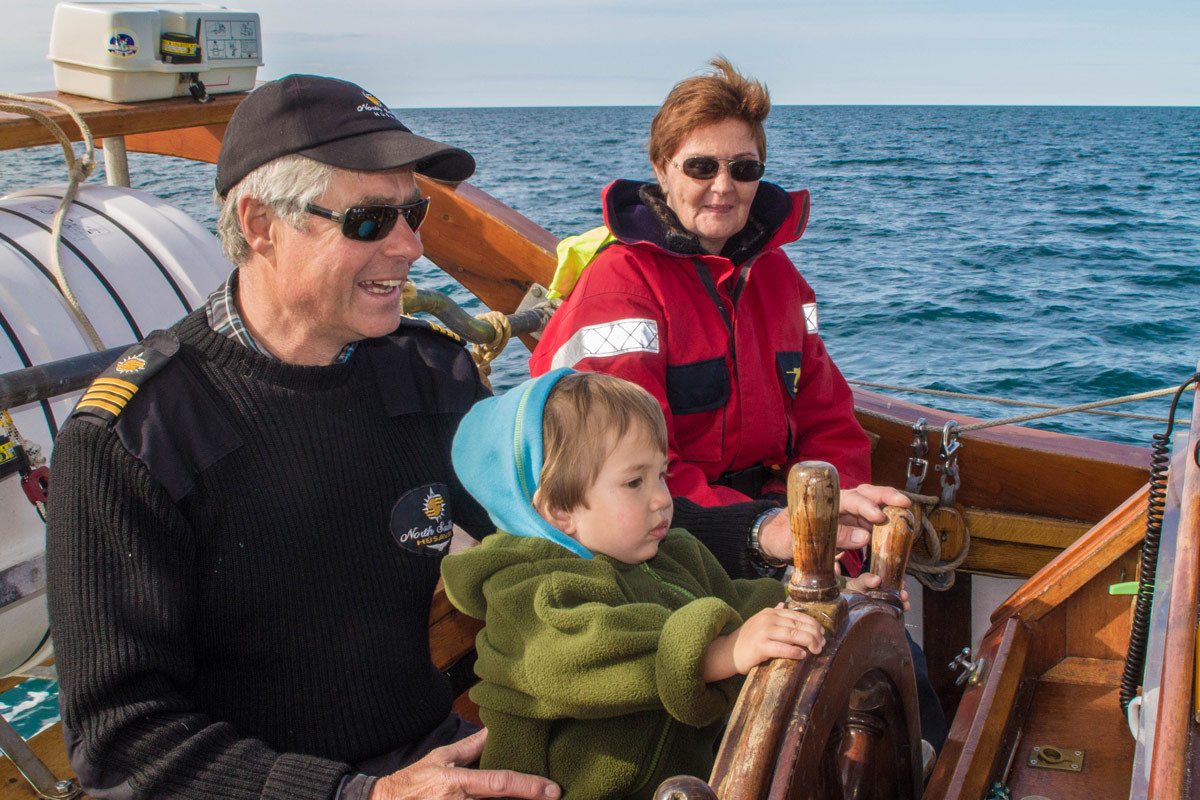 Captaining a schooner in Husavik, Iceland
What Are The Benefits Of Adventure Travel For Families?
Kids need adventure. Whether it is out on the playground, in the house, or around the world. Adventure helps children grow confidence, learn, and practice creativity. And while not all families want to immerse themselves in food, culture, and exciting activities while they travel, each year, more and more do. Adventure family travel can have dramatic benefits for both the mind and the body. The advantages are too numerous to count, but here are some of my top reasons for taking my children on adventure vacations:
Activity Makes You Feel Good
These days it's very easy to forget to be active. Outdoor time in schools is constantly being reduced, and playgrounds are often not considered the safe place that they used to be. As a result, children, and parents aren't getting the activity that they need, and that is causing issues with development. Adventure travel often involves exciting activities that get the blood flowing and the energy moving. Whether you are camping, fishing, or snorkeling, active holidays are an energy booster for families that make you feel great!
Adventure Stimulates The Brain
Adventure travel provides a mental boost for everyone. Whether it's the emotional stimulus of seeing endangered animals in the wild, like when we spent a day watching Andean Condors in Colca Canyon, Peru, or the mental growth from learning about a new culture, like when we visited a remote Guarani tribe in San Ignacio, Argentina, adventure travels often feel a boost that promotes learning, growth, and mental strength.
The opportunity to be exposed to new situations forces your brain to adapt and learn. And children especially can see huge growth in their ability to problem solve and deal with new situations. This is a huge booster for self-confidence and adaptability. And heck, there's been research that shows that getting active actually helps make you smarter.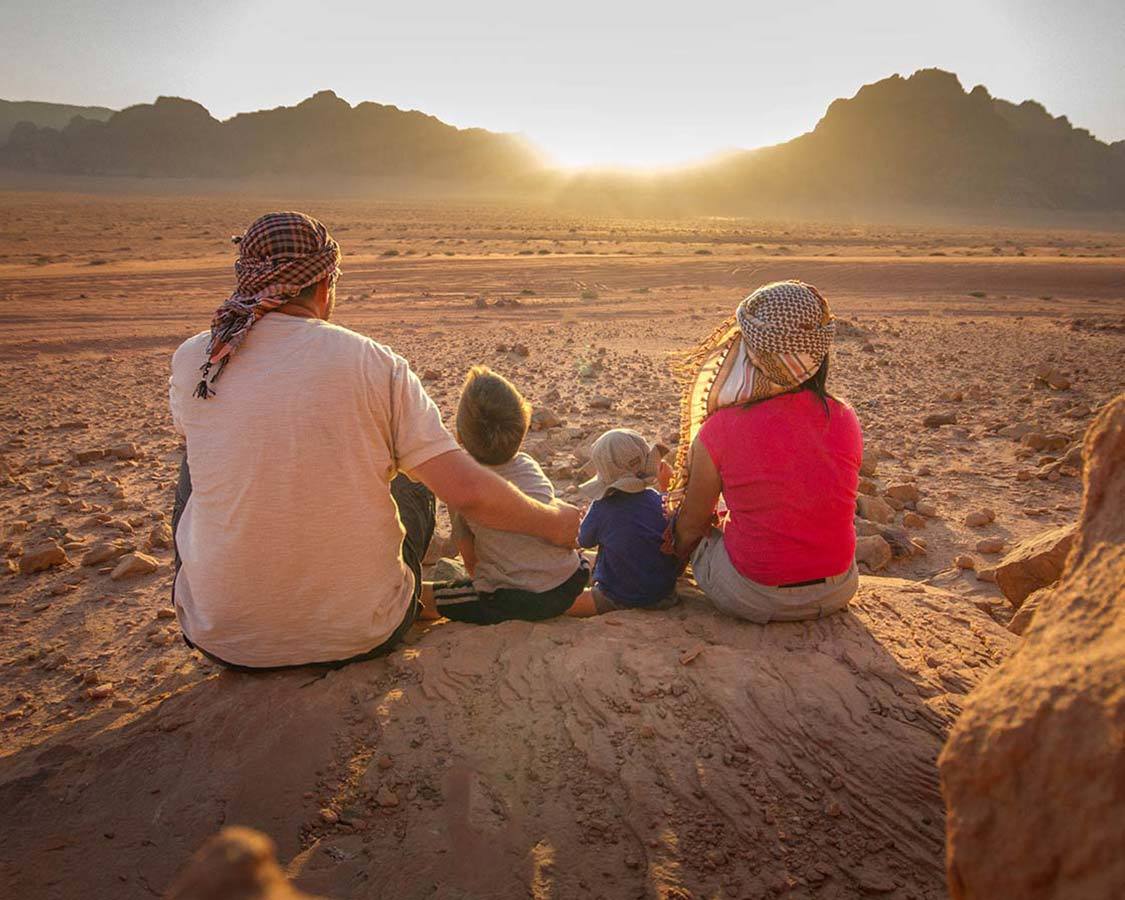 Desert sunsets in Wadi Rum, Jordan
Even Your Body Will Learn To Adapt To New Situations
Outdoor activity can often lead to a stronger immune system. And the more you experience new situations and environments, the more your body will learn to adapt. While these immune boosters are often short-lived, continued exposure to new situations and environments have an even longer-lasting effect.
Family Adventure Vacations Reduce Stress
That's right. These vacations reduce stress! During adventure family vacations you are forced to live in the moment. You stop thinking about work, email, cell phones, and all the burdens of life back home. These family holidays keep you on your toes, so we don't have time to think about the junk that fills up our lives and distracts us from what is really important.
Adventure Travel Is Something For The Whole Family
Adventure travel is perfect for multigenerational family holidays. We've gone hiking through Newfoundland, Canada with my Mom and we've explored natural wonders of the world with Christina's parents in the Philippines. And the best part about making adventure travel a multigenerational experience is that we have more people to share the wonder and excitement with when we get home. People who have been there and really understand the adventure that we just had.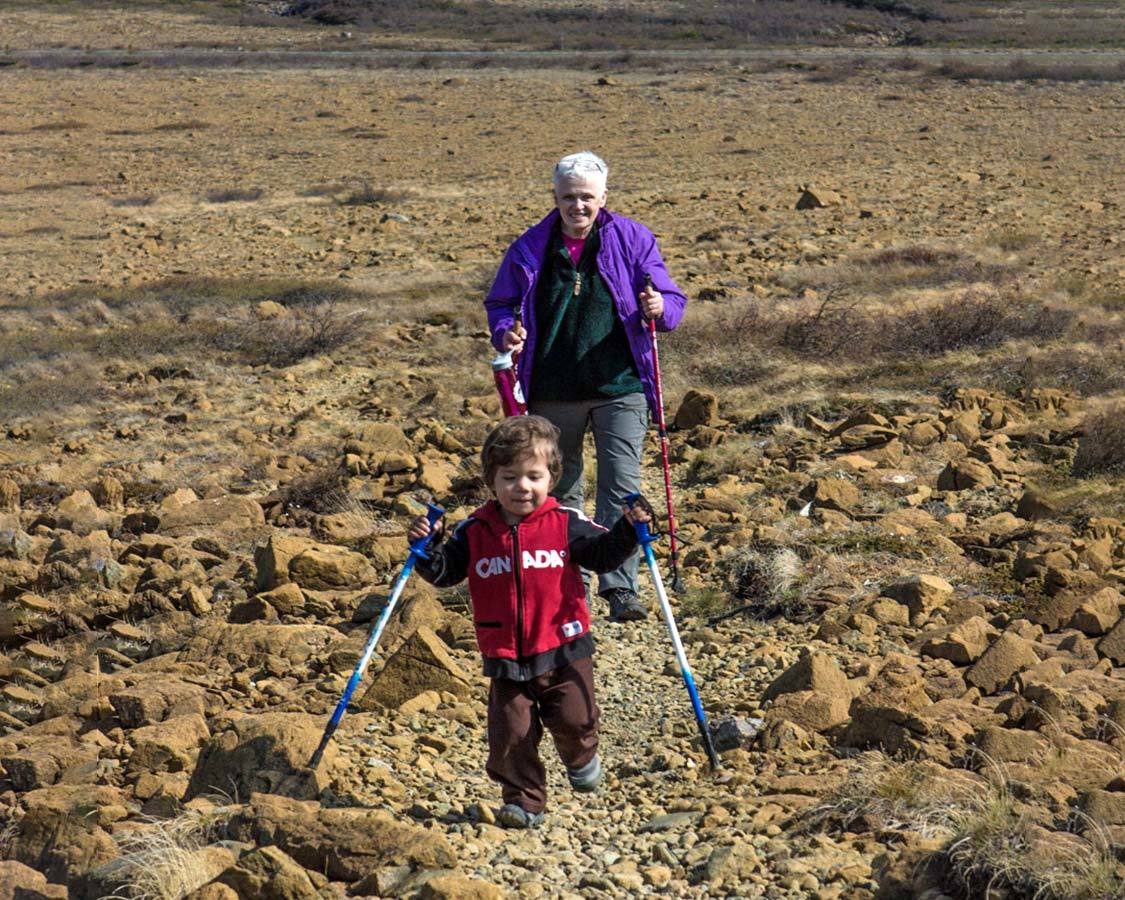 Hiking with Nana in Gros Morne National Park, Newfoundland
Adventure Travel Is Safer Than Staying Home
This might sound weird, but it's true. Most injuries happen within 10 km from home. At home, we've suffered broken bones, broken teeth, cuts, sprains, and much more. The worst that has happened to us on the road is some upset stomachs and a few bruises. And we travel a LOT. At the time of this post, our children (aged 5 & 7) have each been to nearly 20 countries, and Christina and I are pushing 40 each. And we aren't gentle when we travel. We are often looking for the wildest and exciting things that we can do at any destination.
Fun Adventure Travel Vacations For Families
There's no limit to the type of adventure travel vacations that families can undertake. You may even come up with your own that is perfect for your unique family. But if you are looking for some amazing ideas for family adventure vacations, I have a few just for you.
Fun Local Family Adventure Activities
Camping And Hiking
Camping and hiking make for a great introduction to family adventures. You get outside and away from distractions, and to top it off you are surrounded by nature. Hiking can be combined with great adventure camping outings, but it's also something you can do by itself. We love visiting the conservation areas and parks near our home to do some outdoor exploring.
Local Food Tours
You don't need to travel to experience new and exciting foods. Most major cities have incredible corners that are waiting to be experienced. Instead of heading to that same-old comfortable restaurant, why not join a local food tour like we did in Toronto. Or, you try out a unique restaurant that seems just a little out of your comfort zone.
Be An Urban Explorer
Explore the underside of your own city. Discover the best graffiti locations. Explore the art scene or take a class on dance, parkour, or anything that you've always been fascinated by, but have never taken the time to do. Who knows, you may find yourself drawn into a whole new scene!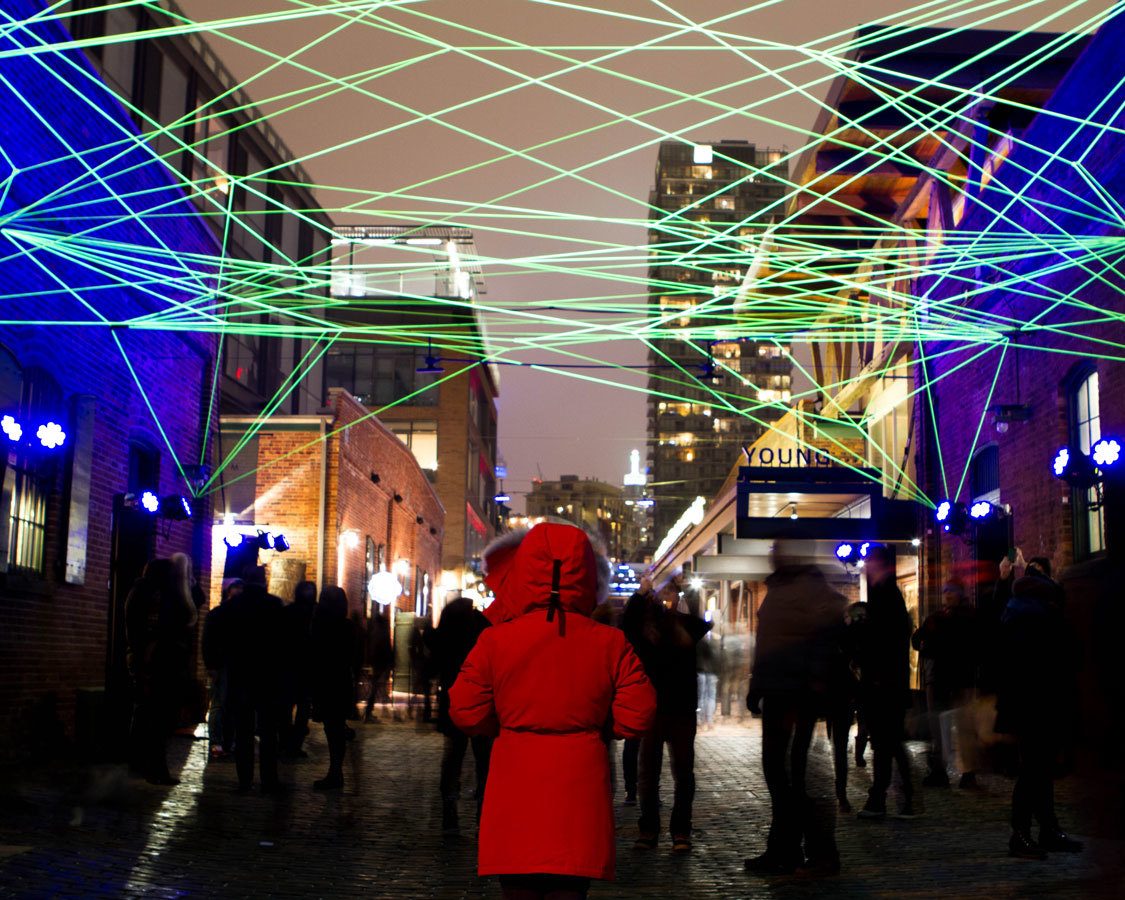 Urban light festival in Toronto, Canada
Our Favorite Family Adventure Vacation Destinations
If you feel ready to take your local adventure family travel and take it around the world, these are some of our favorite destinations for family travel around the world.
Jordan
Jordan was one of our first and most epic adventure family holidays. And it still stands as one of the most amazing destinations that we have ever traveled to. The stunning ruins of Petra are enough to blow your mind. But there is so much more. The deserts such as Wadi Rum are magical to explore. There is the Dead Sea to float in. And the Jordanian people are some of the most welcoming to children that we have ever encountered. You can find some great ideas for adventure family vacations in Jordan here.
Iceland
Iceland is one of our all-time favorite family travel destinations. And for adventure seekers, Iceland is a wonderland. Whether you are looking for incredible whale watching, outdoor adventure, or exploring Viking history, Iceland is filled with amazing adventure opportunities. We loved our Iceland family hikes through the interior and whale watching on the northern coast. You can find some great ideas for adventure family vacations in Iceland here.
Peru is a country that combines some of the most amazing aspects of a family adventure vacation. There are exciting national parks to explore, epic hikes that even children can take part in, breathtaking ruins and massive sand dunes that you can sandboard down. On top of that, Peru has some of the most diverse and fascinating cultural travel opportunities of any country in the world. You can find some great ideas for adventure family vacations in Peru here.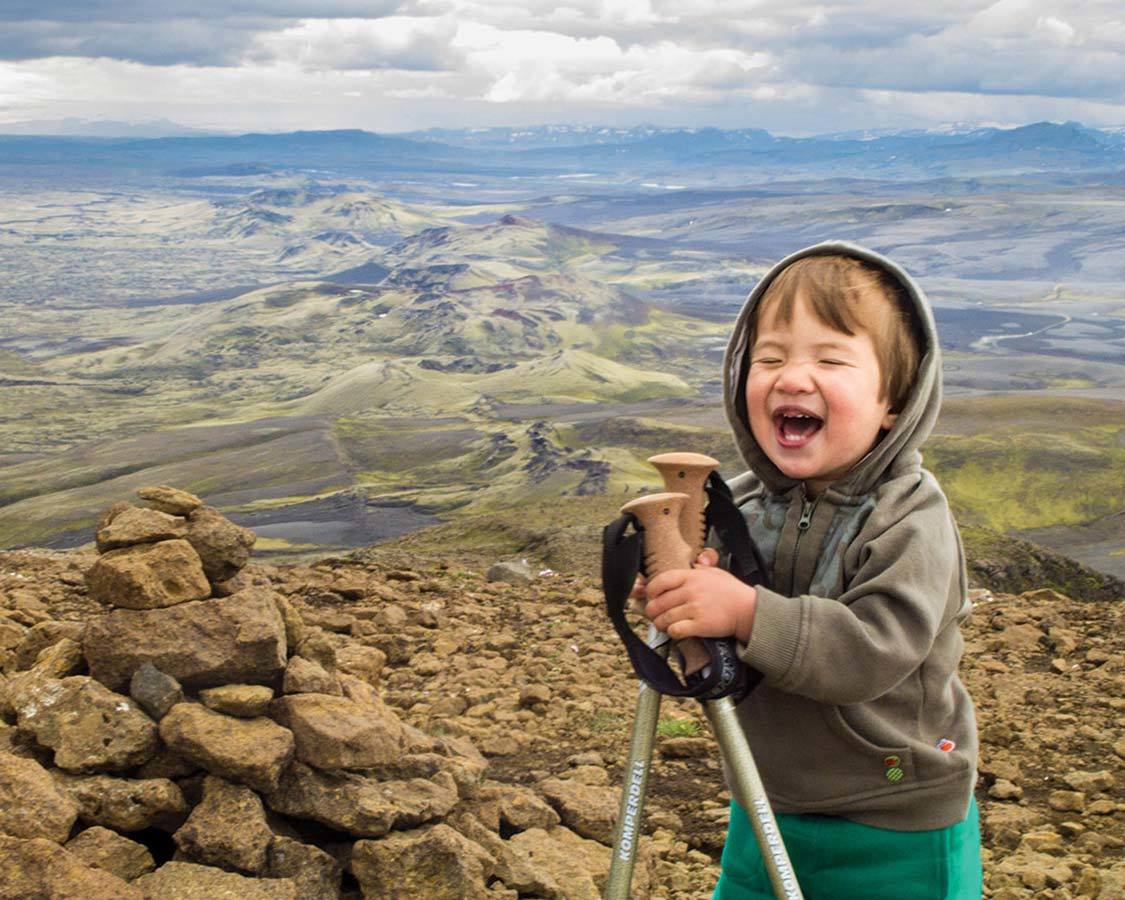 Hiking Crater Row in Laki, Iceland
Do you love adventure family vacations as much as we do? Tell us about your favorite family travel experience in the comments section. Or, drop by our Facebook page and share a photo of your experience. We would love to share in your travels.
Wandering Wagars is a participant in the Amazon Services LLC Associates Program, an affiliate advertising program designed to provide a means for sites to earn advertising fees by advertising and linking to amazon.com, amazon.co.uk, amazon.ca. Amazon and the Amazon logo are trademarks of Amazon.com, Inc. or its affiliates.
Family Adventures: Travel The World With Children
You might think it's odd publishing a book about travel this year, but I'd disagree; what better time is there to dream of faraway escapes and to start planning for future Family Adventures. There's no better way to expand a child's mind than with travel.
Gestalten kindly sent us a copy of Family Adventures: Exploring The World With Children to review and share our opinions with you. All opinions are our own and no payment was received for our review.
Each Page Filled With Adventure
Family Adventures is a heavy, hard-covered book that has beautiful imagery from around the world, including over 300 photographs from around the world.
The book is broken down into the following age categories for ease of reading, depending upon the ages of your children:
Top tips are given for each age/stage of childhood, such as what to pack, where to eat, choosing destinations, where to sleep, best methods of transportation, as well as other helpful hacks.
Family Adventures, gestalten 2020
Next within each age level, you'll fin stories or travelogues by real families who have travelled with children of that age. The stories and reasons for travel vary greatly. Some families have taken a year out to travel, others have taken a trip 'home' to visit family and extended their stay with a road trip.
I was surprised and delighted to see Oliver Jeffers , a Northern Irish artist based in Brooklyn, write an essay about "A Year Interrupted" who had been travelling with his family for 7 months when the current Covid-19 pandemic hit. They returned his hometown of Belfast as lockdown hit, and he reflects on the future of travel.
Reif Larsen, author of the novels The Selected Works of T. S. Spivet and I Am Radar, also talks about how he rediscovered his hometown with his children this year as they couldn't travel. This is something that I personally love to do – be a tourist in my hometown and discover it's secrets.
Of course, the majority of this book is dedicated to far-off lands such as:
Morocco's Atlas Mountains
The Welsh Countryside
Amazonia
Touring America's National Parks
India's Silk Road
Foraging mushrooms in Germany
A safari in Kenya and Tanzania
And so many more adventurous locations
This is a great book for:
Homeschoolers, particularly road schoolers , who can gather up ideas about where to go and what to see by people who have been there with kids.
New parents who want to see how to work travelling with kids into their adventuring lifestyle.
Families who are yearning to travel but:

Don't know if it's possible
Don't know where to start
Don't know how to do it
Don't know the variety of options
Don't know the experiences available in different parts of the world.

Advantages of Family Adventures

Val Cook & Tim Boffe, Family Adventures, gestalten 2020

There are many advantages of travelling as a family, such as demonstrated within this book:

Family bonding
Shared experiences
The making of memories
Adventure and a lasting love of travel for kids
Knowledge gained in the areas of

Geography
Geology
Culture
History
Language
Traditions
Food

There are very few disadvantages to travelling with children if you open yourself up to adventure, plan ahead, plan for your plan not to go as expected, and have both fun and learning planned for all.

Have you travelled with children?

I have my own travel stories when travelling both with my husband and on my own with our children, who were 8 months, 2,4,7,8,9, and 11 at the time. These were both camping , as well as flying overseas back home (last year's trip was 35 hours one-way). That was a long time for kids, but it can be done with relative ease!

My dream is to road school , but it's not financially viable at the moment, but it doesn't stop me from dreaming about it. For the meantime, we'll travel virtually.

There are definitely some places that are easier to travel to with kids than others. It depends on transport, accommodations, expectations, and personalities. Those who like adventure travel rather than all-inclusives will likely already have an open mind and be willing to change plans and to with the flow, which is key when kids are involved.

If you're interested in purchasing Family Adventures, it's available through:

Gestalten
Amazon
Great bookstores near you

If you'd like to know more or would like to follow Gestalten you can connect with them through their website , Facebook , Twitter , Pinterest , and Instagram .

Source https://adventureisouttheretravel.com/2016/04/27/traveling-with-children-adventures/

Source https://wanderingwagars.com/why-you-should-consider-family-adventure-vacations-for-your-next-holiday/#:~:text=Adventure%20helps%20children%20grow%20confidence%2C%20learn%2C%20and%20practice,benefits%20for%20both%20the%20mind%20and%20the%20body.

Source https://www.castleviewacademy.com/family-adventures/