Solo Adventures: 10 Best Places To Travel To Alone
Solo travel can be incredibly rewarding, but some places are better to visit alone than others.
It's always fun to travel with your family, your friends, or even just with other tourists, but there's always a new sense of magic and thrill that you get when you're out discovering a foreign city or a new town all by yourself. Traveling alone definitely has its perks. You won't have to wait on other people. You'll get to make choices completely for yourself, and you'll most likely find that you were braver than you thought you were.
Wondering exactly where you can go if you were to book a trip just for yourself? We've got you covered! From Mozambique to London, these are the 10 best places you can go if you're traveling alone.
10/10 New York City
New York City has become such a tourist destination that even if you fly into New York alone, there is no way you could ever feel alone. From young businesspeople to entertainers walking the streets at any given moment of any given day, New York City is the place to be if you're a solo traveler who loves adrenaline and loves to be on the move.
The Big Apple is a destination that has something for everyone. Whether you're interested in baseball or Broadway, you'll always have an event to go, and probably would meet new travelers right away. From commuters on the Subway to coffee shop owners, New York is full of nomads just like you and is a great place to explore alone.
9/10 London
London is a city that's full of so much history and livelihood that you'll never get bored when you're there. It's also a great walking city and easy to get around if you're traveling alone. Whether you're getting around on foot or by tube, London's museums, open pubs, and inviting coffee shops make it one of the best places for solo traveling.
You can tour the entire city alone, taking in the sights for yourself. From walking along the Thames River to visiting every free art museum the city has to offer, London's open doorways to discovering new things make solo tourism so easy. Hanging out at local pubs at night is also a great way to meet fellow travelers and locals!
8/10 Orlando
On the surface, when people think of Orlando, Florida, they think of Disneyworld, and that's not a place you want to be alone. However, if you're looking to spend a few days alone where the weather is warmer, it's a great city to stay in.
Surrounded by sunshine and blue skies, Orlando has everything from major shopping spots to fun swimming activities like surfing, snorkeling, and parasailing that you can do with other tourists while on your trip! What's even more exciting is that veteran solo travelers have said that Universal Studios Orlando – different from the family-oriented Disneyworld – can also be a fun place to spend the day people watching, eating, and riding rollercoasters.
7/10 Los Angeles
Los Angeles is filled with so many people who are looking to make it in the entertainment industry that if you visit the city alone, you're almost guaranteed to run into a friendly, talkative stranger. LA is a city that makes it easy to meet new people.
With great weather to accompany you while exploring Hollywood throughout the day to the bustling nightlife from clubs to concerts, any solo traveler that visits the entertainment capital of the world will have no problem meeting new people. So much of Los Angeles can be seen outside – the Hollywood sign, the Griffith Observatory, the Hollywood Walk of fame – that being around the fast-paced city life won't make you feel like a tourist at all.
The Winners of the 2019 Solo Travel Awards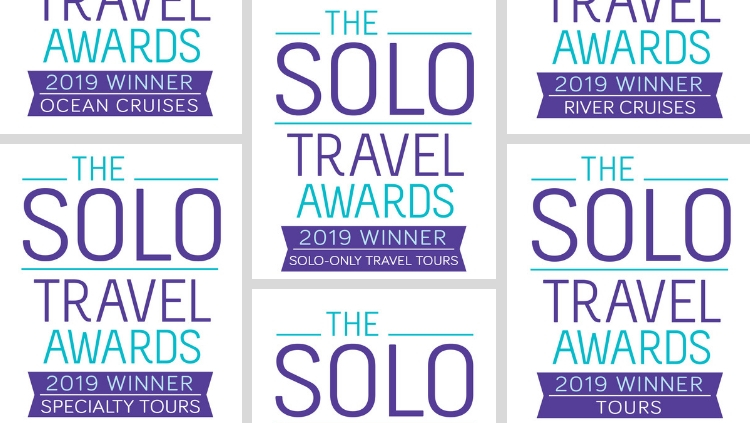 What an exciting year for the Solo Travel Awards! Many new companies entered the Awards showing the growing interest from tour and cruise companies in the solo travel market.
Back for the second year was the The Solo Travelers Choice Award. 2,523 people voted in the Choice Awards and over 17,000 people visited the page to see what companies were vying for the award. This was a win for solo travelers as they discovered new companies that want their business, and for the companies that received free promotions to the solo travel market.
See the full roster of tour companies vying for the award below.
We consider the Solo Travel Awards as part of our responsibility to advocate for solo travelers. We're pleased that doing so not only showcases companies that we already know serve solo travelers but also reveals more companies targeting the solo travel market that we had not previously been aware of. Finally, we hope that it will encourage many other companies to see and understand the needs of solo travelers and decide to fulfill them.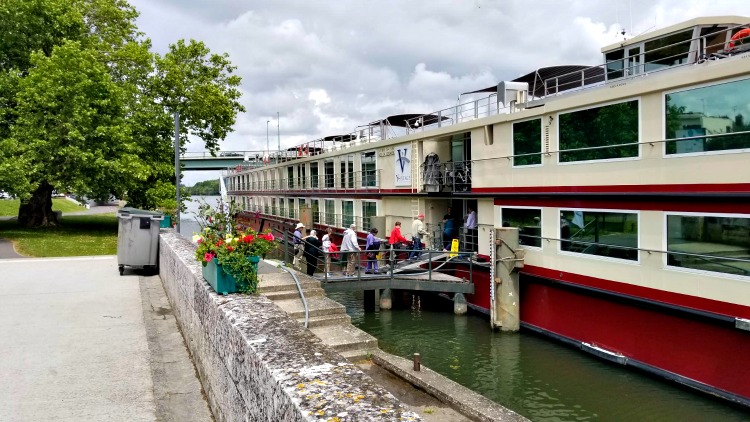 Vantage Deluxe World Travel won The Solo Travelers Choice Award. They also won in the Tours category and shared the honor with Riviera River Cruises in the River Cruise category.
Thank You to Our Judges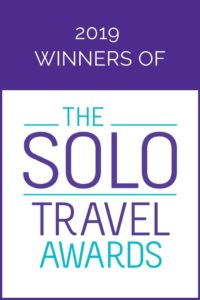 Pin it on Pinterest!
This year, we turned to real solo travelers, those who struggle to find, evaluate, and decide on which tours and cruises to take, to help judge the Solo Travel Awards. Our sincere thanks goes to:
Dolores – solo traveler with experience booking tours and cruises as a solo traveler
Emily – solo traveler with experience booking tours as a solo traveler
Keith Jenkins – solo traveler, publisher of Velvet Escape and CEO of iambassador
Tracey Nesbitt – solo traveler and editor of Solo Traveler
The Winners of the 2019 Solo Travel Awards
The primary criteria on which the companies were judged included:
How well they cater to solo travelers in terms of whether they apply a single supplement and how much is charged.
How easy it is for a solo traveler to find, determine the cost, and book a trip that is suitable for them.
Whether there are special services for solo travelers before or during trips.
Here are the winners.
The Solo Travelers Choice Award
Vantage Deluxe World Travel
Specialty Tours
GrapeHops
Solo Only Tours
Just You
Vacation Packages
The judges did not award a winner.
Detailed Descriptions of the Winners
Winner of The Solo Travelers Choice Award, in the Tours Category, and Co-winner in the River Cruise Category – Vantage Deluxe World Travel

Vantage Deluxe World Travel is a Boston-based, family-owned company that recently celebrated 35 years in business. Vantage has its own fleet of deluxe European river cruise ships, exclusively chartered small ships, and an exciting adventure brand bringing travelers to some of the most exotic destinations on Earth—including Asia, the Amazon, and Africa (where the company also has its own private tented camps). In 2020, Vantage will celebrate another important milestone with the addition of the all-suite, 5-star m/s Nebu ship on the Nile River; also in 2020, the European river fleet will be enhanced with a re-outfitting that adds on a substantial number of supplement-free cabins. In 2021, the company will welcome its first small ship oceangoing expedition vessel, the m/s Ocean Explorer, to be joined in 2022 by sister ship the m/s Ocean Odyssey.
Winner in the Specialty Tours Category – Grapehops
GrapeHops Tours specializes in small group wine and food tours in several regions of Europe. Limited to groups of 12 people or less, tours to both well-known and off-the-beaten-track places include unique visits to wineries, farms, and food artisans. Current offerings include wine and food tours in Spain, Italy, Portugal, Croatia, Slovenia, and Bulgaria.
Winner in the Solo Only Tours Category – Just You
Just You is an escorted group tour company exclusively for solo travelers. Just You provides the opportunity to embark on a solo adventure together with other like-minded travelers. Everyone is guaranteed a private room, and is never charged a single supplement.
Winner in the Ocean Cruises Category – Celestyal Cruises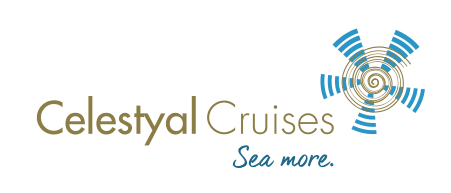 Celestyal Cruises is the only home-porting cruise operator in Greece and the preeminent cruise line serving the Greek Islands and East Mediterranean. The company operates four mid-sized vessels that provide genuine and highly personalized services. Every 3, 4, or 7-day cruise focuses on true cultural immersion, offering authentic, lifetime experiences both onboard and onshore. Celestyal Cruises is committed to the solo travel market by consistently offering ongoing campaigns with 'No Single Supplements & Own Stateroom' on the majority of their 3, 4, and 7-day sailings, in addition to their generous standard 30% solo traveler supplement which is 70% less than the majority of cruise lines. To support this commitment, they offered 'No Single Supplement' on all 12 Cuba departures in 2018. With their all-inclusive cruises, the lost onboard revenue issue that drives the excessively high supplements on major cruise lines does not factor.
Winner in the River Cruises Category – Two Winners
Riviera River Cruises is a British company which has been in business for 35 years. 11 years ago they entered the European River Cruise market place. Two years ago they expanded their marketing reach to include North America and since then have been the recipients of many important awards. Riviera's award-winning cruises include spacious cabins and suites, fine culinary experiences from sumptuous breakfasts to four-course dinners featuring international classics and regional specialties, and expert-led excursions to classic sights and lesser-known places. Riviera offers 15 itineraries on 10 rivers and waterways, including exclusive departures for solo travelers, and its fleet is the youngest sailing in Europe, with 12 ships, none older than six years. Riviera is dedicated to the North American market place and have their own sales, marketing, and reservations team in their Fairfield, Connecticut office.
Our Thanks to All Who Participated
The Solo Travel Awards is an exciting but also challenging endeavor for our small team here at Solo Traveler. We're absolutely thrilled with the results, and grateful to the judges for lending their knowledge, expertise, and time to determine the winners and to all who entered the awards. We already have plans to refine the Awards for 2020. It is our hope that this healthy competition will result in more and better options for solo travelers.
50 Degrees North 50 Degrees North specializes in innovative and authentic travel experiences in the Nordic region, offering tailor-made and small group tours for solo travelers.
Adventure Canada Adventure Canada is the world's leading marine expedition specialist, educating and connecting people to nature ⁠— and each other ⁠— through the spirit of adventure.
Adventurous Women Adventurous Women is an Australian owned and operated company providing escorted tours worldwide exclusively for women.
ATJ Traveling to Asia and the Pacific is not an easy task and can be intimidating. It's great to have a travel partner but it's also such an enriching experience to travel solo. With ATJ, solo travelers get the best of both worlds: companionship throughout and time to explore, journal, rest, and reflect.
Celestyal Cruises Celestyal Cruises serves the Greek Islands and Mediterranean with an industry leading single supplement policy and an intimate, attentive experience – perfect for solo travelers.
Eldertreks ElderTreks offers small group, exotic adventure travel for the 50+ market with all-inclusive pricing, optional single supplements, and itineraries designed with YOU in mind.
Encounter Travel Encounter Travel is 100% committed to solo travel. With 6 travel styles and destinations across the world, you can join their age-matched groups for solo travelers.
Experience My France Stay in Véronique's mansion while she provides you with a fully guided and hosted French experience, 100% with locals over 10 days. Your all-inclusive tour is fully customized around your personal choices, desires, wants, as well as personal restrictions.
Explore Explore small group adventures create stories and friends to remember for a lifetime. Choose from over 500 active trips in more than 100 countries.
Friendly Planet Over 38 years, they've perfected the formula of amazing hotels, airfare, included tours, must-see sights, and hands-on experiences that turn a "vacation" into a "bucket-list trip."
GrapeHops GrapeHops Tours offers small group tours to Spain, Portugal, Italy, Slovenia, Bulgaria, and Croatia, mixing cultural and sightseeing visits with unique wine and food experiences.
Grand Circle 800,000+ travelers have sailed with Grand Circle Cruise Line since 1998, including more than 225,000 solo travelers. Today, more than 30% of their travelers are solo—attracted by their comprehensive program, low-cost Single Supplements, and more.
Gutsy Women Travel Gutsy Women Travel has been the leading provider of travel experiences designed exclusively for women since 2001. Small groups of 10-16 are led by an experienced Travel Director from the destination. Inclusions that matter deepen one's cultural experience.
Just You Just You provides the opportunity to embark on a solo adventure together with other like-minded travelers. Everyone is guaranteed a private room and is never charged a single supplement.
MT Sobek Celebrating 50 years of adventure, MT Sobek specializes in handcrafted, small group, and custom adventures, offering insider access and award-winning trips in the world's most incredible places.
On the Go Tours On the Go Tours is an award-winning provider of unforgettable travel tours and tailor-made holidays. From Myanmar to Madagascar, they love bringing you the best the world has to offer.
Other Way Round Other Way Round offers Colombia tours where adventure travel, cultural immersion, and social impact collide. They connect travelers aged 25-45 and share with them the real Colombia.
Overseas Adventure Travel Overseas Adventure Travel offers small group, immersive adventures for travelers aged 50 and older. With its small-scale travel philosophy, OAT limits groups to 8-16 travelers on land and 20-25 by ship.
Paris Personally Paris Personally is a woman-owned, Paris-based business providing exceptional small group trip experiences to travelers who want to experience Paris in an authentic way with a local guide.
Pravassa As the pioneer in wellness travel, Pravassa's programs are vetted, curated wellness travel experiences crafted to address the self-care needs and time constraints of today's explorer.
Riviera River Cruises Riviera is at the top of the premium market yet competitively priced, offering true value for money. Shore excursions in every port are included yet they allow guests time to explore on their own. Riviera River Cruises is the only company to dedicate entire departures to solo travelers.
Solo Travellers Group Tours At Solo Travellers Group Holidays we pride ourselves in using our travel expertise and passion for all things travel to create amazing small group holidays.
Surf Expedition Inc. Surf Expedition Inc. are passionate travelers in search of the best waves and places to discover. They believe that happiness resides in creating memorable experiences by meeting new and interesting people in places that you would've never thought to see in your lifetime.
The Blue Walk A woman-owned and operated company offering leisurely, relaxing, small-group walking tours in Europe, The Blue Walk specializes in art workshop vacations.
Tauck Founded in 1925, Tauck is a leader in authentic, enriching, guided travel, with more than 150 itineraries to 70+ countries and all seven continents.
Two's a Crowd Two's a Crowd is an Australian owned and operated travel company helping solos everywhere to confidently see the world.
Tucan Travel Tucan Travel has 32 years of success providing intimate small group adventures to more than 70 countries abroad. Discover award-winning travel on one of their 200 different tours.
Vantage Deluxe World Travel Vantage applauds the spirit of independent discovery by placing equal importance on providing an unparalleled value and travel experience—the customer always comes first
Wild Frontiers Wild Frontiers is a boutique adventure travel company that specializes in stylish and original small-group tours and tailor-made trips to off-the-beaten-path destinations worldwide.
Women of the World Travel At Women of the World Travel, their goal is to empower women through travel. They create hand-crafted tours to some of the world's most beautiful destinations for solo female travelers.
Women's Travel Group Phyllis Stoller started The Women's Travel Club in 1992 and has consistently worked to make travel accessible to women of all ages. Affordable yet luxurious group trips are formatted to make women comfortable immediately.
Ultimate Pack List for Solo Travel 2019
Solo travel means enjoying the flexibility to hook up with people for all sorts of adventures.
Solo adventure travel can take us to some of the wildest places on the planet, from the tops of the Alps to the jungles of Panama and onto the deserts of Jordan. On top of that you may find yourself attending a cultural event, viewing art and museums or attending an evening party. Not only is packing the most essential kit important but it pays to pack light and smart. This article will help you along the way to begin thinking about and investing in a high quality kit list that will last out for adventures and be versatile enough for a wide variety of travel journeys for you to enjoy.
I've read countless blog posts and watched numerous videos on how to pack for lightweight travel and I've really discovered that what to pack for a trip is a very subjective and individual exercise. What is essential for one person is dispensable to another. There are, however, some items that have served me well throughout my solo travels and I'm always discovering ways of reducing my pack size, keeping the weight down and finding kit that works a little better. I've been travelling for many years and I still manage to change something small or change it for some newer, better kit – it's getting a little obsessive (in a healthy way of course).
Versatility is the word for solo travel packing -everything should have more than one purpose. I wore the same outfit the next day for an 8 hour hike. Hampi, India.
In this CGR Ultimate Guide I've put together a pack list for budding solo travellers to look at, ponder and maybe even adopt into your own toolbox. If you're just starting out on your journey to becoming a solo adventure traveller then you'll find this pack list quite detailed. I've compiled it in three parts: Luggage, Clothing and accessories as these will be the mainstay of your packing. Do remember that the items are specific to me: a 50+ male solo traveller with plenty of experience so you will need to do some research on what will work best for you.
Luggage
This is an area where you definitely shouldn't buy cheap. Luggage takes the lions share of wear and tear as its constantly being thrown around and mishandled but all sorts of porters, hotel staff and taxi drivers. There's nothing more annoying than a shoulder strap breaking on your pack so be very careful in the manufacturing quality of the your luggage. You don't have to spend a fortune but my luggage items are often my most expensive.
Everything fits into a 55L pack + shoulder bag for long haul trips. Oh, and the mosquito net leaked which is why I take my own!
Wheels or no wheels….? Well in my (very humble) opinion no wheels is better than wheels. Why? Wheels are great for transiting through airports but will eventually let you down when you're pulling them down that narrow street looking for your accommodation. Look for a modern backpack style pack. That doesn't mean you need to look like an eighteen year old backpacker, there are many stylish one's out there and you will find the following features make your packing a breeze: book style opening, fold away shoulder straps (and a waist belt for larger packs), side pocket (for water bottles and other small items such as sun hat), zip up compartment for storing stationary and small tech items. Lockable zips for all external zips, I use TSA combination locks as I've lost small keys in the past.
For, shorter in country or trips to Europe (I'm U.K. based) I use a pack of 45L maximum and for longer long haul trips I use 55L maximum. I am experimenting with getting my long haul bag down to 45L but to be honest many long haul flights include a hold baggage allowance so there isn't as much incentive as shorter flights – I'm currently researching the more current trend for long haul train journeys so I could take my larger 55L bag on these trips.
Shoulder bag, this is the the bag I carry around every day. It has many of my important documents in as well as my phone, my credit card and portable WiFi router. I sometimes carry my iPad Mini in it too if I'm intending to spend a morning dealing with admin or writing. Look to buy a secure bag with slash proof straps, locking zips and a RIFID compartment.
Daypack – I will usually pack a lightweight daypack that flattens really well as it will be flown out inside other luggage. Look for a simple design with few pockets as items in these can be easily stolen.
Clothing
Clothing is a very subjective topic and your intended activities will influence your choices. My solo travel trips often involve both some adventure and some culture so I can just as easily be found enjoying a music concert or local theatre as be hiking up a mountain top or scaling a cliff face. I've developed a system that works for both and the secret is versatility.
I have a simple rule for all my clothing choices; I must be able to launder them whilst in the shower and they must dry overnight or through the day when I'm out. This means technical and blended fabrics that are lightweight and quick drying and these days you are spoilt for choice. There are some great brands out there for clothing and you should make what I call 'investments', that means spend a little more for good performance wear that will last out your adventures and are backed up with a good warranty. I've put a complete list a little later so you can see how I pack but here are some tips:
Shirts – my preference is for long sleeve ones. Roll the sleeves up and undo the buttons when it's hot. Roll them down and button up when it's colder, nice and simple. I also keep a nice white shirt for social, cultural events and hanging out for beers after a tough day of adventures. Keep them light and use good quality technical and blended materials.
Long sleeved shirts are very versatile and I'll often take two on all my trips. Taking a writing break in France.
Shorts – be versatile. You should be able to hike, climb, swim and run in your shorts. Pockets are good, but not too many.
Trousers – for both sexes trousers are good. They keep the sun off, wind at bay and will warm you up when the temperature drops. I'm not a fan of zip off cargo pants but I know plenty of people who are so if you like that type of style go for them. Keep hiking and social pants separate I like a nice linen blend of trousers or technical chinos for being out and about and transit travel. I also wear a woven elasticated belt, it looks smart and can be worn for both urban and outdoor adventures. Active trousers should be lightweight and compact, there is an abundance of choice in this area but do look for good quality and a regular fit. I wore jeans once on a long haul flight – never, ever again!
Jackets – being more of an adventurer than a holiday maker I opt for practical and compact jackets that are versatile. So I tend to pack a synthetic technical gillet (vest) and the same for a full jacket. Although they are slightly more bulky than down they wash and dry easier and are often a little more robust. Now, that can be a little too outdoorsy at times and many of my trips involve starting and finishing in cities I'm as well as travelling between them. I have a great linen/performance fabrics blend jacket that is perfect for travelling in as well as socialising, eating out and city sightseeing. I wear that and pack the others for active days and flying as I can get cold on long haul flights.
Skirt – being a male I can't really comment but I would imagine a female traveller would definitely want a neat skirt in their pack. Again a stylish cut in a technician fabric would work best. Be careful though as some cultures will frown upon females wearing skirts in public and you should be sensitive to local customs and practices.
Hats – I prefer to keep my city and hiking hats separate as my activity hats are often very grubby. Baseball caps are a total no no – nothing shouts tourist louder than a baseball cap. A wide brimmed hat for city exploring and hanging out at the bar and a bucket style hat for hiking. Look for materials that let you stuff your hat hat into your pack but looks nice and fresh when it comes out. My hiking hat must follow the wash in the shower rule.
Rainwear – unless I'm travelling to a northern destination (where I might want a more substantial hardshell jacket) I pack a super light, compact hooded hardshell. Just enough to keep some light rain or showers off. If it's raining hard it's a museum day and time to find that perfect budget lunch I've been researching. If it's pure urban adventures I may also pack a lightweight umbrella but that is really a luxury. The same goes for rainproof pants – as light as possible as they will spend most of their time being carried.
Underwear – I take 2 less pairs than days I'm travelling up to a maximum of 5 pairs and the same for socks. I'm quite fastidious about washing them to make sure I have clean pairs. One thing I do indulge in a a pair of lightweight merino briefs for long haul travel – there's nothing worse than spending 14+ hours in your sweating performance underwear! Believe you me, I know how bad that can smell to the poor passengers who have to sit next to you on that stuffy flight!
Footwear – I've spent years trying to find the right combination of shoes and sneakers for lightweight travel and I'm still looking. The search for perfection is very much still going and trying to find something that is both smart and practical for intensive travel has proved very difficult indeed. The system I have come up with works for me and, as ever, is a comprise: fkyknit sneakers in a plain colour (usually black or grey) as these work best with all colours. I'll try to minimise logos with these shoes as they are what I wear for city adventures and smarter occasions; lightweight trail running shoes. I'm a keen runner anyway and these work well for hiking and pack down lighter than boots, I'll pair with some waterproof socks if I'm heading north. Finally I prefer slides (pool shoes) to flip flops as they can be worn with socks on those cooler days. As I said this is by no means perfect and I'm still looking but I have found that combination is the best I can come up with for my travel ethic.
Accessories
A full run down of my first aid kit is outside the scope of this article and is mentioned in more detail in my book Travel Essentials for Solo Adventures. It is, however, extensive and I will always pack it for long haul at the expense of other kit. If I'm travelling in Europe or another developed country I'll pack a smaller day sized first aid kit as I'm happy that I'm always close to quality medical assistance if I need it. Also mentioned in my book is the need to be fully vaccinated for the country you are travelling to, for older travellers this is especially important. Also I never travel without comprehensive travel insurance, making sure it covers all my needs.
Tech and other accessories
There isn't much left on my packing list other than my tech – I carry an iPhone 7 and iPad Mini and that's it. I can write articles, take photos, find my way around a city and even up a mountain with them. My iPad mini is small enough to carry around without presenting me as a target – it fits perfectly into my shoulder bag for ease of travel and so it can stay on my person when I feel my stuff isn't safe in a hostel (which is rare).
I also carry a couple of leads and a double socketed international charger; I've been having issues with the slider type of chargers so I now carry dedicated travel ones with fixed socket prongs for the area I'm visiting. I don't use a local SIM card as I've always found it a faff, so I now use my GLocalMe G3 Global Portable WiFi. I pay a little more for the cloud SIM data but it is a great piece of kit and has never let me down. I've always had signal when I need it and full roaming too as soon as I touch down at the airport. It also doubles up as my portable power supply so it's definitely a win in my books. One thing I never travel without is my trusty notebook and pen.
My GLOcalMe portable 4G WiFi router is indispensable when travelling around the world. Much easier to sort than wasting half a day looking for a local SIM.
Finally I pack a small amount of wash kit. If my trip is more than 5 days I'll buy what I need in country as this is a great local activity on my first day. Otherwise it's small bottles of soap and shampoo that I like to use as well as some deodorant a quality pack towel that drys out overnight.
Below is the pack list I keep on my notes app and I refer to it every time I travel. I never rely on my memory to pack – that way lies madness!
International Personal Travel List
2 x ls shirts (active)
1 x linen ss shirt
2 x t shirts (active)
2 x shorts (summer)
1 x travel trousers (sometimes these are jeans but often loose trousers/travel chinos)
1 x active trousers for hiking or other active activities.
Compression socks (long haul)
1 x insulating jacket
1 x insulating gillet
1 x lightweight waterproof jacket
1 x lightweight waterproof trousers – if going to mountain area to hike.
International Travel Essentials
Personal medication+ prescription.
Portable power battery + leads + international plug
Solar panel (if going to sunny and remote area)
Ear plugs x 2 sets
Glasses + spare robust glasses.
Travel pillow + pillow case for accommodation.
Sleeping bag liner – silk
Mosquito net – I've been let down numerous times in homestays with leaky nets.
Cash + credit card (with plenty of credit limit on it) + debit card
Portable wifi router
Recommended kit to add to your Ultimate Pack list:
A great lightweight hat from the iconic Tilley stable. I always found my trusty T3 quite hot so this new offering is just the ticket. Made from recycled organic cotton and blended with recycled polyester and rayon it fits my packing list criteria perfectly. It feels light on and the airflow mesh works well when the temperature rises. It has a nice wide brim and the SPF 50 rating keeps any sun manageable. The foam insert in the crown keeps the hat in shape as well as allows it to float and of course the hat is backed up with the brilliant Tilley lifetime warranty. Most importantly Tilley offer a great range of head sizes you will be sure the find the absolute perfect fit.
The hat also has an adjustable lace chinstrap to keep it on on windy hikes and a hidden pocket in the crown to keep a few notes in for emergencies.
The Tilley Airflo Mash Up comes in sizes 7 – 7 7/8 and two colour options: my favourite Brown and the lighter Sand.
The SRP is £75 and it can be bought direct from Tilley.
The eponymous Portland company, Columbia has a great clothing range that can be seen on a wide variety of travellers from all walks of life. The new Irico shirt is typical of the company – stylish, practical and made using performance fabrics. The Irico is a fully featured shirt that uses the tried and tested Onmi Freeze fabric which has a cotton like appearance and wicks away sweat when the going gets active to help cool you down on those humid treks trough the forest. The tiny perforations give the Irico shirt a woven appearance that offers great ventilation which is further improved with two back vents.
There are two chest pockets which have velcro closures and the left hand one has a zip closure for security when your travelling through that bustling and crowed bus station. It has a button closure and the sleeves have a looped fastening for when you want the sleeves rolled up (which is how any long sleeved shirt spends most of it's time on the move). It's finished off with some nice reflective detailing on the front and the back.
The shirt is a premium offering and part of the Titanium range which are the top of the range products and it's super lightweight and, as expected, fulfils perfectly the wash in the shower and dry overnight CGR criteria for adding to the backlist.
The Columbia Irico shirt has an SRP of £75 for the long sleeve version and comes in three great colour options. It comes in sizes S-XXL and the fit is what I would say is classic/relaxed for a Medium fits my 40" as it's more American sizing than European. There is also a short sleeved version and specific women's versions.
The Columbia Irico Long Sleeve Shirt is available direct from Columbia Europe with free UPS Access Point delivery on orders over £75.
There's nothing feels better next to your skin than a lightweight merino wool shirt and the Smartwool Merino 150 is a perfect t-shirt for your actives. The new Go Far styling offers a wide range of really nice graphics and colours to suit all tastes. The Sport 150 is a mixture of 56% Merino Wool and 44% Polyester which is a great mix and brings the moisture and odour management of Merino with the quick drying time of polyester. I've used this mixture before and found it better as the fabric is a little more robust than pure Merino which I've found a little delicate when used for tough adventures.
The Smartwool Sport 150 is a great addition to your pack and you'll only need to pack this for all your active days as it fulfils the SoloTravel packing requirements perfectly. If it does get smelly then a quick wash in the shower and it'll be dry and ready to wear in hours.
There a whole host of 150 t- shirts and polo shirts to chose from in the range as well as socks and tops. So if the graphic t's are to your taste then there are plain shirts in some nice colours to choose from and the ZQ Merino accreditation gives you peace of mind that your shirt is ethically produced.
It comes in sizes S to XXL and the SRP is £54.99 and is available from specialist retailers.
When your adventures require something a little more technical than some standard travel luggage the Osprey Farpoint Trek is the pack for you. I've been a fan of the Farpoint range since Osprey introduced it and I own both the Farpoint 40 and the Farpoint 55 (my travel ethic will not allow a pack bigger than this – if I'm filling it up I'm asking why I need it) and I've found them well designed and easy to use.
The Farpoint Trek is a much more technical offering and is suited to multi day treks that may be a little more off the usual travel circuit – think the Jordan Trail trough Petra and beyond. The has all the great features of the Farpoint range which includes: full front opening, internal zipped pocket and hydration pocket and a main compartment that will fit all the kit you'd need for an extended trek. the whole pack can be cinched up tight with the two compression straps – those who have used the Farpoint before will know how useful they are when on the move.
Two mesh side pockets for stacking these essentials you need when on the one and a large zipped front pocket for keeping all your maps, books and paperwork; there's two smaller straps for a roll mat or tent and zipped lid pocket with a key clip for keeping all these smaller items like headtorch, portable power etc.The Front Trek comes with the excellent Airporter cover which covers the whole pack – this takes place of the storable straps on the normal Farpoint series and makes the Farpoint Trek more manageable through the airport and train/bus travel. The AirCover is a full cover that has lockable zips, a large grab handle and some extra loops so that you can lock it up with a security cable. There is an extra clip under the chest strap so you can secure a Daylite pack to the front to give you more capacity if you need it.
Finally, what makes the appoint Trek different than the standard models is the carry system which is a much more technical affair. Full framed suspension with fully adjustable back frame and shoulder straps together with a fully padded hip belt with handy zipped pockets makes the Farpoint Trek a great piece of technical luggage that I think will become a popular pack for global travellers and backpackers alike. There is a specific women's version the Farview 50 and is the same price.
SRP is £170 and is available direct from Osprey from mid July 2019 for both Europe and the USA. Contact Osprey directly to stay updated on the release date.
Eagle Creek have some great travel luggage and the Gear Warrior 45L is a great, well featured travel pack that will be perfect for your short haul adventures. Weighing in at less than a kilo it's perfect for carrying around and you should be able to get everything you need into it and still meet that demanding 10kg cabin weight.
The standard volume is 43L and it is expandable to 51L should you feel lucky enough to escape the eagle eyed check in assistant or you are thinking of stowing it in the hold for a longer trip. It has stowable rucksack style straps and a detachable shoulder strap for going through check in security and stowing in the overhead locker. It also has two large grab handles to help throw it in the bus compartment or retrieving it from the train rack.
The book style opening means that once at your hotel you'll have everything you need easily to hand and it'll also make packing a breeze with its internal organisation.
There is a top pocket suitable for keeping your liquids in and the external zips are lockable to ensure your contents are safe. The main zips can also be centralised to a single point so that you can secure everything with a cable lock in the hostel dorm.
The side compression straps keep everything in place and are well placed so that you can secure your jacket when in transit. The Neo Diamond Ripstop outer material is shower proof and is made from recycled PET bottles for added eco coolness. What's more the pack comes with the legendary No Matter What warranty which means that they will repair or replace the pack when your bus driver throws the pack off the top of the bus and a taxi runs over it!
The Eagle Creek Gear Warrior Travel Pack 45L comes in three colour options and the SRP is £130 and available from specialist retailers.
Portable power is an important accessories in any modern adventurers pack. Long train journeys and periods of dodgy electricity mean that you can easily find yourself without power. I'm often carrying both a phone and a tablet and on some trips a smart watch. I also carry a rechargeable headtorch so I'm quite reliant on portable power. The Goal Zero Sherpa 40 is a great power pack. It has the capacity to charge both my phone with its powerful 12000mAh capacity. It's slim and lightweight enough and has 1 micro USB input socket and two 2.4A output sockets that are regulated to 12W max. It's 4 spots light up to let you know how much power is left and is very intuitive and easy to use.
It's slimline design and robust aluminium body means that it's a little on the large size but it's definitely lighter than my Anker power pack and would fit into my small shoulder bag if I needed it to. It also comes with 3 leads: lightning, micro USB and USB 3 all neatly designed into the sides of the pack. The Goal Zero Sherpa 40 can be charged by a solar panel or a wall charger with a charging time of 7.5 hours for wall charger and much longer for solar panel charging. I've reviewed the Goal Zero Nomad 7 charger and it would take a long time charging with that, Goal Zero have since bought out a Nomad 14 and I think this would be better if you were looking for that type of charging method.
The Sherpa 40 is the ideal companion for that 7 hour train journey from Fez to Marrakech when you want to sort your photos, emails and update your blog as well as play your favourite Jazz from The Middle East Spotify playlist.
SRP is £ 89.99 comes in three colour options Grey, Black and Copper and is available from specialist retailers.
As light as a feather and as flat as a pancake the Deuter Speed Lite is the perfect hiking pack to take on your adventures. It's packed full of useful features such as two mesh outer pockets for carrying water bottles or a rain coat, a top access Pocket with a key clip, a hydration pocket, safety light slot, grab handle and a main compartment that can easily swallow up all the kit you'll need for a full days hiking and carry it in comfort. The outer fabric is showerproof and robust enough to take all the knocks nature and cities can throw at it.
Stability is achieved with the chest strap and the materials are robust and shower proof. Weighing in a mere 350g it won't affect your cabin luggage allowance and it packs really flat so will sit at the base of your travel luggage and won't interfere with the packing. It is perfectly suited to both outdoor and urban adventures, it's 12 litre capacity will be more than enough for hiking all types of terrain whether your hiking China's Great Wall, traversing the Crouches Ridge in Chamonix or hiking around museums in London – you'll look coll doing them all. It also comes in a variety of other sizes if you feel that 12L isn't enough.
The Deuter Speedlite 12 comes in 4 colour options. It retails at £45 and is available direct from Deuter GB.
There are occasions when. I'm staying somewhere a Little more basic than a hotel. I'm a fan of homestays and hostels (although I will always opt for a private room) so I will always pack my own towel as well as a few basic toiletries. The Pack Towl Luxe has proved a great towel, it's about as good as it gets as a travel towel as as close to cotton as you can buy. Sometimes travel towels can feel a little clammy as they absorb water really quickly but the Polygeine treated Luxe soaks up water a treat and doesn't smell even after several days of use. It doesn't suffer from that sticking experience you so often get with cheaper towels – you know when you're soaking wet getting cold and the towel just sticks to you and rolls up and then you just end up using it like some sort of sausage towel.
The Pack Towl Luxe pack down quite compact too so it will take up very little space. To be honest, I always pack one of these wherever I'm visiting as it's such a useful towel. Although I carry the body sized one most often when toting a pack for days – but I sometimes like to luxuriate in the bath sized one when travelling by car.
I know it feels like I'm being obsessive talking about bath towels but it pays to be obsessive in the solo travel world and believe you me I've used plenty really rubbish and smelly hand sized towels in some of the homestays I've stayed in so these days I leave nothing to chance.
SRP is £26 for the body size and the Pack Towl Luxe is available in 5 lovely colours and 4 sizes from face through to hand body and the huge bath. It's available from specialist retailers.
Rab Cirrus Flex Jacket
I'm a real fan of synthetic insulation for travel jackets. OK they pack a little more bulky than down but they are so much easier to look after when they get dirty. Now I should declare that an insulated jacket is the one item that is unlikely to dry overnight but to be honest, I don't often wash them when on a trip and wait until I get home.
The Rab Cirrus Flex jacket is a great, lightweight, well featured jacket that is super versatile and will be great as an outer layer or you can layer it with a lightweight hardshell when the temperature begins to fall. The Atmos outer fabric is robust and light enough to be packed down into the smallest space and has a DWR that sheds away the odd sower. The Cirrus insulation made by 3M is breathable and featherweight and I think has great insulation, especially when the weather is damp. Further breathability is provided by the stretch fleece side panels which complement the overall style of the jacket. The jacket feels like a down jacket when it's on.
The Cirrus has four pockets: two zipped side pockets (the left hand one doubles as a stuff pocket so it can be packed away neatly) and two internal drop in pockets which are useful for keeping gloves and other items warm.
The Rab Cirrus Flex is a great jacket that is more than suitable for a wide range of travel and adventure activities – you might buy this for that trek through the Atlas Mountains but it will look just as good negotiating the alleyways of the Fez Medina.
The SRP for the Rab Cirrus Flex Jacket is £115 and it comes in sizes S – XXL. It is available in 4 colour options and is available direct from Rab UK.
Ultra lightweight, made for all outdoor and adventure activity and made proudly up here in Yorkshire in the UK. What more could you ask for? Well… the super fast drying time and great fit and Swedish fabric that's what you can ask for! Troll are one of the original UK climbing company and have been quietly manufacturing a whole range of climbing clothing and products all made in Skipton on the edge of the Yorkshire Dales in the UK.
The Omni pants have been around for a while and they are exactly what they say on the tin – omni. They are plenty versatile enough for travelling in and hiking, climbing and water sports. They're even cool enough to wear around the hostel, homestay and local bars.
They are simple in design – just a straight forward pull over pants and tightened with an integral elasticated belt. No cinched hems means that they great with trainers, hiking boots and sandals and I really like the leg lengths which suit me. The water resistant and windproof Swedish fabric is really light and the pants weigh in at 225g (in the size Medium that I use) – more importantly they dry incredibly quickly. In fact they will dry on you if damp The Troll Omni pants are super versatile and are my go to travel pants for active wear.
SRP £50 and they come in 5 colours, sizes XS – XL, three leg lengths and are unisex in design so there will something for everyone. Available direct from Troll Outdoors.
If you are looking for a smarter set of travel pants then look no further than the Kathmandu Flight Stretch Travel Pants. Great jeans styling and a modern slim fit mean they will look great in all social situations. The 92% Nylon, 8% Elastane material offers a nice soft feel next to skin and are stretchy enough to offer comfort on that long haul to Kathmandu's HQ in New Zealand (where the company has it's roots). If yo are caught out in a shower the DWR will shed a light enough shower as you run for cover. The styling is really good with two, rivetted front pockets, a coin pocket, two back pockets which are reinforced with bartacking and a hidden security pocket that doesn't detract from the silhouette. All finished off with bartacked belt loops and a neat Kathmandu tab. They wash well and dry superfast and roll up to nothing in your pack. A nice pant to be seen in.
The Kathmandu Flight Stretch Pants come in sizes XS – XXL and a regular 32″ inseam. They also come in three colour option and there is a women's specific version that comes in sizes 6-16 and three colour options.
The SRP is £49.99 (there is a discount if you become a member) and they are available direct from Kathmandu.
Disclaimer – CGR reviewers and writers are never paid to provide a review and the website does not take advertising or link to affiliate sales. We are a bunch of keen climbers and travellers that accept sample products and offer an honest and independent review of the item. The reviewer will often keep the sample after reviewing it for both hygiene and safety reasons and more often it's in no fit state to return!
Source https://www.thetravel.com/best-places-solo-travel-alone/
Source https://solotravelerworld.com/winners-solo-travel-awards/
Source https://climbinggearreviews.com/2019/06/25/ultimate-pack-list-for-solo-travel-2019/