The Ultimate Guide on How to Become a Travel Agent in 2022
Travel agencies are a very important part of any business. They have to be able to ensure they can meet their clients' needs and create a good experience for them.
Today, there are many travel agencies in the UK, and they all offer different products and services. However, there is one thing that all travel agents have in common – they all need to know how to sell their products or services to their clients. This article gives you the tips, tricks and knowledge required so you know how to become a travel agent in the UK and the different options available.
What is a Travel Agent?
Quick reference guide
A travel advisor is a person who helps you find your dream holiday. He/she can help you plan a trip, book it and ensure you get the best deal for your money.
The travel counsellor will go through a life cycle which starts at the first contact with you, when you book your vacation, making sure to pay close attention to your requests and needs.
When you order a ticket, the journey begins, and the agent will remain your key contact, ensuring that everything runs as planned.
How to Become a Travel Agent in the UK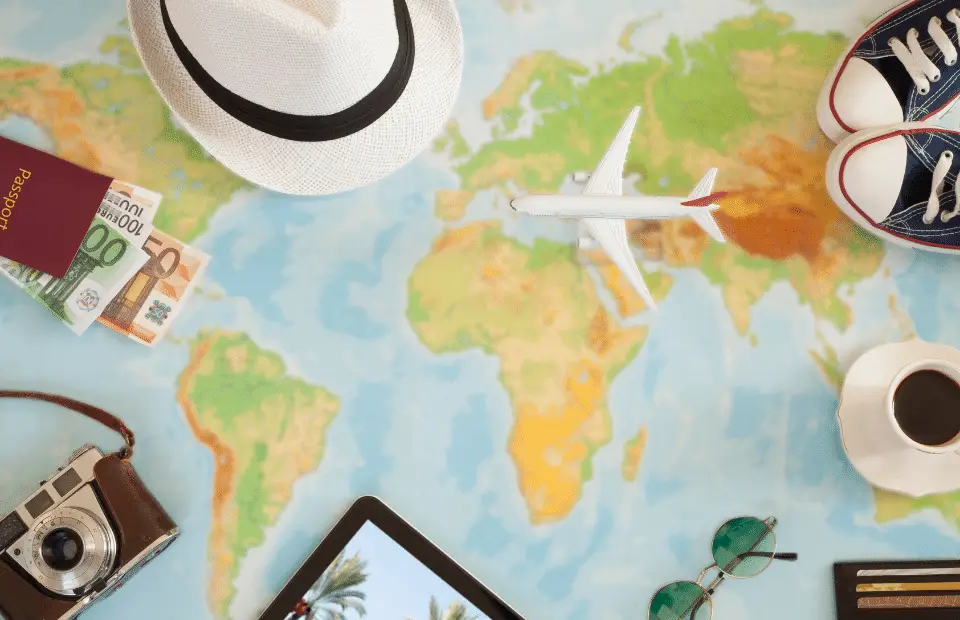 In the UK, more than 5 million people work as travel agents. These people help tourists find the best way to explore their destination. They also take care of things like accommodation, flights and car rentals.
These jobs come with a lot of responsibility and a lot of stress. They also require high levels of creativity and emotional intelligence. The reason is that they deal with many different clients simultaneously and have to be able to make sense of all the data they receive from them while dealing with each one individually. Understandably, it is important for them to be creative, empathetic, and have strong communication skills to handle all the different situations that might arise in their jobs.
Once you see the benefits of using a travel agent yourself, you can explore the many types of travel agent jobs in the UK. Below are some examples:
Become a Travel Agent:
A retail travel consultant is probably the picture you have in your mind; someone you see, talk to and visit in a store or with a larger agency. With the increase in people becoming self-sufficient and booking travel themselves, the use of retail travel stores has decreased with many agents dealing with phone enquiries or complaints. Retail agents usually have extensive experience in a particular specialism and are often sought out for specific travel needs. Examples include retailers like Tui, First Choice and Hays Travel.
Become an Independent Travel Agent in the UK:
The benefit of becoming an independent travel agent is that you are investing in your own business. You get to build your brand, focus on the areas that interest you, specialize or generalize at your will and work your hours. Most independent contractors will work from home and be remote travel agents, although some also invest in physical locations to increase their client base.
Become a UK Travel Agent from Home:
There are a few different ways to become a travel agent from home. You can either find an online travel agency and look for job opportunities with them or become your own travel agent through the independent route. These options will usually give you a guaranteed income with the option of earning a commission on top. As a home-based travel agent, you will have the flexibility and comfort of your own space but heavily rely on email, internet and telephone calls.
Become a UK Online Travel Agent
To become an online travel agent, you can usually do this by searching for jobs with a large travel company. Again, this provides a steady income and many different types of opportunities. However, the downside is that you're usually confined to one company. The job is more customer service/complaint management than building long-term relationships with potential clients.
Tips on Becoming A UK Travel Agent – Three Steps You Can Take Today!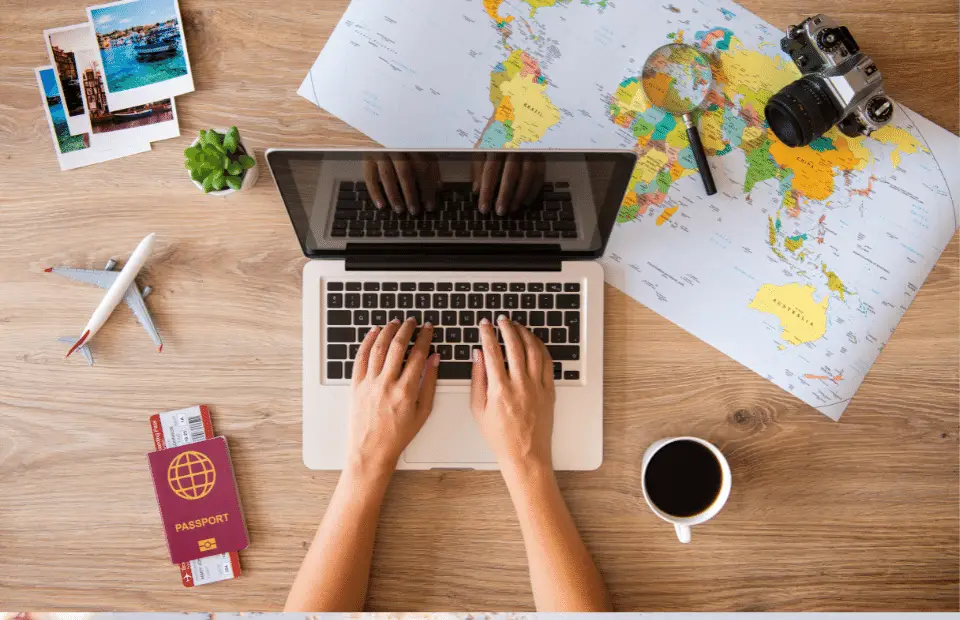 You can take some simple steps to become a travel agent in the UK.
The steps to becoming a successful travel agent are:
Step 1: Do your Research
Do some research or complete training programs to help you get your job as a travel agent. You can do this through an online course or by taking an exam. You should also be aware of the different types of travel qualifications and choose one that fits your career goals. If you choose the independent route, then you will typically pay a small joining fee/membership, and this will include all of the relevant regulatory training and system access that you need to be able to offer ABTA (Association of British Travel Agents) and ATOL (Airline Travel Organiser Licence) protected packages.
Step 2: Develop your Skills
Develop your skills and knowledge; this includes reading, researching, writing and presenting on topics related to travel agencies in the UK. You should also be aware of some key trends that are going on in this field like digitalization, social media marketing, customer service etc. It is important to have these skills because you will need them when it comes time to apply for jobs at travel agencies or when building your own business.
Step 3: Explore Travel Agency Job Opportunities
Once you have completed the above steps, you should start looking for a job. The best time to do so is right now. It is always best to target one particular agency and look for an interview or two during the week that they have open days at their office (to see what they offer). Think about your travel experience and what you can provide to your clients. Alternatively, think about how you can set up your own home travel business and research what it is like to be self-employed.
What Is the Best Way to Become A Travel Agent?
The travel industry is growing rapidly, and the internet drives this growth. These trends are a major reason we need to have a strong understanding of the travel industry and experience in travel. However, it is not enough to know about the industry; you also need to be able to make smart decisions when it comes to your career.
The best way of becoming a travel advisor is by using your skills and abilities in other areas such as marketing or sales.
Build professional networks, pride yourself on customer satisfaction, and demonstrate a passion for travel; the agent commissions will soon come rolling in.
How to Become a Travel Agent in Conclusion
Love to Travel? Make it your Business
Does becoming a travel consultant sound like you? Can you imagine travelling more often, helping out friends and family and building a great customer base? Sure you can.
Learn how to build an independent travel agency and start your own business.
Becoming an independent travel agent or starting a new business is not a difficult process. However, I am passionate about helping people achieve their dreams—and I want to help you achieve yours too!
I'll show you exactly how to make money as a certified travel agent right now, on your own schedule and in no time. I will happily give you advice and information; this is all free with no obligation to go ahead. We'll go at your own pace, and when you're ready, sign up; if it's not for you, walk away. It's that easy. You can even try it out and leave on time, risk-free.
Contact me today to find out how I can help you become a travel agent in the UK and start your own business.
If you like this post or if you have any questions or comments, let me know. You might also like to read:
Pin How to Become a Travel Agent in the UK for Later
Sharing is caring; help other people find this post by sharing on social media.
Everything You Need to Know About Becoming a Travel Agent
Here's what you should know before becoming a travel agent.
Maya Kachroo-Levine is the luxury and experiences editor at Travel + Leisure digital. She has previously edited at Departures, Expedia, Good, Medium, and The Balance, and written for LA Weekly, Time, The Atlantic, Marie Claire, and Refinery29, among others.
If you're someone who spends your days scanning flights, loves hotel rewards points, and in general, is a fervent traveler, you've probably wondered how to become a travel agent.
And, while it's true that living in the age of Expedia means travel agents are not as vital as they once were, people use them a lot more than you might think. Just because travelers aren't calling up an agent every time they need to book a quick flight doesn't mean they don't want to consult an expert for a big trip. This holds especially true when it comes to honeymoons or experiential trips that have a lot of moving parts — coordinating tour companies, translators, or multiple resort stays, for example. It's often easier to leave the logistics to someone else: travel agents.
You don't need a specific employment background to become a travel agent, so if you're looking for a fresh career start, that's totally OK. You have to start somewhere on your path to becoming a travel agent, and the sooner you jump in, the sooner you'll build your client base. On the other hand, if you're hoping to parlay your experience in a semi-related industry, be it marketing or hospitality, that can help because you'll have even more context for your new gig. Either way, this can be a rewarding career path (with some fun perks), so here's what you need to know to become a travel agent.
Formal Training Needed to Become a Travel Agent
While some four-year colleges, community colleges, and trade schools offer tourism certifications, it is not a requirement for those trying to become travel agents. Certificates of tourism can be very helpful, but so can previous training in marketing, hospitality, or even event planning. Ultimately, your knowledge of destinations, sales, itinerary planning, and booking software will be crucial for your career as a travel agent.
In terms of the training time you need to put in before becoming a fully-fledged travel agent, it depends. You could start your career right after high school, or you could put in one to four years to earn a certificate, associate's, or bachelor's degree in tourism. Of course, you could also change course from a related job, and morph your experience as, say, a destination wedding planner into a career as a travel agent.
Training Programs Available
You could take classes with a company like The Travel Institute to earn your certification. Not only will they teach you the basics of planning itineraries, but they'll also make sure you're learning about new cultures, world geography, and experiences you can have all over the world. They'll also help you decide what business route you want to take.
How to Become a Travel Agent: The Logistics
Becoming a travel agent will likely mean starting your own business. On the plus side, it requires relatively little overhead. If you're becoming a small business owner by opening a yoga studio, for example, you will need to rent a space, deal with permits, buy supplies, build a website, and pay yoga teachers and someone to work the front desk. However, if you're starting a travel agent business, you can operate from your living room and there aren't nearly as many upfront costs.
You will have to think about what type of business you want to become. Do you want to incorporate or become an LLC? Would you rather be a sole proprietor? Incorporating takes the most effort, and is often the most expensive. Becoming an LLC is a good happy medium because it can help protect you as a business entity without having as many associated costs. Small business owners typically become an LLC to protect their personal assets. If you get sued as an LLC, someone can come after your business holdings, but can't come after your house, car, or personal savings.
If you choose to remain a sole proprietor (which doesn't require any fees or legwork), you are essentially a freelancer or independent contractor. You can be an LLC and an independent contractor, too — they aren't mutually exclusive. If you want to be an independent contractor, it likely means you're working as part of a larger host agency, which is smart to do when you're starting out as a travel agent. Down the road, you can also own a travel agency franchise. Owning a franchise might come with more overhead costs, and that would be a reason to incorporate.
If you're an independent contractor, you should know that your taxes aren't going to be as straightforward as a full-time employee's might be. You may have to start keeping track of your business expenses, as you might be able to write them off. You also might not get things like health benefits from your employer. As you plan your new career, consider sitting down with an established travel agent to ask them some logistical questions: Where do they get their health insurance? How do they keep track of their income and expenses? Do they use an accountant to do their taxes? While meeting with the travel agent, you can discuss the pros and cons of working for a larger agency, too. If you're not sure how to get in touch with other travel agents, consider using social media, like LinkedIn or even Instagram.
What to Think About When You Become a Travel Agent
Once you've secured work as a travel agent, you'll want to think about how you can earn more money and distinguish yourself from other agents. Here are three things to consider as you start your career.
Making Commissions: If you're working for a larger travel agency as an independent contractor, how do commissions work? Make sure you have this conversation early on before accepting the position. When you're starting out, you want to make sure the commission rate you're receiving is similar to the industry standard.
Growing Your Client Base: How do you make more money as a travel agent? Clients, clients, clients. You want happy customers who will return to you every time they want to book a travel experience. You'll want to keep your clients happy by finding them great deals, curating unbelievable experiences for them, and simply being great to work with.
Establishing a Niche: This is by no means a requirement for becoming a travel agent, but as you establish your career, you may want to consider focusing on a specific niche. For example, perhaps you're someone who focuses on honeymoon travel, luxury travel, or adventure travel. Your niche can help you attract clients, and it can be anything in the travel realm, as long as there's a need for it.
How to Become a Travel Agent | 5 Must-Follow Steps
How to Become a Travel Agent
Table of Contents
Learn how to become a travel agent fast and easily, even if you have no prior experience!
In this post, we discuss how to become a travel agent and provide you with all the information you need to start making money as a travel agent.
There is no doubt that traveling is a great way to experience new things and meet people. The problem is, that not everyone can afford to travel. However, you don't have to miss out on the wonderful world of travel. In fact, you can travel by becoming a travel agent.
If you're thinking about becoming a travel agent, you'll want to start by learning some basic facts about the industry. There are a lot of things you need to know before you start. You'll need to learn about the industry, how it works, how to write a winning proposal, and much more.
A travel agent is not necessarily someone who knows how to book a flight. The travel agent is the person who helps a traveler decide which travel option will work best for them.
In order to become a travel agent, you need to have a good knowledge of travel and the travel industry. You must also be able to take care of clients, be organized, and be able to work with a team of other travel agents.
But if you're ready to get started, here are some useful tips to be followed.
The 5 Steps to Becoming a Travel Agent
Here are 5 must-follow strategies to become a successful Travel Agent.
1. Determine your niche before becoming a travel agent
If you want to be a travel agent, you must first determine what type of travel you are most interested in. This will help you narrow down the different types of travel you can offer to your clients.
So, before becoming a travel agent, you need to figure out what kind of travel agent you want to be. You can be an adventure tour agent, a cruise ship agent, or a luxury travel agent.
For example, if you want to be a luxury travel agent, you will need to have a high level of knowledge about luxury travel.
Therefore, you have to choose your specific niche before becoming a travel agent.
2. Determine your area of expertise before becoming a travel agent
Travel agents have a unique position in the world of tourism. They are experts in the field of travel. They know how to plan trips and coordinate them so that people can travel safely and enjoy themselves.
But what makes a travel agent an expert? What skills do you need to have in order to be a successful travel agent?
There are many different types of travel agents. Some specialize in cruises, while others specialize in international travel. Others specialize in luxury travel or family vacations.
Travel agents are experts at planning vacations. They're experts at booking flights, hotels, and cars. They're experts at getting the best deals on tickets. They're experts at finding the best discounts on hotels.
They're experts at knowing how to get the best vacation deal. Travel agents understand all of the ins and outs of travel. They know how to research and plan out the best vacation ever.
3. Set your budget to become a travel agent
If you're looking to become a travel agent, you need to think about how much money you want to spend. The first thing you should do is look at the average cost of a trip. Then, you need to decide what kind of trips you want to take.
You can do a lot of research on the internet and find out how much the average cost of a trip is. For example, you could check out the website, TripAdvisor.com. There, you can search for the most popular destinations around the world.
You can also look at the prices of flights, hotels, and rental cars. If you want to visit a country where the currency is different, you'll have to consider that when you calculate the total cost of your trip.
Once you've figured out how much money you want to spend, you can start thinking about which kind of trips you want to take.
4. Research the competition to become a travel agent
This is a competitive industry. There are a lot of people who want to become travel agents. But there are only a few spots available for each agency. So, if you want to be a travel agent, you need to get as many applications as possible.
Before you even think about applying for an entry-level position as a travel agent, you need to make sure that there are other people out there who want the job. The competition for this job is pretty fierce. If there aren't a lot of applicants, then it could take you a while to find a position.
You can use Google to search for travel agents in your area. You can also use the Yellow Pages or local newspapers to look for opportunities. There's no harm in asking around, and it's a good way to see what kinds of positions are available.
You can do this by getting referrals from your friends and family. You can also write a blog about travel and how you can help people with their travel plans. This will give you more exposure and allow you to stand out from the crowd.
Another way to get more applications is to create a landing page for your business. You can use a website builder like Wix or Squarespace to create a website that is appealing to potential customers. Include a call to action on the page, so people know what to do when they visit it.
Finally, you can try to get some press coverage for your business. You can contact local news stations or even national ones to see if they would be interested in writing an article about your travel agency.
5. Build your team to become a travel agent
Travel agents are in high demand, but there is a lack of qualified people. If you build a team that is talented at selling, marketing, and customer service, then you will be able to sell more and get more jobs.
Travel agents are usually very busy people, and their jobs require them to be on the go. Being on the go can be a bad thing for your health, and it can make you tired and cranky. If you are going to build your team to become a travel agent, you need to make sure that you are building a team that will be happy to be on the go.
You will need a team to build your business, but there is no one size fits all solution. In order to determine which is best for you, you will need to consider your strengths, weaknesses, needs and goals.
Wrapping Up
In conclusion, to become a travel agent you need to have a passion for travel and love meeting new people. You also need to be creative in your marketing strategy, because travel is a competitive industry. You can start by following these steps:
Source https://veggtravel.com/how-to-become-a-travel-agent/
Source https://www.travelandleisure.com/jobs/how-to-become-a-travel-agent
Source https://globehour.com/how-to-become-a-travel-agent/