What Happened to the Travel Channel?
You remember your childhood best friend, right? Someone you ate paste and played pretend with before your dad took the training wheels off your bike. You might remember her in pigtails, or him in chunky early '90s sneakers. Fast forward to 2018: you're an adult now, maybe a little deep in the cups, and you start to wonder how so-and-so is doing these days. You look them up on Facebook and—oh dear god, they're living in Idaho with six kids, purple hair, an eyebrow piercing, and have a lot of opinions on the shape of the Earth! Whoa! What happened there?
Classic cartoons tend to soak up all the glory when it comes to discussions of late '90s/early aughts TV programming, but I spent just as much time with my little nosey nooser pressed to the screen watching the Travel Channel. The content fell somewhere between ANIMAL PLANET and proto-Buzzfeed, consisting primarily of top-10 lists and overuse of the word "Xtreme." It was amazing. A smorgasbord of all things awesome to a seven-year-old, Travel Channel tackled the latest and greatest in theme parks, roller coasters, water slides, swimming pools, and more. Halloween brought top-10s of haunted places and "Xtreme" haunted attractions. I spent hours dreaming of a family vacation to the Atlantis resort in the Bahamas, a trip to the Schlitterbahn inspired by segments that have not aged well, and braving the now-infamous McKamey Manor.
Recently, I popped over to the Travel Channel expecting a nostalgic trip down memory lane and perhaps some summer vacation inspo. So imagine my surprise at THIS SHIT: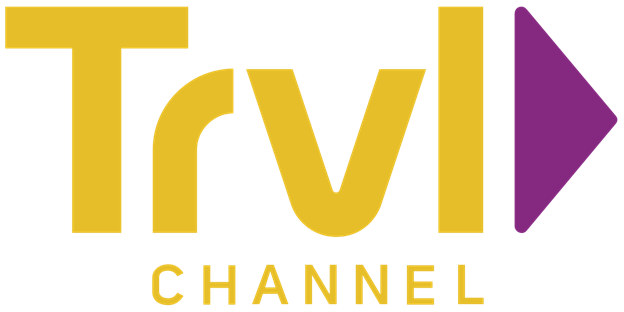 The newly rebranded "Truh-vull" Channel's most hyped series are two legend/lore-based miniseries starring Megan Fox (yes, that Megan Fox) and Chris Jericho (yes, that Chris Jericho), respectively. Other top-billed programming includes HAUNTED LIVE, GHOST ADVENTURES, and JOSH GATES' DESTINATION TRUTH. If you're wondering who the hell Josh Gates is, never fear! The first link on the show page is a Buzzfeed-esque article complete with .gifs answering exactly this question. Gates' bio describes him as "an adventurer and avid explorer with a unique brand of humor and deep-rooted passion for off-the-map excursions" and the show page promises "his unique point of view" on "magical" locales such as Greece and the Yucatan Peninsula.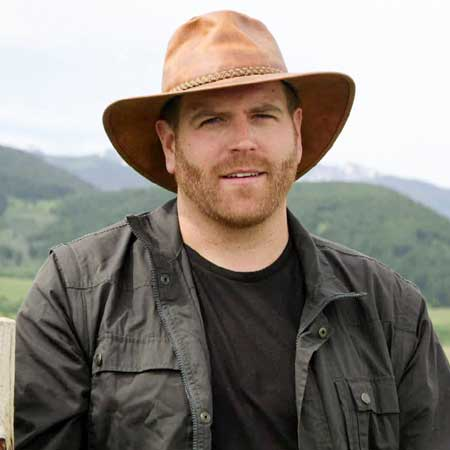 "No mayo please, it's too spicy for me!"
To really wrap your head around the depth of this transformation, I need to take you through a week of Trvl Chnl's current programming. This is from the week after Thanksgiving (11/25 – 12/1), I have not cherry-picked this for content:
SUNDAY: Four hours of MYSTERIES AT THE MUSEUM, five hours of MY HAUNTED HOUSE, and nine hours of HAUNTED CASE FILES intercut with SCARIEST NIGHT OF MY LIFE and something called TREASURE QUEST: SNAKE ISLAND.
MONDAY: Three-to-four-hour blocks of A HAUNTING, PARANORMAL SURVIVOR, MY GHOST STORY, and MY HAUNTED HOUSE, capped off with eight alternating hours of ya boi Josh Gates and LEGENDARY LOCATIONS.
TUESDAY: Josh Gates still going strong this morning with "Romanian Werewolves," "Plant Monster in Thailand", and the "Filipino Lake Monster." We get an afternoon break with MONSTER ENCOUNTERS, then it's 11 entire hours of EXPEDITION UNKNOWN, interspersed with two reruns of MONSTER ENCOUNTERS' "Death By Anaconda."
WEDNESDAY: An entire day of MYSTERIES AT THE MUSEUM save for two hours of CITIES OF THE UNDERWORLD ("Soviets Below Us" and "Tokyo's Underground Savior") and two runs of the same episode of MONSTERS AND MYSTERIES IN AMERICA: SASQUATCH, WOLF SPIRITS, AND LAKE MONSTERS.
THURSDAY: We're in for a spooky Thursday with seven hours of MY HAUNTED HOUSE and 12 hours of THE DEAD FILES (one episode of the latter titled "Triggered – Flint, Michigan," joining "Soviets Below Us" in our new segment "Info Wars or Travel Channel?")
FRIDAY: Trvl Chnl knows you were getting turnt on Thirsty Thursday, so we're keeping it straightforward this morning with HAUNTED THINGS and THESE WOODS ARE HAUNTED (the latter featuring both "Bigfoot Showdown" and "Bigfoot Encounter"). Then, fuck you, it's 12 hours of GHOST ADVENTURES.
SATURDAY: A brief return to form this morning with FOOD PARADISE and BIZARRE FOODS until 11:30 AM and then fuck you, it's fifteen (not a typo—fifteen) hours of GHOST ADVENTURES.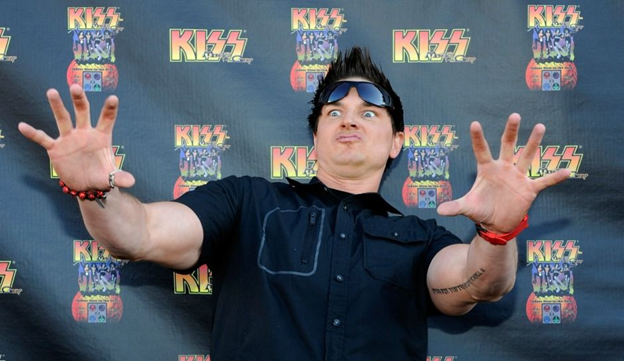 A brief peek into Travel Channel's history gives a good chunk of insight to this head-scratching change. The network was originally founded in 1987 by Trans World Airlines and Viacom, presumably to sell airline tickets (and it totally worked—see paragraph two). It hit peak viewership in Spring of 2008, followed by a slow and painful decline that continues to this day. A long game of acquisition hot potato ultimately landed the network in the hands of Discovery, Inc. in March 2018, at which point Travel Channel took its place as the red-headed stepchild among all-star siblings Discovery Channel, Food Network, HGTV, and TLC. Travel Channel's classic food, destination, and how-to programs were suddenly rendered redundant by superstars like Chip and Jojo Gaines and Guy Fieri. How would this misfit network stake its claim in its new family? The same way your childhood best friend did: an edgy goth rebrand.
And so, in October 2018, Travel Channel cast off its original vision and its vowels to become Trvl Channel, with a stated focus on "the paranormal, the unsolved, the creepy and terrifying."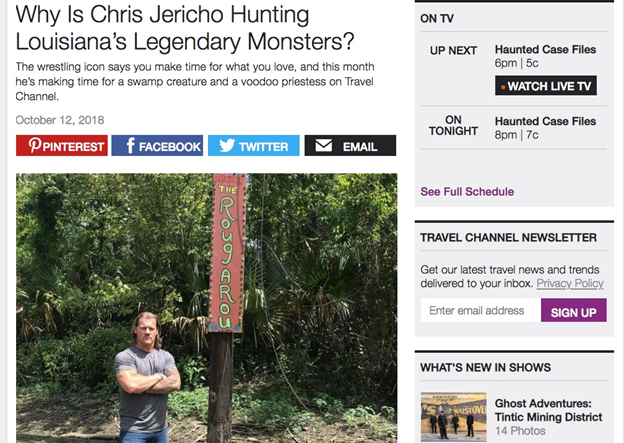 Pictured: The Unsolved
Look, I'm not going to sit here and pretend that I won't zone out and watch GHOST ADVENTURES for a good four hours; it's truly a show deserving of its own op-ed one of these days. And dont you for one single second think I'm lamenting the rise of my beloved papa, Guy Fieri. But… I do feel like we've lost something here that goes beyond #only90skids nostalgia goggles.
As kids we were inundated by advertisements for everything under the sun: pervasive commercials for sugary drinks, cereals, and toys interspersed between cartoons designed to sell sugary drinks, cereals, and toys. Anybody who grew up in the pre-streaming days has a few commercial jingles occupying the spot in their brains where "how to fill out a 1099" should probably be. I still remember the R&B bop designed to sell some con-air product that put colorful streaks in your hair and I'm sure damaged it irreperably. ("Change your color for the prom/(It's the prom!)/What do you know—it even looks good on your mom!")
Travel Channel was something my parents would gladly watch with me for hours rather than plopping me in front of BLUE'S CLUES to go do other things. It never explicitly billed itself as family content to my knowledge, but it was excellent co-viewing before kids' content really started trying to get the parents involved. While I fully admit that the original Travel Channel programs were transparent advertisements for vacation packages, they stirred up an interest in me to see the world. Most of the items on my traveling bucket list (looking at you, Atlantis Resort water slide that goes through a shark tank) started as segments on The Travel Channel. And the destinations weren't always your "exotic" island getaways—they were often lesser-known attractions in Middle America that benefited from the boost.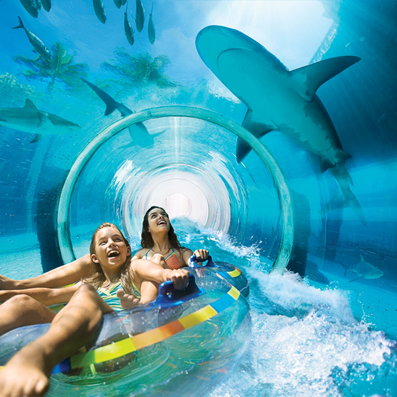 Like—come on—this is SO DOPE
Nowadays if I want to see some Xtreme roller coasters or haunted attractions, I can find infinite YouTube videos to scratch my itch. There's no shortage of blessed content like DINERS, DRIVE-INS, AND DIVES to showcase Middle America's finest, and Netflix has taken up the modern iteration of the "Xtreme" genre with shows like THE WORLD'S MOST EXTRAORDINARY HOMES and AMAZING INTERIORS. The void of the original Travel Channel has certainly been filled, and it's fun to yell at Zak Bagans being a shitty ghost hunter, but probably not as culturally enriching as having the world in my living room before I could carry it in my pocket.
The Ghost Adventures Team Is Still Going Strong!
Since its debut in 2008, Ghost Adventures has become one of the most popular paranormal reality shows on television. The show follows a team of ghost hunters as they travel to haunted locations around the world, using the latest technology to try to capture evidence of the paranormal. Despite its popularity, there have been rumors that the show is coming to an end. However, the Ghost Adventures team has confirmed that they are still filming and have no plans to stop anytime soon. So, if you're a fan of the show, you can rest assured that there are many more adventures to come!
Is Zak Bagans In A Relationship?
Credit: www.ecelebsbio.com
Zak Bagans is an American paranormal investigator, television personality, producer, and author. He is the host of the Travel Channel series Ghost Adventures. As of 2020, Zak Bagans' net worth is $15 million. He has been in a number of relationships, but is currently single.
Zak Bagans, who was born on April 5, 1977, was born in Washington, DC. A travel Channel paranormal investigator who founded the Ghost Adventures Crew. Zak Bagans, according to our records, is currently single. Has had at least one prior relationship. He's never been engaged before. Zak Bagans was born on April 5, 1977 in Washington, DC. After graduating from the Motion Picture Institute, he began working as a wedding DJ. Zak Bagans had at least one prior relationship. Serpent is his zodiac sign, and he was born under the sign Aries.
Zak Bagans And Holly Madison: On Good Terms Or Not?
Zak Bagans is a well-known television personality who has a well-known role in the show Ghost Adventures. It was previously reported that he and Holly Madison had a good relationship. At the moment, there is no official confirmation of a breakup, nor is there an exact date of when it occurred. Nick Groff, another well-known personality on Ghost Adventures, announced his retirement from the show earlier this year.
Is Ghost Adventures On Hulu?
There is no definitive answer to this question as it depends on which region you are accessing Hulu from. Ghost Adventures is a show that airs on the Travel Channel in the United States, so it stands to reason that it would be available on Hulu's US platform. However, Hulu does not currently list Ghost Adventures as one of its available shows. It is possible that the show is available on Hulu's international platforms, but this cannot be confirmed.
Ghost Adventures: Quarantine is now available on Apple TV and discovery. Zak Bagans' haunted museum in Las Vegas quarantined the crew for two weeks. The series is now available to watch on Roku. To watch Travel Channel GO on Roku, you can use your Apple TV or Discovery device, and to stream TV Shows, you can use your Roku device. Ghost Adventures is a reality show about a group of friends who travel around the world exploring haunted places. Zak Bagans' haunted museum was visited by the crew for two weeks.
What Platform Is Ghost Adventures On?
During its original run on Travel Channel, Ghost Adventures introduced paranormal television and ghost hunting to a younger generation. The show is now available on Discovery and Amazon Prime, as well as Discovery's website.
Is Ghost Adventures On Amazon?
Ghost Adventures Season 1 can be watched on Prime Video.
TV Guide
Experts use cutting-edge technology to reveal the mystery behind a red skeleton decorated in jade and pearl treasures in an abandoned Maya city.
Gold Rush – Season 13
Tony battles to save his cuts and millions of dollars in gold when snow melt swamps Paradise Hill. Fred's head is nearly taken off when sourcing a new wash plant.
Gold Rush: The Dirt Presents – Season 9
The gold miners of the Yukon put everything on the line in the hopes of striking it rich. With new miners, new claims and new machines, the stakes are higher.
Gold Rush – Season 13
Tony battles to save his cuts and millions of dollars in gold when snow melt swamps Paradise Hill. Fred's head is nearly taken off when sourcing a new wash plant.
Gold Rush: The Dirt Presents – Season 9
The gold miners of the Yukon put everything on the line in the hopes of striking it rich. With new miners, new claims and new machines, the stakes are higher.
Teleshopping – Season 0
Teleshopping – Season 0
Wheeler Dealers – Season 15
The Golf GTi was a symbol of the 80s. Mike finds a prime example of a Rabbit, which he thinks can be transformed. Ant has a lot of work to.
Deadliest Catch – Season 13
Competition doubles when the quota is halved. Three captains arrive early for the winter season, but Johnathan plots a dangerous, 600-mile course to Russia.
Treehouse Masters – Season 4
Pete heads to the Platte River Valley of eastern Nebraska to build a magical, towering treetop castle for a family that has decided to never grow up.
Morning
The Last Alaskans – Season 4
Tyler takes a break from his line to help at home and spend time with Sydney. Krin heads out to check her traps and finds more than she was looking.
Flying Wild Alaska – Season 2
Two pilots push their limits to land on Alaska's most treacherous runway. In Unalakleet, Ariel Tweto takes to the skies and proves that she still has a lot to learn.
Wheeler Dealers: Dream Car – Season 2
Mike and Elvis try to buy carpenter Simon his dream BMW Z4. Simon only has £1,500 saved up and his daily motor is one of the worst they've ever seen.
Source https://merrygoroundmagazine.com/what-happened-to-the-travel-channel/
Source https://www.adventurefilm.org/the-ghost-adventures-team-is-still-going-strong/
Source https://www.travelchannel.com/shows/ghost-adventures