Explore the
Universe
Create your profile to get all your Alpha Program notifications in one convenient location.
By joining the Alpha Universe community, you agree to the Terms and the Sony Electronics Inc. Privacy Policy and certify that you are a U.S. resident. (CA Privacy Notice).
Personalize Your Profile
Step 2 of 2
Create your profile to get all your Alpha Program notifications in one convenient location.
Living A Life Of Travel & Adventure – See How These Vloggers Do It
Travel and adventure vlogs are among the most popular because they give viewers the chance to watch a captivating firsthand account from a traveler exploring new places, and they can do it from the comfort of their own home. Whether viewers are seeking inspiration for their next adventure or watching the videos simply to escape, people can't get enough of compelling travel content. This week we're featuring a group of vloggers who are using their Sony Alpha cameras to shoot travel and adventure vlogs, photography and more. Check out their Instagram accounts and visit their YouTube channels for more. Tag your Sony photo and video posts with #BeAlpha for your chance to be featured on AlphaUniverse.com, and follow @sonyalpha for your daily dose of creative inspiration.
This week we feature a group of travel and adventure vloggers using their Sony Alpha gear to explore & capture the world.
Nadine Sykora – @heynadine
Nadine Sykora is a travel vlogger whose vlogs contain travel hacks, tips, advice, destination and packing guides and more. Over the last 10 years she's recorded her travel experiences and shared them with her over 493K subscribers on YouTube. On her Instagram you'll find a mixture of beautiful travel photos, travel advice videos and life updates. In this post she shares a video showing her top seven tips for solo dining while traveling. Find out more about her Sony Alpha gear, including the Alpha 7 III, Alpha 6400 and RX100 VA, in this video. Follow her account and check out her YouTube Channel to keep up with her latest adventure.
Victoria Blue – @victoriaablue_
Victoria Blue is a vlogger, filmmaker, photographer and outdoor enthusiast. On her Instagram account you'll find a variety of outdoor, lifestyle and adventure photography. She and her husband @codyblue_ create adventure vlogs, cinematic films and more for their YouTube Channel. They live in Lake Tahoe and backcountry adventure around in their truck. Follow her account for shots from their latest outdoor adventures and watch their videos for stunning footage of the beautiful scenes they come across.
Cody Blue – @codyblue_
Cody Blue is also a vlogger, filmmaker, photographer and outdoor enthusiast. On his Instagram account you'll find all things outdoors. As mentioned above, he creates vlogs, films and more for a YouTube Channel with his wife @victoriaablue_. They like to go overlanding and backpacking, and many of their videos and photos share their adventures living life on the road out of their truck. He shoots his videos with the Sony Alpha 7 III and two lenses – the Sony 24-105mm f/4 G and Sony 16-35mm f/4.
Stefan Tschumi – @stefan_tschumi_photography & @journeyglimpse
Stefan Tschumi is a hybrid shooter whose favorite cameras include the Sony Alpha 7S III and the Alpha 6600. When working with a gimbal, he likes to use the Alpha 7S III with the Sony 20mm f/1.8 G and 24mm f/1.4 G Master. Part of the travel duo @journeyglimpse, before the pandemic he spent most of his time traveling. He's also a photo and video coach who leads workshops to help others with travel photography and videography. See more of his photo and video adventures on the Journey Glimpse YouTube Channel.
The Endless Adventure – @theendlessadventure
The Endless Adventure is made up of Eric and Allison who are full-time explorers making fun travel videos of their adventures for their YouTube Channel. They traveled for years straight before the pandemic and are now exploring life on the road in a vintage RV. Follow their Instagram account to watch as they renovate their RV and visit fun and beautiful places in the outdoors. The shot below was taken with the Alpha 7S III.
It's in My Blood – A Life of Adventure Travel
"Have you seen the world yet?" my adolescent self asked a newly engaged nurse at a doctors office.
"No I have haven't, why?" the nurse responded.
"How do you know you want to be married?" I questioned
Documenting a red-point attempt while rock climbing in Pine Creek, California. Photograph by Dalton Johnson
As a kid, I had two dreams. First, to play a sport in college. Second, see the world. The outtake above is from a childhood conversation I distinctly recall as a kid. As an avid lover of the History and Discovery channel, I have always been blown away by this planet, the diversity of landscapes, and the endless adventures. With curiosity often at the root of my adventures, I have taken this mindset into adulthood.
As an adult, nothing has changed. I am constantly seeking adventure in my daily life. Adventures such as rock climbing, bike-packing, backpacking, mountaineering, ultra-runs, surfing, and so many more are just the tip of the iceberg for myself. At the end of the day, I am often asking myself how to budget my time for all of the adventures I would like to do in this lifetime. Even though I am not yet 30 years old, I am still unsure if there is enough time for all of the adventure's I want to do.
What is Adventure Travel?
The Oxford definition of Adventure Travel states; Adventure travel is a type of tourism involving travel to remote or exotic locations in order to take part in physically challenging outdoor activities. In simpler terms, Adventure Travel entails going on a trip to do an outdoor activity like backpacking, rock climbing, mountain biking, mountaineering, etc. Adventure Travel does not require significant travel, as you could start a bike-packing trip leaving from your home. Meanwhile, many people chose their Adventure Travel trips grounded by unique locations different from their home they have dreamed of seeing.
Often the destination is well worth the effort on adventure travel trips. Here is a lake view from a backpacking trip and commercial photography assignment. Photograph by Dalton Johnson
Dream Adventure Travel Ideas
Non-motorize Seven Summits (most likely sailing, riding a bicycle, and walking between summits)… would love to do this carbon neutral if possible 🙂
Around the world motorcycle trip
Bike-pack the Trans Ecuadorian Bike-packing Route (AKA the TEMBR) and summit Cotopaxi and Chimborazo at the same time
Surf and/or Photograph every big wave spot, sailing between every break
Source to Sea trip of the Rocky Mountains to the Sea of Cortez
Cycle across the United States, from the Gunks to Yosemite Valley, with a climbing partner to climb at every classic/historical crag
Bike-pack the Baja Divide
*if you are interested in helping make any of these happen, please reach out to me.
Navigating a white out during an adventure travel trip to climb Mount Denali to make a mini-documentary on an endurance athlete. Photograph by Dalton Johnson
Adventure Travel Has Become a Lifestyle
In addition to living on the road and searching for personal adventures to strive for, I have also built a lifestyle of documenting others on their adventures. Combining personal adventures with documenting other's adventures, adventure travel has become a lifestyle.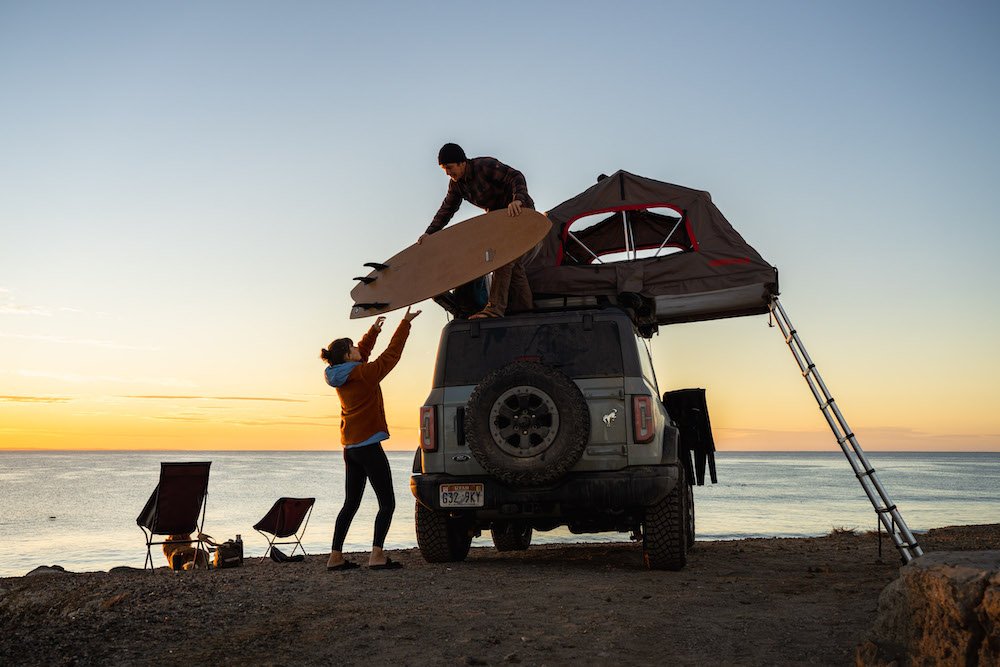 Combing storytelling content creation with adventure travel has opened the door for a lifestyle of adventure travel. This photograph is from a multi-client sponsored surf adventure to Baja, Mexico. Photograph by Dalton Johnson
I am proud to say that I live in a van, with a P.O. Box as my permanent address. My life is focused on staying alive and awake, in hopes of overcoming the daily monotony of the typical American work life. With my camera and a pen, I tell stories. Photographs, video, and written words are my main outlet to tell those stories, but I do love the creative outlet of working side-by-side with illustrators and artists to make something unique.
My roots are in adventure, mainly adventures which focus on non-motorized and human powered tests of endurance. For myself, these are the most challenging, physically and mentally. They also seem to take the longest, as walking or riding a bike typically isn't very fast compared to a car! However, this doesn't mean I live a life without a motor. Some of my most memorable trips I have documented are used motors.
As an adventure and commercial photographer, I love the balance of storytelling and showcasing the wonders of a product. Especially when given creative freedom to step outside of my comfort zone and create something unique, challenging, and narrative drive.
For that reason, I have made a lifestyle out of adventure travel.
Some of my favorite trips:
Bike-packing the South Island New Zealand
Attempting to climb all of California's 14,000 foot peaks in a single season
Ultra-running the Teton Crest Trail
Countless surf-trips to Baja, Mexico
Attempting to climb Mount Denali and film a mini-documentary
Thru-hiking the Tahoe Rim Trail
Not all adventure travel trips start the same. Here is a photograph from an Alaskan road trip that provided the opportunity to kayak to Portage Glacier for a commercial assignment. Photograph by Dalton Johnson
A life of travel and adventure
Book Description
Reminiscences and notes of seventy years' life, travel and adventure; military and civil; scientific and literary
Book Description
Incidents of Travel and Adventure in the Far West
Author: Solomon Nunes Carvalho
Publisher:
ISBN:
Category : FREMONT, JOHN CHARLES, 1813-1890
Languages : en
Pages : 400
Book Description
Pt. 2, p. 1-130: Mormonism: Spiritual wife system ; a revelation on the patriarchal order of matrimony or plurality of wives, given to Joseph Smith, the Seer, in Nauvoo, July 12th, 1843 — Celestial marriage ; a discourse delivered by Elder Orson Pratt, in the tabernacle, Great Salt Lake City — Indian hostilities and treachery: Mormon policy towards them ; an address delivered by President Brigham Young, in the tabernacle, Great Salt Lake City — Use and abuse of blessings ; an address delivered by President B. Young, in the tabernacle, Great Salt Lake City — "Mormonism", a discourse delivered by Parley P. Pratt, in the tabernacle, Great Salt Lake City — Legitimacy and illegitiamcy ; a sermon delivered by Elder John Taylor, at the General Conference, in the tabernacle, Great Salt Lake City.
More Adventure Travel – 11 more stories of worldwide adventure to further inspire you towards your own travel goals
Book Description
How to Live a Life of Adventure
Author: Frosty Wooldridge
Publisher: Author House
ISBN: 1463420293
Category : Travel
Languages : en
Pages : 381
Book Description
Praise forHow to Live a Life of Adventure After reading the first 20 chapters, I was ready to tackle a grizzly bear, wrestle a sea lion and climb Mount Everest. Not only does Wooldridge inspire you to live a maximum life, he shows you how to do it. I loved the adventures between every instructional chapter. I appreciated how thorough he was with references, key points and guides. Roger Hamilton, teacher I am a tomboy. I travel and play sports. Im also bold and sassy. This book addresses women who love to try everything once, twice and more. Wooldridge covers everything women need to know about traveling, mountain climbing, rafting, horseback riding, backpacking and much more. Sarah Gingrich, rodeo cowgirl Emile Zola said, "I'm here to live out loud!" Those words reflect the spirited life and writings of Frosty Wooldridge. His book reminds us that whether we trek high into the mountains or bike up hills closer to home, adventure awaits around the bend. I recommend this book for aspiring travelers as well as armchair explorers. He shows you how to make your dreams come true. Dan Millman, Way of the Peaceful Warrior Hands down! This is the best adventure book I have ever read with stories from all over the world. But wait! Wooldridge shows you how to go adventuring to make your own stories and fill your own scrapbook with memories. Its excellent in every way! Paul Margeletta, father, weekend warrior This book is extraordinary. The information is so valuable that it should be read daily for inspiration and guidance. I had to stop myself from underlining every sentence in the book. I want to buy this life-changing book as a gift for everyone I know, especially my kids. Susan Scollozi, housewife, traveler Half way through the concepts and practices in this profound book, I realized that the author may have meant to show readers how to live a life of adventure, but it occurred to me that this book shows anyone how to lead a very happy and successful life on a day to day basis. His concepts support mental, emotional, educational and spiritual health. Every adult and kid in America needs to read this book. Its that good. Arthur Daniels, teacher How the book will benefit you! You will discover your strengths, self-confidence and passions You may engage methodical steps for moving into your own fulfilling adventure-filled life You will build steadfast convictions and personal empowerment You will find others to share your adventures You will discover which kinds of adventures excite you Check lists for men and women for every kind of adventure You will never look back with regrets
The Symbiont Adventure Box Set (Three Full-Length Time-Travel Adventures)
Author: T.L.B. Wood
Publisher: ePublishing Works!
ISBN: 164457148X
Category : Young Adult Fiction
Languages : en
Pages : 892
Book Description
Join Petra and Kipp on their first three adventures in a fanciful blend of time travel, history, animals and a touch of science fiction. The Symbiont: A pair of time-traveling historians, symbionts Petra and Kipp have arrived to unravel the mystery behind an enigmatic coastal colony near Roanoke. As they become involved with the colonists, their fact-finding mission spins dangerously out of control when they discover a deranged killer living among the colonists. Tombstone, 1881: Fun turns to danger when Doc Holliday assumes the role of Petra's protector. Now the symbiotic duo risk becoming entangled in the power struggle between warring factions and breaking the Symbiont Code: never interfere with history's natural progression. Whitechapel, 1888: Time traveling symbionts Petra and Kipp arrive in Victorian England during the time of Jack the Ripper, in search of their boss, Silas. But the telepathic duo's efforts prove unsuccessful until local philanthropist William Harrow points the way. Silas is pursuing Jack the Ripper, whose disturbing thoughts of murder are turning to Petra and Kipp. Publisher Note: The Symbiont Time Travel Adventures are suitable for readers of all ages who enjoy clean, wholesome entertainment with a touch of fantasy and science fiction. "Being a lover of all things canine, the symbiotic relationship between canine and human is immensely appealing." – Lee, verified reviewer THE SYMBIONT TIME TRAVEL ADVENTURES, i>The Symbiont Tombstone, 1881 Whitechapel, 1888 The Great Locomotive Chase, 1862 Titanic, 1912 A Conspiracy to Murder, 1865 Robin Hood, 1192
Source https://alphauniverse.com/stories/living-a-life-of-travel-and-adventure-see-how-these-vloggers-do-it/
Source https://www.daltonjohnsonmedia.com/blog/adventure-travel
Source https://www.automationjournal.org/download/a-life-of-travel-and-adventure/