Beginner's guide to South America
South America has long captivated travellers with its plethora of natural and cultural wonders. Take a quick inventory of continental highlights, and it's easy to see why – idyllic beaches, snow-covered mountains and tropical rainforests, all of which make a fine backdrop for a memorable holiday.
There's just one catch: this continent is massive. There's simply no way to see it all (unless you've got a couple of spare years up your sleeve). So if you've been thinking of going but don't quite know where to begin, here's a quick primer on top destinations:
Peru and Bolivia
One of the classic South American journeys is bumping around the Andes, visiting indigenous villages, colonial towns and ancient ruins amid those staggering mountain peaks. Peru is a great place to start. High in the Andes, you'll find enchanting Cuzco, the oldest continuously inhabited city on the continent and a fine base for exploring archaeological treasures like nearby Machu Picchu. Other Peruvian highlights: trekking in the Cordillera Blanca, walking the cobblestone streets of Arequipa, flying over the mystical Nazca Lines and visiting the floating islands in Lake Titicaca.
At Titicaca, you can continue by boat across to Bolivia, home to enthralling indigenous villages, biologically rich forests, soaring mountains and the bizarre and beautiful salt flats of Salar de Uyuni.
Ecuador
If time is limited and you hope to pack a lot into your itinerary, smallish Ecuador is a good bet. It has beautiful colonial towns like Quito and Cuenca that are among the best places to study Spanish in South America (notable for inexpensive one-on-one language schools and homestays with local families). The famed Andean mountains are never far, and you can trek through alpine scenery (the four-day Quilotoa loop is popular and you can generally do it on your own), mountain bike along rugged mountain roads, go bird-watching in cloud forests or arrange horseback rides on the flanks of snow-covered volcanoes (like Cotopaxi). You can also spend a few days in a rainforest lodge in the Amazon. If time and budget allow, tack on a 5-day tour island-hopping in the Galapagos at the journey's end.
Brazil
Larger than the continental US, Brazil is the geographic (and economic) giant of South America. It's also Latin America's priciest country, so plan accordingly. Planted among forest-covered mountains, Rio de Janeiro is a magnificent introduction to Brazil, with a great music scene, alluring beaches and heady festivals. A few hours away, you can explore remote coastline, rainforest-covered islands (like Ilha Grande) and colonial towns (jewel-box Paraty). With more time, you can add a few flights and visit other regions, starting in the Northeast in Salvador, a colourful colonial city that's the drumming heart of Afro-Brazilian culture. Other options: thundering Iguazu Falls on the Argentine border; Belem or Manaus, gateways to the Amazon; and architecturally intriguing Brasilia.
Colombia
If you haven't heard by now, Colombia is open for travel and safer than it's been in decades. Bogota, the high mountain capital, is a cultural behemoth with salsa-filled nightclubs, charming cafes and intriguing nearby sights – including the surreal underground salt cathedral, 50km north. Other Colombian hits: sunning on the Caribbean Coast at Taganga and the pristine beaches of nearby Parque Nacional Tayrona; trekking to the Ciudad Perdida ('Lost City'), the largest pre-Colombian town in the Americas; and exploring the photogenic streets of colonial Cartagena and its neighbouring coral-fringed islands.
Argentina and Chile
Anchoring Latin America's southern extremes, these two countries have vineyards, lively capitals and share the laid-back Lakes District, home to hot springs, picturesque villages and loads of outdoor activities (hiking, rafting, climbing, skiing). There's unrivalled adventure in Patagonia: trekking and horse riding against a backdrop of glaciers, petrified forests, snow-covered peaks and other stunning scenery.
Hit the road – and stretch your budget – with the latest guide to South America on a Shoestring
South America Travel Guide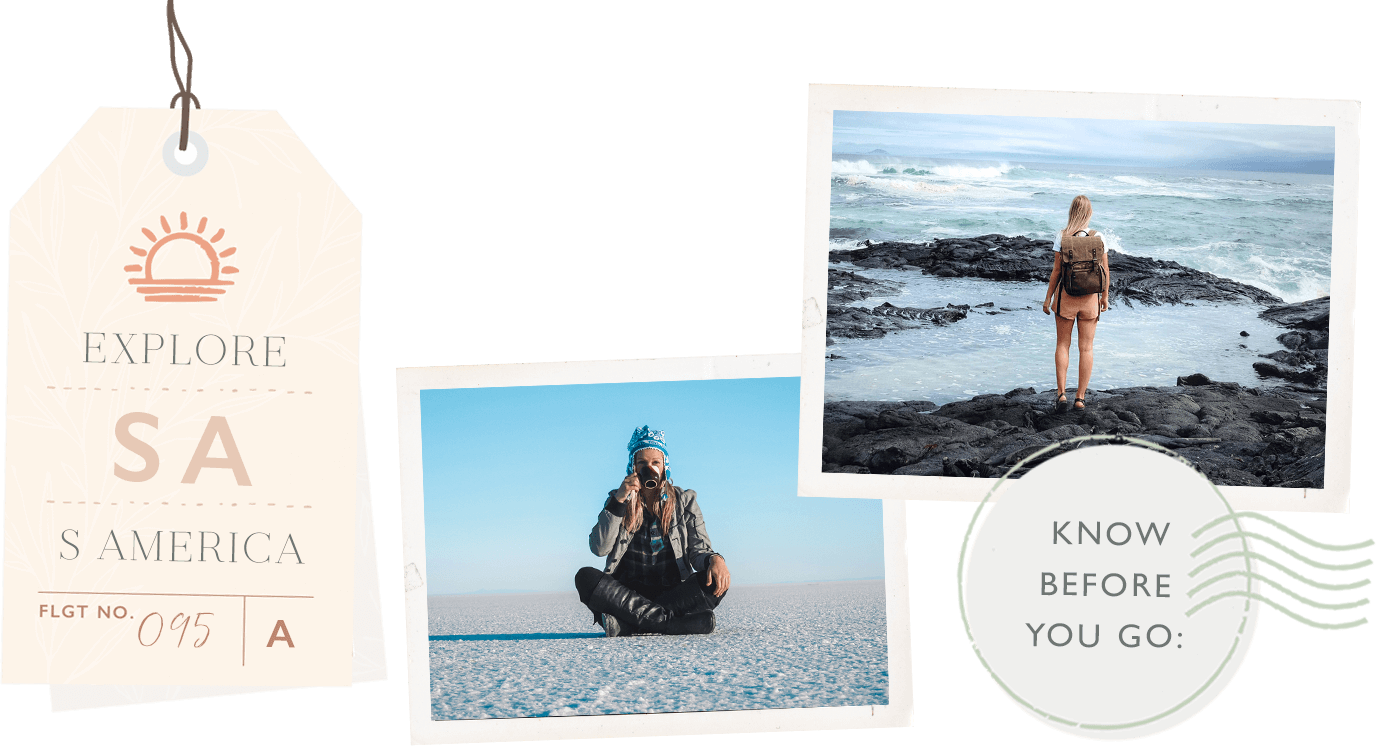 South America is made for travelers looking to delve deep into incredibly diverse cultures and explore the outdoors. The biggest draws to the continent are the beaches of Rio, the Galápagos Islands, Iguazu Falls, Machu Picchu, and, of course, Patagonia. As one of the most Southern National Parks in the world, Torres Del Paine is also a place you'll want to visit at least once in your life.
But, the city life all over the continent is also one of a kind! In Argentina, you can find authentic food culture throughout Buenos Aires, and the Mendoza wine region. Plus, Medellín, Colombia is becoming it's own foodie destination!
Looking for more adventure, off-the-grid travel? Explore the Atacama Desert in Chile, the Uyuni Salt Flats in Bolivia, and trek the Inca Trail in Peru. There's always something exciting and new to try in South America.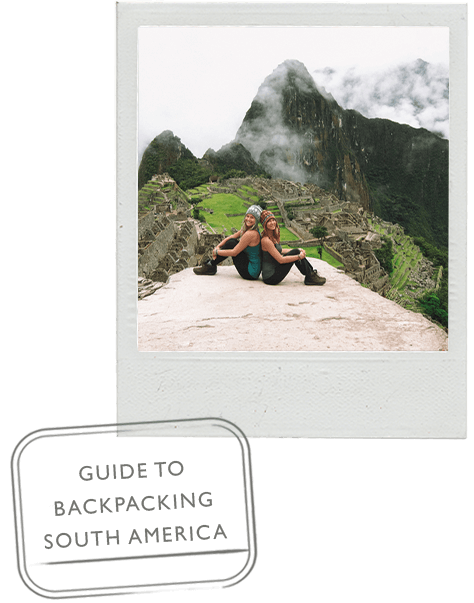 Destinations
Highlight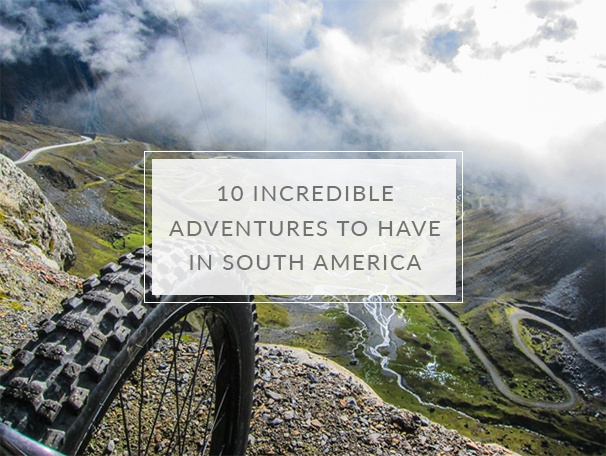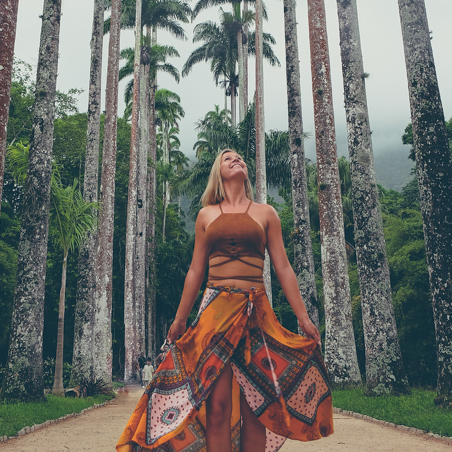 There's no bad time to visit South America – it all depends on what you want to see and do! The sheer size of the continent means that you can experience a variety of climates and landscapes throughout the year.
September to November is an excellent time to travel to the Amazon. It's the off-peak season for the jungle, there are fewer mosquitos and more trails to explore. If you've always wanted to see the Galapagos Islands, book a trip around this period as well. There's minimal rainfall, and much of the islands' wildlife is active.
And, don't miss my guide to the best time to travel to Brazil!
What To Expect
Nightlife: Buenos Aires, the capital city of Argentina, is famous for its nightlife. If you're looking to dance the night away into the wee hours of the morning, book your next vacation here!
Food: If you like to let your stomach dictate your travels, you can't go wrong with a gastronomic adventure in Peru. The country is famous for its delicious local Peruvian cuisine. Plus, you can always work off those extra calories by hiking the Inca Trail.
Beaches: Beach bums can relax on nearly 7,500 km of coastline in Brazil. It's the perfect place to sip on a coconut and work on your tan. If you're looking for something more adventurous, you can always take a kitesurfing lesson!
Nature Lovers: While South America as a whole has an abundance of incredible landscapes, Bolivia is home to one of the most famous natural wonders, Salar de Uyuni. You can also head to Chile to explore the hiking trails in Torres del Paine or join an expedition into the Amazon.
Wildlife: The Galapagos Islands in Ecuador is the best destination in South America to see wildlife. A lot of the creatures are endemic to the islands, and there are plenty of cruises you can join to explore the different islands.
Check out my Guide to Backpacking South America to help you start planning your big adventure
Source https://www.lonelyplanet.com/articles/how-to-plan-a-south-america-trip
Source https://www.theblondeabroad.com/ultimate-south-america-travel-guide/
Source