How to Keep Your Passport Safe when Traveling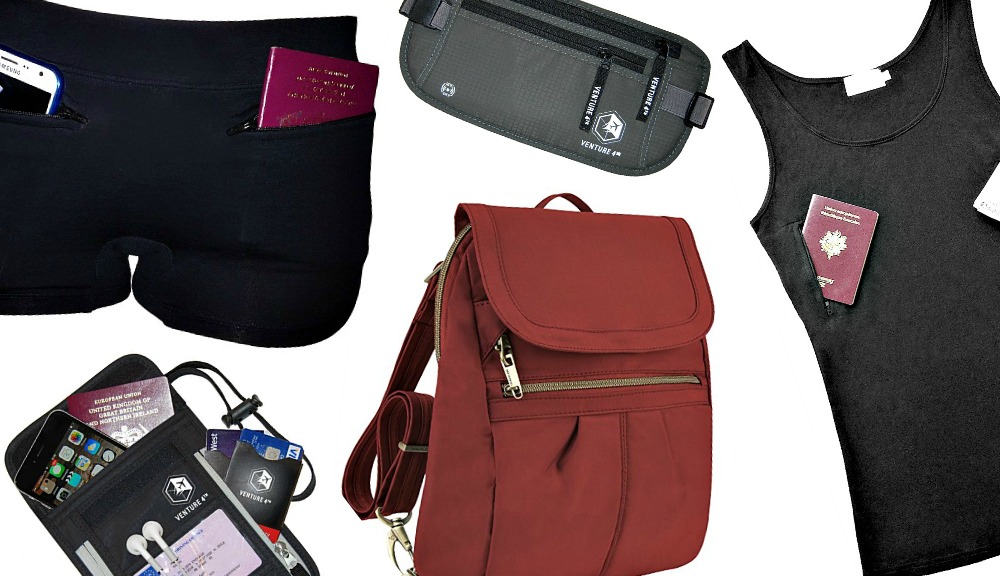 Support TFG by using the links in our articles to shop. We receive a small commission (at no extra cost to you) so we can continue to create helpful free content. As an Amazon Associate, we earn from qualifying purchases made on Amazon in addition to other retailers featured on the blog. Thank you, we appreciate your support!
Wondering how to keep your passport safe while having it easily accessible when you need it? This is a great question! My answer varies depending on your situation. Read on to discover our top safety tips!
How To Keep Your Passport Safe While Traveling
Table Of Contents
Every traveler's nightmare is losing their passport or having it stolen. Wherever you travel, losing your passport can completely ruin your trip and make it difficult for you to get home.
Wherever you're traveling, we're sharing how to keep your passport safe in this scenarios:
Going to and from airports
Traveling by land on trains, cars, or buses
Crossing the border by land
When sightseeing
How to Keep Your Passport Safe at Airports
When in transit through airports where security is ultra-high, I keep my passport in my handbag or in the most accessible compartment of my daypack.
Since airports are generally secure, I don't worry about placing it in an anti-theft product. When on board the flight, I keep my daypack stowed underneath the seat in front of me or hidden underneath my clothing (if necessary).
Check out our round up of the best anti-theft travel bags for women based on the top picks from TFG readers!
What's a daypack? A daypack is the personal item you choose to add to your capsule wardrobe other than your main luggage. This can be a small backpack, large travel purse, or small carry-on bag.
There are many variations to anti-theft accessories to meet everyone's needs. To ensure all your valuables (not just your passport) are secure, the best option is to use a combination of items.
Make sure to use a hidden bra wallet to store your credit cards and cash for everyday use, then use any of the below items to store your passport on transit days, and the rest of the time, use a lockable suitcase (safe or locker) to keep your belongings secure inside your accommodation.
How to Keep Your Passport Safe On Trains and Land Transportation
This is the only time I carry my passport on me when I travel. When I'm on land transportation and won't need to show my passport, I have it safely hidden within my daypack.
In these scenarios, you would not be sightseeing but just going from point A to B, from one accommodation to the next. If you don't have underwear with pockets like the ones below, a good option is a money belt like this.
If I'm traveling in a part of the world where theft is common, I use underwear with hidden pockets. I like these cute boyshort-style travel undies by Clever Travel Companion.
Never ever ever store your passport, money, or credit cards in baggage that will be stowed underneath a bus or in the luggage section of the train.
It's most common that your luggage will get stolen on land transportation, so always keep your valuables on you or hidden deep in your carry-on.
If you're looking for clothing designed to protect your belongings, our readers share their recommendations for concealed pocket clothing!
How to Keep Your Passport Safe During Border Crossings By Land
If I am crossing a border via land, I use EXTRA caution as some crossings can be very shady. Make sure to hide your passport on your body using travel underwear or a money belt at all times! Just remove it when needed to show the border patrol officer as discreetly as possible.
Another popular travel underwear from Clever Travel Companion is this tank top with two secret pockets that are also the right size for a passport and even cellphones.
The Travel Bra now also offers comfortable pocket bras and underwear for women and men. Alternately, you can also sew a pocket into your underwear.
How to Keep Your Passport Safe When Sightseeing
My passport is ALWAYS locked in my bag at the hotel while I'm sightseeing. Thankfully, this strategy has worked for me during my six years of full-time travel through 36 countries.
I've heard countless times of travelers losing their passports when they're out at big festivals or street fairs. This is when you'd most want to leave your passport in your accommodation because you're a prime target at events with lots of people in close quarters.
I've also heard stories of passports getting stolen out of trouser pockets. If you insist on taking your passport out sightseeing with you, keep it hidden under your clothing by using a money belt or travel underwear with pockets. Some travelers prefer neck wallets to hide their passport, like this Neck Stash Hidden security Wallet.
Please Note: Money belts are to be used only for things you don't need access to. Keep the cash you'll need for the day in a wallet and don't dig into your money belt in public–that defeats the purpose! I see travelers doing this all the time, making them an easy target.
How to Keep Your Passport Safe In Your Hotel Room
Remember, most thefts occur from convenience. It's more unlikely that a thief will take your entire suitcase out of your room than your cash or credit cards. Hotels don't want to have a bad reputation, so a less obvious theft is easier to deny versus an entire suitcase that suddenly disappears.
If you travel enough, small mishaps may happen while on the road. It's almost unavoidable. Here are my five best safe travel tips!
Avoid theft by using a suitcase with lockable zippers AND locks that can't easily be pried open. Yes, there are ways to break zippers and sneak into bags, but again–if you don't have a hotel safe or don't feel comfortable leaving your passport with reception (if that's an option), then all you can do is make it more difficult for a thief to break into your bag.
It's more likely a thief will try to open an unlocked bag than risk getting caught taking time to break into a locked suitcase.
Check out my favorite travel backpack, the Osprey Farpoint 55 and this anti-theft suitcase by Pacsafe . If I hadn't left my backpack locked in a hostel in Borneo, my valuables would have been gone when I returned from a scuba diving trip.
I now use the 21.5″ Osprey Ozone wheeled suitcase and alternate it with the Delsey Helium Shadow for different trips. They're both terrific bags and have built-in lockable zippers.
Please read my top ten tried and tested anti-theft travel tips for more information on how to properly use these items!
What About General Photo Identification?
While I've hardly ever needed to show photo identification in my six years of travel, I do carry my California State ID on me at all times in case of an emergency.
WATCH THIS VIDEO (starting at the -17:20 minute) FOR MORE TIPS ON HOW TO KEEP YOUR PASSPORT SAFE WHILE TRAVELING. FIND OUT HOW I'VE AVOIDED BECOMING A VICTIM OF THEFT DURING 9 YEARS OF FULL TIME TRAVEL:
You can also watch the video on Facebook here.
Product Comparison Chart
Let's take a quick look of the travel accessories that can help you keep your passport safe when traveling:
Travelon Anti-Theft Cross-Body Bag
When in transit through airports where security is ultra-high, I keep my passport in my handbag or in the most accessible compartment of my daypack.
Buy it here!
Travelon Anti-theft Backpack
A daypack is the personal item you choose to pack other than your main luggage.
Buy it here!
Venture 4th Money Belt
If you don't have underwear with pockets like the ones below, a good option is a money belt like this.
Buy it here!
Clever Travel Companion Underwear with Secret Pocket
If I'm traveling in a part of the world where theft is common, I use underwear with hidden pockets.
Buy it here!
Clever Travel Companion Tank Top with Two Secret Pockets
If I am crossing a border via land, I use EXTRA caution as some crossings can be very shady. Make sure to hide your passport on your body using travel underwear or a money belt at all times!
Buy it here!
Venture 4th Travel Neck Pouch
Some travelers prefer neck wallets to hide their passport, like this Neck Stash Hidden security Wallet.
Buy it here!
Tarriss TSA Lock
It's more likely a thief will try to open an unlocked bag than risk getting caught taking time to break into a locked suitcase.
Buy it here!
Osprey Ozone
It's affordable and available in wide variety of prints and colors.
Buy it here!
These tips aren't 100% fool-proof and neither is an anti-theft device. However, you can do your best to prevent a theft by exercising caution and following these tips.
What are your tips for how to keep your passport safe while traveling? Share and comment below!
For more travel safety tips, please read:
LIKED THIS POST? PIN THIS PIC TO SAVE IT!
I hope you enjoyed this post on how to keep your passport safe while traveling. If you found it helpful, please share it with your friends on Facebook, Twitter, and Pinterest. Thanks for reading!
17 Comments
I would never have heard about Travelon bags and backpacks if I hadn't read this blog post. Thanks to your review, I've purchased three of them, and given my college age daughter a backpack. I also use your packing lists religiously and refer to them whenever I ned to plan outfits for various destination, usually doing that a week before departure, so I have time to launder or repair any clothes as needed. If I have extra time, I list outfits to wear per day (from outerwear to tops, bottoms, scarves and shoes), a strategy that came in handy when I was on book tour 9 years ago — it saves so much time when you don't have to figure out what to wear on any given day. I've gone back to your packing lists time and again over the last 9 years and recommended the packing lists to friends who habitually overpack.Thank. you so much for putting together such a practical, yet stylish method of packing, it's totally helped me to streamline my travel!
Hi, thank you for putting this site together, tons of useful information! I have similar way of having 2nd wallet with fake credit cards and small bills on me to hand to the thief in case of street rubbery. I also have an old cheap cell phone that I would hand to the thief (there are places where they "hunt" for those as well). My rules as to the phone phone: (1) keep the "spare" charged; (2) don't use original on public; (3) if using original to take pictures/call, have the "spare" to resemble the original (in case the thieves watch you before approach).
Hi Alexandra, thank you so much for your feedback, glad you find the site helpful!! Thank you for sharing your travel experiences with me!:)
A little late to the table here, but you know about PortaPocket now! I constantly use these little sanity-savers every time I travel. Took my 11 yr old daughter overseas for her 1st time (girls trip!) last August… we had absolutely zero problems discreetly carrying our passports, cells, credit cards & other small valuables ON ourselves the whole 2 weeks. :)) LOVE your work in this space. Cheers from Chicago!! xox
GREAT post. I love all your suggestions. Strangely enough, it's while travelling in the USA I needed to show ID: visiting United Nations in NYC, using a credit card and purchasing alcohol in a store. That's when carrying a driver's licence is handy. I carry a laminated copy of the Information page of my passport in my day pack. In my travels I've been asked for my passport when seeking medical attention, buying a SIM card and checking into accommodation. I was even asked to show my passport when taking a boat on a day trip to a few islands off the coast of Cambodia, and for a hiking permit in the Taroko Gorge in Taiwan. In all cases, the laminated copy was accepted without hesitation.
That's a great suggestions Anne, thanks!
My husband and I want to plan an Ireland/Scotland/England trip for next year. We will be 69 yo by then. How should we prepare for a potential health emergency? Do we need a special type of health insurance to cover us while out of the US? Also, what do you suggest as a perfect length of time to see the major sights in all 3 places? Thanks for all the wonderful information you provide for travelers. I learn something new each day.
I am going to Paris and Ireland for the first time at the end of the month for my honeymoon! Actually, I've never been out of the North American continent, so I'm a little nervous about safety and have a lot of dumb questions floating around in my head. I was wondering — our hotels are supposed to have safes in the room. Given the choice, it is a safer bet to store passports in the safe versus a locked suitcase?
Hi Christine. I can't speak for all hotels. Some will and some won't have safes. It's best if you check with your hotels. I can only speak for myself so ultimately you have to make your own decision about this, but if a locker is available I use it to store anything that fits. I'll post your question on Facebook to get more feedback for you. Check in the Facebook page for more replies: https://www.facebook.com/TravelFashionGirl
I thought we had to keep our passport with us at all times. I ended purchasing the theft proof backback, which I loved. I left a copy of my passport in our hotel safe, and I also made a copy which I left at home. (we have someone stay at our house when we travel. The boy shorts look great and I also found some great boots that have a travel pocket on the inside (haven't purchase that yet) Love the tips from SnarkyNomad and Karen. BTW, after reading all your articles, I packed one small carry on suitcase and a backpack for a 15 day trip to France. I lost one sandal – so I never wore those. I brought one ballet flat (never used) and 1 wedge – used once. I wore my sneakers the entire time. So thanks for your help.
Thanks Donna, glad you were able to travel carry-on only
I always keep a photocopy of my passport in my wallet when I travel, and I have an electronic copy of my passport in my email just in case. Also, if you are American, be sure to register your travels with the US State Department's Smart Traveler Enrollment Program (STEP) here: https://step.state.gov/step/. They'll send you security updates for the area you're traveling to and will be able to contact you in case of emergency.
great tip! thanks!
And if you're ever traveling in Russia, hand them just a photocopy of your passport. If you give them a real one they might not give it back until you give them a little present. I had a run-in with one guy who wanted a bottle of Hennessy for some reason. I obviously had no Hennessy on me, but he wanted some anyway.
Wow – good to know!
I just got back from eastern Turkey and I had to have my passport on me at all times due to the countless military checkpoints. I think it really depends on where you're traveling and then you can figure out if leaving your passport locked in your luggage in the hotel makes sense.
Best Way to Carry a Passport–Safety Tips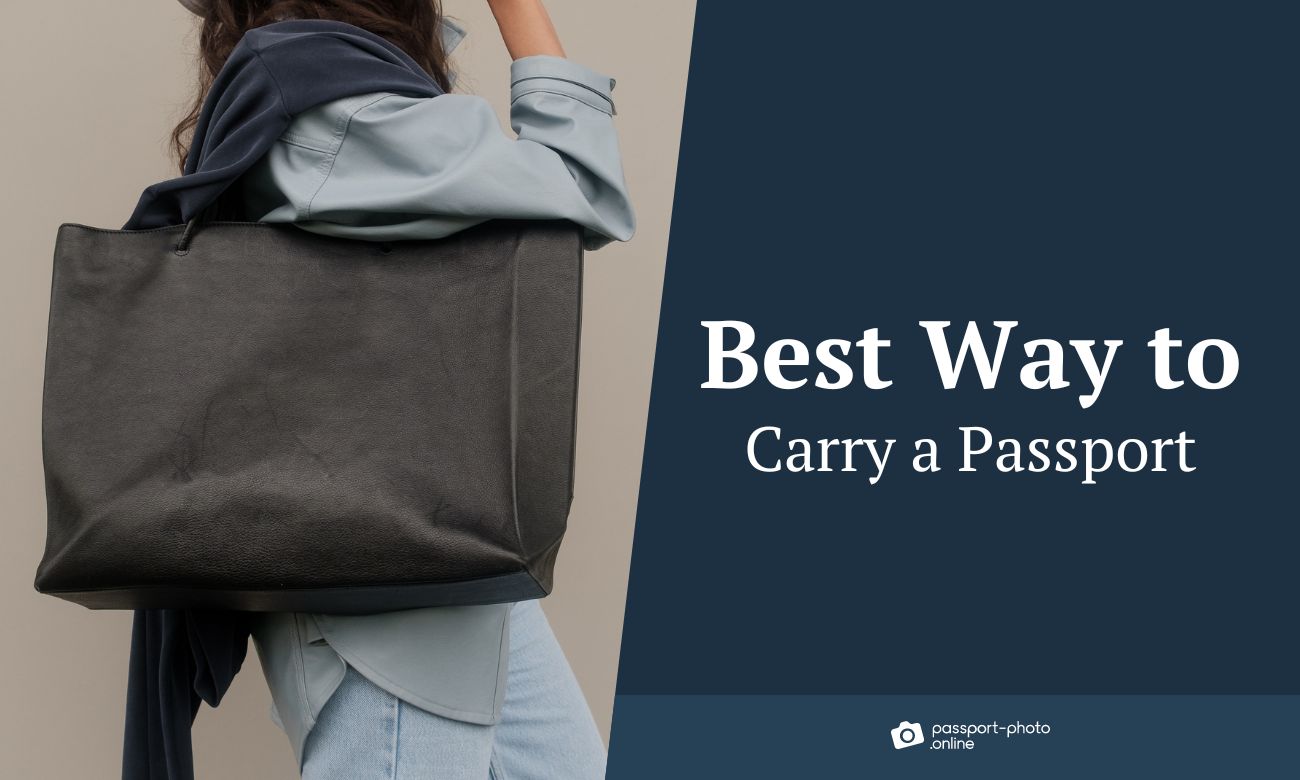 In 2019, 44 million Americans traveled overseas and, after dropping to 9.84 million in 2020, the number started trending up again in 2021 with 18 million travelers. Looking for some passport safety tips? We are here for you. This is not a standard travel checklist, but take a look at what we are about to tell you.
Every travel checklist should include safety tips to help you safeguard your passport and most important documents. A passport is a document that gives you the chance to leave your country and safely get back – you should take really good care of it.
Do you want to know the best way to carry your passport while traveling? Take some time to read our guide, prevention is always the key! Hop on board!
Click to see more about:
Why should you know how to keep your passport safe?
A passport is the most important official document when traveling internationally. Security standards are increasing everywhere and traveling abroad without a passport is getting almost impossible. Losing your passport while traveling abroad might cause a sudden change of plans and cost you money and time trying to get a new one.
Fortunately, there are 10 (ten) simple measures that every traveler can take to avoid the most common problems and be ready for any emergency.
Do you want to learn more about passports? Check these out:
Passport safety tips– before leaving home
A safe and pleasant journey starts from home. Planning in advance is the best way to enjoy your travel with little concern.
Tip#1: check your passport expiration date
This tip does not precisely concern safety, but you should verify your passport's expiration date prior to departure. Having a passport expire during a trip can cause as many problems as losing it. You can't travel back to your country with an expired passport.
In case the expiration date is close to the departure date, passengers might even be prevented from boarding a flight. Check our website for more information about passport requirements and how to renew your passport.
Tip#2: scan it
Scan all important documents and especially the pages showing documents' essential information and the signature.
After scanning, save the file on your cloud memory or email it to yourself. It's also possible to save it on a USB stick and keep it in a safe place so that the copy will be accessible even without an internet connection.
A digital copy of the passport will always be at hand to provide personal information. In the event the original gets lost, it will speed up the replacement process.
Tip#3: make copies of the passport
It can be accessed anytime and anywhere, with no need for an internet connection or a computer.
Make multiple photocopies and put them in different places: in your bag, in your wallet, give one to a friend traveling with you and leave another to someone at home. In the event, the passport gets lost or stolen, the copy will provide essential information, which will help in getting a new one faster.
While traveling, you could be asked for your identity and personal data on several occasions, but it's not necessary to show your passport every time. In some cases, showing a copy of the passport or providing another document, such as your driver's license, is enough. In doing so, you will keep the passport in a safe place and the chances to lose it will decrease.
If the passport gets lost while traveling, it should be replaced as fast as possible by getting an emergency passport. In order to do that, you need to know exactly where to go and who to contact. Before leaving home check the embassies and consulates of your country in the nations you are visiting and note their address and telephone number.
Passport gadgets and accessories
To keep a passport safe, travelers should look into investing in some little gadgets.
Tip#1: buy a money belt
Consider buying a money belt. Yes, it is a belt, but it is supposed to be worn underneath a shirt and it has a concealed pouch for storing important documents and, of course, money while on the road. While not fashionable at all, it is really useful to keep your passport out of sight and always safe with you.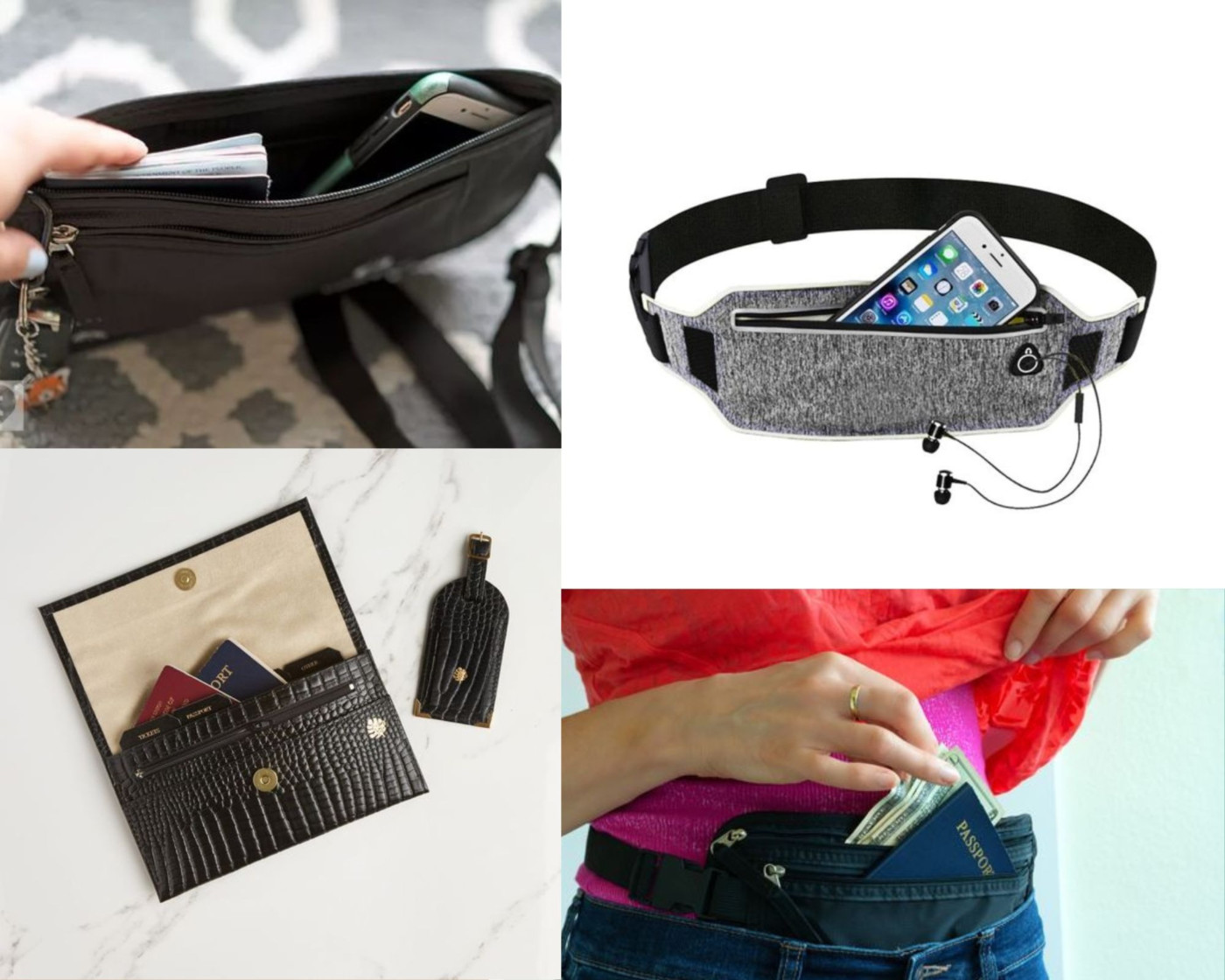 Tip# 2: get a passport cover
Another gadget you might take into consideration is a passport cover. You might still have your passport, but if it is seriously damaged, it will be completely useless. A passport pouch or a waterproof cover will prevent the passport pages from becoming unreadable.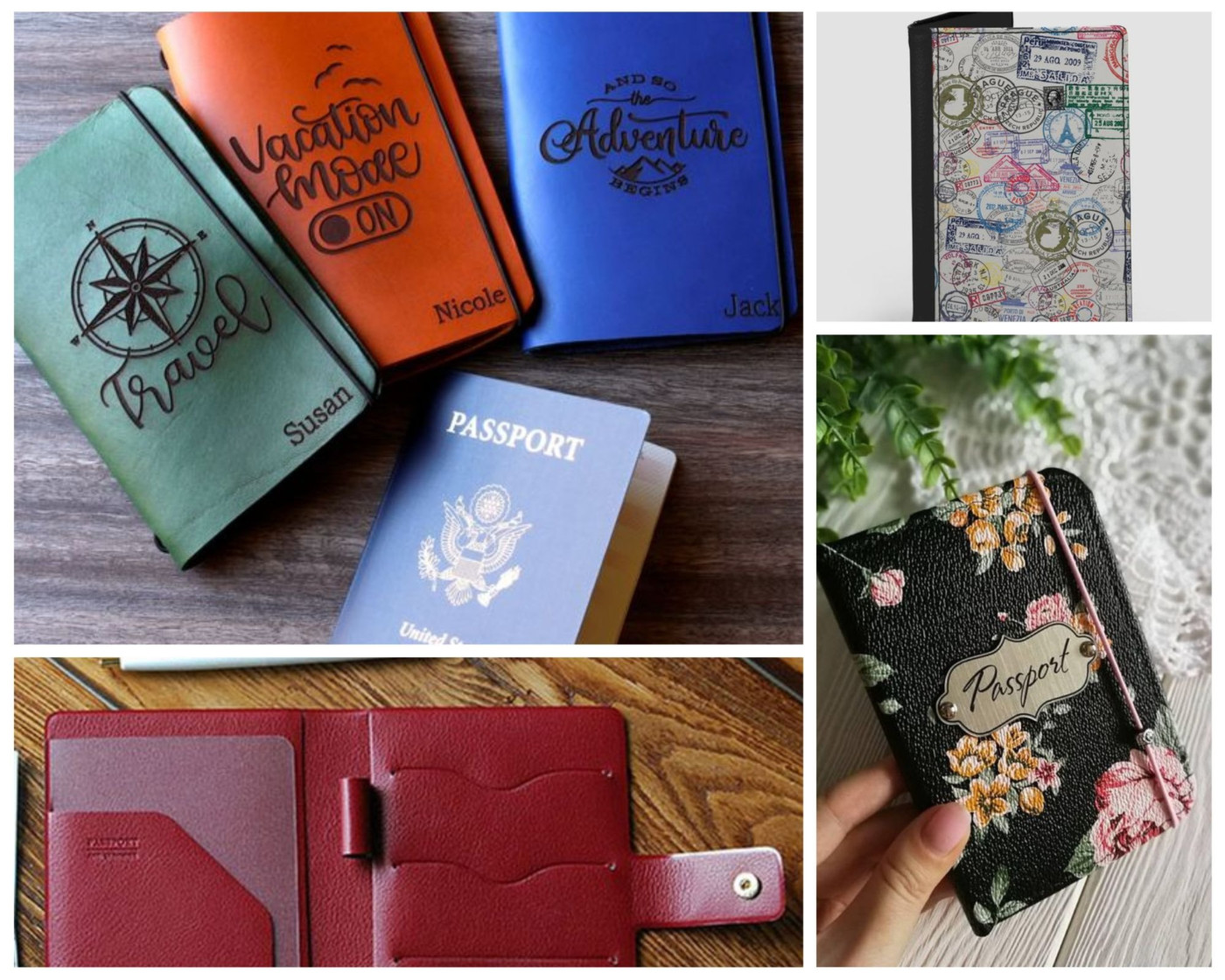 Passport safety tips—staying abroad
Finally abroad! But, please, do not lose focus. You already did most of the work by preventing most of the risks, but still, a little precaution is needed while traveling.
Tip#1: leave your passport in the hotel
As mentioned before, travelers won't need to present a passport every time and sometimes a copy is enough. For this reason, you could leave it in the hotel room — in the safe or in your luggage.
Tip#2: keep it by your side
If it's necessary to carry a passport, here the money belt is the perfect solution! We suggest not leaving your passport in your handbag.
It should always be by your side and in a safe place. In case you are asked to leave the bag unattended in a storeroom before a trip, your most important belongings will always be safe.
Nonetheless, the money belt is not the only solution, even inner jacket pockets will do (but keep your jacket with you)!
Tip#3: carry the passport yourself
Never leave your passport to somebody else. Anyone should be responsible for their own passport and this will also lessen the chances that all passports get lost at once.
Tip#4: check you still have it
Every now and then, check if you still have the passport. Never do it in public, but find a private place where to safely check that all your most essential personal belongings are still in place.
Tip#5: be aware of what is happening around you
During your travels, you could find yourself in different situations, but do not lose focus. Be aware of the environment and decide accordingly if you should use extra care in managing important documents.
Tip#6: keep it covered
Using your passport in plain sight, in the middle of the crowd, might attract too much attention and increase the chance that it gets stolen.
If you use a cover for your passport, as we suggested earlier, you will achieve two things at the same time: you will protect it from any damage and keep it covered, so strangers will not see it while you use it.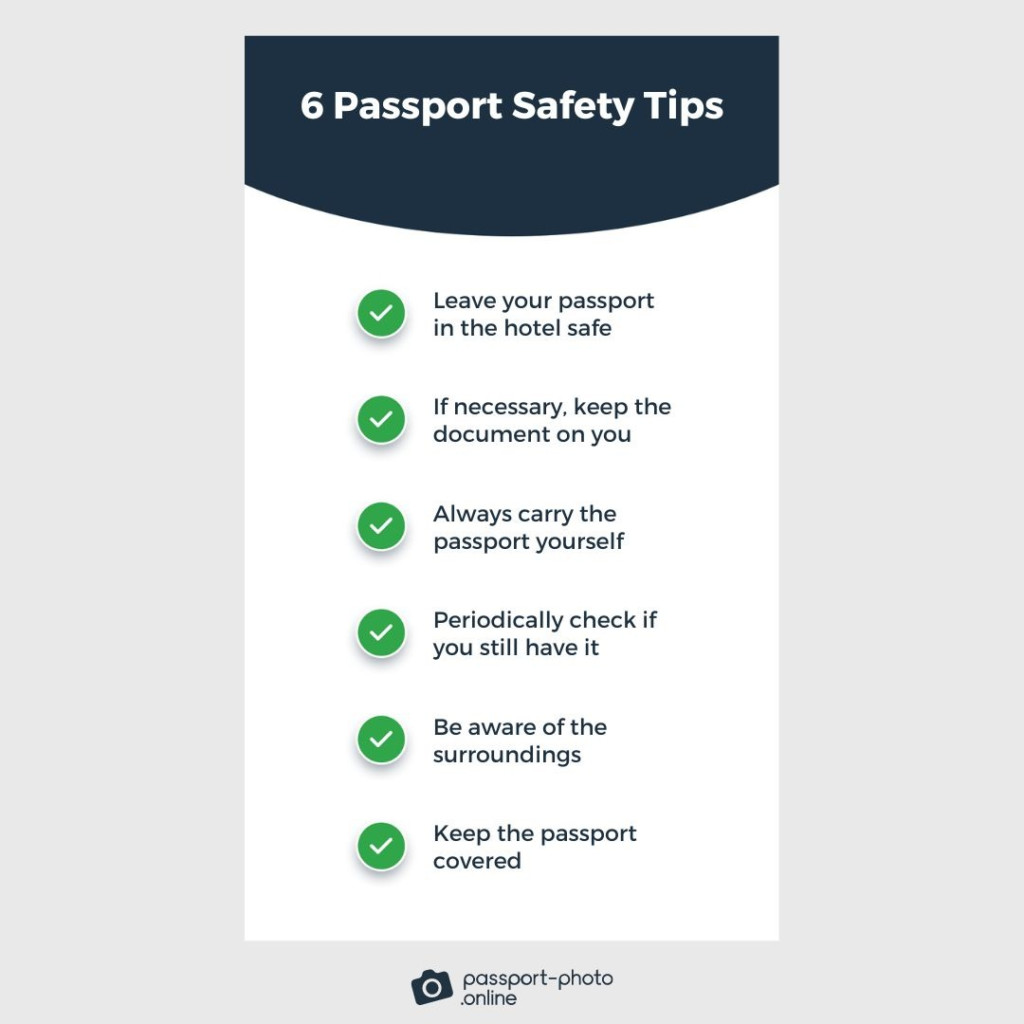 Passport Photo Online—passport pictures anywhere
Need to apply for an emergency or replacement passport? Passport Photo Online, an app used by over a million people worldwide, has got you covered.
Just snap a picture with a smartphone — we can fix it for you:
The app can adapt the image to the required size and remove the background. Any place can be just as a photo studio 24/7.
Our AI system checks the picture in every detail. We can even enhance the quality and remove excess elements. Our approval comes with a 100% guarantee of meeting government requirements. Users can get passport photos no matter which country they are in.
Passport Photo Online offers unlimited tries without additional costs. You can relax and focus on getting a photo that perfectly follows the requirements.
We can send you the printed passport photos within 3 (three) days — the digital copy will be immediately available for download and to be used at your earliest convenience.
Keeping a passport safe while traveling: FAQ
In the next section, we'll address a few common questions about passport safety.
Where to keep a passport while traveling?
The safest way to keep a passport abroad is to store it in a hotel room safe or in locked luggage. To carry the document around it's best to use a money belt with a dedicated pouch. Alternatively, it's also possible to keep it in the inner pockets of a jacket.
How to protect a passport when traveling?
To begin with, travelers should carry a passport around only when needed and keep it in a money belt or inner pocket. In addition, it's a good idea to get a waterproof cover to avoid any damage to the document.
Passport safety tips—sum up
As you have seen, if you want to avoid unpleasant incidents and enjoy your travel, be aware of the risks and follow our passport safety tips. In the unfortunate event that you will need a new one, check our website. Alongside some useful information on how to make the renewal process faster and easier, you can also find a dedicated passport photo tool there to get a perfect ID shot right away.
How to Keep Your Passport Safe While Traveling
Regardless of whether you're traveling for a year, a month, or a day, you should always make multiple copies of your passport (you only need to photocopy the information page with your photo and name on it).
Place a photocopy in each piece of luggage, keeping them hidden, and leave an extra copy at home. Be sure to scan and keep an electronic copy too (email it to yourself or store in a password protected file on your computer).
Having a paper photocopy will help with the process of getting it replaced, and act as your identification should it be stolen or misplaced. If you want to go the extra mile, you can always have these photocopies certified (there is usually a fee involved with this). What happens if my passport gets wet?
Pro Tip: It's not a bad idea to travel with an set of extra passport photos in the unlikely event that you have to replace it. You can usually obtain these from a local post office or grocery store (Target passport photos are relatively cheap).
Protect it from the Weather
If your travels include drastic changes in climate, buy a passport protector, and store it in a room which is as climate controlled as possible. If you're traveling with it stored in your bag, make sure you have some form of waterproof cover.
A recent trip to Costa Rica ended with my passport in a bowl of rice in an attempt to dry it out as much as possible (rice absorbs moisture). After two weeks of exposure to extreme humidity, the whole passport became damp; ink ran and stamps became blurry, with some sticking to the other page.
The information page remained intact, and I was fortunately still able to travel on it. Albeit stern lectures from immigration officials about the importance of taking care of my documents. Is it worth buying a passport cover?
Note that storing it somewhere climate controlled is also important when you're at home. If you find that your passport is damaged before your trip, don't stress, you can look into getting it expedited.
Pro Tip: The Kyza Travel Wallet is a great way to protect your passport. Made from genuine leather it comes with 2 wallets; an outer wallet for your travel necessities (passport, currency, notes, boarding pass) and an inner wallet for your everyday travels (credit cards, smaller notes).
Lock it in the Hotel Safe
The National Passport Service advises that the best place to keep a passport while traveling is in your hotel safe. You do not need to carry your passport with you at all times, and it is much safer to keep it in the hotel.
If your room doesn't have a safe, head to the front desk and ask if management will put it in theirs. Otherwise, if you have doubts about the safety of your accommodation, find a lock for your travel bags and place it in a secure location in your room. Where to put passport when traveling.
Apart from airport security and clearing immigration, it's not necessary to pull out your passport for everyone who asks for it, not even the police. Always try to use a drivers license instead. One of your photocopies will do just fine.
Keep it On Your Person When Carrying it
There are certain times when you'll have to carry your passport with you, namely when in transit. In instances where you do have to have it on you, make sure you keep it concealed and that you know where it is at all times.
Keeping it under your clothes or in a hidden pocket is a good way of carrying it, though make sure you have it in something that is water resistant, and something discreet which doesn't give away that it's there. Do not buy a money belt. DO make sure you have removed it from your pocket before throwing your clothes in the wash. How to keep passport safe in Europe.
If you don't have a suitable pocket or place to hide it under your clothing, hide it in your backpack. Do not leave your bag unattended, and avoid placing it anywhere which is easy to access. Make sure it's hidden, preferably within a pocket within a pocket.
If your passport is lost or stolen, report your situation to the local police and make note of the crime reference details. You will need these when you contact your embassy. You can find the details of your local embassy from your government website online.
Your embassy will cancel your lost or stolen passport to prevent any possibility of identity theft, and issue you a new one. Timeframe will vary depending on embassy.
Do not risk your life for your passport. If you're being robbed and they're demanding your things, hand everything over – especially if you think they have a weapon. Replacing your passport is annoying, but it's better than being injured or losing your life.
Source https://www.travelfashiongirl.com/how-to-keep-your-passport-safe-while-traveling/
Source https://passport-photo.online/blog/best-way-to-carry-passport/
Source https://www.mappingmegan.com/keep-passport-safe-abroad-passport-safety-tips/