How to Keep Your Wallet Safe When You Travel
We're going to start traveling again one of these days, and as exciting as that is, it also carries with it plenty of risk. Take the risk of losing your wallet, for instance. I can't tell you the number of times I've been in a Hudson News or Starbucks, put my wallet down and walked away—until one fateful trip where I lost my wallet and couldn't even recall when I had last seen it.


We carry everything we need in our wallets; they're the last thing we want to lose. Here's how to keep yours safe and secure.
How to Stay Safe as a Female Solo Traveler
Traveling on your own is an incredibly rewarding experience, but it has its dangers. The number of…
Condense what's in your wallet
First of all, it's not necessary to actually carry your life in your wallet. Your physical passport, credit cards, and extra cash should be kept in a safe—especially if you're staying in a hotel. Alternately, bring your own lock box and secure it in your luggage.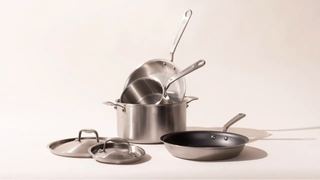 All new cookware for home chefs.
Made In is beloved by Michelin starred restaurants and home cooks alike, with over 100 years of family history.
All you should have with you is enough cash (or cards) to eat and shop for the day. Also, keep a copy of your passport and the location of your accommodations—if you lose your wallet, someone can either return it to where you're staying or your embassy/consulate.
Get a GPS locator
A GPS wallet locator is as thin as a credit card and can be placed in your wallet alongside your credit cards. Paired with your phone via Bluetooth, the locator will beep if you're searching for it. The range for finding your wallet this way can be between 100-500 feet depending on the device (and the noise level where you're searching).
Another option is using a wallet with a built-in GPS. These smart wallets typically connect to an app that helps you find its last location.
Use a fanny pack instead
If you're always losing your wallet, why not opt out of having one altogether? For a more secure alternative, use a fanny pack. Fanny packs allow you to hold everything you'd put in a wallet and keep it all close to your body.
Similarly, you could consider an over-the-neck passport holder. While keeping your passport secured, it can also hold cash and essentials.
How to Avoid ATM Fraud When You Travel
Travel inherently includes some security risks, because part of security is knowing how things are…
How to Pack Your Wallet for a Trip to Europe
Having your credit card rejected or running out of cash can ruin a vacation. But with a little advance planning, you can focus on fun, not what's in your wallet.
Send any friend a story
As a subscriber, you have 10 gift articles to give each month. Anyone can read what you share.
Give this article Give this article Give this article
By Taylor Tepper
The joy in planning a vacation in Europe comes from booking Mediterranean boat trips or researching restaurants in Paris, not the boring details of how you pay for those experiences. But there I was, stuck in a parking lot in Lerici, Italy, because I had forgotten to set up a personal identification number on my credit card (many unmanned kiosks in Europe, like parking ticket machines , require one). That I write about such things for a living only makes the story more embarrassing, so the following checklist has been a crucial part of my European travel prep ever since.
Bring at least two credit cards from different networks
A well-chosen travel credit card should be your main form of payment in Europe. From the London Tube to a neighborhood patisserie, the fraud protection a card offers is unbeatable: You would rather have a thief using your card for their Mitte district shopping spree in Berlin than depleting your actual bank account with your A.T.M. card. Also, the larger spending limit won't crimp your style if a hotel or a rental-car company places a 200 euros hold on the card.
Pick a credit card that does not charge a foreign transaction fee and you'll save yourself up to 3 percent of each purchase. And if you have an American Express or Discover card, carry a Visa or Mastercard too, since these cards are more widely accepted abroad.
Before you leave, alert your bank that you'll be traveling, either with a phone call or through its app. This should let you use your card without incident, although overly cautious financial institutions sometimes mess up and ping you with a fraud alert anyway. While in touch with your bank, see if it allows you to set a P.I.N. on the card (some cards, like the Bank of America Travel Rewards credit card, give you the option). If you don't have a P.I.N., you should still be able to use your credit card in person, and some unmanned kiosks sometimes allow you to skip this step. Chase, which issues Wirecutter's favorite travel rewards card, recommends you push the Enter, Continue, or Cancel button when asked for your P.I.N. If these don't work, you'll have to pay in cash.
Bring one debit card that you can use at European A.T.M.s
Smaller shops may not accept cards or might "pass on the extra processing fees associated with credit cards to customers," said Aaron Klein, a Brookings Institution fellow.
So if you want to pay for that pieróg in cash, consider opening a checking account that doesn't nickel-and-dime you abroad. The ideal option doesn't charge A.T.M. fees, reimburses A.T.M.-operator expenses worldwide, and forgoes foreign transaction fees. Ken Tumin, founder of DepositAccounts.com, recommends the Schwab Bank High Yield Investor Checking Account, which gives you those benefits. (You need a Charles Schwab brokerage account to get that checking account, but neither one requires a minimum balance.)
If you don't want to set up a bunch of accounts just to avoid fees, check your bank's international A.T.M. partners. Bank of America customers can avoid fees in a host of countries by using designated partner machines (Deutsche Bank in Germany, for example). You likely get better exchange rates at an A.T.M. than you do at a currency-exchange window, or from your bank before you depart.
Bring your mobile wallet
Apple Pay and other digital wallets are picking up steam abroad, and these mobile contactless payment systems (where you wave your phone in front of a payment terminal) could save you a lot of hassle — especially if you lack cash or don't want to fumble with your wallet.
Make sure you've loaded your cards with no foreign transaction fees on your phone before you take off. Apple Pay should work even if you're in airplane mode, so you don't need a local SIM card to use it.
Taylor Tepper is a senior staff writer at Wirecutter, a New York Times company that reviews and recommends products. A version of this article also appears at Wirecutter.com.
52 PLACES AND MUCH, MUCH MORE Follow our 52 Places traveler, Sebastian Modak, on Instagram as he travels the world, and discover more Travel coverage by following us on Twitter and Facebook. And sign up for our Travel Dispatch newsletter: Each week you'll receive tips on traveling smarter, stories on hot destinations and access to photos from all over the world.
13 Best Purses For Traveling In Europe
A travel purse can either make or break your trip to Europe. Since you're going to spend a lot of time being outside, you're going to need a reliable purse. The best purse for traveling in Europe should be able to hold fashion without compromising its function. Choosing the wrong bag for traveling in Europe can really result in an awful travel experience. From sore shoulders from lugging it around the whole day, not having the right size to pack all your things, to even worst—having them stolen.
Whether you're roaming around an ancient neighborhood or having a refreshing experience in small towns in Europe, you'll need the best handbag for traveling in Europe. If you need a larger purse, consider getting the best bags for traveling in Europe instead.
How to Choose the Best Purse for Traveling in Europe
Before picking up the best cross body bag for travel in Europe, there are several things you should consider. While needs may vary according to each individual, your bag should at least have these features below. This is to ensure you'll have a safe and sound trip across the pond.
Security Features
The best purse for traveling in Europe usually features some kind of security tech. One of the most popular securities found in travel purses is the Radio-Frequency Identification or RFID. Usually, you can find it featured in the bag's pocket. It's where you can safely store your credit card since RFID is meant to protect your identity from being stolen. Aside from RFID, an advanced and locked zipper is also common. You'll easily notice anyone trying to unzip your bag.
Size and Compartments
While our preference of a bag size can vary, your purse should be able to hold your most valuable items. Items you should never leave at the hotel include passport/ID, hotel keys, and your wallet or credit cards. All things considered, a travel purse with a compact size should be your most favorable option. Apart from functionality, a compact size purse tends to be lightweight and easier to carry. Another plus point if it has enough compartments to make your items easier to organize.
Comfort
It's no brainer that your travel purse should be comfortable at all times. Especially if you're going to spend most of your time on foot, traveling from one place to another. The best cross body bag for travel in Europe should hang comfortably over your shoulder. You don't want to end up with strain after a long day of traveling.
What kind of purse is the best for travel?
Simply put, the best purse for traveling in Europe should be two things: safe and comfortable. With the many available choices, there's something for everyone today from the market. But not all of them cover two of the most important features in a travel purse. If you find the right bag that's safe and comfortable, you should look for no more. Especially if it comes with a friendly price tag!
Should you carry a backpack in Europe?
Backpacks are generally suitable for traveling in Europe. They're easy to maneuver in most places; whether you're taking the stair to your hostel or having a trip on a train. Backpacks are also roomy enough to fit 1 – 2 weeks of clothing. So yeah, if you're planning to carry your backpack on your next trip to Europe, you'll be good to go.
Are Kipling bags good for travel?
Kipling is popular for its backpacks and sling bags. And to this day, it's many people's favorite because of its very lightweight material, making it very suitable as a travel bag. Kipling backpacks, bags, and luggage also offer fun colors and designs. It's more than enough to satisfy everyone's tastes and preferences. Spending your money on a Kipling travel bag is worth every penny. And it should last as it's made durable.
LoZoDo Women Satchel Handbag
With a great number of reviews online, LoZoDo Women Satchel Handbag passes the mark as the best handbag for traveling in Europe. The first thing that attracts buyers is the super friendly price tag. For a handbag with decent leather quality, it costs less than 30 USD.
Of course, it's not the only reason why it's the best purse for traveling in Europe. People are praising how stylish it looks and it does the job well. The storage is roomy enough to store your traveling essentials from passport to sunscreen and a bottle of water. Not to mention how you can style it both as a handbag and shoulder bag. People are excited about how this affordable bag is exceeding their expectations. It makes a great gift idea as well! Truly the best purse for traveling in Europe.
What We Love
Exceeding expectations and provides beyond its low price point.
Very affordable
Perfect for traveling
Good quality
Roomy
Baggallini Everyday Traveler Bag
Speaking of the best purse for traveling in Europe, there are many reasons why Baggalini bags are the cult classic. And it's mainly because they have everything people look for in a traveling purse: from reasonable price tag, sturdy and well-made design, to great choice of models and colors. Baggalini bags gain many fans online because of these particular reasons. And their latest Everyday Traveler Bag is no exception.
The new and improved Everyday Bag makes up for its big sisters' flaws. And people are very satisfied with the improvement. You'll notice how the current version is equipped with a built-in wallet inside. With RFID pockets and two main compartments, this bag holds all your traveling essentials in one. Most importantly, it gives you the peace of mind you deserve as you're having leisure.
What We Love
Anything you need in the best cross body bag for travel in Europe!
Equipped with RFID
Sturdy design
Convenient built-in wallet
Zippered compartments
Zocilor Women's Multipurpose Purse Backpack
For the most part, people love Zocilor Women's Multipurpose Purse Backpack for its look and function. The backpack holds spacious storage and is stylish enough without having to break the bank. As the name suggests, the backpack is convertible into a shoulder bag. The colorful single strap is a great finishing touch to its overall design. Providing you extended comfort as you carry it throughout the old European neighborhood.
Available in several charming colors, the bag is simply cute. The company claims that it's made of high-quality PU leather, vegan leather, as well as a poly fabric lining. The material is also water-repellant and it provides enough room if you're planning for a long day trip in Europe. For all these reasons, it's hard not to mention it as the best purse for traveling in Europe.
What We Love
Great design with charming style and very functional.
Great size; not too big or too small
Multiple ways to carry
Made of sturdy material
The straps are too bulky
It looks expensive, may attract robbers
Kenneth Cole Reaction Runway Call Nylon
Planning a business trip to Europe soon? Kenneth Cole Reaction Runway Call Nylon is the perfect bag for you. What makes it the best handbag for traveling in Europe is particularly because there aren't many bags like it. Most traveling bags are made casual and are not meant for business travel. And your daily work purse may also not be the best option if you're taking it for travel. People are happy with Reaction Runway Call Nylon because it's ideal for both situations.
The bag size fits under most airplane seats, making it very easy for storing. You can put most of your traveling and working essentials in the bag, including your laptop. Have we mentioned that it's a rolling laptop bag? Yep, it's equipped with a handle and you can drag it around for easier maneuvering.
You can find three compartments built in the bag, making it easier for you to organize each of your items. Some of the pockets are also equipped with an RFID security system, another plus for a traveling bag.
What We Love
A highly functional handbag for when you need to do a business trip to Europe.
Side pocket for water bottle
Strong handle
The compartments keep your things organized
Well-made
Not suitable for traveling heavy
Estalon Leather Crossbody Bag
If you're more of a practical person, Estalon Leather Crossbody Bag is the right choice for your trip to Europe. It's made of great quality leather and provides enough room to carry all your traveling essentials. The bag has the typical leather smell right out of the box but it's only temporary and you'll be able to comfortably use it.
As you can see from the picture, it has that cool rustic design. But most people suggest that the bag needs a little breaking in before finally looking as pictured. It comes with a great selection of colors and you can get your hands on it just for 40 USD. All things considered, it's the best cross body bag for travel in Europe!
What We Love
A stylish and functional leather crossbody bag.
Great leather quality
Perfect space for your traveling essentials
Lightweight and comfortable
Some users reported durability issues
MUNDI Jacqui Vegan Leather Crossbody Purse
If you're a practical person and love to keep your traveling essentials as few as possible, this is the right purse for you. People love Mundi Jacqui Vegan Leather Crossbody Purse for many reasons. You'll love how it's convertible into a wallet as the shoulder and wrist strap are detachable. The straps are of great quality and thick, providing more comfort as you use the purse for long hours.
You can put 6 cards on the slots and remove them in a breeze. The cell phone pouch holds most types of phones, including phones with big screens. Your cards and passport will be protected as the bag also features an RFID security system. For what it's worth, these reasons are why it's the best cross body bag for travel in Europe.
What We Love
Everything you need in a traveling crossbody bag is covered in this compact purse.
Well-made and thick strap.
Also equipped with a wrist strap
Equipped with RFID
Michael Kors Jet Set Travel
Get yourself this charming crossbody bag from Michael Kors. The Jet Set Travel Messenger Bag is the best cross body bag for travel in Europe not only because of its known quality. It makes a practical traveling purse when you're out spending the day sightseeing or hopping from one site to another.
The Jet Set Travel bag comes in the perfect size, it's not too big or too small. Just the right size to store your most valuable items along with a pair of sunglasses and a compact umbrella. And even with those items inside, you can still fit a thin cardigan since the bag still has enough room.
What We Love
A great traveling crossbody bag that worth every penny.
Outside phone pocket equipped with magnetic clasp
Perfect size for travel
A great deal considering it's a designer brand
Well-made and very sturdy
It's a popular designer brand, it may attract robbers
MyFriday Small Crossbody Phone Bag
Never bring anything other than your phone, passport, and credit card during a day trip in Europe? This compact crossbody bag is made for you. With a waterproof design, chic choices of colors, and plenty of slots for cards, MyFriday Small Crossbody Phone Bag makes the best cross body bag for travel in Europe.
The good things don't stop there. It comes with two different lengths of an adjustable strap which you can use depending on your mood. The biggest compartment fits Samsung Galaxy Note, which basically means most phones will fit into the purse. With a wide range of choices of colors, there's something for everyone.
What We Love
It's small but mighty!
Super lightweight
Enough compartments
Compact design
Comes with both adjustable long and short strap choices
Lily Queen Women Canvas Tote Handbag
For less than 30 USD, Lily Queen Women Canvas Tote Handbag makes the best handbag for traveling in Europe. First of all, the bag is lightweight and comes in several cute choices of colors. It seems well-made from the look of its quality stitches and canvas material. The bag is also versatile enough, you can carry it on your shoulder or use the longer strap as a cross body bag.
Most tote bags are built with an open compartment. But Lily Queen Women Canvas Tote Handbag has a zippered compartment for safer storage. The bag stretches to 10" deep and this can be both a pro and cons. On a brighter note, you will definitely notice if someone tries to unzip your bag and reach inside. It is both safe and comfortable, and that's why it's the best purse for traveling in Europe.
What We Love
Well-made, very stylish, and more than enough to carry your traveling essentials.
Well-made and sturdy
Provides wide straps for better weight distribution
Zippered main compartment
Available in several fun colors
Built of quality stitching and quality canvas
Some users mentioned a strong chemical smell
Michael Kors XS Carry All Jet Set Travel
Many people prefer designer bags for the very obvious reasons: their top-notch quality. And most of the time, it's a great bang for the buck. Michael Kors XS Carry All Jet Set Travel is no exception, the quality precedes its popularity.
As the best handbag for traveling in Europe, XS Carry All Jet Set Travel comes in a perfect size. It's well-made, lightweight, and makes a great gift idea as well! The most fun part is that you'll get a longer strap, so you can use it both as a handbag and a crossbody bag. With seven choices of charming colors, you can definitely add a touch of personality as you travel.
What We Love
Small and great handbag with fun choices of colors. Perfect for traveling and comes with a very reasonable price tag.
Well-made
Lightweight
Comes with a crossbody strap
Perfect size for a travel purse
Not the safest product to stroll around with
LOVEVOOK Tote Satchel Hobo Set
With so many amazing and chic choices of colors, Lovevook Tote Satchel Hobo Set makes the best purse for traveling in Europe. And that's because it doesn't compromise on its function. For less than 50 USD, you can get a set of three bags: a handbag, a small sling bag, and a slim pouch. Each is great on its own and you can either take the shoulder bag or slim pouch for when you're traveling in Europe.
People are praising its high-quality material, which is on par with most high-end handbags. Get ready to get compliments as you use the bags! Join a large number of fans of this bag and get yourself the best purse for traveling in Europe.
What We Love
A set of three includes a handbag, a cute sling bag, and a slim pouch. All is great on its own.
Very affordable
Great choices of colors
True to display
The purse holds its shape
Durability issues
Looks expensive, may attract robbers
Baggallini Slim Hobo Bag
Another best purse for traveling in Europe from Baggalini, the Slim Hobo Bag should definitely be your next travel companion. Your first impression may be about how the bag looks compact and decent. You may know that the brand is notably popular online for its simple yet highly functional bags. And the Slim Hobo Bag is included in everyone's favorites.
The bag is perfect for anyone who loves to keep their things organized. You'll find several zippered pockets both inside and outside of the bag. The included coin purse is RFID protected, it's the perfect place to keep your credit cards and passports. On top of all these features, the bag is also lightweight and water-resistant.
What We Love
The price is rather inexpensive compared to other Baggallini bags. But it doesn't compromise on the quality nonetheless.
Durable & water-resistant
One pocket is RFID-protected
Roomy main compartment
Very helpful to keep your items organized
Lightweight
Travelon Anti-Theft Cross Body Bucket Bag
So, what does it take to be at the best of the best purse for traveling in Europe? It needs to be able to cover all three things a traveling purse should have. As the name suggests, Travelon Anti-Theft Cross Body Bucket Bag features a sufficient security system with its RFID-covered card slots. Carrying the things you only need while traveling in Europe is highly recommended. Aside from its comfort issue, it's mainly to minimize the risk if the worst-case scenario happens.
It brings us to the second element, which is size and compartments. Overall, the Body Bucket Bag comes in a perfect size for travel. Wait… scratch that, it IS made for travel. Keeping that in mind, the manufacturer did a great job in designing the bag. It holds your traveling essentials and more, you can even put water bottles on the sides of this bag!
When it comes to comfort, you don't have to worry about having a sore shoulder after a long day. The strap decent enough to hold weight without having to hurt you. All these features are all in one bag that costs less than 50 USD. Look no more, we've got the winner here.
What We Love
Everything you need in the best purse for traveling in Europe is covered in this bag.
Source https://lifehacker.com/how-to-keep-your-wallet-safe-when-you-travel-1843267186
Source https://www.nytimes.com/2019/10/22/travel/europe-vacation-credit-cards.html
Source https://wowtravel.me/best-purse-for-traveling-in-europe/