The 9 Best Ways to Fly Business Class to Europe on Points
Among Canadian points collectors, flying in business class to Europe seems to be one of the most popular travel objectives, particularly with European countries being among the first to reopen their borders during the pandemic.
In this article, we'll outline the best airlines for Canadians to redeem their miles for a luxurious flight across the Atlantic. For each airline, I'll comment on the ideal points currency to use, which routes to search for, and the general availability patterns.
What ranks a transatlantic airline among the "best"? Well, all of the airlines listed here allow you to fly directly from Canada across the Atlantic in a lie-flat seat, with minimal fuel surcharges, and in a way that provides a good value for miles that you can easily collect in Canada.
In This Post
1. Aer Lingus
Aer Lingus is one of the few non-Aeroplan redemption options I'd list among the "best" airlines when redeeming points for transatlantic business class.
As a British Airways Avios partner, the Irish flag carrier serves multiple points within North America, levies minimal surcharges, and provides easy onward connections to the rest of Europe.
Currently, Aer Lingus's sole Canadian route is Toronto–Dublin, which can be redeemed for 50,000 Avios in business class on off-peak dates and 60,000 Avios on peak dates. Avios can be transferred at a 1:1 ratio from both American Express Membership Rewards and RBC Avion, so that's a pretty attractive price point.
The airline was also supposed to launch a Montreal–Dublin route in 2019, although that's been postponed indefinitely. If it were to launch in the future, you'll be able to redeem only 31,250 Avios in business class on off-peak dates, which is an incredible deal!
Meanwhile, residents of Western Canada can consider redeeming Avios on the Seattle–Dublin route, which costs 62,500 Avios on off-peak dates (the peak price of 75,000 Avios is significantly less compelling). They'll have to travel to Seattle on a separate award, though – perhaps using a cheap award on Alaska miles.
Speaking of which, you can in fact book Aer Lingus flights using Alaska miles as well. The price for a standard award is 60,000 Alaska miles one-way.
Alaska miles are generally regarded as best used for premium redemptions to Asia, so it's debatable whether you'd want to drop 60,000 Alaska miles on an Aer Lingus flight.
However, it might present a better value than Avios for those living in Western Canada, since you can string together the Alaska Airlines flight down to Seattle and the Aer Lingus flight to Dublin (and perhaps beyond!) on a single itinerary, rather than booking separate awards more expensively using Avios.
Aer Lingus has been quite generous with award availability in the past, although they appear to have tightened things up a bit since the pandemic. If you're only able to find one seat available on your preferred route, be sure to check departures from nearby US hubs, as you may be able to find more space.
Aer Lingus award space shows up on the Alaska website, but not the Avios website. If you're redeeming Avios, then you must search for space separately (using ExpertFlyer, the Alaska website, or the United website), and then call British Airways to book.
I haven't personally flown Aer Lingus business class, but my partner Jessy said she had a pleasant experience when she flew with them a few years ago. They've got a decent-looking staggered business class configuration (including ultra-private "throne" seats), and friendly service with a healthy dose of Irish charm.
2. Air Canada
Air Canada offers Canadians the most options for flights to Europe with direct flights from hubs in Montreal, Toronto, Calgary, and Vancouver. Most of the routes offer lie-flat pods in business class, meaning that you'll be entirely comfortable for the ride across the Atlantic.
The easiest way to earn and redeem points for flights with Air Canada is with Aeroplan points.
Aeroplan points may be earned by transferring on a 1:1 ratio from American Express Membership Rewards or through a co-branded credit card, such as the American Express Aeroplan Reserve Card.
Flights to Europe are priced in four distance-based bands on Aeroplan's North America –Atlantic chart.
When redeeming for business class flights with Aeroplan, you'll need to consider both the actual distance flown and the dynamic price.
Many flights to Europe from Toronto or Montreal fall within the first distance band of 0–4,000 miles. Dublin, London, Paris, Madrid, and Lisbon all clock in at fewer than 4,000 miles.
With dynamic pricing, you may be able to book any of these routes for 60,000 Aeroplan points in Air Canada business class, but you may also see the cost rise to the other end of the spectrum at 160,000 Aeroplan points or more!
For travellers based in Western Canada, direct flights to Europe fall within the second band, meaning that the price starts at 70,000 Aeroplan points in business class.
As we've covered in detail, one way for anyone with Aeroplan Elite Status to reduce the cost of flying in business class is to book a Latitude economy fare and then use eUpgrades to instantly confirm a seat in business class.
Aeroplan redemptions are no longer subject to carrier-imposed surcharges. Depending on your airport of origin, you can expect to pay up to $100 in taxes and fees.
If the price of the flight you'd like falls on the more expensive end of the dynamic spectrum, it may be worthwhile to consider other options that will both save you points while still affording you a comfortable flight.
How to Book Round-Trip Flights to Europe for 30K SkyMiles
This post contains references to products from one or more of our advertisers. We may receive compensation when you click on links to those products. The content on this page is accurate as of the posting date; however, some of the offers mentioned may have expired. For more information check out our Advertising Disclosure.
UPDATE: Delta has since increased the price for partner economy awards to Europe to 35,000 SkyMiles each way, or 70,000 SkyMiles round-trip.
Let's just cut to the chase: We're convinced that this is one of the best ways to use Delta SkyMiles.
Using SkyMiles to fly to Europe can be spendy, as the airline's unpredictable award pricing can sometimes charge you 40,000 miles or more each way for the trip. But the trick to this one is using Delta SkyMiles to book flights on European partner airlines like Air France, KLM, or Virgin Atlantic.
After an unannounced price drop on these partner awards, it now costs just 30,000 SkyMiles for a round-trip to Europe on one of these airlines. And the beauty of this redemption is that it's not just good for nonstop flights into big hubs like London-Heathrow (LHR), Paris-Charles de Gaulle (CDG), or Amsterdam (AMS). You can connect onward to smaller towns in Italy, almost anywhere in Western Europe, or go as far as Moscow (SVO) and Istanbul (IST) and still pay just 30,000 SkyMiles total.
Keep reading to see how it's done.
Start at Delta.com
Even though you're flying some of Delta's partner airlines you're still using SkyMiles to do it – not Air France/KLM Flying Blue or Virgin Atlantic miles.
So your first stop is still Delta.com. You'll be able to find the flights you want by searching through Delta.

The one hitch with this deal is that you'll generally be on the hook for seat assignment fees – typically just $28 or so each way. Still, the savings are substantial.
When it comes time to start digging for these deals, we've got some tips.
Focus on Flying From Hub Gateways
The key to unlocking these cheap flights is crossing the Atlantic Ocean on Air France, KLM, or Virgin Atlantic.
That means your best bet is starting your search from one of the U.S. cities where these airlines fly nonstop. Luckily, there are plenty of options.
All told, Air France, KLM, and Virgin Atlantic fly to more than 15 U.S. cities from their respective hubs in Paris, Amsterdam, and London. Here's a look at all the options.
In some cases, you might be able to start your search from smaller airports and find a one- or two-stop itinerary to get you to Europe and back for 30,000 miles. It doesn't hurt to try searching from your home airport to see if you can pull up flights at 15,000 miles each way.
But the results are hit or miss. And at these low mileage rates, it could easily be worth booking a positioning flight to one of these major U.S. gateways to get to Europe.
Filter for Nonstops
The price is nice. But unfortunately, Delta doesn't always play so nice when you're searching for these low-priced flights on Air France, KLM, or Virgin Atlantic.
Whether you're searching for economy flights to book this deal or a business class award, Delta appears to initially hide some of the bookable results on partner airlines. Instead, your search may yield mostly higher-priced flights on Delta – at least at first.
If you're searching for a nonstop flight to London, Paris, or Amsterdam, be sure to filter your results specifically for nonstop flights.
The difference it makes can be astounding. For example, here are the initial results when looking for flights from Houston-Intercontinental (IAH) to Amsterdam (AMS). Just one date is available at 15,000 miles each way in the spring.
But after filtering to display only nonstop flights, it's a much different story.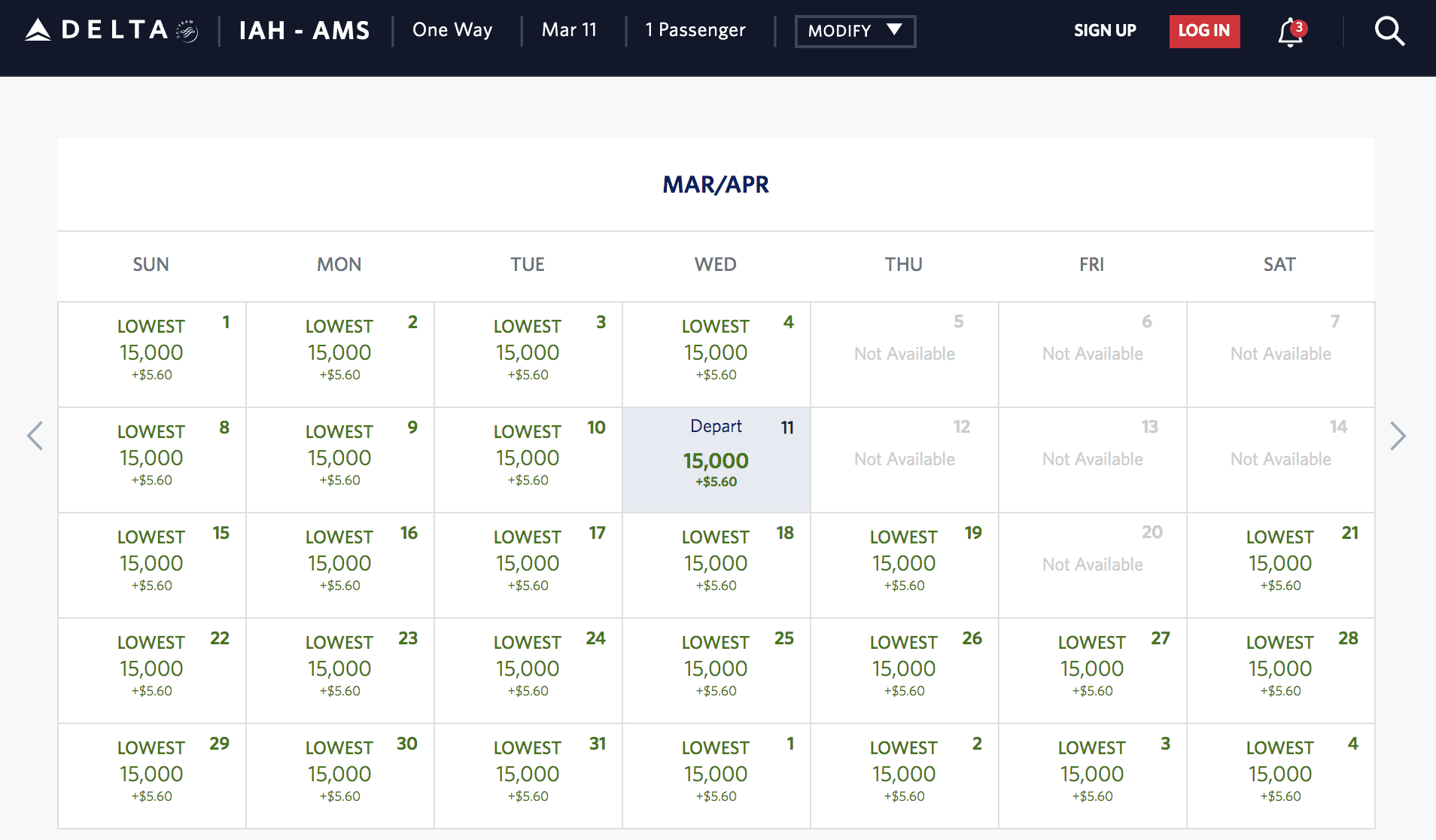 This same pattern plays out over countless flights between the U.S. and Europe. Of course, it only applies if you're searching for nonstop flights to the major European hubs.
If you're trying to get elsewhere in Europe, just start by searching for flights to your final destination. Trying to get from Minneapolis-St. Paul (MSP) to Milan (MXP)? Just search from MSP to MXP – Delta typically does a better job of pulling up these one-stop itineraries.
But finding the flights that work can be a bit more complicated.
Be Flexible
When you're booking Delta flights with Delta SkyMiles, the prices can vary wildly. But you can almost always book a flight … if you're willing to pay more.
But flying these partner airlines, it's much different. Flights are either available at a fixed price (15,000 SkyMiles between the U.S. and Europe each way) or they're not available at all.
Welcome to the crazy, sometimes unpredictable world of award availability. You have to find available awards that are bookable with SkyMiles in order to make this deal work.
Luckily, finding economy awards typically isn't too tough to pull off. In our experience. You can find flights to and from Europe from many major U.S. gateways most days throughout the spring – and even through mid-summer. Getting connecting flights to continue onward in Europe adds another layer, but can still be easily done.
But it won't always work that way. Some dates may price out much higher because there's no award availability. So being flexible with your departure and return dates is key to getting this deal.
Being flexible can be the difference between paying 15,000 miles each way – or five times that sum
Use Delta's "Price Calendar" search to get a five-week view of the available results. That should allow you to hone in on the low-priced travel dates.
Search for One-Ways First
Zeroing in on award availability can be difficult – especially when booking round-trip flights. We have a trick.
Search individually for one-way flights: First for your flight to Europe around the date you want to leave, and then for the flight back to Europe.
Find a date that works at 15,000 miles for your departing flight, then search for the return flight to Europe at 15,000 miles.
You'll still want to book round-trip, as that will result in far less in cash fees than booking two one-ways separately. The difference can be enormous: Under $90 for most round-trip bookings versus more than $200 for separate one-way flights.
Once you've found the two dates, stitch them together in a round-trip booking. Or … think outside of the box.
Try a Multi-City Booking
Want to skip around Europe a bit? Or are you having trouble finding flights to get home from Europe?
Multi-city bookings are your friend. This is one of our absolute favorite ways to book flights, as it allows you to see more for the same price. Just fly into one city, fly out of another, and bridge the gap with a train ride or cheap regional flight.
For example, let's say you want to fly into Amsterdam but hop around neighboring countries before flying home from Paris. It's no problem: You can still book it for just 30,000 miles round-trip.
Once again, you'll want to search individually for one-ways – find your flight into Amsterdam (AMS) first, then search for the return flight out of Paris-Charles de Gaulle (CDG). Once you find dates that work, plug each flight into Delta's search, but search for a multi-city fare instead.

This can be particularly helpful if you're traveling to harder-to-reach airports like Istanbul (IST) or Athens (ATH), where finding flights to return home can be more challenging than getting there. Instead, see if you can fly home from another airport – just book a cheap flight to get there for your trip home.
How to Earn Delta SkyMiles for the Next Deal
There is truly no better way to use your SkyMiles than these sales and deals. And if you don't already have some stashed away, this should convince you that they're absolutely worth earning.
The easiest way to pile up SkyMiles is by opening a Delta SkyMiles American Express co-branded credit card. These cards are currently offering up to 40,000 SkyMiles after spending a certain amount within three months – but we've seen those welcome bonuses as high as 75,000 SkyMiles.
Big changes are coming to this suite of cards in early 2020, including a slew of new benefits and slightly higher annual fees. Read our guide to deciding which Delta credit card is right for you!
There's no restriction against opening all three of these Delta co-branded cards: the Delta SkyMiles Gold, Delta SkyMiles Platinum, and Delta Reserve card. Timing it right when the bonuses are higher and being responsible with your spending could give you a large sum of SkyMiles to work with.
But another great way to earn Delta SkyMiles isn't with a Delta credit card at all. American Express Membership Rewards points can be transferred directly to your SkyMiles account. That means you can also use cards like the Platinum Card from American Express, the American Express Gold Card, or the American Express Green Card.
When you see the next Delta SkyMiles flash sale, you can immediately transfer the points you need to your Delta account. These points transfer on a 1:1 basis, so 30,000 Amex points will give you 30,000 SkyMiles. Each of these cards has different pros and cons, so read our guide to deciding which Amex card is the best fit for you.
Delta also offers a few different ways to add to your SkyMiles balance. You can earn SkyMiles on your online shopping, while dining out, taking a Lyft ride, buying concert or sports tickets through Ticketmaster, and booking an Airbnb. Finally, you can also transfer Marriott Bonvoy points into SkyMiles.
Bottom Line
This deal still feels too good to be true, but it's real. The ability to fly to almost anywhere in Europe and back for 30,000 SkyMiles shouldn't be underestimated. And luckily, it's pretty easy to pull off.
Stop overpaying for travel!
Get our daily email for the latest in travel, flight deals, and how to save on your next trip.
Kyle Potter
Kyle Potter is the executive editor of Thrifty Traveler. He joined the company in 2018 after spending years covering state and national politics for The Associated Press. He loves to help others understand the confusing world of travel, airlines, and points and miles.
Got a story idea or a tip? Email him at kyle (at) thriftytraveler (dot) com
Editorial Disclaimer: Opinions expressed here are the author's alone, not those of any bank, credit card issuer, airlines or hotel chain, and have not been reviewed, approved or otherwise endorsed by any of these entities.
Disclaimer: The responses below are not provided or commissioned by the bank advertiser. Responses have not been reviewed, approved or otherwise endorsed by the bank advertiser. It is not the bank advertiser's responsibility to ensure all posts and/or questions are answered.
5 Responses
The article mentions Italy, but I am not seeing any flights from MSP to FCO at that price point. Any advice?
FCO can be tough because Delta itself flies there nonstop, so your search will likely pull up higher-priced Delta results. Scroll through months of availability to see if you can find something, otherwise try other Italian airports like MXP, FLR, VCE, etc.
I do see some dates in March-April and October-November that price out at 15,000 SkyMiles each way from MSP-FCO, but it's definitely spotty.
How Many Miles To Fly Business Class To Europe
Flying business class to Europe can be a great way to make the most of your travel budget. By spending a bit more on your airfare, you can enjoy a higher level of comfort and service during your flight. But how much does it actually cost to fly business class to Europe? The answer to this question can vary depending on a number of factors, including the airline you fly with and the specific route you're taking. But in general, you can expect to pay anywhere from $2,000 to $5,000 for a business class ticket to Europe. If you're looking to save money on your business class flight to Europe, there are a few things you can do. First, be flexible with your travel dates. Flying during off-peak times can often help you save money on your airfare. You can also use a fare search engine like Kayak or Google Flights to compare prices on different airlines and routes. And finally, consider using points and miles to book your business class flight. With a little bit of planning, you can find a great deal on a business class ticket to Europe.
One of the most popular goals among Canadian frequent flyers is to travel in business class to Europe. In this article, we'll look at the best airlines for Canadians looking to book a luxurious flight across the Atlantic. I will provide recommendations on the ideal points currency for each airline, routes to search for, and general flight availability. The carrier has long provided a generous level of award availability, but it appears that things have gotten a lot more difficult since the pandemic. When you fly with Air Canada, you can earn and redeem Aeroplan points. On Aeroplan's North America–Atlantic chart, flights to Europe are priced in four distance-based bands. A one-way flight from Canada to Europe in business class with either Air France or KLM is expected to cost between 53,000 and 59,000 miles with dynamic pricing.
Flying Blue miles from Air France and KLM are best used to redeem miles for flights. Austrian Airlines operates from Vienna. Austrian Airlines offers flights to Montreal, New York JFK, Newark, Washington Dulles, and Chicago. Because Aeroplan redemptions with partner airlines come at a fixed price, you can expect to pay 70,000 points for a one-way business class flight. Because the airline has a high demand for award space, finding it is simple to find. LOT, Poland's national airline, has expanded its service to several North American markets in recent years. A flight from LOT's most popular North American destinations to Warsaw will cost you 70,000 Aeroplan points.
The airline's flagship Canadian route is Toronto-Warsaw, which is served by a Boeing 787 Dreamliner. Business-class seats on the Montreal to Zurich flight cost 60,000 Aeroplan points. Swiss also offers flights between Zurich and Boston, Chicago, Los Angeles, Miami, New York (Newark and JFK), and San Francisco in the United States. The airline is also one of the most dependable in terms of providing last-minute award space. TAP, a Portuguese flag carrier, was able to make the cut thanks to its large award space and solid network. Direct flights between Lisbon and Toronto or Montreal typically cost between 60,000 and 100,000 Aeroplan points per seat, with taxes and fees. The disadvantage of this mode of transportation is that the flight times from North America are very short, making it difficult to get proper rest in.
Although the food and service are good, they are not particularly spectacular, despite TAP's ambitious expansion plans; however, with time, these improvements should become more commonplace. Turkish Airlines does not appear to have a consistent policy on how to distribute award space. If there are seats available that you like, it is best to book them as soon as possible because they may sell out the next day. Turkish Airlines also provides three flights per week to Canada. Turkish Airlines' food and drink service can be rocky at times, but it is where the airline stands out. In all cases, the Dreamliner can accommodate you because it has an updated hard product in conjunction with Turkish's excellent soft product.
United Airlines business class flights to Europe start at 60,000 miles one way, while Star Alliance partners such as Lufthansa require at least 77,000 miles one way. Economy class is one option as well.
Business Class: 35,000 miles (15,000 miles for flights within 500 miles) for short-distance flights. For the first class, you would have to drive 50 miles per hour.
How Many Miles Is A Business Class Ticket To Europe?
A business class ticket to Europe can vary in price depending on the airline, but is typically around $3,000. The average flight from New York to London is about 7 hours, so a business class ticket would be around 1,428 miles.
Expect To Pay High Prices For Business And First Class Flights To Europe
If you fly in first or business class, you should expect to pay between 50,000 and 95,000 miles per way. You might have to pay more for any cabin class if you want to fly solo. You will also have to pay taxes and fees if you use an award flight. Depending on the airline, a round trip flight from the United States to Europe can cost anywhere between 60,000 and 70,000 miles. You can save money if you book your flights ahead of time. One airline can fly you and your luggage to and from the airport for half the price of Delta SkyMiles. It will cost between 35,000 and 21,500 Delta SkyMiles to fly to Europe. You'll have to pay around 95,000 miles for a business class or first class flight. Business and first class travel can be significantly more expensive than economy travel.
How Many Miles Do You Need To Fly To Europe?
There is no definitive answer to this question as it depends on the specific location in Europe that you are trying to reach, as well as the airport you are departing from. Generally speaking, you can expect to need to fly somewhere between 3,000 and 5,000 miles to reach Europe from most locations in the United States.
Now is the time to book your trip to Europe because COVID rates are falling and travel restrictions are easing. If you use a transferable point program, you will be able to transfer points to any airline program of your choice. If you pay a fee, you may earn miles while using miles instead of spending money on airfare. There is a fee of $25K or $30K per way or from Europe to the United States for economy class tickets. Virgin Atlantic charges the most miles per mile for Delta flights, which is 30,000 miles per round trip. We'll look at programs that frequently provide better value to and from Europe for those same flights.
Reward Flight Savers have the option of flying a distance per flight that is less than the total distance flown. The economy that occurs during the off-peak hours. Flight distance, per flight. The economy class for prime time is 0 – 650 miles, with an average speed of 4,750 Avios per hour. A total of 1,150 miles are traveled by 7,250 Avios. It is estimated that the total mileage of these vehicles is 1,151 – 2,000 miles, with an additional 9,250 miles covered. As a United Airlines partner, you can take advantage of a variety of incredible Caribbean fares. By utilizing United's U.S. hubs, it is possible to fly from North America to the Caribbean in as little as 60,000 miles. Economy class fares on United's off-peak flights are also very affordable, costing $4,250 per flight. Those who prefer to travel in economy class can get a great deal for 5,250 Avios per flight with United.
How Many Miles Do You Need To Fly First Class To Europe?
Even if you fly from California to New York, the zone-based AAdvantage award chart charges you the same 85,000 miles as if you were flying from the United States to Europe.
The Real Cost Of Flying First Class To Europe
This question cannot be answered in a single sentence because the cost of upgrading to first class will vary depending on the airline, route, and cabin type. It is possible, however, for airlines to offer first-class seats for a lower rate during the coach booking process, which is far less expensive than searching for a first-class seat directly. Several airports allow you to upgrade at kiosks at a lower cost. In Europe, first-class travel is not as common as in the United States. British Airways is the most popular airline among KAYAK users when it comes to providing First Class seats on flights to Europe.
How Many Delta Miles Does It Take To Fly To Europe?
The price of Delta SkyMiles (60+ days in advance) on U.S.-Europe ranges from $45,000 to $65,000, depending on the type of award and class of flight. Economy class is $95,000, business class is $99,000
How Many Airmiles Do I Need For A Business Class Flight?
Image credit: https://amazonaws.com
There is no definitive answer to this question as it varies depending on the airline, the route, and a number of other factors. However, as a general guide, you can expect to need between 40,000 and 60,000 air miles for a business class flight. To get the best value for your miles, it is always worth checking with the airline or your travel agent in advance to see what the specific requirements are.
For Business Class Avios redemption, no one has to pay more than 8,500 points. You require this information if you want to fly from London to Amsterdam on a one-way basis. It includes large parts of France, Belgium, Germany, and the Netherlands. It may appear to you that flying Business Class on a short flight is extravagant. The base prices are those calculated by using an American Express 2-4-1 companion voucher in the chart above. However, if you book without a voucher, BA will give you the opportunity to use fewer Avios while using more cash. You can earn Avios points in a variety of ways using UK credit cards.
There are also numerous credit cards with generous sign-up bonuses. For Platinum Card members, the sign-up bonus is double what it is for regular Platinum Card members. Furthermore, there are excellent benefits for the two American Express Business cards, with points converting to Avios at 1:1. To learn more about all UK credit cards that offer Avios, please see our detailed summary of all credit cards that do.
Source https://princeoftravel.com/blog/the-9-best-ways-to-fly-business-class-to-europe-on-points/
Source https://thriftytraveler.com/guides/points/how-to-book-round-trip-flights-to-europe-for-30k-skymiles/
Source https://www.eclipseaviation.com/how-many-miles-to-fly-business-class-to-europe-2/