15 Travel Tips for Europe That You Need to Know
The very first time I went to Europe, 24 years old me was bright eyed and oblivious to a lot of things. Heck, I didn't even know how to navigate my way through the metro system.
As a first-time solo traveler, I made a lot of newbie mistakes. I ate in places with pictures on the menu. I used money changers and I constantly planned my next move. Honestly speaking, I cringe at the thought of some of my I've-never-been-to-Europe mistakes.
After almost three years of nomadic full-time travel, I am wiser (and older) and very pleased to say that I am now well versed with all the tricks of the trade for traveling Europe. To help you make the most of your trip, here are a few essential tips that I wish I knew when during my first trip.
Travel Tips for Europe
Avoid Restaurants with Photos of the Menu
When I first got to Europe, I thought it was super convenient that the menus had photos in them. After a week or so, I caught on to the fact that the tourist menus were usually poor imitations of the real deal (and double the price). A rule of thumb I like to follow is to never eat in restaurants near tourist attractions. Yeah, that's right.
Walk away from the uber expensive restaurant in front of the Colosseum. If you have the money, go for it but if you're on a budget and want something more authentic, walk a few blocks down, duck into some random alleyway and pick a spot that has the most locals inside.
On another note, if a bottle of water and a basket of bread appears on your table….don't expect them to be free.
Skip the Line
While I usually hate planning tours and attractions ahead of time, for the big ticket stuff that you know you want to do, it pays to book a ticket in advance so you can avoid the long lines. Places like the Louvre, the Vatican Museum, and the Colosseum can all be booked online saving you a good chunk of time.
Most museums have free admission days so don't forget to check ahead of time before purchasing tickets. Bringing a student ID can also give you a few discounts.
I brought my old university ID and despite it being a couple of years old, I was still able to get a few good deals.
Familiarize Yourself with Basic Safety Tips
Before you go on a trip, it is best to familiarize yourself with basic scams in the area. While Europe is perfectly safe, petty crime like pickpocketing is pretty rampant. Get yourself a RFID wallet and a good bag that you can keep with you at all times.
Whenever you're connecting to public wifi, make sure you use a VPN service to protect yourself from identity theft and hackers. Wifi in airports, train stations and hostels are hotspots for these so be weary! We use NordVPN and find the entire interface easy to use and straight forward.
Join Alternative Tours
While it's easy to pre-plan and join every tour that interests you, this leaves little to see and explore. While I enjoy going on tours, sometimes I find them too touristy. With the rise of sharing platforms and meaningful tour experiences, looking at alternative tours whenever you get to a place is something I highly recommend you do.
For example, if you're looking for things to do in Barcelona, rather than joining traditional tours, you can opt to join companies like Withlocals who connects you with local people who offer Tapas tours, Spanish cooking classes, or tours around some of their favorite Gaudi inspired art.
They also offer skip-the-line tours where the local guides take you to lesser known entrances to avoid crowds as well as an app if you prefer to book things on the go! Joining local tours like this helps add a local's perspective to the city you're visiting, creating unique travel experiences that you otherwise wouldn't get from regular tours.
Take the Time to See Eastern Europe
While it's so easy to stick to the well-known cities and destinations like Rome, Paris, Amsterdam, and Greece (I know I did when I first planned my trip), Eastern Europe has a wealth of things to see and do.
The best part is, most of these destinations are very affordable compared to the prices of Western Europe. So yes, go ahead and plan that trip to Croatia to see the stunning Plitvice Lakes National Park.
Go ruin bar hopping in Budapest, as well as experience the beautiful attractions all over Prague. Not only will your budget last longer, visiting low key places will be bound to be less touristy.
Use Price Comparison Transport Websites
Every day, I still marvel at how tech continuously makes travel more affordable and accessible. One of my favorite tips when finding transportation is to use comparison websites to help you get the best deal.
During my second trip to Europe, we relied heavily on GoEuro, an app which you can use to compare the price of buses, flights, and trains. Through the app, I was able to score some cheap deals which saved me both time and money! €30 flight to London vs. a €48 7-hour bus ride. Saving money = having more money for wine!
Skip the Money Exchange Counters and Find an ATM
Traveling 101- Never ever use money changing counters (especially the ones located by airports). They usually have horrible exchange rates and are a complete rip-off. Instead, speak with your bank and inform them that you will be using your ATM in a foreign country.
Doing this is super important as you don't want your bank to suspend your card due to irregular activities (again, rookie mistake #2) If you want to go a step further, look into cards that don't charge any ATM fees or top-up cards like Revolut to avoid bank skimming etc.
Picnics are the Way to Go
For those traveling on a tight budget, picnics are the way to go. Head to a local grocery store, buy some bread, cheese, and a cheap bottle of wine and voila! You're good to go. The first time I was in Europe, I was on a super tight budget so I rarely ate in restaurants.
Instead, I had solo picnics as I gazed at some of the best views imaginable. The Eiffel Tower, the Leaning Tower of Pisa, by the canals of Amsterdam, while sitting in some random park in Bruges. See that photo below? That's me, enjoying my €2 sandwich while enjoying a stellar view.
P.S. Restaurants around me were all charging a minimum of €15 a meal! Honestly, picnics are the way to go! If you go to Italy, stay on the look out for Aperitif Hour where all you have to do is purchase a drink which often comes with appetizers.
Learn the Language
Anywhere I go (and I travel a lot), I make sure to cover at least the basics. Please, hello, thank you, can I have a beer. Learning the language (or at least downloading Google Translator) will help you in sticky situations.
While most people in big cities will be able to speak English, it still won't hurt anyone if you can communicate with them better. It will also avoid embarrassing charades games as you try to signal that you need the toilet while in the middle of the street.
Don't Be Afraid to Use Budget Airlines
Getting from point A to point B in Europe has never been easier (and cheaper). Make use of budget airlines and save yourself a lot of time and money.
If you're traveling light (carry-on only), budget airlines are heaven sent. Easy Jet and Ryan Air and just two examples of the many providers that fly all over Europe for almost nothing.
Bring a Water Bottle with You
While some restaurants charge for water, you will save a lot of money if you refill your bottle before going out. I love these little foldable water bottles which don't take up any space in your day bag.
Wear Proper Footwear
While packing for Europe can be tricky, one of the most important things to consider is bringing the right footwear. You will be walking for long periods of time so not only does your footwear have to be comfortable, it also has to be able to walk on all sorts of terrain.
Cobblestone streets, short hikes, and through busy cities. Also, remember to pack light! One of the things I regret the most is having too much stuff with me. This resulted in many hours of me huffing and puffing as I carry my bag from one place to the next.
Check out our Packing List for Europe Guide to make sure you don't forget anything important!
Make Use of Free Walking Tours
Free walking tours are generally good ways to get to know a city. As soon as I get to any place, I usually check if there are any free walking tours either through my hostel or through companies like Sandeman. I use this to orient myself on what's around me as well as to ask the tour guide their recommendations on the best local places to eat.
Be Adventurous: Go Local
Whenever I am in a new city, I make it a point to eat local. I prefer to support local mom and pop stores and restaurants over big chains. I also make sure that I try the local cuisine. Resist the urge to eat the familiar. Instead, eat as the locals do.
So yeah, venture past the usual sandwich and try pasta. Instead, try out pulpo while in Spain (octopus), some Haring or 'Hollandse Nieuwe' while in the Netherlands, or some Moules-Frites in Belgium. You might not like all of them, but at least you tried!
Part of the fun of traveling (okay who am I kidding, all of the fun in traveling) is about tasting new flavors and trying out new things. I once had to eat raw herring for breakfast when I was in the Netherlands. While I hated it and could barely chew it down, I'm still glad I tried it.
Get a Bike Lock
Unless your bag has built-in locks which can wrap around poles, carrying a thin yet durable bike lock can allow you to tie up your bag, especially when you go on long overnight train rides. I was traveling with a few people whose bags got nicked when they were on the train.
As you usually have to leave your backpack in the compartments in between carriages, making sure they are locked up and safe will give you peace of mind during your journey.
Take Your Time and Don't Over Plan
Last but not least, don't feel pressured to see and do everything. Take the day off to sit around in a cafe and read a book. Stay in your hotel and relax. Often, the urge to do everything and sightsee all day will wear you out.
Enjoy the little things that make Europe such a spectacular place to visit. Two hour coffee breaks, a glass of wine at ten in the morning, a siesta in the afternoon. During my first trip, I had everything planned out for the first month. As soon as I got there, I realized that sometimes, having no plan was the best plan. This led to many spontaneous adventures (like flying back to Amsterdam for a music festival) and epic experiences.
Hopefully, these tips have given you ideas on how to save time and money to help you plan an epic trip. Just remember to enjoy the experience and make the most out of every moment.
✨Want to Have a More Local Experience While Traveling?✨
Avoid cookie-cutter tours made for mass tourism. Wherever we are, we love going on local Airbnb Experiences as they have unique experiences around the world.
Click the button below to find a local experience near you.
Where to Stay in Europe
To help you plan your trip, here are a few of our top recommendations on places to stay in Europe.
Interested to read more articles on Europe? Check out a few of our top posts for inspiration
Inspired? Pin It!
Editor In Chief
Anna is the Editor in Chief of this blog and has been traveling the world for the last 9 years. She is passionate about discovering incredible food spots, good travel gear, and outdoor adventures. When she isn't outdoors, you can find her eating her way around the world.
2 thoughts on "15 Travel Tips for Europe That You Need to Know"
Long time I thought to go in Europe. But I don't know what can I do there. At last, I found your post. Now I may think to know about Europe. Your 15 think is great for Europe traveling. Thanks dear for your posting.
12 Essential Travel Tips for First Time Visitors to Europe
Traveling to Europe for the first time? Planning your first trip to Europe can be incredibly overwhelming, especially if you have never traveled abroad before. I've got you covered with all of my best travel tips and what to expect for first time visitors to Europe! Read on for the entire guide, and you'll be traveling around Europe like a pro in no time!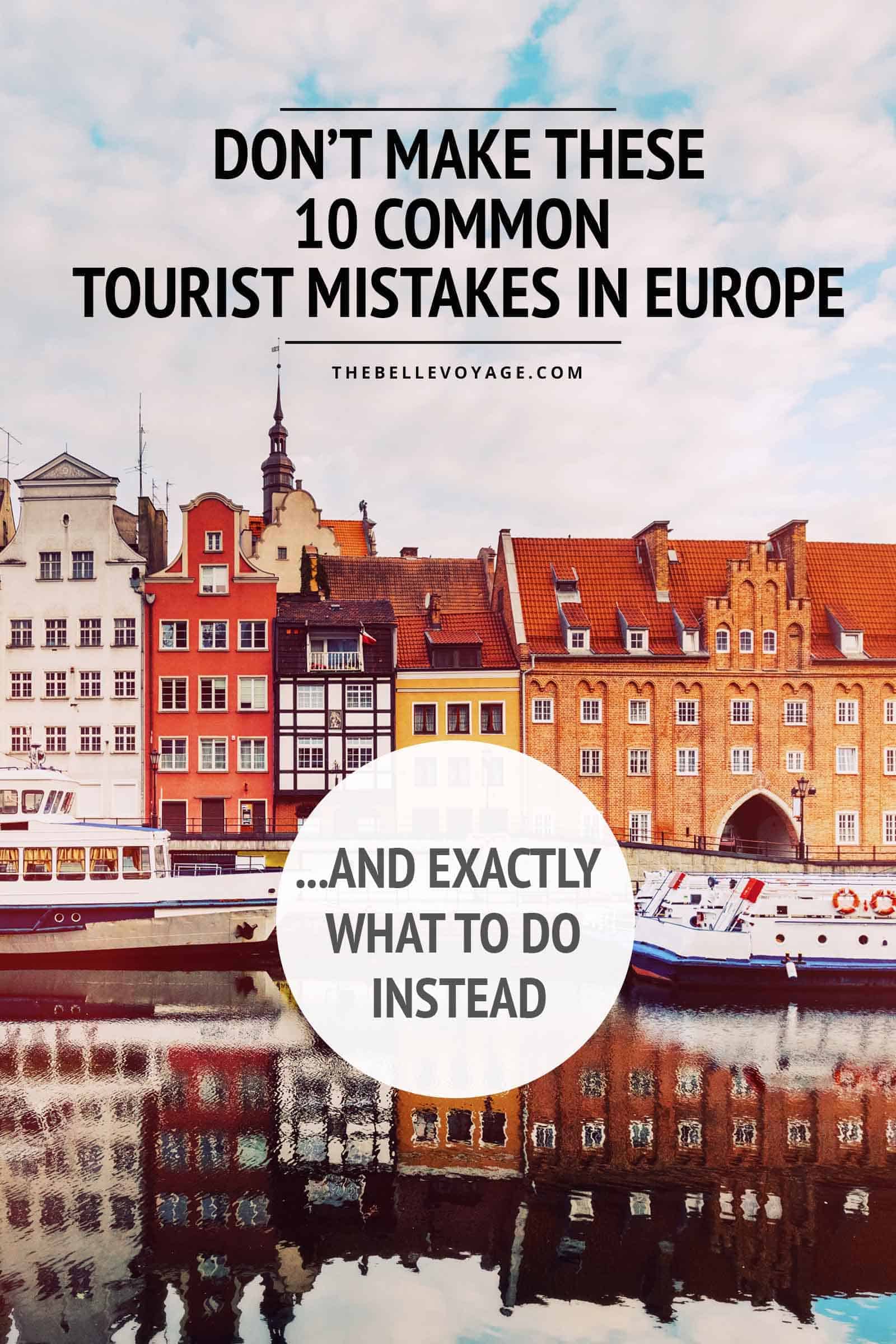 1. First Time in Europe? Don't Try to See Too Much!
Trying to see too much is probably the most common mistake that tourists make during their first trip to Europe. If it's your first time traveling to Europe, it's understandable to want to see it all.
But if you spend your time in Europe racing from one city to the next, or one country to the next, you'll spend a lot of time in transit, and you won't be able to relax, enjoy, and really get to know the places you're visiting.
Instead of trying to cram everything into one trip, try to just take your time and really explore where you are. Less is more!
If you're spending 10 days in Europe for your first trip, I'd recommend limiting your stops to no more than three places. This will give you enough time to recover from jet lag, and allow you to explore each city at a more leisurely pace.
For my best tips on stress-free flying, check out this post.
How to Plan the Perfect First Trip to Europe
Depending on where you're going, I've got ideas for how to plan your time! Check out the perfect itineraries I've put together for trips to London, Barcelona, Copenhagen, Stockholm and Berlin!
And if you're heading to Italy, make sure to check out my Italy tips for first timers. I've also got a list of all of the do's and dont's when visiting Spain for the first time.
Pro Travel Tip: These days, travel can be more uncertain than ever. Check for any COVID-related restrictions at your destination, and never travel without travel insurance! I recommend SafetyWing, because they have flexible + affordable insurance plans, and also cover COVID-related impacts on your trip (not all companies do)!
2. Don't Leave This at Home
If you're going to Europe for the first time, don't make the mistake of forgetting to bring a power adapter! Here's a set of four that I love and it's under $14 on Amazon.
If you'll be visiting more than one country on your trip, you may need a unique adapter for each one. The one I've linked to above will cover almost every country in Europe, but it's always a good idea to just double check.
3. Exactly What to Pack if You're Traveling to Europe for the First Time
Another common mistake for first time travelers to Europe? Packing a gigantic bag. I promise that your trip will go much more smoothly if you can lighten your load and limit your luggage to one carry on bag.
Pack Light for your First Trip to Europe
Why? Well, in Europe, you'll probably end up carrying your bag on and off of trains, or up and down stairs far more frequently that you would in the US.
When it comes time to lift your bag, you'll be glad that you don't have to wrangle a 50lb monstrosity. Need some help packing light? Check out my best packing tips for women, and don't forget to check out my top ten packing tips for Europe. You'll also love the European capsule wardrobe I've put together!
Not to mention, cars in Europe can be quite compact, so if you're renting a car, think carefully about how much space you'll have for luggage. More than likely you won't be able to fit a giant suitcase in your rental car!
4. Don't Make the Mistake of Packing Only Shorts
Speaking of packing, many first-time tourists in Europe make the mistake of packing only shorts for warm weather. Shorts are a staple in summer dressing in the US, but they're far less common in Europe.
In Europe, you're more likely to see a skirt or dress, or even Capri-length pants before you'll see shorts. So if you want to blend in with the locals, you might want to leave your shortest shorts at home.
5. Don't Forget to Pack Good Walking Shoes
Another tip when it comes to packing for your first trip to Europe: don't forget to bring comfortable shoes. Chances are good that you'll be taking public transportation while you're visiting Europe, so that means you'll be doing a lot of walking.
These ballet flats are by far my favorite shoe to pack when I know I'll be doing a lot on foot during a trip. They come in a ZILLION different colors (including rose gold….WHAT. ) If you're on the hunt for more, I've rounded up all my other picks for stylish walking shoes for Europe.
6. Visit Europe During The Best Time of Year
If it's your first trip to Europe, think carefully about WHEN you decide to time your visit. The peak summer months of July and August can be incredibly crowded with tourists. In addition, prices for hotels and air travel can be sky-high.
August can be especially crowded and expensive because it's also the month when most Europeans take their summer vacations.
Not to mention that temperatures, particularly in Southern Europe, can be scorching! Add in the fact that many older buildings in Europe don't have air conditioning and you have a recipe for a painful vacation.
When to Visit Europe for the First Time
For first-time travelers to Europe, I always suggest visiting in the late spring or early fall. May and September are good bets in terms of weather, prices and crowds.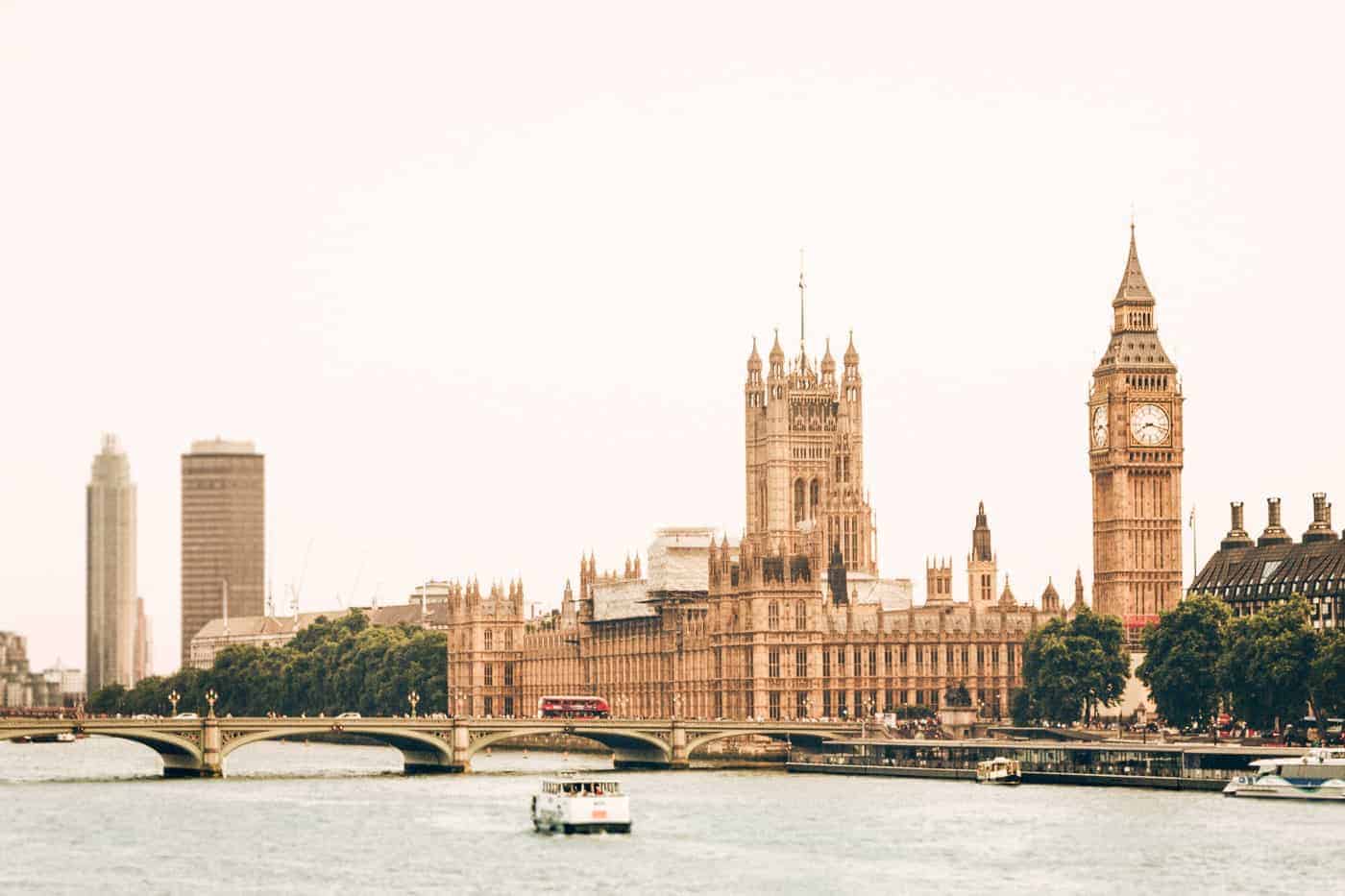 7. Be Prepared to Learn Public Transportation
Compared to the US, most European cities are well-serviced by public transportation. In addition, public transport is typically the fastest and cheapest way to navigate many European cities.
Even if you're a novice when it comes to riding the bus or taking the subway, don't be daunted by the prospect of public transportation in Europe! Most systems are pretty easy to use, and depending on where you are, it's not uncommon to see signs and ticket information in English.
Think of public transportation as part of the adventure! After all, it is the best way to experience a new city the way that a local would.
8. Don't Make the Mistake of Sticking Too Closely to a Guidebook
If you're visiting Europe for the first time, it's a common mistake to follow a guidebook every step of the way. Guidebooks are useful when it comes to planning your first trip to Europe, but try to rely on them to just get a general sense for your destination.
If you want to have a more authentic experience during your trip, try wandering off the beaten path for an afternoon. You'll be more likely to uncover "real" neighborhoods and local favorites, and you'll get a better sense for what life is really like in another country.
And best of all – you won't have to carry around a heavy guidebook!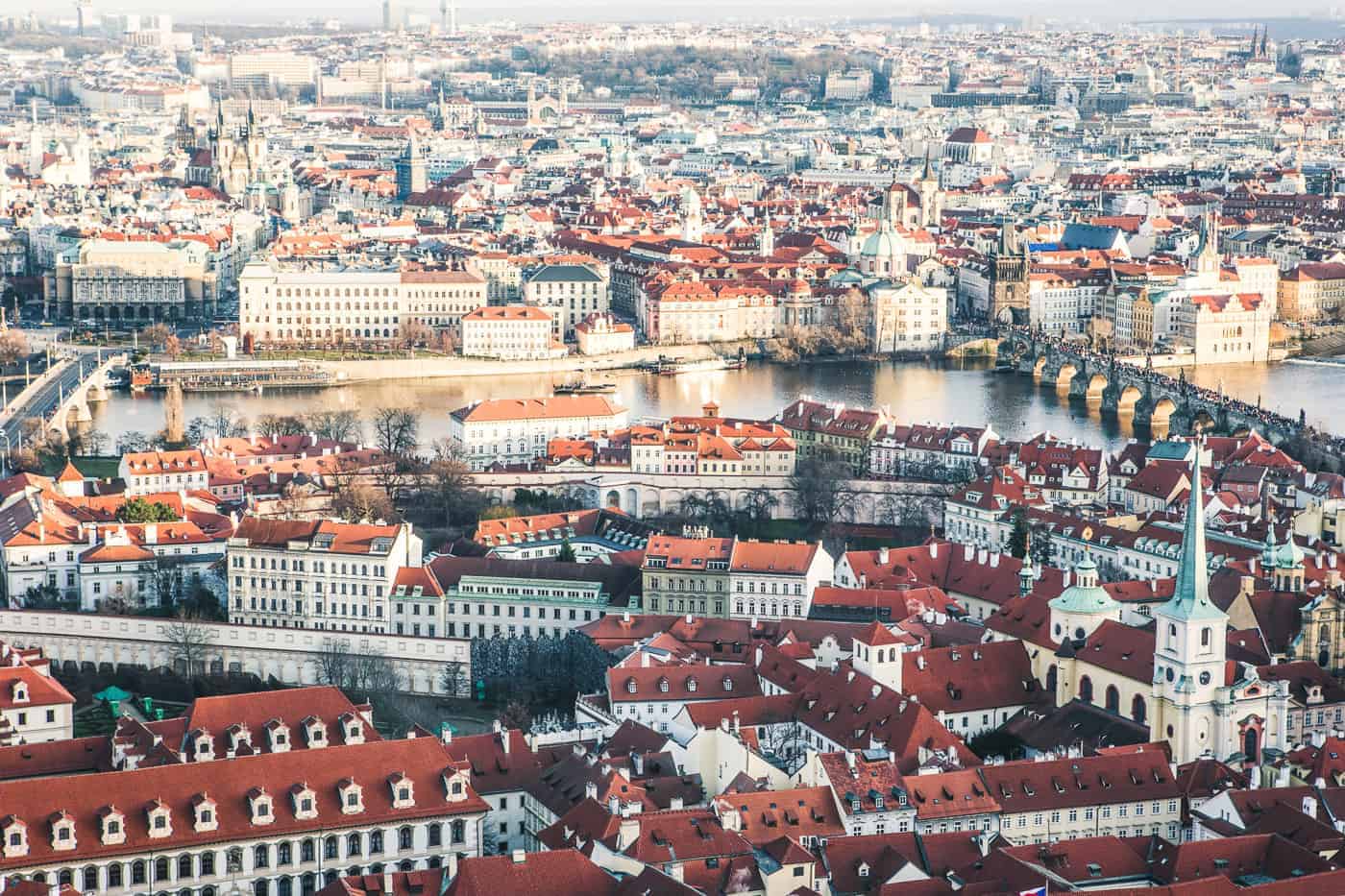 9. How to Avoid Crowds at Tourist Hotspots
The good news is that you're planning a trip to Europe. The bad news? So are a lot of other people!
There are some places in Europe where I am constantly amazed at just how crowded they can be with tourists. Places like Sagrada Familia in Spain, the Eiffel Tower in Paris , and the Cinque Terre in Italy can be absolutely crawling with tourists, especially during peak season.
How to Plan your Days in Europe
If you plan to visit any tourist hotspots during your first trip to Europe, plan to go very first thing in the morning. Chances are good anyways that you'll be jet-lagged, and you'll thank yourself for setting an early alarm once you see the crowds start to roll in.
One more benefit? Fewer crowds make for better travel photos!
Another tip if you're going to Europe for the first time: always, always check online to see if you can buy tickets to something ahead of time. Museums, churches, really anything! You'll save yourself from having to wait in a long line, and chances are good that you'll be able to buy a ticket for a discount.
10. Renting a Car in Europe: The Do's and Don'ts
If you're planning to rent a car during your first trip to Europe, keep in mind that many rental cars are stick shifts. Many tourists make this mistake during their first trip to Europe, and forget to specify that they need a car with an automatic transmission.
Consider automatic vs. manual transmissions
Cars with automatic transmissions are available to rent in Europe, but typically for an extra fee. If you're unable or prefer not to drive a car with a manual transmission while you're in Europe, pay careful attention when you book your car.
Many booking sites in Europe will default to rental cars with manual transmission unless you specifically indicate that you need an automatic transmission.
Take Out Additional Insurance When Driving Abroad
Speaking of renting a car during your first time in Europe, make sure that you're protected by car insurance.
Most insurance companies in the US don't provide coverage for renting a car abroad. Even if you're covered by a credit card, it's just a good idea to take out the extra insurance when you rent a car in Europe.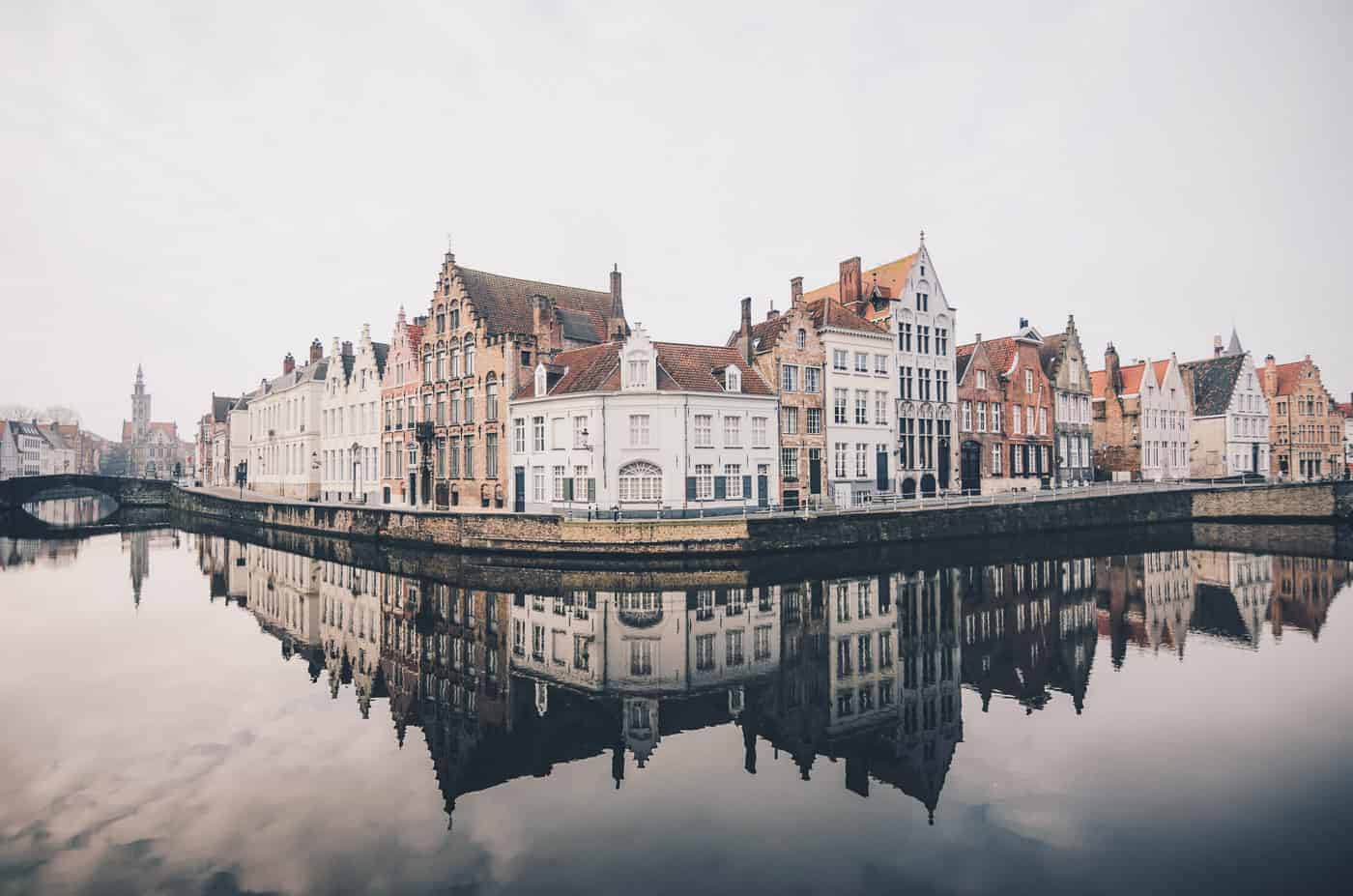 11. Always Learn a Few Phrases in the Local Language
If you're going to Europe for the first time, you probably have a million things on your to-do list. Don't hate me for adding one more!
It's always a good idea to learn just a few phrases in the local language when you travel, and Europe is no exception. Yes, many people speak English, and speak it quite well. That said, it's still polite to be able to greet someone and converse in basic terms in the local language.
By that, I mean things like Hello, Goodbye, Thank you, You're Welcome, etc. Nothing crazy, but a few words can go a long way in showing that you're making an effort.
12. Don't Make the Mistake of Paying Extra Credit Card Fees Your First Time Abroad
Another mistake that first timers in Europe make? Paying foreign transaction fees for using a credit card abroad. If you've never used your credit card outside of the country before, you might be surprised to see an extra fee tacked on to any charges made internationally.
Before you go to Europe, make sure that you have a credit card that doesn't charge for foreign transactions. These fees can add up, especially if you're planning to do a lot of shopping while you travel.
The Best Credit Card for First-Timers in Europe
Before you go to Europe, sign up for a credit card that doesn't charge an extra fee for foreign transactions, or just plan to use cash to pay for your purchases.
If you're looking for a credit card to use during your first trip to Europe, I highly, highly recommend this one. The welcome bonus is amazing! Even though the annual fee is high, it easily pays for itself with the statement credits you can earn at Marriott hotels.
And best of all – you won't incur any foreign transaction fees with this card!
There you Have it – What to Expect on Your First Trip to Europe, and The Common Mistakes to Avoid!
I hope that this list of common tourist mistakes in Europe helps you have a safe and smooth trip for your first time in Europe. Now that you know what to expect your first time in Europe, you can focus on just enjoying your trip!
Pin it for Later!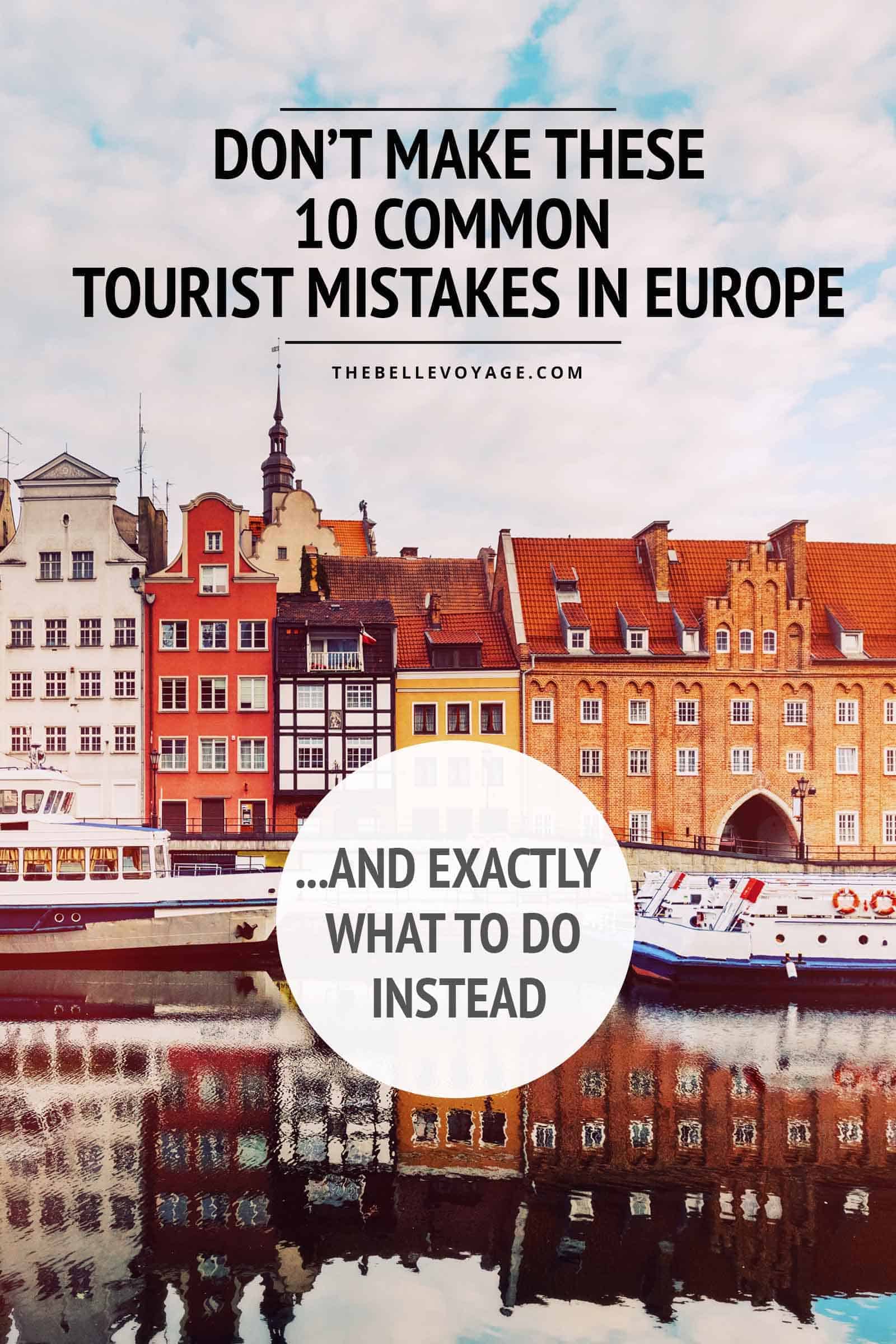 Wanna Learn to Pack a Suitcase Like a Boss?
Subscribe to download my three BEST travel planning resources:
Success! Now check your email to confirm your subscription and download your files.
What You Need to Know Before Traveling to Europe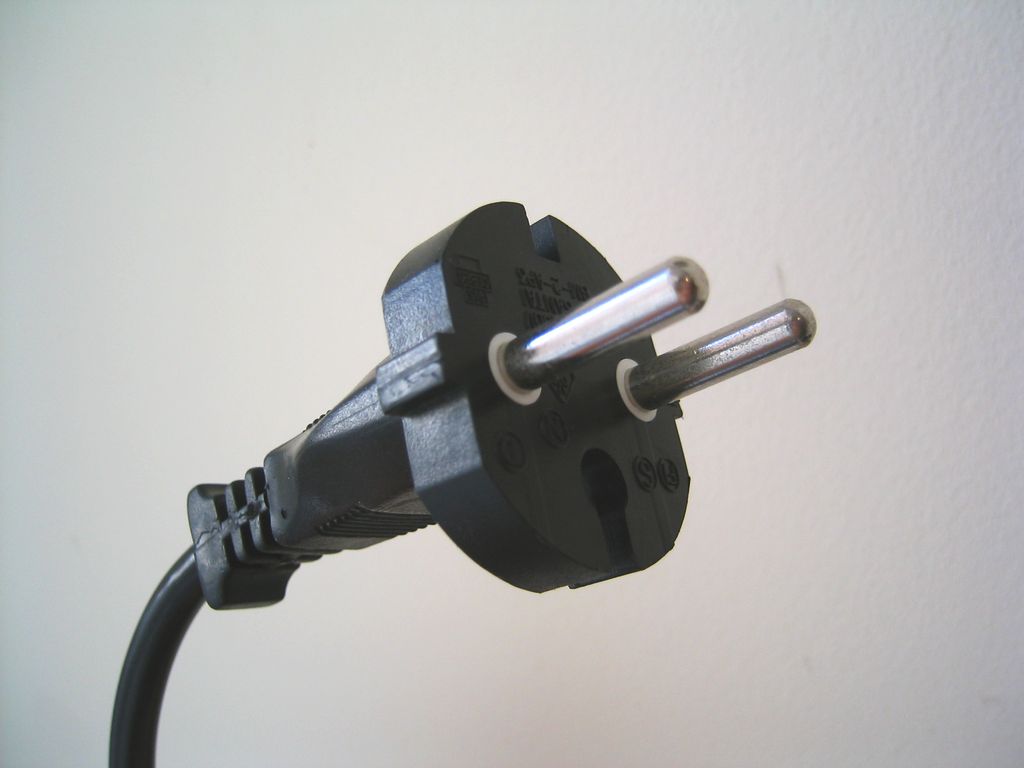 These days, hopping on a plane and jetting off to Italy for a much-needed vacation is not uncommon at all, and with the expanding global market of large and small companies, the number of international travelers is ever on the rise. However, no matter whether it is your first or fiftieth time on a flight to the beloved boot, there are always extra steps to the process as well as different practices and particularities of the foreign country that might not just line up with what you are used to experiencing. This process will most likely include a few pre-travel questions, ones that we are ready to answer.
Traveling to Europe Step #1: What do I pack?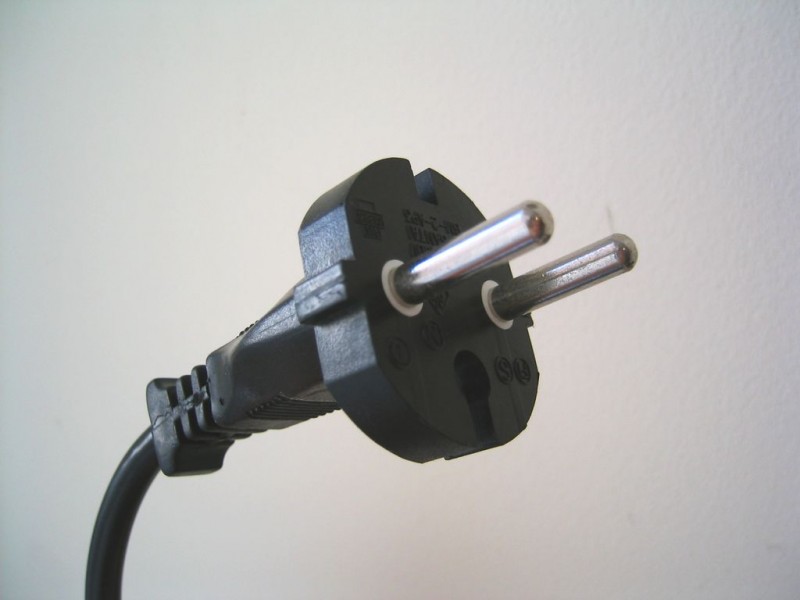 European plugs look different and have different voltage (credits: Denkhenk – Wikimedia)
Besides the obvious clothes and shoes for the weather, terrain, and future activities (need help deciding what to wear? Read one of these posts for autumn, summer, or spring), there are a few other considerations when packing for an Italian vacation. First things first: place your passport where you won't forget it, preferably in your carry-on or handbag. There have been far too many travelers who've had to rush home from the airport in the hopes of not missing their flight to retrieve a forgotten passport at home. European converters are also a must, as well as the chargers for your phone, camera batteries, and computer. A word of caution to the well-groomed: notice how straightener and hair dryer are not on this list. Although most hair dryers are safe with the converter, most hotels in Italy will provide you with one, and American straighteners often cannot handle the higher voltage of Italian sockets, resulting in an irreversibly fried piece of expensive hair-styling equipment.
Traveling to Europe Step #2: At the Airport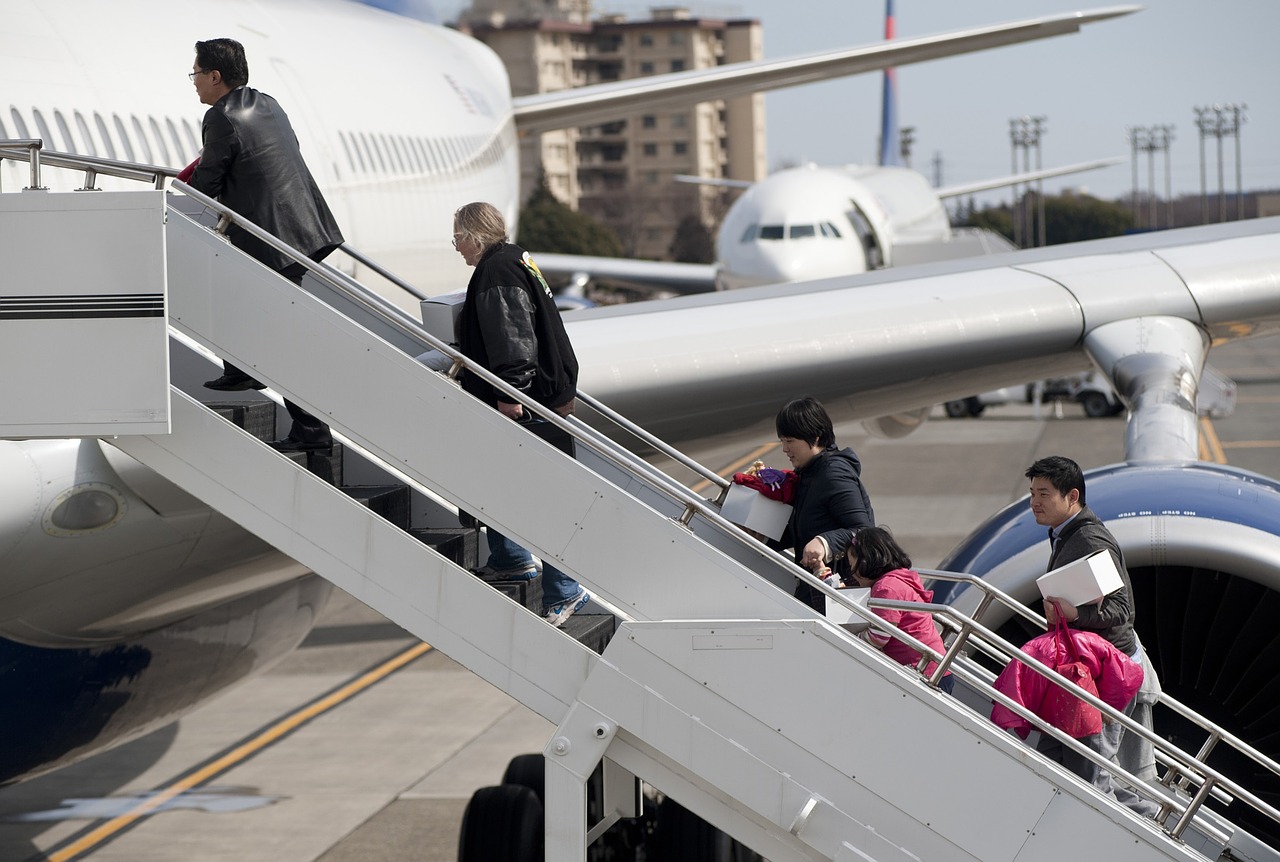 It is not uncommon to take a bus to your plane, instead of boarding through a walkway attached to the terminal.
Much of the process at the airport is the same as it is at the American airport: check-in, go through security (to all Nutella enthusiasts: the tasty spread does count as a liquid and will be taken away), head to your gate. However, there are a few subtle differences that might leave you a bit confused to downright perturbed.
Your carry-on might actually be measured and weighed to check for the proper size and weight. Europeans are at times less tolerant of overweight and over-sized baggage, and if it is over, your bag will be checked.
Many of the smaller airports have cafes that you can sit and eat at, but there are far fewer places to grab a snack or a drink and go, unless you are interested in duty-free chocolate. There are, however, vending machines, which is where carrying cash comes very much in handy.
Europeans, Italians in particular, line up at the gate much before their boarding zone is called to come forth. Whether it be excitement, anxiousness, or nervousness (the latter of which would explain the clapping upon landing in Italy), we will never know, but you can clearly pick out the Europeans and Americans on almost any flight by noting who is clutching their bag trying to get as close to the departure gate as possible and who is relaxing in the provided seats, waiting for the announcement of a boarding zone that may or may not be called.
When in Rome… don't get upset if you do not begin boarding at the exact minute your boarding pass depicts. Boarding and departure for flights in Italy are usually flexibly seen as acceptably being within a 15-minute window. Allow yourself this leeway before annoyance or stress sets in – you'll save yourself a world of frustration.
Lastly, it is not uncommon to take a bus to your plane, instead of boarding through a walkway attached to the terminal.
Traveling to Europe Step #3: In the Plane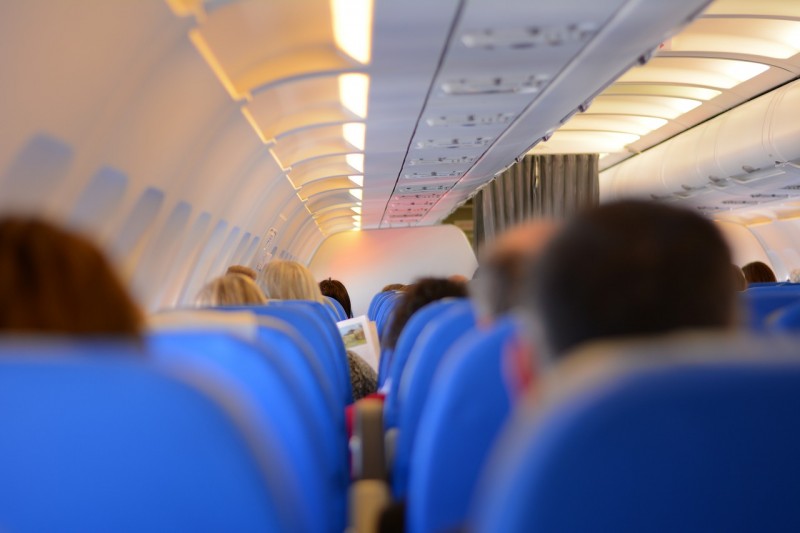 Greet your hosts on the plane when boarding and de-boarding with a polite yet friendly "Salve."
Most plane rides on major Italian airlines are identical to those that you will find in the States, some even better. It always helps, however, to know a few key polite words in the language of your airline to make friends with your flight attendant. Here are some you might want to file away:
1) Salve (sahl-vay): The formal way to say "ciao," this greeting and goodbye salutation will work morning, afternoon, and night. Greet your hosts on the plane when boarding and de-boarding with this polite yet friendly greeting.
2) Grazie (Gratz-ee-ay): This one, most people are familiar with as the ever-essential "thank you."
3) Vorrei un bicchiere d'acqua/Coca Cola (vor-ray oon bik-ee-er-ay deh ak-wah/Coca Cola): I would like to have a glass of water/Coca Cola.
Traveling to Europe Step #4: Arriving in Europe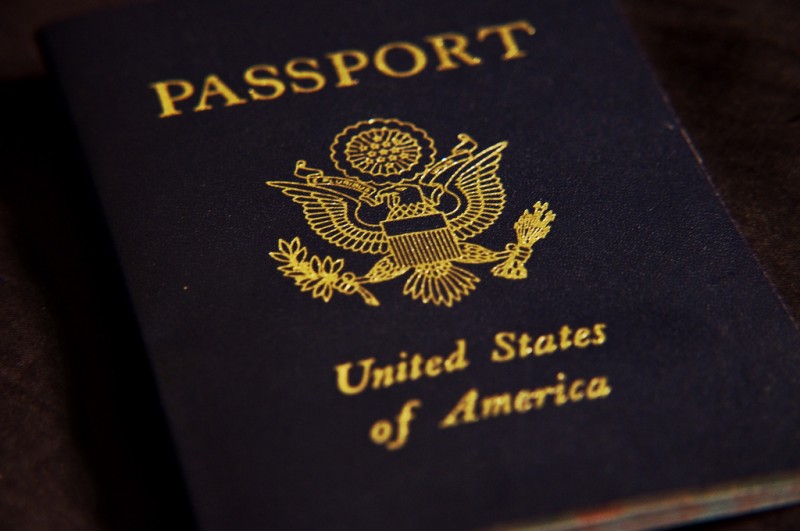 At the passport desk an officer will ask to see your passport (credits: Kat – Flickr)
At the first point of your arrival in the European Union (whether it be Italy or another member country), you will be required to go through passport control. Generally, there are two lines: one for members of the EU, one for non-members. Depending on the country and the mood of the person checking your documents, you may or may not be asked questions regarding your purpose for stay. Again, a simple grazie, danke schön, merci, gracias, obrigado, or havala, in the native language of he or she checking your passport also goes a long way. Once through the passport control, you will enter through "nothing to declare" or "GOODS TO DECLARE" doorway. Most people do not have anything to declare.
These small tips will help eliminate small surprises, making your trip to Italy smooth and enjoyable. What other differences might you have noticed in your travels?
Source https://www.adventureinyou.com/travel-tips/tips-for-traveling-to-europe/
Source https://www.thebellevoyage.com/traveling-to-europe-for-the-first-time/
Source https://selectitaly.com/blog/tips-travelers/what-you-need-to-know-before-traveling-to-europe/