Creative Halloween Costume Ideas: Go for a Travel Theme!
Eeek! Only one more week until Halloween and you still haven't figured out the right costumes. What could be scarier than that? Never fear,SheBuysTravel is here! These creative Halloween costume ideas are just the ticket for combiing a love of travel and a love of dressing up.
Creative Halloween Costume Ideas
It's easy to combine the love of travel and Halloween. Visiting a seasonal haunted house or staying overnight at a haunted hotel are popular options. Amusement parks also get in the spooky spirit: Disneyland and LEGOLAND keep it family friendly while Cedar Point keeps the scare factor high.
If you don't plan on traveling for Halloween, how about a travel themed Halloween costume? With a little brainstorming, there are many ways to include a side of travel in your Halloween costumes!
Transportation Costumes
There are the transportation ideas like an airport costume theme? From airplanes and pilots to tourists and flight attendants, there are plenty of costume choices to represent air travel. Let's not forget about other transportation methods: boat captains, cruise directors, cab drivers, train conductors or even a road trip
Destination Costumes
You could also personify your favorite travel destination or a place on your bucket list.
Australia – koala, kangaroo
Hawaii – hula girl
Wild West – cowboy
Scotland – Highland lass
England – king or queen
Alaska – Eskimo
Egypt – pharaoh
Besides the more obvious costume ideas, you could think outside the box and create a unique travel costume. How about the Eiffel Tower to represent Paris or the Statue of Liberty for New York City? Many families travel for sporting adventures like skiing, surfing or snorkeling. If you are a sports enthusiast, then you likely have most of a costume in your closet already. For m ore inspiration follow my travel costume board on Pinterest.
Have you ever created a travel related costume? Share with us in the comment section below.
Join our Private FB Group for more travel inspiration and tips! JOIN HERE
7 DIY Halloween Costumes Ideas for Travelers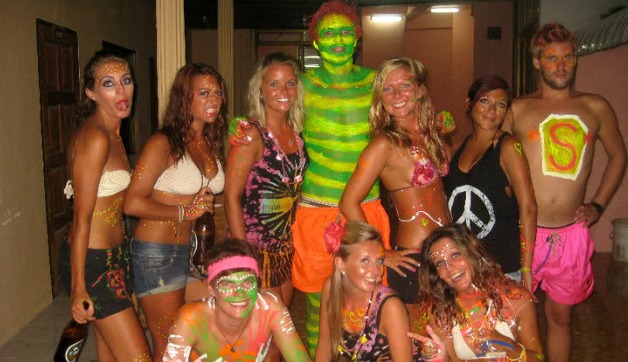 Support TFG by using the links in our articles to shop. We receive a small commission (at no extra cost to you) so we can continue to create helpful free content. As an Amazon Associate, we earn from qualifying purchases made on Amazon in addition to other retailers featured on the blog. Thank you, we appreciate your support!
It's that time of year again; the leaves begin to turn bright orange and red, the air becomes crisp and you know Halloween is right around the corner. Find more about halloween costumes ideas!
DIY Halloween Costumes Ideas
written by Tara Simmons
Table Of Contents
You've always been known for having the most creative and fun costume with months of planning behind you, but this time you have found yourself half way around the world in a hostel during Halloween! You can still dress up for cheap and with the clothes you have brought with you; here are some tips to make the best do-it-yourself costumes while on the road.
Accessories
By just adding easy accessories such as a pair of wings, a cape, or drawing on some eyeliner whiskers or mustache; you can achieve the most simple costume change while still wearing the clothes you already brought.
A cat costume is easy: add eyeliner whiskers, wear all black and mimic a kitty nose by putting a little lipstick on the end of yours. Check out the kids section in the local grocery store or supermarket for some cheap and creative accessories.
This costume idea is tried and true but always super easy and fun. If you brought a one-piece bathing suit all you need is some brightly colored tights and some trainers, add some over-the-top scrunchies for your hair and tacky make-up, and you're set!
Talk to the other girls in your dorm – someone's bound to have a bright eye shadow color deep in their makeup bag. Pile it on and tune into your inner Cindi Lauper!
Body Paint
If you are planning on wearing less clothing for your costume (more appropriate for warmer climates) body paint is the cheapest and easiest way to transform yourself.
Depending on your skills with a paintbrush, you can either paint your whole body or just your face and arms. Some body paint costume ideas: Avatar character, Smurf, Anime character, Pixilation (paint different colored squares on your face/body to appear as a low-resolution image), and Rainbow.
Check out a local craft shop to see if you can get your hands on a skin-friendly tube of paint. Popular options include tempra, markers, liquid latex, airbrush makeup, PAX makeup and textile acrylics.
Zombie
This more frightening costume almost falls in the same category of body paint, but requires some clothes you don't mind ripping up for the sake of the holiday.
Paint your white with dark circles around your eyes, and splash on some red over your face, chest, t-shirt and arms as if you were just finished eating the bloodiest meal ever. Don't have access to paint or red lipstick? How about some ketchup for blood?
Mummy
If you have about 50 cents to spend, one of the cheapest and most fun costumes you can make is a mummy. All you need is a friend and a roll of toilet paper and you're ready to be mummified!
In consideration of post-drinking alcohol filled bladders, don't use up the toilet paper in your hostel. It's really cheap to buy your own roll.
Cross-Gender
Especially fun in a busy hostel, cross-dressing costumes always get a good laugh! Add some "facial hair" with a bit of eye liner or mascara and presto, you're the newest and most eligible bachelor in town!
Swap clothes with your boyfriend or one of your new travel mates for a free and silly costume.
Tourist (because you probably already own everything you need for this one!)
All this costume requires is your most touristy items you have, so break out that horribly tacky screen printed or Hawaiian shirt, a tote-bag on your shoulder, some bermuda or cargo shorts, sunglasses, SLR around your neck, hat of any kind, and with a map in hand be sure to ask everyone for directions!
Also, talk with your fellow travelers to come up with group-themed or partner ideas (superheroes, movie casts, etc). It's a great way to meet people and socialize in a foreign country!
Please share the love on Facebook, Twitter and Pinterest. Thanks for reading!
Author Bio: Tara is a native Californian and newbie world traveler, having just backpacked through Europe and continuing on throughout Southeast Asia. Enthusiast of all things organic; she also loves to read, write, and bake in her spare time and currently keeps her own travel blog Traveling Days.
2 Comments
Body/face painting has always been my route, super easy to do! I've been a member of KISS and Dia de los Muertes
The Most Comfortable Clothing for Travel
These pieces are sure to make your next trip the comfiest yet.
Stefanie Waldek is a freelance space, travel, and design journalist with expertise in aviation, meteorology, and polar regions. She was a former editor at Architectural Digest, TripAdvisor, and ArtNews.
In This Article
Jump to a Section
In This Article
We independently research, test, review, and recommend the best products—learn more about our process . If you buy something through our links, we may earn a commission.
Bonobos, Betabrand, and Allbirds
Long travel days usually aren't fun, and even short ones can put stress on your body. You can take some of the troubles away by making sure you're dressed in comfortable clothing, whether that's athleisure or business casual.
As you're building a travel-friendly wardrobe, pay attention to your clothing's material. Ideally, you'll want to wear something soft and wrinkle-resistant. And also consider your own temperature preferences — wear warm but thin layers if you're likely to run cold, or breathable ones if you're likely to run hot.
And while we're here to recommend some of the most tried-and-true articles of travel clothing, the most important thing is to wear clothes that make you feel good, both in terms of comfort and appearance.
These are the most comfortable travel clothes:
T+L's Top Picks for Women:
Best T-shirt: Allbirds Women's Classic Fit Sea Tee
Why We Love It: It's made from a moisture-wicking, odor-resistant material.
What to Consider: The shirt can be a little sheer, depending on the color.
This shirt might've been designed as activewear — and it certainly functions well in that capacity — but we also think it's a great travel shirt. It's made from Allbirds' proprietary TrinoXO material, which combines sustainable eucalyptus fiber with moisture-wicking Merino wool and an antimicrobial material called chitosan, which is derived from discarded Canadian snow crab shells sourced from restaurants. That may sound like a weird combination, but the result is a super-soft, odor-resistant, and eco-friendly material that's great for wearing on the go.
The shirt comes in three standard colors — two shades of gray and an off-white — as well as a bevy of limited edition colors, as Allbirds is known for across all of its products. It might be on the pricier side for a T-shirt, but we love that you're getting a two-for-one deal here. Not only can the shirt be worn on its own on a travel day, but it can also be reused as a workout shirt while you're on the road.
Best Formal Shirt: Everlane The Oversized Poplin Shirt
Why We Love It: The oversized fit makes the shirt feel less constricting.
What to Consider: It may not look as polished as some people prefer.
No one wants to feel constricted while they're sitting on any kind of transportation, which is why this oversized poplin shirt is the perfect travel shirt if you're seeking a more polished look. While it still has some structure, it's roomy enough to give your body breathing room — though its drop-shoulders and loose fit might not be tailored enough for some travelers. On the plus side, the cotton fabric is quite soft, not to mention very breathable, which adds to its comfort. The shirt can either be worn on its own or as a light layer to protect you from overzealous air-conditioning.
Best Sweater: J. Crew Cashmere Classic-fit Crewneck Sweater
Why We Love It: Cashmere is thin, which makes it easy to pack, but still very warm.
What to Consider: It should be washed by hand to prevent pilling or snags.
Cashmere is an excellent material for travelers, as it's very lightweight yet very warm. When you're trying to fit all of your clothes into a carry-on or your personal item, bulk makes a big difference! This sweater comes in a variety of colors (both statement and neutral ones) as well as a range of sizes; the overall fit is relaxed, but you can size up for an even looser fit and down for a more tailored one. The sweater is also able to be hand washed, though that might not be ideal for some travelers who want a more low-maintenance piece of clothing.
Best Blazer: Betabrand Transcendent Blazer
Why We Love It: It's super stretchy and machine-washable.
What to Consider: The fit tends to look and feel a bit off when it's buttoned, so it's best to wear this unbuttoned.
Blazers can be tricky. They're a wardrobe staple for both offices and nights out alike, but they're not always the most comfortable items of clothing — oftentimes they're not made of flexible material. But this one is designed for movement! Made from wrinkle-resistant Ponte fabric, which has four-way stretch, the blazer is ideal for travelers. It has real pockets, comes in sizes-extra small to 3X, and is machine-washable. Just keep in mind Ponte is a thicker material (that's what helps it stay wrinkle-free), so if you run warm, you might only want to wear this blazer in colder weather.
Best Pants: Athleta Brooklyn Ankle Pants
Why We Love It: They're lightweight and quick-drying.
What to Consider: They're very thin (though not sheer).
When you want a pair of pants that's comfortable but a step up from leggings, this is a great go-to. They're made from ultra-thin recycled polyester and spandex that's lightweight, breathable, quick-drying, and abrasion-resistant (read: durable). They're also rated UPF 50+, so they'll protect you from the sun, too. As for fit, they have an elastic waistband for comfort and a tapered leg that looks well-tailored. We also love the ribbed panels along the sides that add a bit of texture. Impressively versatile, these pants work well both in an athletic context as well as a dressy one, particularly when paired with a blazer and heels.
Best Dress: Amazon Essentials Women's Classic Cap Sleeve Wrap Dress
Why We Love It: It can be dressed up or down.
What to Consider: It's a true wrap, which could accidentally be revealing.
We love a good multipurpose item of clothing, and this stretchy dress nails the job with its ability to go from day to night (or from plane to meeting to dinner) with a change of shoes and some accessories. Plus, wraps are one of the more universally flattering styles of dress. The one thing to note with true wrap dresses, which this one is, is that they can accidentally reveal a little too much if the wind blows a certain way or the wearer sits in a certain position. (It's never a bad idea to wear a pair of shorts underneath, especially if you're sitting on public transportation.)
Best Shoes: Kizik The Prague Slip-On Sneaker
Why We Love It: They're extremely easy to slip on.
What to Consider: The silhouette is a little bulky, like a skate shoe.
If you don't have TSA PreCheck, and you need to take your shoes off at airport security, this pair of shoes is about to change your whole experience. Kizik has designed its shoes to be able to be slipped on without hands — the heel of the shoe collapses beneath your heel before springing back up, so you can simply slide your foot in without having to sit down. The shoe is also ultra-comfortable on the foot, with proprietary foam outsoles and contoured (and washable) insoles. If this specific style of sneaker isn't for you, Kizik's Handsfree Labs technology is available in all of its shoes.
Source https://shebuystravel.com/travel-themed-costumes/
Source https://www.travelfashiongirl.com/7-diy-halloween-costumes-ideas-for-travelers/
Source https://www.travelandleisure.com/style/fashion/comfy-travel-outfit-ideas