17 Unique Ideas to Start Your Bullet Travel Journal Now
If you've been wanting to start up a bullet travel journal but haven't really known where to start, then let me help! Here are some great ideas to fill those pages.
Bullet journals have been trending the past couple of years, and for good reason! From motivational quotes to habit trackers, experimental sketches and beautifully designed spreads, bullet journals help us get our lives in order.
I love looking at other people's travel bullet journals. Not only are they practical – letting you plan out your packing list, budget, itineraries and more – they can also be fun and pretty to skim through. It's amazing to see how many incredible adventures and plans can fit into the pages of a bullet travel journal, especially when the owners have been working on them for years.
I started my bullet travel journal a few years ago, but have really ramped it up the last few months, as I've missed the great travel experience.
I've put together 16 ideas for your travel bullet journal, if you're just getting started, or you've come to a bit of a roadblock. Remember, they're all about being creative and enjoying the process.
Ideas for Your Bullet Travel Journal
Your travelling bullet journal is an extension of you. It can help you keep the travel dream alive in between trips. Here are my best ideas for how to get started.
1. Travel wish list
Lists, lists, lists – bullet journals tend to have at least one list within their pages. How else do we know what to get done? Since travel bullet journals bring a lot more excitement than your regular to-do reminders, your bullet travel journal starter pack begins with a wish list, or a travel bucket list as they're often called.
Make it as general and specific as you'd like. What countries or cities do you want to visit? What attractions are you hoping to see? What experiences are you planning to do? It's great inspiration for future travels.
Bullet travel journal tip: don't cross things out if you really loved them! Leave them on the list so you can go back and experience it again, and again, and again.
Also, get some photos printed to add in
2. List where you've been
Never mind where you want to go, how about celebrating where you've been!
I loved writing my lists of where I've been, and illustrating them with pictures from my travels. I've proudly been to 77 countries now, and plan to keep going to 100. It's been sad these last two years, with the lack of destinations, but with 23 to go, and a lifetime to do it. I'm confident.
It's good for me to see how many places I've been to, also emotional!
As you look for photos to help illustrate your adventures, you could also order personalised photo gifts for those extra special ones. You can get photo cards, calendars and cushions too!
3. Colour-in world map
No travel bullet journal is complete without a 'colour as you go' world map!
Not only can you remind yourself of the fantastic places you've been to, but the uncoloured spots will have you looking forward to future adventures. It's also a more casual take on the bucket list idea.
The fun part is that you can scale your maps. If you're road tripping through the country instead of flying overseas, trace out your route and add tiny sketches of attractions you'll pass through.
4. Packing lists
Packing can be extremely stressful, especially if you waffle between bringing certain things and leaving them at home. One of the best travel journal ideas is to always consult your packing lists (with checkboxes next to each item) to make sure the essentials are covered.
To make it easier for yourself, separate items into categories! You might have a section for travel documents, clothing, sleepwear, toiletries, electronics, etc.
Indecisive packers can also draw a decision chart in their bullet travel journal. Do you REALLY need to bring it along?
Travel bullet journal tip: check off items with a pencil so you can reuse your packing list.
5. Countdown (if you're SUPER excited)
If you're anything like me, you're probably counting down until your next holiday. Draw out a mini calendar and cross out the days, or be creative with color-in steps and shapes. Sometimes our future trips feel so long away – countdowns in your bullet travel journal are great at keeping us motivated.
Don't limit yourself to traditional counters either. I've seen spreads of numbered quotes and reminders that lead up to the departure date.
6. Pre-planning planner
When you're busy juggling work, family life and other social obligations, it's easy to leave essential steps out of your trip planning. The best way to reduce mistakes (like forgetting to apply for a visa) is to jot down your must-do tasks.
What are the things you need to plan? Booking your flight, booking your accommodation, preparing travel documents, exchanging currency and so forth, are just few of many pre-trip tasks.
7. Collecting memorabilia
More travel journal ideas?
Save a few pages in your bullet travel journal for those ticket stubs, receipts, polaroids of your favourite stops and memories. It's so lovely flipping through your travel bullet journal and being reminded of the things you saw and experienced.
Dedicate a page for each day of your trip, or mix it all up in a collage!
Remember that you can customise the bits and pieces. If there's ever something that's too big or can't be folded (like a pamphlet for some performance show), you can always cut it smaller.
8. Themed collectibles
If you like your order and structure, why not collect themed objects along the way? They can be stamps, postcards, pressed coins or even grains of sand sealed in paper pockets. It'd be so cool to have multiples of a single object from all over the world – and a great method to compare cultures too.
9. Detailed itinerary
Stay true to a bullet journal's spirit and use it to organise your travels. A detailed itinerary is extremely helpful, keeping you on time and on track. There are also so many ways for you to express it on paper. Draw maps and trace your routes; or list and colour code attractions. Sometimes, I draw daily calendars and block out the hours.
I find that it also helps to map out how to get from A to B to C. With all my travel routes written down, costs and duration included, there's no need to consult my phone over and over again.
10. Trip playlist
Music is a great way to keep you company when you're travelling. Craft the perfect mix tape and give it a loving title. For the artsier journal keeper, sketch out the music player!
Print your favourite lyrics below a self-designed album cover. Or draw it out. I
Or, for another travel journal idea, what are your favourite songs on the road? Music really whiles away the hours when you're on a long-haul flight or long stretch of highway – what do you like to listen to.
Something else I enjoy thinking about, but don't actually write down in my travel bullet journal, is who I'd have on my dream line up at my dream festival. You could write that down in your travel journal!
11. Fact check your favourite attractions
Dedicate a few pages of your bullet travel journal for the most-beloved spots – paste your prettiest photos and jot down interesting facts. So much of travelling is learning about another culture and its history; your travel bullet journal is the best place to hoard tidbits of information. It'll also serve to remind you about the highlights of your trip, and places you may want to revisit.
If I was a better artist, I'd try to bring beautiful architecture to life!
As it is, I'm happy curating photo essays with interesting facts in the margins.
12. Savings tracker
You might have to save up for your dream vacation; track your budgeting by setting easy bite-sized goals. I've seen some amazing spreads that make saving a fun activity, like colouring in a brick tower with tiers, or even a palm tree that represents $100.
Breaking down the trip budget you're saving up makes the hustle easier to bear.
13. Also a spending tracker
That's right, keeping an eye on your expenses can only make your trip smoother. While you don't have to be writing down every single little expense, keep track of your bigger spends!
You don't want to overspend on souvenirs, just as you wouldn't want to forgo souvenirs either. In the worst case scenario, you may end up dipping into your emergency funds, only to come across an actual emergency.
Always keep track of how much you're spending.
14. Useful phrases (if you're visiting a foreign country)
A great idea for your travel bullet journal is a two-page spread of useful phrases. Learn how to greet and thank people in their own language (it always pays to be polite!), as well as helpful questions like:
Where is the _________?
Do you speak English?
How much is this?
Can I have (insert number) please?
Of course, try to prepare for their answers too! It helps to know direction words, number words, and the most basic 'yes', 'no', 'sorry'. You also want a list of important places and addresses to-go, such as the airport or your hotel.
15. Flight tracker
Why deal with last minute panic at all?
One thing you don't want to happen is missing your flight!
I highly recommend jotting down information on any flights you're taking, especially if you have travel documents to fill out.
Some useful information to have includes: the date of your flight, time of take-off, flight number, time of landing, departure date and which airport you're flying from. Other notes may include any airline membership numbers you have.
16. List of restaurant recommendations
More travel journal ideas?
Have you ever had moments where you can't decide where to eat? Sometimes you come across so many choices while travelling that you have no idea where to start.
I prepared restaurant recommendations according to cuisine, budget and location. Whenever you're stuck on where to go, just consult your options. To make things more fun, don't just stick to a list. You can even draw up restaurant profiles and design a rating system. Definitely give it the stars it deserves – or a big thumbs-down.
17. New people, old friends
Those backpacking their way through hostels and guest houses may very well build long-lasting friendships or stories of a funny person they bunked with.
Keep track of new friends you make on the way! Jot down their names, where they're from, contact info and where you met. Imagine having a veritable trail of friends wherever you visit. Of course, save a spot for a photo or two to commemorate this happy occasion.
Your travel bullet journal
You can do whatever you want with your travel bullet journal. It's your space to record your trips and adventures as you please. I hope you've enjoyed these tips and ideas to get started with your traveling bullet journal – you'll thank me in years to come when it's time to look back on it!
How to start out new travel sketch journal ideas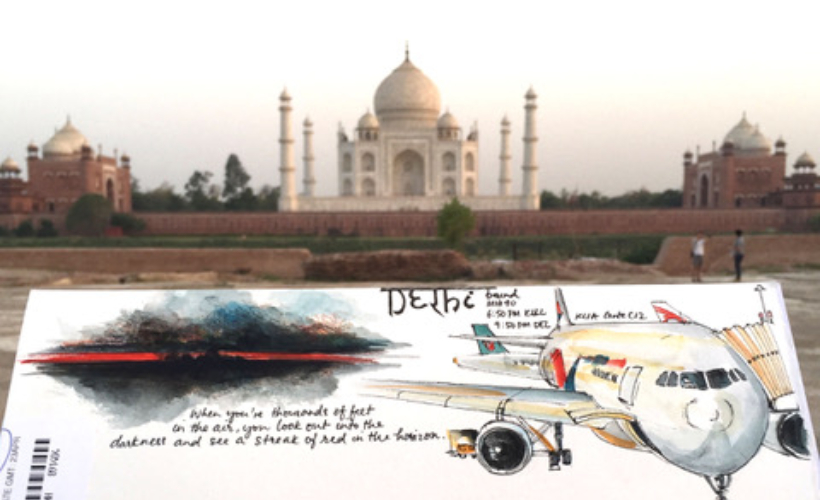 M ost of us capture memories of our travels by taking photos or filming videos, while some like to send themselves postcards. Meanwhile, former advertising agency art director Gladys Teo prefers to put pen (and watercolours) to paper, and sketch her favourite moments during her jaunts.
The Malaysian artist started doing this during a trip to Hanoi, sketching the scenery from the 13 th floor of a hotel overlooking a temple. From simple pencil sketches, she now uses a mix of pen and watercolours.
A few years ago, she took to sketching pet portraits. The first one she did was of her sister's dog, Milo. As a dog lover herself, Gladys quickly got hooked and has since done countless portraits – mostly dogs, with the occasional cat or bird – on commission basis. She also started a personal project called 100 Days of Dogs to collect stories on beloved canines to complement her drawings of them.
Every piece is mesmerising as she brings their expressions and features to life. Likewise, as you flip through her travel journals, you can't help but marvel at her attention to detail. To capture each building, landscape, person, and food so faithfully surely requires a lot of time and prep.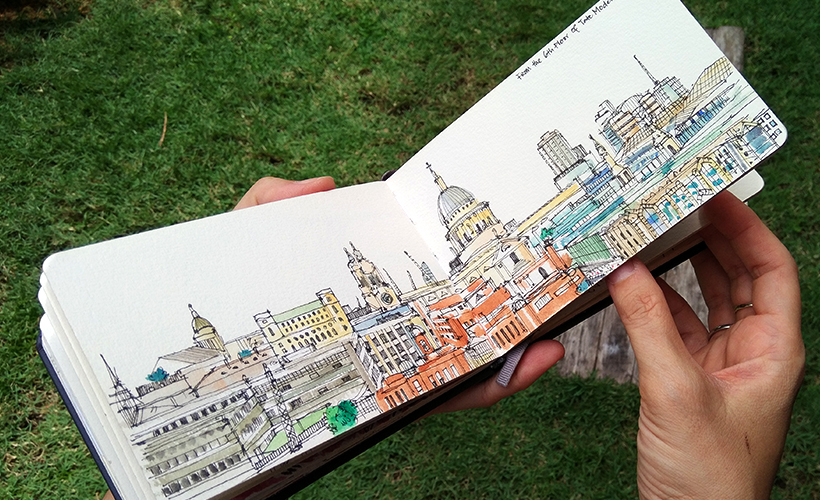 "I sketch whenever I travel. I never plan it upfront. If I see something I like, I'll sketch it," says the Kuala Lumpur-based Gladys. In the last three years, she's dutifully recorded nearly 10 trips, each in a separate journal filled with illustrations of places, people, food, and landmarks, as well as paraphernalia picked up from places of interest. Each sketch is accompanied by her handwritten notes, capturing thoughts and memorable encounters for posterity.
In March, she conducted her first travel journal workshop at CzipLee Bangsar, to great success. She has no definite plans to organise more at the moment, but if you're keen on keeping a travel sketch journal like she does, Gladys offers these 10 tips to get you started.
1. The airport is a good place to start
"You'll have plenty of time while waiting to board or transit, so you might as well put it to good use. It also gives you the chance to observe and plan out what you want to sketch, which is a luxury when you're on the move. Pick a subject, and park yourself at a comfortable spot, where you can get a good view. I often start off my journals with a sketch of someone at the waiting lounge. You can do the same while on board; no one's going anywhere until the plane arrives, so there's a great window of opportunity and time."
2. Take photos for reference
"Unless your entire trip is for the purpose of sketching and journaling, you're not going to have all the time to sit at one spot until you complete a drawing. Sketch the framework or outline of what you want to capture, then take photos for reference when you work on completing it later."
3. Collect small mementos to add to your pages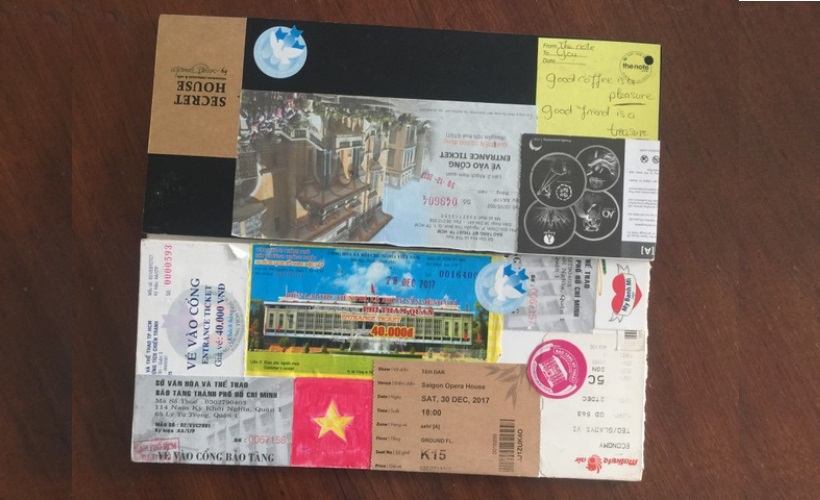 "Make your memories more vivid and vibrant by adding relevant paraphernalia that help tell the story. Ticket stubs, paper napkins from that charming café, chopsticks sleeves to remember a fantastic meal by, baggage tags, receipts… you get the idea."
4. Experiment with a variety of drawing instruments
"I started with pencil before moving to pen, then added colour pencils, and finally, watercolours. There's no right or wrong material to use, it's up to you and the effect you want to achieve. The only way to find out is to try them out until you find the ones that are most comfortable and enjoyable to you."
5. Get the right paper
"Do the same with paper. If you're using watercolours, for example, make sure the paper grammage is thick enough to hold the colours without letting them seep through. Aim for a minimum grammage of 250gsm."
6. Buildings are the most challenging to sketch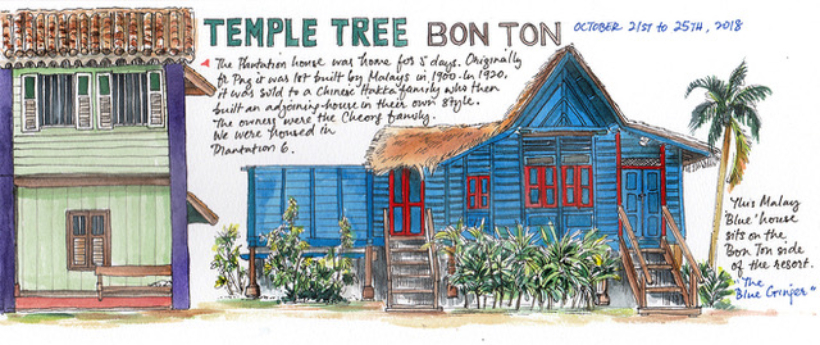 "The good thing is, they're stationary and not moving around like people or animals, but buildings are rich in details. It's important to get not only those right, but also the dimensions, proportions, and perspective. You'll need more time to capture all its fineries. If you're just starting out, find easier subjects, and get the hang of it before attempting to sketch a building."
7. You'll be self-conscious at first
"People will stare out of curiosity. They may stand around watching you, which can be unnerving. It takes time to get used to such attention, but don't worry, before long you'll be able to ignore the distractions and focus on your sketch. I've come to the point where I can continue sketching while talking to someone!"
8. You'll get more out of it than just a drawing
"I was at Melaka's Jonker Street sketching a mansion. An old uncle delivering water saw what I was doing but he didn't say anything. I spoke to him in Hokkien and he opened up, telling me about the history of the place. That's the best thing about sketching, it can lead to interesting and meaningful interactions. Be open to such encounters and you'll come away with much more."
9. Join like-minded groups
" Kuala Lumpur Urban Sketchers is a great platform to start. They organise regular meet-ups at interesting locations that provide lots of good subjects to sketch. You don't have to be a 'pro' to join them, people are friendly and supportive, and you'll have the chance to pick up tips from those who are more experienced than you."
10. Master your people-watching skills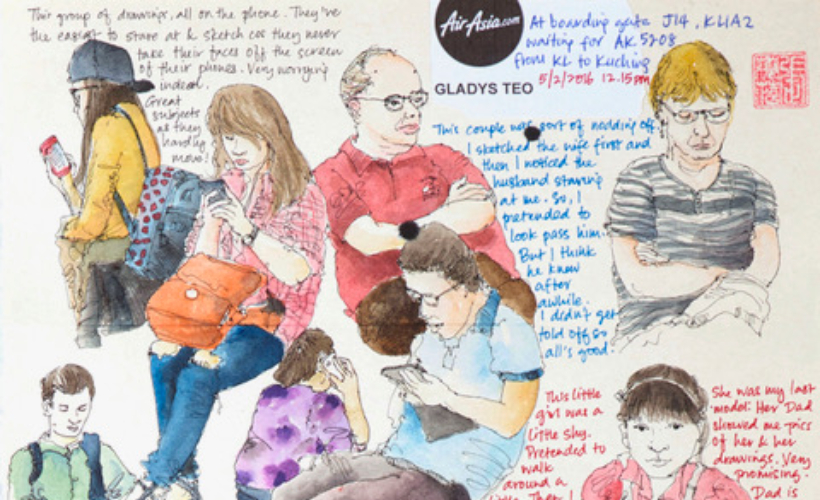 "Sketching people is tricky. You'll be staring at them and if they catch your eye, it can get embarrassing and awkward! The trick is to look between them, not AT them; pretend that you're focusing on something behind them. I find MRT rides great for practising sketching people, as most commuters are glued to their phones, and therefore, oblivious to their surroundings. Other places are airports and libraries. Basically, places where people tend to sit and wait."
100 Travel Journal Prompts To Inspire Your Creative Memory Keeping
You just got a brand new travel journal but have no idea what to write! Prepare to be inspired with these creative travel journal prompts to help you document your travel memories and keep them alive long after you get home! These 100+ creative writing prompts for travel will get you inspired to write in no time!
Sometimes we need something more than just the beautiful vacation photos and videos to really helps us preserve those precious travel memories we created with family and friends.
This is why travel journaling is perfect, with written words to help jog your memory and recall those little moments that might otherwise have gotten lost.
But what happens when you have writer's block and don't know where to start? Those fresh journal pages can be overwhelming if journaling is a new habit for you.
With this in mind, we have compiled some creative travel journal ideas that could be used while abroad or when you're exploring a new place closer to home.
The following prompts can help you think about your experiences and feelings, taking your travel writing well beyond a daily list of what you did.
But first, let's cover the basics of travel journals!
Getting Started With Travel Journaling
Journaling can be a very therapeutic way to practice mindfulness on your travels, taking time out of your day to stop and reflect on the things you've done and the thoughts you've had during your life-changing journeys.
There are many ways to document your travels, from sketches and photos to blog posts (you can learn how to start your own travel blog like this).
Choosing a Journal
To find the best travel journal for you, it may take a little time to work out the best option for you.
Check out our travel journal examples with these comprehensive travel journaling ideas to help you choose the right type of journal and explore a few options you might not have considered before.
Knowing preferences like hard cover or soft cover, blank pages or lined pages will also help you choose.
The best part of using travel journal prompts like the ones we share below is the fact that even a simple notebook will work! No fancy travel journal is necessary.
You can also get travel journals with prompts already printed. Some of these are great if you are looking for a mindful travel journal, although they don't allow you to be as creative as you would if using your own travel journal prompts.
In case you want a done for you version, here are some great picks:
Creative Travel Journal Prompts For Every Occasion
Creative writing prompts for travel journals can provide you with an outlet as well as help make those memories last a lifetime! Using creative ideas for your own personal travel memoir can be used while abroad or when you're exploring new places closer to home.
Here is some writing prompts to get the creative juices flowing in your own personal travel journal:
Story And Experience Prompts
Travel journal prompts that explore your feelings and get deep into the story behind your adventures are what most people think of when they think about journalling. This is an incredible way to jog the memory when you read back through your travel journal in future.
Get started with simple stories such as a fun experience you had or more complex stories, like how you felt when you were almost mugged on the streets of London. (Let's hope not…).
Travel stories can be both positive and negative experiences. Try to include at least one travel story for each travel destination.
Here are some story and feelings travel prompts to get you started:
Share a travel story
What was the first thing you noticed when you arrived?
Describe someone who you met on your trip
Document a difficult moment and how it made you feel
What are your expectations of the destination or experience?
What made you choose this destination?
Is there anything about this trip that did not meet the hype?
Is there an experience that deserves more hype?
What is your favourite Souvenir from your trip and why?
Is there anything you would do differently next time you visit?
What are you most excited about doing or seeing?
What is something you new you learnt?
What is something you did that you are proud of?
What is something you regret not doing or trying?
What local traditions resonated with you most?
Who travels with you – is it a partner, a family member or friend?
How do they influence your travel experience and what impact does that have on who you are when travel?
What are you most grateful for about this trip?
What advice do you have for others who are visiting here?
Is there something you find yourself doing every time you travel somewhere new?
Is there an activity that impacted you on a deeper level than expected?
Is there a travel destination you are dying to travel to but have not had the opportunity yet?
Describe your day in the format of a letter to a best friend back home
What things did you notice when you first arrived?
What is your favourite memory of the entire trip?
What was your least favourite moment of the trip?
Would you visit here again?
Describe the inside of your accommodation
Think about the most beautiful place you visited and describe it with all 5 senses
How did you feel about yourself when there?
Were you more or less confident than usual?
What is the one reason that makes this place special for you?
Write about an adventure from your past
How is the landscape different from where you live?
Imagine you had an extra day on your vacation. How would you spend it?
What was your most embarrassing travel moment?
How did you travel to your destination (what kind of transport)
What is the most memorable meal from the trip?
What was the highlight of your trip?
What is a place you've always wanted to go but haven't been yet?
What was the worst thing that happened on your travel trip?
What do you miss most from home?
What is something special to do or see here that isn't on every tourist itinerary?
How has visiting this place changed your perspective?
If you could travel anywhere tomorrow, where would you go?
What were your biggest fears before starting this trip?
Late night out or early rise for sightseeing – which option do you choose?
Write a creative entry from the perspective of an object, such as your camera, your backpack or your car and how their trip experience would be were they alive.
What new experiences made you feel most outside of your comfort zone?
What is the biggest misconception you had about this destination before you visited?
Travel List Prompts
Not every entry in your trip journal needs to be set out in sentences or in a travel diary format. List journal prompts are an easy and fun way to document your trip in a skimmable way.
They are also very easy to write when you feel that dreaded writer's block sneaking up on you.
You can write a list about almost anything. In fact, you could write only lists in your travel journal, such as using a bullet journal for travel or a simple lined notebook.
There are a few travel listicle journals you can buy, or use these prompts to make it your own.
Here are some simple travel listography ideas to include in your journal:
What is on your bucket list for the destination?
What foods have been your favourite?
What things did you do today?
Favourite attractions in a country or city
Foods you want to try
Drinks you want to try
The places you stayed (hotels, campgrounds, resorts)
Things you noticed outside your window
Facts about the destination
Road trip stops (or tour stops)
Cost of common items i.e. cup of coffee, milk, burger etc
Souvenirs you plan to buy and for who
A this or that list i.e. Relaxing or adventure, budget or luxury etc
Books about your destination
Films about your destination
Famous people from your destination
Places or experiences you missed on this trip to try next time
Words that you know or learnt in the local language
All the items you purchased during your trip
Plan your perfect road trip playlist
Travel Planning Journal Prompts
If you want to document the full picture of your trip, right down to what, where, when, who and how, you can add in some travel planning writing prompts to add in those little details.
This can be anything from your itinerary and bookings to your packing list. This is similar to the list journal prompts but specifically focused on your travel plans.
The first time I travelled overseas I documented every meal I ate and every movie I watched on the long haul flight over there. And I don't regret that level of detail one bit!
Here are some travel planning journal prompt ideas:
Your packing list
Your travel itinerary
Your flight details
Accommodation you have booked
Tours and experiences you have planned
People you are meeting and when
Personal Growth Travel Journal Writing Prompts
Documenting growth is one of the most beautiful parts of journaling and a travel journal should be no different.
Not every journal entry must be about the day to day experiences you have while you are travelling. Some of your entries can be reflections on the bigger picture – who you've become as a person, what growth you've experienced and how your perspective on the world has changed beyond just this trip.
Source https://vickyflipfloptravels.com/bullet-travel-journal/
Source https://zafigo.com/stories/zafigo-stories/tips-travel-sketch-journal/
Source https://fouraroundtheworld.com/travel-journal-prompts/