Reconnect to your world with small group travel

Got the urge to get away? We've got you covered. Check out the tours below, then get booking today!
Epic hostels.
Huge adventures.
Explore iconic destinations, stay in some of the best hostels ever, and do it all at our best prices yet.
You're ready. Where can you go?
Before you book and pack those bags, check our easy-to-use travel restriction finder for your destination's COVID-19 regulations and safety requirements.
Book with Confidence
Our policy lets you cancel and rebook your tour up to 30 45 days before your departure. Effective July 1st, 2022 until December 31, 2023, on travel departing before December 31, 2023.
Travel with Confidence
Our new policy that outlines how we will continue to keep you safe and healthy on our tours and make you feel even better about choosing to travel.
Why travel with G Adventures?
We're the leader in small group adventure travel for more than 30 years. How'd we get here? By redefining the way travellers see the world. Check out how we're creating the future of travel.
Small groups
Join a small group of like-minded travellers that, like you, are eager to safely and confidently experience all the things that make our world worth exploring.
Book & Travel with Confidence
With 100% guaranteed departures, our flexible rebooking policy, and heightened health and safety measures, we've got you covered every step of your trip.
Locally based guides
At G Adventures, we don't have tour guides — we have Chief Experience Officers. And they are all locally based, meaning they know the area you're exploring like the back of their well-travelled hand.
Built to support local communities
We have always created our tours by building meaningful relationships with local communities, directly benefiting the people and places we visit.
Flexibility, freedom, fun
No matter the Travel Style, our tours balance well-planned itineraries with the flexibility to do your own thing and make the experience your own.
G for Good
When you travel with us, you experience first-hand our commitment to making travel a force for good is in everything we do.
Top 10+ Best Travel Websites (to Find Deals on your next Adventure!)
When looking at the best travel websites, it is important to weigh the pros and cons. The line from good to great is thin, so it's difficult to prioritize the best of the bunch. The ten websites and search engines below are standouts in the industry and continue to provide consumers with a reason to explore a new destination.
Top Travel Sites to Find Deals
10. Skyscanner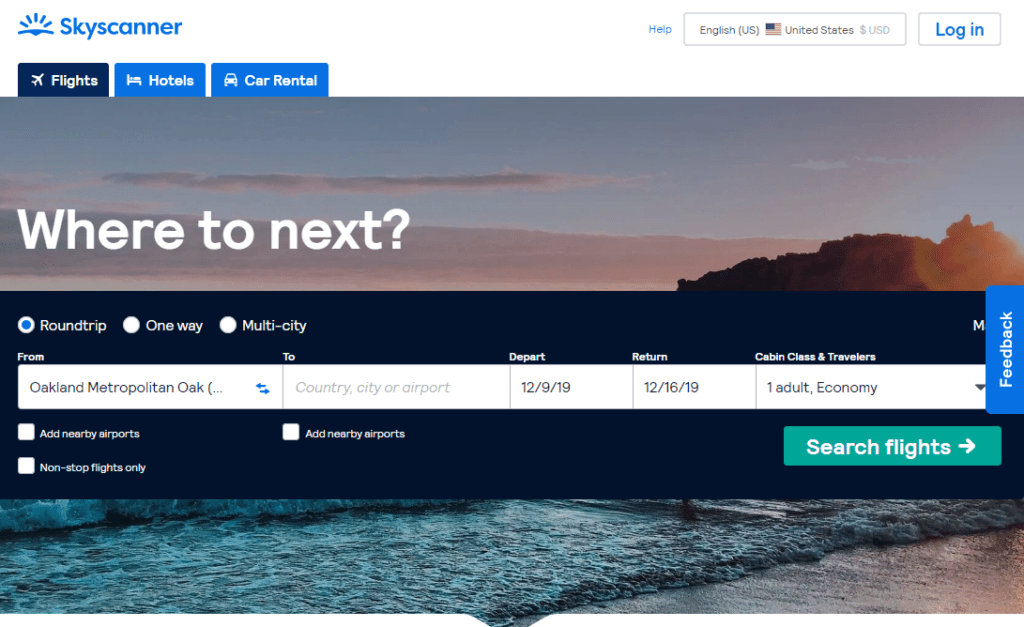 Skyscanner is a reliable website that provides solid deals for the patient buyer. It won't replace any of the big boys on the list, but it still remains a nice option for all in one package. The unique comparison engine does its job without displaying unnecessary information.
One of the hidden gems to find blockbuster travel deals
Flight Search engine handles updates to other websites quickly
Works great as a vacation research tool
Sources data from multiple online travel agencies & travel agents
Sparse results will limit its appeal for larger groups
9. Funjet Vacations
The limited options of Funjet Vacations is a turnoff for some, and a lifesaver for others. It sports a simple homepage that offers flight/hotel and hotel/car options. Funjet is the travel website people go to when they already have a heavy itinerary in place.
A website that gets right down to business without wasting your time
Options are limited, but clearly laid out for the buyer to see
One of the easier websites to navigate on mobile
Prices aren't always consistent
8. Cheap Caribbean
This is a surprising inclusion on the list considering how limited the travel scope is. If you can look past that one flaw, CheapCaribbean.com delivers on its promise for deals on that side of the world. No other website on this list can match their all-inclusive packages to the Caribbean.
Best packages available for the Caribbean
A popular choice for honeymoon packages
Beautiful location with a lot to offer
Not much use if you don't want to go to the Caribbean
7. TripAdvisor
Tripadvisor is known for its collection of reviews and articles. Believe it or not, you can actually create an entire vacation package on the website! Despite the sometimes-overlooked nature of this feature, Tripadvisor is still considered one of the best in the business.
Best place to get a general idea of things to do in a particular area
Moderation team does a good job of removing troll reviews
Booking options are solid (for casual or luxury travel)
Also provides car rental options
Negative trip reviews are sometimes too personal, and not always reliable
6. Orbitz
It's almost frightening how good Orbitz is since it is the sister site of Expedia. Despite the connection, Orbitz exists for a specific reason on this list- it caters to individual travelers better than Expedia. When you're looking for one or two tickets, Orbitz is one of the better websites to browse.
Excels at finding smaller deals
Makes a good alternative to bigger websites that focus on groups
Some of the deals are one of a kind
5. Hipmunk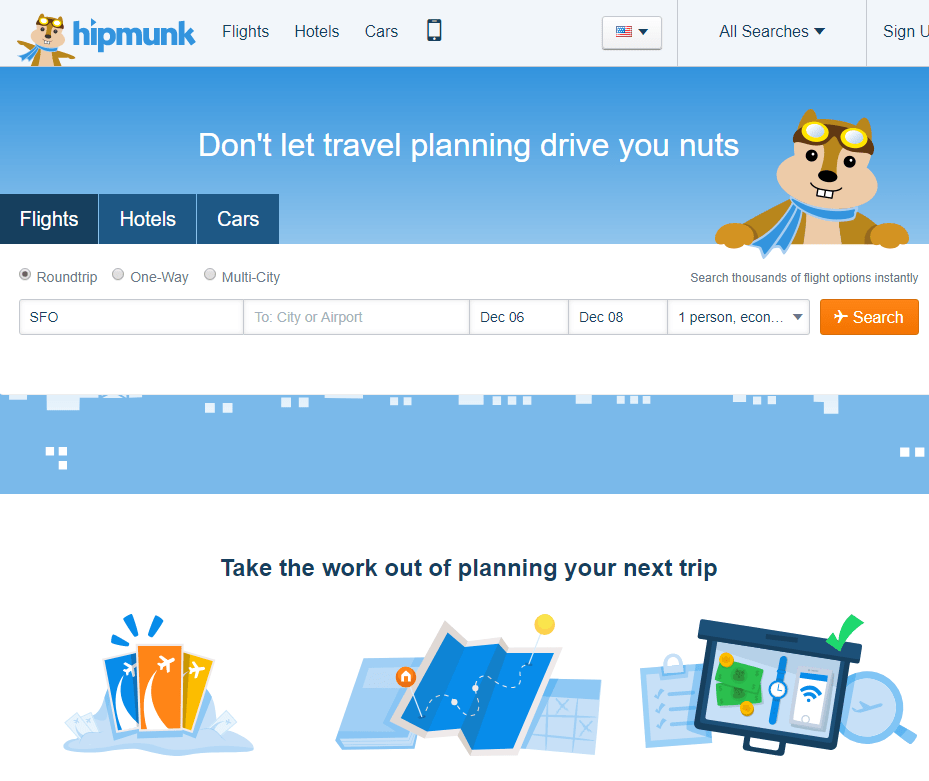 Hipmunk joins a long list of travel websites that use a search engine spider to collect booking information from the bigger sites. The difference here is that Hipmunk organizes the information in a way that makes sense. Sometimes, it does a better job than the original website.
An almost perfect search engine that puts others to shame
Filters are easy to manipulate and tabs are simple to search through
Hipmunk organizes information intelligently so that you don't get confused
Some tweaking to the search engine is needed to make it perfect
4. Kayak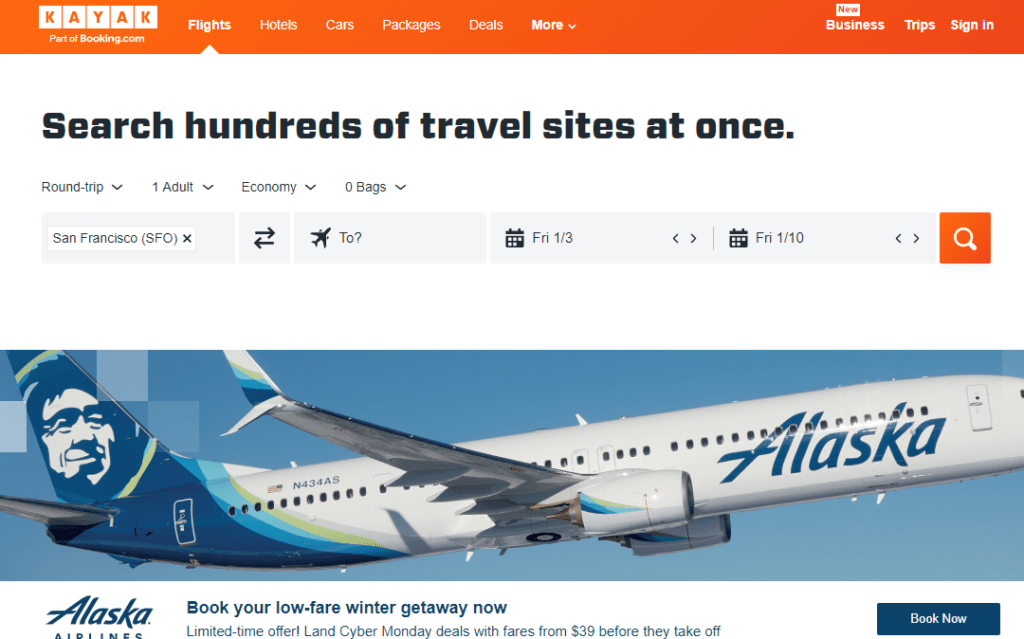 One of the forgotten greats in the travel website industry is Kayak. They peaked early by providing deals that not even the best travel websites could match. Once the competition caught up, Kayak went from being legendary to 'great'.
Still one of the better websites for travel information
Prices are competitive during heavy travel times
The search engine is solid, and most deals will contain accurate information
The website is a nightmare on older Android/iOS devices. The Kayak Mobile app is strongly recommended
3. Booking.com
Seeing Booking.com at the #3 spot may irk some travelers. The website is known for having incredible deals, but with the worst customer service possible. Buyers that never have to deal with the company's customer service are highly likely to use the online booking system for future purchases.
A truly underrated all-world booking website
Options extend beyond booking – Buyers can list their properties for rent
A friendly close-knit community that provides more balanced reviews than Tripadvisor
Customer service needs an overhaul
2. Priceline
William Shatner put Priceline on the map, adding a memorable face to one of the best websites in travel. Priceline has always been a top competitor, gathering deals from all over the web. Their best feature is accuracy, even when the website grabs last-minute deals.
Huge focus on accurate booking information
Most recognizable brand on the list
The website stays updated and user-friendly for all devices
Some of the deals are a little behind better ones on other websites
1. Expedia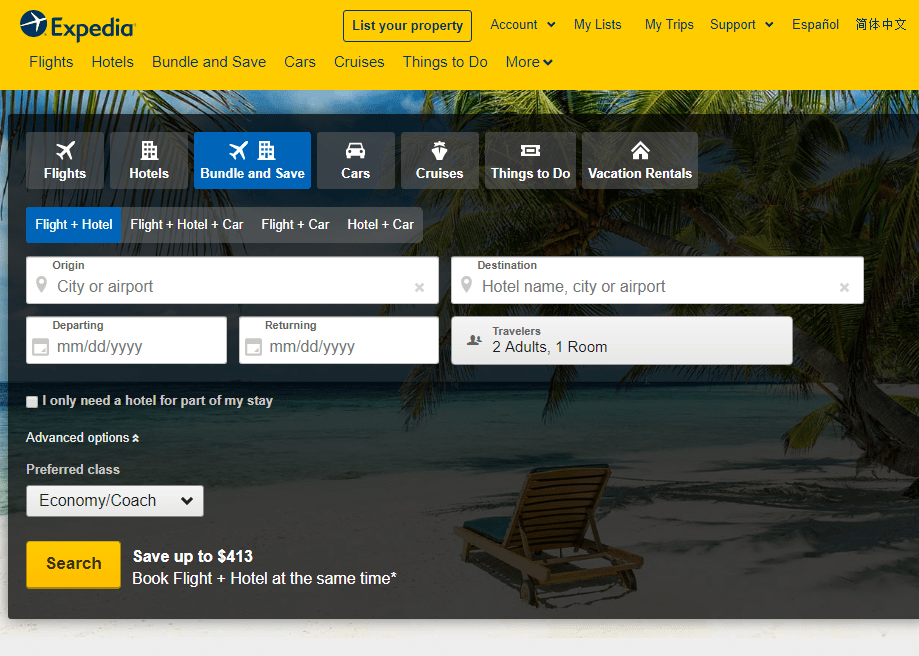 Expedia is one of the most well-known travel websites for a reason. Their bundle options are extensive, with a nice set of customization features to fit every vacation type. It's safe to say that Expedia covers the most ground when planning a large trip.
Robust set of options for any vacation
Deals are always up to date
The easiest website to use
Sometimes competitors would have slightly better deals
Wrapping Up
Booking a hotel, flight, or car is a lot easier when using a travel website. It is a time-saver, and with the right connections will also save you money. Enjoy your vacation package by ensuring you did everything possible to make it perfect.
What did you think about our list? Which travel sites are missing from our list? Let us know in the comments below.
Master List: Sites to Find Adventure Travel Jobs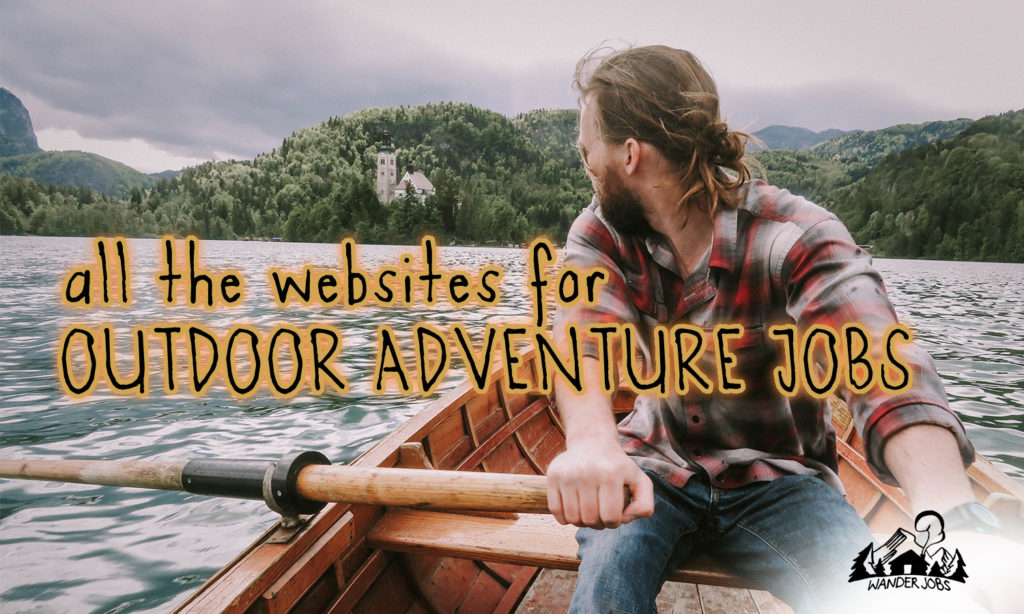 Seasonal work, vagabonding, nomadic travel, work camping- call it what you will- we've chosen an unusual path in life and it isn't always the simplest to navigate.
For those of us who seek to live a life of adventure in the most spectacular wildernesses in the world, there are a number of go-to online job boards that post outdoor adventure travel jobs in the USA and abroad. Whether cold climate jobs (ski instructors, dog sled guides) hot climate (scuba instructors, yoga teachers) or somewhere in between (horseback guides, sea kayak guides), you'll find it (and so much more!) on these adventure travel job boards.
In many cases, these types of jobs include employee housing. Some even include 3 hot meals a day. And with a built in community of coworkers living together, the adventure of a lifetime is inevitable.
Worldwide Outdoor Adventure Jobs
WanderJobs
WanderJobs is one of the major job boards listing outdoor adventure jobs in the US and abroad, many of which are entry-level. You'll find ski and snowboard instructor positions, trail guide, water sports, boating, ranch, and wilderness lodge jobs, and more. For milder travelers, there are also plenty of jobs in hospitality, food and beverage, and customer service.
Unlike many other sites, jobs must be approved by a staff member before being posted. This filter prevents the big pay-to-work and pay-to-volunteer-vacation companies from extorting money from job seekers. All jobs are paid (this is not a volunteer or work-exchange board) and must include housing for employees.
Divers Jobs
Divers Jobs is all about scuba diving, and there are a good number of available positions to browse through. Divemasters can search for jobs in some of the most beautiful tropical places around the world- Thailand, Bahamas, Greece, Indonesia, the Virgin Islands- you name it. Companies need licensed divers as underwater tour guides and as PADI instructors.
Yoga Travel Jobs
Yoga Travel Jobs is great not just for licensed yogis, but also for other people in the field of "spiritual hospitality", with listings for not only yoga instructors, but also meditation instructors, wellness coaches, etc. Here you'll find a collection of positions, both paid and volunteer, in gorgeous locations around the world. Currently on the table are opportunities in Spain, Morocco, Sri Lanki, and Mongolia, to name a few.
Jobs Abroad Bulletin
Jobs Abroad Bulletin is honestly a bit of a crapshoot, with some truly fantastic opportunities listed alongside unpaid volunteer positions, questionable TEFL gigs, and listings better suited for work-exchange sites like workaway.info. But if you sift through, you'll come across some gems- like Pilates instructors in Canada, chefs in Ireland, and hospitality positions in New Zealand.
Anywork Anywhere
Anywork Anywhere has a fairly small selection jobs, not all of which are fantastic (pay-to-work and TEFL companies are often sketchy). But some are really cool. You can find a some jobs in Japan, Iceland, and New Zealand.
Jobs in the USA
BackdoorJobs
BackdoorJobs is a large, trustworthy, and long standing job board geared specifically toward adventurers in the US. They've got a great selection of jobs for outdoor enthusiasts. You'll find camp and ranch positions, farm work, conservation, trekking, and bicycle, cross-country travel, and a few luxury tours abroad. They also have tamer customer service positions available for nature lovers who don't necessarily want to work outside.
Some of the jobs listed here will require more experience with the outdoors, but there are entry level jobs as well.
Coolworks
Coolworks is a large staple site for seasoned travel workers. They commonly feature outdoor adventure jobs in their lineup. They focus heavily on the western US and Alaska, where there are tons of jobs for nature lovers. Many of the listed jobs include room and board, which makes transitioning from place to place a simple ritual of packing your bags.
Adventure Job Board
Adventure Job Board is an aptly named medium-sized job board for outdoor adventure enthusiasts. Most jobs are adventure based: you'll find sea kayak and horseback guide jobs, but also jobs in sales and hospitality. There are occasional listings for jobs abroad.
Good Natured Jobs
Good Natured Jobs is a smaller job board that features jobs within the US, at both large and small companies. While they don't have a big selection, they often list jobs not found on the other job boards. You'll be able to browse job openings for guides, parks & recreation, and camps. They also list Work Camping jobs, which is geared toward the older RVing crowd.
Adventure Jobs
Adventure Jobs is another small source of outdoor jobs. Their openings aren't listed on the bigger job boards. Some positions on offer are zipline guides, outdoor education, and rock climbing. They don't ignore the midwest, either: it's not only flyover country out there!
Jobs In Australia
Seek
Seek, while not specifically an outdoor adventure job board, does have plenty of positions for outdoor travel enthusiasts. Companies are looking for tour guides of all sorts- zip line, drivers, divers, walking tours, and even ghost tour guides. There are plenty of other exciting positions, too- on boats, in hospitality, and both entry level and management positions. Just type "adventure" into the search field.
QORF
QORF (Queensland Outdoor Recreation Federation) is a small board that encourages job seekers to "live life outdoors" as expedition guides, field instructors, and more outdoor adventure positions throughout Australia.
Jobs In Canada
Good Work
Good Work dedicates itself to "green" jobs in the environmental sector. Jobs with employee housing included isn't specifically their MO, but there are some to be found on the site. They include the more "normal" ski resort jobs, but also snowshoe tours, farm work, conservation, and a few internships. Most positions are in Canada, though there are a few abroad.
Job Trekker
Job Trekker, though a small site, includes a fun mix of jobs in beautiful places across Canada. Positions run the gamut from fall foliage sightseeing guides, bike education instructors, and wilderness instructors to amusement park staff.
This is a live, ever-growing list, so please send us a message if you know of another useful resource to share! And check out these tips to guide you on your adventure job search.
Source https://www.gadventures.com/
Source https://rapidapi.com/blog/best-travel-websites/
Source https://wanderjobs.com/blog/sites-to-find-outdoor-adventure-jobs/