Our Favorite RV Frame Mounted Cargo Carriers (2020)
RV storage is one of the most important features people look for when buying their coach. Many have compromised wanted cargo items for essential gear that must take its place. Adding RV frame mounted cargo carriers to your unit will help you avoid those compromises by giving you the needed storage space.
These RV cargo carriers attach to the rear, roof, or front A-frame hitch section of your towable or drivable coach. They are usually trays with five-inch sidewalls that allow you to tie down your cargo. Many like to use them as external cargo carriers for generators or other big items.
There is a wide variety of RV frame-mounted carriers in the 2020 market to choose from. We'll feature our top picks of RV frame mounted cargo carriers and show you why we like them so much. You'll also learn how useful they are and how to choose the right one for you.
Best Frame Mounted Cargo Carriers
In the chart below, we've chosen our favorites based on different categories. They were chosen based on their quality manufacturing, customer reviews, and how much value the product gives you for their price point. Later on, we'll go into detail about why we chose them.
| | |
| --- | --- |
| Overall Best Mounted Cargo Carrier: | Tricam ACC-1F |
| Best Budget-Friendly Hitch Mounted Cargo Carrier: | Goplus Cargo Carrier Basket Hitch Mount |
| Best Frame Mounted Cargo Carrier: | ROLA Vortex Steel Cargo Carrier |
| Best Bumper Mounted Cargo Carrier: | Mount-n-Lock GennyGo RevX RV Generator & Cargo Kit |
| Best Rooftop Mounted Carrier: | JEGS Performance Rooftop Cargo Carrier |
| Best Front A-Frame Mounted Cargo Carrier: | Stromber Carlson Cargo Tray |
What Size Cargo Carrier Do I Need
Most cargo carriers on the back of travel trailers can hold up to 500 pounds. If you don't need to hold that much weight, then sizing will be more important to you. A lot of these rear RV cargo carriers have an average width between 50- 60 inches (4.2- 5 feet)
Choosing a carrier that is smaller might be a better way to go if you're just looking for an RV generator mounting kit. Cargo carriers that are more square-shaped are still wide enough to hold most generators but don't take up as much space. This gives you more options on where to place your generator or other items than just the rear of your RV.
Ideal Items for Cargo Carriers
Gear cage cargo carriers are very versatile with what they can hold. They have an open mesh tray bottom and sidewalls around all sides. As long as you don't mind your storage items being exposed to weather and road debris, you can store almost anything.
Below is a list of ideal items many people choose to store in their RV cargo carriers. You will want to make sure your gear is properly secured to prevent it from "growing feet" when you make rest stops while traveling. If you want to use one of these carriers for ATVs, golf carts, dirt bikes, or other toys, you'll want to look into other carriers that can handle the weight and size.
Barbecues
Bikes
Camping gear
Coolers
Firewood
Fuel containers
Generators
Kayaks/small watercraft
Mobility scooters and other equipment
Pet kennels (empty) and other supplies
Portable holding tanks
Storage bins
Water jugs
How to Choose a Cargo Carrier for Your RV
There are many ways to decide on the best RV frame mounted cargo carrier for you. Here are some tips to narrow things down. Many of which are realistic considerations you'll run across during the entire camping experience.
Plan Your Storage: Have an idea of what you'll be storing in the carrier. This will determine what size and weight requirements will be needed. It'll also help you determine if you need more than one.
Know Your Weight Capacities: Most RVs have a chassis and frame that can take on the extra weight. If you plan to add one of these cargo carriers to your teardrop, pop-up, or another small towable, make sure it can handle the extra weight. Many of these ultra-lite RVs are designed with very limited maximum weights.
Shaking, Rattling, and Rolling: As you travel down the road, bumper cargo carriers may increase your dolphin or fishtailing sway. You could hear it rattle with every bump in the road. Using a trailer hitch silencer pad acts as a shock and sound absorber.
Campground Concerns: Some campgrounds have restrictions on what you can have at your campsite. You're allowed to park your RV, tow vehicle, and some other camping related things. These restrictions don't allow cargo carriers, toy carriers, or car dollies.
Those that have them end up having to place the carrier either in guest parking or the campground's storage area for a daily price. Some have been able to comply with this restriction by placing the cargo carrier under the RV. For those that buy the fold-down RV bumper rack, folding it up against the rear wall of the coach complies with the restriction.
Our Top Picks for the Best RV Frame Mounted Cargo Carriers
Tricam ACC-1F Hitch Mounted Cargo Carrier: Overall Best Hitch-Mounted Cargo Carrier
Cargo Capacity: 500 pounds
Carrier Weight: 26 pounds
Measurement: 20 L by 50 W inches
Frame Material: Aluminum
Connection: Class II Hitch
Customer Review Rating: 4 ½ stars
Price Point: $116.21
Tricam's ACC-1F is our overall best choice among all of the RV frame mounted cargo carriers on the market. Its the perfect balance of strength and lightweight materials together. The tray itself uses aluminum, but the supports are steel.
We like how the tray floor uses slats instead of a grated mesh. This allows for additional tie-down points to better secure equipment. We also like how the carrier works for our RV and tow vehicle.
Another excellent feature is the height of the cargo carrier. It's high enough off the ground so you don't have to worry about dragging, but low enough to make loading easy. If your RV or passenger vehicle needs to be towed by a tow truck, it's still high enough off the ground to avoid scraping the pavement.
During our research, one reviewer commented on how the sidewall corners were made of plastic. He was concerned about using the ACC-1F on his SUV because the hot exhaust from his tailpipe might melt the corners. Further research indicated the minimum melting point of this polymer is much higher than a car's exhaust.
The plastic corners help with absorbing vibration. The flexibility of the plastic keeps the aluminum frame intact and reduces the rattling sound. It's also made out of a hard enough material to stand up against anything the road can throw at it.
We have one issue with this carrier. This product doesn't come with a hitch pin. If you want to company to provide one, it's a nominal charge of $3.00.
Benefits: Floor slats, Use for RV and vehicle, Sits at the perfect height, Rattle and noise reduction corners
Burdens: Doesn't come with a hitch pin
Take Away: The ACC-1F is a great carrier that's worth the expense, but c'mon guys, what's the big deal about including the hitch pin?
Goplus Cargo Carrier Basket Hitch Mount: Best Budget-Friendly Cargo Carrier
Cargo Capacity: 500 pounds
Carrier Weight: 22.7 pounds
Measurement: 19 L by 53 W inches
Frame Material: Steel
Connection: 2 inch hitch
Customer Review Rating: 4 ½ stars
Price Point: $57.99
The Goplus cargo carrier is a great value for if you're looking for something that's under $60. Like its more expensive counterparts, it can hold up to 500 pounds, and has solid sidewalls. It's amazing this all-steel carrier weighs less than 23 pounds.
You'll like that all of the hardware, including the hitch pin, comes with this powder coated product. The bolts use anti-loose technology, so they won't relax their hold as you travel. The cargo carrier keeps its rigidity due to its thorough welding.
Like the Reese product, the main shank also acts as a hitch extender. This allows you to hook up your towable to a class II hitch receiver. Make sure your tow vehicle has the capability to handle the weight.
Our concerns with this carrier are two-fold. The first is the sidewalls. While other carriers are at least 5 inches or higher, this one is a little over four inches. This isn't a big issue, but you want to make sure your tie-down straps are thick and secure.
The other issue is visibility. This product only comes with one red reflector that sits in the middle of the basket. We recommend using reflective tape on the sidewall frame to give drivers behind you a better chance of seeing the carrier. When you're in those remote highway areas where it's really dark, you don't want someone running into it.
Benefits: Budget-friendly, Steel construction, Hitch extension, Hitch pin included, Anti-loose bolts
Burdens: Low visibility, Shorter sidewalls
Take Away: The Goplus cargo carrier has great value for the price. Adding a few strips of reflective tape and using strong tie-down straps will minimize any potential problems.
ROLA Vortex Steel Cargo Carrier: Best Frame-Mounted Cargo Carrier
Cargo Capacity: 600 pounds
Carrier Weight: 76 pounds
Measurement: 23 L by 56 W inches
Frame Material: Steel
Connection: 2 inch hitch
Customer Review Rating: 4 ½ stars
Price Point: $197.84
The ROLA Vortex holds up to 600 pounds, beating the competition by 100 pounds. It has a diamond grid mesh tray steel tray and steel tube sidewalls. It comes with a five-year limited warranty.
The center shank rises to provide greater ground clearance. The rough powder coating protects the metal frame from moisture and scratching. This product does come with a hitch screw and clip.
Since it sits so low, the back center has a mount for your license plate. The wide oval openings allow for optional reflectors, a DOT light kit, or an LED light kit. You can also purchase a cargo net or cargo carrier bag to secure your gear.
If you're looking for a cargo carrier with a hitch extension, this isn't the one for you. Per the instructions, you must use an exhaust tip to redirect the flow away from the carrier. This could potentially harm the powder coating.
Benefits: 600-pound weight capacity, big reflective kit, License plate mount, Raised center shank, A lot of optional components
Burdens: No hitch extention, Can't deal with vehicle exhaust
Take Away: We love the extra weight capacity, but wonder why the manufacturer would make their product so sensitive to vehicle exhaust.
Mount-n-Lock GennyGo RevX RV Generator & Cargo Kit: Best Bumper-Mounted Cargo Carrier
Cargo Capacity: 125- 400 pounds
Carrier Weight: 11-31 pounds
Measurement: Varies
Frame Material: Aluminum, Hybrid, Steel
Connection: Bumper Mounted
Customer Review Rating: 5 star
Price Point: $229.95- 339.95
This hitchless cargo carrier is great for those RVs that don't have a rear hitch receiver. As long as your bumper is firmly attached to your chassis, the GennyGo RevX is a versatile product for your generator or other cargo needs. There are 60 tie-down points on the side and eight in the center of the tray.
The versatility of this cargo tray starts with its width. You can choose a single 2 by 2-foot square tray to hold an external generator. If you need more space, you can connect up to four to create an 8-foot wide space. Each tray has dual mounting arms to keep it stable.
There are six different versions you can choose from. They transition from all aluminum to all steel. The four in-between mix the arms and trays between the two metals to give you different weight capacities.
The lightest model, the GGKA, is 11 pounds and holds up to 125 pounds. They scale-up to the GHKS that holds 400 pounds and weighs 31 pounds. Whatever version you choose, the company ships it to you free of charge.
Unlike the many other cargo carriers, The GennyGo trays are solid instead of mesh. This does add strength, but you'll want to keep an eye on the tray for dirt or other contaminants building up. The center tie-down points do act as water gutters, but after a good rain, you may want to take a dry rag to soak up any residual moisture to prevent mildew buildup.
Benefits: 6 models to choose from, Build out to your needs, Bumper mounted, Easy to store, 68 tie-down points
Burdens: Solid tray instead of mesh, doesn't hold as much weight as others
Take Away: This tray has great versatility and gives campers a rear cargo carrier option if they don't have a hitch receiver. We would like it much better with a mesh tray instead of a solid one.
JEGS Performance Rooftop Cargo Carrier: Best Rooftop Mounted Carrier
Cargo Capacity: 18 cubic foot/110 pounds
Carrier Weight: 28 pounds
Measurement: 57 L by 39 W by 19 H
Frame Material: High-density polyethylene
Connection: Roof rack connectors
Customer Review Rating: 4 ½ stars
Price Point: $209.99
The JEGS rooftop cargo carrier attaches to your RV or vehicle's roof rack. The 18 cubic foot model assembles without the need for any tools and comes with two keys. The company offers a limited lifetime warranty on this aerodynamically designed carrier.
The manufacturer adds a UV inhibitor to the high-density polyethylene shell to prevent sun damage. This prevents the plastic from drying out or cracking. They further protect the carrier by covering the locks making it more difficult for someone to break into it.
For easier loading, the casing hinges on one side, opening the other three. Once you're loaded up, the weather-tight seal prevents moisture and other elements from getting inside. JEGS has their own line of cleaning products to help you clean your cargo carrier without damaging the integrity of the shell.
Before you buy the 18 cubic foot version, make sure it will fit properly. RV's won't have a problem, but if you plan on placing it on your tow vehicle, make sure you have the surface space for it. Some trucks and SUVs would fit the 9 cubic foot version better.
Issues that other customers identified in their reviews had to do with the flexibility of the plastic and the thin latches. Others found that they had some trouble trying to position the carrier correctly. They would position it and then have to spend more time adjusting to make sure it was perfectly centered.
Another concern was the small latches. Some people didn't like how thin and small the latches were. They had to use small padlocks and felt a good pair of tin snips could cut through them.
Benefits: Easy to put together, Lightweight, Simple to access, UV protected, Weather sealed
Burdens: Challenging to position at times, Thin latches
Take Away: JEGS makes a great carrier that withstands weather and the road. Once you have it in place, it's easy to access. Just check the latches every now-and-again when you stop if you're worried about tampering.
Stromber Carlson Cargo Tray: Best Front Frame-Mounted Cargo Carrier
Cargo Capacity: 300 pounds
Carrier Weight: >25 pounds
Measurement: 20 L by 32 W inches
Frame Material: Aluminum
Connection: Brackets on front hitch A-frame
Customer Review Rating: 4 ½ stars
Price Point: $207.06
Stromber Carlson was the first to design a cargo carrier that fits on the front of your RV. This tray-style cargo carrier fits on the front A-frame of your coach, above your propane tanks. It supports up to 300 pounds and comes with a one year warranty.
Since every RV is made a little bit differently, this RV cargo carrier adjusts to the width and height you need. Once in position, you'll need to drill holes in the support legs to place the locking bolts. You may need to drill holes in the A-frame to lock the support brackets.
Many customer reviews repeatedly comment on how solid the construction is. Many have driven thousands of miles with a generator, or other heavier items on the carrier, and it never came loose. Having their generator up front gave them more of a sense of security since they could see it while traveling.
Other concerns that came up were the installation instructions. They don't read well and people often became confused trying to follow them. They ended up pulling up a walkthrough video on their mobile device or calling the company directly for assistance.
During installation, many people had to reroute the electrical wires that run behind the A-frame of their RV. This is due to the locking bolts that need to go through the frame itself. Most of the time all they had to do is grab some electrical tape and secure the wires away from where they drilled the holes in the frame.
Another issue has to do with propane covers. You'll have to replace your hardshell propane covers with softshell. The hard shells get in the way of the support arms and tray.
Benefits: Solid construction, Holds up to 300 pounds, Adjusts to your individual width and height needs, Ideal for generators, Lightweight
Burdens: Instructions don't read well, Be extra careful where you drill, Remove hard shell propane cases
Take Away: This cargo carrier finds extra storage space for you. It's well-built and the first of its kind. The company really needs another technical writer to figure out the instruction manual.
Trailer Tray A frame Cargo Carrier x >
Trailer Tray Cargo Carrier for A-Frame Trailers – 300 lbs – CC-255′ href='https://www.etrailer.com/RV-Cargo-Carrier/Stromberg-Carlson/CC-255.html'>Stromberg Carlson Trailer Tray Cargo Carrier for A-Frame Trailers – 300 lbs
Cargo Tray
A-Frame Trailer Mount
Stromberg Carlson
Frame Mount – TH903202′ href='https://www.etrailer.com/Hitch-Bike-Racks/Thule/TH903202.html'>Thule EasyFold XT Bike Rack for 2 Electric Bikes – 1-1/4″ and 2″ Hitches – Frame Mount
Platform Rack
Tilt-Away Rack
Fold-Up Rack
Thule
Fits 1-1/4 Inch Hitch
Fits 2 Inch Hitch
Fits 1-1/4 and 2 Inch Hitch
2 Bikes
Electric Bikes
Heavy Bikes
Frame Mount
Bike and Hitch Lock
Frame Mount – S94FR' href='https://www.etrailer.com/Hitch-Bike-Racks/Swagman/S94FR.html'>Swagman E-Spec Bike Rack for 2 Electric Bikes – 2″ Hitches – Frame Mount
Platform Rack
Fold-Up Rack
RV Hitch Rack
Swagman
Fits 2 Inch Hitch
2 Bikes
Electric Bikes
Heavy Bikes
Flat-Towed Vehicle
Fifth Wheel
Motorhome
Travel Trailer
Frame Mount
Bike and Hitch Lock
Frame Mount – Y36FR' href='https://www.etrailer.com/Hitch-Bike-Racks/Yakima/Y36FR.html'>Yakima OnRamp Bike Rack for 2 Electric Bikes – 2″ Hitches – Frame Mount
Platform Rack
Tilt-Away Rack
RV Hitch Rack
Yakima
Fits 2 Inch Hitch
2 Bikes
Electric Bikes
Heavy Bikes
Fifth Wheel
Flat-Towed Vehicle
Frame Mount
Bike Lock
Cargo Carrier for 2″ Hitches – Slide Out – 17 cu ft – 300 lbs – Black – H00604′ href='https://www.etrailer.com/Hitch-Cargo-Carrier/Lets-Go-Aero/H00604.html'>GearDeck 17 Enclosed Cargo Carrier for 2″ Hitches – Slide Out – 17 cu ft – 300 lbs – Black
Enclosed Carrier
Slide Out Carrier
Lets Go Aero
Class III
Class IV
Fits 2 Inch Hitch
Molded
24 Inch Wide
Standard Duty
Kuat NV 2.0 Base Bike Rack for 2 Bikes – 2″ Hitches – Wheel Mount – Matte Black – BA22B
Platform Rack
Fold-Up Rack
Tilt-Away Rack
RV Hitch Rack
Kuat
Fits 2 Inch Hitch
2 Bikes
Carbon Fiber Bikes
Electric Bikes
Heavy Bikes
Flat-Towed Vehicle
Wheel Mount
Bike and Hitch Lock
Thule T2 Pro XTR Bike Rack for 2 Bikes – 2″ Hitches – Wheel Mount – TH83JV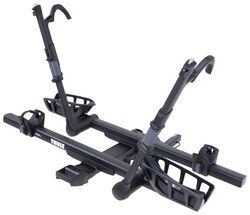 Platform Rack
Tilt-Away Rack
Thule
Fits 2 Inch Hitch
2 Bikes
Carbon Fiber Bikes
Electric Bikes
Fat Bikes
Heavy Bikes
Wheel Mount
Bike and Hitch Lock
Kuat NV 2.0 Bike Rack for 2 Bikes – 2″ Hitches – Wheel Mount – Gunmetal Gray – NV22G
Platform Rack
Fold-Up Rack
Tilt-Away Rack
RV Hitch Rack
Kuat
Fits 2 Inch Hitch
2 Bikes
Carbon Fiber Bikes
Electric Bikes
Heavy Bikes
Flat-Towed Vehicle
Wheel Mount
Bike and Hitch Lock
Saris SuperClamp EX Bike Rack for 2 Bikes – 1-1/4″ and 2″ Hitches – Wheel Mount – SA4025F
Platform Rack
Fold-Up Rack
Tilt-Away Rack
Saris
Fits 1-1/4 Inch Hitch
Fits 2 Inch Hitch
Fits 1-1/4 and 2 Inch Hitch
2 Bikes
Carbon Fiber Bikes
Electric Bikes
Heavy Bikes
Wheel Mount
Bike and Hitch Lock
Kuat Sherpa 2.0 Bike Rack for 2 Bikes – 2″ Hitches – Wheel Mount – Gray – SH22G
Platform Rack
Tilt-Away Rack
Fold-Up Rack
RV Hitch Rack
Kuat
Fits 2 Inch Hitch
2 Bikes
Carbon Fiber Bikes
Flat-Towed Vehicle
Wheel Mount
Bike and Hitch Lock
RockyMounts MonoRail Bike Rack for 2 Bikes – 2″ Hitches – Wheel Mount – RKY10004
Platform Rack
Tilt-Away Rack
Fold-Up Rack
RockyMounts
Fits 2 Inch Hitch
2 Bikes
Carbon Fiber Bikes
Heavy Bikes
Wheel Mount
Bike and Hitch Lock
Frame Mount – Tilting – C18085′ href='https://www.etrailer.com/Hitch-Bike-Racks/CURT/C18085.html'>Curt 2 Bike Platform Rack – 1-1/4″ and 2″ Hitches – Frame Mount – Tilting
Platform Rack
Tilt-Away Rack
Fold-Up Rack
RV Hitch Rack
CURT
Fits 1-1/4 Inch Hitch
Fits 2 Inch Hitch
Fits 1-1/4 and 2 Inch Hitch
2 Bikes
Motorhome
Frame Mount
Bike Lock
Thule T2 Classic Bike Rack for 2 Bikes – 1-1/4″ Hitches – Wheel Mount – TH9045
Platform Rack
Fold-Up Rack
Tilt-Away Rack
Thule
Fits 1-1/4 Inch Hitch
2 Bikes
Carbon Fiber Bikes
Electric Bikes
Fat Bikes
Heavy Bikes
Wheel Mount
Hitch Lock
Inno Tire Hold Bike Rack for 2 Bikes – 1-1/4″ and 2″ Hitches – Tilting – INH120
Platform Rack
Fold-Up Rack
Tilt-Away Rack
Inno
Fits 1-1/4 Inch Hitch
Fits 2 Inch Hitch
2 Bikes
Carbon Fiber Bikes
Electric Bikes
Heavy Bikes
Wheel Mount
Bike and Hitch Lock
Yakima HoldUp EVO Bike Rack for 2 Bikes – 2″ Hitches – Wheel Mount – Y02479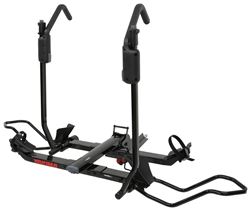 Platform Rack
Fold-Up Rack
Tilt-Away Rack
RV Hitch Rack
Yakima
Fits 2 Inch Hitch
2 Bikes
Carbon Fiber Bikes
Electric Bikes
Fat Bikes
Heavy Bikes
Flat-Towed Vehicle
Wheel Mount
Bike and Hitch Lock
Thule Helium Bike Rack for 2 Bikes – 1-1/4″ and 2″ Hitches – Wheel Mount – TH44VR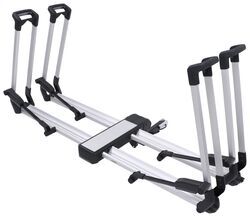 Platform Rack
Tilt-Away Rack
Thule
Fits 1-1/4 and 2 Inch Hitch
2 Bikes
Wheel Mount
Bike and Hitch Lock
Inno Tire Hold Bike Rack for 1 Bike – 1-1/4″ and 2″ Hitches – Tilting – INH110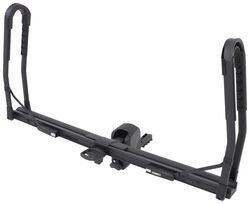 Platform Rack
Tilt-Away Rack
Fold-Up Rack
Inno
Fits 1-1/4 Inch Hitch
Fits 2 Inch Hitch
1 Bike
Carbon Fiber Bikes
Electric Bikes
Wheel Mount
Bike and Hitch Lock
Frame Mount – HLY66ZR' href='https://www.etrailer.com/Hitch-Bike-Racks/Hollywood-Racks/HLY66ZR.html'>Hollywood Racks Destination E Bike Rack for 2 Electric Bikes – 2″ Hitches – Frame Mount
Platform Rack
Fold-Up Rack
Hollywood Racks
Fits 2 Inch Hitch
2 Bikes
Frame Mount
RockyMounts BackStage Bike Rack for 2 Bikes – 2″ Hitches – Wheel Mount – RKY10002
Platform Rack
Fold-Up Rack
Swing-Away Rack
Tilt-Away Rack
RockyMounts
Fits 2 Inch Hitch
2 Bikes
Carbon Fiber Bikes
Electric Bikes
Fat Bikes
Heavy Bikes
Wheel Mount
Bike and Hitch Lock
Frame Mount – HR1000Z' href='https://www.etrailer.com/Hitch-Bike-Racks/Hollywood-Racks/HR1000Z.html'>Hollywood Racks Sport Rider Bike Rack for 2 Bikes – 1-1/4″ and 2″ Hitches – Frame Mount
Platform Rack
Tilt-Away Rack
Fold-Up Rack
RV Hitch Rack
Hollywood Racks
Fits 1-1/4 Inch Hitch
Fits 2 Inch Hitch
Fits 1-1/4 and 2 Inch Hitch
2 Bikes
Motorhome
Frame Mount
Bike and Hitch Lock
Frame Mount – Tilting – SA4414B' href='https://www.etrailer.com/Hitch-Bike-Racks/Saris/SA4414B.html'>Saris Freedom Bike Rack for 4 Bikes – 2″ Hitches – Frame Mount – Tilting
Platform Rack
Tilt-Away Rack
Fold-Up Rack
Saris
Fits 2 Inch Hitch
4 Bikes
Frame Mount
Locks Not Included
Frame Mount – SAR42RR' href='https://www.etrailer.com/Hitch-Bike-Racks/Saris/SAR42RR.html'>Saris Door County Bike Rack for 2 Electric Bikes – Electric Lift – 2″ Hitches – Frame Mount
Platform Rack
Tilt-Away Rack
Saris
Fits 2 Inch Hitch
2 Bikes
Electric Bikes
Frame Mount
Bike and Hitch Lock
Frame Mount – S36FR' href='https://www.etrailer.com/Hitch-Bike-Racks/Swagman/S36FR.html'>Swagman Nomad Bike Rack for 2 Bikes – 2″ Hitches – Frame Mount
Platform Rack
Fold-Up Rack
RV Hitch Rack
Swagman
Fits 2 Inch Hitch
2 Bikes
Fifth Wheel
Flat-Towed Vehicle
Motorhome
Travel Trailer
Frame Mount
Locks Not Included
Kuat Piston Pro X Bike Rack for 2 Bikes – 2″ Hitches – Wheel Mount – KU98VR
Platform Rack
Fold-Up Rack
Tilt-Away Rack
RV Hitch Rack
Kuat
Fits 2 Inch Hitch
2 Bikes
Motorhome
Wheel Mount
Bike and Hitch Lock
Filter Your Search
Filter By:

RV Cargo Carrier 1 xHitch Bike Racks 95 xHitch Cargo Carrier 1 xAccessories and Parts 1 xRV and Camper Bike Racks 42 x

Contact and Help

WOW! I am impressed! I called to place my order and real person answered, spoke perfect English, albeit a slight southern accent, and my order was sent within a day, shipped quickly and I had it a few days later. I saved over a hundred dollars over local and installed it my self. I cant imagine how that they could do any better. THANKS!

Produced to make sure you know what you are getting and you get exactly what you need.

To make sure products work and fit the way they are supposed to.

1,125,924 phone calls and 1,350,587 emails to help find the right solution.

We get to know our products firsthand so experts can better help you.

Assisting our neighbors and customers, face to face at the counter.

Created to make sure you have all the answers to your questions, from real experts.

In these days of customer "no service" I am usually disapointed when doing business with people I don't know. It was refreshing doing business with you. I'm impressed!

a frame cargo carrier x >

Cargo Carrier for A-Frame Trailers – 300 lbs – CC-255′ href='https://www.etrailer.com/RV-Cargo-Carrier/Stromberg-Carlson/CC-255.html'>Stromberg Carlson Trailer Tray Cargo Carrier for A-Frame Trailers – 300 lbs

Cargo Tray
A-Frame Trailer Mount
Stromberg Carlson

Carrier for A-Frame Trailers – 2″-100 lbs – CC-275′ href='https://www.etrailer.com/RV-and-Camper-Bike-Racks/Stromberg-Carlson/CC-275.html'>Stromberg Carlson Bike Bunk Trailer-Mounted Bike Rack Carrier for A-Frame Trailers – 2″-100 lbs

Hanging Rack
Platform Rack
Tongue Mount Hitch Rack
Stromberg Carlson
2 Bikes
Travel Trailer

Frame Mount – Tilting – C18087′ href='https://www.etrailer.com/Hitch-Bike-Racks/CURT/C18087.html'>Curt 4 Bike Platform Rack – 2″ Hitches – Frame Mount – Tilting

Platform Rack
Tilt-Away Rack
Fold-Up Rack
RV Hitch Rack
CURT
Fits 2 Inch Hitch
4 Bikes
Motorhome
Frame Mount
Bike Lock

Frame Mount – S64650′ href='https://www.etrailer.com/Hitch-Bike-Racks/Swagman/S64650.html'>Swagman XC2 Bike Rack for 2 bikes – 1-1/4″ and 2″ Hitches – Frame Mount

Platform Rack
Fixed Rack
RV Hitch Rack
Swagman
Fits 1-1/4 Inch Hitch
Fits 2 Inch Hitch
Fits 1-1/4 and 2 Inch Hitch
2 Bikes
Motorhome
Frame Mount
Locks Not Included

Frame Mount – S64678′ href='https://www.etrailer.com/Hitch-Bike-Racks/Swagman/S64678.html'>Swagman Current Bike Rack for 2 Electric Bikes – 1-1/4″ and 2″ Hitches – Frame Mount

Platform Rack
Tilt-Away Rack
Fold-Up Rack
RV Hitch Rack
Swagman
Fits 1-1/4 Inch Hitch
Fits 2 Inch Hitch
Fits 1-1/4 and 2 Inch Hitch
2 Bikes
Electric Bikes
Fat Bikes
Heavy Bikes
Motorhome
Frame Mount
Bike and Hitch Lock

Frame Mount – S64663′ href='https://www.etrailer.com/RV-and-Camper-Bike-Racks/Swagman/S64663.html'>Swagman Traveler XC2 Bike Rack for 2 Bikes – 2″ Hitches or RV Bumpers – Frame Mount

Platform Rack
RV Bumper Rack
Swagman
Fits 2 Inch Hitch
2 Bikes
Motorhome
Travel Trailer
Fifth Wheel
Frame Mount
Locks Not Included

Frame Mount – SA4412B' href='https://www.etrailer.com/Hitch-Bike-Racks/Saris/SA4412B.html'>Saris Freedom Bike Rack for 2 Bikes – 1-1/4″ and 2″ Hitches – Frame Mount

Platform Rack
Fixed Rack
Saris
Fits 1-1/4 Inch Hitch
Fits 2 Inch Hitch
Fits 1-1/4 and 2 Inch Hitch
2 Bikes
Electric Bikes
Heavy Bikes
Frame Mount
Locks Not Included

Frame Mount – HR1000Z' href='https://www.etrailer.com/Hitch-Bike-Racks/Hollywood-Racks/HR1000Z.html'>Hollywood Racks Sport Rider Bike Rack for 2 Bikes – 1-1/4″ and 2″ Hitches – Frame Mount

Platform Rack
Tilt-Away Rack
Fold-Up Rack
RV Hitch Rack
Hollywood Racks
Fits 1-1/4 Inch Hitch
Fits 2 Inch Hitch
Fits 1-1/4 and 2 Inch Hitch
2 Bikes
Motorhome
Frame Mount
Bike and Hitch Lock

Frame Mount – S94FR' href='https://www.etrailer.com/Hitch-Bike-Racks/Swagman/S94FR.html'>Swagman E-Spec Bike Rack for 2 Electric Bikes – 2″ Hitches – Frame Mount

Platform Rack
Fold-Up Rack
RV Hitch Rack
Swagman
Fits 2 Inch Hitch
2 Bikes
Electric Bikes
Heavy Bikes
Flat-Towed Vehicle
Fifth Wheel
Motorhome
Travel Trailer
Frame Mount
Bike and Hitch Lock

Frame Mount – TH903202′ href='https://www.etrailer.com/Hitch-Bike-Racks/Thule/TH903202.html'>Thule EasyFold XT Bike Rack for 2 Electric Bikes – 1-1/4″ and 2″ Hitches – Frame Mount

Platform Rack
Tilt-Away Rack
Fold-Up Rack
Thule
Fits 1-1/4 Inch Hitch
Fits 2 Inch Hitch
Fits 1-1/4 and 2 Inch Hitch
2 Bikes
Electric Bikes
Heavy Bikes
Frame Mount
Bike and Hitch Lock

Frame Mount – HLY64FR' href='https://www.etrailer.com/Hitch-Bike-Racks/Hollywood-Racks/HLY64FR.html'>Hollywood Racks RV Rider Bike Rack for 2 Electric Bikes – 2″ Hitches – Frame Mount

Platform Rack
Tilt-Away Rack
RV Hitch Rack
Hollywood Racks
Fits 2 Inch Hitch
2 Bikes
Electric Bikes
Fat Bikes
Motorhome
Fifth Wheel
Flat-Towed Vehicle
Frame Mount
Bike and Hitch Lock

Frame Mount – Y36FR' href='https://www.etrailer.com/Hitch-Bike-Racks/Yakima/Y36FR.html'>Yakima OnRamp Bike Rack for 2 Electric Bikes – 2″ Hitches – Frame Mount

Platform Rack
Tilt-Away Rack
RV Hitch Rack
Yakima
Fits 2 Inch Hitch
2 Bikes
Electric Bikes
Heavy Bikes
Fifth Wheel
Flat-Towed Vehicle
Frame Mount
Bike Lock

Thule Hitching Post Pro – Folding Tilting 4 Bike Rack w Anti-Sway – 1-1/4″ and 2″ Hitches – TH934XTR

Hanging Rack
Tilt-Away Rack
Fold-Up Rack
RV Hitch Rack
Thule
Fits 1-1/4 Inch Hitch
Fits 2 Inch Hitch
Fits 1-1/4 and 2 Inch Hitch
4 Bikes
Motorhome
Frame Mount
Locks Not Included

Adjustable Width Trailer Hitch Receiver for RVs, 22″ to 72″ Wide – 13703

Frame Mount Hitch
22 – 72 Inch Wide Frame
CURT
350 lbs TW
Bolt-On
Weld-On
2 Inch Hitch

Cargo Carrier for 2″ Hitches – Slide Out – 17 cu ft – 300 lbs – Black – H00604′ href='https://www.etrailer.com/Hitch-Cargo-Carrier/Lets-Go-Aero/H00604.html'>GearDeck 17 Enclosed Cargo Carrier for 2″ Hitches – Slide Out – 17 cu ft – 300 lbs – Black

Enclosed Carrier
Slide Out Carrier
Lets Go Aero
Class III
Class IV
Fits 2 Inch Hitch
Molded
24 Inch Wide
Standard Duty

Thule T2 Pro XTR Bike Rack for 2 Bikes – 2″ Hitches – Wheel Mount – TH83JV

Platform Rack
Tilt-Away Rack
Thule
Fits 2 Inch Hitch
2 Bikes
Carbon Fiber Bikes
Electric Bikes
Fat Bikes
Heavy Bikes
Wheel Mount
Bike and Hitch Lock

Kuat NV 2.0 Base Bike Rack for 2 Bikes – 2″ Hitches – Wheel Mount – Matte Black – BA22B

Platform Rack
Fold-Up Rack
Tilt-Away Rack
RV Hitch Rack
Kuat
Fits 2 Inch Hitch
2 Bikes
Carbon Fiber Bikes
Electric Bikes
Heavy Bikes
Flat-Towed Vehicle
Wheel Mount
Bike and Hitch Lock

Cargo Carrier for RV Bumper – Steel – Folding – 500 lbs – e96ZR' href='https://www.etrailer.com/RV-Cargo-Carrier/etrailer/e96ZR.html'>24×84 etrailer Cargo Carrier for RV Bumper – Steel – Folding – 500 lbs

Cargo Carrier
Bumper Mount
etrailer
24 Inch Deep
500 lbs

Cargo Carrier – 2″ Hitches – 10 cu ft – 100 lbs – Y62VR' href='https://www.etrailer.com/Hitch-Cargo-Carrier/Yakima/Y62VR.html'>Yakima EXO Swing Away Enclosed Cargo Carrier – 2″ Hitches – 10 cu ft – 100 lbs

Enclosed Carrier
Swing Away Carrier
Yakima
Class III
Class IV
Fits 2 Inch Hitch
Steel
23 inch Wide
Light Duty

Cargo Carrier for RV Bumper – Steel – Folding – 500 lbs – e99049′ href='https://www.etrailer.com/RV-Cargo-Carrier/etrailer/e99049.html'>24×60 etrailer Cargo Carrier for RV Bumper – Steel – Folding – 500 lbs

Cargo Carrier
Bumper Mount
etrailer
24 Inch Deep
500 lbs

Cargo Carrier – 2″ Hitches – Aluminum – 500 lbs – C18113′ href='https://www.etrailer.com/Hitch-Cargo-Carrier/CURT/C18113.html'>22-1/2×49 Curt Cargo Carrier – 2″ Hitches – Aluminum – 500 lbs

Flat Carrier
Fixed Carrier
CURT
Fits 2 Inch Hitch
Aluminum
22-1/2 Inch Wide
Heavy Duty

Cargo Carrier – 2″ Hitches – Y34ZR' href='https://www.etrailer.com/Hitch-Bike-Racks/Yakima/Y34ZR.html'>Yakima EXO Swing Away 2 Bike Rack w/ Enclosed Cargo Carrier – 2″ Hitches

Platform Rack
Enclosed Carrier
Swing-Away Rack
Yakima
Fits 2 Inch Hitch
2 Bikes
Fat Bikes
Steel
Wheel Mount
Hitch Lock

Cargo Carrier and Cargo Carrier – 2″ Hitches – Y44ZR' href='https://www.etrailer.com/Hitch-Cargo-Carrier/Yakima/Y44ZR.html'>Yakima EXO Swing Away Storage System w/ Enclosed Cargo Carrier and Cargo Carrier – 2″ Hitches

Enclosed Carrier
Flat Carrier
Swing Away Carrier
Yakima
Class III
Class IV
Fits 2 Inch Hitch
Steel
23 inch Wide
Light Duty

Kuat NV 2.0 Bike Rack for 2 Bikes – 2″ Hitches – Wheel Mount – Gunmetal Gray – NV22G

Platform Rack
Fold-Up Rack
Tilt-Away Rack
RV Hitch Rack
Kuat
Fits 2 Inch Hitch
2 Bikes
Carbon Fiber Bikes
Electric Bikes
Heavy Bikes
Flat-Towed Vehicle
Wheel Mount
Bike and Hitch Lock

Filter Your Search

Filter By:

RV Cargo Carrier 5 xRV and Camper Bike Racks 81 xHitch Bike Racks 158 xRV and Camper Hitch 4 xHitch Cargo Carrier 20 xRoof Rack 159 xHitch Anti-Rattle 1 xRoof Basket 6 xSki and Snowboard Racks 3 xFront Receiver Hitch 10 xTrailer Hitch 663 x

ATV-UTV Tie Downs 1 xAccessories and Parts 21 xBaby Strollers 12 xBike Trailer For Kids 13 xBike Trailer for Kids 1 xCar Roof Bag 3 xDrop Hitch 3 xHitch Cargo Carrier Bag 1 xHitch Pins and Clips 1 xHunting and Fishing 2 xJogging Strollers 5 xKayak Trailer 23 xLadder Racks 7 xMotorcycle Tie Downs 1 xNerf Bars – Running Boards 1 xRatchet Straps 1 xTie Down Straps 1 xTrailer Hitch Ball Mount 3 xTrailer Hitch Lock 1 xTrailers 24 xTruck Bed Bike Racks 4 xTruck Bed Slide 30 xTruck Bed Step 1 xTrunk Bike Racks 2 x

Contact and Help

I ordered this merchandise on one day and by the time I went home from work on the next day it was in my driveway. Amazing service.

Produced to make sure you know what you are getting and you get exactly what you need.

To make sure products work and fit the way they are supposed to.

1,125,924 phone calls and 1,350,587 emails to help find the right solution.

We get to know our products firsthand so experts can better help you.

Assisting our neighbors and customers, face to face at the counter.

Created to make sure you have all the answers to your questions, from real experts.

Thanks for the fast service and great technical service. I would have had to drive all over town to find these items, but didn't have to leave home!

Source https://campersmarts.com/rv-frame-mounted-cargo-carriers

Source https://www.etrailer.com/search/Trailer+Tray+A+frame+Cargo+Carrier

Source https://www.etrailer.com/search/a+frame+cargo+carrier