Is It Safe in South America?
Bonnie is a freelance writer born and raised in South America who has covered the continent for 11 years.
Pierre-Yves Babelon / Getty Images
South America—home of the famous Machu Picchu, Rio de Janeiro, Buenos Aires, Patagonia, and more—attracts roughly 37 million tourists per year. Naturally, due to the presence of rebel groups and its notoriously violent illegal drug trade, parts of the continent have been deemed unsafe for tourism. But even Colombia, widely avoided as a travel destination until the early aughts, has turned its reputation around in recent years. There are many places to visit in South America if you practice basic safety and stay away from certain areas and activities.
Travel Advisories
The U.S. Department of State has issued a Level 3 Travel Advisory ("reconsider travel") for all South American countries except Uruguay , which remains a Level 2 ("exercise increased caution"), and Argentina , Brazil , and Venezuela , all under a Level 4 ("do not travel").
Prior to 2020, all but one were under a Level 2 due to crime, terrorism, kidnapping, and/or civil unrest. Venezuela has been placed under a Level 4 due to "crime, civil unrest, poor health infrastructure, kidnapping, arbitrary arrest, and detention of U.S. citizens," the advisory says .
Is South America Dangerous?
While some parts of South America have been deemed dangerous by the U.S. Department of State, much of the continent is perfectly safe to visit. Travelers are advised to avoid the entire country of Venezuela due to ongoing political instability. Parts of Colombia—Arauca, Cauca (except Popayan), Chocó (except Nuquí), Nariño, and Norte de Santander (except Cucuta)—are also under a Level 4 because of crime, terrorism, and kidnapping  . In 2019, the U.S. Department of State warned of "K risks" in 35 countries following the kidnapping of American tourist Kimberly Sue Endicott in Uganda  . Venezuela and Colombia were the only two South American countries on the list.
The safest places in the continent seem to be the stunning beaches of French Guiana, Uruguay, the volcano-laden nation of Chile, Suriname (South America's smallest), Paraguay, and Argentina. Wherever you go, leave your valuables at home and travel with an abundance caution.
Is South America Safe for Solo Travelers?
South America is safe for solo travelers so long as they stick to low-risk areas and remain vigilant. Many of its cities and countries are popular tourist destinations with countless hostels frequented by the backpacker set. Solo travelers should stick to these areas—Bogota, Colombia; Jijoca de Jericoacoara, Brazil; Santiago de Chile, Chile; Mendoza, Argentina; and Rio de Janeiro, Brazil, for instance—and only travel to more remote or dangerous areas with a licensed tour guide. As with any city, solo travelers should avoid going out alone at night and taking solo taxi rides. Kidnappings happen, so use the buddy system as often as possible.
Is South America Safe for Female Travelers?
Women travel to South America all the time—often in groups, sometimes alone—and many of them return home with only positive experiences. Women's rights are not as progressive in South America as they are in the U.S.   and there are frequent reports of domestic violence in many countries; however, this doesn't generally put female travelers at risk. Because of South America's very macho, chauvinistic culture, women may experience cat calling or other hassle from men. What they should really keep an eye out for, though, is pickpocketing and other non-violent crime. Female travelers are vulnerable, especially when alone, so they should keep their guards up and travel in groups when possible.
Safety Tips for LGBTQ+ Travelers
Homosexuality is legal in every South American country except Guyana, where it is punishable by life imprisonment (although that rule is rarely enforced). Same-sex marriage is illegal in seven countries: Bolivia, Chile, Guyana, Paraguay, Peru, Suriname, and Venezuela. Anti-discrimination laws are in place everywhere except Guyana, Paraguay, and parts of Argentina. Travelers should know the laws of the countries they intend to visit, and try to avoid public displays of affection even where it's legal as violence towards LGBTQ+ individuals and couples still occurs.
Safety Tips for BIPOC Travelers
Demographics vary by country—for instance, Argentina is 85 percent white whereas Suriname is primarily Black and East Indian  . Bolivia is 55 percent Amerindian while 75 percent of Paraguay's population identifies as mestizo  . South America, as a whole, is a melting pot of races and ethnicities, and the vast majority of it is extremely hospitable and welcoming. That being said, racism is prevalent (as it is throughout the world), and exists in various forms. So long as BIPOC travelers stick to the tourist-centric places where locals are more exposed to diversity and are therefore more accepting, they shouldn't encounter any trouble.
Safety Tips for Travelers
Colombians have a saying, no dar papaya (don't give papaya), which means "don't be stupid," or—in other words—don't put yourself in a position to be taken advantage of. Travelers should walk with confidence, stay aware, and avoid looking like a target.
Educate yourself on the current affairs of your destination and avoid demonstrations or any unrest while there.
Keep in mind that pickpockets often work in pairs or groups. One or more will distract you while another does the stealing. or Portuguese in case of an emergency.
Wear appropriate clothing for the locale and situation. Dress like the locals and conceal any valuable possessions (iPhones, cameras, jewelry, etc.).
It's always a good idea to register with your embassy or consulate before traveling abroad.
TripSavvy uses only high-quality, trusted sources, including peer-reviewed studies, to support the facts within our articles. Read our editorial policy to learn more about how we keep our content accurate, reliable and trustworthy.
U.S. Department of State. "Uruguay Travel Advisory." November 23, 2020.
U.S. Department of State. "Argentina Travel Advisory." August 6, 2020.
U.S. Department of State. "Brazil Travel Advisory." August 6, 2020.
U.S. Department of State. "Venezuela Travel Advisory." October 30, 2020.
U.S. Department of State. "Colombia Travel Advisory." October 30, 2020.
U.S. Department of State. "Introduction of K Risk Indicator." April 9, 2019.
The 10 Safest South American Countries to Visit in 2022, Ranked
Travel in South America has so much appeal. It's an area known for its dramatic natural beauty, rich, millennia-old cultural heritage and warm communities.
However, a concern often nagging in the back of people's minds when choosing to travel to is whether it's safe to travel in South America. This continent has attracted quite a worrying reputation over the years, but this is a sweeping and unfair generalization that doesn't reflect the realities of life and travel in the 13 diverse countries within South America.
Before planning your trip, it's worth getting to grips with how safe the country you're visiting is – as well as common scams and issues you should be aware of before you arrive. So here are the top ten safest countries in South America, according to the 2021 Global Peace Index, as well as links out to the relevant travel advisories and travel warnings for each destination.
Planning Your Trip to South America?
Save time, stress & money with a customized travel itinerary planned for you by a South America expert
What previous clients have said:
Steph's itinerary exceeded all expectations. She provided off the beaten path hikes, great restaurants and accommodations, and very helpful local contacts.
Due to the weather we had to deviate from our original plan, however Steph quickly responded to our email during the trip with further recommendations. Her service took all the guess work out of planning our vacation and lead to the most fun and unforgettable trip we have ever had!
Catherine Bradley
1. Uruguay
Rank: 47/163
Government travel advisory:US State Department
Sitting at the top of the pile of safest South American countries is Uruguay. According to the 2021 Global Peace Index, Uruguay ranks 47 th out of the world's 163 nations. Despite historically being one of the lesser-known South American countries on the tourism trail, this is now changing thanks to a growing awareness of its allure.
Tranquil, safe, and green, Uruguay is fast becoming an ideal getaway for holidaymakers of all demographics.
How to stay safe travelling in Uruguay
When travelling to Uruguay, safety concerns to be aware of are pick pocketing, muggings and car break-ins in the big cities – but care should be taken in the smaller towns and resorts, too. It is advisable to avoid carrying large amounts of cash or expensive jewelry. It is generally best to avoid walking alone at night.
Uruguay is home to incredible beach resorts where you can relax.
Uruguayan destinations you shouldn't miss
Uruguay has some stunning places to visit, including its capital, Montevideo – a place we consider to be one of the best places to visit in South America. Another one of Uruguay's most lauded tourist attractions is Colonia del Sacramento, a city and UNESCO World Heritage Site, and home to some of the finest wineries and vineyards in the country.
Another unmissable destination is Punta del Este, an exclusive beach resort that boasts a breath-taking coastline on the Atlantic Ocean. A quieter alternative to Punta del Este is Jose Ignacio – a former fisherman's village turned idyllic beach getaway. Salto, Uruguay's second city is also well worth a visit, with its leafy walks, picturesque plazas and laid-back vibes.
2. Chile
Rank: 49/163
Government travel advisory:US State Department
Chile ranks just a couple of places below Uruguay in the 2021 Global Peace Index at 49 th and is South America's second safest country. It is another place that has experienced a travel boom over the past few years – something that should come as no surprise.
Chile's mesmerizing landscapes range from desert plateaus to glacier speckled mountain rangers, so it's fair to say this stunning nation has something for everyone.
How to stay safe travelling in Chile
Despite being one of the safest places to visit in South America, travellers should remain vigilant, particularly in Santiago and other large cities. A common issue is with fake, unofficial taxis whose drivers may attempt to steal from tourists – it's therefore advisable to use pre-booked official taxis, particularly at the airport in Santiago. Asking the driver for proof of reservation can mitigate this risk.
Chile is home to some of the continent's most outstanding scenery, including Torres del Paine National Park.
Carjacking whilst stopped at traffic lights has occurred in big cities, so it's prudent to keep car doors locked when driving and parked. Be aware of pickpockets on public transport such as the Metro in Santiago, and avoid carrying large amounts of cash or showy jewelry, and keep your passport in a safe back at your hotel or in a hidden, inaccessible pocket in your bag. If you do get mugged, don't resist: it's not worth getting injured over items that you can replace.
Chilean destinations you can explore safely
Most trips to Chile are completely trouble-free, which is why this is a South America destination you can't miss. If you're somebody who enjoys the hustle and bustle of the big city, Santiago has tons to offer: from stunning 18 th -century architecture to museums exploring Chile's ancient history and civilizations.
Torres del Paine National Park is one of our favourite places to visit in Chile due to its incredible hikes and breathtaking views of Patagonia's wildest landscapes. The Chepu Valley, Chiloé is another must-see to catch a close-up of some unique wildlife. Home to an abundance of spectacular and rare birds, this river valley is a bird-watcher's dream.
Pucón is a destination that often finds itself on adventure-hunters' itineraries in Chile because of its incredible hiking trails and volcano ascents, as well as skiing in the winter.
For a change of terrain all together, the Atacama Desert is an otherworldly experience, home to huge volcanoes, salt lakes filled with flamingos and geothermal springs that should not be missed when visiting Chile. Easter Island (or Rapa Nui as it's known to the local people) is another truly unique Chilean destination that's home to remarkable stone statues known as moai dotted around the island.
3. Argentina
Rank: 68/163
Government travel advisory:US State Department
Argentina is ranked 68 th in the 2021 Global Peace index and is considered the third-safest South American country. One of the most visited countries on the continent, it's chock-full of rich Latin American culture, an exciting nightlife and food scene along with breathtaking natural beauty to behold.
It doesn't matter where your passion lies, whether that's partying, local cuisine or adventure seeking, this nation has so much to offer.
How to stay safe travelling in Argentina
When visiting Argentina, there are some safety considerations to be mindful of. The most common of these is distraction theft. If you are approached on the street and something doesn't feel quite right, refuse to engage and walk away – otherwise a bystander in on the rouse may well steal your purse or bag while you're distracted.
Be vigilant to pickpockets, and do not resist should a mugging occur – hand over valuables and money and report the incident to the local police. Always be sure to check out government travel advisories for more information on how to stay safe – there are some neighborhoods for which more caution is advised. However, over 100,000 Britons visit Argentina annually, and most visits are free of trouble!
Destinations in Argentina you can explore safely
Buenos Aires stands out as one of South America's most enticing capital cities. Latin passion, bohemian neighborhoods and fantastic steakhouses – what's not to love?
For nature lovers, the famous Perito Moreno Glacier is a must-see. This is one of Patagonia's most staggering natural ice formations. Visitors are able to get up close to arguably one of the most beautiful natural landmarks on the planet.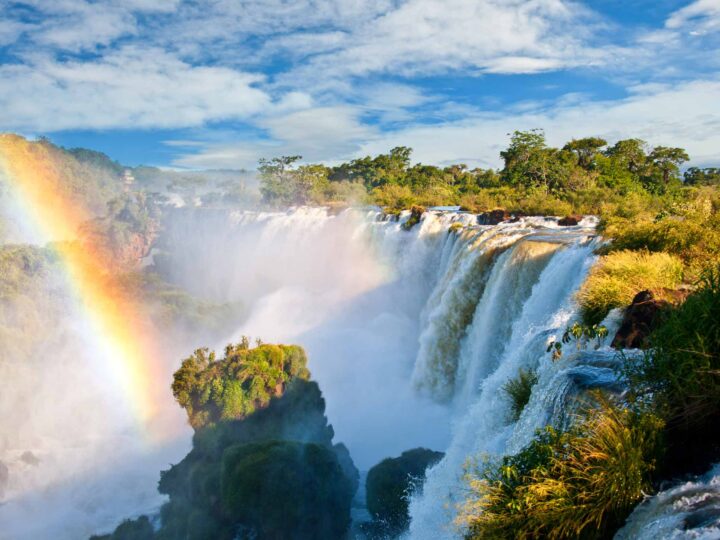 Iguazu Falls are some of the globe's most incredible waterfalls and a must-visit in Argentina.
Bordering with Brazil, the Iguazú Falls are the largest, most breathtaking waterfalls on the planet and a UNESCO World Heritage Site. Argentina's second city, Córdoba, also possesses exquisite 16 th century architecture and a large student population, making it an exciting destination for nightlife and culture.
The landscapes of Patagonia's Ushuaia, the world's most southerly city, are also spectacular and you can explore the Beagle Channel by boat to visit nearby penguin and seal colonies.
4. Paraguay
Rank: 75/163
Government travel advisory:US State Department
Of the safest South American countries, Paraguay comes in at fourth on the continent and 75 th globally for 2021. Off the beaten tourist trail and bordered by Brazil, Bolivia and Argentina, Paraguay is a place unknown to most travellers, but the intrepid ones who do visit are in for a treat.
Full of geological wonders, an under-the-radar Latin American capital city and well-preserved Jesuit buildings, Paraguay is an underrated gem that will dazzle and surprise.
Paraguay travel warnings
Safety precautions to take in Paraguay include making sure mobile phones and money are out of sight – muggings and street crime can occur if you're flashing valuable items, particularly in Asuncion and Ciudad del Este on the Brazilian border. It is also sensible to avoid walking alone at night in these cities. Travellers often prefer to take taxis for convenience and safety as opposed to other modes of public transport.
Destinations in Paraguay to visit safely
There are some amazing adventures to be had in Paraguay. Asunción, its capital, is a warm, welcoming city boasting 17 th -century architecture, epic art galleries and some fantastic restaurants.
A trip into the Paraguyan Pantanal is a true adventure in South America's fourth safest country.
On the border with Brazil and a stone's throw from Iguazu Falls is the Itaipú Dam: a gigantic structure that generates most of Paraguay's electricity and is one of the engineering wonders of the world. You can visit it as part of a day tour from Ciudad del Este.
For wildlife lovers, go on a guided tour of the Gran Chaco; a dry forest home to tropical birds, pumas and armadillos. You can also take an intrepid adventure deep into the Pantanal for sightings of monkeys, caiman and jaguar.
La Santisima Trinidad de Paraná tells an important story about Paraguayan history, and more specifically, the Jesuit Missions and how indigenous communities were impacted. This UNESCO World Heritage Site is full of fascinating ancient ruins from the colonial era and is one of the country's most visited places.
5. Peru
Rank: 86/163
Government travel advisory:US State Department
Peru ranks as the continent's fifth safest country and sits at number 86 on the 2021 Global Peace Index. It is one of the most popular destinations for people travelling through South America, and, between its breathtaking natural wonders, ancient ruins and delicious cuisine, it's easy to see why adventurers flock to this uniquely beautiful nation en masse.
How to travel in Peru safely
Things to be mindful of when it comes to safety are muggings in major cities and passport theft – it is best to avoid carrying your passport around. There have also been a few rare incidents where tourists have been robbed at gunpoint outside luxury hotels and lodges. In this situation, do not resist and report the incident to police. Be on the lookout for bogus taxis and only book official ones.
A few cases of sexual assault involving lone female travellers have also been reported in Cusco and Arequipa – so never leave drinks unattended and avoid using unofficial tour agents.
However, remember that the serious incidents above are rare, but being aware of them is key to a safe trip.
Destinations in Peru to visit safely
There is an abundance of culture and beauty to explore in Peru. The utterly majestic Inca City of Machu Picchu is one of the Seven Wonders of the World and the most famed Peruvian destinations.
Gocta Falls, one of the highest waterfalls in the world, is a destination in Peru visited by few foreign tourists.
Iquitos is another incredible place to visit in Peru; this spectacular Amazonian city is reachable by boat or plane and is one of the main gateways into the jungle.
The White City, Arequipa, is full of charm and arguably Peru's most beautiful thanks to its striking architecture. It's also a great stopping-off point on a trip to the Colca Canyon.
The north of Peru boasts one of the world's highest waterfalls in the Gocta and Yumbilla Falls – the views are jaw dropping and the surrounding jungle landscapes packed full of flora and fauna.
With snow-capped mountains and turquoise waters, Huaraz is also a hiker and climber's paradise, particularly for those looking to bag their first 5,000+ mountain ascent.
6. Ecuador
Rank: 88/163
Government travel advisory:US State Department
The 2021 Global Peace Index ranks Ecuador as the sixth safest country in South America, coming in at 88 th worldwide. Travellers adore this small but wonderfully scenic country. Beaches, cities, jungles and, across the ocean in the Galapagos Islands, underwater worlds full of amazing wildlife – you name it, Ecuador has it!
How to visit Ecuador safely
There are some safety precautions you should take when travelling through Ecuador. Pickpocketing and muggings are common, so all of the same advice above for previous countries applies.
The Galapagos Islands is one of the most diverse places on the planet – and a destination you can visit safely in South America.
Female travellers in particular should take care to book accommodation that has been well reviewed by other travellers and be aware of date rape drugs – serious sexual assaults have taken place. Never accept cigarettes, perfume samples, food or drink from a stranger, as these can contain drugs used to subdue you while you're robbed.
Destinations to explore in Ecuador
Ecuador is abundantly blessed with experiences that are likely to be once-in-a-lifetime for visitors. The Galapagos Islands are unlike anywhere else on the planet thanks to endemic wildlife that cannot be found anywhere else on the planet.
Taking a boat tour of the Ecuadorian Amazon is also highly recommended because you can spot anacondas, piranhas and pink dolphins!
Quito and Cuenca are also the perfect city trips for visitors to South America. Both places have well-preserved historic architecture and plenty of places for sampling delicious Ecuadorian food.
The Cascada el Pailón is a magnificent giant waterfall that emits swirling mists and rainbows – take a suspension bridge over this awe-inspiring natural wonder for some epic views! Located on the edge of the Cloud Forest and along the Rio Verde River, this thunderous natural wonder is one of Ecuador's largest single-drop waterfalls.
7. Guyana
Rank: 100/163
Government travel advisory:US State Department
Guyana sits at 100 th in the Global Peace Index as of 2021 and is South America's seventh safest country. This spectacular gem often falls off the radar for many travellers, even though it's South America's only English-speaking country, which makes it easier to navigate for those who don't speak Spanish.
The Rupununi in Guyana is home to giant anteaters, jaguar and giant otters.
Home to a huge tract of untouched and highly biodiverse jungle and small-scale tourism outfits that enable you to meet and learn from the local people, Guyana is a life-changing destination for adventurous travellers.
Travel warnings for visiting Guyana
Safety concerns in Guyana mainly center on the targeting of tourists who are perceived as wealthy. Avoid wearing jewelry or expensive clothes; don't carry more cash than you need, and always follow government travel advice for specific areas that are best avoided by foreign travellers.
Destinations not to miss in Guyana
Guyana is 80% rainforest, most of which is practically inaccessible and thus a haven for wildlife and dramatic natural attractions. Kaieteur Falls is one of them: the highest waterfalls in the country, it's a dazzling display of nature's might. The surrounding national park is also home to key wildlife species such as the dazzlingly orange Guianan cock-of-the-rock.
A trip around Guyana wouldn't be complete without visiting the Rupununi, a savanna plain in the south-west of Guyana where you can encounter some of the country's most thrilling wildlife, such as giant anteater, jaguar and giant otter.
Guyana also lays claim to producing the best rum in the world – you can test this out for yourself at Demerara Distillers in Georgetown.
For a truly authentic experience, visit Surama, an indigenous community turned eco-lodge where the community will teach you traditional dances and about cassava production.
8. Bolivia
Rank: 105/163
Government travel advisory:US State Department
Bolivia is ranked 105 th in the 2021 Global Peace Index and eighth on its continent for safety. With so many diverse and stunning landscapes, Bolivia may pose some challenges for travellers, but a visit here is guaranteed to be memorable. Between lively cities, salt flats and volcanic landscapes and fascinating indigenous culture, Bolivia is an adventurer's dream.
How to travel in Bolivia safely
Before you travel to Bolivia, it's worth considering safety, as tourists can be a target for opportunistic thieves. There are specific factors to take into consideration – some of which require a little extra planning ahead – but all are surmountable.
Flamingos fly over Laguna Colorada, a spectacular lake visited as part of a tour of the Salar de Uyuni salt flats.
Be sure to use official taxis only; wear a cross-body bag on your front as opposed to a backpack to keep valuables close, learn some basic Spanish phrases and download your route on apps such as Google maps in the event that you lose internet connection while exploring.
Destinations you can't miss in Bolivia
Now, for the fun part! The Salar de Uyuni is the largest salt flat in the world and one of Bolivia's main tourist attractions. Visit during the wet season for incredible reflection shots or during the dry season for mind-blowing perspective shots. Whenever you go, your tour will encompass the region's most thrilling natural landscapes, including Laguna Colorada, a vast lake home to rare flamingo species.
For the history buffs, we highly recommend the UNESCO Jesuit Missions. These historic sites contain the missions (churches) that were set up by European colonisers in the 17 th century with the aim of converting native peoples to Christianity and offer an intriguing mix of both native and European architectural influences.
The gateway to the Amazon jungle in Bolivia, Rurrenabaque is another destination you shouldn't miss on a trip to Bolivia, where you can wander through the rainforest in search of jaguars, monkeys and other remarkable wildlife.
Like to travel via your stomach? Cochabamba is known as Bolivia's foodie capital and is a must if you're looking to get a taste of authentic local cuisine.
9. Brazil
Rank: 128/163
Government travel advisory:US State Department
The home of samba and soccer comes in at 128 th on the Global Peace Index, ranking as the ninth safest country in South America in 2021. For all of its documented problems, Brazil has a rich culture, locals who love to party and some of the world's most superlative natural and man-made wonders.
How to stay safe on a trip to Brazil
To remain safe while travelling through this enormous country, be aware of muggers, some of whom may be armed. Never try to resist if you're being mugged. Avoid city beaches after dark and keep possessions close to you whilst on the beach during the day. It is generally recommended to avoid the favelas in any city.
Rio de Janeiro's Christ the Redeemer statue is one of South America's most iconic man-made landmarks.
The metro system is generally safer for transport, as taxis can take you through favelas and certain areas where cars containing obvious tourists could be targeted.
Where to visit in Brazil
Rio de Janeiro is the most visited city in South America and for good reason: its impressive beaches, mountains, world-famous Carnival festival and vivacious atmosphere are magnetic. Not to mention the fact that it's home to Christ the Redeemer statue!
The beautiful Chapada Diamantina National Park in eastern Brazil was created to preserve its diverse ecosystems. With an array of mountain ranges, valleys, waterfalls and flora and fauna on show, this is one for the outdoor enthusiasts.
Likewise, the gorgeous Bonito is a hub of sustainable ecotourism; with dramatic jagged caves, tropical flora and fauna, and turquoise waters to snorkel in.
The city of Sao Paulo is another destination you can't miss. This sprawling metropolis is a gastronomic paradise, with food markets galore, football stadiums and an array of beautiful green spaces and parks. The state it belongs to is fast becoming a trendy escape for city-dwellers and tourists. There are tons of activities to get involved in – from jeep tours through its jungles, to river rafting and beach visits along its sublime coastlines.
10. Colombia
Rank: 144/163
Government travel advisory:US State Department
Of the safest South American countries, Colombia is placed tenth on the continent and 144 th on the 2021 Global Peace Index. A nation that was once off-limits for tourists, Colombia is rapidly becoming one of South America's most appealing countries, particularly to backpackers and adventure seekers.
With its incredibly diverse terrain, buena onda (good vibes) and untouched archaeological sites, Colombia is guaranteed to leave a mark.
How to travel to Colombia safely
The crime rate is still high in Colombia, so make sure you follow government travel advice to minimize the risk of encountering problems. When you're travelling, keep all valuables out of sight. Always use official taxis, and be mindful of Colombia's political climate, which can sometimes lead to demonstrations and protests breaking out quickly and unexpectedly, particularly in cities such as Bogota, Medellin and Cali.
Colombia is home to stunning colonial buildings constructed using slave labour under the Spanish conquest. Tours of Cartagena, the country's most spectacular city, can help you learn more.
Destinations you can't miss in Colombia
Adventurers are truly spoilt for choice in Colombia. Its glorious Caribbean coastline boasts Cartagena, a colonial city that looks beautiful but has a dark history.
Los Nevados National Park is another destination not to miss. It boasts an active volcano, jaw-dropping scenery, natural hot springs and a thriving coffee region with farm tours available.
To get a true feel of the beautiful diversity of Colombian culture, head to its vibrant capital, Bogotá. Amongst its many super cool neighborhoods, chic restaurants, art galleries and outstanding street art culture, this city never fails to impress.
Medellín is another remarkable city with tons to see and do. Its museums document its triumph over the drugs wars of the 80s and 90s and its streets are brimming with art, tasty food and cable cars with fantastic views. For more inspiration, read our guide to the best destinations to visit in Colombia.
Can I travel to South America right now?
COVID-19 in South America remains a barrier to travel at present. Many countries still remain on governmental do-not travel lists, while others, such as Chile and Argentina, have only just opened up their borders to international travellers, with travel restrictions in place for many destinations across South America.
Because of ongoing restrictions, you may struggle to get travel insurance if you attempt to visit a country that your government does not currently deem safe. Keep checking your government's travel advisory to stay updated and be aware that you will likely need a negative COVID-19 test and proof of vaccination to be permitted entry into most countries in South America.
Source https://www.tripsavvy.com/south-america-common-sense-safe-travel-1637307
Source https://worldlyadventurer.com/is-it-safe-to-travel-south-america/
Source