How to Get Around Central America on a Budget
Last Updated: 02/08/20 | February 8th, 2020
Surrounded by the Pacific and Atlantic Oceans, Central America is a magical region that is perfect for backpacking. The area is full of rainforests, unexplored Mayan ruins, gorgeous beaches, incredible reefs, cheap prices, delicious food, and warm welcoming people.
Though it is not expensive, it is often confusing to arrange your own transportation throughout the region.
So, in this post, I'll provide some helpful hints on getting around Central America. Here's how you can travel around Central America cheaply – no matter how long you'll be there.
Table of Contents
Getting Around Cheap By Bus
Buses are the main form of transportation you'll use to get around Central America. In fact, it's about the only way to get around Central America as there are no train lines and regional flights are expensive. You're going to take buses most of your trip.
There are several different kinds of buses in the region.
The most comfortable are the international buses that run between the larger cities and tend to have their own bus terminals. They have set, reliable schedules and are best for long distances. They make traveling easy and even take care of the hassles at border crossings. The companies you use might vary by country, but a few of the larger services include:
On Tica Bus, for example, you can get from Panama all the way to Antigua in Guatemala for $136 USD (a 32-hour journey). From Panama to Costa Rica is about $55 USD (a 16-hour journey).
The routes are often straightforward, the buses are air-conditioned, there's a bathroom on board, and the seats recline. Some companies (like Tica) will also have partnerships with local hotels/hostels so that you get dropped off right at the door rather than having to find your way at 2am upon arrival.
While most of these bus services have websites, they're often extremely buggy and difficult to use. To compare routes and prices, you can research your journey on Rome2Rio.com before either booking on the bus company's website or simply showing up at the terminal to purchase your ticket.
For short distances, you have the "collectivo." This short-distance minivan service is super cheap, but often very crowded. You'll usually find them at bus terminals, so it's worth checking with the drivers to see where they're going.
Finally, there is the local chicken bus. These colorfully painted vehicles were formerly U.S. school buses. They are called "chicken buses" because they also transport chickens and rice, thus have a lot of chickens on them. It's a nickname that has stuck among travelers. They stop just about everywhere to let people hop on and off. They are a cramped but fun and interesting way to get around places. I always end up meeting intereting folks.
Here are some sample fares for express bus routes in Central America (in USD):
Belize City to Flores – $25 (5 hrs)
Flores to Guatemala City – $28 (8 hrs)
Guatemala City to San Salvador – $22 (6 hrs)
San Salvador to Tegucigalpa – $15 (7 hrs)
Tegucigalpa to Managua – $30 (6 hrs)
Managua to San Jose – $25 (8 hrs)
San Jose to Panama City – $55 (16 hrs)
San Salvador to Antigua – $19 (6 hrs)
Bocas Del Toro to Boquete – $37 (6 hrs 48 mins)
San Jose to Tamarindo – $8 (5 hrs 30 mins)
San Jose to Boquete – $13 (8 hrs)
Getting Around Cheap By Flying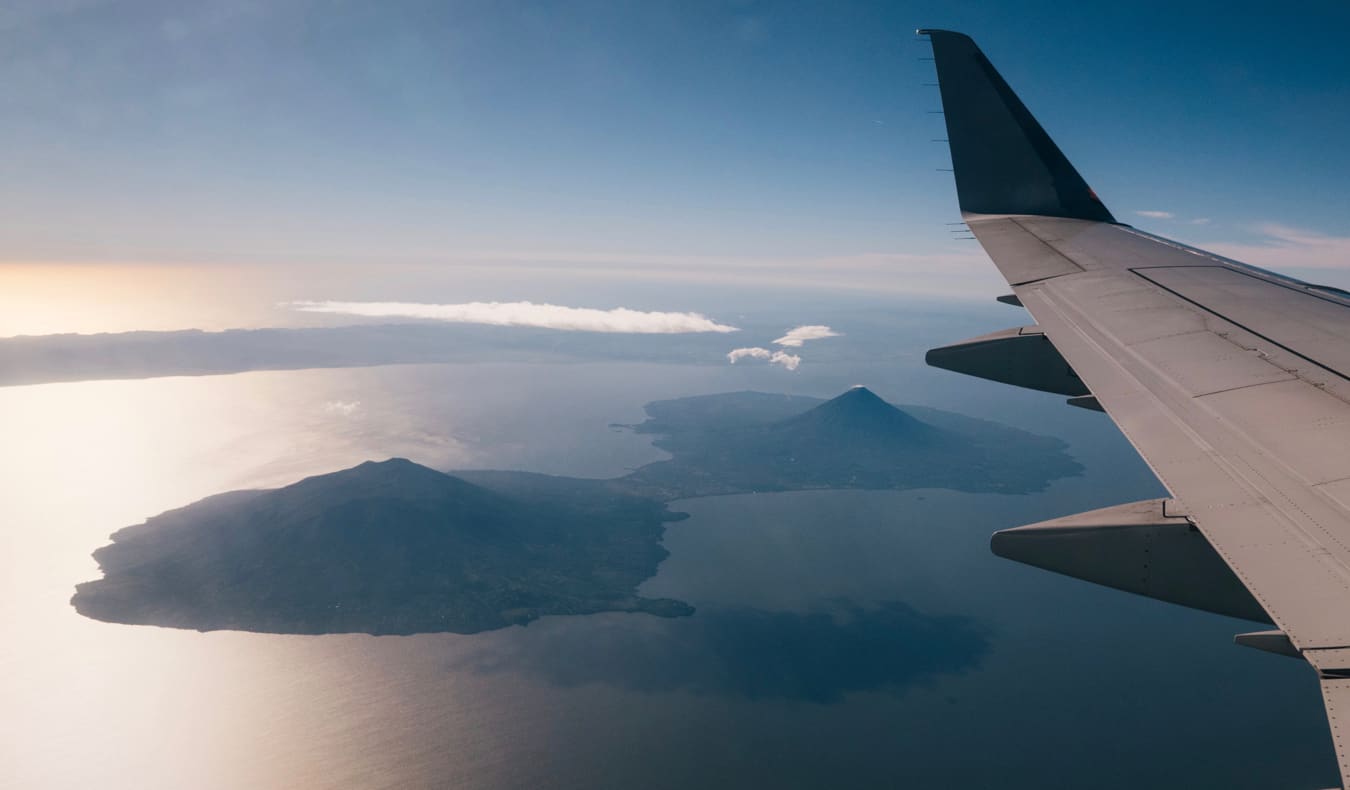 Flying isn't the cheapest way to see Central America (and routes are really limited). San Salvador and San Jose are the most popular hubs, so you may be able to find decent prices to/from these cities.
But then you always have to connect and that's a pain. Here are some sample flight times and prices (which are really high because the region just doesn't have that many cheap flights):
Guatemala City to Belize City – Flight time: 1 hr 15 min.
TAG 358 USD (one way), 501 USD (return)
Avianca 284 USD (one way), 299 USD (return)
Guatemala City to San Salvador – Flight time: 35 min.
TAG 200 USD (one way), 347 USD (return)
Avianca 357 USD (one way), 459 USD (return)
Flores to Guatemala City – Flight time: 1 hr
TAG 125 USD (one way), 220 (return)
Avianca – 136 (one way), 218 (return)
Managua to Panama City – Flight time: 1 hr 35 min.
COPA 332 USD (one way), 481 USD (return)
Spirit** 226 USD (one way), 379 USD (return)
San Jose to Panama City – Flight time: 1 hr 45 min.
COPA 150 USD (one way), 312 USD (return)
Avianca 151 USD (one way), 260 USD (return)
Managua to Guatemala City – Flight time: 1 hr 23 min.
COPA 347 USD (one way), 317 USD (return)
Avianca 348 USD (one way), 528 USD return
Tegucigalpa to San Jose – Flight time: 4 hr 10 min
COPA 357 USD (one way), 355 USD (return)
Avianca 357 USD (one way), 355 USD (return)
San Pedro Sula to San Salvador – Flight time: 50 min.
Avianca 356 USD (one way), 525 (return)
San Pedro Sula to Managua – Flight: 3 h4 15 min.
Avianca 405 USD (one way), 515 USD (round trip)
**Extremely long flights due to layovers
Note: If you book early, you can save on fares. Fares also vary depending on the time of year.
Getting Around Cheap By Car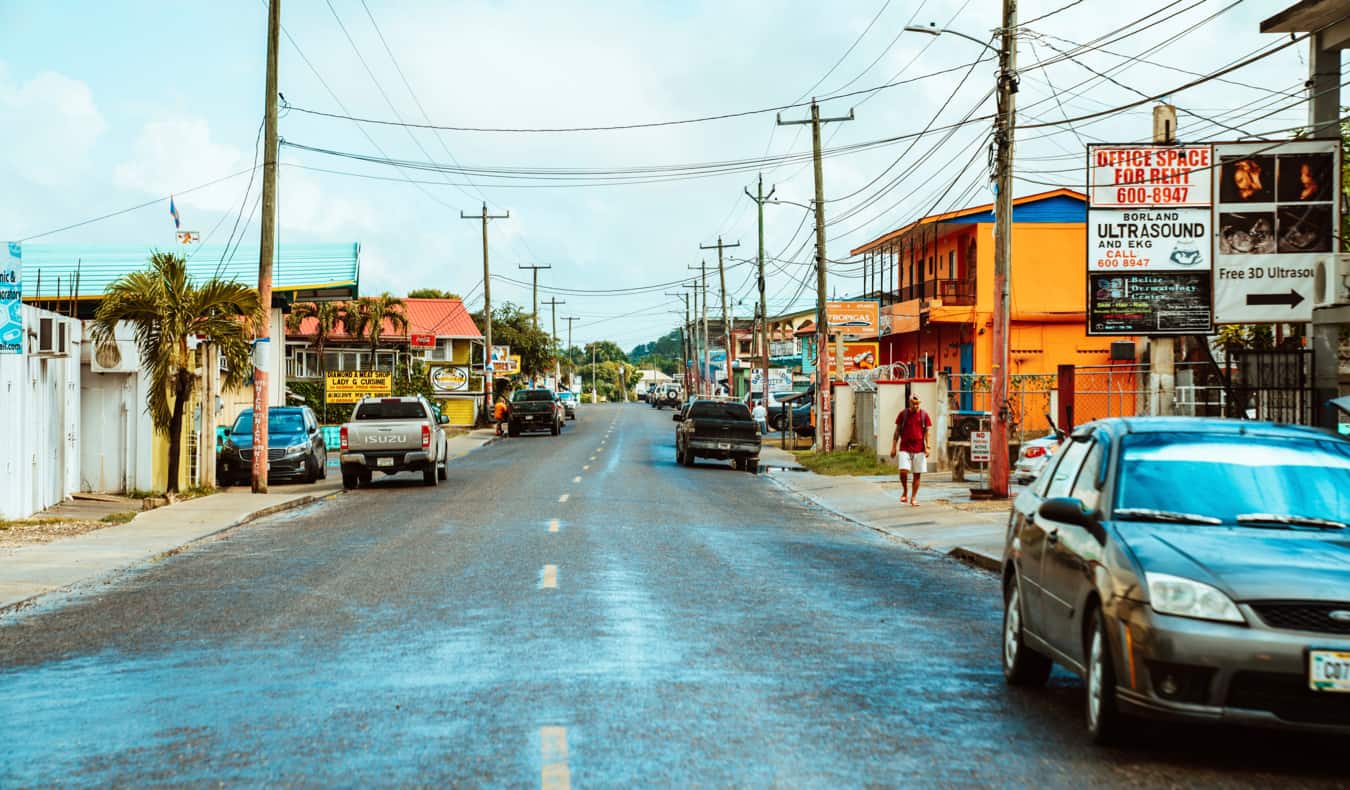 Renting a car and driving around Central America on your own is not a good idea. For one, rental cars are much more expensive than the public transit options.
That said, if you come down here with a car, I would say go for it. Lots of people drive through the region with a car or van they bought elsewhere. It's totally doable. I just wouldn't rent a car to do it in the region.
Getting Around Cheap By Backpacker Bus
Bamba Experience is a backpacker bus company that serves Central America (among other regions). Bamba has a fleet of hop-on-hop-off buses that travel set routes throughout the region, making it easy to get around and explore if you're looking for a simple tranportation option.
As with all pre-arranged tours, there is much less flexibility with this choice as you're going on their schedule (though they will always be back if you want to stay somewhere longer). That being said, you can meet a lot of really cool fellow backpackers with this option. They also organize tours and excursions, too.
Personally, these buses are just not my thing. By doing it yourself, you'll have more flexibility and save money. Want to meet people? Just learn to say "hi" to strangers on buses!
Getting Around Cheap By Boat
If you want to visit islands or coastal towns, boats and ferries are options to consider.
In Belize, ferries to the islands are typically $15-20 USD. You can reach Honduras' Bay Islands (including Roatan) by ferry, and you'll definitely want to take a boat trip if you're heading to the Corn Islands.
If you are traveling from Belize to Guatemala, there's a water taxi from Punta Gorda to Puerto Barrios. And there's a service from Belize (Placencia or Belize City) to Honduras (Puerto Cortes).
Here are some sample ferry fares:
Belize City to Ambergris Caye – From $15 USD (one way), $25 USD (round trip)
Belize City to Caye Caulker – From $23 USD (one way), $35 USD (round trip)
Between Ambergris Caye & Caye Caulker – From $15 USD (one way), $25 USD (round trip)
La Ceiba to Roatan – $33 USD (one way), $65 USD (round trip)
Punta Gorda to Puerto Barrios – $25 USD (each way)
Placencia to Puerto Cortes – $60 USD (each way)
For short journeys (like between the Corn Islands or to various towns on Lake Atitlan), it's easiest to just show up and hire a boat or water taxi to take you across. Prices are usually negotiable this way.
Getting Around Cheap By Train
There are no trains in Central America. It's not an option!
How Long Does It Take to Get Around Central America?
Getting around Central America can definitely be a bit tedious from time to time. Buses can be slow and don't always depart or arrive on time. They will often wait until they are full and stop and pick up people on the way or for rest breaks.
But, to help you plan, here is a distance and time chart so you know (roughly) how long it takes to get from place to place in Central America:
South America Backpacking Itinerary
I'd like to introduce my epic South America backpacking itinerary.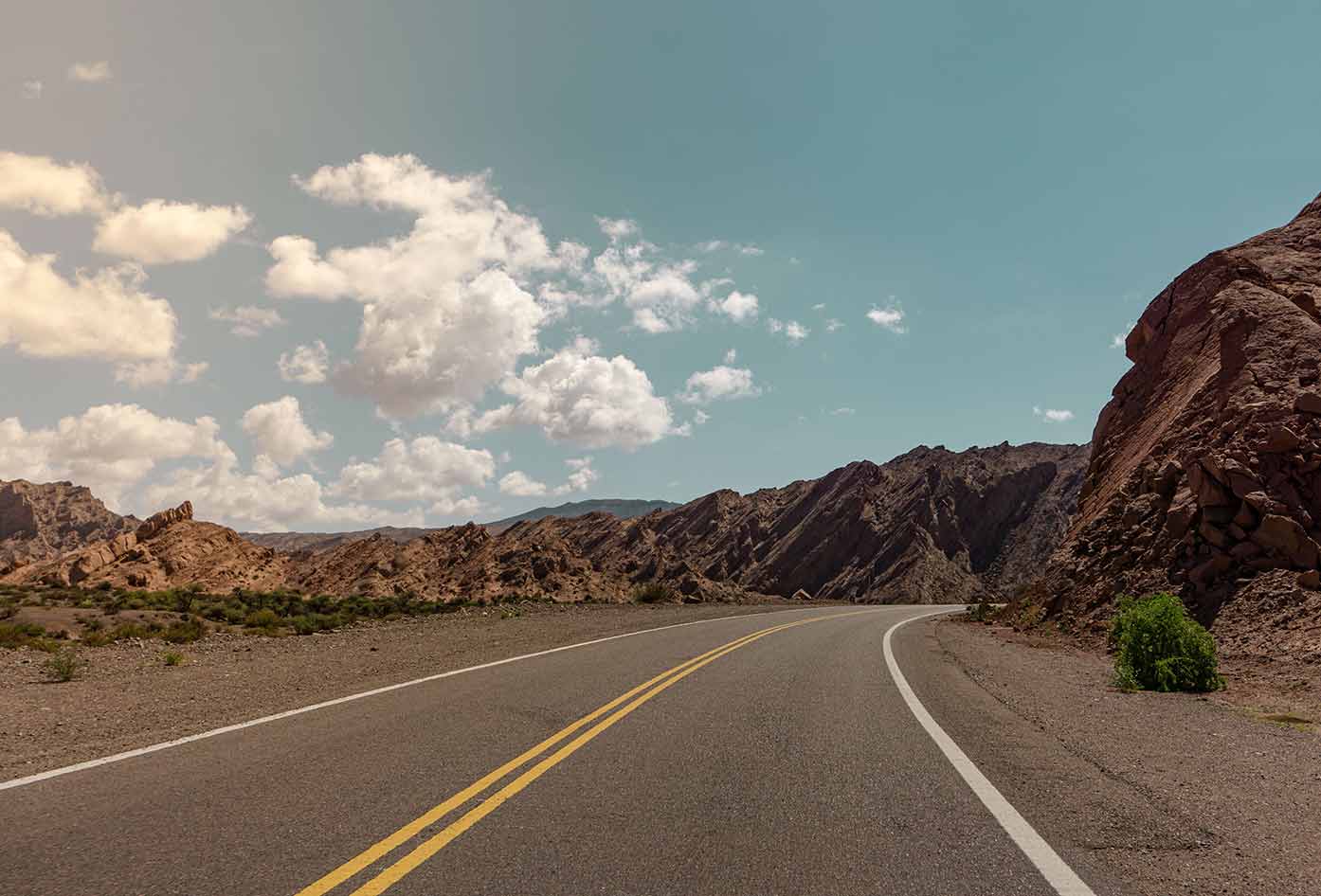 With so many South American travel options – which will you choose?
After spending so long in Latin America, many people have asked me to give them the best itinerary for South American travel.
The reality is that there's no one best place or the best time to travel to South America.
Countries here are so diverse, and it's best to look at different routes. From there, you can create the perfect itinerary for South America that suits you and your travel plans.
Then all you need is your best backpacking gear, and you're ready to rock and roll. This is going to be the ultimate South American trip.
Table of Contents
South America Travel Routes
So, without further ado, let's look at some of the most popular travel routes in South America.
Don't let time put you off; skip some places or stay longer. The countries are listed in the order according to the suggested route.
Colombia
Famous for: Tropical landscapes, Birdwatching, Exotic fruits, Biodiversity.
Route: Cartagena > Tayrona > Mompos > Villa de Leyva > Bogota > Salento > Cali
It's no secret that Colombia is one of my favorite countries in Latin America. Part of what makes a trip to a place like Colombia so fun is the special nature of its landscape.
Not only is it diverse and rich in culture, but it also boasts many other interesting points for any backpacker thinking of backpacking South America. For example, San Gil is great for extreme sports.
With some great beaches in Colombia , you will find a stunning tropical landscape waiting for you the moment you step off the plane.
There are some places to visit in Colombia that are truly unique in Latin America. Colombia is also my preferred entry point to South America.
Even in major parts of the country where urbanization has taken over, there is still that distinctly tropical feel to everything all around you.
That is one of the main reasons to come here: the richness of the biodiversity could make an ecologist out of anyone.
On top of that, it's a fun place to visit if you enjoy your food thanks to the amazing exotic fruits that grow here that you won't find elsewhere!
One of the popular things to in Colombia is to visit the lost city which can be accessed from Santa Marta on Colombia's Caribbean coast.
Ecuador
Famous for: Equator Line, Mega-diversity, Amazon Rainforest, Cocoa, The Huaorani.
Route: Otavalo > Quito > Cotopaxi > Banos > Riobamba > Sibambe > Cuenca
Known as a nation for those who can handle the altitude, a trip to Ecuador can be a headrush in so many different ways.
Part of the joy of a trip to Ecuador is that you can enjoy everything from places like Puerto Lopez that make your trip more worth the while to a look at the Equator line and the amazing quality of diversity found here.
With so many places to visit in Ecuador, you may be surprised by what it has to offer culturally and geographically. Ecuador is indeed similar to Colombia in many different ways but unique in itself.
It's a nice and easy journey from Colombia if you're traveling by land – not to mention the lush scenery you'll see.
Are you feeling adventurous? Scenic locations like Cajas Park are worth getting to know if you're into hiking.
You can even check out the Ecuadorean Amazon Rainforest that is home to over 587 species of birds and four thriving National Parks to discover. If you travel to Ecuador, you will see how unique it is.
Few parts of the world are quite so open and diverse as Ecuador, which is one of the many reasons why a lot of people enjoy coming here.
It's got amazing Amazon rainforests to come to visit alongside some truly special diversity in its landscape and layout.
On top of that, the natural growing conditions of the cocoa beans here ensures it produces some of the best beans in the world!
The main highlight for many backpackers is the Galapagos Islands – an incredible place to visit ecologically protected wildlife.
Also, if your South America Travel budget allows it, you can even get there without taking the cruise.
Famous for: Amazon, Landscapes, Cultural Diversity, Food, Surfing.
Route: Mancora > Huaraz > Lima > Huacachina > Nazca > Cuzco > Machu Picchu
Why not plan a trip to Peru for your trip to South America?
A nation that is absolutely steeped in history, Peru is popular and famous for a great many things including Lima the capital city.
Just outside of Lima alone you can visit many of the popular tourist attractions via day trips from Lima that you can do in one day.
From its truly special Amazon areas to the amazing landscape that covers much of the country, you would do well to find a more diverse, fun place to come and visit than Peru.
Whether you wish to learn about the Incan Empire in Cusco, visit a meditation retreat or trek through the Peruvian Amazon, you'll not be disappointed with the diverse range of activities to do here.
You can even go sandboarding in Huacachina, which has the only natural desert oasis in South America.
It's a special location to visit for those with a taste for creative foods and exciting things to do.
From hiking trips to taking in the various cultures that make up the diverse background of Peru.
No matter how you look at the country; it's oozing in culture. Peru has a great national reserve, and you'll find the best food in Latin America.
Depending on your South America travel duration, you can hopefully get to see Machu Picchu, one of the seven wonders of the world.
Here's a perfect two-week Peru itinerary that goes from Lima to Cusco if you are looking for a popular Latin America backpacking route.
If you're feeling a bit short on time, no worries; you can always check out this snazzy four-day Peru itinerary that may just help you squeeze the most out of your days.
You can enjoy so much about this amazing country. On top of that, be sure to try out the food: like most South American nations, the food here is unlike anything you'll try back home!
Bolivia
Famous for: Pisco, Atacama Desert, Extreme Landscapes, Wine, Sports.
Route: Copacabana > Isla del Sol > La Paz > Sucre > Potosi > Salar de Uyuni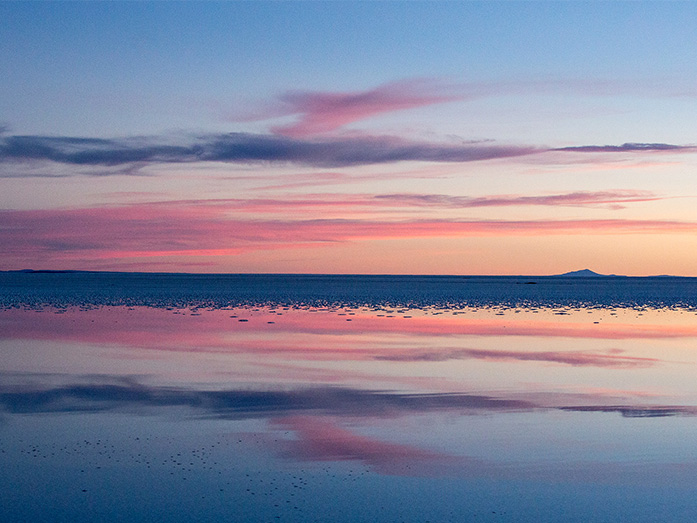 This is the cheapest country to visit in South America. Bolivia and its culture will have you daydreaming about visiting earlier.
When you head to Bolivia, one thing you will notice upon arrival is that this is a location that makes it easy to settle in. The quality of the food and wine is very impressive, as is their general diversity in landscapes.
You can head from one form of the landscape to a complete contrast in a short space of time; it's a nation that makes it easy for you to cover a lot of diverse land in a short amount of time.
First time in Bolivia? Copacabana is the main Bolivian town on the shore of Lake Titicaca, which makes a great starting point if you're backpacking from Peru by land.
One thing you'll enjoy about Bolivia is the richness of the food, but landmarks like the Atacama Desert make excellent places to visit, too.
If you like sports, you'll find this to be among the most sport-crazed nations on the continent, too!
I hope your South America travel itinerary will carry you here. If it's your first time, you'll want to know some tips and tricks for Bolivia to get you started.
Don't leave Bolivia without seeing Salta de Uyuni; the experience and scenery are unforgettable with landscapes changing every 10 minutes as you cruise in a jeep.
It's the best place to visit in South America for many backpackers.
Chile
Famous for: Pisco, Atacama Desert, Extreme Landscapes, Wine, Sports.
Route: Santiago > Valparaiso > Vina del Mar > & Antofagasta > San Pedro de Atacama
Chile is a special place, and with UNESCO sites like Valparaiso, it's a very satisfying place in the developed world to come and visit.
One thing that you will find about Chile is that it offers many fun places to visit, while it also shares the Atacama Desert with Bolivia.
You will get to enjoy the diversity in landscape enjoyed in Bolivia, but you'll also get to take in some brilliant delicacies to try out.
You'll find Chile has some of the best wines to try in the world, too. Chilean wine is among the most popular in the world – almost as popular as sports in this country. Also, you can visit a vineyard here.
For a truly diverse experience, be sure to come and try out Chile yourself!
Whatever you do, please don't be undermined by Chile's size.
Whether you're just passing through and only looking for the top things to do in Santiago or you're here to sample award-winning wines, you won't be disappointed.
Chile packs some serious adventure for any keen backpacker and absolutely perfect terrain if you're traveling overland by motorhome or adventure camping.
If you're not a fan of the heat, you can always head down to Patagonia and check out places like Torres del Paine, which offers a bunch of multi-day hikes.
Santiago is a great starting point and a booming capital city. If you didn't know, Santiago is one of the largest cities in the Americas.
You'll find that most South American travel books have great things to say about the capital's success.
Argentina
Famous for: Tango, Elegant Architecture, Football, Steak, Wine.
Route: Buenos Aires > Rosario > Cordoba > Mendoza > Salta > humahuaca > Iguazu
Every South American trip should include Argentina in their itinerary. If you are lucky to make it to the southern cone, you'll get a true taste of South American culture.
As arguably the most well-known of all South American nations, the European input into Argentina is hard to ignore.
It's a nation that is known for its elegance and its richness in terms of architecture and landscape.
From the amazing steaks found in just about every restaurant to the tremendous Argentine wine, you will find that there is food to be enjoyed all over Argentina unlike other parts of the nation.
As a city, Buenos Aires has been one of the most diverse and exhilarating places I've visited in South America.
Another thing to note about Argentina is that if you like football, you will have come to one of the true homes of the sport.
While it was made in Britain, it was a sport perfected in Argentina and Brazil – showcased perfectly by the likes of Diego Maradona and Lionel Messi.
The people are animated, and you'll notice their body language speaks louder than words.
Many people use Buenos Aires as a landing point to get their trip off the ground, even if you're heading further south to do a big ice trek in places like Perito Moreno or go to Ushuaia, the small resort town.
I salute you if you ever get the chance to travel to Patagonia in the south.
Uruguay
Famous for: Quality of Life, Drinking Mate, Meat, Marijuana, Unspoiled nature.
Route: Colonia > Montevideo > Piriapolis > Punta Del Este > Cabo Polonio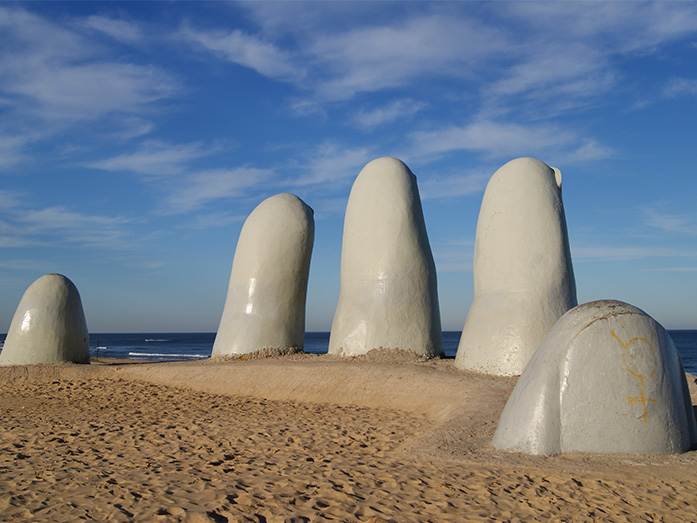 Straddled between the 'big two' South American nations is beautiful Uruguay.
Small but special, the high quality of life enjoyed by Uruguayans is something anyone can appreciate. You'll get to enjoy a nation that has not ruined its landscape with excessive tourist traps and the like.
In various South America travel publications, many have named Uruguay as one of the safest countries to visit.
You'll also be introduced to Mate culture; a form of tea that you might find very hard to put down once you have your first drink.
A rich and enjoyable way to have some fun, you'll get to enjoy everything from amazing meat dishes to puffs of some of the finest (100% legal) marijuana that you will find anywhere in the world.
For a more peaceful and positive approach to South America, be sure to come and check out Uruguay.
From Salto to Montevideo, there is much to enjoy about this special country.
You'll quickly learn how the Rio de la Plata plays a significant role in joining with Buenos Aires and how many citizens use it day-to-day.
On arriving at the port, you'll quickly see why! Though it's definitely not one of the cheapest countries in South America.
If you're backpacking on a budget, it would be best to start your South American trip itinerary here in conjunction with Buenos Aires.
If you're thinking of doing a road trip and wondering how to travel Uruguay, you'll find its 660-kilometer-long coastline very appealing.
Brazil
Famous for: Carnivals, Portuguese, Luscious Beaches, Samba, Football.
Route: Iguacu Falls > Curitiba > Sao Paulo > Paraty > Ihla Grande > Rio de Janiero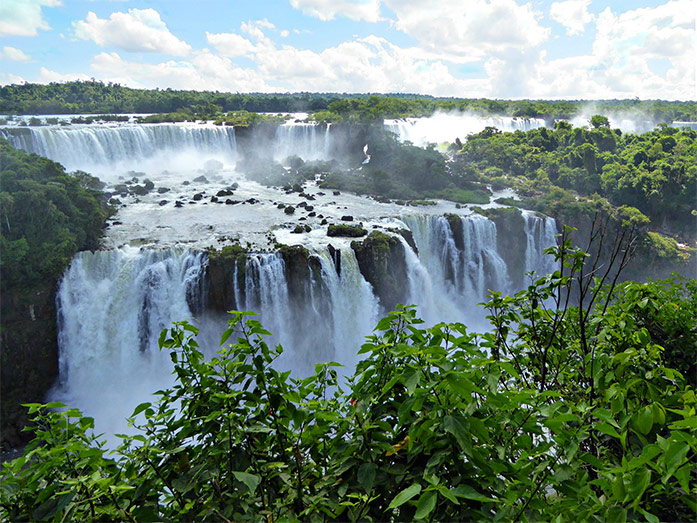 Compared to Argentina, Brazil can seem massive. However, part of what makes Brazil such a special place is immense diversity.
From major city to major city, state to state, Brazil changes entirely.
One thing that remains in almost every part of the country, though, is their love of the Samba spirit; the very essence that has made them a sporting idol the world over.
One thing that you will soon find about Brazil is that you cannot go far without seeing a reference to either Catholicism or football.
These are the two religions in this amazing nation, so be prepared to travel through a melting pot known for its amazing carnivals, its football, and its love of having a wild and exciting time!
You'll find some of the best cities in South America are in Brazil. The mammoth capital, Sao Paulo, is popular with backpackers.
Pencil in a good length of time to explore, as Brazil is the largest country in South America. Maybe now is time to brush up on your Portuguese?
I have gotten by with Spanish in some of Brazil's best places and spent many hours traveling by bus and plane around the country.
Brazil is not for the light-hearted or beginner backpacker.
However, if you do go, make sure you check out Rio de Janeiro as it makes a great introduction to Brazil as well as a good ending point.
Read more South America content…
Best Accommodation in South America
Depending on your budget, you'll find some great options for places to stay in South America.
Before you start planning a trip to South America, I suggest you do a little research on the types of accommodation that will suit you best.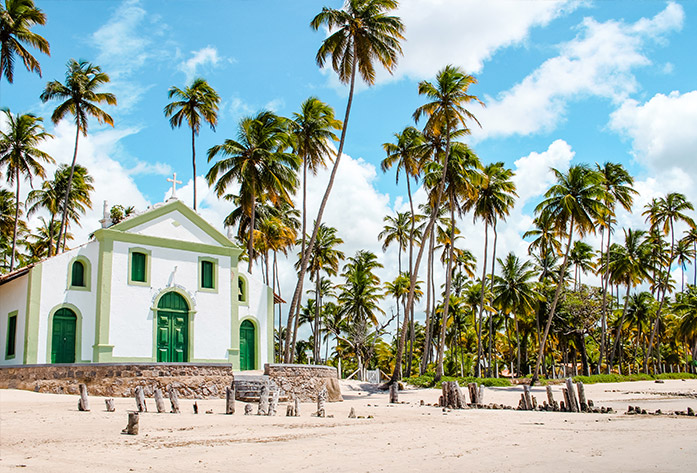 If you only have three weeks in South America, then maybe your accommodation strategy would be different.
Or if you are backpacking on an itinerary of six months, then you'll need to learn how to mix it up.
In my Smart Travel guide, I talk more about my accommodation strategy for Latin America.
It's best to try one of the many types of accommodation South America has to offer to get a full 360 experience.
The most popular is hostels, which you can get for free if you know-how.
Preparing for your Trip
Are you starting your South American itinerary without much travel experience?
Don't worry! I assure you that you're going to meet many people doing the same type of travel.
Some prefer to travel alone, and there are many reasons why.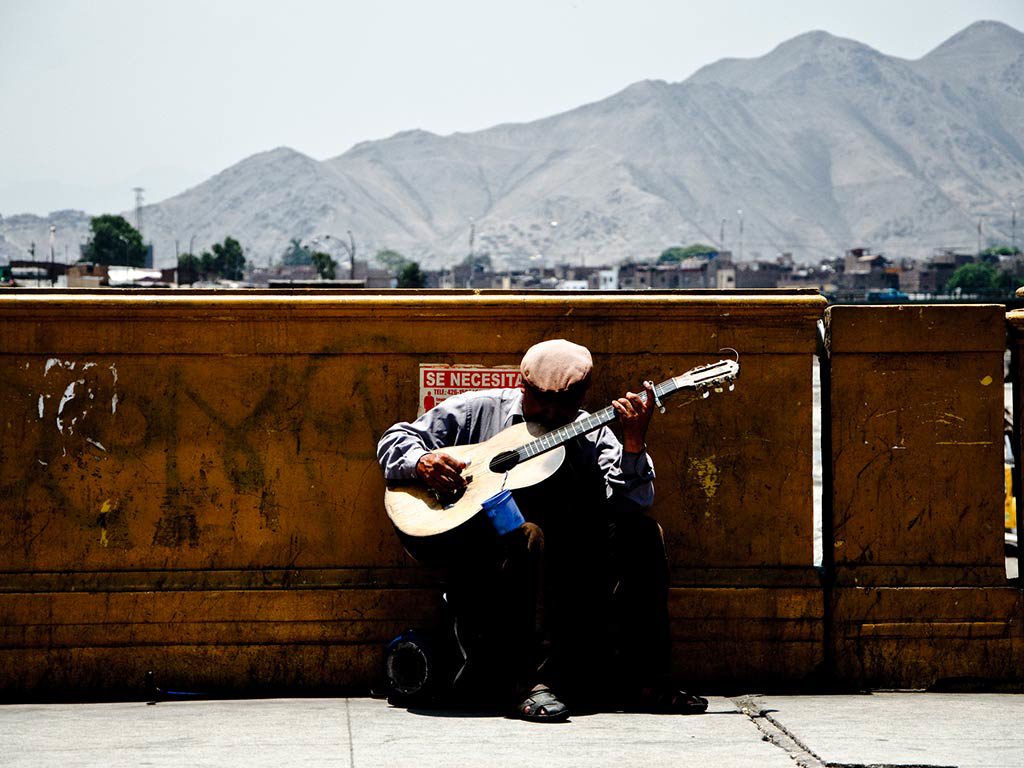 Are you thinking of doing something unique? Like glamping in the Peruvian Amazon? Don't be surprised if you find someone with similar interests.
Knowing what to pack is one of the most asked questions that beginner backpackers ask me. Check out my travel gear page for inspiration on what to carry on your trip.
Travel insurance for South America
I always recommend backpackers and travelers (no matter who you are) use World Nomads Insurance for fully comprehensive cover.

If you are due to travel soon, you can get a Get A Free Quote by clicking the link or the image above and filling out your details – that way you'll get instant cover from the exact date that you choose.
On many occasions World Nomads has provided me with reliable insurance cover for travel in Latin America and the rest of the world.
A good travel insurance plan should give you that peace of mind.
There's more than one reason why Travel Insurance is important to consider while planning your South America travel routes.
Below I'm going to list some of the things to consider:
Trip Cancelation
Trip Interruption
Flight Delays
Lost Luggages
Theft
Property Damage
If you're looking for ideas on how to plan a trip to South America, the last thing you want to worry about is any of the above complications that can quickly become part of anyone's trip.
Can you drive to South America?
If you're based in North America, maybe you're thinking of driving to South America. Trust me, not even the most experienced backpacker decides to leave home without travel insurance.
Backpacking through South America
As part of my South America backpacking itinerary, and after doing years of solo travel in Latin America.
Here I'd like to share five pieces of advice based on what I've learned and applied along all the South America travel routes I have taken.
One of the most memorable trips I did was from Bogota to Buenos Aires, which was an amazing trip. I went to live in Buenos Aires and learn more about the cultures of South America.
Maybe you have a Central America, backpacking route that you're trying to extend to the south.
If you're asking where does South America start or how to get from Central America to South America, you can pick one of few options, but I'd recommend flying from Panama to Colombia.
Some people ask me if it's possible to drive from North America to South America. Of course, you can; many people are doing it. Chile was part of my backpacking South American itinerary.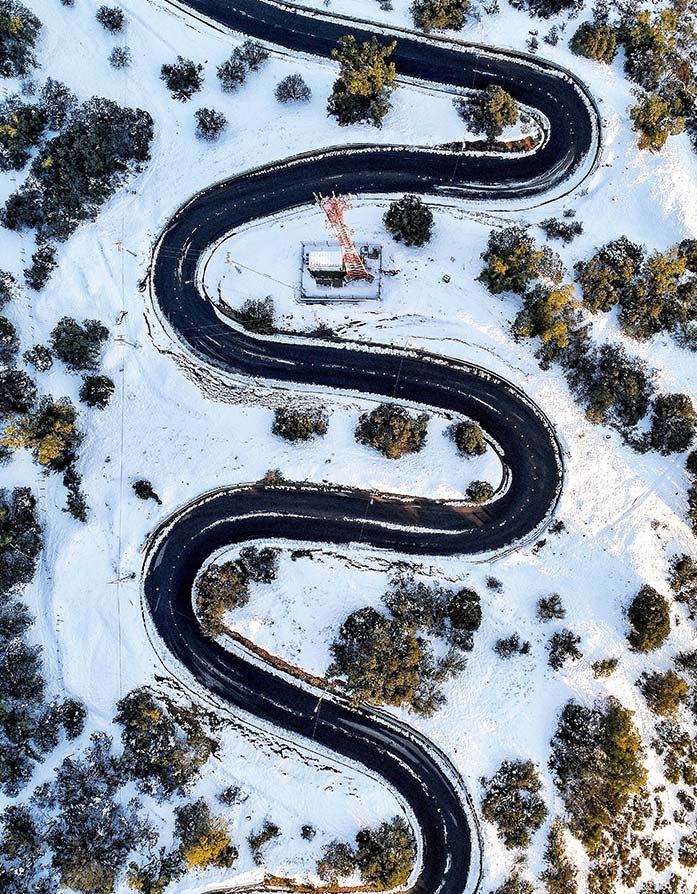 Whichever South American backpacking routes you choose, I have a few backpacker tips that may help you along the way.
Below, I'm going to give you a few tips that have strengthened my character and understanding of who I want to be as a young man.
Keep moving
When traveling solo, you face new situations daily, and there are certain interactions, which really challenge you to be authentic.
One challenge could be opening up to others, feeling vulnerable to sharing your personal history, or who you want to become.
That is quite normal and a minor sticking point that only you can overcome.
Another way I've seen people deal with this is by being a square, choosing to remove themselves from the interaction or environment.
That can be quite normal, and we all have done that at some point.
In my humble opinion, either can be appropriate, depending on how well you know yourself and the purpose of your trip.
When you're aware you're unhappy with your current surroundings, I found it best to keep moving along until I arrive at a place where there are people similar to me or to a location that is more likely to support my growth.
Your personal growth time is too valuable to allow yourself to waste it at the expense of thoughtless strangers.
Everybody feels lonely
The more I travel solo, the more I learn about myself; however, I can't learn about myself without the luxury of meeting other people.
Traveling solo is quite a selfish exploration. Solo travel is a gamble; maybe you don't meet anybody during your whole trip that likes you, let alone understand you or show you any affection.
It took me many solo travel trips to realize that despite traveling with a group, some people can feel lonely.
This is the perfect motivation for interacting with people on a personal level, even though they may seem like they're with a group of old-time friends.
Saviour is around the next corner
Do you know the difference between feeling lonely and being alone?
You must understand the difference before you embark on your first or next solo travel. Being alone is a state of being, whereas loneliness is a state of mind.
Although solo travel is about traveling by yourself, feeling lonely is never a goal or a desired outcome. However, it's inevitable.
I've found that whatever tools you have to change your state of mind when loneliness creeps in will make or break you.
I've felt lonely many times on my solo travel adventures, and honestly, it just takes one conversation with one person, and the feeling is gone.
People are always willing to talk, but how and where you meet those people is down to you.
Aligning with allies
How many times have you bumped into an old friend in the street and instantly rekindled a connection?
Often, during solo travel adventures, you'll bump into somebody that you feel you've known for ages.
I learned that we instantly identify and feel a deeper connection with people from the same city or country, etc. It's almost relieving at first.
Beware of this as I've fallen back into my comfort zone, and my trip of growth was affected.
Maybe you stick around for a conversation, but it's dangerous to rely on others to hold your hands for the rest of your trip.
The good news is that you can consciously take a break from your solo adventures by being aware of this paradox, but remember, you're sacrificing a part of your own personal growth while you're traveling with other people.
Always travel first class
I know what you're thinking, and no, not in a pretentious way.
One thing solo travel taught me is people who have less naturally go out of their way to help others.
How will you manage to connect with people from different walks of life? Also, will you honestly be able to relate to them if you're too cool or pompous to use public transport or visit a certain neighborhood?
Everybody has their own standards when deciding on the best route to travel in South America. But when doing solo travel, you need to reduce your threshold to allow random and random's friend to come in.
Try not to let your high standards get the best of you. Learn how to travel with all classes of people.
South America travel Routes
I hope you can get inspired by looking at these ideas and basic South American travel routes.
There are so many other places you can see, and I will be writing about them in my Latin America section.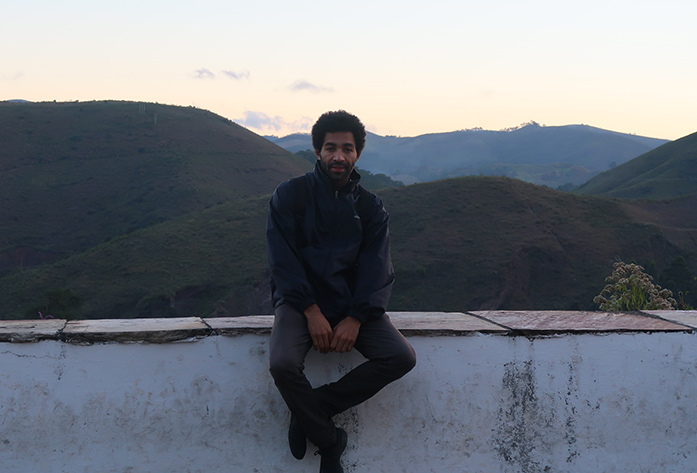 There are also some really good tours you can check out along the way. For example, if you're in Medellin, maybe you'd like to do the Pablo Escobar tour.
Or, if you're in Peru, you can do the famous Inca tour; (or one of the many day trips from Lima) I've heard is a once in a lifetime experience.
If you like the idea of being in Brazil, and South America trip itinerary would have to be tailored to spend a huge chunk of its time there.
Otherwise, you don't even end up scratching the surface of what Brazil can offer as a country and its eclectic mix of cultures.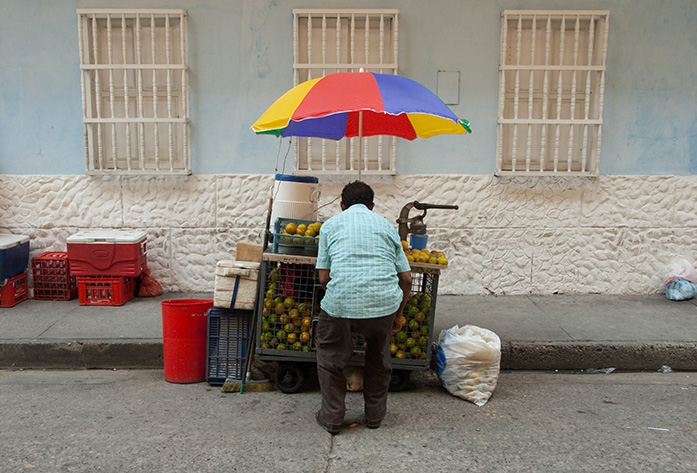 Over the past four years, I've traveled solo consistently, improving my life, time after time.
I've learned so much and created opportunities for myself and even others by taking these new trips of growth.
Whether that's by learning Spanish, watching Spanish movies and practicing what I've learned with locals on the road, or helping a local family I've stayed with during my travels.
I sincerely hope you got some useful information from this South American backpacking itinerary – if not – please let me know any questions you may have.
Missing something? Got tips, tricks & advice we can learn from?
Leave a nice comment or let's start a conversation below!
Like this article? Pin it…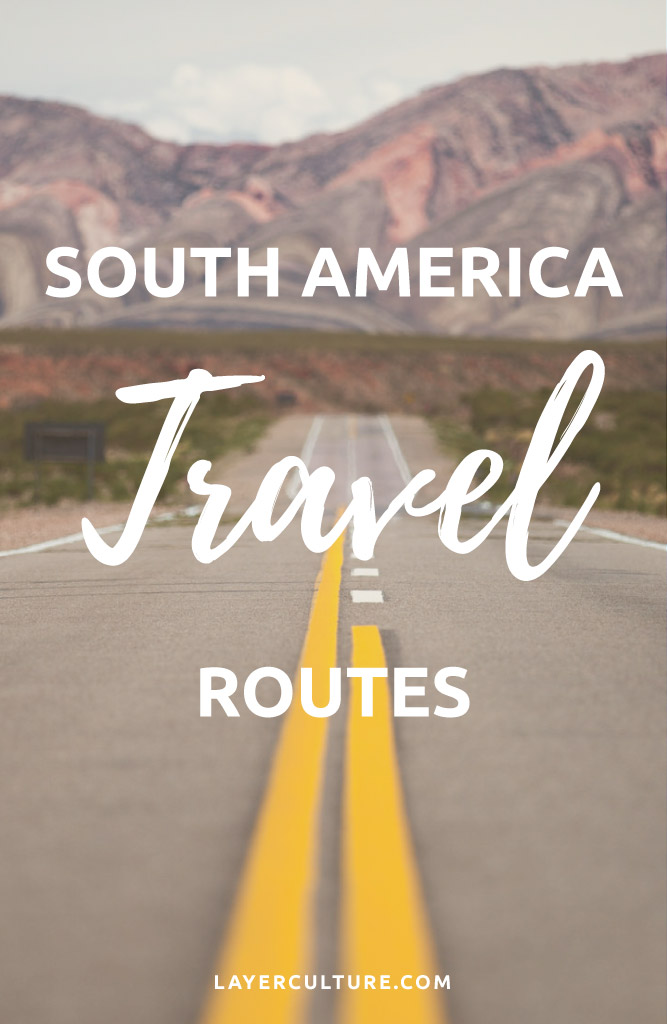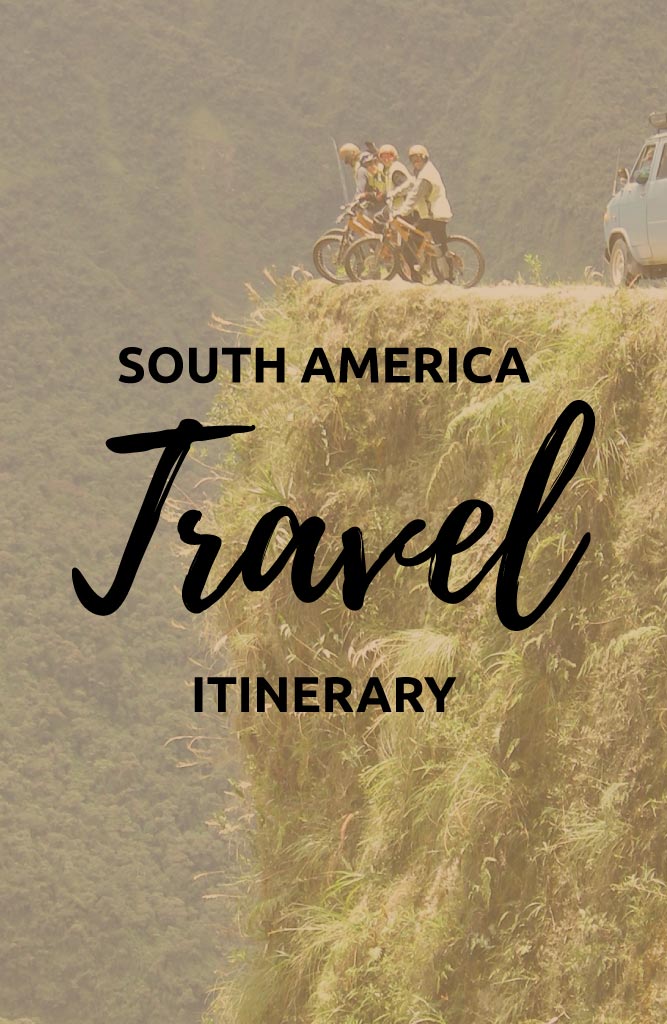 " Dear friend! Some links in this post contain affiliate links. Meaning, if you click through and make a purchase, book a hostel or sign up for a tour, I may earn a small commission at no additional cost to you . Your support means a lot and helps me to keep traveling and maintaining the quality of this site for you."
Daniel James
Helping thousands of people worldwide with independent travel in Latin America. Layer Culture means to dig deeper into the ideas, customs, and behavior of a group of people.
Reader Interactions
Comments
COSTA RICA VIBES says
Loved this! I recently did some traveling in Central America solo for the first time and experienced a lot of the same emotions/ things. I especially love point #3.
Love this post. There are similarities to my experiences. I usually travel by myself and I love it. It made me stronger, more confident and so much more. Unfortunately, it also makes me feel that I don´t fit in the "normal" world back home.
Traveling solo can be a great way to learn independence. I think everyone should try it at least once. I'm glad you learned some valuable lessons. These are great!
Some very nice tips! I think most of them can also be relative outside South-America! Really nice post for backpackers!! Thank of sharing!
Nawdeeya Nelson says
Awesome tips! I love travel solo. And your right…it can be rather selfish, but I love it.
That's a massive amount of learning and some great tips, so many of which carry over into life. What you say about loneliness is really powerful too. I spent last weekend on a short trip, and I could have learned from your wise words about not being reticent to talk to people already in groups.
ali dunnell says
Great post. One of the things I learnt from my many years of solo travel is that more adventures happen and often the unexpected. I really like the photographs you included in this post too. Thanks for sharing your experience
Amazing post! Really interesting, since I have been dreaming about traveling to Central America for so long!
The Upbeat Path says
Great post! Great advice for new travelers to live by for sure. If you're new to traveling, the best thing you could do is open up and learn to meet new people on the regular. It's a time when you should absolutely feel as though you can be yourself and not care what others think. You'll eventually meet people who will want to continue traveling with you, and if not they'll be gone the next day. No harm no foul
I rarely travel alone – my partner is as crazy about travelling as myself (if not more – he wants to go for a BIG trip next year!) but you made some good points – if you travel alone there is more chance to interact with the local crowd and it is what is really beautiful about travelling, knowing the language also helps – speaking Russian definitely opened so many doors when I was travelling to Siberia!
Lana Giles says
This is why I love travelling, to be able to meet people, mingle with the locals and have these incredible experiences you will never forget. Great tips! Hope you had an amazing time travelling around Central America.
Beautifully written post! I travelled alone, I travelled in a group, I travelled as a couple. I too think that the most intense experiences you can have are when being solo on the road, yet… I recently started travelling with my gf… which makes some other stuff far more easier. So – travelling as a couple? My favourite way now.
Petq Miteva says
Oh, Latin America is on the top of my bucket list! Nice post, beautiful mature and I like that pictures are very realistic! Thanks
Indu Indra says
Interesting tips on traveling solo in Latin America. Beautifully written post I enjoyed. I have traveled many Spanish speaking countries but not learned Spanish yet so I may join you in my quest to learn Spanish.
Interesting tips about solo traveling over all. It's very brave to solo travel but it has it's own charm, the freedom to do anything, try anything. Group bound tours or tours with families are very restricted. Very beautifully written post about Latin America. I have always been fascinated about knowing more about Central America and you have provided a very realistic review about the place. Spanish is a very beautiful language and also want to learn this language.
I think you are very brave to solo travel, we are lucky we have each other and even then sometimes when travelling for a long time you can feel lonely, or miss old friends and family. Your tips are really helpful and I totally agree with moving on until you are comfortable. Thanks
Trackbacks
[…] what do you think? I believe, no matter where we're travelling or what travel route we choose. We'll undoubtedly need to stay connected to out […]
[…] which gave me the courage to make my solo travel dreams a reality. If you looking for solo travel itineraries for South America you can see my other […]
[…] By Dan at The Layer Culture […]
Primary Sidebar
Meet Dan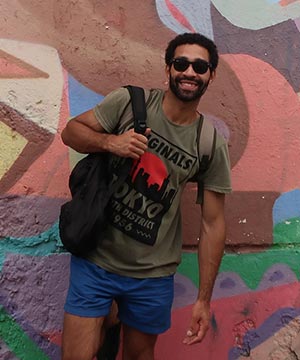 After spending years on the road Dan is now offering to help you find your feet in Latin America; inspire you to learn Spanish and get you started on your adventures. Learn how to travel longer and stronger!
Central America Itinerary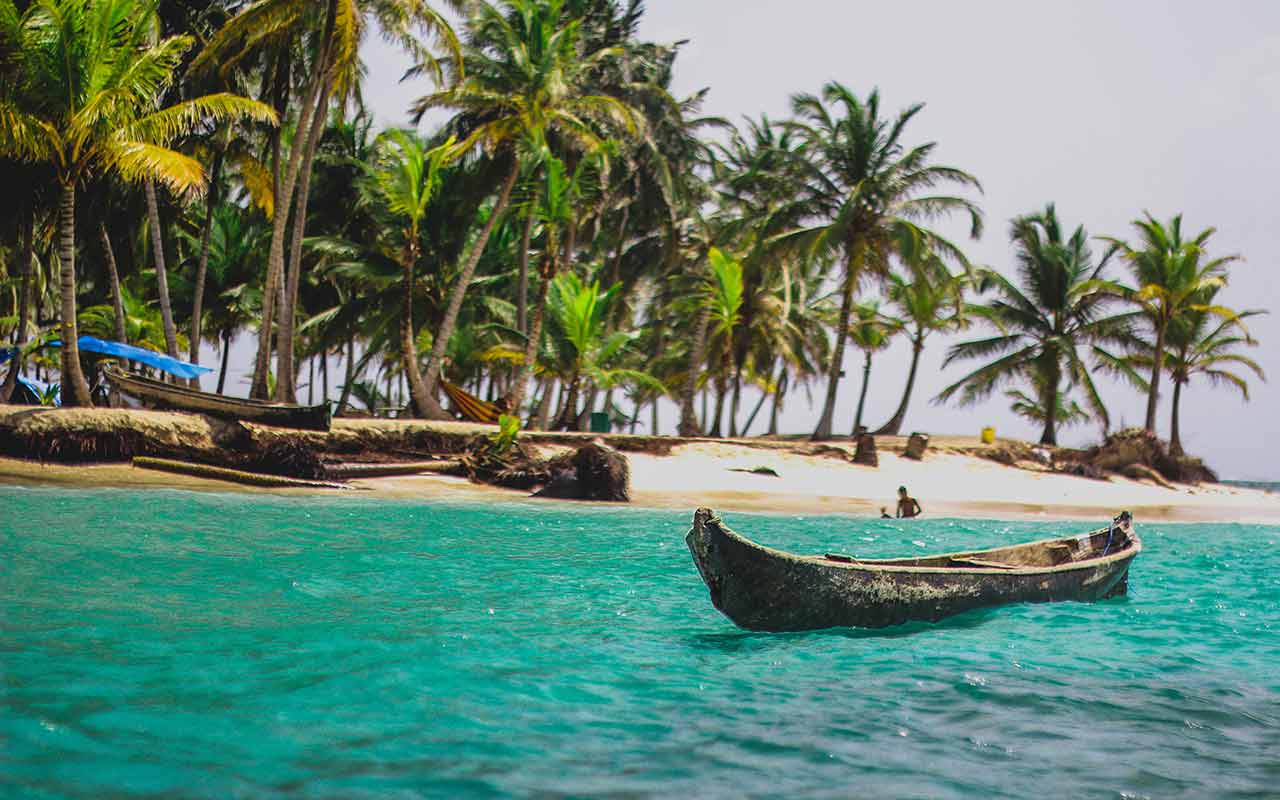 Central America attracts tourists of all kinds, especially those who are passionate about culture, history, and outdoor adventures.
If you want this to be your destination, this Central America travel itinerary is exactly what you're looking for.
Table of Contents
Central America Itinerary
You will find cerulean seas, the greenest of forests, breathtaking Mayan ruins, over 300 volcanoes, and so much more.
Whether you want to spend 1 week in Central America or 2 weeks in Central America, this itinerary will help you get organized!
Is Central America Itinerary Safe?
Central America is not a dangerous place to visit overall. Granted, there are a few risks, but you can avoid them by taking precautions and following basic travel safety tips.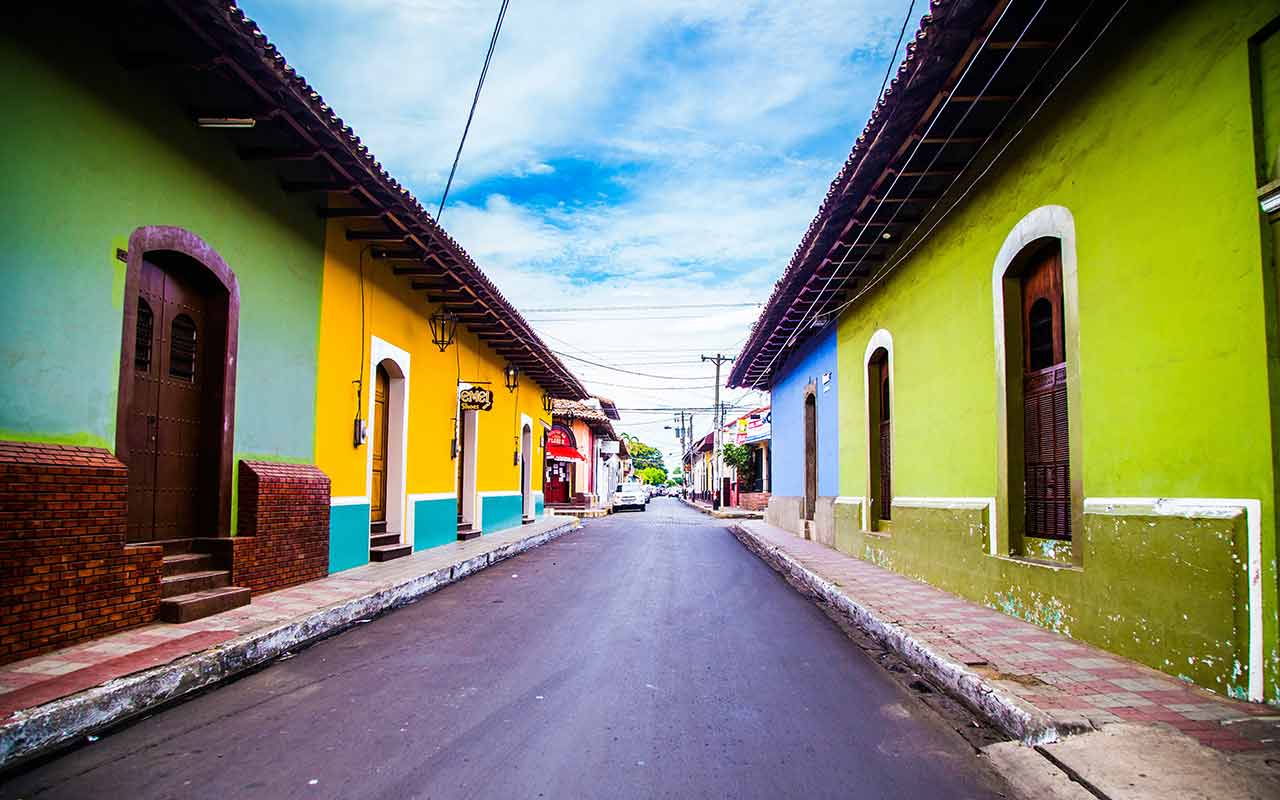 It's important to note that Central America is a transit zone for cocaine markets, so certain countries have a higher crime rate and gang activity.
The risk of natural disasters is also something to consider because there are so many volcanoes and coastlines in the region, which means flooding and hurricanes are a possibility.
To avoid this, visit outside the hurricane season so you can enjoy your Central America backpacking itinerary to the fullest.
Planning a trip to Central America
So you've decided you want to go to Central America? Now comes the important part of properly planning for your trip.
The first top tip is to have all of your necessary vaccinations taken care of. There are a lot of diseases in the area, and it's more than worth getting a few jabs before to prevent any serious conditions down the line.
Another important piece of advice is to pack properly. When we think of Latin America we tend to think of the hot climates and beautiful beaches, and yes of course these are in great abundance here.
However, there are some areas that can get quite cool such as the Guatemalan highlands.
So if planning on visiting everything, then it will be wise to bring a mix of light clothes as well as some layers for when things get chilly.
Also make sure to bring quality, sturdy pair of hiking boots as many of the trails are not properly developed, and you'll also keep your grip better if heading during the rainy seasons.
How long do you need in Central America?
The general opinion is that Central America can be backpacked very quickly.
And to be fair when looking at a map, of course, it's pretty small when compared with South America and other regions of the World.
However there's still a lot to see, so the minimum time needed from Belize (or The Riviera Maya in Mexico as a popular jumping-off point) to Panama would be 3 months.
This will be enough to cover all countries and see all of the top sights.
Alternatively, for those with more time or desire to really sink their teeth into the region – 4/5 months would be much better.
How much does it cost to backpack Central America?
Costs in Central America really do vary between countries.
For example, backpacking Costa Rica and Panama fall on the more expensive side, with a daily budget of between $30-35 needed.
Belize is more moderate, with between $25-30 needed daily.
Then we have Guatemala, Honduras, El Salvador and Nicaragua making up the rest, which are all very cheap to backpack.
You can travel these countries on a daily budget of $20-25.
Of course these are rough estimates, and take into account only the daily costs of a dorm bed, food and some extras.
What you'll end up spending really depends on your style and comfort, as we're all different at the end of the day.
Central America Travel Itinerary
With so many places to visit in Central America, this article looks at each country's best spots so you get to see the places you simply can't miss.
Guatemala
You can start your Central America travel itinerary in Guatemala City, where you can visit museums, breweries, and many different attractions to get a feel of the country.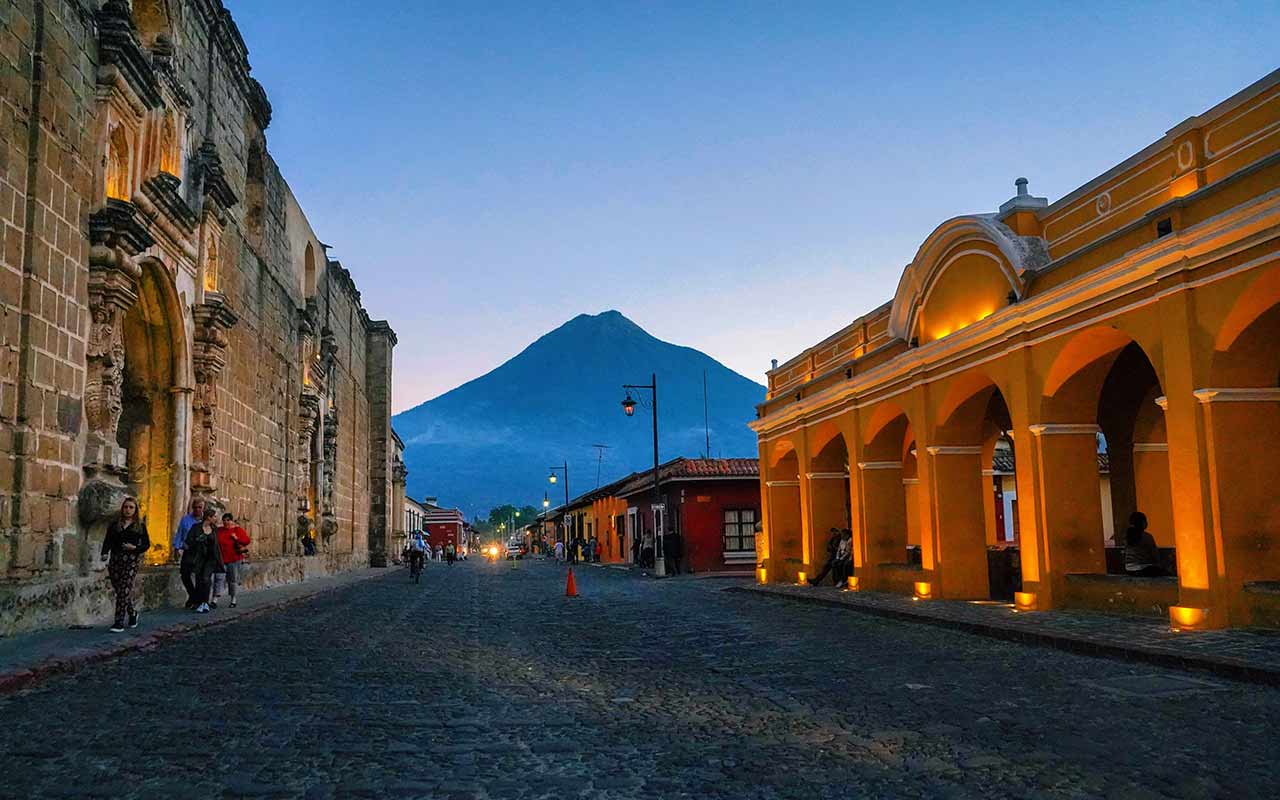 Then, you can go to colonial Antigua and spend a few days exploring the town. It's known for its cobblestoned streets, handicraft markets, and surrounding mountains.
The Pacaya and Acatenango volcanoes are worth visiting, Lake Atitlan is gorgeous, and you can visit surrounding towns such as San Pedro, San Marcos, and Santa Cruz.
Belize
Once you're done in Guatemala, you can head to Belize to continue your Central American backpacking itinerary.
We recommend you spend most of your time in San Ignacio, which is the heart of inland Belize.
Here, you'll find Mayan Ruins such as Cahal Pech and Xunantunich, vibrant local markets, and a cave system you'll be able to explore.
Then, you can head to Caye Caulker, a lovely island that's perfect for relaxation.
El Salvador
El Salvador could be the next stop on your Central America backpacking trip. At this point of the trip, you may want a relaxing beach retreat.
If so, head to El Tunco, a small beach town known for its surfing. There is plenty of local eats, surfing, and exciting nightlife waiting for you.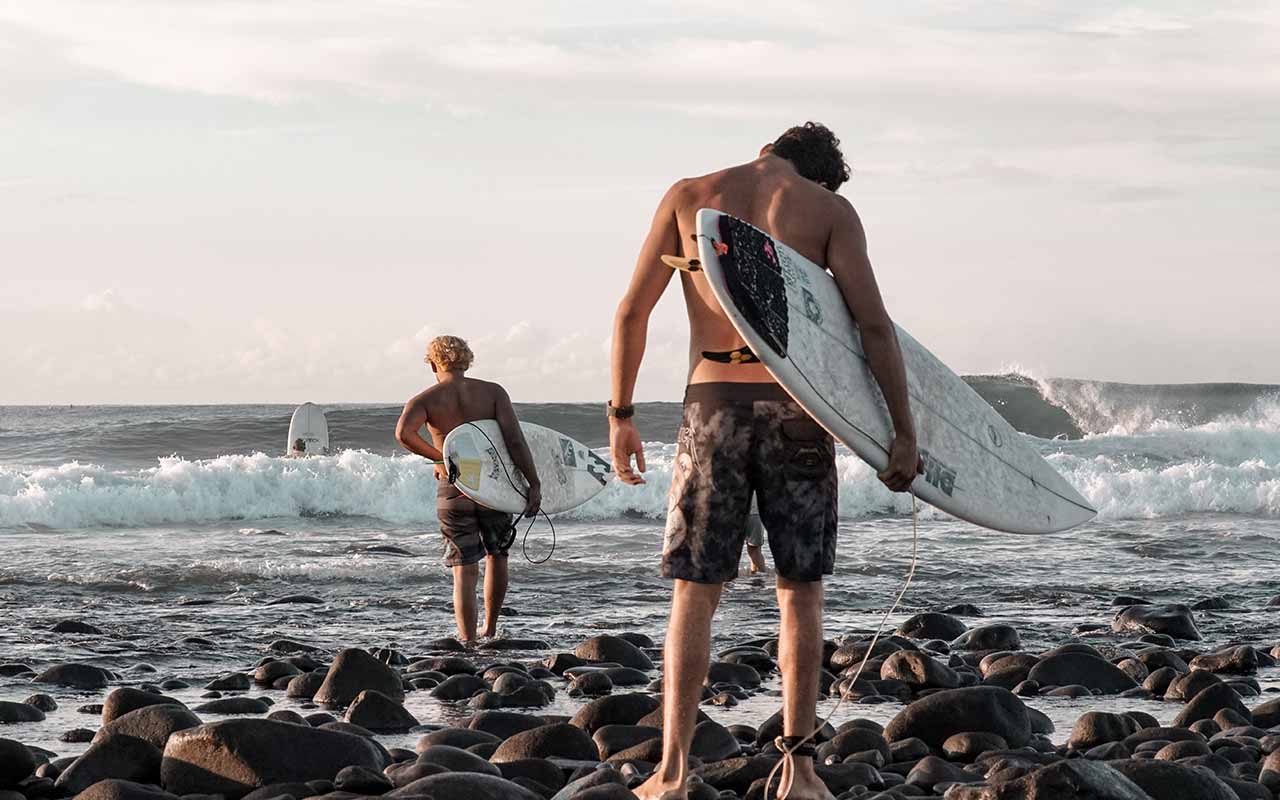 Then, you can go to El Cuco to relax and refuel by a hammock on the beach or enjoy some swimming or paddleboarding.
Honduras
Honduras is another great place to visit for your Central America travel itinerary.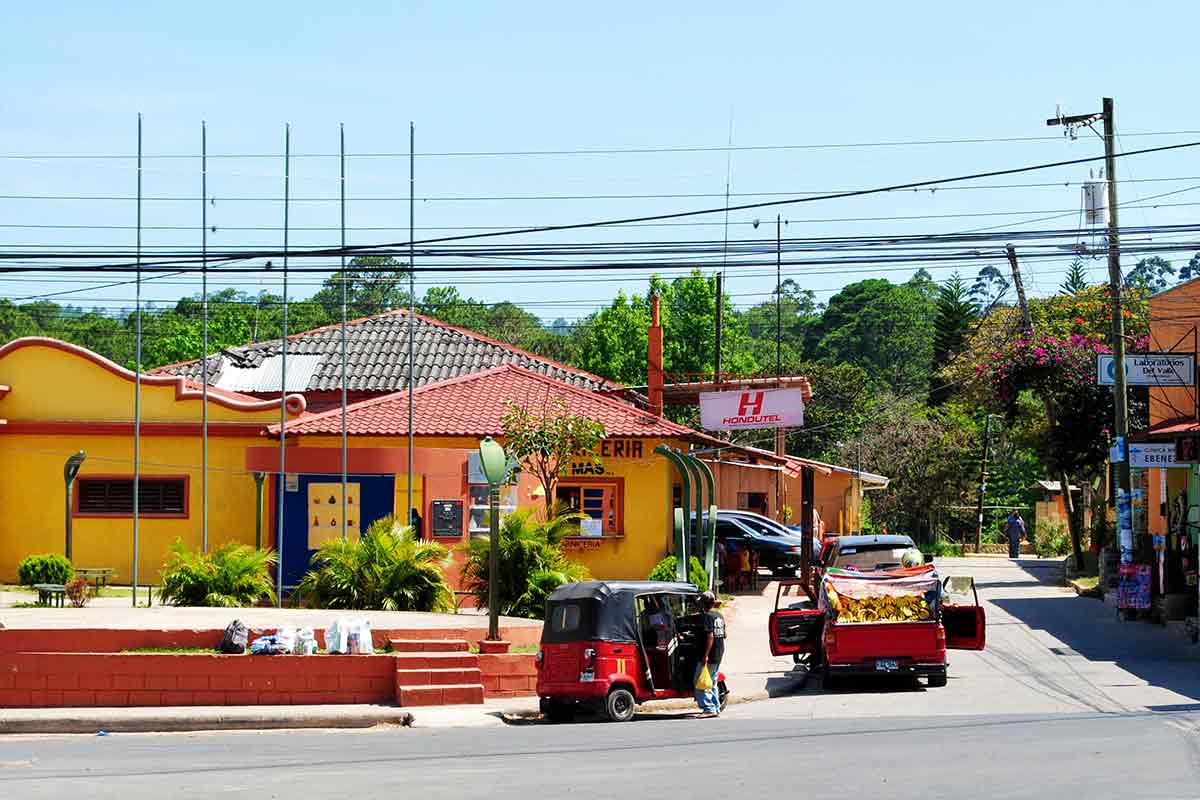 You can go to La Ceiba, a lovely seaside town where you can enjoy your time, and then take a ferry to Utila, a nice island where you can enjoy a PADI Open Water 4-day diving course.
If you're already a certified diver, you should consider the Advanced Open Water course or simply sign up for dives that interest you. There are also jungles and freshwater caves to explore!
Nicaragua
Next, you can go to Nicaragua where you can visit Leon, which is the best introduction you can have to this country.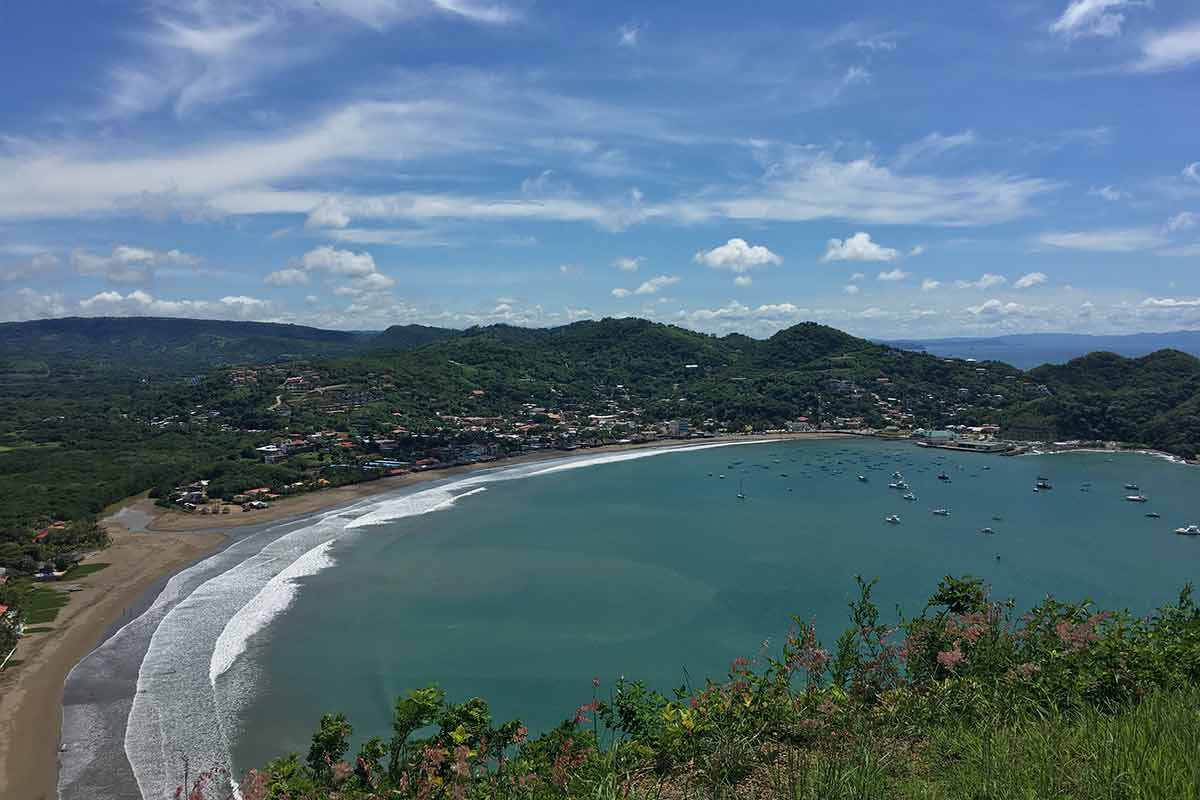 Leon is a colonial town where you'll be able to enjoy amazing food and visit places such as the Leon Cathedral at the heart of the town and go black sandboarding at Cerro Negro.
How about visiting Lake Apoyo? Or, even look into an active volcano by visiting Masaya, the only open volcano you can drive to instead of hiking.
Costa Rica
To continue your Central America travel itinerary, you can go to Costa Rica and visit the Monteverde Cloud Forest Reserve.
It's paradise on earth and you will enjoy exploring coffee plantations, hiking trails, and even have zip-lining adventures.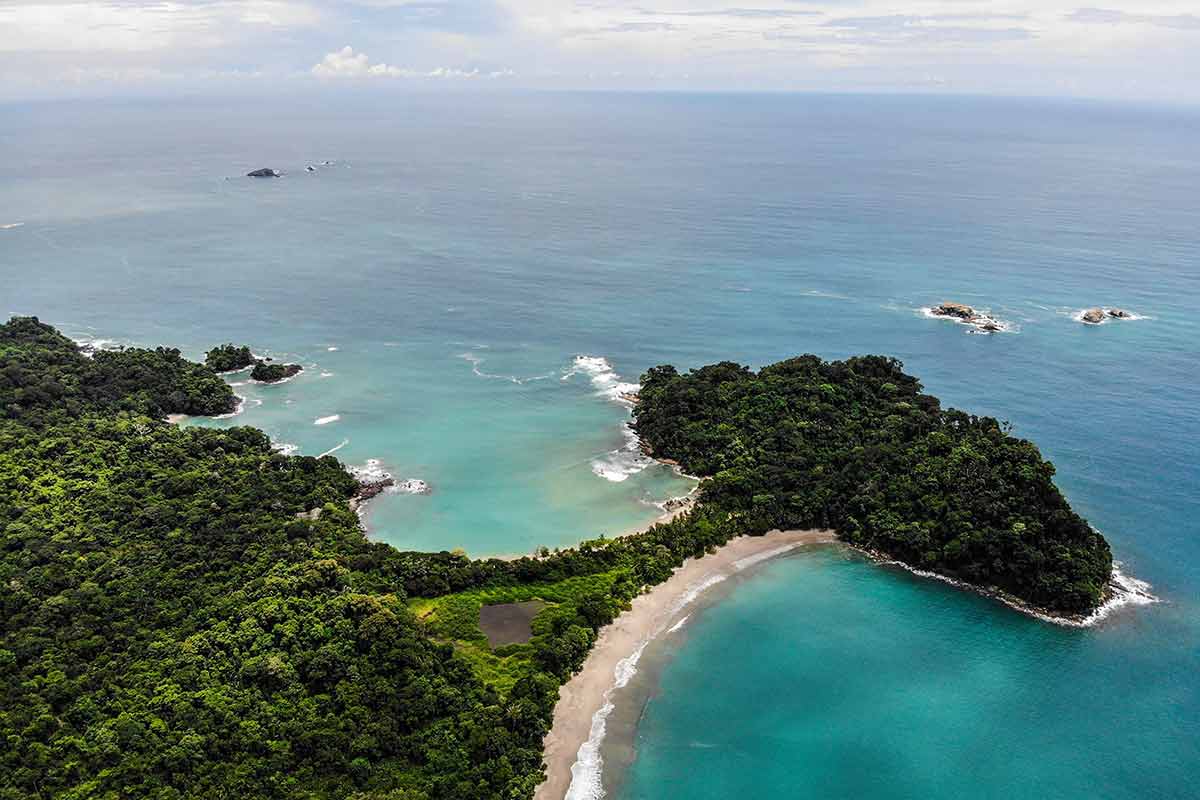 There are also butterfly, hummingbird, and frog sanctuaries, and you can walk on hanging bridges and spot wildlife.
You can end your stay in Tortuguero, a jungle known for being a nesting area for native turtle species.
Panama
You can wrap up your Central America travel itinerary in Panama and head to Cerro Punta where you can take a 1-day hiking tour on the Quetzal Trail.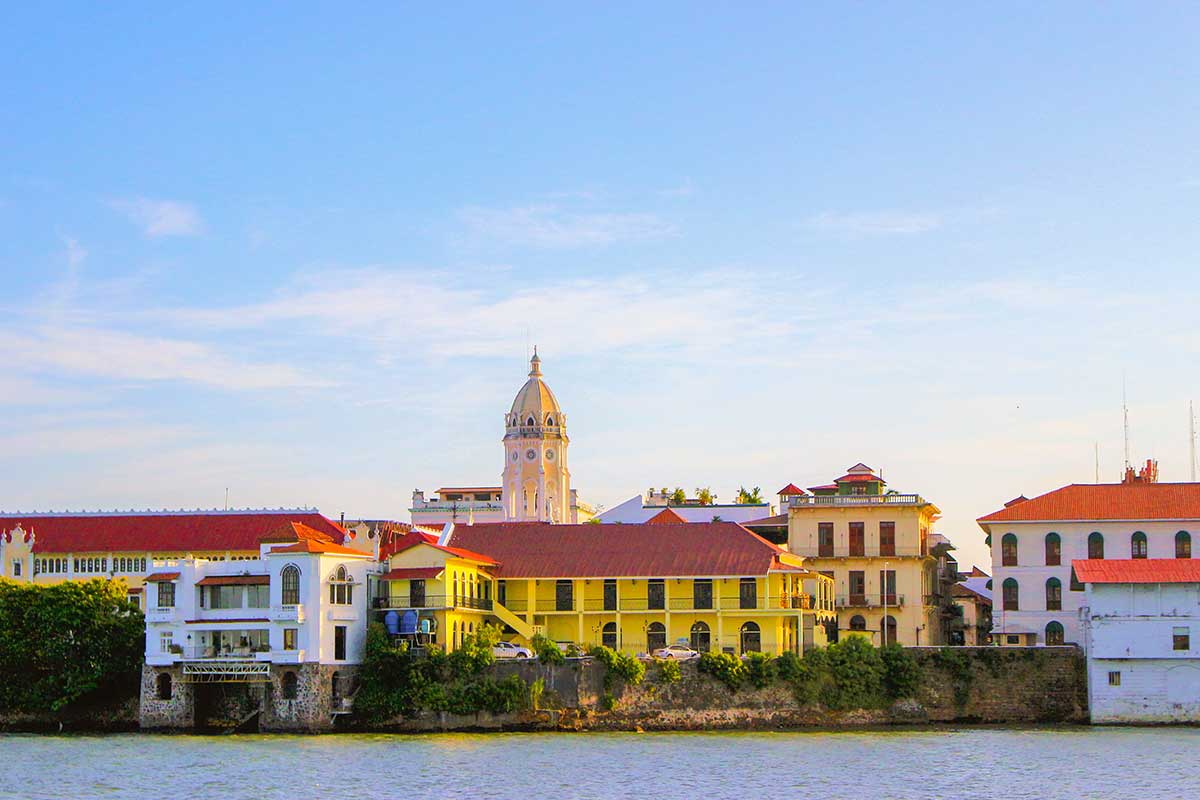 You can send your luggage ahead of you and it will land in Boquete, a lovely town where you can rest in bungalows before you head to Bocas del Toro, a party town.
There, you can explore Cayos Zapatillas and other wonderful places.
Central America Travel + Safety Tips
Generally, Central America is not too dangerous to visit, but you still need to take precautions. Follow these travel safety tips:
If you follow these precautions, you won't have a bad experience while traveling in Central America.
Traveling Around Central America
Traveling around Central America by bus can be a good option because it's cheap and easy.
Short-distance buses are known as chicken buses. They are inexpensive but not 100% safe, so be careful and keep an eye on your belongings.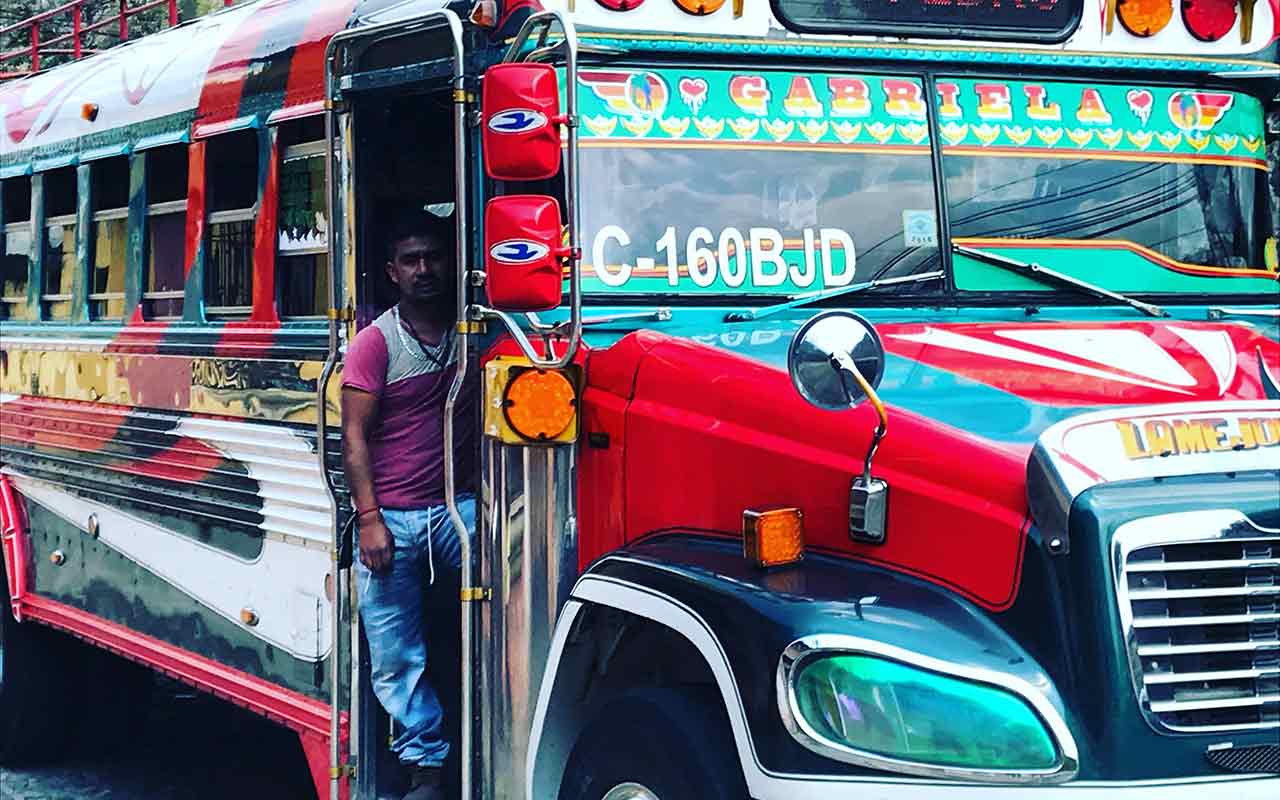 For long-distance travel, use luxury liners like Ticabus, King Quality, or Transnica, which are reliable and safe but will cost a little more.
Buses in Central America
By far the best and most inexpensive way to get around Central America is by the good ol' buses. Whilst the cost-benefit makes sense, you'll even find that some areas of this region can only be accessed by bus anyway.
In Costa Rica and Panama, they are the best developed, and the rides will be pretty smooth with most roads in good condition.
In the more northern parts (especially Guatemala and Honduras) you're gonna be in for a ride!
Within cities and towns, be sure to take a chicken bus at least once for the experience, as it really is one of a kind and also a rite of passage for travelers heading to Central America.
Best time to visit Central America
Thankfully due to its small size, Central America is much easier to plan for when it comes to the weather, especially in comparison with its giant neighbor of South America.
Most of the region follows the same dry and wet season patterns, so you'll know what you'll most likely be in for. The dry season runs from December until April, and is often considered the best time to visit.
Puerto Viejo in Costa Rica, for example, has average temperatures of 75-79°F, with highs of 84°F and lows of 68°F.
Rainfall ranges from 180-310mm for each of these months. The wet season, which runs from May until November, is of course much wetter.
Whilst it can make challenges for getting around, it's also a really beautiful time to visit as the jungle comes alive with its bright and luscious greens.
It's also cheaper, as you'll be there during off-peak season. An example of a location during the wet season is Flores, in northern Guatemala.
Average temperatures range from 75-83°F, with highs of 94°F and lows of 68°F. Rainfall ranges anywhere from 4-7.5 inches each month, which is a big increase from the 1-3 inches expected in the dry season months.
Central America Itinerary: Final Words
Central America is quite a magical place to visit and this Central America travel itinerary can serve as a guide.
Use it to plan your trip and have fun backpacking through incredible countries with a lot to offer!
If you are thinking about heading further South you can see our South America itinerary to get some ideas on where to go.
This post contains affiliate links, meaning, if you click through and make a purchase or sign up for a program, we may earn a commission. This is at no additional cost to you.
Source https://www.nomadicmatt.com/travel-blogs/how-to-get-around-central-america/
Source https://www.layerculture.com/blog/south-america-travel-routes/
Source https://www.urbanabroad.com/central-america-itinerary/