EU Reopens Borders to International Travel
The European Union (EU) has started to reopen its external borders to travelers from outside the bloc for the first time since March.
From July 1, international travel will resume to certain third countries. Visitors from these 15 states will be able to visit Europe this summer.
The decision was made after a vote by the European Council, who unanimously agreed on a list of 15 "safe" countries whose rates of infection are currently similar to those of the EU member states.
The move to allow international visitors to enter comes as the EU member states attempt to inject a much-needed boost to their tourist industries, which have been brought to a standstill by the coronavirus (COVID-19) pandemic.
However, the Council's recommendation is not legally binding and the individual countries within the European Union may decide not to permit visitors from all 15 nations to enter.
International travelers from the authorized countries are advised to consult global visa information and check the requirements for the part(s) of the EU they plan to visit.
Who Can Travel to Europe in Summer 2020?
After 5 days of debating, the European Council announced a shortlist of 15 countries with the recommendation that citizens of these states should be permitted to visit the EU this summer.
Travelers from the following countries will be allowed to visit countries in the EU (on the condition that the national government agrees to the European Council's recommendation):
Algeria
Australia
Canada
China (pending agreement of reciprocation)
Georgia
Japan
Montenegro
Morocco
New Zealand
Rwanda
Serbia
South Korea
Thailand
Tunisia
Uruguay
This list will be updated every two weeks by EU authorities.
In addition to these 15 countries, 9 European countries that are not part of the EU are automatically considered "safe" and their citizens may currently travel to EU states unless the individual country has its own restriction.
These countries are:
Andorra
Iceland
Liechtenstein
Monaco
Norway
San Marino
Switzerland
UK
Vatican City
Of these 9, 4 are microstates closely associated with the EU, while 4 are members of the European Free Trade Association (EFTA) and Schengen Area.
The final country is the UK, which is in its transition period of leaving the EU until the end of 2020. British citizens will have the majority of the privileges enjoyed by EU citizens until December 31.
Why Are These Countries on the List?
According to EU authorities, this list was compiled and agreed on based on several scientific factors. Countries had to meet the following criteria to be accepted:
A COVID-19 infection rate less than 16 in every 100,000 infected
A downward trend in coronavirus cases
Sufficient social distancing and sanitary measures being upheld
Further countries may be added to the list over the coming weeks and months, depending on how the COVID-19 situation is being handled.
Will the List Apply for Travel to All EU Countries?
The EU has been divided on whether to reopen the external borders and which nationalities should be allowed to enter. Some countries, such as Germany and Spain, have been more cautious, calling for a shorter list, while tourism-dependent countries like Greece have pushed for more inclusive access.
The European Council reached a unanimous agreement on the 15 countries to initially include after several days of debates and discussions on the merits and risks of each candidate.
However, the result is a recommendation only. The government of each EU member state maintains the right to veto any or all of the countries on the list.
Additionally, the countries named on the list may change. It is likely that more will be added as the number of COVID-19 cases in that state falls. Conversely, countries that experience another spike in cases may be removed from the list.
Anyone planning a trip to Europe this year should bear this in mind and check visa requirements and travel information regularly.
The EU and Coronavirus Restrictions
The European Union took decisive action against the COVID-19 pandemic in March, implementing a travel ban for the whole bloc.
All member states restricted international travel from non-EU countries, only permitting flights repatriating EU nationals and travel deemed to be essential.
Citizens of EU countries were advised to avoid non-essential journeys. A number of EU states, such as Spain, prohibited their own citizens from traveling around the country unless the trip was unavoidable.
The ban on international travel from third countries to the EU was extended for one month on April 8 and then again on May 8. A final extension was recommended by the European Commission to continue the prohibition of non-EU visitors until the end of June.
What COVID-19 Measures Are Still in Place in the EU?
Many EU member states have already begun lifting lockdowns and domestic travel restrictions as the number of COVID-19 cases has continued to fall.
Most now permit visitors from fellow EU countries to enter, providing they comply with mandatory safety precautions to prevent the transmission of coronavirus, such as the following:
Social distancing
The wearing of masks in public places
Using hand sanitizer when entering shops or restaurants
Visitors arriving from the permitted non-EU countries will be expected to follow the same rules and regulations to prevent the spread of COVID-19 and avoid a second wave.
Related News
With the rise of remote workers, the possibility of working while travelling abroad has become a reality. Many countries have now introduced special digital nomad visas to cater to these visitors. The idea of a visa for digital nomads has become popular due to the coronavirus pandemic. Since 2020, many more countries have launched their
A passport is the key to traveling abroad. However, some passports are considered to be "stronger" than others. The world's most powerful passports are those that offer the greatest travel freedom. The strongest passports are those that allow the holder to enter the most countries easily, without extra entry requirements, such as visas. There are
The Jamaican Minister of Tourism, Edmund Bartlett, has called for the introduction of a shared CARICOM visa for Caribbean Community member states. Barlett made the proposal during the inaugural Organization of American States (OAS) high-level policy forum in Montego Bay, Jamaica in late July. The 2-day event saw the attendance of representatives from more than
People who have more than one citizenship may also hold multiple passports. This raises a number of questions about taking a trip abroad. How does traveling with two passports work? Should dual citizens bring both passports? Which one should be shown at border control? Can you enter a country with one passport, but use the
When traveling abroad, it is essential to have a valid passport. What many people do not realize is that many countries have rules about the passport expiration date. In many cases, visitors' travel documents must continue to be valid for months after they plan to arrive at their destination. The most common requirement is a
What are the newly-announced travel restrictions in Europe?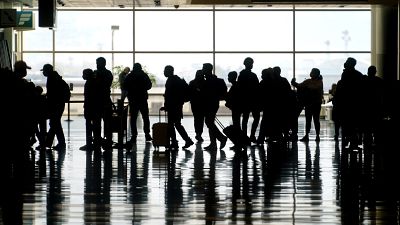 As COVID-19 cases spike across Europe, major tourist destinations are tightening their borders. We bring you the latest changes to rules and regulations.
Portugal
On Monday 29 March, the Portuguese government extended and tightened border restrictions. Now, people coming from EU countries where the incidence rate is over 500 cases per 100,000 population may only enter for essential business. Arrivals will have to quarantine for 14 days.
All passengers, whether arriving by land or air, must present a negative PCR test taken during the previous 72 hours. Those who have not taken one will need to take and pay for a test on arrival.
Upon arrival, travellers are expected to abide by the same COVID-19 restrictions as citizens. As an example, travel is currently prohibited between different areas of the country.
Italy
Italy plans to introduce a five-day quarantine for all travellers arriving from European Union countries, health ministry sources said on Tuesday 30 March. Up until now, this has only applied to arrivals from non-EU countries. They have yet to announce when this rule will be law.
Travellers will also be required to take a coronavirus test before leaving the country and an additional test after their quarantine period is over.
Germany
Germany announced on Tuesday 30 March that it would tighten land border controls for the next 8 to 14 days.
Interior Minister Horst Seehofer said, "It doesn't matter where you come from, Poland, France, or Denmark, everyone should expect to be checked."
Further details are still to be announced.
Spain
Authorities in Spain have just extended restrictions on 'unnecessary travel' until April 30, exceeding the original target by a month.
International arrivals will not be allowed to make non-essential trips to Spain by air, land, or sea during the Easter period, or for the rest of the month.
France
There are currently no changes to travel guidance in and out of France, but the COVID-19 situation is being closely monitored following a surge in cases. This currently includes nearly 5,000 citizens in intensive care.
A full lockdown has been reinstated across the major cities and towns. Countries like the UK are considering adding France to its red list, which would mean all land, sea and air travel would be banned.
Stay up to date with the latest travel restrictions for all European countries via our dedicated page. It is constantly updated with any updates to European travel.
Every weekday Euronews Travel brings you a story from somewhere different around the world. Download the Euronews app to get an alert for this and other breaking news. It's available on Apple and Android devices.
COVID-19: British holidaymakers could be allowed to travel to Europe within weeks
The "green list" of countries from where people won't have to quarantine on their return is expected to be released this week.
Wednesday 5 May 2021 02:48, UK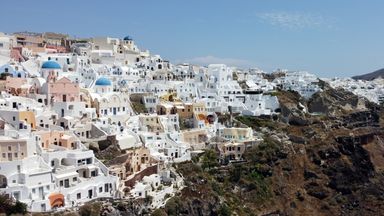 Ministers are reportedly considering a handful of countries people from the UK will be able to travel to initially in the coming weeks.
Reports suggest the "green list" could include about a dozen countries, although some papers say it could be fewer than 10.
Several named Malta, Gibraltar, Portugal and Israel as likely destinations, while the Daily Telegraph said Spain, Greece and France could be added by the end of June.
The green list will specify which countries people can travel to without having to isolate for 10 days on their return and is expected to be released this week.
Boris Johnson has said the approach will be cautious to avoid "an influx of disease".
The prime minister said there would be "some opening up" on 17 May but that things must be done in a way "to make sure that we don't see the virus coming back in" to the UK.
On the EU side, the European Commission is proposing to allow entry "for non-essential reasons not only for all persons coming from countries with a good epidemiological situation, but also all people who have received the last recommended dose of an EU-authorised vaccine".
More on Covid-19
COVID-19: China announces first coronavirus death in six months as it battles outbreaks
COVID-19 infections fall across the UK for second week in row
COVID-19: 'Nobody expected me to live,' says coma mother returning home after year in hospital
Related Topics:
It did not say which countries would be permitted, but one unnamed official said the UK remained a "question mark".
Trade Secretary Liz Truss urged holidaymakers to wait for government announcements before booking.
Asked if travel would resume from 17 May, she told Sky News: "We are doing all we can to make sure we follow the roadmap and open up the economy and travel gradually.
"The really important thing is we don't move too fast and jeopardise the progress we have made – so people will have to wait a bit longer to be able to hear the news on what is happening on the travel front."
She said she would encourage people to wait before booking a holiday so they can see what the "details are based on the data".
The government fully supports safe travel but "we need to be cautious to make sure that we are not simply importing the virus after we have successfully dealt with it in Britain", Ms Truss said.
She added: "If we are able to have people go on holiday, I don't see any reason provided it is safe."
However, Downing Street has admitted the NHS app may not be ready to be used as a vaccine passport when international travel resumes and "another approach" may be needed.
Transport Secretary Grant Shapps has previously said the app – which is currently used to book medical appointments and order repeat prescriptions – will display evidence that someone has been vaccinated or recently tested.
But the PM's official spokesman indicated that officials were working on alternative plans when international travel resumes.
"(Mr Shapps) set out the approach we are looking to take," the spokesman said.
"Obviously we will be able to confirm ahead of the 17th at the earliest what measures are used for those initial countries that are available for travel, be it the app or another approach."
The spokesman added: "There are other routes to achieving the same end goal. We are working on the app at the moment, at pace, to have it ready and we will be able to confirm ahead of the 17th at the earliest what approaches we will be using."
Earlier Paul Charles, who runs a travel consultancy, said travelling abroad for a holiday would no longer be illegal from 17 May as the government is removing the declaration to travel form.
The form is currently needed to specify which of the permitted reasons people are using to justify their travel, such as a business trip.
"It means anyone can leave the UK for any reason," Mr Charles told Sky News.
He said that while the green list might be "thin" initially, amber countries would likely be popular as people can self isolate at home when they get back.
Please use Chrome browser for a more accessible video player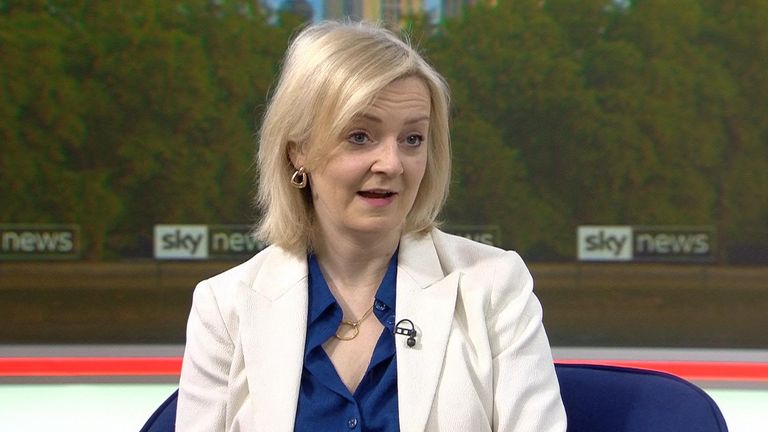 1:06
The amber part of the traffic light system is set to require tests before and after the holiday, as well as 10 days' quarantine at home .
Around 20 countries will be on the initial green list, Mr Charles estimated, including 14 British Overseas Territories such as Gibraltar and Bermuda.
He believes another 10 or so that meet government criteria will also be included – for example, Portugal, Israel and Barbados.
The travel expert predicts America and most of Europe will move from amber to green during June, meaning no-quarantine travel to the likes of France and Spain.
Professor Neil Ferguson, from Imperial College London, who advises the government, said he was optimistic of something "a lot more normal" this summer.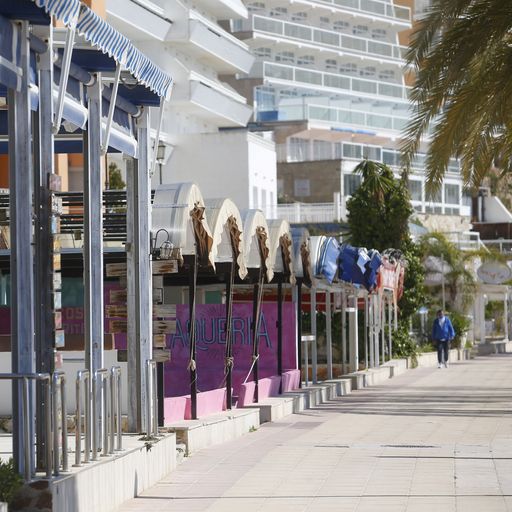 'We're safe and ready': Balearic Islands keen to allow Brits to return
However, he warned countries with high infection rates remained a travel risk and that COVID variants still had potential to cause a "major" third wave.
"I think if for instance, by the summer, infection levels in France and Italy are the same sort of level as they are here, then there's no risk associated with travelling overseas," he told the BBC's Today Programme.
"The risk comes from going from a place like the UK with very low infection levels and going to a place with much higher infection levels and therefore having the risk of bringing infection back.
"If the two places are at comparable levels, and that's what the EU is saying, then there is no particular risks associated with travel."
Prof Ferguson said variants such as the one first detected in South Africa – which are believed to be more resistant to vaccines – were a "major concern" that could still spark a "very major third wave in the autumn".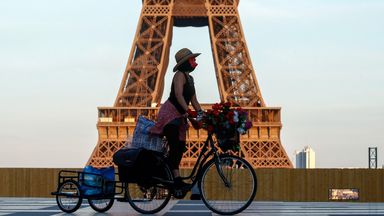 He said it was essential to get booster doses, designed to combat these variants, rolled out once the main vaccination programmes ends in the summer.
Those in the top four priority groups should hopefully begin getting the extra shots from September, according to the government.
Source https://www.onlinevisa.com/news/who-can-travel-to-europe-summer-2020/
Source https://www.euronews.com/travel/2021/03/30/what-are-the-newly-announced-travel-restrictions-in-europe
Source https://news.sky.com/story/covid-19-british-holidaymakers-could-be-allowed-to-travel-to-europe-within-weeks-12294535