Enhanced Driver's License for International Travel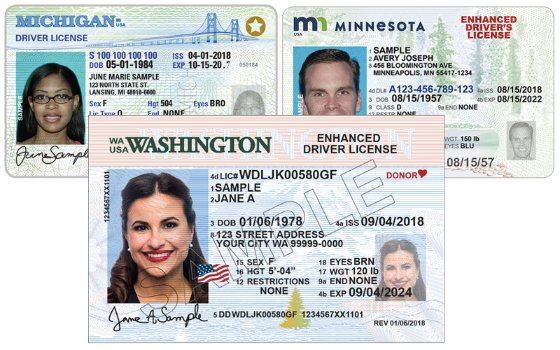 A State-issued Enhanced Driver's License (EDL) provides travelers not only a license to drive but also a proof of identity and citizenship when exiting and re-entering the United States borders.
This card was created under the Western Hemisphere Travel Initiative (WHTI) to provide a convenient, yet secure way for travelers from certain border states to enter and exit the country.
They provide travelers with a low-cost to a passport for entering the United States from Canada, Mexico or the Caribbean through a land or sea port of entry.
An EDL qualifies as a REAL-ID that can be used for domestic air travel in the US. However, an EDL cannot be used for international air travel, nor can it be used for domestic air travel within the borders of any of the countries mentioned above.
What does an Enhanced Driver's License offer?
Enhanced Driver's Licenses include security features and technologies designed to make travel both easier and safer. Each EDL includes both a Radio Frequency Identification (RFID) chip and a Machine Readable Zone (MRZ) barcode that CBP officers can scan to quickly access to your biometric information.
The top 39 land ports of entry in and out of the US (which service over 95% of all U.S. land border crossings each year) are equipped with RFID-reading technology. This helps facilitate speedy travel for those presenting EDLs or one of the other RFID-enabled documents. The MRZ barcode is available as a backup to CBP officials if a particular port-of-entry does not have access to RFID or there is an RFID malfunction.
Scanning either the RFID or MRZ on an enhanced license is as fast if not faster than processing a traditional passport. An EDL is also significantly more durable and convenient than a passport book. As a result, an EDL can make life easier for both travelers and border officials – particularly for travelers who cross the border frequently.
How to apply for Enhanced Driver's License?
The application for an Enhanced Driver's License depends on where you live. It is currently only available to residents of the following states:
Michigan
Minnesota
New York
Vermont
Washington
For travelers in other states seeking similar convenience, consider applying for a U.S. Passport Card.
If you meet the residency requirements, applying for an EDL is nearly identical to applying for a standard driver's license in most participating states:
If you have never been licensed, you must successfully complete the written knowledge and driving skills tests before a license can be issued. Although driver education is not required for individuals 18 and older, it is highly recommended.
If you have a current driver's license, you can apply for the EDL once you renew your license or extend expiration date.
You must supply the required documentation including some combination of Social Security, proof of identity, US citizenship, and residency.
In case of Name change, present lawful and valid proofs.
You must have no violations, suspensions, revocations or denials on your driving record that would prevent you from legally operating a motor vehicle.
NOTE: In Some states you may be required to undergo an interview to receive an EDL.
Once you have completed the application, your biometrics and photos have been taken, and you have signed the necessary declaration papers, you will be issued a temporary operator's permit or a temporary enhanced ID. This permit is not valid for crossing the border – only for identification.
Your enhanced license is valid for up to four years and should arrive in the mail within two to three weeks. The validity of the Enhanced License typically matches the validity of your regular Driver's license.
Enhanced Driver's License Costs
An EDL usually costs more than a standard-issue driver's licence.
See the current fees below (Updated 2021):
Michigan: $45 ($38 for renewal)
Minnesota: $15 in addition to the $51 fee required for your Class A driver's license
New York: $30 in addition to regular driver's license fees (fees vary by age)
Vermont: $30 in addition to the standard fees for licenses and/or non-driver ID (fees vary by validity length).
Washington: $113 (covers application and issuance fee)
In most cases, fees can be paid by wither cash, check, money order, or major credit card.
Learn More About EDL Applications in Your State
For the most up-to-date requirements and applications for an EDL in participating states, visit the relevant DMV home pages offices below:
US Passport Vs Enhanced Driver's License
Americans traveling to Canada, Mexico or the Caribbean by land or sea need an ID that complies with the Western Hemisphere Travel Initiative to return to the United States. While everyone traveling internationally by plane needs a US passport, land and sea travelers have more options. So, should you get a passport book, a passport card, or an enhanced drivers license? The table below summarizes the differences:
| | | | | | |
| --- | --- | --- | --- | --- | --- |
| Type of ID | Valid for International Air Travel? | Domestic Air Travel? | Land and sea travel to Canada, Mexico and the Caribbean? | Available in all 50 states? | Price |
| US Passport Book | ☑️ | ☑️ | ☑️ | ☑️ | $130 for adults, $100 for children |
| US Passport Card | ❌ | ☑️ | ☑️ | ☑️ | $30 for adults, $15 for children |
| Enhanced Driver's License | ❌ | ☑️ | ☑️ | ❌ (Only in Michigan, Minnesota, New York and Washington). | Varies |
The federal government offers passport books for all types of travel. You can also get a passport card for land or sea travel to Canada, Mexico, or the Caribbean.
But if you don't have either type of passport, you may still be able to travel to these destinations. Some states are offering Enhanced Drivers Licenses, or EDLs, which can also be used for land and sea travel to select international destinations within the Western Hemisphere.
What is the Enhanced Drivers License?
The Enhanced Drivers License contains a radio frequency identification chip that contains information about the person the EDL was issued to, so they are harder to fake than a regular driver's license. Here is an example of the New York Enhanced Drivers License:
US Passports Vs Enhanced Driver's Licenses
What are the advantages of having an EDL? First of all, an EDL is cheaper than a passport. Secondly, it fits more comfortably in your wallet than a passport book does, so it's more convenient. And if you frequently drive across the border, it's helpful to only need one form of ID for the entire trip.
However, if your state doesn't offer EDLs, you can always get a passport card, which is the same size as a drivers license. But remember: neither EDLs nor passport cards can be used for international air travel, even emergency flights home from Canada or Mexico.
About the REAL ID Act
Starting on October 1, 2021, you'll need a Real ID to take a domestic flight. All US passports and Enhanced Driver's Licenses qualify as REAL IDs. And even states that don't offer Enhanced Driver's license now have REAL ID-compliant licenses available. However, your current driver's license might not be compliant, especially if it's been a while since you renewed it. Read more about the Real ID Act here for details.
Which States Offer the Enhanced Drivers License?
Currently, only 5 states offer EDLs: Michigan, Minnesota, New York, Vermont, and Washington. If you live in one of those states, should you get an EDL or a passport?
An EDL will allow you to make quick trips across the border to Canada or Mexico by car or by boat. However, you should be aware that an EDL cannot be used for travel to countries other than Canada, Mexico or the Caribbean nations included in the Western Hemisphere Travel Initiative. To visit those countries, you'll still need a US Passport.
Also, remember that all international air travel requires a passport book. Even if you're on a road trip or taking a cruise, you might need to fly home if an emergency arises. For this reason, it's best to also carry a passport book. Additionally, if you're going on a cruise, be aware that even though the EDL is WHTI-compliant, not all cruise lines will accept it without a birth certificate.
Travelers to Mexico should also note that according to the Department of State: "The Mexican government may not let U.S. citizens who are driving or walking to Mexico enter the country at land border crossings if they do not have a U.S. passport book or U.S. passport card."
So, if all you need is a WHTI-approved ID for quick excursions on the other side of the border, an EDL may be fine. However, if you'll be visiting our neighbor to the north (or south) for any length of time, it's safest to travel with your passport. With that in mind, choosing between a passport book or enhanced drivers license is easy for frequent travelers: get the passport so you have more travel options and you can fly home if needed in an emergency.
How Long Does It Take to Get a Passport?
Currently, it takes about 8-11 weeks to get a passport if you apply directly to the Department of State with routine processing. If you pay the additional $60 to have it expedited, you'll still be waiting at least 5 weeks. However, a private passport expediting company can often have your passport processed in as little as one week.
Can You Fly With an Expired License?
If your license has expired, it is still possible to fly if you meet certain conditions.
According to the TSA:
"If your driver's license or state-issued ID expired on or after March 1, 2020, and you are unable to renew at your state driver's license agency, you may still use it as acceptable identification at the checkpoint.
TSA will accept expired driver's licenses or state-issued ID a year after expiration."
Can You Fly With an Expired License? (By Airline)
All airlines follow TSA regulations.
So regardless if you are flying with Delta, Southwest, JetBlue, American Airlines, or any other regional or major air carrier in the U.S., you can fly with an expired license if it expired on or after March 1, 2020, for up to a year after expiration.
Can You Fly Internationally With an Expired License?
Regardless if your license has expired or not, you can not fly internationally.
This is because a passport is the only acceptable form of ID you can use to fly internationally.
Depending on the country you are traveling to, a visa may also be required.
Due to the Covid pandemic, there was a temporary measure in place that allowed U.S. citizens currently abroad whose passports expired on or after January 1, 2020 to return to the United States.
This was measure was only valid until June 30, 2022, so no longer applies.
What Forms of Identification Are Acceptable to Fly With?
The TSA state that the following forms of ID are acceptable to fly with:
Driver's licenses or other state photo identity cards issued by Department of Motor Vehicles (or equivalent)
U.S. passport
U.S. passport card
Foreign government-issued passport
Permanent resident card
DHS trusted traveler cards (Global Entry, NEXUS, SENTRI, FAST)
State-issued Enhanced Driver's License
U.S. Department of Defense ID, including IDs issued to dependents
Border crossing card
An acceptable photo ID issued by a federally recognized, Tribal Nation/Indian Tribe
HSPD-12 PIV card
Canadian provincial driver's license or Indian and Northern Affairs Canada card
Transportation worker identification credential
U.S. Citizenship and Immigration Services Employment Authorization Card (I-766)
U.S. Merchant Mariner Credential
Veteran Health Identification Card (VHIC)
Can You Fly With a Suspended License?
You can fly with a suspended license, as a suspended license only means that you are unable to legally drive a vehicle.
Can You Fly With a Picture of Your ID?
Just having a picture of your ID is not good enough to fly with.
However, a picture of your ID can be useful to help prove your identity to the TSA.
Can You Fly With a Birth Certificate?
A birth certificate will not allow you to fly, though it may be useful to travel with if your ID was lost or stolen to help prove your identity to the TSA.
Can You Fly With a Paper ID?
Again, it can be useful to bring to the airport to help verify your identity, though.
Can You Use Your Social Security Card to Fly?
A social security card is not an acceptable form of ID to fly with.
How to Fly If Your ID Was Lost or Stolen
If your ID has been lost or stolen, you may still be able to fly domestically.
Bring as many as the following forms of ID to the airport to help prove your identity:
Source https://www.us-passport-service-guide.com/enhanced-drivers-license.html
Source https://www.rushmypassport.com/blog/us-passports-vs-enhanced-drivers-licenses/
Source https://executiveflyers.com/can-you-fly-with-an-expired-license/