Do I Need a Passport to Fly Domestically in the U.S. from 2022?
The United States of America is a large country with plenty of fascinating places to visit. If you wish to see all that's worth seeing, travel to every noteworthy location, and meet people of all backgrounds, you will need to travel a lot, and the quickest route will be by air. If a plane's your pick then you need to ask yourself, do I need a passport to fly domestically in the U.S. in 2022? Luckily the question is pretty straightforward, and in this blog post, we will try to sate your curiosity and talk about everything you need to know about interstate travel in the near future.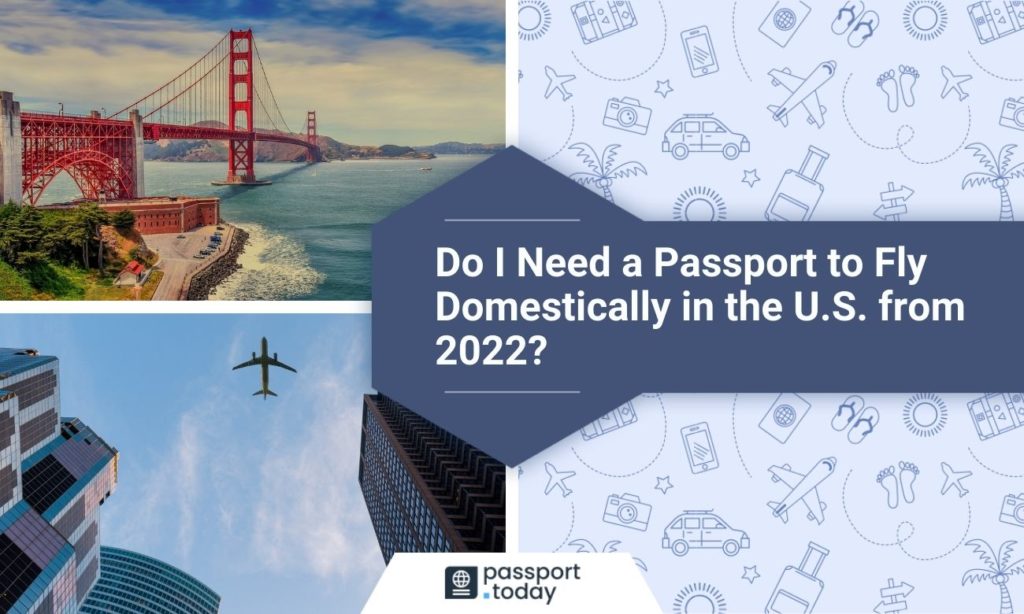 Table of Contents
Traveling in the U.S. without a passport
According to the Department of Homeland Security, a United States citizen will not need it for domestic travel in 2022. You can rest easy, then, because under no circumstances will you need a passport to fly domestically in 2022. It is an acceptable ID but passports will be mainly useful when you're attempting international travel. Bear in mind, however, you still will be required to carry other forms of identification for interstate flights. According to the TSA (Transportation Security Administration), all passengers above the age of 18 (eighteen) will have to present valid documentation during the check-up. If you were worrying about what kind you should take, you can relax, as down below you'll find a number of various acceptable forms you can choose from. Information contained within these IDs will be satisfactory.
driver's license (including the enhanced version)
U.S. passport card
DHS-issued Trusted Travel Card
U.S. Merchant Mariner Credential
border crossing card
permanent resident card
U.S. Department of Defense ID
tribal-issued photo ID
military ID
If you happen to forget or lose your ID, you will be alright still. Staff at the airport security checkpoint will ask you, however, to undergo an additional identity verification process, which will take longer than the conventional check-up. Some personal information will be required, like a social security number, for example. After the screening is completed, you're free to board a plane and enjoy your flight.
So, please remember that the bottom line is this: If someone asks if you need a passport to go to U.S. territories from within the country, you say, no.
Do You Need a Passport to the Dominican Republic?
Do You Need a Passport to Travel to Ireland?
When Do You Need a Passport?
Do You Need a Passport to Go to Mexico?
Do You Need A Passport to Go to Hawaii?
Is It Necessary to Have a Passport While Visiting Canada?
Do U.S. Citizens Need a Valid Passport for Jamaica?
Do You Need a Passport On a Cruise? – All You Need to Know
When do you need a passport to fly in the U.S.?
Under the current REAL ID act, you do not need a passport to fly in the U.S. by plane, unlike international air travel. In 2022 you will be able to fly interstate without a passport, as current REAL ID requirements remain unchanged, but bear in mind that the year 2023 will bring changes. Beginning on May 3, 2023, a congress passed determined that minimum security standards will change and flying within the United States will require all state-issued IDs, like a driver's license, to be REAL ID-compliant cards. In that case, a passport will be the default acceptable form of identification if you find yourself without passport cards or other travel documents. Please be advised that since that date you will need a REAL ID-compliant document.
Infants & children on domestic flights in the U.S. – requirements
The law dictates that children or infants will not need a passport to fly within the U.S.. All passengers above the age of 18 (eighteen) need to be identified, but younger individuals can board the planes with little to no identification, provided their adult companion has appropriate ID cards. Driver's licenses from the state driver's license agency will do the trick. If you're wondering if you should still grab something for your children just in case, you've got a good idea there. Some airlines might ask for proof of the minor's age. Grab a copy of their birth certificate, and now you can't be better prepared.
Do green card holders require passports on domestic flights?
You're in luck because a passport won't be required to travel between the states in that situation. Green card holders are in a comfortable position since the security standards dictate that permanent resident card and employment authorization are both forms of identification cards that are considered fully adequate. You will be accepted and free to board flights between the states.
Which states require you to carry a passport to fly in the U.S.?
As of today, none. Since February 2021, there aren't any states with such requirements, so U.S. nationals do not have to carry valid passports to fly domestically. All 50 (fifty) are open to you, and all that's needed is a state-issued ID or a regular driver's license.
You may find that surprising, but it is true. As of today, even such states like Kentucky, Missouri or Minnesota do not require a passenger to carry a passport to fly anymore. Just pick your destination and you're free to go.
Additionally, please remember to ensure all your IDs are REAL ID-compliant before March 2023, as it will become an important requirement when the new REAL ID act is updated. Then, your travel documents will need to be Real ID-compliant cards.
Also bear in mind that the rule does not apply to foreign travelers. If you hail from another country, you still will require a passport to travel.
You might also be interested in:
Can you fly in the U.S. without a passport or any other ID?
Yes, you can still fly domestically in 2022 without your passport, state driver's license or other travel documents, all is not lost. ID requirements are rather lenient for American citizens. If something happens and you lose it or you happen to have left it at home, you can still board a flight, so rest easy. What you need to do is talk to security and they, in turn, will ask you to go through some extra steps of identity verification. The process will take a bit longer than standard procedure, but once it is done, and the officials have given you a thumbs-up, you're allowed to board a plane.
Traveling in the U.S. with an expired passport
You can still travel within the United States in 2022 with a passport that has expired and the federal government, as well as local governments, are of one mind about the rule. According to homeland security, up to this day, it remains unessential when boarding domestic flights. Still, if the expiration date has passed or will happen sooner than in 6 (six) months, it is highly advisable that you find the time to apply for a renewal and obtain the new document. You can do it at a local passport office, provided you've got a new passport photo and a proper form completed.
Bear in mind, though, that still you need no passport to travel in the U.S. by plane.
Flying domestically in the U.S. in 2022 – You're fine
Now that you've read our post, you should be ready to grab every piece of documentation needed and embark and fly in the United States next year. As luck would have it, you need no passport for U.S. territories if you're flying from within the country. A passport card or a driver's license will do at the airport security checkpoint. Take to the skies, and, armed with whatever identification needed, go ahead and explore this fine and vast country. Enjoy the flight!
Why do I need a passport to travel in the U.S.?
The TSA (Transportation Security Administration) checkpoints will require all foreign nationals to show a valid passport when traveling domestically. U.S. citizens will also need a passport in an instance when they find themselves without any other document eligible for identification. There is no shortage of other acceptable forms of identification, such as a border crossing card or a tribal-issued photo ID or a military ID.
Will I need a passport to fly in the U.S. if I'm under 18?
The federal government states that American citizens who are under 18 (eighteen) years old do not need a passport to fly in the U.S. They can, however, be asked to provide proof of their age, and thus carrying a copy of the birth certificate is highly advisable. Foreign minors, however, will have to travel with their valid passports at hand.
Can I fly with an expired ID in 2022?
Yes, you can still use an expired ID at the checkpoint, it will be accepted. The security will allow you to proceed with domestic travel, so buckle up. If your driver's license or state-issued ID that expired on May 1, 2020, or is about to expire, it will still be honored. Due to the pandemic, TSA will accept such documentation as valid for an additional year or 60 (sixty) days after the emergency is over.
Do babies need to have a passport to fly domestically?
No, they will not be required to possess a passport on domestic flights, just like any other U.S. citizen under the age of 18 (eighteen). Remember to grab a birth certificate, though, as it might be useful.
ldren require a passport to fly in the U.S.?
As law states, every passenger below the age of 18 (eighteen) is not required to carry valid identification to gain access. You can be, however, asked to confirm a child's age. A birth certificate should have you covered, so pack it for the sake of your kids.
When will you need a passport to fly within the U.S.?
Possibly, you will have to start carrying a passport beginning on 3rd May 2023. Since that date, every traveler will be expected to show a Real-ID-compliant document, and a passport will do. State-issued driver's licenses will also work as Real IDs at the airport checkpoint.
How many blank passport pages do you need to travel to each country
Every country has different regulations on how many blank passport pages you need to travel. Either one, two, three, or more, here is a guide for each country in the world.
After traveling over 105 countries with a Colombian passport, I mastered the art of managing passport pages and visas. I come from a country where, most of the time, I need to apply for a visa beforehand. Furthermore, if I want to travel to multiple countries on one trip, I have to keep a lot in mind. I must calculate how many empty pages I will have left by the end of the journey, how many visas I need to apply for beforehand, and how many blank pages are mandatory before arrival.
Today, I'm trying to keep my 5th passport for as long as possible, and I want to fill all of its 32 pages before applying for a new one. In this article, I will tell you the number of blank passport pages required by each country and a couple of tricks and tips I learned through the years.
In July I will have to apply for my 6th Colombian passport in the past 15 years. My current passport is at the Mali Embassy in Berlin
Blank passport pages required by each country before arrival
Africa
Algeria
1
Madagascar
3
Angola
2
Malawi
1
Benin
1
Maldives
1
Botswana
3
Mali
1
Burkina Faso
1
Mauritania
1
Burundi
1
Mauritius
1
Cameroon
1
Morocco
1
Cape Verde
1
Mozambique
3
Central African Republic
1
Namibia
6
Chad
2
Niger
2
Comoros
1
Nigeria
1
DRC
1
Rwanda
1
ROC
1
Sao Tome & Principe
1
Cote d'Ivoire
1
Senegal
1
Djibouti
2
Seychelles
1
Egypt
1
Sierra Leone
1
Equatorial Guinea
1
Somalia
1
Eritrea
2
South Africa
2
Ethiopia
1
South Sudan
2
Gabon
1
Sudan
2
The Gambia
1
Swaziland (Eswatini)
2
Ghana
1
Tanzania
1
Guinea
1
Togo
2
Guinea-Bissau
1
Tunisia
1
Kenya
2
Uganda
1
Lesotho
1
Zambia
3
Liberia
1
Zimbabwe
2
Libya
1
INSIDER INFO:
Namibia is the country where you need the most amount of the pages to travel to. The Namibian stamp occupies almost an entire page, and if you need an extension permit in Namibia, they will stamp an additional page. I visited Namibia and extended once my visa. I ended up giving 3 total pages on this trip.
Americas
North America
| | |
| --- | --- |
| Canada | 1 |
| Mexico | 1 |
| United States | 1 |
NOTE: The United States does not stamp your passport when exiting the country. However, each time you transit in U.S. territory, you need to have all the necessary paperwork as if you were to enter the country – this means visas and ESTA are mandatory for transfers in the USA.
Central America & Caribbean
| | | | |
| --- | --- | --- | --- |
| Anguilla | 1 | Grenada | 1 |
| Antigua and Barbuda | 1 | Guatemala | 1 |
| The Bahamas | 2 | Haiti | 1 |
| Barbados | 1 | Honduras | 1 |
| Belize | 1 | Jamaica | 1 |
| Bermuda | 1 | Nicaragua | 1 |
| Costa Rica | 1 | Panama | 1 |
| Cuba | 2 | Saint Kitts & Nevis | 1 |
| Dominica | 1 | Saint Lucia | 1 |
| Dominican Republic | 1 | St Vincent & the Grenadines | 1 |
| El Salvador | 1 | Trinidad and Tobago | 1 |
South America
| | | | |
| --- | --- | --- | --- |
| Argentina | 1 | Guyana | 1 |
| Bolivia | 1 | Paraguay | 1 |
| Brazil | 1 | Peru | 1 |
| Chile | 1 | Suriname | 1 |
| Colombia | 1 | Uruguay | 1 |
| Ecuador | 1 | Venezuela | 1 |
Travelers holding a passport from the "Comunidad Andina" do not need to stamp their passports unless they want it. Additionally, these travelers can also just cross between South American countries by land or air with just an official I.D.
Afghanistan
1
Macau
1
Bahrain
1
Malaysia
1
Bangladesh
1
Mongolia
1
Bhutan
1
Nepal
1
Brunei
6
Oman
1
Burma
1
Pakistan
2
Cambodia
1
Palestinian Territories
China
2
Papua New Guinea
1
East Timor (Timor Leste)
1
Philippines
0
Hong Kong
1
Qatar
2
India
2
Saudi Arabia
1
Indonesia
2
Singapore
2
Iran
1
Sri Lanka
1
Iraq
1
Syria
1
Israel
1
Taiwan
1
Japan
1
Tajikistan
1
Jordan
1
Thailand
1
Kazakhstan
0
Turkey
1
North Korea
2
Turkmenistan
1
South Korea
1
United Arab Emirates
1
Kuwait
1
Uzbekistan
1
Kyrgyzstan
1
Vietnam
1
Laos
2
Yemen
1
Lebanon
1
INSIDER INFO:
If you enter the territory of Palestine from Israel, your passport will not be stamped – and the blank passport pages rule won't count. Also, for travelers entering Israel, and the territories of Hong Kong or Macau, the stamp will be printed in a paper, which you will have to keep until the end of your stay.
Europe
Non-EU countries
| | | | |
| --- | --- | --- | --- |
| Albania | 1 | North Macedonia | 1 |
| Andorra | 1 | Moldova | 1 |
| Armenia | 0 | Monaco | 1 |
| Azerbaijan | 2 | Montenegro | 1 |
| Belarus | 2 | Norway | 2 |
| Bosnia and Herzegovina | 1 | Russia | 2 |
| Georgia | 1 | San Marino | 2 |
| Vatican City | 2 | Serbia | 1 |
| Iceland | 2 | Switzerland | 1 |
| Kosovo | 1 | Ukraine | 1 |
| Liechtenstein | 1 | United Kingdom | 1 |
European Union
Austria
1
Italy
2
Belgium
2
Latvia
1
Bulgaria
1
Lithuania
1
Croatia
1
Luxembourg
1
Cyprus
2
Malta
1
Czech Republic
2
Netherlands
2
Denmark
1
Poland
0
Estonia
1
Portugal
2
Finland
2
Romania
1
France
1
Slovakia
1
Germany
2
Slovenia
1
Greece
1
Spain
1
Hungary
1
Sweden
0
Ireland
1
This regulation of blank pages only applies to the first country you enter in the European Union. If you travel between several countries of the European Union, your passport will not be stamped (and in most cases won't be controlled) – except for Cyprus, Romania, Bulgaria, and Croatia.
Additionally, you won't have to pass any border control if you travel overland in other territories like Liechtenstein, Vatican City, Monaco, Switzerland, San Marino, or Andorra.
This is called the Schengen Area, and once you enter the European Union, you can have free movement over these Schengen States. – See the full list here.
Oceania
Australia
1
Palau
1
Fiji
1
Samoa
1
Kiribati
1
Solomon Islands
1
Marshall Islands
1
Tonga
1
Micronesia
0
Tuvalu
1
Nauru
1
Vanuatu
1
New Zealand
1
FUN FACT:
The passport stamp of the country of Palau is a full-page pledge, in which you sign that you will protect the nature of the country and not cause any harm.
Palau passport stamp, also known as the Palau pledge
How to save blank passport pages during long trips
As a basic rule, most embassies and travel experts recommend adding the requirements for each country together if you are planning to visit multiple countries during the same trip. However, I find this rule a bit over-cautious; then, each page can be stamped six times in most cases.
And yes, there are border agents who love to stamp a new page every time they see one. However, if you can keep better control, where border agents can stamp your passport, you can visit many countries only using a few pages.
If I'm traveling with a new passport and want to keep as many pages as possible, I always ask the border officers to please stamp the first page. They might not do it, as many officers consider the first page some kind of taboo. Still, they will keep that in mind and try to stamp you on the first pages of your passport.
Between EU countries, you will usually just see one small sign that separates one country from the other.
Also, if you are running out of pages, and you need to have as many blank pages as possible, simply put a sticky note on your blank passport pages, asking to not stamp there. I've done it dozens of times traveling around, and this trick has saved me multiple times. In most cases, border patrol officers find it funny, and they will greet me with a smile and good wishes.
This trick always makes the officers laugh and helps me keep as many blank pages as possible
Finally, make the most of the countries that do not stamp passports. Smaller territories like San Marino, Liechtenstein, or Andorra offer "official" tourist stamps when traveling. And while these stamps will not cause you any problem, when traveling to a new country, they might be a bit annoying if you lack out of pages and need to get a new passport because of that San Marino stamp you didn't need.
Additionally, souvenir stamps are mostly a No-Go. Some countries consider souvenirs stamps an alteration of the passport, and they might deny you entry into the country.
I met once a traveler who got the souvenir passport stamps of West and East Berlin, and later he couldn't enter Russia because of them. I've also heard similar stories with the stamps of Machu Pichu and the Galapagos Islands.
If you really want to have some of these souvenir stamps, do it with expired passports or old passports with free pages.
What about visas?
Regarding visas, regulations might also change from country to country. As a basic rule, if you need a visa to a particular country, just add one blank passport page to the amount you need before arrival. However, to make sure the information is 100% true, call that country's embassy and confirm it.
For the application of e-visas, an additional page won't be necessary. Also, if you are applying for a visa using a third-party service, they are very happy to help you with the application and inform you about the visa, and blank page regulations you might face.
INSIDER INFO:
For complicated visas or express processes, I use iVisa. This company can take care of all your visa applications for a fee. This might increase the cost of your trip in general, but if you live in a remote area, your country does not have this embassy, or you simply do not have the time to deal with the visa process, this companies is a lifesaver.

Click HERE and check them out.
While some visas might take just 1-2 application days, other might last weeks
How do I find cheap flights?
Finding a cheap flight anywhere around the world is not always easy. It's about comparing platforms, selecting the right routes and booking at the right time. Fortunately, platforms like Skyscanner became known as an all-in-one tool for booking flights at the lowest cost possible.
They analyse every potential company and sub-contractor in order to find the lowest price available for you. Not only that, but you can also select the option "Travel Anywhere" and let Skyscanner find the cheapest place to travel at any selected date.
I check all my flights first at Skyscanner, and in 90% of the cases, I find the best option for me to book.
Also, by booking here using Skyscanner, you will support my blog and help me create more amazing and useful content.
Why is it so hard for Africans to visit other African countries?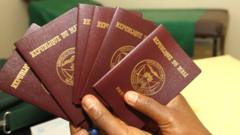 Africa's richest man Aliko Dangote has said he needs 38 visas to travel within the continent on his Nigerian passport. Many European nationals, meanwhile, waltz into most Africans countries visa-free.
African nations were supposed to scrap visa requirements for all African citizens by 2018.
It was a key part of the African Union (AU) "vision and roadmap for the next 50 years" that was adopted by all members states in 2013.
But to date, the Seychelles is the only nation where visa-free travel is open to all Africans – as well as to citizens of every nation – as it always has been.
A recent AU report found that Africans can travel without a visa to just 22% of other African countries.
It is a sensitive topic, provoking xenophobic attitudes in some of Africa's wealthier nations despite policymakers from Cape to Cairo insisting that the free movement of people is key for economic transformation.
Katchie Nzama shares her five African travel tips
"Our leaders seem to go to ridiculous lengths to preserve and protect the colonial borders," says South African travel blogger Katchie Nzama, who has visited 35 of Africa's 55 countries.
The AU may want a borderless continent where its 1.2 billion people can move freely between nations, similar to the European Union, but it seems there is no shortage of obstacles.
Whether it is immigration officials in Burkina Faso charging an arbitrary $200 (£155) for a visa on arrival, or Tanzania arresting and deporting other East Africans who enter illegally, or Tunisia refusing visas to stranded African passengers after a cancelled flight, intra-African travel is fraught with suspicion.
Double standards?
South Africa appears to be the most visible representative of the continent's visa double standard, remaining largely closed to other Africans but more welcoming to the wider world.
Citizens of only 15 African nations can travel to South Africa without a visa, yet holders of 28 different European passports can enter the country freely.
The country's Department of Home Affairs spokesman Thabo Mokgola defends its policy.
"This is an unfair assertion – visa-waiver agreements are premised on reciprocity and we are finalising such with a number of African countries," he told the BBC.
Just how that reciprocity is applied is unclear.
Kenya, for example, gives South African citizens a visa on arrival for free. But Kenyans must apply for a visa, then pay a service fee and wait for at least five working days before travelling to South Africa.
In 2015, two years after the African Union asked members to commit to abolishing visa requirements for all Africans by 2018, South Africa did the opposite and announced stricter regulations that were widely criticised.
Hit by a recession and a drop in tourist numbers, the country caved in and recently announced that it was relaxing travel rules in the hope of reviving its struggling economy.
You may also like:
African passport
Namibia, Mauritius, Ghana, Rwanda, Benin and Kenya have all loosened travel restrictions for other African nationals, and now either grant a visa on arrival or allow for visits of up to 90 days with just a passport.
But citizens of African countries still need a visa to travel to more than half of the continent's 54 countries, protecting borders drawn up by European colonisers more than a century ago.
"Somebody like me, despite the size of our group, I need 38 visas to move around Africa," complained Nigerian billionaire Aliko Dangote in an interview in 2016.
He is reportedly one of the first in line to receive the African passport which was launched in 2016. The travel document is supposed to eventually replace individual nations' passports, but is currently only available to some heads of state, senior diplomats and top AU officials.
Rwanda's President Paul Kagame and former African Union Chairman Idriss Déby were given the first AU passports in 2016
It is easy enough to travel within regional blocs such as the East African Community, the Economic Community of West African States, the Southern African Development Community, the Maghreb, as well as the Central African Economic and Monetary Community. But it is rarely possible to travel from one region to another without restrictions.
Extortionate prices
Another impediment to African travel is that there are very few commercial flights from one region to another and when they do exist, they are prohibitively expensive.
"Flying from Kenya to Namibia is the same price as flying to Thailand, and the cost to Dubai from Nairobi is way cheaper than flying to Morocco," says Kenyan travel blogger Winnie Rioba.
And this is on top of the visa fees.
Ms Rioba was charged $90 for a visa for Djibouti, more than the $75 she paid for a Schengen visa, which gave her access to 26 European states.
"I've spent more money applying for visas than transport costs in my travels across the continent," agrees Ms Nzama.
"This is not just money paid to embassies. It's the time and money wasted going back and forth to embassies, and preparing the required documents, which in most cases I felt were not necessary," the South African travel blogger says.
To help her fellow Nigerians find their way through the maze of requirements, entrepreneur Funmi Oyatogun created a colour-coded map outlining which African countries were easiest to travel to:
I created a map showing ALL the African countries and which ones are easiest to visit from Nigeria! Visa reqs, flight access, etc were considered. The full post below gives more info about each country! Folks, I put my back into this one. I hope it helps you.
"Our focus is to simplify travel for Africans across Africa," she says of her start-up TVP Adventures.
She believes these efforts are a necessary part of what she calls the "African travel spring".
"We are breaking through the barriers that made it difficult in the past – lack of information, poor flight connections, and incorrect perceptions of other African countries."
There is widespread support for scrapping the visa requirements for Africans travelling within the continent.
But as the 2018 deadline slips by, few believe it is likely to happen soon.
And while we wait, it might remain more attractive to leave the continent.
"How will I convince an African traveller to go with me to Angola if the trip will cost as much as travel to five countries in Europe?" asks Ms Rioba.
Even a dollar billionaire like Mr Dangote has problems visiting his many investments across his home continent.
Source https://passport.today/need-passport-fly-us/
Source https://www.thetravelersbuddy.com/2022/05/17/blank-passport-pages-to-travel/
Source https://www.bbc.com/news/world-africa-45677447