5+ Zambia Travel Tips: Important Advice to Know for Traveling to Zambia
Ready for a safari or trip to Zambia? Our Zambia travel tips ensure you stay safe, on budget, and ready to make the most of your Zambian trip!
Planning on a trip to Zambia?
Zambia is a country of immense beauty, diverse wildlife, and amazing people, and you certainly won't regret or forget a trip to this southern African nation.
Still, though, to make it a trip without any problems or issues, there are a few things to know before you go to Zambia.
Here are our top Zambia travel tips to know before you go:
1. Stay Safe in Zambia
Zambia is a relatively safe country, classified as a low Level 1 by the US Department of State. Still, though, you should take general safety precautions when traveling around Zambia.
Steer clear of any large demonstrations or crowd, as these have the possibility to turn violent (and this is true in most places, not just Zambia, of course). Take the standard precautions of keeping your valuables, such as cell phones, jewelry, and cameras out of sight when walking around the cities.
Also, avoid traveling near the borders with Angola and the Democratic Republic of the Congo. Not only is there a greater chance of danger from armed rebels, but there are still unknown unexploded mines and similar devices around.
If you need help, call the local police at 112 or 991, but also keep the number of your embassy saved in your cell phone, as well.
2. Check if You Need a Yellow Fever Vaccination
One of the most important Zambia travel tips to keep in mind is that, if you are traveling from a country where yellow fever is endemic or widespread, you will require a vaccination for yellow fever. While your home country may not have yellow fever, if you stop in a country which does on the way to Zambia, you could still need the yellow fever shot.
3. Know When to Go
Zambia has two main periods when it comes to travel and going on safaris. The peak travel period is the dry season, which happens from May through November, generally speaking. The off-peak travel period is the wet season, between December and April. While the wet season has its advantages on your wallet, some travel accommodations may be closed during this season, so check beforehand.
If you plan on taking a safari in Zambia, you're going to want to catch the busier dry season, between June and October. April, May, November, and December are sometimes counted as a form of a shoulder season, as the weather won't be as certain as the other months.
4. Don't Traffic Benadryl
Zambia has some strict drug trafficking laws in place, where just 0.5 grams of any illegal substance could get you in serious trouble (such as jail time). There are cases of travelers being fined and/or jailed for carrying even Benadryl or other OTC meds (Benadryl contains diphenhydramine which is banned).
To be safe, leave non-prescription medications at home, if possible, and carry any prescription medications in marked containers or with an attached prescription from the doctor to prove you aren't trafficking illegal drugs.
5. Respect the Culture & Customs
Most Zambian people dress conservatively, for starters, but there are also several Zambian customs to keep in mind so as not to offend. If you want to try local cuisine, particularly nsima and its side relishes, don't ask for silverware; be prepared to eat it with your hands, specifically the right hand.
While tipping isn't required as it might be in, say, New York City, it's customary to tip some people, such as guides and other staff who make safaris possible. At mid-range restaurants and higher, a 10% tip is pretty standard, if not already included as a gratuity.
6. Save Plenty of Passport Pages
According to the US Department of State Bureau of Consular Affairs, travelers to Zambia must have 3 blank pages for entry into the country. On top of that, you need the standard 6-month validity of your passport, and US citizens will require a tourist visa (visa upon arrival, depending on your passport). Also, if you are visiting another country before Zambia, remember that you could need additional blank pages there, as well.
Well, that's all our Zambia travel tips for now, and we hope they help you plan the perfect trip, whether to Lusaka or out there on safari! Got any questions, feedback, or other tips for traveling to Zambia to add to our list? Let us know in the comments below, and thanks for reading!
Christian Eilers
Christian Eilers is a travel and career advice writer who constantly loves to learn about the world through traveling, cultural stories, reading, and education. A native of New York City, when he is not traveling, he can find an abundance of cultural influences right in his own city, enough to keep him satisfied until the next country's beckon cannot be ignored any longer.
5 Epic Southern Africa Itineraries to Help You Plan Your Perfect Trip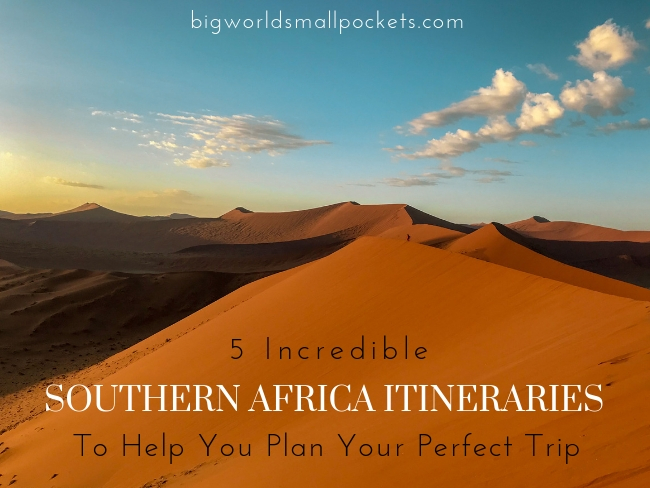 The land of safari splendour, roaring rivers, wonderful wildlife, spellbinding sea views, lush landscapes and dazzling deserts – Southern Africa has got it all.
From the Indian Ocean to the Atlantic, this part of the world spreads between them both offering, in between, a huge diversity of incredible scenery and adventures.
The only problem is that it is huge and can be difficult to get around, meaning if you only have a short time, you might just have to select which part of the region exactly you tackle first.
And to help you out, I've compiled this list of my 5 epic Southern African itineraries.
Chock full of info about what to see, where to go, when to visit and how long it will take, each itinerary covers a different part of the region.
For short trips of just a few weeks, you may have to pick just one off the list, but with more time up your sleeve, you can afford to mix and match them, or (why the heck not) join them all together in one grand Southern Africa showdown!
You're going to love it!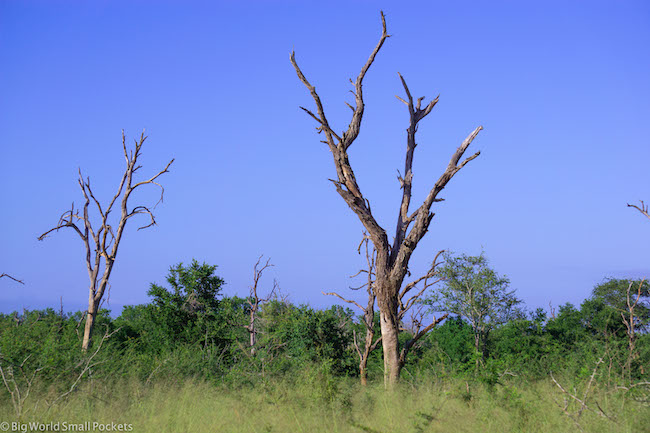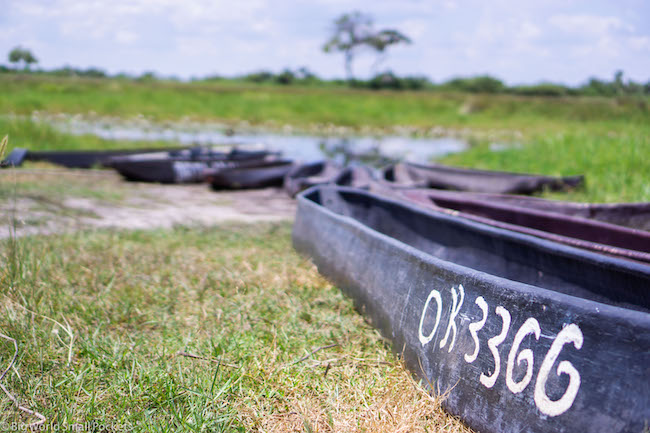 Related Posts
This page contains affiliate links meaning Big World Small Pockets may receive a small commission on any purchases at no extra cost to you.
My trip to Kruger National Park, Mozambique and Swaziland / eSwatini was kindly sponsored by African Budget Safaris, but, as always, all views are my own.
Grab Your Copy of How to Travel Africa for Less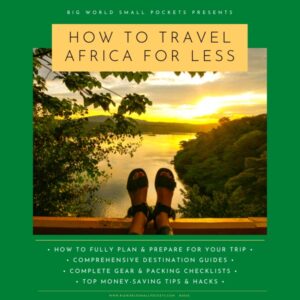 My ultimate guide to travelling Africa on a budget is now available, meaning you can finally get ALL my top tips for adventuring around all, or parts, of this amazing continent in one handy eBook, including…
Full Planning & Preparation Guides
Detailed Destination Info
Complete Packing & Gear Lists
Top Money-Saving Tips & Hacks
Click Here to Check It Out!
#1 Coastline & Countryside
Countries Covered: South Africa -> Mozambique -> Swaziland (eSwatini) -> South Africa
Length of Time: 2 Weeks
Best Time to Visit: June – Oct
Top Tour: 14-Day South Africa, Swaziland & Mozambique Safari
This is the route of my most recent trip I took in Southern Africa with African Budget Safaris and I love the perfect mix of countryside, wildlife and safaris it combines with some serious beachtime, snorkelling and hammock swinging!
A circular route, this one begins in Joburg – a great place to start with a heap of international flight arrivals.
For cooler conditions, it's probably best to visit during the winter months of May to October here, but I actually made the trip in February and loved it all the same – especially the lack of crowds and the lush, green landscape in South Africa and eSwatini / Swaziland at this time.
From Joburg, you'll travel to the most famous national park in Africa – Kruger National Park – to enjoy a great range of game drives and wildlife spotting! While you're here, don't miss the chance to drive the stunning Panorama Route with its incredible views and lookouts.
After this, it's time to cross into Mozambique and head to the coastal resorts of Inhambane.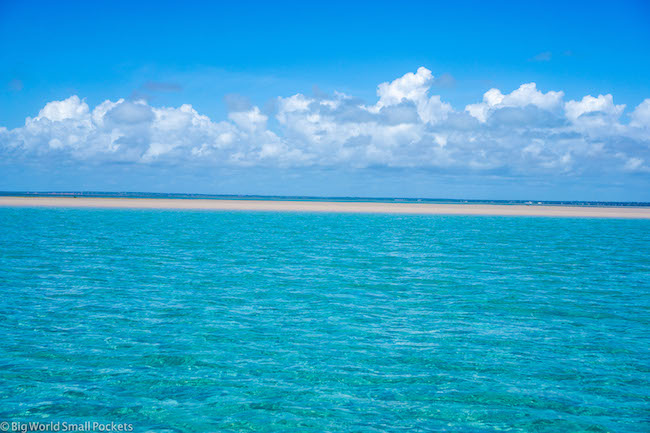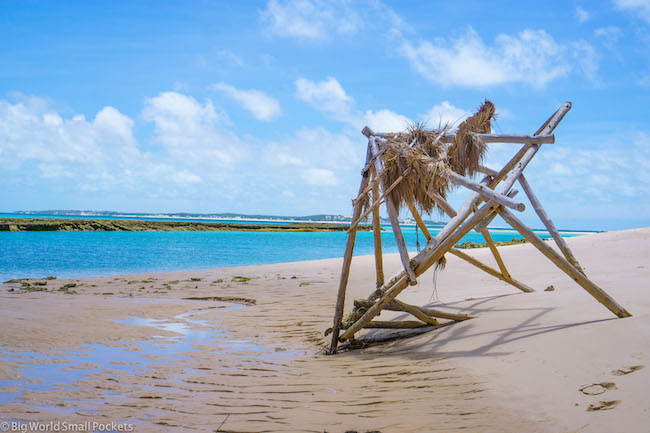 The backpacker hub of Tofo is a great place to get your whale shark or diving fix in a small, relaxed beach town.
Otherwise staying up the road at Barra Beach will give you a bit of a quieter option.
With ocean safaris, as well as snorkelling, surfing, swimming and sunbaking to enjoy in this area, it's the sort of place people go for a week and end up spending a year!
Dragging yourself away however, it's time to carry on up the coast to take in the sparkling gems of the Bazaruto Archipelago.
Accessed from the cute town of Vilanculos, spending a few nights here so you can enjoy at least one boat day trip to these stunning islands is a must.
Honestly, this is paradise found!
After Vilanculos, return south to spend a night in Mozambique's capital Maputo, before continuing on to the Kingdom of eSwatini (formerly known as Swaziland) to enjoy some the best national parks in this part of the world, namely Hlane, Mlilwane and Mkhaya.
Once you've got your wildlife fix in the beautiful landscape of this mountainous country (often referred to as the Switzerland of Africa) you can then cross back into South Africa and either return to Johannesburg or continue onto Durban.
Moving fast, this itinerary can be made in 2 weeks, which makes it perfect for those just looking for a short break.
Pushed longer, with some serious downtime in Mozambique, this itinerary could easily be stretched to 3 weeks, and then combined with my #2 itinerary for a longer adventure.
Best Company To Help Organise Your Southern Africa Itinerary on a Budget
Offering a huge range of tours across both Southern and East Africa, and with value for money always at the forefront of their minds, African Budget Safaris are a top company I highly recommend if you're looking for help in organising your Southern Africa itinerary.
Highly professional, regulated, insured and with years of experience behind them, I could not fault their excellent customer service, expert knowledge and passion for all things Africa travel when I was looking for their assistance with my most recent trip.
I especially like what African Budget Safaris offer solo female travellers – group tours that mean you will never feel lonely and a huge amount of security, including a point of contact before, during and after your trip just in case you encounter any problems.
For African travel newbies, this company is also great, because they dedicate themselves to ensuring you get the best trip possible – even if you're not really sure what that looks like yet!
Just tell African Budget Safaris that I sent you, along with the sort of stuff you want to see, your budget and your timeframe and they'll do the rest, giving you heaps of options to ensure you get to see as much of this epic continent in the most rewarding way possible.
#2 South Africa Classic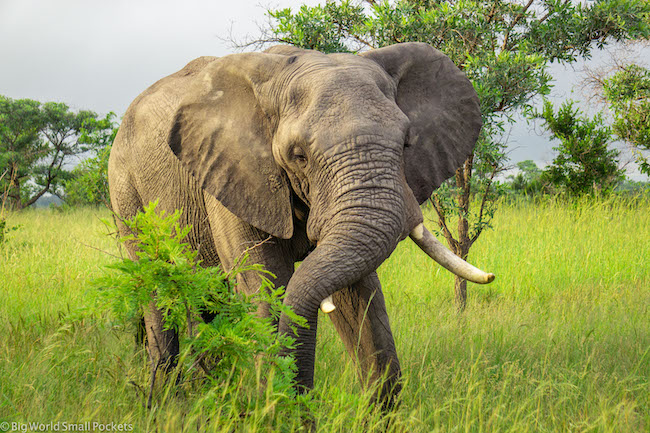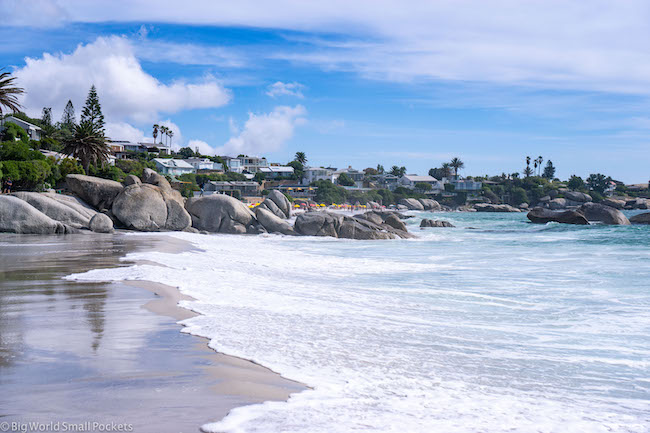 Countries Covered: South Africa -> Lesotho -> South Africa
Length of Time: 2 – 3 Weeks
Best Time to Visit: Feb – April
Top Tour: 3-Day Big 5 Safari & Lesotho Explorer from Durban
South Africa is a country on so many people's bucket lists it's not funny and, having been there several times, I can definitely attest to the fact that it should be!
An enormous nation spanning different topographies and climate zones, you'll need at least 2 weeks to see just the highlights of South Africa – and 3 if you really want to do Cape Town justice at the end.
Beginning in Joburg, which is a convenient place to start if flying from overseas, begin making your way south for some wonderful hiking and lodge stays in the exciting elevations of the Drakensberg Mountains and, the all too often overlooked, country of Lesotho.
From here continue south to feast on great Indian cuisine in Durban, taking a side-trip to the wetlands areas of St Lucia if you have time.
The spectacular Wild Coast offers some great beach and cultural experiences around Port St Johns, while the surf's well and truly up in Jeffrey's Bay.
Side-trip to Addo Elephant Park from here if you're craving a wildlife fix, otherwise continue onto Knysna – another great coastal spot offering beautiful hiking too.
If it's whale season, Hermanus is the place to spot them from, or if you're keener on ostrich, then Oudtshoorn is the destination of choice!
Don't miss the fantastic winelands as you near your destination, with Stellenbosch and Franschhoek in Cape Town's hinterland, both offering amazing tasting experiences.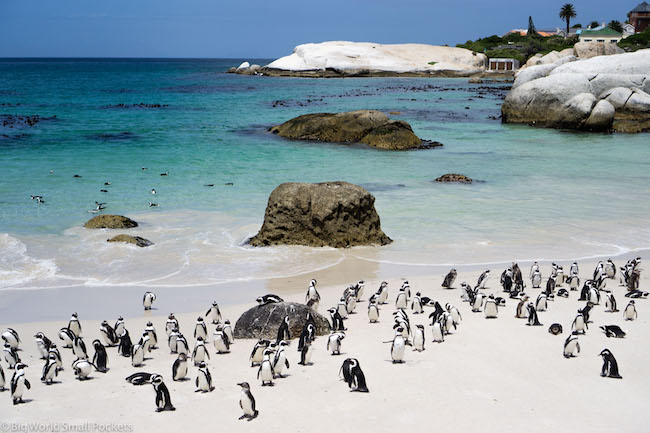 Finally, arrive in Cape Town and catch your breath before scaling Table Mountain, Lions Head, Signal Hill, or all 3!
Honestly, you could take a week in Cape Town alone and still not see everything, but I do recommend getting down to the Cape at least one day to check out the penguins at Simon's Town, the Cape of Good Hope, Chapman's Drive and the well-heeled suburb of Constantia.
For more ideas, check out my list of the best 18 things to do in Cape Town on a budget!
I've selected Cape Town's summer season as the best time to travel this itinerary because it will hopefully mean lots of nice beach days along the South Africa coast.
However, if you're combining this with my itinerary #3, you'll want to visit between September and December instead.
Zambia Travel and Vacations
Those who travel to Zambia normally do so to visit the mighty Victoria Falls, which occur in the Zambezi River that separates the countries of Zambia and Zimbabwe. The country also offers several pristine national parks, most notably Lower Zambezi and South Luangwa, where luxury safari vacations based at small intimate camps emerge visitors in untouched natural surroundings where wildlife abound.
Top Travel Destinations in Zambia
Zambia is one of the best travel destinations on the African continent to enjoy a safari vacation reminiscent of yesteryear.
Victoria Falls
Lower Zambezi
South Luangwa
Kafue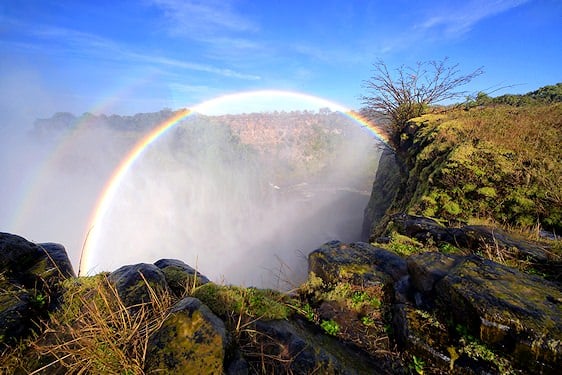 Mosi-oa-tunya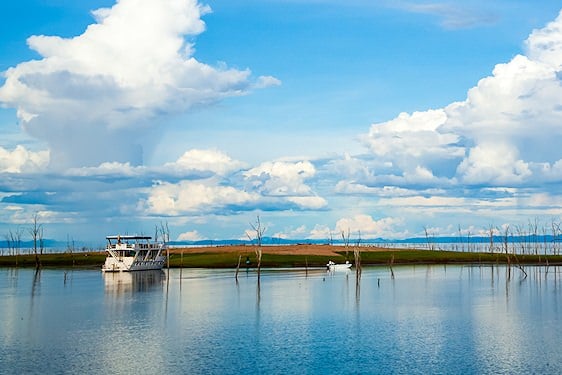 Lake Kariba
Zambia Tours & Safari Packages
Safari Packages that focus on the primary national parks of Zambia and Victoria Falls.
Zambia is a sparsely populated country with a small handful of urban centers. Livingstone is famous for tourism due to its proximity to the world wonder of Victoria Falls. National parks like South Luangwa, Kafue, and Lower Zambezi offer incredible safari experiences.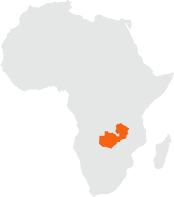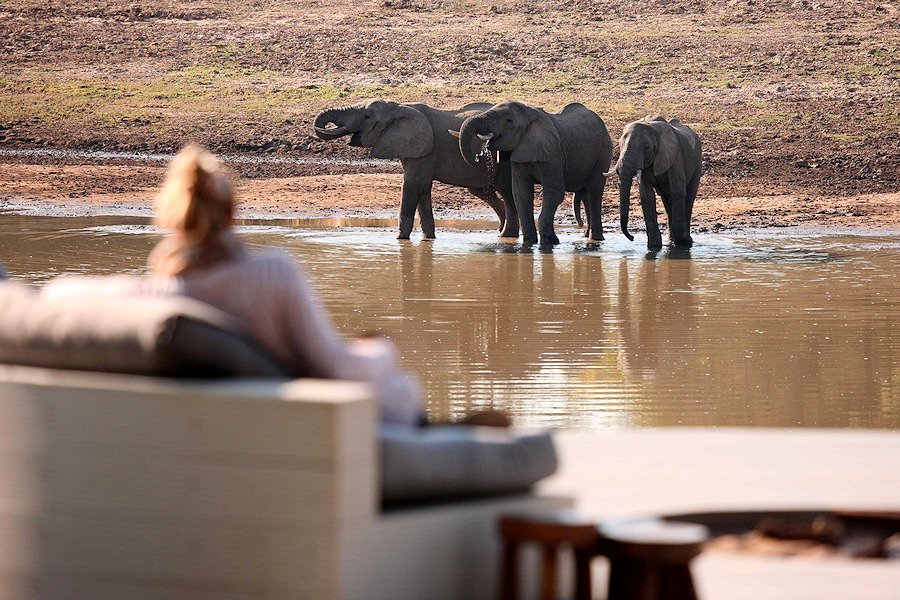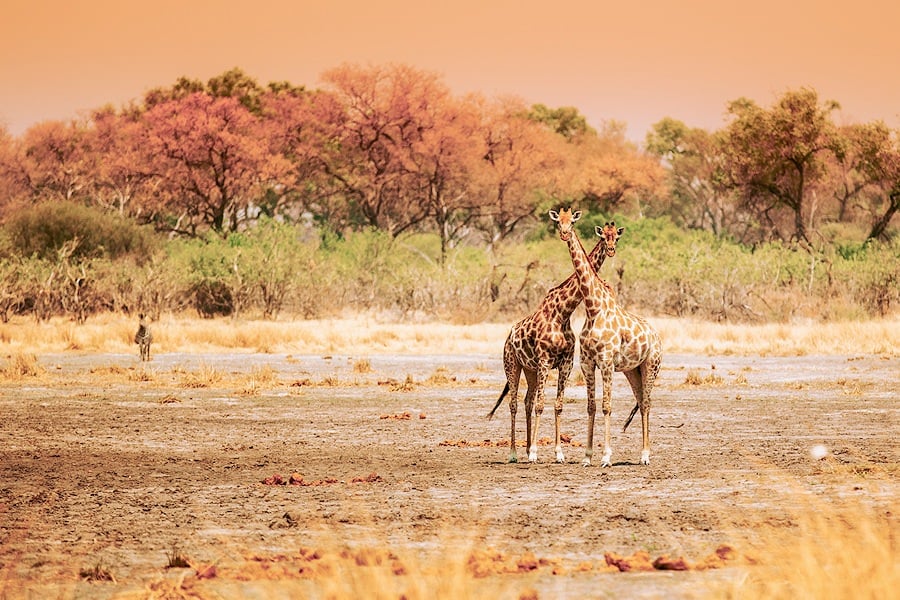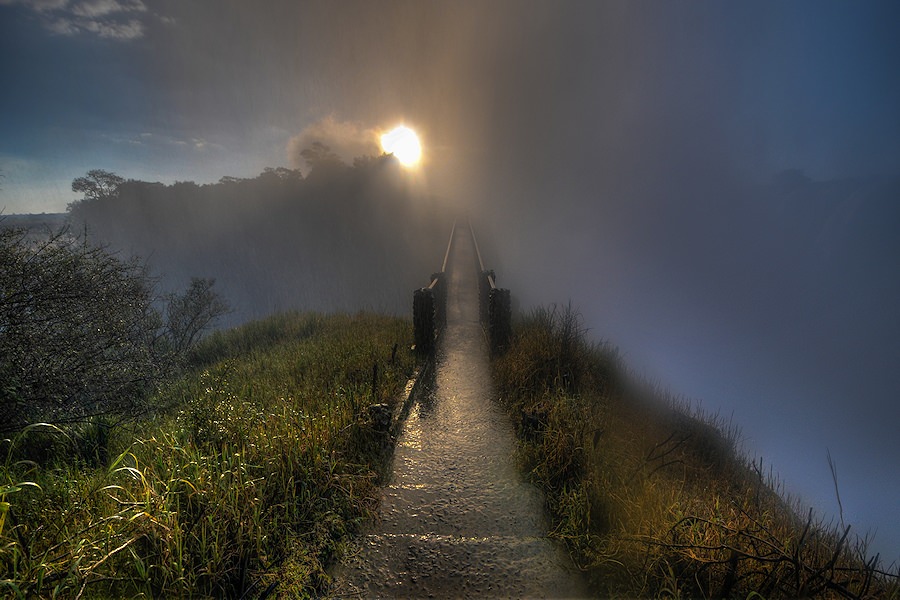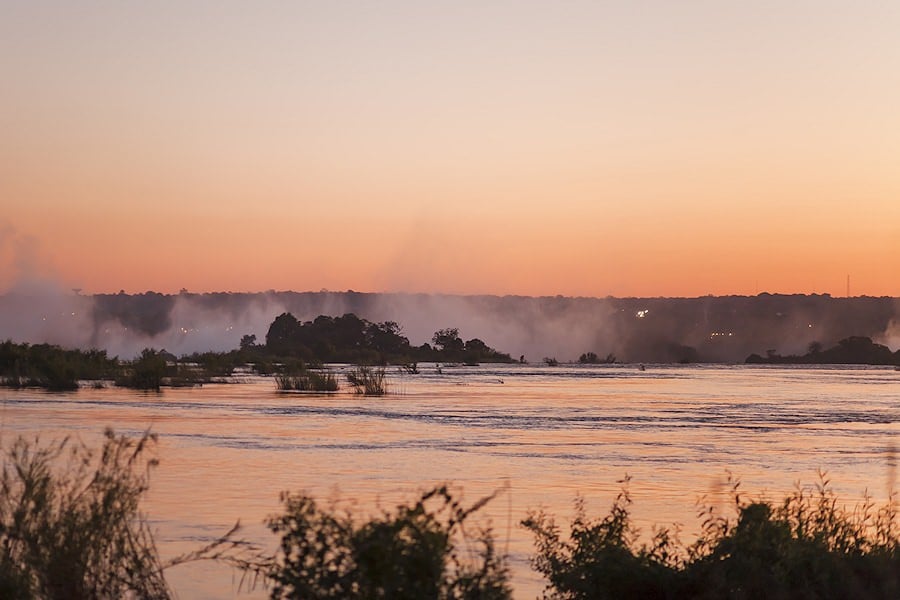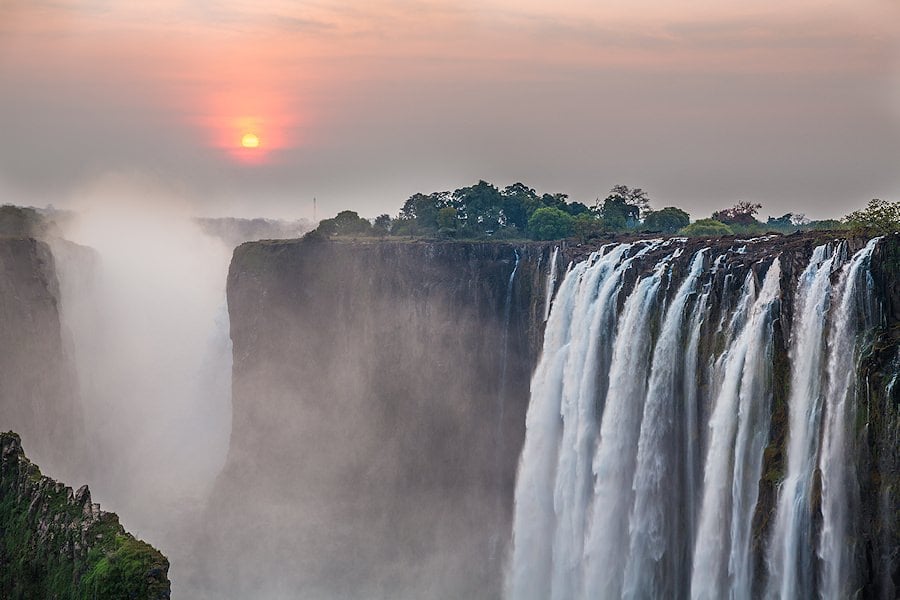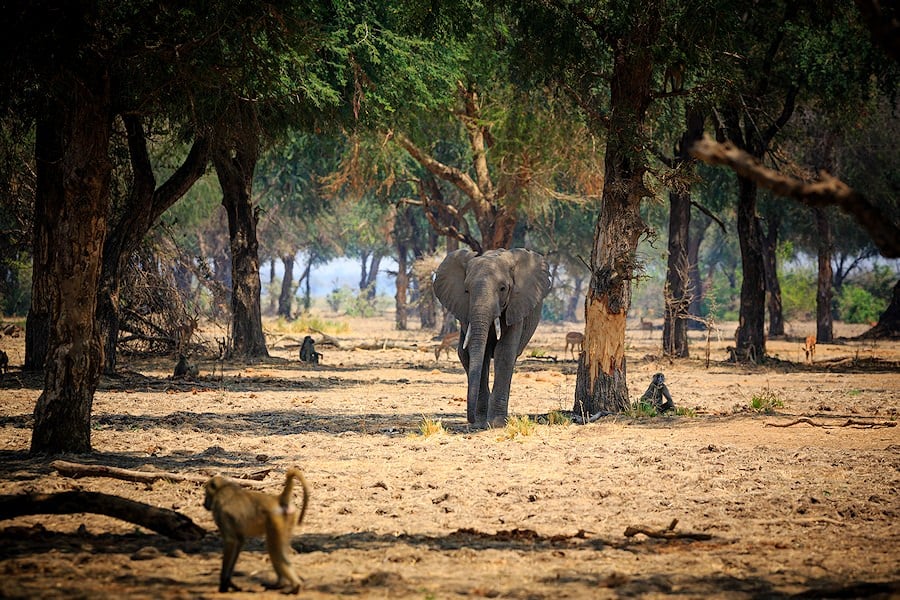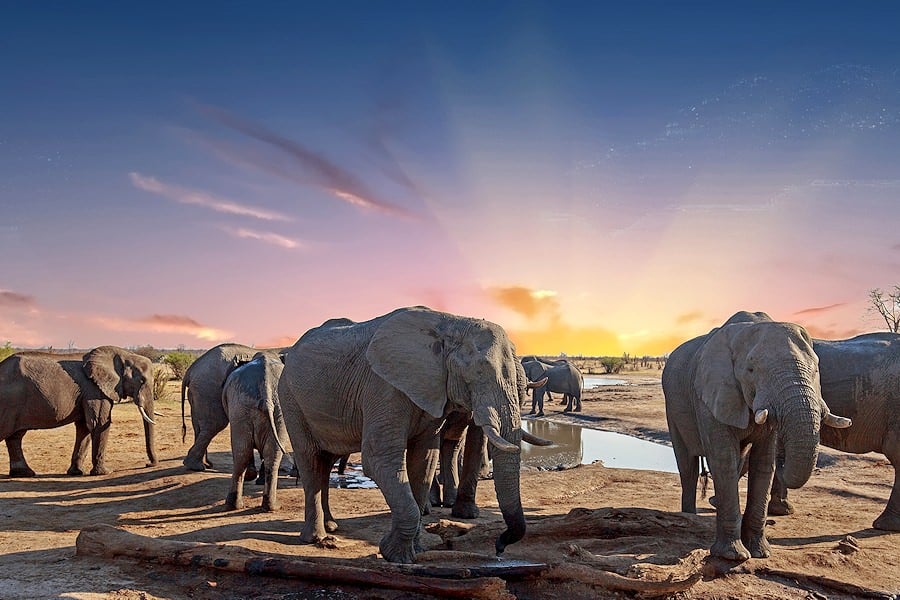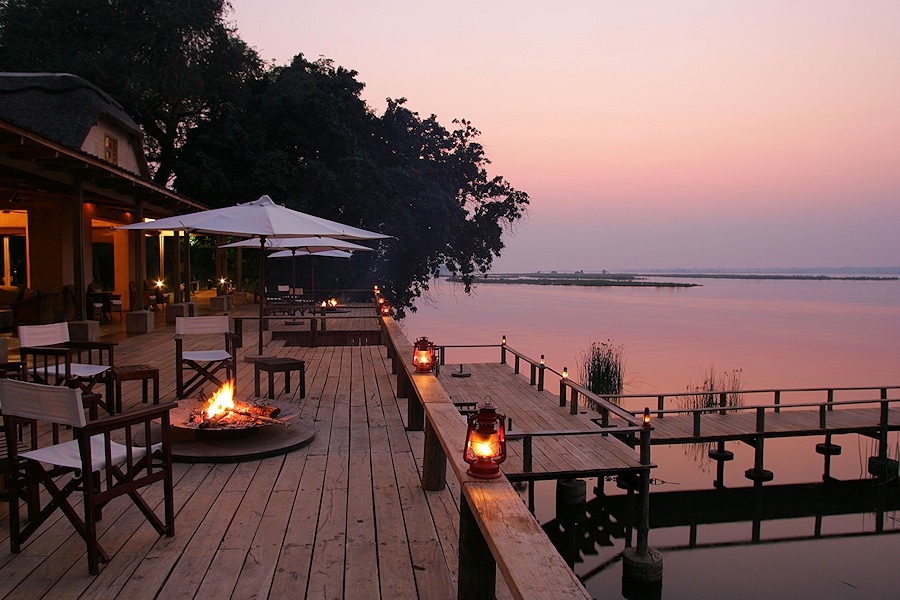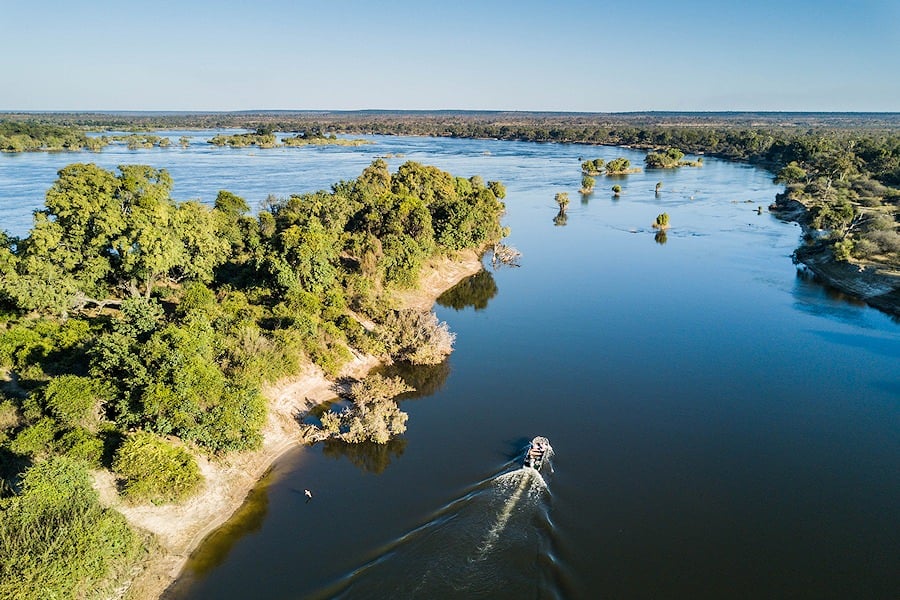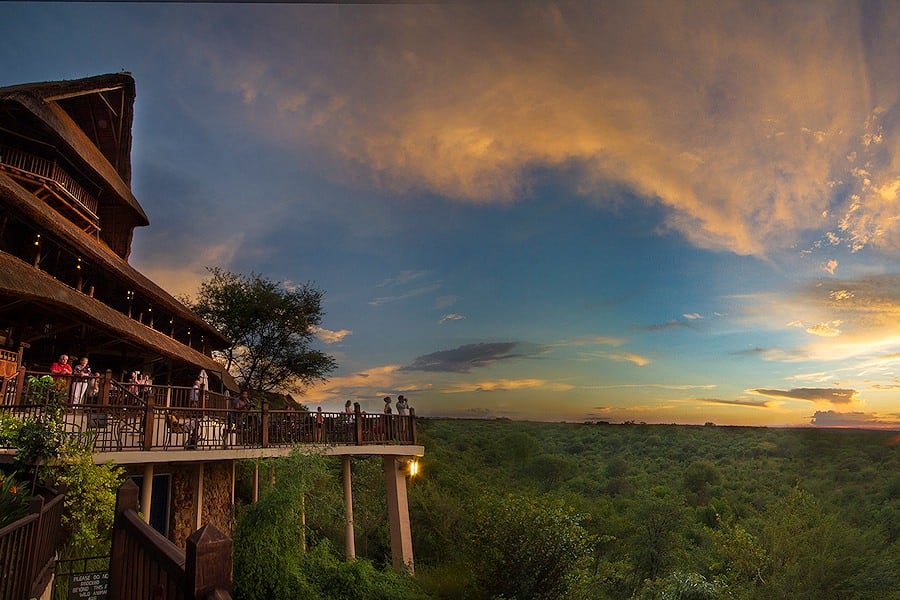 Other Recommended Destinations
Magnificent lakes and several lesser-known national parks make up the other Zambian destinations recommended by African Sky. Zambian tourism is primarily nature-based, with a remarkable diversity of protected areas and some of the unique natural sights in Africa.
Kasanka National Park
Kasanka National Park is located in central Zambia. It offers one of Africa's most spectacular natural sights from October to December when around ten million fruit bats descend on a small patch of evergreen swamp forest inside the park. It is where the famous explorer David Livingstone died on his quest to find the source of the Nile River.
Lochinvar National Park
Lochinvar does not have the abundance of large mammals found in Lower Zambezi, South Luangwa, or Kafue. Situated on the Southern edge of the Kafue floodplain, the park does offer 428 species of birds, and you are very likely to see large herds of Kafue lechwe, one of the three species of lechwe found in Zambia.
Lake Bangweulu
Bangweulu means 'the place where the water meets the sky' – a fitting name for this area of astonishing beauty where it is often hard to tell where the edge of the lake ends, and the sky begins when looking out over its massive expanse. The area receives a very high annual rainfall and is normally flooded between November and March.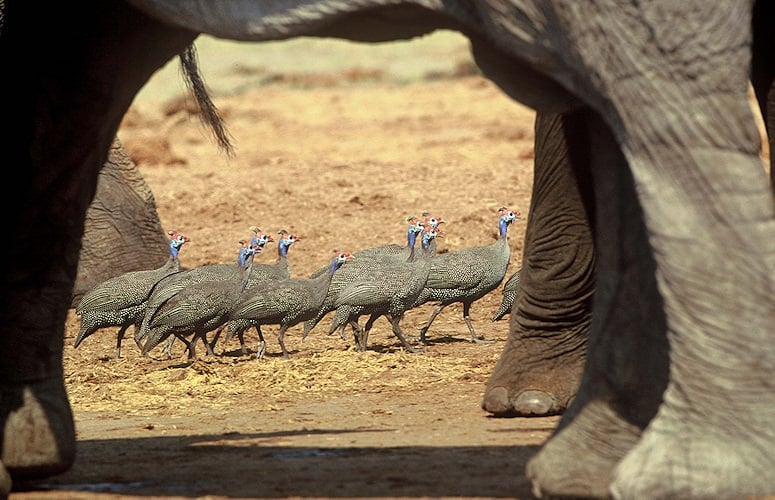 Lake Mweru
Lake Mweru is a beautiful lake situated in remote northwestern Zambia. It is definitely not a destination for the average tourist. Those who like to wander off the beaten track will be richly rewarded by dramatic beauty and an authentic African travel destination.
Lake Tanganyika
Lake Tanganyika is one of Africa's great lakes. It is estimated to be the second largest freshwater lake by volume, second only to lake Baikal in Russia. The accommodations available at Lake Tanganyika range from luxury island lodges to more basic guest house accommodation catering to more budget-conscious travelers. The temperatures in the region are mild, with temperatures in the mid-twenties throughout the year.
Liuwa Plains National Park
Liuwa Plains in the far western part of Zambia is one of Africa's most unspoiled wilderness areas. The park is best visited from August to December. With the onset of the rainy season in late October, vast herds of wildebeest migrate from Angola. Other antelope common to the park include red lechwe, roan, oribi, and tsessebe. The park also supports a healthy predator population.
Zambia Vacation Options and Travel Tips
Zambia vacations incorporate some of the finest off-the-beaten-track safari areas on the continent and the world wonder of Victoria Falls.
Private Tours, Safaris and Honeymoons
Tailor-Made Vacation Packages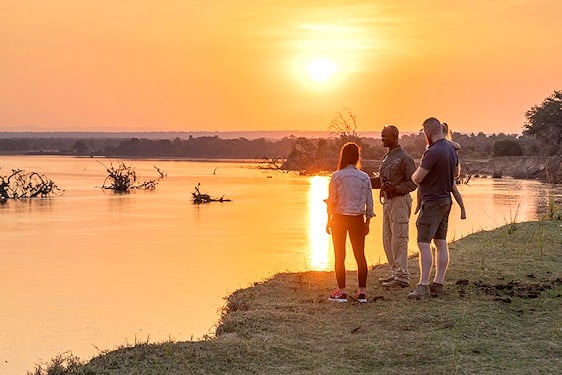 Travel Tips &Advice
Best Tours and Safari Packages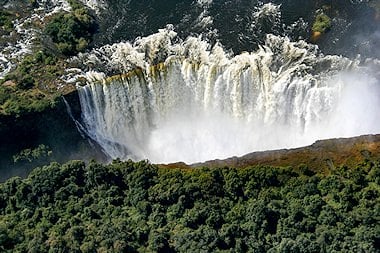 In Depth Zambia
This luxury 10 Day safari adventure explores the Victoria Falls before embarking on a safari first in the Lower Zambezi National Park and then South Luangwa.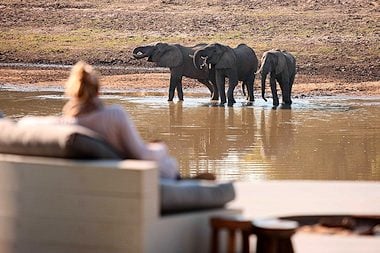 5-Star South Luangwa
Seven days are devoted to a safari in South Luangwa. This package features luxurious safari camps in spectacular locations.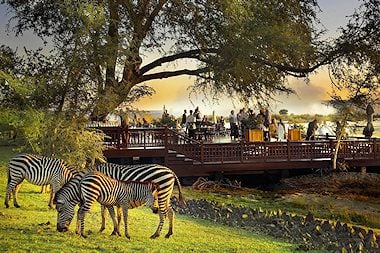 Royal Zambian
A week-long safari package combines the Lower Zambezi National Park with adventure activities to the Victoria Falls.
Reasons to Visit Zambia
Victoria Falls
Because of Victoria Falls, Zambia has always been a popular African travel destination. It is one of the Seven Natural Wonders of the World, and the sheer drama and beauty of the Falls never leave those who lay eyes upon them. The largest waterfall in the world, it is locally known as 'Mosi-oa-Tunya' (the smoke that thunders). Zambia offers convenient access to the Falls from a lavish collection of riverfront lodges and hotels.
Authentic Wilderness
Zambia is increasingly emerging as a coveted safari destination. Its national parks are still relatively under-developed, resulting in authentically 'wild' and pristine wilderness areas. Beyond the falls, safari travel to Zambia can indeed be expensive. The remote nature of the various lodges and conservation areas means that they do require a bit of effort to reach. However, if you can afford it, you will find a safari in Zambia to be an enriching experience.
Safari Activities
The unique environments that characterize Zambia's wilderness areas mean that unique activities are also available, from hot air ballooning above the Busanga Plains or angling in the Zambezi River to seasonal boating on the oxbow lagoons of the Luangwa River Valley. Traditional game drives and intimate walking safaris are also available and form the backbone of any African safari.
Cultural Pursuits
Despite many of the lodges' far-flung locations, many rural communities thrive in these areas and contribute enthusiastically to wildlife conservation. Numerous lodges offer local village tours that incorporate visits to schools and markets. Tribal textile excursions are also popular and an excellent opportunity to purchase a souvenir. Traditional cultural performances mark festive occasions in the Lower Zambezi.
Experiences to be Savored when traveling in Zambia
Zambian experiences are all steeped in authenticity – authentic walking safaris, truly engaging cultural immersion, and some of the most awe-inspiring views imaginable, free from pretension or terrestrial limitation.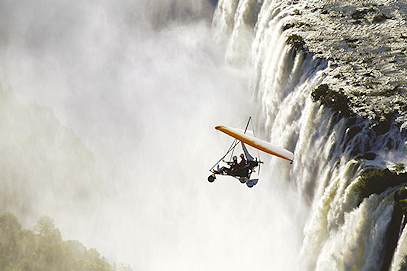 Microlight Flight
It is undoubtedly the most breathtaking vantage point to view the Falls. Also known as 'the flight of the angels,' the exhilarating microlight flight takes you up above the Falls and through the ethereal spray cloud. Trip durations range from 15 to 30 minutes of airborne adventure and can extend to swoop across the Zambezi.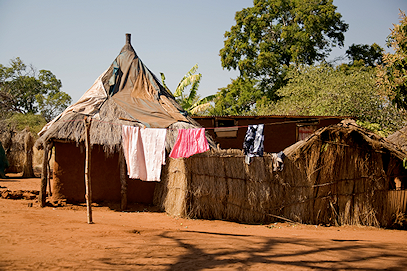 Traditional Villages
A wide variety of traditional village excursions are available, depending on where in Zambia you are visiting. Whether it's the Mukuni Village near Livingstone, the Goba community at Chiawa Cultural Village in Lower Zambezi, or the Kawaza Village on the borders of South Luangwa National Park, immerse yourself in local culture.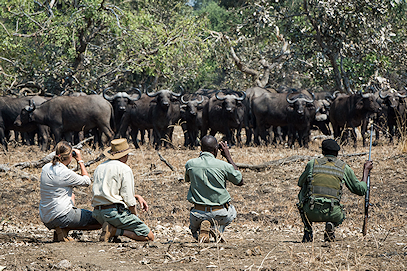 Walking Safari
Zambia's South Luangwa National Park is the 'birthplace of the walking safari.' While walking safaris can now be enjoyed in many wilderness areas, South Luangwa's expeditions remain the stuff of legend. Wander through 'the Valley of the Leopard' in the company of an armed scout for an authentic adventure.
Untouched Africa
Zambia is home to pristine, far-flung safari areas where many species can be seen that are not common in the other countries of Southern Africa.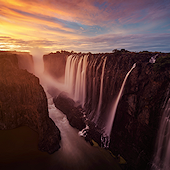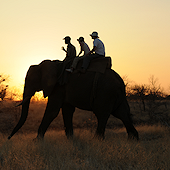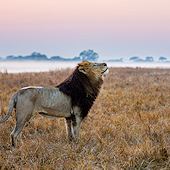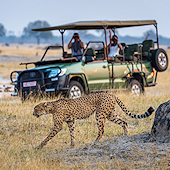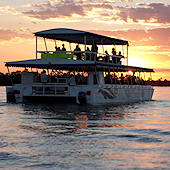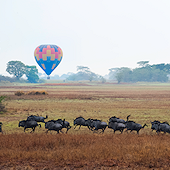 African Sky provided an individually tailored safari experience with great flexibility in response to our energy levels. They provided an effective response to initial e-mail inquiries and a professional level of detail, which is why we booked with them. Mary-Anne is a gem. She was highly knowledgeable, engaging, and infectious in her enthusiasm, and nothing was too much trouble. Her care and rapport were vital to our experience – she was outstanding.
Justin & Adele Rees, UK
Accommodation
Apart from the hotels in and around the town of Livingstone adjacent to Victoria Falls, most tourist accommodation in Zambia consists of remote tented safari camps and more traditional lodges.
Luxury Tented Camps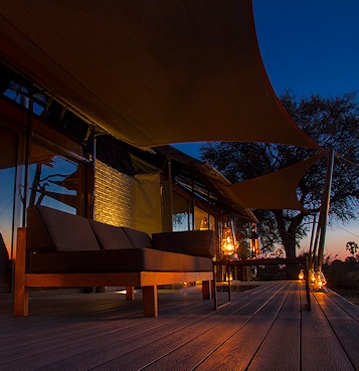 Most safari areas in Zambia host visitors in Tented Camps where no extravagance is spared to make your stay and safari experience on par with the best in Africa.
Safari Lodges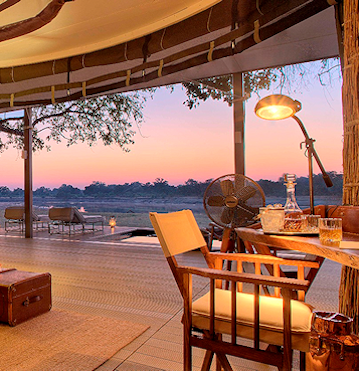 More traditional lodge structures – offer a luxurious stay and first-rate service in some of Africa's remotest and most imposing wilderness areas far from civilization.
River Lodges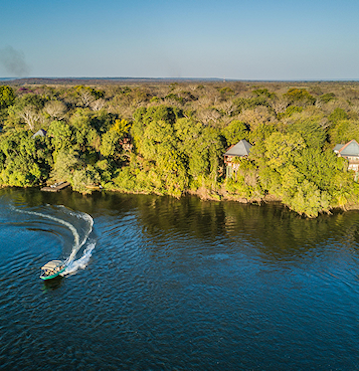 Typically set on the banks of the Zambezi River or one of the islands in the river, these purchases offer sublime views and the opportunity to view different species as they come to drink.
Transport
Transportation in Zambia takes many forms. The most typical are overland transfers in air-conditioned minibusses or coaches, which we regularly use for guests visiting Livingstone and Victoria Falls. Unless otherwise stipulated, all these transfers are private. Transfers to and from activities are always included.
Commercial and charter flights are required if you venture further afield – to Kafue, South Luangwa, or Lower Zambezi National Park. Boat transfers are also available but are less common. Should you wish to travel overland, it can be a rather strenuous journey that can only be accomplished in a hardy 4×4 vehicle.
Your comfort and safety while traveling in Southern Africa are paramount to us, and we only ever work with operators and drivers that adhere to our high standards.
Foods to try in Zambia
Trying local cuisine could add to the uniqueness of your safari in Zambia.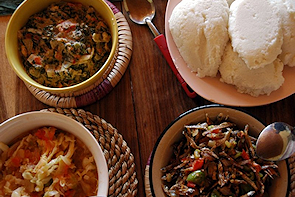 Nsima
The national staple is nsima, a dish of maize flour and water. The 'porridge' is typically enjoyed with two sides for relish – one protein (ndiyo) and one vegetable (masamba). The protein is usually meat like beef, goat, poultry, or fish.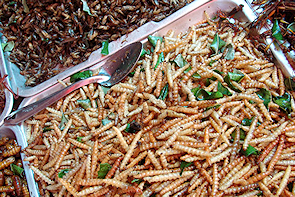 Termites
For the more adventurous spirits, try fried termites, a much-favored delicacy during the rainy season. The insects are thrown into a hot frying pan with a dash of oil and salt, then sautéed until crisp and golden brown, and taste rather nut-like.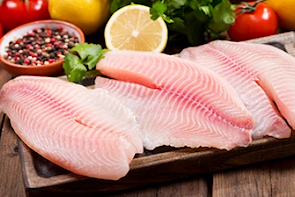 Tilapia
Tilapia is a very popular local freshwater fish mainly sourced from Lake Kariba. The firm white meat is high in protein and calcium and is delicious when grilled and served simply with a peanut sauce, a side of rice, and green beans.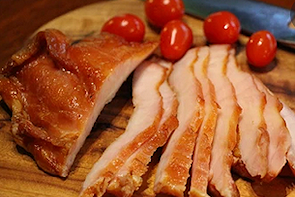 Crocodile
It may sound extremely exotic, but crocodile meat is quite popular in Zambia and served in many restaurants in either steak form or as a burger patty. This succulent meat is low in fat and tastes rather like chicken.
While hotels and lodges in Livingstone are likely to have decent Internet connectivity and mobile reception, the more isolated lodges in Kafue, South Luangwa, and Lower Zambezi will probably have little to no access, so be sure to plan accordingly.
The land-locked country of Zambia shares borders with Angola, Botswana, the Democratic Republic of the Congo, Malawi, Mozambique, Namibia, Tanzania, and Zimbabwe.
South Luangwa is home to healthy wildlife populations and is spectacular in its natural beauty; it is considered the best safari area in Zambia.
While visiting the Victoria Falls area around Livingstone is typically a moderately priced endeavor, venturing further afield to Zambia's safari areas can be costly, as charter flights are often involved. Should it be within your budget, however, it is absolutely worth it and an entirely authentic safari experience awaits you.
It depends on the area that you visit and the season. For example, in 'the emerald season, the lagoons of South Luangwa are full enough to enjoy powerboat safaris.
Yes. The Mosi-oa-Tunya National Park surrounding Victoria Falls is home to the country's only white rhinos, while black rhinos occur in the less frequented North Luangwa National Park.
Most of Zambia's safari areas are accessible by charter flight (typically from Lusaka Airport) and then overland by 4×4.
Yes. Traveling during the dry season means visiting Livingstone Island and Devil's Pool is possible. For a better view of the flow of the Falls, however, you can purchase a day tripper visa and wander over to the Zimbabwean side.
Useful Travel Info
The historic town of Livingstone, the capital of Zambia's Southern province, is an ideal starting point for a safari around Victoria Falls. Botswana's Chobe National Park is also easily accessible from Livingstone. Lusaka is the capital city of Zambia and the choice access point to all of Zambia's major national parks – South Luangwa, Kafue, and Lower Zambezi. Visitors will always require connecting charter flights from Lusaka to the various safari areas, as they are pretty remote and far-flung.
Zambia's Zambia's general elevation provides it with a more agreeable climate than that experienced in most tropical countries. There are three seasons – cool and dry from May to August, hot and dry from September to November, and warm and wet from December to April. Only in the valleys of the Zambezi and Luangwa rivers is their extreme heat, particularly in October.
The warm wet season prompts substantial humidity. Heavy showers and thunderstorms roll across the land, followed by bright sunshine. Plants flourish, and the rivers and streams replenish almost overnight. During the cool, dry season, evening frost may occur in places sheltered from the wind. The countryside dries up gradually and bushfires, fanned by high winds, are prevalent during this time of the year. Temperatures rise significantly during the hot, dry season, but new leaves appear on the trees before the rains, and fresh grass animates the countryside. The budding period of woodland vegetation, like mopane and miombo, is between August and November.
Most European countries and the UK, Australia, New Zealand, and the United States, require visas for entry into Zambia. Conveniently, your visa may be purchased on arrival or before you depart for Zambia. At the time of writing, a single-entry visa costs 50 USD. Zambia also implements a departure tax of 25 USD for international and 8 USD for domestic flights. It is usually included in airline ticket prices; if not, it is payable at the airport in US dollars.
The entire country of Zambia is considered a high-risk malaria area. A prescription for antimalarial medication should be acquired from your physician before your departure, regardless of which safari area. Remember that antimalarials are not appropriate for small children, and guests wishing to enjoy a family safari would be better suited to opting for one of the malaria-free game reserves in South Africa.
Zambia recently moved off the CDC's 'yellow fever risk' list to 'low potential of exposure .'As a result, a yellow fever vaccination is no longer required. Proof of vaccination is only necessary if you are traveling to Zambia from another country on the yellow fever risk list. None of the countries we include in our safaris and tours fall under this classification.
It is highly recommended that your routine vaccinations are up to date. These include MMR, DTP, varicella, polio, and your annual flu shot. Beyond this, be selective of your drinking water. It should, however, not be a significant concern, as the high-end lodges used by African Sky offer complimentary bottled water of an international standard.
The Victoria Falls area (Livingstone) is more crowded than the safari areas, and naturally, urban centers often foster petty crime. Be discreet with your valuables, and should you be traveling with items of considerable value, keep them tucked away in your in-room safe or ask reception to lock them away for you. When visiting bustling markets, like those near the Falls, remain alert and be firm with hagglers.
Avoid approaching or feeding wild animals if you stay at a safari lodge in a national park or wilderness area. Should the lodge be unfenced, refrain from walking around alone at night – typically, lodge staff will always be on hand with a flashlight to guide you safely to your room.
Source https://djaunter.com/zambia-travel-tips/
Source https://www.bigworldsmallpockets.com/southern-africa-itineraries/
Source https://www.africansky.com/african-travel/zambia-travel