Is It Safe to Travel This Summer?
As the seasons begin to change and states slowly reopen during the COVID-19 (coronavirus) pandemic, every family is asking is it safe to travel this summer? Is it safe to go on vacation? Is it safe to take even a short road trip?
Eileen Ogintz of TakingtheKids.com interviewed Dr. David Kimberlin, a professor at the University of Alabama at Birmingham, co-director of the Division of Pediatric Infectious Disease and a spokesperson for the American Academy of Pediatrics, to find out.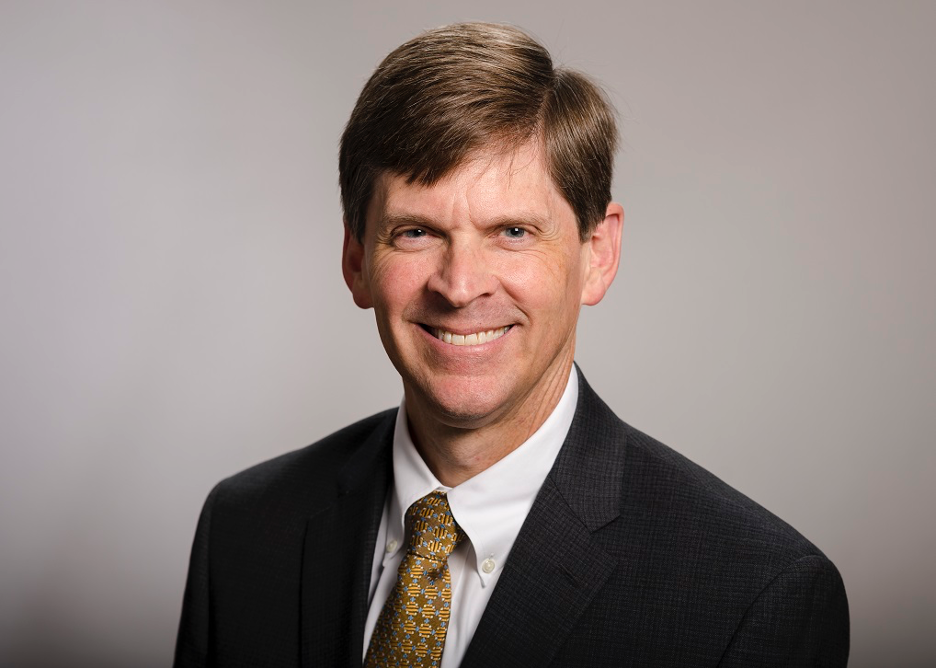 Dr. David Kimberlin speaks on behalf of the American Academy of Pediatrics.
Is Travel with kids safe? Ask the Doctor
EILEEN OGINTZ: Dr. Kimberlin, do you think it's safe to travel?
DR. KIMBERLIN: "It is a really difficult position we are in. I am concerned we will see an increase in cases, but I recognize we can't stay locked up forever. I hope we have bought ourselves time to be prepared to identify cases of COVID and who has been around those cases and do contact tracing, track them and test them.
"We need to keep a small number of cases from becoming a large number of cases. What I hope is we have taken this six to eight-week time to get ready. We did a very good job with lock down. But the virus isn't going away."
EILEEN OGINTZ: What about all of the people who are asymptomatic?
DR. KIMBERLIN: "I think what we all have to do — and for a long time, months if not years — is to protect ourselves and protect others by maintaining social distancing, not gathering in large crowds, wearing masks in public, washing hands frequently. By doing that, those who have COVID and are asymptomatic are much less likely to spread it and, at the same time, we can protect ourselves."
EILEEN OGINTZ: Hotels, VRBO, Airbnb are all initiating enhanced cleaning protocols. Should families feel safe staying?
DR. KIMBERLIN: "I think enhanced cleaning protocols will be enough. We don't know everything about this virus but it is spread mostly through droplets that can travel several feet from your body before they hit a surface. That's where the six-feet social distancing comes from. Once the virus is on a surface, it can live for the most part up to 24 hours. If surfaces are wiped down frequently and the number of guests is kept down so there are fewer people in one place, hotels can be safe places to be.
"That's as long as Americans are wearing their masks and social distancing."
EILEEN OGINTZ: Is it safe to go to restaurants once they reopen?
DR. KIMBERLIN: "Restaurants are more problematic. There were a lot of people in restaurants. As we do reopen, we are going to hear a lot about density reduction: fewer people in the restaurant and a certain amount of space between tables. We will see disposable menus. And as we try these things, we will have a better sense what is working well. Picnics are great idea; takeout food is a good idea.
EILEEN OGINTZ: Is it safe for families to fly? Major airlines now have blocked off middle seats and announced that passengers and crew must wear masks.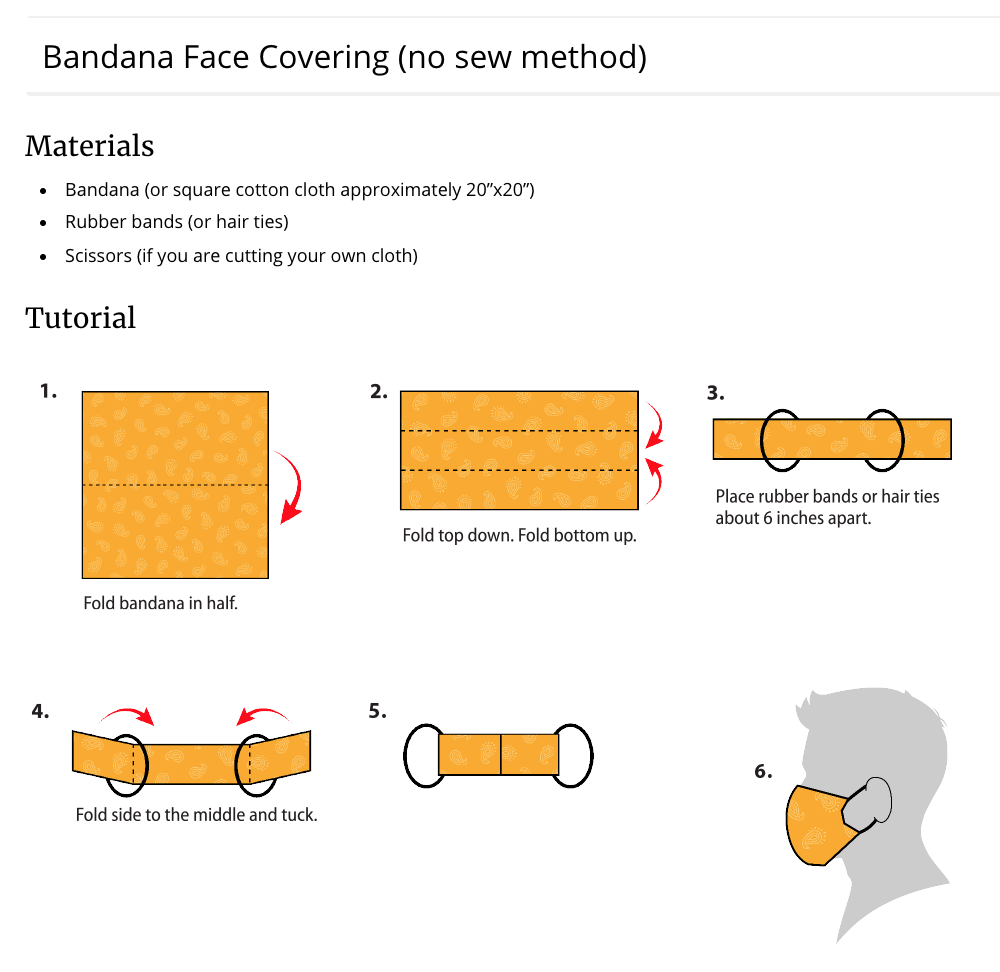 It's easy to make your own face mask for each family member above age 2. c. CDC
DR. KIMBERLIN: "I think the airline industry will find ways to come through this. I have less concern about airborne transmission in recirculated air, especially when everyone is wearing a mask. If they cough or sneeze, the mask will catch the droplet. It shouldn't get around the larger environment.
"But I would be very conscious of surfaces I'm touching, don't put your hands near your eyes! Go to the bathroom when you get off the plane and wash your hands. It is common sense awareness.
"What worries me is people who think this is all behind us — that is not the case — the virus will come back if we give it a chance."
EILEEN OGINTZ: What about traveling with infants and young children?
DR. KIMBERLIN: "I would avoid traveling with a young infant, but I would have said that before COVID-19. There is a lot of this virus and (how it affects) children we don't fully understand. It doesn't impact children as hard as adults. Masks are not recommended for children under 2 and even 4- and 5-year-olds aren't practicing hygiene the way we would want.
"Kids touch a lot! Don't be cavalier."
EILEEN OGINTZ: What about playgrounds?
DR. KIMBERLIN: "I'd be wary of the kind of playgrounds with slides and jungle gyms. As we continue to move into reopening, we have to stay with the messages of social distancing and a playground would be a hard place to do that. Certainly, get out in the fresh air. Go for a walk, let the kids run through a field — just maintain that social distancing and wash your hands a lot."
EILEEN OGINTZ: Many families gather with extended family on vacation. Is that safe?
DR. KIMBERLIN: "The number for groups I hear most is 10. Keep gatherings to fewer than 10. There is no absolute on whether families should gather. Are the grandparents healthy? Has anyone been exposed? The best advice is to talk to your doctors first before making any plans."
EILEEN OGINTZ: It's unclear when theme parks will open. Will they be safe to visit?
DR. KIMBERLIN: "You don't want to gather in large crowds, whether at a theme park or the South Rim of the Grand Canyon. If you can't avoid crowds, you should get out of there. This is about personal responsibility – ask yourself what am I doing to protect myself and others around me."
EILEEN OGINTZ: What if your child has a chronic condition? Should you stay home?
DR. KIMBERLIN: "The kinds of risk factors that have been identified in adults, we don't see as much in children, so it is harder to know. But certainly, if children have Diabetes or a weak immune system, this isn't the time to go straight back out in the world."
EILEEN OGINTZ: Does your own family have summer plans?
DR. KIMBERLIN: "I have three kids aged 18, 19 and 21. We are planning to rent a house later in the summer on a stretch of beach without a lot of people in the Florida Panhandle. It will be a road trip."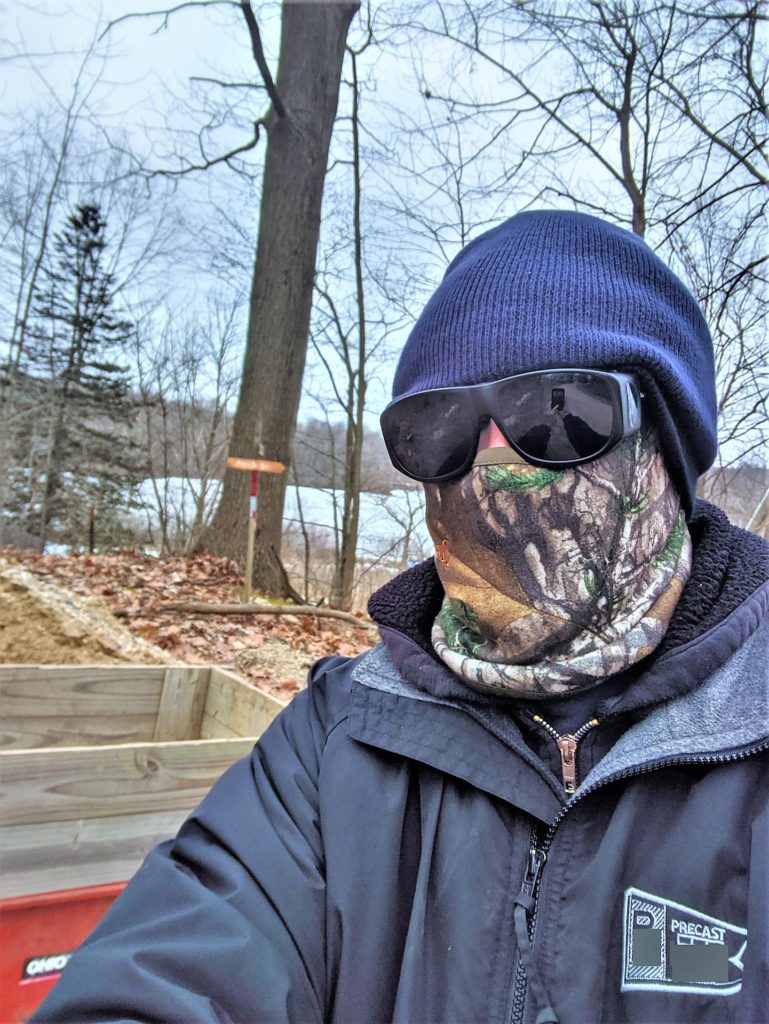 Keeping your face covered is important even in remote locations where you may encounter others. Photo c. pixabay
More Resources from American Academy of Pediatrics
In addition to the AAP's main COVID-19 information and resource page, their consumer site, HealthyChildren.org offers a collection of helpful articles in response to the pandemic in both English and Spanish – including how to explain this illness to children without frightening them — that all parents will benefit from.
Our thanks to Eileen Ogintz of TakingtheKids.com, who provided this information on safety issues that families will face while traveling during the summer of 2020.
Dear Reader: This page may contain affiliate links which may earn a commission if you click through and make a purchase. Our independent journalism is not influenced by any advertiser or commercial initiative unless it is clearly marked as sponsored content. As travel products change, please be sure to reconfirm all details and stay up to date with current events to ensure a safe and successful trip.
2 Replies to "Is It Safe to Travel This Summer?"
You've been under lockdown all spring, and summer is finally here. But it's a COVID-19 summer, and it likely won't look like any other in modern history. Still, the wanderlust is strong."People want to travel. It's a wonderful part of life.If you're thinking about traveling later this summer, factor in the possibility that your destination may face a new outbreak before you arrive. You can make your plans now for a destination that appears to be relatively safe, but it may not be safe two to three weeks later.
People who choose to book trips for summer or further out should do so with caution; the coronavirus pandemic is unpredictable. And many reservations may claim flexibility. Amid so much unknown, there will be one certainty: the headaches of rescheduling and canceling.
Is It Safe to Travel This Summer?
Is it okay to hop a flight, book a hotel stay, or visit grandparents if you're vaccinated against COVID-19? What if you're not? Here are the most important factors to consider.
Vaccinated or not, you'll need to wear a well-fitted mask when you're flying or on public transportation. Violeta Carlos/iStock
This time last year, deciding whether to go to the grocery store — let alone hop a flight — seemed like a mind-bending puzzle. But this summer a lot of people in the United States are having an easier time making the choice to travel.
Currently, about 45 percent of people in the United States are fully immunized against COVID-19, according to the Centers for Disease Control and Prevention (CDC), and almost 54 percent have received at least one dose of a COVID-19 vaccine.
Still, that leaves a lot of Americans only partially vaccinated or not immunized at all.
And COVID-19 hasn't gone away. While infections, hospitalizations, and deaths are on the decline across much of the United States, the highly contagious Delta variant is spreading rapidly. Around the world, countries like Brazil and India continue to be overwhelmed by COVID-19 illnesses and deaths.
To help assess the risks of travel, Everyday Health spoke to specialists in infectious diseases and family health, and checked in on updated CDC guidelines.
While there are few hard-and-fast answers, you and your travel crew can stay healthy and have fun on vacation if you keep these recommendations in mind.
Vaccinated? You're Good to Go, With Some Caveats
If you're fully vaccinated against COVID-19 and plan to travel within the United States, you can book your trip and start packing.
Compared with the spring and summer of 2020, "it's a different world now. In general, if you're vaccinated and take reasonable precautions, the level of safety is acceptable," says David Goldberg, MD, an internist and infectious diseases specialist at New York-Presbyterian Medical Group Westchester in Scarsdale, emphasizing that "everyone should get vaccinated."
CDC guidelines state: "People who are fully vaccinated with an FDA-authorized vaccine or a vaccine authorized for emergency use by the World Health Organization can travel safely within the United States."
Moreover, says the CDC, if you're fully vaccinated, you don't need to take a COVID-19 test before or after travel within the United States (unless required by your destination), and you don't need to self-quarantine.
Traveling internationally? The CDC says that while you are less likely to get or spread COVID-19, you are at a higher risk of exposure to virus variants. The agency advises checking COVID-19 rates at your destination and proceeding with caution.
"The vaccines are only 90 or 95 percent effective," says Dr. Goldberg. "So avoid places where the vaccination rate is low or where the COVID-19 numbers are high or rising."
According to the latest CDC guidelines, if you're fully vaccinated, you don't need a negative COVID-19 test before you travel, but you will need to show proof of a negative test result no more than three days before returning to the United States, or proof that you had COVID-19 within the past three months and recovered. Also, the CDC recommends that you get tested three to five days after your return.
To be safe, keep a safe distance from others, wash your hands frequently, and wear a well-fitting mask while you're flying or taking public transportation, even if you're vaccinated.
Editor's Picks
Life in a New Normal: How to Practice Self-Care During a Pandemic
Should You Travel if You're Not Vaccinated?
The CDC advises against domestic or international travel until you're fully vaccinated. If travel is essential, plan to get tested one to three days before departing, and again three to five days after arrival.
Even if you test negative, the CDC recommends self-quarantining for seven days at your destination or 10 days if you don't get tested.
If you're not vaccinated and plan to travel abroad, take a test one to three days before you leave the United States and then again before you return. Back in the United States, get another test three to five days after you land. No matter your test result, you'll need to self-quarantine for seven days after your trip or 10 days if you don't get tested.
You'll also want to consider the healthcare situation wherever you are going. "You don't want to fall ill in a setting where medical care is sparse," says Emily Parker Hyle, MD , an assistant professor of medicine at Harvard Medical School and attending physician in infectious diseases at Massachusetts General Hospital in Boston.
What if You're Traveling With Kids?
Kids under 12 can't get a COVID-19 vaccine yet, "but the risk to children [from COVID-19] seems to be much lower than adults," says Goldberg. "They're much less likely to be infected than adults, and if they do, they're much less likely to get really sick."
Still, it's important to minimize the risk. "As I weigh the risks and benefits for my own kids, I would rather my child not get COVID-19 because I'd rather them not get sick, and not miss out on activities or vacations they're looking forward to," says Claire Boogaard, MD, a pediatrician at Children's National Hospital in Washington, DC.
When traveling with kids, she says, "If they're 2 or older, the CDC recommends wearing a mask and staying 6 feet away from others, avoiding crowds and poorly ventilated places, and washing hands with soap and water for 20 seconds or with hand sanitizer that has at least 60 percent alcohol."
Is It Safe to Fly?
If you're vaccinated, the decision about whether to fly is less fraught than it was last summer. "At this point, the CDC says it's safe enough, assuming you wear a mask at the airport and in the plane," says Goldberg.
Since vaccines are not 100 percent effective, you should assess what taking on a small level of risk might mean for you. Even if airlines are sanitizing planes and following strict COVID-19 safety protocols, you might find yourself sitting next to others who may not be vaccinated and who could be infected with the virus.
"You have to consider whether or not you have comorbidities [other diseases or medical conditions] that put you at increased risk of severe COVID," says Goldberg. "If you have a history of heart disease or are immunocompromised or elderly, it might be best to put off any nonessential plane flights just a little longer."
He adds, "I think a lot of people have come to the conclusion that visiting grandchildren they haven't seen in a year is an essential flight, and they decide to go. And I understand that."
Is It Safe to Travel by Train? What About Taking a Road Trip or a Cruise?
If you're feeling anxious about taking a long flight, consider a destination you can reach relatively quickly. "The risk of infection is clearly related to the duration of exposure, so a short trip is safer than a longer trip," says Goldberg.
You may want to consider traveling during off-hours or midweek for less crowded conditions. On a plane or public transportation, "The risk depends on how closely together people are seated and whether you're seated near someone who is infected," says Goldberg.
"Driving in your own car with family is safer than being in a plane, train, or bus with strangers," Goldberg adds. "And if you can rent a car, that's safer than having someone drive you around."
But you could still be exposed when you stop to get gas or if you have to stay the night somewhere. "Any new contact increases the risk," says Dr. Hyle.
As for cruises, for now the CDC is still advising against them. "I would avoid any large cruise ship," says Goldberg. As for smaller ships, he recommends getting on board only if everyone is vaccinated.
Should You Travel to Visit Elderly Relatives?
This summer, many grandparents are looking forward to the chance to see the grandkids they've missed spending time with during the pandemic. Is it finally safe to do so?
"It's okay as long as the grandparents and parents are vaccinated, and it's okay if the kids are not," says Goldberg. But wearing masks indoors around kids who aren't vaccinated is still the safest protocol for anyone at risk of more severe COVID-19 if they do get infected.
If everyone in the group is fully vaccinated? It's a personal decision, but "the latest CDC recommendations are that if everyone is vaccinated, you can take off the masks indoors," says Goldberg.
What about staying in a vaccinated grandparent's home? Dr. Boogaard suggests considering these questions if you'll be in close quarters with grandparents, even if they're vaccinated: Could you quarantine before going to see someone who is at higher risk? Could you get tested first?
She adds, "Community levels [of infection] make it safer right now in the United States, but it's not a 0 percent risk."
Should You Travel to See Friends?
Vaccination status is key. If everyone is vaccinated and following the travel safety protocols noted above, the risk is minimal.
If not, or if you or others have health conditions that put you in greater danger of severe illness or death from COVID-19 (whether or not you are vaccinated), "You maybe want to put it off," warns Goldberg.
Is It Safe to Stay in a Hotel or Summer Rental?
"A rental property is safer than a hotel, but hotels are really very safe at this point, at least in the United States," says Goldberg.
One reason: According to recent CDC guidelines, for vaccinated people, surfaces aren't really a risk. "The virus is spread person to person," says Goldberg.
What Can You Do for Fun When You Travel?
Last year, pretty much any indoor activity you'd want to do on vacation was out of the question. This year, many parts of the United States are fully reopening, but certain activities will be safer than others. While you can do much more than you could last year, you might want to hold off on certain dicey choices.
Even if you're vaccinated, says Goldberg, "You want to avoid gatherings where you're in close proximity to others who aren't vaccinated. It's okay to go to a museum that's not that crowded if you can maintain a safe distance from others."
"It's safer to be outdoors than indoors. If at a restaurant, it's safer outdoors than indoors," says Goldberg.
Hiking or camping vacations are good bets. "Of all the nonessential travel, it's probably the lowest risk because you can socially distance," says Hyle.
Masks are still a good idea for times when you're in close proximity with others who are not in your group and may not be fully vaccinated, even if you're outdoors and fully vaccinated, says Goldberg.
The Upshot
When it comes to traveling during the pandemic, "Everyone has their own level of anxiety and comfort," says Boogaard. "If you're going on a trip with anyone outside your immediate family, I would encourage you to talk to them about their comfort level and to have contingency plans in case someone gets sick."
Ultimately, the decision to travel is a personal one that requires each of us to weigh benefits against risks.
"There is always some risk in travel," Goldberg says. "The only way to make that risk zero is to stay in your home and never travel. You can get in a plane or car and have an accident. The question is: Is the risk low enough that it becomes acceptable?"
Should I book a summer holiday now? Vital checks to make, where to go and best deals
The coronavirus pandemic wreaked havoc on our travel plans in 2020, with millions of Brits seeing trips cancelled and changes to travel corridors making it difficult to know just where you could book a trip.
However, 2021 is looking more positive as Covid vaccines are being rolled out, and offering a hope of getting abroad – in fact, since the jabs have started being administered travel firms have noted a surge in bookings from over-50s.
Of course there are still ongoing restrictions and uncertainty around travel – should you book a holiday, what happens if there's another lockdown, and even whether it's possible to find deals.
To give you a helping hand, Reach Travel Editor Nigel Thompson has answered some of your biggest questions below.
What kind of holiday should I book this summer?
As we know all too well, it's been an incredibly volatile time for travelling.
I'm definitely recommending buying package holidays this summer, to ensure you have the added security of UK Civil Aviation Authority ATOL (Air Travel Organisers' Licensing) protection, which helps you if your travel company or airline goes out of business.
This covers both a firm going bust while you are on holiday, or a collapse before you travel. Many tour operators also offer specific virus cover if your holiday, or you, are affected.
Also, look out for trips with ABTA's consumer financial protection scheme, which can cover non-flight based holidays, such as cruise, coach or rail holidays.
What if I want to book a DIY getaway?
Should you prefer to arrange your own travel, buying your own hotel and flights separately, it's always smart to pay on a credit card if you can. That way you are covered for up to £30,000 under section 75 of the UK Consumer Credit Act, though this may not apply to bookings made via a third party.
Anything to keep an eye out for ?
Look for the ATOL and ABTA logos on websites, newspaper adverts and brochures, so you know your holiday is safe.
Will I need extra insurance for a summer holiday?
You should never travel abroad without a suitable travel insurance policy in place and it's definitely considering buying one with extra cover for corona.
Many tour operators also offer virus cover if your holiday, or you, are affected.
Are there any good deals available for this summer?
Yes! Apart from the arrival of the vaccines, the great news for holidays in 2021 is that it's a buyers' market out there and there are some stellar deals to tempt families and couples back up those plane steps.
Tour operators, airlines and cruise lines have had a battering in the pandemic and are for your business and I've seen some fabulous discounts of up to 50% on getaways.
Also, Brits are regarded as premium travellers, heading overseas in our millions and contributing hugely to many countries' vital tourism economies. So the destinations will be wooing us too.
Bargain basement deals I've seen recently include an all-inclusive week on Egypt's Red Sea coast from £262 per person, room-only on The Strip in Las Vegas from £454 and B&B in Turkey from £176. Sensational value!
After the first lockdown there were Med weeks for as little as £97 and I expect to see that repeated this summer as travel firms scramble to get us to book.
What if there's another lockdown? Will I get a refund?
Undoubtedly there were lamentable, inexcusable failures over refunds by some travel companies and airlines when holidays were cancelled early in the pandemic.
However, they have surely learned their lesson now and the Competition and Markets Authority is keeping a robust, watchful eye. So, yes, you should.
Of course, if you had lousy service from a travel company, you are free to vote with your wallet or purse and take your custom elsewhere.
Will I need a negative coronavirus test to board a plane?
Clearly this awful virus is not going to go away overnight, so I do think it's almost certain that you will, plus temperature testing at the aircraft gate and another negative test report on your return arrival.
Whether you will need a vaccination certificate to board an aircraft, I'm not so sure.
We do not know how quickly those vaccines will reach the arms of younger holidaymakers down the priority list. Do we really want to end up with, say, under 30s, effectively barred from travelling until they have had their second jabs in – perhaps – the autumn?
Source https://myfamilytravels.com/is-it-safe-to-travel-this-summer/
Source https://www.everydayhealth.com/coronavirus/is-it-safe-to-travel-this-summer/
Source https://www.mirror.co.uk/travel/news/should-book-summer-holiday-now-23326916