Is Ghost Adventures Real or Fake?
Ghost-Hunting shows over the last couple of years have brought in a lot of new ghost hunters but some are maybe a little more reputable than others. Let's look at one of the most popular – is Ghost Adventures real? Scripted? Worth watching?
Ghost Adventures is real. There are minor points that might have been a little more dramatic than you'd normally see in an experienced paranormal investigation group but the techniques they demonstrate are legitimate and the cast is knowledgeable.
As a paranormal investigator, I do enjoy the show myself. Sometimes they might hype things up a little (it is television after all) but what I see on screen are some real ghost hunters who get to visit interesting locations around the world and bring their sessions to us on the screen. Certainly one of the ghost hunting shows worth paying attention to.
What is Ghost Adventures?
Table of Contents
If you haven't watched it yet, Ghost Adventures features the ghost hunting quests of Zak Bagans and Aaron Goodwin. Along with their tech crew, they travel to destinations around the globe that are said to be haunted by paranormal activity.
One of the most interesting parts of the show, at least for me, is when Zak gives the history of each site before they begin their investigation. He does an excellent job of making the history of these places come alive.
Ghost Adventures is one of the Travel Channel's most popular shows.
After the in-depth history of each place is given, the crew begins a lockdown investigation that starts at dusk and ends at dawn. They use the most up-to-date technology to document paranormal activity and record crucial evidence, to tell the truth behind each haunting.
How Real is Ghost Adventures?
For Zak Bagans, Ghost Adventures is not only his show; it's a part of his life. Since he was a child, Zac has felt spirits around him. It's what inspired him to start exploring deeper into the world of ghosts.
For more than a decade, the Ghost Adventures crew has been able to capture some pretty amazing things on camera, in part due to Zac's ability to detect the energy of spirits. Often after the team has stopped recording, the hauntings continue for the crew.
Zac says his heightened sense has helped him with the experiences. His connection with spirits is not only authentic, but it has also helped people that are dealing with the emotions of past hauntings.
Some of the experiences on the show have proved so terrifying that the crew refuses to return to them. Aside from the Eastern States Penitentiary and Poveglia Island in Italy, the Demon House in Gary, Indiana, has continued to haunt the team.
A horrifying series of demonic possessions took place there and left several crew members with vision problems.
Bagans also says that Goatman's Bridge in Denton, Texas, and a house in Vicksburg, Mississippi, known as McRaven Mansion, were two of the most terrifying places he's been to in his life.
Is Ghost Adventures Scripted?
According to Mora Ozzy from Phoenix's 12 News, nothing is scripted. Everything from the tears, worries, and anxiety are all real. She met with the Ghost Adventures crew to film an episode on the Gila County Jail in Arizona.
Mora states that there are unexplained things that she still can't understand.
Mora says she was not prepared or coached for anything that happened while at the Gila Jail. She states that the jail cells slammed on their own, and the team's spirit box said her name and had not been programmed to do so.
Bishop James Long, an exorcist with the United States Old Catholic Church, also states that nothing is scripted.
He has appeared on the show and says that he was never given a script to follow, he has never been asked to fake evidence, and that the events he witnessed were firsthand and absolutely true.
The Bishop states that he has been asked to appear on paranormal shows that are fake and scripted. He refuses to waste any more of his time with them. But when it comes to Ghost Adventures, he stands by his word. Everything that happens is very real and very scary.
Do Ghost Adventures Use Real Technology?
The technology used by the Ghost Adventures crew is about as real as it gets. In fact, some ghost hunting equipment like the REM Pod began life on the show and spread into everyday paranormal investigators. Bagans explains that every location is different, and a specific investigation is planned for each one (which is the same as most of us do).
He has conducted hundreds of investigations while using several various tools. It would be hard to capture the things they do without them.
Zac says that they take each case seriously, and they do a decent amount of research which allows them to lay out a game plan.
The team used devices like the Polterpod, a unique device used to communicate with spirits. They also use the Ovilus device, which translates readings from the environment into words. Their EMF (electromagnetic field) detector assists the team in finding electromagnetic fields.
And in very severe cases, the team will use a good ole fashion exorcist.
Notorious Places Visited by Ghost Adventures
The crew at Ghost Adventures have visited some pretty notorious places over the years and explored some interesting urban legends and known haunted paces.
Winchester Mystery House
This historical home in California was built by the heiress of Winchester Arms Company, Sarah Winchester. She believed that she was being haunted by people who had been killed by the very weapons her company produced.
In what can best be described as a maze house, it has been a very popular place for ghost hunting. And during season 5 of Ghost Adventures, the team investigated.
Lizzie Borden House
In season 5, the crew also visited the Lizzie Borden House in Fall River, Massachusetts. The Lizzie Borden house was where several ax murders took place in the 1800s.
It is famous for its hauntings, and Zak and his teammates experienced severe paranormal aggression while staying there.
Kay's Hollow
Kay's Hollow is the sight of many urban legends and myths in Utah, also known as Kay's Cross. It is known for its paranormal activity and was visited by the Ghost Adventures crew in the 15th season.
The team came face to face with a dark figure with red eyes, and they heard strange noises that left them terrified.
Pennhurst State School
During season 3, the team went to Pennsylvania to visit the site of a school that was once a place where the mentally and physically disabled were kept.
Pennhurst State School has a pretty big reputation for being haunted, and the crew at Ghost Adventures proved just that. They caught several EVPs, felt things touching them, and heard several unexplained noises.
Obsessed by ghost hunting and all things paranormal. Chris spends a lot of time (some would say too much time) investigating ghosts and spirits and documenting stories and paranormal communication. He teaches aspiring ghost hunters in the Paranormal Academy.
What Happened to the Travel Channel?
You remember your childhood best friend, right? Someone you ate paste and played pretend with before your dad took the training wheels off your bike. You might remember her in pigtails, or him in chunky early '90s sneakers. Fast forward to 2018: you're an adult now, maybe a little deep in the cups, and you start to wonder how so-and-so is doing these days. You look them up on Facebook and—oh dear god, they're living in Idaho with six kids, purple hair, an eyebrow piercing, and have a lot of opinions on the shape of the Earth! Whoa! What happened there?
Classic cartoons tend to soak up all the glory when it comes to discussions of late '90s/early aughts TV programming, but I spent just as much time with my little nosey nooser pressed to the screen watching the Travel Channel. The content fell somewhere between ANIMAL PLANET and proto-Buzzfeed, consisting primarily of top-10 lists and overuse of the word "Xtreme." It was amazing. A smorgasbord of all things awesome to a seven-year-old, Travel Channel tackled the latest and greatest in theme parks, roller coasters, water slides, swimming pools, and more. Halloween brought top-10s of haunted places and "Xtreme" haunted attractions. I spent hours dreaming of a family vacation to the Atlantis resort in the Bahamas, a trip to the Schlitterbahn inspired by segments that have not aged well, and braving the now-infamous McKamey Manor.
Recently, I popped over to the Travel Channel expecting a nostalgic trip down memory lane and perhaps some summer vacation inspo. So imagine my surprise at THIS SHIT: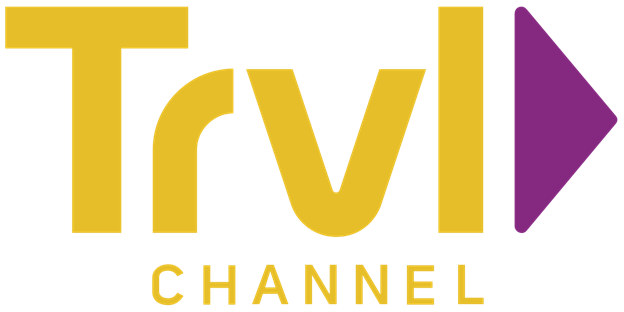 The newly rebranded "Truh-vull" Channel's most hyped series are two legend/lore-based miniseries starring Megan Fox (yes, that Megan Fox) and Chris Jericho (yes, that Chris Jericho), respectively. Other top-billed programming includes HAUNTED LIVE, GHOST ADVENTURES, and JOSH GATES' DESTINATION TRUTH. If you're wondering who the hell Josh Gates is, never fear! The first link on the show page is a Buzzfeed-esque article complete with .gifs answering exactly this question. Gates' bio describes him as "an adventurer and avid explorer with a unique brand of humor and deep-rooted passion for off-the-map excursions" and the show page promises "his unique point of view" on "magical" locales such as Greece and the Yucatan Peninsula.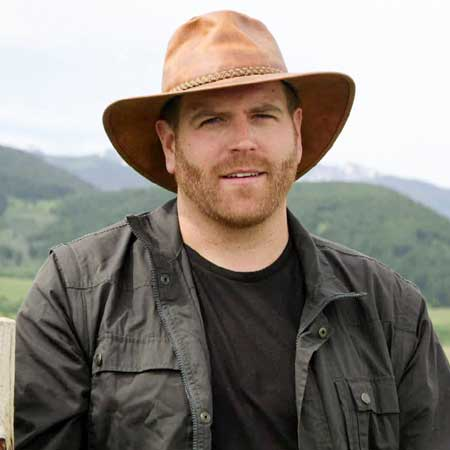 "No mayo please, it's too spicy for me!"
To really wrap your head around the depth of this transformation, I need to take you through a week of Trvl Chnl's current programming. This is from the week after Thanksgiving (11/25 – 12/1), I have not cherry-picked this for content:
SUNDAY: Four hours of MYSTERIES AT THE MUSEUM, five hours of MY HAUNTED HOUSE, and nine hours of HAUNTED CASE FILES intercut with SCARIEST NIGHT OF MY LIFE and something called TREASURE QUEST: SNAKE ISLAND.
MONDAY: Three-to-four-hour blocks of A HAUNTING, PARANORMAL SURVIVOR, MY GHOST STORY, and MY HAUNTED HOUSE, capped off with eight alternating hours of ya boi Josh Gates and LEGENDARY LOCATIONS.
TUESDAY: Josh Gates still going strong this morning with "Romanian Werewolves," "Plant Monster in Thailand", and the "Filipino Lake Monster." We get an afternoon break with MONSTER ENCOUNTERS, then it's 11 entire hours of EXPEDITION UNKNOWN, interspersed with two reruns of MONSTER ENCOUNTERS' "Death By Anaconda."
WEDNESDAY: An entire day of MYSTERIES AT THE MUSEUM save for two hours of CITIES OF THE UNDERWORLD ("Soviets Below Us" and "Tokyo's Underground Savior") and two runs of the same episode of MONSTERS AND MYSTERIES IN AMERICA: SASQUATCH, WOLF SPIRITS, AND LAKE MONSTERS.
THURSDAY: We're in for a spooky Thursday with seven hours of MY HAUNTED HOUSE and 12 hours of THE DEAD FILES (one episode of the latter titled "Triggered – Flint, Michigan," joining "Soviets Below Us" in our new segment "Info Wars or Travel Channel?")
FRIDAY: Trvl Chnl knows you were getting turnt on Thirsty Thursday, so we're keeping it straightforward this morning with HAUNTED THINGS and THESE WOODS ARE HAUNTED (the latter featuring both "Bigfoot Showdown" and "Bigfoot Encounter"). Then, fuck you, it's 12 hours of GHOST ADVENTURES.
SATURDAY: A brief return to form this morning with FOOD PARADISE and BIZARRE FOODS until 11:30 AM and then fuck you, it's fifteen (not a typo—fifteen) hours of GHOST ADVENTURES.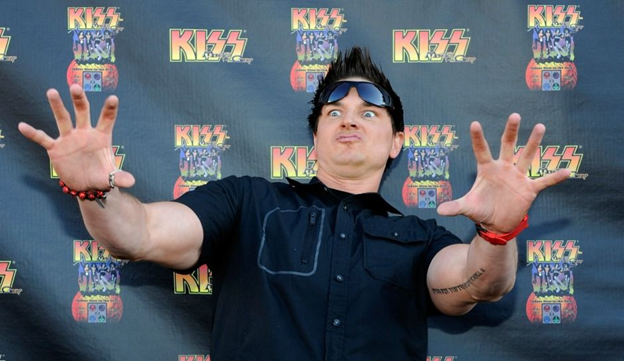 A brief peek into Travel Channel's history gives a good chunk of insight to this head-scratching change. The network was originally founded in 1987 by Trans World Airlines and Viacom, presumably to sell airline tickets (and it totally worked—see paragraph two). It hit peak viewership in Spring of 2008, followed by a slow and painful decline that continues to this day. A long game of acquisition hot potato ultimately landed the network in the hands of Discovery, Inc. in March 2018, at which point Travel Channel took its place as the red-headed stepchild among all-star siblings Discovery Channel, Food Network, HGTV, and TLC. Travel Channel's classic food, destination, and how-to programs were suddenly rendered redundant by superstars like Chip and Jojo Gaines and Guy Fieri. How would this misfit network stake its claim in its new family? The same way your childhood best friend did: an edgy goth rebrand.
And so, in October 2018, Travel Channel cast off its original vision and its vowels to become Trvl Channel, with a stated focus on "the paranormal, the unsolved, the creepy and terrifying."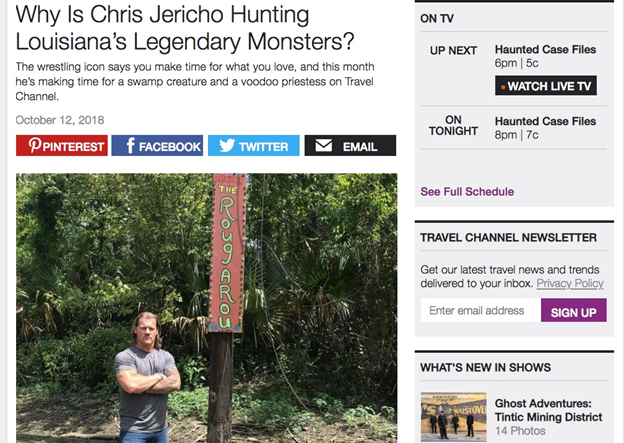 Pictured: The Unsolved
Look, I'm not going to sit here and pretend that I won't zone out and watch GHOST ADVENTURES for a good four hours; it's truly a show deserving of its own op-ed one of these days. And dont you for one single second think I'm lamenting the rise of my beloved papa, Guy Fieri. But… I do feel like we've lost something here that goes beyond #only90skids nostalgia goggles.
As kids we were inundated by advertisements for everything under the sun: pervasive commercials for sugary drinks, cereals, and toys interspersed between cartoons designed to sell sugary drinks, cereals, and toys. Anybody who grew up in the pre-streaming days has a few commercial jingles occupying the spot in their brains where "how to fill out a 1099" should probably be. I still remember the R&B bop designed to sell some con-air product that put colorful streaks in your hair and I'm sure damaged it irreperably. ("Change your color for the prom/(It's the prom!)/What do you know—it even looks good on your mom!")
Travel Channel was something my parents would gladly watch with me for hours rather than plopping me in front of BLUE'S CLUES to go do other things. It never explicitly billed itself as family content to my knowledge, but it was excellent co-viewing before kids' content really started trying to get the parents involved. While I fully admit that the original Travel Channel programs were transparent advertisements for vacation packages, they stirred up an interest in me to see the world. Most of the items on my traveling bucket list (looking at you, Atlantis Resort water slide that goes through a shark tank) started as segments on The Travel Channel. And the destinations weren't always your "exotic" island getaways—they were often lesser-known attractions in Middle America that benefited from the boost.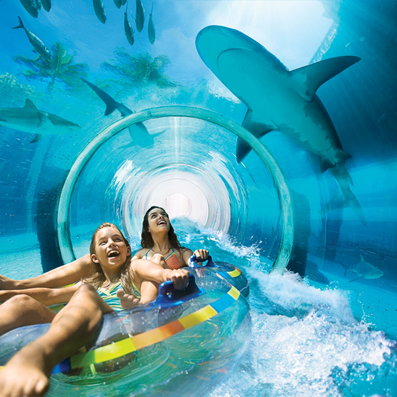 Like—come on—this is SO DOPE
Nowadays if I want to see some Xtreme roller coasters or haunted attractions, I can find infinite YouTube videos to scratch my itch. There's no shortage of blessed content like DINERS, DRIVE-INS, AND DIVES to showcase Middle America's finest, and Netflix has taken up the modern iteration of the "Xtreme" genre with shows like THE WORLD'S MOST EXTRAORDINARY HOMES and AMAZING INTERIORS. The void of the original Travel Channel has certainly been filled, and it's fun to yell at Zak Bagans being a shitty ghost hunter, but probably not as culturally enriching as having the world in my living room before I could carry it in my pocket.
Is Nick Groff Back On 'Ghost Adventures'? Why Did He Leave The Show?
Is Nick Groff back on Ghost Adventures is one of the widely asked question by fans on social media. Take a look at what reports have to say about his comeback.
'Is Nick Groff back on Ghost Adventures' is a massively asked question by many fans on social media since quite a while now. Ghost Adventures is an American reality television series which entails some paranormal stories that premiered on October 17, 2008. The program features ghost hunters Zak Bagans, Nick Groff (until season 10), and Aaron Goodwin as they investigate locations that are reported to be spooky and haunted.
Ghost Adventures has reportedly been one of the much-hyped and most-viewed paranormal TV shows over the decade. The show's lead investigator, also the executive producer, Zak Bagans, has been winning hearts with his impressive role in the show from fans across the globe. However, the other lead investigator Nick Groff has become the talk on social media with fans questioning as to is Nick Groff back on Ghost Adventures.
For the ones who are unaware, Nick Groff was a co-investigator, executive producer, editor and cameraman on Ghost Adventures from the 1st to 10th season.
Why did Nick Groff leave Ghost Adventures?
Many reports were speculating that Nick Groff decided to quit working for the Travel Channel program and then got along to be a part of other paranormal projects. But other reports are suggesting that Nick Groff left the much-anticipated show to lead his production in the industry.
However, there were many reports also saying that Nick Groff left the show as Zak's persona changed drastically from early seasons as the show progressed. The report mentioned that quite a lot of screen time was dedicated to Zak, which, allegedly, did not do very well with Nick. Reportedly, Nick's contribution and role in the show also became less, which became another reason for the star to quite Ghost Adventures.
Is Nick Groff back on Ghost Adventures?
Nick was reportedly one of the show's original investigators, along with Zak and Aaron Goodwin. Ever since Nick bid adieu to the show, there are rpeorts circulating that the star will return to the show or not. Moreover, Groff reportedly directed a new program titled Ghost Stalkers that featured paranormal investigator Chad Lindberg, John E.L. Tenney, and David Rountree. And now Nick Groff has been reportedly busy with his individual ventures.
Source https://realparanormalexperiences.com/is-ghost-adventures-real-scripted/
Source https://merrygoroundmagazine.com/what-happened-to-the-travel-channel/
Source https://www.republicworld.com/entertainment-news/others/is-nick-groff-back-on-ghost-adventures-why-did-he-leave-the-show.html