Is It Safe To Travel To COLOMBIA Right Now? (November 2022 Update)
As a rule of thumb, do not travel to that remote paradise or jungle destination you saw online if a local tells you not to. Most of the unfortunate situations that have happened to tourists in Colombia are due to travelers going to places against the locals' advice.
With a seven-color sea (San Andrés), a rainbow river (Caño Cristales) and 54,871 registered species, 3,625 of them unique in the world, Colombia is one of the most amazing places in South America, and the country with the second largest biodiversity in the planet.
Is it safe to travel to Colombia – Latest Safety report
November 11 – President Petro calls for "total peace" to Colombia.
Since diplomatic ties between Colombia and Venezuela were cut in 2019, security along the border has deteriorated drastically, causing an increase in fighting and displacement as armed groups compete for the lucrative illicit trade in people and goods.
The National Liberation Army (ELN), the largest guerrilla organization active in the region, and the Colombian government plan to hold negotiations later this month, leaving people on both sides of the border optimistic that the decades-long cycle of war can be ended.
The first direct talks in six years took place Nov. 1, when newly elected Colombian President Gustavo Petro met his Venezuelan counterpart Nicolas Maduro in Caracas.
Silleteros are back!
520 florists participated in the 65th edition of the Silleteros Parade 2022 on August 15, attended by 800,000 spectators spread along one of the highways of the zero zone of Medellín.
This marked the return of physical attendance at the event in the city after two years of pandemic. The event highlights the farmers who came down from the mountain carrying their products. Today, they are beautiful flower arrangements that they carry along a route of 2.4 km along the banks of the Medellin River.
Is it safe to travel to Bogotá?
Bogotá is the largest and most cosmopolitan city in Colombia. Criminal acts such as terrorism are rare, but visitors should be wary of pickpockets,
Is it safe to travel to Medellin?
Medellin is the capital of Antioquia and the second largest city in the country. Again, beware of pickpockets, especially in crowded areas.
Is it safe to travel to Cartagena?
Internationally acclaimed Cartagena is a very safe city. Street vendors may try to rip you off for beer and other items. But just mention the police and prices will be lowered.
Why visit Colombia in times of COVID?
First of all, there are no entry restrictions in Colombia. Also, there is something for all types of travelers. From the Caribbean beaches and Andean mountain peaks to rainforests and other natural wonders. And, of course, coffee! In case you decide to visit Colombia this year, the CDC recommends you be vaccinated.
Updates archives
October 21 – 20 killed and 15 injured in Colombia bus accident
A bus overturned on the Pan-American Highway in southwestern Colombia, killing at least 20 people and injuring 15 others.
The bus was traveling between Tumaco, a port city in southwestern Colombia, and the touristic city of Cali, 320 kilometers northeast, when the tragedy occurred Saturday.
"Unfortunately, we have a toll of 20 people dead," said Captain Albertland Agudelo of the Nariño department traffic police.
October – Hundreds of Environmental Defenders Were Killed in Colombia in the Last Decade, according to a recent report.
According to the most recent study by the British human rights NGO Global Witness, Colombia is the country with the second highest number of environmental leaders murdered in the last decade, after Brazil. Since 2012, a total of 1,733 activists have been slain globally, with Latin America accounting for 68% of all incidents.
Few murderers are brought to justice because governments fail to properly investigate the murders. According to the report, authorities either ignore or deliberately obstruct investigations into murders, typically "due to the collusion between corporate and state interests."
"All over the world, Indigenous peoples and environmental defenders risk their lives for the fight against climate change and biodiversity loss. Activists and communities play a crucial role as a first line of defence against ecological collapse," said Mike Davis, Global Witness' CEO.
September – 17 people have been murdered over the last three days in Colombia
Authorities in Colombia said at least 17 people have been killed in a series of violent episodes during the past three days.
Six people were shot dead by gunmen Monday morning in a bar in the tourist city of Barranquilla on Monday morning.
According to police, the attack on members of the rival drug trafficking organization Los Costeños was perpetrated by the powerful drug trafficking gang Gulf Clan.
A teacher, his wife and two children were killed Sunday morning by a group of attackers in the Santander region in the north of the country, according to local authorities.
In an apparent act of revenge, five Venezuelan migrants accused of being involved in the killings were killed by vigilantes.
August – Two Dutch tourists passed away in Cartagena
The mayor's office of Cartagena reported the death of Dutch tourists Robert Gerrit Kootte and Nienke Guri Trishna Bawa, who are the subject of an investigation by the Attorney General's Office.
According to the information known so far, the tourists arrived in the city on Saturday, August 20, and were taken by the emergency room to the Medihelp clinic on Monday, where they died.
On Monday evening, the death of the 29-year-old woman was registered, and on Tuesday morning her 31-year-old partner died.
According to the first versions, the tourists, who had been in the city since last weekend, would have died of poisoning.
The Honorary Consul is in contact with the family of the tourists providing full support.
July – The country is better than ever
After the presidential elections on June 19, 2022, where a certain political unrest was expected given that a left-wing candidate won for the first time in history, the country and its tourist cities have remained calmer than ever.
Those interested in visiting can take advantage of the great current currency exchange that favors Americans and Europeans mostly.
the weather is perfect and Colombians are happy to welcome tourists back with open arms
June – Presidential elections in Colombia
Presidential elections were held in Colombia on May 29, 2022. Since none of the presidential candidates received at least 50% of the vote, a runoff election between the two leading candidates, Gustavo Petro and Rodolfo Hernández Suárez, is scheduled for June 19, 2022.
This is the first time that a left-wing candidate could win the presidency, which has never happened before in the country's political history. It is, therefore, to be expected that there will be some political unrest after June 19.
Tourists and other visitors are advised to take increased security precautions during the last 2 weeks of June.
May – Armed strike in Colombia
On Thursday, May 5, the Clan del Golfo, also known as the Gaitanista Self-Defense Forces of Colombia, called a "4-day armed strike."
The pamphlet stated that it was forbidden to "open a business of any kind" and to "use any means of transportation."
The statement ended with the threat of "unfavorable consequences" for those who do not comply with these measures.
"Armed strikes" in Colombia are defined as actions by illegal armed groups, such as guerrillas, paramilitaries or drug traffickers, in which they block roads, restrict mobility, threaten commercial establishments and force the suspension of classes at colleges and universities.
The armed strike has ended for now, but authorities are asking the public to exercise increased precautions when traveling to non-tourist cities in the coming weeks.
April 9 – Latest travel advice from the U.S. State Department
The U.S. State Department has issued a travel warning against Colombia "due to crime, terrorism, Covid-19, civil unrest and kidnapping," which is true, if you are visiting far away places or flung urban ghettos that seem to attract some tourists for the wrong reasons.
The notice also warns against traveling to the departments (states) of Norte de Santander and Cauca (we locals agree!), with the exception of Popayán (Cauca), also known as the "White City" (yes, in the same sense as the Lord of the Rings).
Again, if you are in a city, in a town near a city, or on the Colombian Atlantic coast, there is no reason why anything bad should happen to you.
December 26 – First cases of Omicron detected in Colombia
On Monday, December 20, the first cases of the newly discovered Omicron variant were confirmed in Colombia. They were identified in a U.S. citizen and two Colombians visiting Cartagena and Santa Marta.
It was confirmed that the cases came from abroad – two from the U.S. and one from Spain. At the moment, there is no evidence of community circulation.
Even though the transmission rate remains relatively low in Colombia, the country's Minister of Health Fernando Ruíz called out to its citizens to take extra safety precautions. He also recommended booster shots for everyone over the age of 18.
November 19 – Colombia now requires vaccination certificates to enter bars, restaurants, or venues
On Tuesday, November 16, Colombia began to require COVID-19 vaccination certificates to enter bars, restaurants, and other public venues, including cinemas, theaters, or sports stadiums.
The new measures apply to those 18 and over. Starting November 30, it will also affect children over 12 years of age.
The decision came along with the government's aim to immunize all citizens against the virus. So far, only around 45% of Colombians and 6.4% of minors have been vaccinated fully.
October 11 – COVID-19 cases dropping in Colombia
Colombia suffered a spike in COVID-19 infections in mid-June when over 30,000 new cases were reported daily. However, since June 28, the number of infections has been dropping.
Yesterday, October 10, the country reported 1,587 new coronavirus cases, which is around 100 less than on the same day a month ago. Also, the number of deaths caused by the virus seems to be constantly decreasing. Yesterday, Colombia reported 38 COVID-19 fatalities, while a month ago, it was about 10 more.
September 7 – Colombia reports the lowest COVID-19 death toll since June 2020
Colombia reported the lowest number of COVID-related deaths since June 2020, announced Fernando Ruiz, Colombian Minister of Health, on Sunday, September 5.
On that day, 48 patients died of COVID-19, while another 1,669 people tested positive for the virus. The country had not reported fewer than 50 fatalities attributed to coronavirus since June 13, 2020.
On the other hand, Colombia is concerned about the new, more contagious COVID-19 strains. And not only the Delta variant, which has been responsible for the current surges in cases in the U.S. and Europe. But also the Mu variant, which has recently been declared as 'of interest' by the WHO.
August 22 – Colombia approved a third dose of a COVID-19 vaccine on August 21
Colombia approved a third booster dose of the coronavirus vaccine, confirmed the Ministry of Health Fernando Ruiz at a press conference on Friday.
Ruiz clarified that the third dose will be offered to residents with underlying conditions that "generate or lead to immunosuppression, such as heart, kidney, pancreas, lung, intestine, liver and bone marrow transplantation after the first two years."
The official also mentioned that the government weighs the possibility of offering this benefit to the healthy elderly too. But it has not been confirmed yet.
Is Colombia Safe for Travelers? 6 Safety Tips
Coronavirus (COVID-19) and travel: The situation around the world is changing dramatically. Various governments have changed their travel warnings to restrict travel during this time. To understand how this may impact cover under your policy, please go to our FAQs and select your country of residence.
For the latest travel warnings and alerts around the world, read about lockdowns and border restrictions.
Should you worry about express kidnappings? We debunk the dangerous myths to show you Colombia's safe side.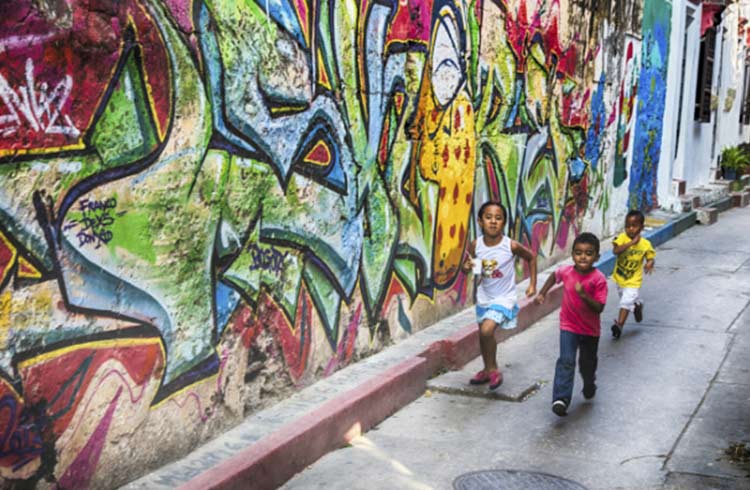 Photo © iStock/garytog
Colombia is a South American country with a bad reputation for drug wars and kidnappings. Despite its history of violence and insecurity, Colombia is – and has been for a while now – a favourite travel destination for adventure travelers.
From the charming culture and friendly locals to the vibrant nightlife and breathtaking natural landscapes, it's hard not to fall in love with this magical country.
So is Colombia safe for travelers? The short answer is yes – as long as you keep your wits about you and stay away from known dangerous areas. Do that, and Colombia will be one of the most incredible destinations you visit in South America.
The bad news about safety in Colombia
While Colombia's crime and kidnapping rates have significantly reduced over the last decade, you still need to use common sense and caution to stay safe.
Petty crime, such as mugging, pickpocketing and cell phone snatching, is common, especially in busy areas and on public transport in major cities. Keep your valuables out of sight when you're out and about. If you need to use your phone, don't whip it out in the middle of the street. Instead, go into a nearby shop or bank.
The number of kidnappings is down hugely from its peak in 2000, but it's a threat that you need to be aware of.
The southwestern and northeastern parts of the country, which border Ecuador and Venezuela, are dangerous. Many foreign governments recommend against any travel to those regions because of the risk of kidnap or getting caught in the crossfire of a drug war. Don't travel anywhere your government tells you not to.
Civil unrest in Colombia
Colombians elected Gustavo Petro as their next president in June 2022. Petro will be the country's first leftist leader, and his election has given hope to millions of young, struggling Colombians desperate for change.
The transition of power has put a pause on anti-government strikes, and there is presently no major civil unrest in Colombia. That said, things could change, and protests and demonstrations can start up. Monitor local news reports and avoid all protests or demonstrations, which may turn violent quickly.
The good news about safety in Colombia
Government travel advisories have declared several regions of Colombia to be safe for travel. These include Bogotá, Tunja, Bucaramanga, Medellín, Cali, the Coffee Zone departments of Quindio, Risaralda and Caldas, San Andres, the Caribbean cities of Cartagena, Barranquilla, Santa Marta and Capurganá, and the Pacific coast towns Nuquí and Bahía Solano.
Bogotá has its dodgy areas, but stay clear of them, and you'll find that the capital city is an exciting – and safe – place to explore.
When we speak to travelers who have been to Colombia and foreigners who live there, they only have good things to say about the country. They say it's beautiful and much safer than what the media make it out to be. However, that's only true if you stick to the well-known tourist destinations.
Going off the beaten path to more remote areas will only be safe if you do so with a reputable tour agency and expert guide. And when you're in major cities, ask your hostel staff, a friendly local or other backpackers which areas to avoid.
Common sense safety rules apply when traveling in Colombia:
Don't wear expensive
Keep your phones, cameras and bank cards out of sight
Only carry enough money for the day
Avoid taking your passports out with you.
If you show excessive signs of wealth, you'll stand out and increase your chances of getting robbed or mugged.
Colombians dress nicely in the cities. So try to blend in, and you'll avoid looking like a tourist – and a target for criminals. Don't wear shorts, hiking pants, or flip-flops – wear jeans and a nice t-shirt. And if possible, wear clothing with hidden pockets to stash your valuables.
Kidnapping in Colombia
With increased security measures along major roads and the ceasefire agreement between the Colombian government and the FARC, the risk of being kidnapped in Colombia nowadays is very, very low.
Criminals aren't waiting at the airport or outside restaurants to kidnap you and ask for ransom. However, if you venture into remote areas controlled by still-in-operation rebel groups, such as the ELN and dissidents of the FARC, you do place yourself at risk of being kidnapped. Stick to tourist spots, and you will be fine.
What are express kidnappings?
Secuestro express (express kidnappings), also known as paseo millonario (millionaire's ride), happens when you are kidnapped for an hour. Or however long it takes for the criminals to drive you around town visiting ATMs, emptying your bank account, and maxing out your credit card.
The ordeal usually begins when the victim gets into a taxi they flagged in the street. The driver will go around the corner where the bandits jump in. They persuade you to cooperate with knives, guns, or a punch of two.
Although express kidnappings don't happen often, criminals are opportunists and randomly select their victims. Stay safe by never hailing a taxi from the street. Nor enter an already occupied taxi or car you ordered on a ride-hailing app.
You could take a second credit card with a low limit to South America and leave the main card at home.
If this happens to you, your travel insurance may cover medical expenses for injuries caused by them. You'll have access to an emergency assistance helpline that will connect you with consular officials and experts who can help you deal with the psychological trauma. But, you'll have to argue with your bank about the credit card bill.
Traveling to South America? Listen to The World Nomads Podcast episode about Ecuador
How to avoid crime in Colombia
Ask any Colombian the best tactic to avoid being a victim of a crime, and they'll tell you "no dar papaya" (don't give papaya).
This local saying means don't put yourself in a vulnerable situation where someone can easily take advantage of you. For example, don't walk alone late at night or flash valuables in public areas.
Most travelers who've encountered problems in Colombia have likely broken this simple rule.
Here are a few other ways to avoid crime in Colombia:
Try to keep a low profile
Don't use illegal taxis
Don't drive on rural roads at night at all
Don't ask for drugs
Lock the doors of the car, and keep at least a half a tank of fuel
Watch out for drink spiking at bars and clubs.
Video: Why you shouldn't do cocaine in Colombia
Get a travel insurance quote for Colombia
You can buy at home or while traveling, and claim online from anywhere in the world. With 150+ adventure activities covered and 24/7 emergency assistance.
Related articles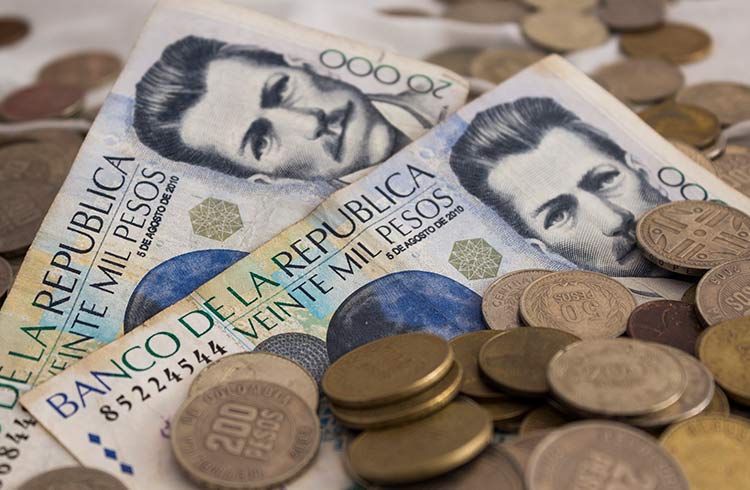 9 Common Scams in Colombia: How to Avoid Being Conned
From bill switching to fake goods, our expert uncovers the most common tourist scams in Colombia and how to avoid them.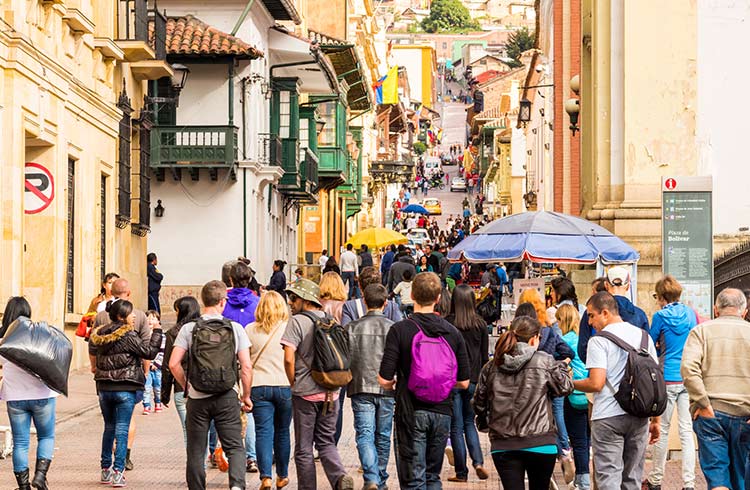 Kidnapping in Colombia: What Travelers Need to Know
Jacqui de Klerk separates the fact from fiction on kidnapping risks in Colombia, and everything you need to know to stay safe.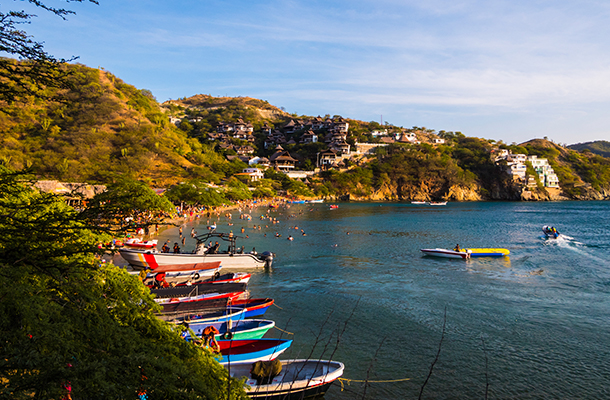 Scuba Diving in Colombia? Here's Why It's Perfect
Whether you're a learner or a pro, Taganga on Colombia's Caribbean coast is a fantastic spot for scuba diving.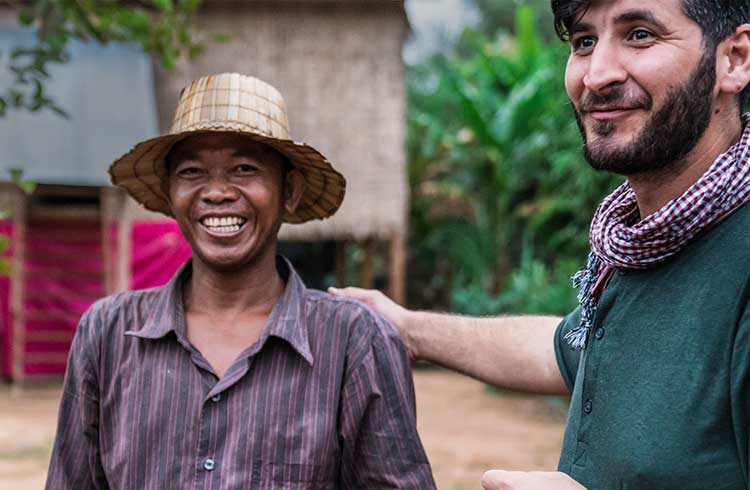 Travel insurance and responsible travel
Understanding why travel insurance matters to responsible travelers. Make a positive impact on the planet.
Simple and flexible travel insurance
You can buy at home or while traveling, and claim online from anywhere in the world. With 150+ adventure activities covered and 24/7 emergency assistance.
42 Comments
what is the current situation as of April 2013 . I am planning to go to Cartagena for 2 months in August.
I am a woman so please comment accordingly.
Hey my boyfriend and I are currently on a round the world trip and I have to say Colombia is our favourite place so far! I agree so much so with what I read on this blog in terms of how to stay safe. From my experience and from what I saw in our 5 weeks in Colombia (especially in Cartagena) I still would not recommend Colombia to single female travellers but that just me. There were a couple of occasions where I felt unsafe and I was with my partner. We were both very careful when out and about but I definitely still sensed a certain amount of unease especially at night. If you do decide to go as a female traveller always be extra careful at night and try and stick with other groups. Even finding just one more person to walk around with is his better than alone. Other than that it is a beautiful country and must be explored now whilst it is not over run with tourists. Check out our blog for where we enjoyed and for info on where else we travelled in Colombia.
Happy Travels Everyone. Jay & G
Just came home from Cartegena. 13 family members went on the trip for 8 days. If you do not speak Spanish, you will struggle. The country does not cater to Americans and Europeans but does cater to other South American visitors. The nicest Colombians we interacted with were at our hotel, this was mostly the activities and acquatics workers.
Several times during the trip we felt uncomfortable in the old city. I would never recommend an American woman travel to Cartegena alone. Please take a few friends on the trip with you. There are a lot of scammers in Colombia, so you have to be smart and cautious or you will lose your money. We were scammed by an English speaking tour guide, but we booked our tour through the hotel, so we got our money back.
The beach is dirty, the Atlantic Ocean water is very cloudy, and Cartegena and the surrounding areas are extremely dirty. There is trash everywhere. Dogs and cats are treated like rodents. The number of underfed dogs and cats we saw on the trip was overwhelming. If you love animals, seeing the horrible way dogs and cats are treated will break your heart!
Overall the trip was fun and interesting, but we are not in a big hurry to return to Colombia any time soon!
I was drugged and robbed in Bogota a few years ago during my naive fist trip to Colombia/South America. When I think back I feel happy that I wasn't killed I was robbed – my wallet, my rolex, all my credit cards. I recall even giving them my pin numbers. I recall vaguely how I walked back to my hotel room. Next morning I overslept and missed my flight and people waiting for me at the LAX went crazy when my plane landed and I didn't show up. I returned safely on the same day with an afternoon flight. However, I had short term memory problems for several months after the incident. When seeing my friends or colleagues, I could not recall their names. Later, I gained my normal memory. I've been to many places in Colombia and South America since my first trip in 2010. All major cities in Colombia still have serious crime issues. I would say Colombia is much more dangerous than Rio de Janeiro's favelas because the Colombians use drugs and all kinds of "sophisticated" techniques to spike your drinks in bars and discos, or it could be a street beggar, or a senior/handicapped person, and so on. Even South Central Los Angeles will seem much safer. Sadly due to overall poverty in Colombia + still ongoing conflict with the militias in the jungles, despite the Catholic religious ethics – every Colombian praises Jesus Christ, there are many Colombians ready to kill you for your wallet or your brand new iPhone. I would not recommend Colombia for single travellers at all. Never should go out alone, always with friends you trust. The criminals operate especially in places where there are lots tourists who can't imagine how cruel the others can be especially when it comes to US$ or the last high-tech gadgets. The article refers to the French government's lift of travel ban to certain regions. I'm not sure how safe is the french ok.
When you say use common sense would you mind being a little more specific. My lady friend (she lives in Cali) will be with me. We are staying at a place I got on AirBNB. Thanks, Joe Mancini
Thank you Laura and Brent for setting a few things right.. For those who think Colombia is some kind of dumping ground where only thieves, rapists and murders live, I feel sorry for you. There is crime in Colombia but just as much or less as there is in NYC, Cleveland or San Francisco. if you walk alone in the middle of the night anywhere in the world, you are asking for trouble. You have to be cautious and mindful of where you are and who you are with. There are thousands of foreigners that have ultimately made Colombia their home just like Laura did, because of its beauty, it's people, it's culture, it's food, etc etc. it all comes down to where you go or stay. If you come to visit NYC and want to be cheap, you can stay in Jamaica Queens or some parts of the Bronx where you are not going to feel safe at any time of the day. But if you stay on 5th 6th Park Ave or any of the expensive areas in Manhattan, I can guarantee you will feel safer. It's the same in any city of Colombia. If you have never been there, do some research on the city you are visiting. I can tell you I have traveled my whole life, and visited areas of Colombia that I probably shouldn't have, but everywhere I went, people were amazingly friendly and cordial. Most people make an honest living but there are some who don't. So how do you avoid them? Don't be stupid, don't do drugs, don't drink til you fall, don't flash your money, don't wear expensive jewelry or Rolexes, don't take a cab off the street(they have Apps for taxis or call a taxi company) they have millions of honest taxi drivers who get a bad rep cuz a few thieves, don't do anything you wouldn't do if you were in the bad side of your home town, I don't close my windows or lock my car in front of my house, but I can assure you I hide my stuff and lock my car if I'm parking in the next town over. Colombia has an infinite amount of activities your whole family can enjoy. My sister lives in Bogota, and my 10 year old boy travels by himself every summer since he was 7. He stays for a month, goes all over the country with my sister's family and comes home 4 weeks later or my wife and I come down to meet him. My 18 year old son sometimes goes with us, sometimes he goes by himself. Yes I have a sister there, who knows what to do and not to do, but that goes for everyone else. Do your homework, ask questions, do some research. There are Colombians living all over the world, I bet if you ask around you know someone who is Colombian or that has been to Colombia who can give you some answers to where to go, stay, eat, party etc etc. Please don't just listen to the ignorant people who nothing but bad things to say about Colombia or any other place in the world.. I can tell you some horror stories of Italy, Germany, New Jersey, NYC, California, Barcelona, etc etc but I won't because my time at any of those beautiful places of the world, was so much more amazing than any bad experienced I had usually due to a lack of good judgement on my part.. Enjoy your stay in . Colombia.
Colombia is a dangerous country to visit.If you are desparate to be able to say you've gone there,go ahead and good luck.There are many many beautiful places to visit in the world.The need to go to a high risk destination is odd,especially if you're armed with the knowledge before hand.I guess its the cool thing for hipsters to do.
We would like to visit some smaller, but safe places in Colombia. Villa de Leyva and Barichara are recommended by LP. What would be the best way to get there? Bus? Car rental?
Any other similar places worth visiting on a short trip? We will arrive in Bogota, and will probably fly to Cartagena or Santa Marta as well.
Thank you in advance for any advice.
Is cartAgene safe? I am talking to a Colombian woman who wants me to fly down there. I do speak Spanish because I'm half Cuban.
I have a loving Colombian friend, and she always invite me to go to Medellín – where is she from -, but I'm, as most non-Colombians, afraid of gonna there. I wish I knew San Andres, but I'm afraid of getting sequestrated by FARCs or being killed, I'm originally from Bermudas, but I live in Brasil since I was 11 and people says brasil isn't very different from Colombia, and I heard this from many Colombian ppl, but I'm not sure. Are Cebu, Palawan and Boracay safe for tourism? Wha' do y'all think?
Looking forward,
R
That Colombia is as safe or even safer than the US (which it isn't, as someone else pointed out) is not saying much!
The US (particularly large cities) have the highest crime rates and certainly the most guns in the world as a nation (look where that gets you. ).
All these statements do not give me a point of reference, as I live in a smaller town in Europe (thank God!).
Rosita, Cebu is great. Lovely people. But just like anywhere else you have to be street smart. They have the best lechon in the Philippines
Why risk it? There are enough places to enjoy that are not high risk. So what's the point.
Hello. I'm an American that lives in Bogota. If you have never visited Colombia then you don't really have any idea about it's safety. It is a big city, it has crime, and there is a big divide between rich and poor. I was scared before coming here that I would be robbed constantly because of all the negative things you hear. There are parts of the city that I would avoid, but as a whole I feel very safe here. You use common sense and you will be fine. Also learn some Spanish before you come. You will need it!
I went to Colombia and my wallet was pickpocketed at the airport. Alarmed, I called the us embassy and they sent a car to pick me up. Unfortunately, the car I got into was only pretending to be the embassy car, and they drove me to who knows where and beat me until I gave them a relatives number who would pay a ransom. They called the relative but she refused to pay so after a few weeks they let me go in who knows where. I found my way to a hospital and they contacted the embassy again which arranged for me to be flown back to Washington DC. I'm thinking that I might not travel to Colombia again,
I am traveling to bogota on the 9th of April.I will be there till the 14th.If no one hears from me here on the 15th you might want to send a search party.lol Just kidding.
I live near Detroit Michigan.They don't kidnap you here for money,they just shoot you so they can brag to their friends they did.People here have been killed for the shoes they wear.Peoe have been killed here for a hamburger from McDonald's.I still go to McDonald's,I just don't order hamburgers.lol Lighten up people,the world is a dangerous place but if we live scared,they win.
I have lived in Medellin, Colombia for almost 4 years now and while reading this article and seeing some of the ridiculous comments I felt compelled to write something. those people saying things like "Colombia is too dangerous to visit", "why risk going there when there are other beautiful places to visit" etc have clearly not been to or lived in Colombia and have some sort of mental problem that forces them to write uninformed nonsense about a wonderful country for some unknown reason. At the risk of repeating the same sentiment once again, Colombia is completely safe to visit and nobody should have any fear of visiting here if you use common sense while you are here. As with basically any city or country worldwide, there is always the chance of something happening if you are careless or unlucky but if you avoid clearly dangerous neighbourhoods like some of the poorer barrios in Medellin for example, and you don't walk around at night by yourself in a dark, unpopulated area waving your expensive phone around, you will be fine. In almost 4 years in the country, and having travelled to cities like Bogota, Cali, Santa Marta, Cartagena, Bucaramanga, Cucuta and a few other small towns (Guatape, Villa de Leyva, Tunja, Zipaquira, Santa Fe de Antioquia etc) I have not once felt unsafe, threatened or had anything happen to me other than being pickpocketed on the street during a big football game in Parque Lleras (a very touristy area in Medellin) when there were crowds of people everywhere and I naively left my camera in a side pocket. If you are careful and act like you would in any city, you will have an amazing time here. Do not listen to idiots commenting here who say it is too dangerous, you will be kidnapped/robbed/raped bla bla bla. Colombia is a beautiful, welcoming and safe country to visit.
Hi! The comments here have been even more informative than the article. If I may ask a question to travelers: I'll be spending a day in Bogota in August and my only real concern is that I'll be there to shoot a model in that beautiful setting, and so I'll be using what will obviously be a nice camera. I plan to stick to La Candelaria in the afternoon and then head to Zona Rosa for dinner. Does anyone have any tips for how to hold on to my camera?
I'm going there with my cousin and staying in Bogota. My mom thinks I'm crazy but I think because she's born in 1948, she believes Pablo and his crew are going to kidnap me. Being that she showed me this post, can anyone give me a little backing and make her feel at ease?
Brent says thousands of foreigners die in Germany every year? Might be true but are they killed or kidnapped? I am an African who lived in various cities in the south, west and center of Germany for 5 years and I can assure you it is an incredibly safe place for everyone including foreigners. Comparing it to Colombia in any way is just insane.
I could walk just about anywhere at any time day or night without even the slightest worry that someone might try robbing or harming me.
In fact is is so safe, I remember one time I was going on a trip with a friend and happened to meet a long lost friend just outside the train station at Bochum (a small city sandwiched between Dusseldorf and Dortmund) . He suggested to have a drink before I continue with my journey. Since my backpack was heavy I opted to just leave it on the floor outside the train station (yes it is so safe I didn't even think much about doing this). When we got back we found the police had cordoned off the area to inspect my backpack. I explained it was mine and I had left it to go have a quick drink with a friend. They asked a few questions, took my details and explained about the various terrorist threats they have to guard against. I got my bag back, bid my friend goodbye and continued with my journey up north.
And no I'm not a careless person. I've lived in Moscow for 8 months and it was very safe too (though there are places a black person such as myself should take great care and use common sense). Despite Moscow being rather safe, I would never even think of leaving my belongings unattended.
I've never been to Colombia but judging from the above comments, comparing its safety to Germany's is beyond hyperbole.
Some great posts on here.. But no mention of Cali where I will be going for surgery. After healing and rest I plan to visit the museums and historical places (with my partner btw) , also maybe enjoy some shopping. I don't want to risk taking my debit card out and obviously will need enough cash to buy a few goodies. I am confused at how to juggle this now. Do I hide my card/cash in my shoes, down my pants? I don't intend to take anything like an expensive watch , apart from my mobile phone which I would be scared to take out now! Lol .. Maybe I am over thinking. Will definitely put the app on my phone re taxi . Are restaurants safe at night in tourism areas?
Went to Medellin and Cartagena the fall of last year. Never had a problem and i have taken a few risks out there, like hanging out with questionable women and walking alone at dark. However, i try to keep up a high level of situational awareness ( always looking to the sides and behind me, crossing the street if there is a large group of people ahead, etc). The same things i do in big cities in America. I am African American so i am at lower risk, I can pass easily for a colombian until i open my mouth. Going back to Cartagena this fall, the place is magical.
The stupidity from snowflakes here is amazing. I work in Medellin and I watch these kids walking around at night at 1 am like they are in South Dakota. I know 4 people this month that have been robbed. Two at knife point. Street crime is up 300 percent, look it up. The State dept put out a new travel warning June 16th. Parents are downright ignorant. This girl above Monica says she lives there now, they are also going to be working until they are 90.
Murder is going down because the gangs did a deal where they will look the other way on robbery. If they elect the Marxist running for President next year, watch the exodus. Venezuela thought it wouldn't not happen also. Most of the comments here are downright nuts.
Pakistan is the safest country niw in the world.
Wow I really want to come on vacation to Colombia with my family, this is an aspiration I hahaha, thanks for the information you provide. For those of you who are preparing a holiday to Bali do not forget also to prepare lodging at Latalianavillas.com very comfortable and best in Bali
So far this year, I have been to Medellin, Colombia twice. I absolutely LOVE that city and have nothing but great experiences. Since I know basic Spanish, I had no issues with getting around, ordering food and interacting with the locals. In terms of safety, I felt no danger and I mostly traversed the city and surrounding department of Antioquia solo. The same street smarts that used in places like New York City, Chicago and DC, I used in Medellin. No problems. I stayed out late on many nights and partied in Parque Lleras and La 70 areas of Medellin. Again, nothing but great stories.
Just use your head, keep your head on a swivel and do not act like a dumb and lost tourist. You'll be fine.
Oh, and I interacted with a ton of solo women travelers in Medellin. They loved it.
If anyone need any information on Medellin, email me at hilltop202@icloud.com
I visited Bogota last year. I felt very safe traveling alone. It is an amazing city with great museums, shopping and restaurants. I stayed on the main streets and main areas. I did not go out at night after 8 or 9 pm, except one night, and that night I did get harassed by a guy telling me to give him my money, but he left me alone when I told him I was going to call the police. It seems people have the most problems who: 1) go out in the areas where there are not a lot of people at night, 2) or don't use an app to hail cabs, 3) or hang out at night clubs and act like they are in their home country or 4) are looking for drugs. It is very nice and safe in the shopping area around Andino Shopping Mall at night. Avoid Calle 9 area at night, as there are lots of muggings in that area. I stayed at an Airbnb with doorman on Calle 24 and it is great. I'm headed back again this year, and not worried. Last year I also took a bus for a day trip to Zipaquira to see the Salt Cathedral, and had no problems traveling alone.
Hello friends, if you decided or should come to Colombia and feel insecure or want to know more about Colombia I can help you, my name is Carlos Chaves I am Colombian I know the country its cities the airline lines hotels according to the budget tourist sites restaurants land transport everything they need to help them on their trip.
If you prefer, I can accompany you on your trip
My contact is:
Carlos Chaves
cell phone.573108308371
americanaderines@gmail.com
Interesting article! It is true that some years ago Colombia was considered a dangerous place to visit but now it is not true! Nowadays Colombia is a safe country with so many beautiful places to explore! Of course, as a foreigner, you have to be careful but nothing you have to worry about! I share with you an article that shows why Colombia is now a safe place to travel as a tourist: https://colombiabybus.co/things-to-know/is-it-safe-to-travel-around-colombia-as-tourist/
Hey Mario,
if you think we've exaggerated the danger you should take a look at someone who really has – the US State Department. https://travel.state.gov/content/travel/en/traveladvisories/traveladvisories/colombia-travel-advisory.html
I think we've hit the right spot between acknowledging the potential dangers and recognizing that travelers are smarter than they're given credit for by many.
I think the advice is well balanced and it adheres to our philosophy as a travel brand:
"keeping our travelers safe on the road is more than just about providing great travel insurance.
We've created language guides for your iPhones, travel blogs so you can share your stories and travel insights to keep you informed, educated and safe when traveling.
Every year we offer travel scholarships to provide unique learning experiences for travelers looking to further their experience in travel photography, travel film, and writing.
And we believe you too can help change the world by giving a little back when you travel."
We have never hidden the fact we fund all of that through insurance sales. Travel insurance is front and center on our home page.
We strive to be impartial, but we also need to be informative. We're are always open to feedback and encourage travelers to contribute. If you think something here is wildly inaccurate we're happy to hear from you and set about the process of verifying those suggestions and changing the content accordingly.
We don't keep our content for "members only" nor put it behind a paywall, you are free to read as much as you want, take the advice, enter a scholarship, download a guide. Buying insurance is not mandatory to be part of the Nomads community.
I rode a motorcycle in Colombia and I loved it. You can see more about my trip at ExhaustNotes.us.
I'm SO glad there lots of you out there that speak in behalf of Colombia.
It's a wonderful place to live and visit.
As many pointed out, common sense is your best safety. In Colombia and anywhere. (By the way, why do detractors mispell Colombia? It's ColOmbia, not ColUmbia). Maybe they are mistaken and it's ColUmbia which is dangerous.
Hi 🙂
I think is a matter of being really cautious and wise. I lived in Colombia most of my life and never got robbed or kidnapped (although I got pickpocketed various times). I have been robbed (or attempted to) in Ecuador, Chile, Indonesia, South Africa and even Australia and the Netherlands! Most of the times because I was were I was not supposed to be, or alone or going back home after partying.
Be cautious, ask the locals, never take a random cab and don't flash your valuables! Wear your backpack in front on the public transport and beware of pickpocketers.
Thank you for publishing this. This side of our story never gets told. Gracias!
Thank you for your honesty criminal murders were done in Medellin andanymore occur. My young son, George Paul Molson, was
gunned in Heredia, Costa Rica and run over by a
bus and ruptured his organs and removed his spleen.
He wants to live in Bogota for someone offered
him cheap money. He likes walking on streets
at night. Do you think he should live and work in
Bogota, is the water sewage and work pay good?
I have advised psychiatrists to not release him of
an institution he put himself in for fear he will
be abused and never earn enough money to survive well.
Thanks for persuading me to look after him.
Daphne Molson, his 73 year old cancered mother.
i took my 17 yo daughter to Bucaramanga for a month in 2018. She volunteered at a hospital daily and i had a little fun and explored the city.
Westayed in nice hotels attached to malls. After dark, no walking around outside. The malls were safe and i enjoyed the city immensly. I golfed, I hiked, I met nice folks and lunched with them.
heck, i am thinking about renting an apartment next mall for a year and take a long vacation. its very cheap in Colombia!
Never go to Bucaramanga. The city smells absolutely awful. In fact, the city smells so bad that it actually woke me up from a dead sleep just now. I cannot emphasize just how terrible this city smells.
Also, the people here are the most discourteous of anywhere I have ever been in my entire life, and I have been to some pretty bad locations around the world. However, that is a secondary concern compared to the godawful, horrendous stench that often pervades the entire city.
Copa Airline flight, Just amazing — they've never been late for me, but Copa airlines cancellation policy is easy to understand. After searching so much about the modification policy, finally, I got a solution by . They have crisp, short, and relevant information about modification, cancellation, check-in, Baggage, and Pet policy. They helped me a lot during the harsh Covid-19 time. I am very thankful to the team of airlinespolicy.
I went to Colombia for a bachelor party. Unfortunately, the groomsmen were all hungover, so I ended up going on an excursion with only the best man and his brother. Everything went well and when it came time for us to be picked up, the car could not make it up the mountain. We were pissed and at the same time, a little scared as the guide told us there were lions in the area. We tried not go show fear cuz although we're Hispanic, we're not Colombians. As we were waiting there a guy on a motorcycle was riding in our direction. We were so lucky that we had money on us, that we offered him money to take us back to "civilization." He agreed and started with my boy who is overweight, then came back for us. I really think we are lucky to be here today, but it just shows how dangerous these third world countries could be. Never again.
Is Colombia Safe to Travel?
Is Colombia safe to travel? It was a question I long pondered before finally stepping on the plane. The stereotypes of dangerous drug cartels, express kidnappings and violent streets were certainly once true of Colombia but by many accounts, things are different now….or are they?
In this article, I'll share with you my experience of backpacking Colombia as a female traveller and we'll also hear about the experiences of the South America Backpacker Community.
Colombia is a popular destination for solo female travellers.
Read more: (opens in new tab)
How Dangerous is Colombia on Paper?
Colombia might not be making it onto our list of South America's safest countries but it isn't the most dangerous either, Venezuela currently holds that accolade. According to the Global Peace Index 2020, Colombia sits at position 140 out of 163 of the world's countries, not a great stat. However, it is important to delve beneath the surface.
In the year 2019-20, although there was an increase in political and civil unrest, the homicide rate actually fell and Colombia's place on the political terror scale improved. It has certainly come a long way from the no-go country it was just a few decades ago!
The Changing Face of Colombia
Nowadays, Colombia is wildly different from its past. Tourism has boomed in the country with foreign visits rising from 0.6 million in 2007 to a whopping 2 million in 2017. It is also becoming a popular country with expats and digital nomads who love the friendly locals and laid back vibe. Even Medellín, which was once one of the world's most dangerous cities, has been transformed into a hipster hub of innovation. There has certainly been no better time to visit this Latin American hotspot.
Medellín used to be one of the world's most dangerous cities.
My Experience Travelling Colombia – As a Female Traveller
Before I went backpacking to Colombia, as a female traveller, I'll admit that I was nervous. This was mainly due to the responses I received from friends and family. "Oh my God, why are you going there? Don't get shot!"
Reading government warnings online did not make me feel any better either…
"Street crime is a problem in major cities, including Bogotá, Medellín, Cali and the Caribbean coast. Mugging and pickpocketing can be accompanied by violence. British nationals have been robbed at gunpoint in the Candelaria area of Bogotá ." –Foreign Travel Advice on the GOV.UK website.
Having travelled extensively in Southeast Asia (an extremely safe region to travel), making the jump to South America, I was aware that I would need to readjust my approach to safety in Colombia.
Arriving off the plane in Cartagena in the early hours of the morning, a well-dressed Colombian woman started chatting with me. I was immediately on my guard. She's probably been planted by some drug gang to make me feel comfortable… then she'll lure me into a situation where I will be robbed at gunpoint! My jet-lagged brain was in paranoid mode and I was almost rude to the woman as we waited for our bags at the luggage carousel.
I was on guard as soon as I landed in Cartagena.
When we got to the taxi rank, I stupidly had no spare change for the taxi and the ATMs were not working. The woman did not hesitate in giving me the money to pay for the taxi to get to my hostel in the Old Quarter. She wanted nothing in return and simply wished me a pleasant journey. The next day, I realised how my preconceptions had caused me to be suspicious of the woman unfairly. It hadn't yet been a full day but I was already in awe of the friendliness of the Colombian people.
Throughout my time in Colombia, travelling by myself and with a female friend, there was only one time when I felt in danger. This was during the evening in the city of Santa Marta and I say 'felt' because I'm not actually sure that I was in any danger. For some reason, I just found this city dodgier than other parts of Colombia with a few suspicious characters lurking in doorways…
SafetyWing Nomad Insurance
SafetyWing is the travel insurance of choice for scores of backpackers!
Subscription style insurance
Cheap and flexible
Available after your trip has started
I think I was more on guard here, as it was from the rooftop of our hostel in Santa Marta where I watched a fellow traveller have her camera grabbed from her by a kid on a bicycle. (She ran after him and actually got it back – a reaction that's not always advisable but in this case, turned out okay!)
We were also warned by fellow backpackers about nearby Taganga. Apparently, gangs of young kids were frequently robbing foreigners, which didn't sound like much fun, and so we decided not to go there at all.
Safety is a complex issue to summarise – it depends on being in the wrong place at the wrong time anywhere in the world! However, based on my personal experience, I'd say that yes, on the whole, Colombia is a safe place to travel. (As long as you have your wits about you and don't do anything stupid – which is true of almost anywhere in the world!)
In my experience, Colombia is a safe place to travel – just be careful!
Is Colombia Safe for Solo Travellers?
Although I travelled largely solo throughout Colombia, I didn't want this article to just be a reflection of my experiences. To provide a more rounded perspective, I asked the South America Facebook Community what their experiences were. Here is a selection of what some of them said:
"I have travelled extensively in Colombia and I have lived in Bogotá, Cali and Cartagena. I have always felt safe, sometimes I was careless when I shouldn't have but I think if you have your wits about you, don't take unnecessary risks and know where you are at all times, it's no different to any other place. I've spent most of my life in London and there are places where I wouldn't go at night, same as Bogotá and Cali." – John.
"I felt very safe, except for a couple of moments in Santa Marta. I'm saying that I'm aware of my privilege (weird I know ) of being black and being able to speak some Spanish, which often meant I was left alone and not easy to pick as a target as many would I assume I was Colombian / Brazilian. It's very likely, my skin colour was a deterrent to possible thieves/criminals. In saying that though, I have met many other tourists who also told me they felt quite safe." – Nabil.
"Backpacked Colombia for 2 months with my girlfriend. The only time I felt unsafe in Colombia was around the 'police'." – Steve.
The majority of solo travellers in our group said they felt safe in Colombia.
Is Colombia Safe for Female Travellers?
The consensus within our Facebook community is yes, Colombia is generally safe for female travellers. However, some did reference bag snatches and other instances of petty theft. Here are a couple of quotes from readers who have travelled around Colombia solo.
"I was a solo women traveller and I've always felt safe. I didn't go much off the beaten track (except for Ciudad Perdida and las tres cruces in Medellín where I was literally alone). Security was never an issue and Colombians were extremely helpful and nice." – Krishna.
"No. I had a phone ripped off my person by a guy on a motorbike in Pasto, near my hotel. Had to hide everything away in Bogota, Cartagena, Santa Marta. Medellín felt a bit more secure. I was a solo female traveller with a disability (51). I'd venture to suggest that it's safer to travel in a couple and you're less likely to be targeted." – Susan.
" I was travelling alone in Colombia (Caribbean Coast and Medellín) for 2 months. I never had any problems and felt totally safe. I just heard from some people that their mobile was stolen in Barranquilla during the Carnival." – Eva.
Dressed for Carnival in Baranquilla, Colombia!
Whilst a few of our group members did say they had been victims of robbing and muggings, the overwhelming majority of people said that they loved the country and would be keen to return. However, you do need to be vigilant to avoid trouble. To help you get the most out of your visit, here are my top tips to keep you safe in Colombia.
18 Safety Tips for Travelling to Colombia
1. Book flights that arrive at the airport in daylight hours.
It may be psychological but I much prefer getting a taxi in a new city when I can see my surroundings.
2. Ask the staff at your hostel if there are any 'no-go' areas in the city.
In Santa Marta, we didn't even need to ask this. When we arrived, a guy at reception gave us a map and highlighted some streets that were fine and some streets that he felt we should avoid, especially after dark. Any hostel will do this for you if you simply ask. In my experience, 90% of people who experience crime when travelling ignore such sound advice. If the locals say don't go there, just don't go there.
Avoid no-go areas and everything will be todo bien!
3. Try to blend in.
Dressing like a local can help but you should try to blend in with your attitude too. Don't speak loudly in English (or your native language, unless it is Spanish), don't gawp open-mouthed at your surroundings or have your head constantly in Google maps (with the directions blurting out in English). Basically, don't do anything to give away the fact that you just landed.
Female travellers – Check out this Colombia packing list for advice on how to dress like a local woman. (You're going to need some hoop earrings!)
4. Walk like you know where you're going.
This is a tip that a good friend of mine gave me and it definitely works. When you're in a part of a cty that feels a bit dodgy, put your collar up (if you have one!), keep your head down, act cool and stride out with purpose like you've done the walk a thousand times.
5. Learn as much Spanish as you can.
It goes without saying that being able to understand the local language will help you to feel more confident as you travel and help you to blend in. From my experience, it would be difficult to travel in Colombia with no knowledge of Spanish at all. Watch Spanish movies on Netflix before you go, check out Spanish YouTube videos and podcasts or, right at the beginning of your travels, why not sign up for a reputable Spanish course that will help you master the basics! (You're likely to make some travel buddies too!)
6. Listen to fellow travellers.
Is there someplace that keeps coming up in conversation among fellow travellers as an unsafe place to go? (For us, this was Taganga.) Then just avoid it! It's not cool to put yourself in unnecessary danger.
7. Don't flaunt your stuff.
When you're out and about, especially in cities, don't flaunt expensive pieces of jewellery, cash, cameras or technology items. These will make you an easy target (dar papaya) for a thief.
The Colombians use the expression 'dar papaya' which literally means to give papaya (as in the fruit). To dar papaya is to give a thief an easy opportunity to steal something from you. Having a camera lolling over your shoulder, a mobile phone sticking out your bag or your wallet poking out your back pocket is to 'dar papaya'.
Don't 'Dar Papaya'!
8. Be wary of fake police and local cops.
Some criminals may pose as policemen to gain your trust in order to rob you. Whilst the federal police generally have a good reputation, some local police officers have been known to be less trustworthy. A member of the South America Facebook Community said that he and a friend were once robbed of a considerable amount of money by policemen on motorcycles.
9. Secure your luggage.
An anti-theft daypack or a money belt is a good idea. If you're taking overnight buses and you must store your larger backpack underneath the bus in a luggage compartment then a mini padlock is essential.
10. Don't buy cocaine.
Locals will hate you. And here's why.
11. Avoid illegal taxis.
Like elsewhere in South America, Colombia does have a problem with illegal taxis. Never just get into a random taxi as even if it looks official, it may not be. I'd always recommend booking one in advance or asking somebody at your hostel to do it for you. Uber is available in some of the bigger cities.
12. Be suspicious of strangers who offer you food and drink.
Although this is not as common as it once was, there have been instances of foreigners being unwittingly given the 'Devil's Breath' drug. This leaves them in a zombie-like state, making them easy to take advantage of. One person I met during my travels had been given this drug in Colombia (around a decade ago) and had been robbed of everything. The drug increases compliance and in this situation, the victim actually assisted the thieves by carrying his belongings out to their car. Scary stuff.
13. Carry a decoy wallet just in case.
Some travellers prefer to carry a decoy walletso they have something to give over to thieves. Don't forget to make it look realistic though – keep a couple of old cards and a small amount of cash in here, storing the rest of your money across your person or in your money belt.
14. Don't use ATMs at night.
You don't know who is watching you in the shadows.
Don't use ATMs at night.
15. Travel with a reputable company on tours.
Some areas of Colombia are still dangerous to visit. For example, if you are visiting Caño Cristales, you will need to be accompanied by a guide. To ensure your safety (and avoid getting ripped off) make sure you travel with a reputable company with good reviews.
16. Download an offline map.
Nowadays, there are so many apps for backpacking that make travel easier. I recommend downloading maps.me so you have a visual reference to help you avoid getting lost. Don't forget – never flash your phone on the street, you're just asking for trouble!
17. Don't resist if somebody tries to rob you.
Even travel pros can get into a spot of bother if they try to prevent themselves from getting robbed. Just look what happened to Nomadic Matt! The consensus is, if somebody threatens you and asks for your valuables, hand them over. Street crime can quickly turn violent in Colombia and it is just not worth it.
18. Make sure you have travel insurance!
Many backpackers visit Colombia every year and have no issues. However, there is no denying that petty theft is still a problem. I always recommend getting travel insurance anywhere you go but when visiting somewhere such as Colombia, it is even more advisable. We recommend and personally use SafetyWing and World Nomads.
Nikki Scott | Founder & Editor
Nikki is the founding editor of South East Asia Backpacker. At age 23, she left the UK on a solo backpacking trip and never returned. After six months on the road, she founded a print magazine about backpacking in Asia. The rest is history.
Find me: Facebook | Twitter | Instagram
Source https://www.travelinglifestyle.net/is-it-safe-to-travel-to-colombia-right-now/
Source https://www.worldnomads.com/travel-safety/south-america/colombia/is-it-safe-to-travel-to-colombia
Source https://southamericabackpacker.com/is-colombia-safe/