Travel to South Africa with Children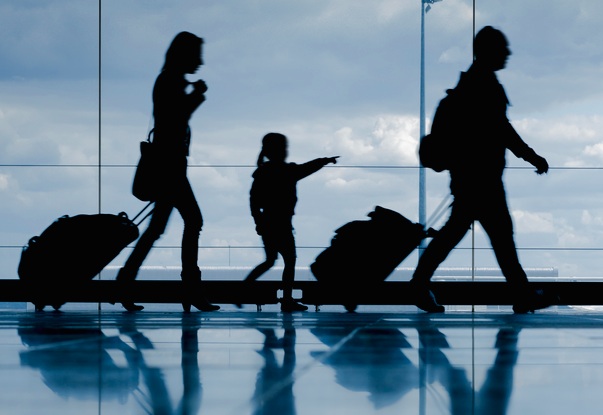 If you travel to South Africa with children under 18 years of age, you must make sure you comply with the South African immigration regulations. The important rulings in regards to carrying an UBC (unabridged birth certificate) when entering or leaving South Africa came into effect already three years ago but now have been uplifted for foreign minors. As of November 2019, an amendment to these rules came into effect. As there is still much insecurity about this issue, please read our recommendations below.
In regards to Covid regulations, masks must be worn in public places also by children aged 6 years and older and PCR tests for entry to South Africa are only required for children older than 5 years. "Children below the age of five years, are exempted from the provisions of subparagraph (3)(b) but must comply with the re-entry requirements set out by the Department of Home Affairs." Please also check with your airline for their requirements.
The regulations initially required parents to produce an unabridged birth certificate in addition to a valid passport when entering or leaving South Africa. These regulations have been lifted for foreigners in an effort to boost tourism numbers. For foreign unaccompanied children and children in care, the same strike requirements still exist!
It is still mandatory, however, for South African citizens to carry the UBC and further documentation should the child travel alone or is only accompanied by one parent or a guardian.
Travel to South Africa – Travel from South Africa
For more detailed information regarding the new immigration regulations regarding travel to South Africa with Children, please see the Table below:
Travel to South Africa | Accompanied Children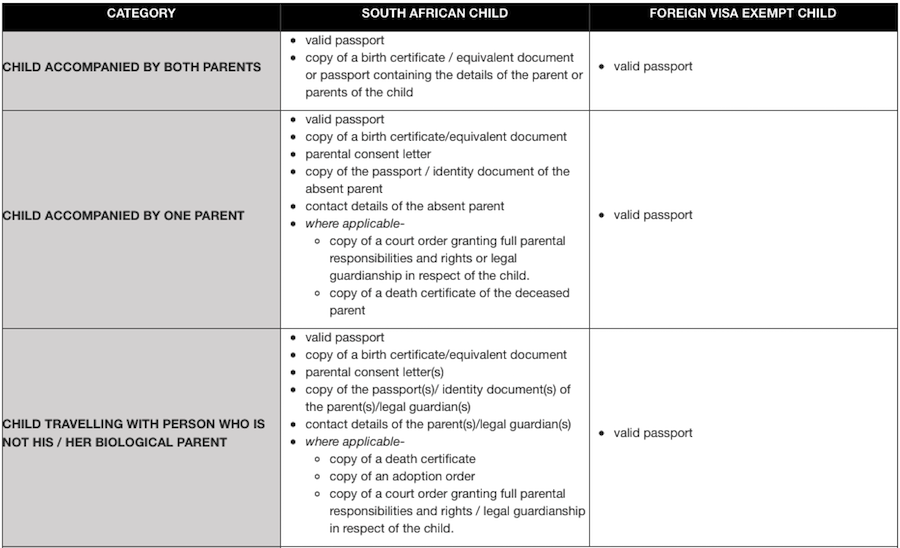 Travel to South Africa | Unaccompanied Children | Children in Care
The new immigration regulations still cause concern for foreign parents travelling with children. As your child's birth certificate may still be asked either by airline or the immigrations officer at border control who is not informed about these changes, make sure to pack the certificate for your travels. This is strongly advised if your child carries a different name than the parents. For single parents travelling with the child make sure to carry a signed letter of permission of the other parent as well.
The new immigration regulations for travels with children state that.
If foreign parents are travelling with their child, parents must produce only a valid passport. South African parents must still travel with the unabridged birth certificate even if the same name (parents and child) is reflected on all documents!
If only one parent is travelling with a foreign visa-exempt child , a valid passport suffices. However, a consent in the form of a letter of permission, not necessarily an affidavit from the other registered parent may be required. For South African children, a parental consent affidavit or either a court order granting full parental responsibility and rights or legal guardianship or a death certificate must be produced.
If a person who is not the biological mother or father of the child, travels with a foreign child, a passport suffices, however, for South African children, this person must produce a copy of the child's unabridged birth certificate, a letter of permission or af fidavit from the parents confirming permission to travel, copies of the passports of the parents or legal guardian and the contact details of the parents or guardian.
If a minor travels to or from South Africa unaccompanied, whether foreign or South African child, the child must always produce: consent from one or both parents or the legal guardian in the form of an affidavit for the child to travel to or from South Africa alone, a letter for the person where the child stays (including name, residential address and contact details), a copy of the identity document of this person and the contact details of the parent/s or legal guardian of the child.
It is strongly advised, that all parents comply with the regulations. For South African citizen travel to and from South Africa without necessary unabridged birth certificate will not be relaxed and it is compulsory to carry the document showing both parents names. Airlines have been enforcing the new regulations strictly and it will be seen how far the regulations will be relaxed further to improve tourism numbers again . Please note that, a child presenting a passport which contains the details of his or her parent or parents is not required to produce a birth certificate/equivalent document.
Be aware that you apply for unabridged birth certificates as soon as possible also for new borns, as such certificates take up to eight weeks if applied for locally. For parents with foreign passports to obtain a birth certificate, you need to apply for the SA unabridged certificate either via your hospital's home affair officer or at the DHA offices. With this certificate you can then apply for an unabridged birth certificate at your local embassy or consulate and also apply for your newborn's passport. Should you need copies of the unabridged foreign birth certificate, please contact your national mission in South Africa.
What documentation do I need to get to come to South Africa?
Although your travels were placed on hold when countries announced national lockdowns, international borders are now open, and you can continue with your plans for a South African Safari. Even though South Africa has opened its borders, there are still a few additional measures that you would have to have in place before travelling.
Safety first
With provisional borders opening first, safety measures have been introduced. Seen as the "new" normal, all have been put in place to secure not only the safety of international visitors but also those working at establishments and providing services.
All establishments and service providers are compelled to the new regulations. Vehicles are sanitised before and after transfers and tours. Lodges try and avoid as much contact with guests as possible and also have sanitising stations available throughout the lodge.
Documents required for you to travel
When travelling to South Africa, all standard documentation is required. Included in the documents would be a passport and visa documents if needed. When travelling with children, you would also need their passport and birth certificate. Should you be travelling from the yellow fever belt of Africa or South America, you would need a yellow fever vaccination certificate.
Additional documentation you would need travelling during the COVID-19 pandemic would be a negative COVID test not older than 72 hours from the time of departure of your country of origin to South Africa. The document would have to be from a certified medical practitioner with all their contact details.
Also, check with the airline you are travelling with if they require any other documents.
On arrival you would also have to provide details of your accommodation, should you need to self-quarantine. It is also advisable to have contact numbers while travelling, should you need to be contacted.
What to expect
South Africa has been waiting for some time to welcome international travellers back and explore! There have been some procedures put in place to secure the safety of both international and local travellers.
On arrival at the airport, you will be screened for any COVID-19 symptoms and for any contact you might have had with people that have been infected with COVID-19.
Clearing customs and collecting your luggage might take a little longer than usual, so it is advisable to include more time for this in your planning.
Should you show any symptoms or have been in contact with someone who has tested positive, you would have to take a COVID-19 test on arrival. If you are tested positive, you would have to quarantine for ten days at a designated site. All costs would be for your own account.
Once you are touring, it is business as usual. Yes, there will be more sanitising stations and people taking your temperature, but you can still explore all the beauty that is on offer. Handshakes will become elbow pumps, or a wave and tables will be placed a little further apart. Wearing a mask is compulsory in public spaces, and we would suggest that you pack a few that you can alternate.
Planning your next trip might include a few extra checkpoints on your to-do list, but travel is at long last possible. Why wait any longer! Start planning your next trip today!
8 top South African documentaries to stream now
They're fascinating and thought-provoking, leave our hearts warmed or seething with rage. Be informed by proudly South African documentaries now streaming on Showmax.
Click here to find out more from Showmax.
1. How to Steal a Country
How to Steal a Country documents the Gupta family's rise from flea-market shoe salesmen to owners of a controversial business empire in South Africa in fewer than 10 years.
The documentary runs as a suspenseful detective story uncovering one huge bribery scandal after another, involving the top echelons of political power and several well-known multinational corporations.
How to Steal a Country is the latest offering from multi-award-winning documentary filmmakers Rehad Desai ( Everything Must Fall ) and Mark J Kaplan (The Lion's Trail). It is streaming first and only on Showmax. Watch now »
2. Stroop: Journey into the Rhino Horn War
Stroop: Journey into the Rhino Horn War tells the shocking and touching story of the ongoing poaching of rhino and the trade in its coveted horn.
In an exclusive first, filmmakers Bonne de Bod and Susan Scott filmed special ranger units inside the Kruger National Park and at the home of the white rhino, the Hluhluwe iMfolozi Park.
The pair also travelled undercover to the dangerous back rooms of wildlife traffickers and dealers in China and Vietnam, and the result is a powerful, hard-hitting and incredibly moving documentary that will challenge and shock viewers. Stroop just won the 2020 SAFTA for Best Natural History and Environmental Programme.
3. 204: Getting Away with Murder
Brett Kebble was a charismatic yet controversial businessman who died in a hail of bullets in 2005. 204: Getting Away with Murder is an absorbing, gritty and layered documentary that unearths the shocking and stranger-than-fiction story behind his mob-style assassination.
"204" refers to the permanent indemnity from prosecution offered to many key individuals in the wake of the alleged hit. Investigating the characters, companies and events leading up to his untimely death, documentarian Warren Batchelor explores the dodgy dealings and unanswered questions behind the case.
4. The Boers at the End of the World
The last place on Earth you'd expect to hear Afrikaans is Patagonia, in the wilds of Argentina. And yet here, a small but tough community of Afrikaners cling to the edge of the world, descendants of a group that fled South Africa in 1902 after the destruction of their farms during the South African War.
Breathtaking landscape cinematography and sweeping shots of grizzled farmers on horseback lend the document a western vibe, and we're guided through the story by the candid and charmingly naive older residents who cling nostalgically to their heritage.
Richard Finn Gregory's immersive documentary centres on identity, and there's a spellbinding melancholy at its core as the Boers make an emotional journey back to South Africa.
5. Six to Six
Night after night, Taariq, Lungi and Pierre wait for people to die. They aren't ghouls. They are three of the forensic pathology officers at one of Cape Town's busiest morgues, Salt River Mortuary.
They're also the stars of the documentary Six to Six , which won director-writer Mia Cilliers the 2017 SAFTA for Best Achievement In Directing: Documentary Short, along with the audience award in the Local Flavour Showcase at the Shnit International Short Film Festival in 2018.
Mia and her team spent two years on-and-off documenting the lives of the night shift staff, seeing how they cope with tragedy, loss and horror while keeping their spirits up. Watch now »
6. Whispering Truth To Power
Former Public Protector Thuli Madonsela, near the end of her tenure, faced the tumultuous challenge of exposing corruption in the presidency in South Africa.
Her battle may have been challenging, but she handled the task at hand with vigour and courage. This documentary reminds us how proud we should be to call her one of our own. Watch now »
7. Everything Must Fall (2018)
Rehad Desai's unflinching look at the #FeesMustFall student movement that burst onto the South African political landscape in 2015 as a protest over the cost of education. The story is told by four student leaders at Wits University and their vice-chancellor, Adam Habib, a left-wing, former anti-apartheid student activist. Watch now »
8. Liyana
As a bonus Pan-African pick, we've selected this stunning documentary/animation.
Winner of 35 awards, including Best Documentary at the Los Angeles Film Festival, Liyana is a groundbreaking movie that follows the story of a young girl from eSwatini (formerly Swaziland), who attempts to rescue her twin brothers after they're kidnapped. It's inspired by real-life stories and mixes magical animation with real-life scenes.
How to get Showmax from R49 per month
Sign up for Showmax mobile and get access to the full catalogue on one mobile device for R49PM.
Until the end of June, get three months' access to Showmax standard for R149 – that's a 50% discount on the usual price of R99 per month.
Other ways to get Showmax
New customers get a 14-day free trial and then pay R99 per month.
DStv Premium subscribers get Showmax free – go to showmax.com to sign up . DStv Compact and Compact Plus subscribers pay R49 per month .
Source https://www.expatcapetown.com/travel-to-south-africa.html
Source https://traveltosouthafrica.org/what-documentation-do-i-need-to-get-to-come-to-south-africa/
Source https://businesstech.co.za/news/industry-news/396049/8-top-south-african-documentaries-to-stream-now/