Nigeria and South Africa have a love-hate relationship: the continent needs them closer
Olawale Olusola does not work for, consult, own shares in or receive funding from any company or organisation that would benefit from this article, and has disclosed no relevant affiliations beyond their academic appointment.
Partners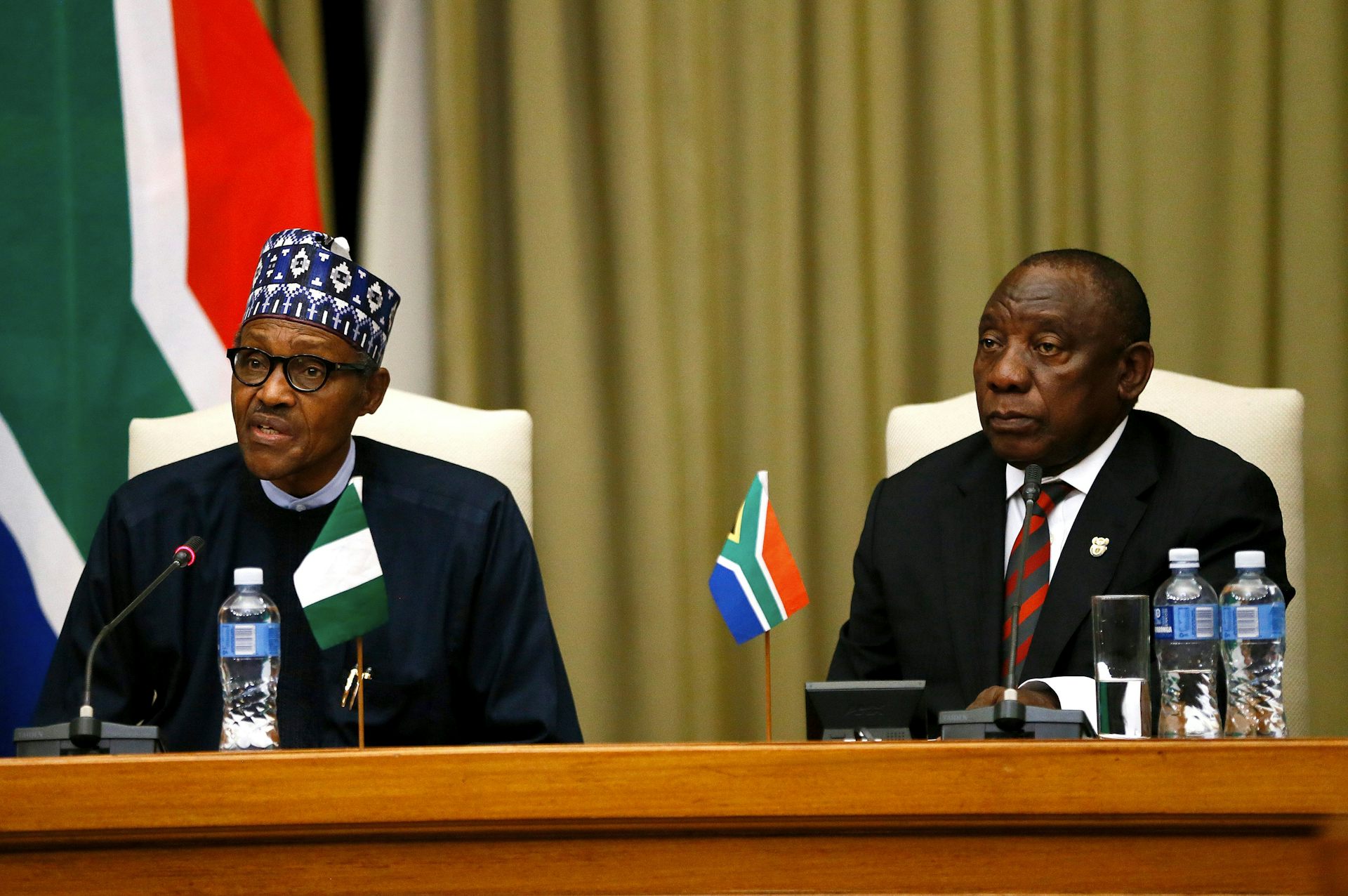 Nigeria's President Muhammadu Buhari and South Africa's President Cyril Ramaphosa Phill Magakoe/AFP via Getty Images
President Cyril Ramaphosa is visiting four West African countries – Nigeria, Ghana, Ivory Coast and Senegal. The Conversation Africa's Wale Fatade asked international relations expert, Olawale Olusola, about the significance of Ramaphosa's visit to Nigeria and what it could contribute to enhancing the relationship between the two countries.
How important is this visit?
It is significant in a number of ways.
First, it coincides with the 10th session of the Nigeria-South Africa Bi-National Commission. This was established in 1999 to strengthen bilateral political, economic and trade relations between the two countries. It is therefore an opportunity to assess the progress in investment and trade between the two countries.
It is also an avenue to rejig the lull in bilateral relations between the two foremost countries in Africa. In spite of the volume of trade between the two countries – US$2.9 billion for 2020 – there are still grey areas. These include operational hurdles Nigerian investors face wanting to do business in South Africa. It also includes people to people relations. This remains an issue of major concern given xenophobic attacks in South Africa. This also affects both countries' trade interests as existing businesses in either countries could become targets.
South African companies are well represented in Nigeria but there are few Nigerian companies in South Africa. South Africa imported US$2.48 billion worth of goods from Nigeria in 2020 predominantly crude oil, and exported US$425 million's worth to Nigeria.
It is significant too that President Ramaphosa will be visiting Nigeria first in his West African tour. He will go on to Ghana, Cote d'Ivoire and Senegal.
A meeting between Nigeria and South Africa is always a reminder of the cultural and social bonds that both countries have invested in over a long period, but have underutilised.
For example, Nigeria contributed to the emancipation of South Africa from the grip of apartheid. Nigeria's civil servants paid a so-called Mandela Tax to support the Africa National Congress in fighting apartheid.
South Africa equally was at the fore front of the fight against the dictatorial regime of Sani Abacha in 1995.
This visit is important especially in an era of global economic downturn occasioned by the coronavirus pandemic. The two countries need to make efforts to promote bilateral ties given their distressed economies. Also to lead the way in promoting the Africa Continental Free Trade Area.
Could the bi-national commission be made more effective?
The basic architecture for Nigeria-South Africa foreign economic relations is embodied in the activities of the commission.
When it was set up in 1999 the two countries committed themselves to fast track relations in foreign policy, culture, agriculture and health. The presidents at the time – Olusegun Obasanjo and Thabo Mbeki – agreed to cooperate in all multi-lateral institutions including the World Trade Organisation.
But the commission has achieved little in relation to its mandate. This, most likely, is a result of the internal struggles and challenges in politics and economies of Nigeria and South Africa.
The commission should focus on taking away barriers that get in the way of the easier movement of goods and people between the two countries. There is no reason, for example, why Nigeria and South Africa cannot implement a VISA on arrival policy. This is an arrangement Nigeria has with Kenya.
The commission could also be made into a formal structure and expanded to include the private sector and the diasporas.
How would you characterise the relationship: collaboration or competition?
Both. The relationship between Nigeria and South Africa is often characterised by collaboration — as well as intense competition. Collaboration is good and desirable but so is healthy competition or rivalry especially when it revolves around creating and innovating.
It is a love-hate relationship.
Both countries have helped foster pan-African ideals by providing effective continental leadership. They have rallied other countries to restore peace and stability in troubled African countries. Nigeria and South-Africa championed the birth of the New Partnership for Africa's Development , the African Union and established a joint commission all in a bid to promote Africa's renaissance.
On the other hand, a number of issues have strained their relationship. These include xenophobic attacks against immigrants, including Nigerians, in South Africa.
At other levels, the assessment of the relations is simply a function of perception and conjectures. These are often framed in the garb of hegemonic discourse. For example, Nigeria likes to project itself as the giant of Africa. It also likes to emphasise its leadership role within the Economic Community of West African States.
For its part, South Africa projects itself as a regional powerhouse in the Southern African Development Community.
The interconnected nature of the global economy, the political and economic challenges on the continent and the need for African unity dictate that Nigeria and South Africa collaborate. In doing so, they must not be seen as imperialists but as partners with other African governments.
Has South Africa done enough to deal with xenophobia?
Xenophobic attacks in South Africa have been a major drawback in contemporary African relations. South Africa's constitution and immigration policy have as their cornerstone the doctrines of human rights. But the protection of the lives and property of immigrants in post-apartheid South Africa remains a subject of great controversy.
Following xenophobic attacks in 2019 the South African government apologised to Nigeria. But there's more South African leaders can do. This includes engaging leaders as well as young people in open, frank, constructive and continuous conversations on the responsibility they have to respect humanity and take a stand against the type of barbarism that shaped their own recent history. They must sustain high-level political visits like that paid by President Ramaphosa
Above all, however, they must demonstrate greater commitment to addressing the social ills of poverty and inequality at the heart of young peoples' grievances. A major cause of xenophobic attacks is the lingering socio-economic crisis and the feeling of deprivation among young black South Africans. The inequality and poverty are deeply rooted in the country's colonial and apartheid legacy. This has been compounded by the post-1994 failures of successive administrations to transform the economy and make it more inclusive.
The South African government needs to address these. And ensure justice for victims.
Adedeji Ademola, a PhD candidate with the Department of International Relations, Obafemi Awolowo University, Ile Ife, helped research this article.
12 Tips To Note Before Travelling To South Africa from Nigeria
If you are travelling to South Africa from Nigeria, this post was written with you in mind. South Africa is a beautiful country, no doubt. However, travelling to South Africa when you are a Nigerian can be a big decision but make you no scatter your brain. We have 15 tips to help you plan well well!
A man cannot sit down alone to plan for prosperity – Nigerian Proverb
1. Location
South Africa has 9 provinces (states) and over 70 towns and cities. Choose your preferred location wisely o.
South Africa, Johannesburg – Nelson Mandela Cable Bridge
In the United Kingdom, East London is a popularly and informally defined part of London. In South Africa, East London is a city in the Eastern Cape province. Know the difference! Do not get scammed.
Ask Yourself: Before travelling to South Africa from Nigeria, which province and town/city will I live? How much do I know about the place? Is the area safe for African immigrants? Do I know anyone in that area? Has this area had issues with xenophobic attacks?
2. Accommodation
Use property websites such as Property24 and Private Property to find accommodation in South Africa while you are still in Nigeria.
Unlike in Nigeria, rent is paid monthly in South Africa. Rent can be relatively expensive depending on the property type and where you are renting the property.
Ask Yourself: How much do different properties, such as a house, flat, townhouse, etc. will cost in my preferred province? Will I be renting from an agency or directly from the homeowner? Am I going to be living alone or sharing the property will other people? Will I be renting a room or the whole property? What are my rights as a tenant?
3. Before Travelling To South Africa From Nigeria, Ask Yourself About INCOME
The average cost of living for one person living in the City of Johannesburg is R8500 (N225 462.55) per month (University of the Witwatersrand: 2017).
South Africa has an expanded unemployment rate of 36.3%, which means over 9.2 million people are unemployed in South Africa (Statistics South Africa, 2018).
Your income will need to cater for rent, food, and transport (among other things). You need a job or a business that will cover your monthly expenses. If you are going the job route, then find the job while in Nigeria. By the way, there are fantastic opportunities for highly skilled Nigerians in South Africa. If you are going the business route, then start it while in Nigeria, if possible. Ensure that you have permission from the South African government (a valid permit) to work or conduct business in the country.
Already in South Africa but struggling to find a job or business opportunities? You may consider networking by volunteering at one of the Registered Non-Profit Organisations for Nigerians in South Africa.
Ask Yourself: What is my current source of income in Nigeria? What will be my source of income in South Africa? How much will I need to earn every month to cover my living expenses?
4. Currency
Change your money into the local currency (South African Rand) at the airport before travelling to South Africa from Nigeria or at the South African Airport when you arrive.
Do not pay for anything in dollars in South Africa. Think in Rands and Nairas, and not Dollars.
Find out local prices and naira equivalent while you are still in Nigeria, e.g. taxi fare, airtime/credit, food, accommodation. Convert South African Rands to Nigerian Naira on https://themoneyconverter.com/ZAR/NGN.aspx.
Ask Yourself: Before travelling to South Africa from Nigeria, will I have enough money to survive in South Africa for at least six months? How much does everything cost in South African Rands versus Nigerian Naira?
5. Banking
Money is a sensitive matter. Do not resort to using other people's accounts to bank your money. This can get very complicated very quickly.
Unlike most banks, Standard Bank has different banking solutions for foreign nationals and all you need is a valid passport, permit, or visa, and your proof of residence.
Ask Yourself: Which bank offers banking solutions for foreign nationals? How much will my bank charges be every month?
6. Communication
Buying a South African sim card at the airport is less complicated – all you need is your passport. If you do not buy it at the airport and try to buy it later at a retail shop, you will be asked for your passport and proof of residence. Your +27 sim card is your gateway to communicating with locals as well as family and friends back home.
A new study by Research ICT Africa shows that South Africa has the highest data costs among the continent's leading economies, which include Egypt, Nigeria, Tanzania, Ghana and Kenya
Calling an MTN Nigeria subscriber back home? MTN offers discounted international calling rates such as their "R30 International Calling bundles with discounted rates".
Ask Yourself: Which network provider will I be using? How much is airtime (credit)? what is the cost of data? How do I buy airtime? Where do I buy airtime?
7. Explore
If you are staying with friends of friends, do not let anyone keep you indoors or collect your money to buy things on your behalf. Explore your surroundings – go to the nearest park for a walk or the shopping mall for some window-shopping at least! Take note not to explore your surroundings at night; prioritize your safety first.
The best way to get to know a new place is to walk around when the sun is up.
If safe to do so, ask as many questions as possible. This is not the time to form 'big boy' o. If you are too shy, then Google and Quora are your best friends!
Ask Yourself: Do I know the surroundings of the area I am living in? If living in other people's homes, am I free to leave anytime? Do I feel in control of my stay in South Africa?
South Africa, James Hall Transport Museum
8. Travel
If you have enough money, consider going on one or more of our recommended Affordable South African Tourist Attractions. South Africa is a leading travel destination; use this time to travel within the province you are in.
"In 2017, South Africa received 3.5 million travellers. The top five overseas countries with the largest number of tourists visiting South Africa were the USA, UK, Germany, The Netherlands and France." – (Statistics South Africa: 2017)
9. Spending
Use your money wisely and sparingly. Once again, do not try to do 'big boy things'. Keep your money safe, and do not get distracted by the noise of others. Make sure you know what you are paying for. With that said, maybe you should avoid clubs and clubbing for now.
Be quick to think and slow to pay.
10. Passport
Always carry your original passport or a certified copy to avoid unnecessary drama. Your passport must be valid (not expired), and you need to have a valid South African visa/permit.
Your passport is your responsibility, do not allow anyone to keep it 'safe' for you.
11. Crime
Do not allow anyone to convince or force you to do any illegal activities or jobs. Anyone who has your best interests at heart will not introduce you to illegal job or business opportunities.
If any one approaches you with an offer to make quick money doing illegal activities, stay clear of them immediately.
12. Rights
Familiarise yourself with the South African constitution, laws, etc. Know your rights and always abide by the law. Try a visit to Constitution Hill; it is one of our favourite Affordable South African Tourist Attractions.
'To deny people their human rights is to challenge their very humanity' – Nelson Mandela
Akindele Olunloyo
Blogger
I love travelling. I cherish my Lagos. And I adore my new home in Johannesburg. Lagostojozi Blog is my passion project which strives to promote cooperation, healthy relations and social cohesion between the people of these two great African megacities of Lagos and Johannesburg.
A Look Back at the Turbulent Relationship Between Nigeria and South Africa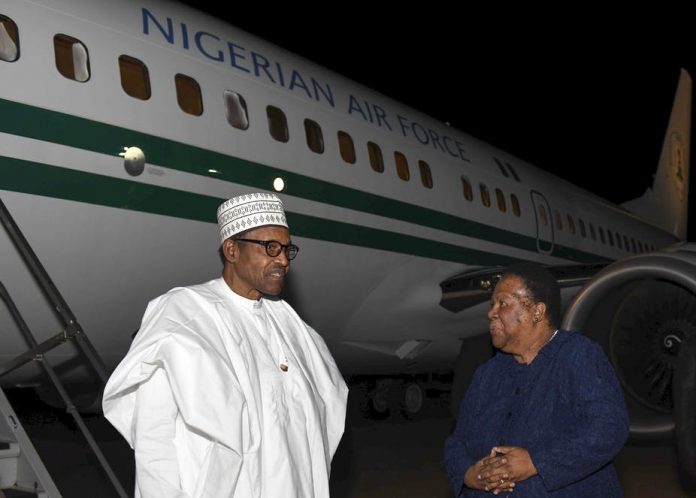 President Muhammadu Buhari of Nigeria (left) arriving at Waterkloof Airforce Base Airport in Pretoria. He is welcomed by Minister Naledi Pandor. Katlholo Maifadi/EPA/DIRCO
Since the end of apartheid in South Africa in 1994, South Africa and Nigeria have never had an easy relationship. Over the years, as different presidents have come and gone, the two countries have often been at loggerheads for different reasons.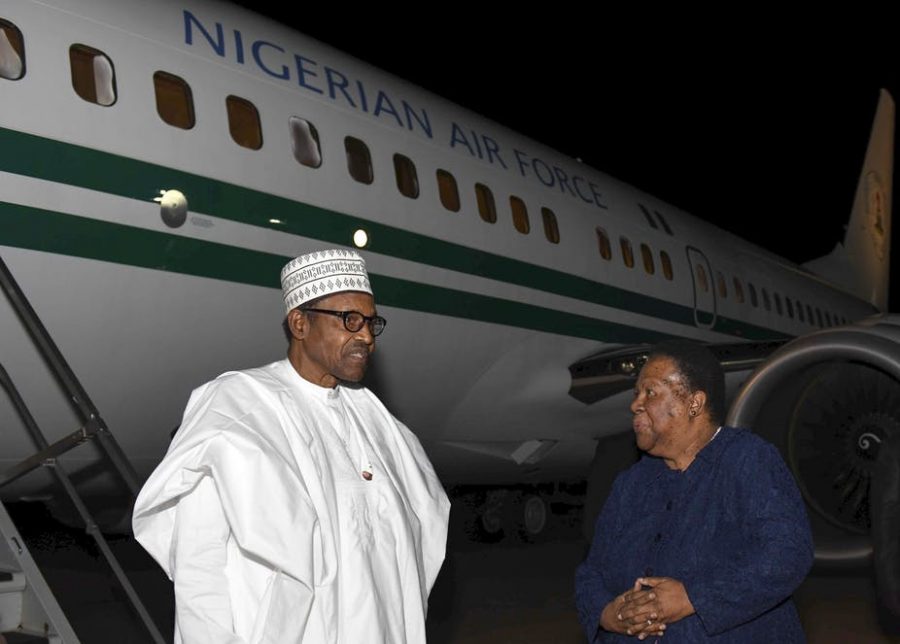 President Muhammadu Buhari of Nigeria (left) arriving at Waterkloof Airforce Base Airport in Pretoria. He is welcomed by Minister Naledi Pandor. Katlholo Maifadi/EPA/DIRCO
But this was predated by Nigeria's strong solidarity with black people when South Africa was still under apartheid rule. After obtaining independence from Britain on 1 October 1960, Nigeria mounted pressure on the apartheid regime to stop oppressing the black majority. The Nigerian government even went as far as imposing a special tax to raise funds for the liberation cause.
In the intervening decades, and after the end of apartheid, the relationship has seen some rough patches. The most fraught was between 1983 and 1998 – the second period of military rule in Nigeria.
During this period Mandela became president in South Africa and took a tough stance on human rights. The relationship hit a new low in November 1995 when Mandela criticised the planned hanging of playwright Ken-Saro-Wiwa, by the military regime led by General Sani Abacha.
Relations improved after Nigeria's return to democracy in 1999. But underlying tensions have always remained. The most recent trigger was the September 2019 attacks by South Africans against other Africans – including Nigerians. There were similar outbreaks of violence in 2008 and 2015.
A number of African countries have been affected by the periodic attacks on immigrants. But Nigeria has taken a particularly strong stance. The backlash back home was sufficiently vociferous that President Muhammadu Buhari was forced to raise the matter during his visit to South Africa, to revive cordial diplomatic relations between the two countries.
The summit between Presidents Cyril Ramaphosa and Buhari was cordial. In the main, it focused on how the two countries should strengthen their economic, political and social relations under the banner of the bi-national commission, as opposed to focusing primarily on the attacks.
Following this meeting, and after envoys from both countries held diplomatic talks, relations between the two countries are now back to normal.
The Mandela era: 1994-1999
When Mandela became the first democratically elected President of South Africa he indicated early on that the country's post-apartheid foreign policy would be based on human rights protection.
Watch Nelson Mandela's inauguration speech:
Mandela's stance didn't augur well for future relations with Nigeria. The country was going through a turbulent time following the decision by General Sani Abacha to annul the outcome of the 1993 presidential elections which, by all accounts, had been won by Chief Moshood Abiola. Abacha ordered Abiola's arrest.
Relations deteriorated even further after Abacha ordered the arrest of activists from Ogoniland in Eastern Nigeria. Ken Saro Wiwa, who had been instrumental in the formation of the Movement for the Survival of the Ogoni People, became Abacha's primary target. Abacha had him arrested with eight others. All nine were tried and sentenced to death.
Despite global calls for their lives to be spared, Abacha had them executed. Mandela persuaded the Commonwealth and the then Organisation of African Unity to ostracise Nigeria. He also called on the international community to boycott Nigerian oil.
Apart from Namibia's Sam Nujoma and Zimbabwe's Robert Mugabe, not all African leaders agreed with Mandela's approach to the Nigerian crisis. South Africa was a newcomer in democracy, and Mandela was accused of turning against his own.
Armed with this division in the Commonwealth, Abacha gained confidence to continue unabashedly with his human rights abuses. This worsened relations between the two countries.
The end of military rule in Nigeria in 1998 opened a new chapter.
The Mbeki era: 1999-2008
In 1999, new people took over as heads of state in both countries.
President Thabo Mbeki took over as president in South Africa while in Nigeria President Olusegun Obasanjo took over the reins.
The return to civilian rule in Nigeria augured well for relations between the two countries. In addition, the two leaders had known each other since the apartheid years. Both men prioritised an African agenda. Thanks to this common purpose, bilateral relations between Nigeria and South Africa improved significantly.
It was during this time that a bi-national commission was established. The aim was to work together on economic and political issues, including trade relations.
The idea was that, as the economic powerhouses on the continent, the two countries could work together for the betterment of Africa.
The Zuma era: 2009-2018
In May 2007, President Umaru Yar'adua took over from Obasanjo. He was less known by the world, including South Africa. He was also unwell, and died in office in 2010. President Goodluck Jonathan took over as president.
There were changes in South Africa too during this period. In 2009, President Jacob Zuma took over as head of state.
Relations between South Africa and Nigeria in the Zuma/Jonathan era were lukewarm. In 2012, South Africa's decision to deny 125 Nigerians entry at Oliver Tambo International Airport in Johannesburg triggered a diplomatic standoff between the two countries. The Nigerians were denied entry because they had invalid yellow fever certificates.
In 2013, Jonathan paid a state visit to South Africa. The two presidents agreed to revive their bi-national commission meetings, and to upgrade them to include other heads of state.
The way forward
After Ramaphosa took over as head of state in February 2018 the hope was that relations between South Africa and Nigeria would improve.
The recent attacks on foreigners threatened to throw that off course. Buhari's state visit was an attempt to sit down with Ramaphosa and discuss how a similar occurrence could be avoided in future.
Going forward, the two countries must desist from perceiving each other as competitors if they want to forge a fruitful and peaceful relationship. They need to work together for the betterment of the continent. Nigeria is a major player in West Africa while South Africa is a major player in the Southern African Development Community region. Sustained tensions would be to the detriment of both countries – and Africa as a whole.
This article is republished from The Conversation under a Creative Commons license. Read the original article.
Source https://theconversation.com/nigeria-and-south-africa-have-a-love-hate-relationship-the-continent-needs-them-closer-172879
Source https://lagostojozi.com/travel/traveling-to-sa-from-nigeria/
Source https://www.sapeople.com/2019/10/12/a-look-back-at-the-turbulent-relationship-between-nigeria-and-south-africa/