Ghana Travel Requirements & Vaccinations
Located in West Africa, Ghana's coastline spans the Gulf of Guinea and the Atlantic Ocean. Ranked by Forbes magazine as the eleventh most-friendly country in the world and the most friendly country in Africa, Ghana offers tourists a wide range of attractions and geographical variety, including:
A warm, tropical climate year-round
Diverse wildlife
Waterfalls, rivers, reservoirs and lakes
Palm-lined sandy beaches
Caves and mountains
Tropical rain forests
The country is mainly Christian and English is the primary language spoken, with French being the second most spoken language.
Required Immunizations for Ghana Travel: Yellow Fever Vaccine
By law, anyone entering Ghana must be able to produce proof of their yellow fever vaccination. UH Roe Green Center for Travel Medicine will provide you with an official certificate of vaccination.
Additional Vaccines That May Be Recommended
*Rabies vaccination is typically only recommended for very high risk travelers given that it is completely preventable if medical attention is received within 7 – 10 days of an animal bite.
Travelers may also be advised to ensure they have received the routine vaccinations listed below. Some adults may need to receive a booster for some of these diseases:
Measles, mumps and rubella (MMR)
Tdap (tetanus, diphtheria and pertussis)
Chickenpox
Polio
Influenza
Older adults or those with certain medical conditions may also want to ask about being vaccinated for shingles and/or pneumonia.
This information is not intended to replace the advice of a travel medicine professional. Not all of the vaccines listed here will be necessary for every individual.
Talk to the experts at UH Roe Green Center for Travel Medicine & Global Health to determine how each member of your family can obtain maximum protection against illness, disease and injury while traveling, based on age, health, medical history and travel itinerary.
COVID-19 Coronavirus: What You Need to Know
Our UH experts explain symptoms of coronavirus, how it spreads, how it affects children, if it is safe to travel, and what to do if you suspect you have it.
CHECK YOUR SYMPTOMS
Think you or a loved one may have coronavirus? We'll help you find the right care. Check your symptoms now.
9 Immunizations You Should Have Before Traveling Abroad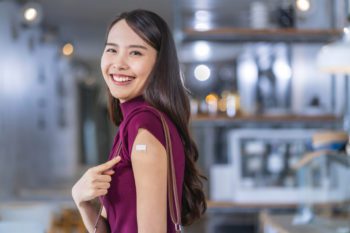 You're ready to see the world. You also want to stay healthy while you do it, and to be a responsible traveler. This article shares nine immunizations required or recommended for travel abroad, and guidelines to research and plan your vaccinations.
Immunization before travel protects your own health and your investment in your trip. Expert travelers know that nothing ruins time at a special destination like getting sick. Immunization also protects you against diseases with long-term health consequences, like polio or encephalitis.
That is why, since 1944, international travelers have needed immunizations for travel. The goal then and now is to promote public health and reduce the spread of diseases. After 2021, many countries updated their visa and visitor requirements to require immunization against COVID-19. Read on to learn about immunization and travel today.
The #1 Travel Immunization Is COVID-19 Immunization
Many countries now require COVID-19 immunizations for non-citizens and visitors to travel and visit.
Each country has its own specific requirements. Check to see what your destination requires. For a good example of this type of travel requirement, see the United States COVID-19 vaccine requirements for international travelers and the COVID-19 negative test requirement to enter the United States.
How do you find out what you need for your own trip? First, check your specific destination and the airline you are using. If your destination requires COVID-19 immunization, check the types of COVID-19 vaccine your destination accepts. Some countries approve specific COVID-19 vaccines: others approve nearly all COVID-19 vaccinations. Increasingly, countries and cruise lines are requiring that visitors have COVID-19 booster vaccines, too.
Next, find out who needs to see or have your proof of COVID-19 immunization for travel. You may need to provide proof of immunization to your airline to book travel and board flights. Customs may ask you for proof when you are traveling. At your destination, you may need to show proof of immunization again to enter restaurants or lodging.
Travelers not vaccinated against COVID-19 are allowed to enter some international destinations. But depending on the country's rules they may incur additional expenses and delays in travel. In many cases, they must pay for COVID-19 tests and may be required to spend time in quarantine.
Best Travel Insurance With COVID-19 Coverage
Atlas Travel Insurance
COVID-19 coverage outside your home country
Choose between the basic and more extensive coverage
Meets Schengen visa insurance requirements
24/7 worldwide travel and emergency medical assistance
Seven Corners Travel Insurance
COVID-19 coverage outside your home country
Comprehensive medical coverage from 5 days to 1 year
Your choice of medical maximum and deductible options
An extensive worldwide network of providers
Your Destination May Require Yellow Fever Immunization
Yellow fever is a disease transmitted by mosquitos that is endemic in parts of Africa and Central and South America. Over 60 countries have standards around yellow fever immunization for travelers. If you are traveling to or transiting through countries where yellow fever is present, get immunized against yellow fever before you go. Many countries will refuse entry if you have traveled through a yellow fever risk country and you do not have a valid yellow fever vaccination certificate. Learn more about countries with travel requirements for yellow fever immunization from the World Health Organization.
Get Up to Date with Routine Immunizations Before Travel
To reduce your risk of unexpected illness, many medical authorities recommend routine immunizations for travel. Both the World Health Organization and the United States Center for Disease Control (CDC) recommend that travelers are up to date with routine immunizations. These include:
Diphtheria-Tetanus-Pertussis (whooping cough)
Influenza
Measles-Mumps-Rubella (MMR)
Tetanus
Typhoid Fever
Polio
As of 2022, polio was reappearing in more countries. The CDC has travel advisories around polio, recommending polio immunizations for high-risk destinations. India requires visitors coming from countries with endemic polio to have a current oral polio vaccine. Long-term visitors to Pakistan, visiting four weeks or longer, must provide proof of polio immunization to leave Pakistan.
Some Destinations Call for Additional Immunizations
Some countries require or recommend that you have additional immunizations before you travel there. You may also want to safeguard yourself in remote locations with important selective vaccines.
If you plan to visit Saudi Arabia and see the global destination of Mecca, you must meet their meningitis immunization requirements. Meningococcal meningitis vaccines are also recommended for travel in many countries in sub-Saharan Africa.
Hepatitis A immunizations are recommended for most countries. Hepatitis B immunizations are recommended for many destinations in Asia and the Pacific, as well as Africa, South America and the Caribbean. These vaccines are usually three shots over a six-month period, so plan to get these well in advance.
Japanese encephalitis is an infection transmitted by mosquito bites. It causes a dangerous inflammation of the brain, and there is no cure for it. While the risk of a serious case of Japanese encephalitis is low, it is worthwhile getting vaccinated against it if you are visiting Asia, India, the South Pacific, and Australia.
Getting a rabies vaccine is worthwhile if you are traveling to have experiences with wild animals. Wildlife volunteers, and travelers who enjoy caving and spelunking, are at risk of rabies from animal bites or bat exposure in many locations.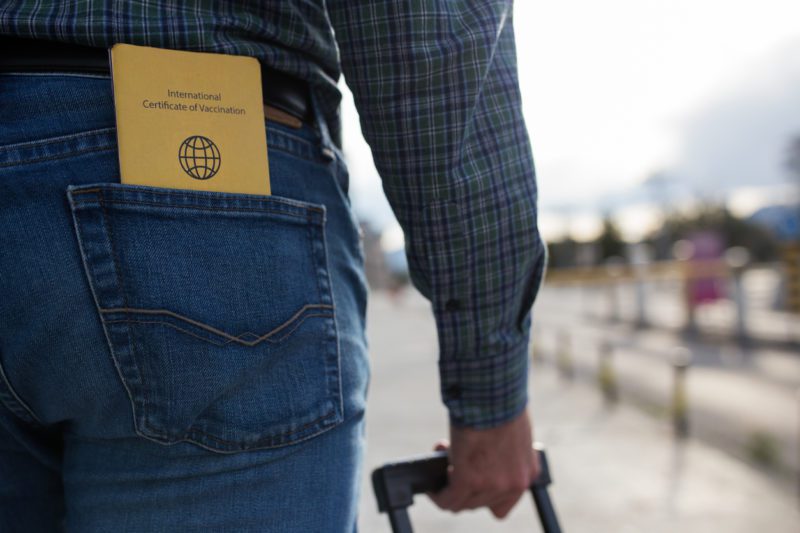 How to Provide Proof of Immunization for Travel
Doctors recommend getting most travel immunizations four to six weeks before you travel. This ensures that immunization takes effect. It also gives you time to get your proof of immunization for travel.
Many travel-related vaccines will be recorded in a signed printout called the International Certificate of Vaccine or Prophylaxis (ICVP). This distinctive yellow document records which immunizations you have received and when. It is most often used to record yellow fever vaccines. As of March 2022, the ICVP is not currently used for COVID-19 vaccination records.
Instead, for proof of COVID-19 immunization, you can provide one or more of the following. Ask your doctor or your country's medical authority to provide your COVID-19 proof of immunization. Often, there is a version for international travel. These can include:
An immunization certificate with a QR code
A digital pass on a phone app (United Kingdom National Health Service COVID pass, European Union Digital COVID certificate)
A printout of an authorized national immunization record or immunization certificate (United States CDC COVID-19 vaccination card).
If you are traveling with children, make sure they are up to date on their vaccines before they travel. You will be responsible for providing their proof of immunization at borders and transit points, along with their passports and tickets.
For convenience, while traveling internationally, you may want to try the IATA travel pass app. It's a convenient way to share your COVID-19 immunization with up to 59 airlines.
Does Insurance Cover Travel Immunizations?
Travel immunizations are not always covered by standard health insurance. But it is worth asking, because your insurance may cover some or all immunizations.
It's possible to get travel immunizations at a reasonable cost. Travel health clinics charge a premium to immunize you quickly. You can shop around for less expensive immunizations – your family doctor can help. They may even be able to provide some travel immunizations for free under public health policies.
Get Accurate Information for Your Destination
To confirm vaccination requirements for your destination, especially for COVID-19, go directly to official visa or immigration authorities. Each country has its own requirements. Your home country, countries you've visited, and countries where you have travel transfers all affect immunization requirements.
Many private websites claim to have vaccination information for travelers. But it is often incomplete, out of date, or echoes World Health Organization recommendations (which are not the same as visa requirements).
At this time, immunization requirements change often. Along with official immigration websites, here are reliable sources with information on immunizations needed for travel:
What Vaccinations Do I Need for Africa in 2022?
When your Africa safari is booked and confirmed, you'll likely experience a surge of emotions, ranging from the excitement of anticipating a new adventure to the thrill of fulfilling a dream and, perhaps, a tiny tingle of anxiety about possible health concerns (often fuelled by friends or family who have never travelled to Africa).
The good news is, with sound medical advice from your doctor or travel clinic specialist plus up-to-date vaccinations and good, old-fashioned common sense, you are very unlikely to have any serious health concerns. Ironically, the riskiest part of any journey in terms of your health is likely to be the long-haul flight.
Before you leave, visit your doctor
We're Africa travel specialists, not medical experts. We recommend that you visit your doctor well in advance of your safari adventure to discuss any health concerns you might have.
The COVID-19 Vaccine & Travel to Africa
Although the coronavirus-related entry requirements vary from country to country, some commercial airlines that fly to and within Africa require that passengers produce a negative COVID-19 PCR test that has been conducted within 72 hours of their departure. Please ensure you are acquainted with the COVID-19 protocols of the airline you are travelling with.
With travel restrictions and COVID-19 protocols are easing by the minute, more and more African destinations no longer require fully vaccinated visitors to undergo PCR testing prior to departure or on arrival. You can browse our entry requirements tracker to identify the exact requirements you will need to fulfil when travelling to Africa.
And if you'd like to know what it's been like to travel to Africa during the pandemic, you can read what our our clients had to say about their recent safari experiences.
Find out more about how to travel safely in Africa, the best destinations to visit and the top places to get away from the crowds:
Africa Travel Tips: How to Travel Safely
5 Best Places to Go on Safari in 2022
All to Yourself: The Best Exclusive-use Luxury Properties
Routine vaccinations
Some diseases that have been made rare in your home country due to routine vaccinations may be far more common in the developing world. As such, it's recommended that you visit your health care provider four to six weeks before you travel to ensure that you are up to date with the following routine vaccinations:
Flu
MMR – measles, mumps and rubella (German measles)
Polio
Hepatitis A & B
DPT – diphtheria, pertussis (whooping cough) and tetanus
Important: It's essential that you be in optimum health if you're trekking to see gorillas, as they are hyper vulnerable to human diseases. A common human cold can kill a gorilla, so you will not be allowed to join the trek if you have even the slightest symptoms of illness. Trek slots are non-refundable and non-transferrable, so look after yourself and nip even the smallest health issue in the bud.
Yellow fever vaccination
Yellow fever is spread by a species of mosquito that is common in the 'yellow fever belt', which stretches across parts of Africa and South America. It's easily prevented with a simple and highly effective vaccination that's routinely available from travel clinics.
You must have the vaccination at least 10 days before you plan on entering a yellow fever area. This is because it takes a few days before you are effectively protected and you may experience flu-like symptoms, which are unpleasant on a long-haul flight. Once you've had the shot, the travel clinic will issue you with an International Certificate of Vaccination or Prophylaxis (IVCP) that proves you've been inoculated.
Important: Only a travel clinic can issue a yellow fever certificate.
The table below provides a short summary of the yellow fever vaccination requirements in the countries you might travel to with us. Although we try our best to keep this information up to date, please consult with your doctor or health care practitioner before you travel, as they will be able to give you the best advice about yellow fever vaccinations.
Vaccination is an entry requirement
Vaccination required if you've been to a country in the yellow fever belt
Republic of the Congo
Botswana
Uganda
Madagascar
Rwanda
Tanzania
Kenya
Namibia
Seychelles
South Africa
Mozambique
Zimbabwe
Zambia
Malaria prevention
As it's spread by disease-carrying females of the species, the risk of contracting malaria is highest when and where mosquitoes are prolific; particularly during the hot and humid summer months in tropical regions.
Malaria is one of the most common diseases in Africa, but is easily preventable and treatable with antimalarial medication. Visit your doctor to get advice about whether you should take antimalarial prophylactics as soon as you know when and where you'll be travelling.
Adhere to the prescribed schedule of your antimalarial prophylactics to ensure that they work as planned. If you experience any uncomfortable or unexpected side effects while you're on safari, let your guide or camp manager know.
Important: Let your doctor know if you're planning on scuba diving after you've visited a malaria area, as this could affect the type of antimalarial they can prescribe.
You can take further preventative measures, such as applying insect repellent to any exposed skin every time you shower or change clothes, covering your skin from neck to toe with light-coloured clothing at night, keeping your tent or room doors closed and your mosquito net over your bed, and using a quality citronella soap.
You should seek immediate medical attention if you exhibit a fever and flu-like symptoms, including chills, headache, muscle aches and fatigue, within three months of your departure from the malaria area. Although it can be deadly, many people survive malaria if they seek medical attention as soon as they have symptoms.
If you decide you don't want to travel in a malaria area, there are plenty of great malaria-free safaris to choose from.
General health tips when travelling to Africa
Visit your GP well ahead of your departure to discuss any health issues you may have.
Ensure that you have comprehensive travel health insurance. If your safari adventure will take you to remote parts of Africa, it's essential that you have adequate cover to ensure you can be evacuated to the nearest major hospital and repatriated to your home country.
Try to stay as healthy and fit as you can before you depart – you don't want to start your vacation fighting off a cold or flu. It might be worth considering a flu shot in good time before your departure.
Take multivitamins or immune boosters and pack some in your hand luggage to take along on the plane to avoid the dreaded 'flight flu'.
Stock up on enough of all your prescription drugs before you leave. Be sure to bring copies of your doctors' scripts and keep scheduled medication in its original packaging. Ask your doctor to supply the generic or alternative names for your medications in case you need seek medical attention while in Africa.
Consider bringing spare contact lenses, asthma pumps, diabetes monitors and any over-the-counter medication you use regularly (such as treatment for migraines, upset stomach or allergies) – it's always comforting to have the exact medicine you're used to taking, if you need it.
Be sure to inform your Africa Safari Expertas early as possible if you require special medical attention (such as a gluten-free menu for someone with coeliac disease) or special facilities (such as a wheelchair-friendly environment).
Ensure that all your and your children's routine vaccinations, such as MMR (measles-mumps-rubella), polio, hepatitis and DPT (diphtheria-pertussis-tetanus), are up to date.
Always heed your doctor's advice, even if it's disappointing – like not being able to scuba dive off Africa's Indian Ocean islands when you are pregnant (you can still snorkel in the magnificently clear, warm water, so all is not lost).
If you're not feeling well at any stage during your safari adventure, let your guide or camp manager know.
Visiting Africa is a thrilling adventure – one you want to remember for all the right reasons. Even if you're in perfect health, it's important to chat to your health care practitioner before you travel to ensure you get health advice that's specific to you and your medical history. Being a well-informed and well-prepared traveller will mean that you'll enjoy complete peace of mind and the freedom to fully immerse yourself in your safari vacation.
Source https://www.uhhospitals.org/services/travel-medicine-services/ghana
Source https://www.internationalinsurance.com/news/travel-immunizations/
Source https://www.go2africa.com/african-travel-blog/vaccinations-need-africa