How to get around China: Here's how to navigate the Middle Kingdom with no problems
Despite its vast distances and huge variety of landscapes, getting around in China is convenient and inexpensive. Sparkling bullet trains zip to all corners of the country, while buses connect smaller towns and villages. Air travel is also convenient and generally affordable from most major cities.
A combination of ridesharing and efficient metro systems will get you around Beijing, Shanghai and the larger metropolitan areas; you can also use a more traditionally Chinese mode of transport: two wheels. Here's everything you need to know about getting around in China.
Get more travel inspiration, tips and exclusive offers sent straight to your inbox with our weekly newsletter.
Trains are everywhere in China, but you'll see the best of local culture on slower, more traditional trains © DuKai photographer / Getty Images
Train
Train travel is far and away the best way to get around China, for comfort, convenience and sustainability. China has the world's longest and most-used high-speed railway network (nearly 2300km/1429mi). In between, slower express, local and overnight trains connect many smaller towns.
Upgrades and expansions to the railway network continue apace, with thousands of kilometers of new track laid each year, making it possible to get almost anywhere you want by rail. High-speed trains are usually brand new and ridiculously efficient, with both business and regular class sections comfortable and clean.
However, it's on the slower, more traditional trains that you'll see the best of China's train culture, and have the chance to meet locals, exchange snacks and learn something new as you trundle through the Chinese countryside.
Chinese train numbers are generally prefixed by a letter corresponding to the type of train. G, D, and C trains are luxurious high-speed trains, while Z, T, K are varying express and fast trains. Unnumbered services are the very slowest, with lots of stops.
Non-high-speed trains have an array of seat and sleeper options, ranging from hard seats (the cheapest and least comfortable) to soft sleepers (a four-bed compartment equivalent to first class). Train tickets are sold one way only and can be purchased from Trip.com up to 30 days in advance. Tickets are collected with a passport at the station on the day of travel.
Tip for holiday train travel: If you plan to travel during one of China's national holidays, especially Spring Festival, buy your tickets as far in advance as possible, as most sell out rapidly and services are extremely busy.
Buses are relatively comfortable in China, ranging from express coaches to smaller minibuses and overnight sleepers © Haitong Yu / Getty Images
For more remote parts of China and small villages, long-distance buses are often the only option. Bus travel tends to be much cheaper than train or air tickets, and it's relatively comfortable, with vehicles ranging from express coaches to smaller minibuses and overnight sleeper buses.
Intercity services are often sleek and clean with toilets and snack offerings, while in remote areas, particularly in the far west of the country, you can still experience a bygone age of rattling minibuses careening from village to village.
China is leading the way in electrifying its bus fleets (a whopping 99% of all the electric buses in the world are in China), with around 500,000 electric buses in operation around the country, most of them in cities.
Tip for buying tickets: Most bus tickets can be purchased at ticket windows on the day of travel, but are harder to get during national holidays.
China's airline industry has grown rapidly over the past decade, and there are now more than 240 airports – one in almost every provincial capital and major city. The relative newness of China's air industry means that most airports are correspondingly sleek, modern and easy to navigate.
Airports are often located some distance outside of the city center, usually connected by either a metro system or dedicated express bus services from the terminal. A growing number of budget airlines have also begun operation after China deregulated its airfares in 2018.
China's major domestic airlines include China Southern, China Eastern, Air China, Hainan Airlines, Juneyao Airlines, Shanghai Airlines and Shenzhen Airlines. Tickets can be booked online at Trip.com (Ctrip inside China) or eLong.net.
Only those with a Chinese driver's license are allowed to rent a car in China © chinaface / Getty Images
Only those with a Chinese driver's license are allowed to rent a car in China, which makes road trips off-limits to most international visitors. In more remote parts of China, particularly the far west, it is possible to hire a private car with a driver (and sometimes a tour guide) to visit areas that are difficult to reach otherwise. This can usually be booked through a local hotel, hostel or travel agency.
Most of China's largest cities and provincial capitals have excellent public transportation networks, including buses and trams © itsskin / Getty Images
Public transportation in cities
Most of China's largest cities and provincial capitals have excellent public transportation networks that usually include subways, city buses and bike-share systems, as well as tram, light rail or maglev in some places. Metros in China are generally shiny, new, clean and air-conditioned.
In the largest cities, like Beijing, Shanghai and Hong Kong, local top-up cards can be used on most methods of transport, including buses. Tickets and transport cards can be purchased from machines in most subway stations, and bilingual signage in English and Chinese is ubiquitous.
China has put a huge amount of investment into greening its public transportation networks. For example, in 2018, the city of Shenzhen completed a holistic conversion to electric transport, with 16,000 e-buses and 22,000 electric taxis.
When hailing a taxi on the street, non-Chinese speakers should make sure to have their destination written down in Chinese ©Artur Debat/Getty Images
Didi and taxis
Uber is not present in China, but the local answer to ride-sharing is the Didi Chuxing app. Didi functions in English and has support for international credit cards, as well as the WeChat app wallet for payment. Didi cars tend to be more comfortable than local taxis, and the app eliminates language barrier angst, making it the best choice for visitors.
However, you can still hail a taxi on the street in a bind – non-Chinese speakers should make sure to have their destination written down in Chinese (such as the business card of your hotel).
Bicycle
Bicycles have always been a traditional method of transport in China (see: the 2001 film Beijing Bicycle) and are still an excellent way of getting around within a city. The bike-sharing economy veritably started in China, and you'll find heaps – sometimes literally – of colorful rental bikes on street corners.
Though extremely cheap and convenient, these can sometimes present difficulty for international tourists, as the apps do not always support English-language or international-payment methods.
Bike touring and long-distance cycling are also possible in China and are increasingly popular among locals. Given the distances in China, many cyclists opt for combined trips by bike and rail. Make sure you come well-equipped with flat-tire kits and backpacking equipment and don't expect to wild camp without preparing in advance – you'll need the correct permits and permissions for tent camping. There are a few areas of China off-limits to international visitors, mainly in the far northwest, so long-distance cyclists must plan accordingly.
Ferries and boats, such as the Star Ferry in Hong Kong, can be a great way to see China © Takuma Oohamazaki / Getty Images/ iStockphoto
Travel by boat is increasingly rare in China, as the country has upgraded and added road and rail bridges in many areas. Some outlying islands – around Hong Kong, for example, or Putuoshan near Shanghai – are reachable by fast ferries. Tickets can generally be purchased at the terminal on the day of travel.
There are several scenic boat trips around the country, including rafting the Li River near Guilin and canal tours of Suzhou. Multi-day cruises down the Yangzi River, through the magnificent Three Gorges, remain popular and range from luxury ships with all the frills to simple, local boats for a much cheaper price. Travelers should understand the significant environmental and cultural impacts that the Three Gorges Dam project has had on the local area and communities, though, and take those into consideration before booking a cruise.
Accessible transportation in China
By and large, China remains a challenging place for accessible travel, with limited options for wheelchair users. The biggest cities have received significant upgrades, particularly Beijing, thanks to the attention surrounding the city's hosting of the 2008 and 2022 Paralympic Games. Metro systems are generally new and usually have level-access platforms and elevators or stairlifts inside.
Access from street level can often be more difficult, however, as not every entrance has a lift. Accessibility options are often very limited on rural transport and anywhere outside of major cities.
For free downloads, including a phrasebook and a general guide to online resources, visit Lonely Planet's Accessible Travel portal.
Buy Lonely Planet's Best in Travel 2022
Lonely Planet's Best in Travel 2022 ranks the world's must-visit countries, cities and regions to provide a year's worth of travel inspiration.
Buy Lonely Planet's Best in Travel 2022
Lonely Planet's Best in Travel 2022 ranks the world's must-visit countries, cities and regions to provide a year's worth of travel inspiration.
Explore related stories
The 5 best day trips from Beijing
Beijing offers a dizzying amount of things to see and do, but its appeal extends well beyond the confines of the city. Here are our top five getaways.
How to get around Hong Kong
Hong Kong has a swish subway and train network, but for visitors, it can be more rewarding to slow down, stay above ground and savor the journey.
8 unmissable day trips from Hong Kong
Hong Kong is one of the world's great urban playgrounds, but you can discover even more sides of its complex personality on a day trip.
5 epic train journeys to take in China
Sleek, state-of-the art bullet trains ferry passengers across China, providing a highlight reel of the nation's best sights along the way – soaring Himalayan peaks, bamboo forests, ancient temples and remote deserts.
Hong Kong and Singapore are establishing a 'travel bubble'
It aims to help revive cross-border air travel between the two destinations and will begin on 26 May.
Hong Kong International Airport unveils full body disinfection booths and cleaning robots
Hong Kong International Airport has announced full-body disinfection channels and autonomous robots with ultra violet light and air sterilising technology.
The world's fastest autonomous bullet train launches in China
Ahead of the Beijing Winter Olympics, China has launched the world's fastest autonomous bullet train service to connect the capital with the ski slopes of…
China's sprawling, futuristic mega-airport has opened
Beijing Daxing International Airport, China's sprawling, futuristic mega-airport has opened at the end of September 2019 following years of construction and billions of dollars spent.
48 hours in Shenyang
The biggest city in northeast China was once – briefly – the capital of the Qing dynasty, before the all-conquering Manchu moved to Beijing in 1644…
China: How much freedom do its people have?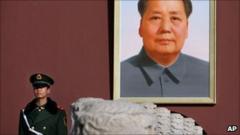 The ceremony for this year's Nobel Peace Prize – awarded to Chinese dissident Liu Xiaobo – will be held on Friday. The prize has re-ignited debate about China's political system and about how much freedom its people have. Michael Bristow reports from Beijing.
In an upmarket shopping complex in central Beijing, a newly-opened boutique is selling clothes made by some of China's top fashion designers.
There are a wide range of items on sale; mini-skirts, knitted sweaters and T-shirts with slogans printed on the front.
Not more than a generation ago most Chinese people wore the same few styles, clothes made in three or four drab colours.
In clothing at least, Chinese people can today express themselves freely.
People's control over their own lives has been enhanced in many other ways, as the government has reformed the economy and withdrawn from many areas of society.
Citizens can now start their own businesses, buy their own homes and travel abroad freely.
But in one respect there has been little change. Politics is still completely controlled by the Chinese Communist Party, which tolerates little criticism.
Dress code
Chinese people have regained a great deal of control over their lives since the former leader Deng Xiaoping initiated economic reforms in 1979.
Hong Huang, the woman behind the Beijing boutique, said that wearing the wrong kind of clothes could once have got you into trouble.
To explain, she held up one of the items on sale in her shop, a grey sweater with a black tutu attached to it.
"Anybody who wore this just 30 years ago would be seen as someone who'd just escaped from the insane asylum – or someone who belongs there," said Ms Hong, whose shop is called Brand New China.
Worse still, it could have got you into trouble with the authorities, she said.
Many Chinese people at the time stuck to wearing what is known in the West as the "Mao suit", named after the Chinese revolutionary leader who made it famous.
The Cultural Revolution, begun by Mao Zedong in 1966, marks perhaps the high-point of communist fervour in China.
Capitalism was a dirty word – and anyone supporting it could be sent to prison. But all that has now changed.
"It's inconceivable that 20 or 30 years ago I'd be able to open a store in the middle of the city playing Christmas music and selling Chinese designs of mini-skirts, leggings and earrings," said Ms Hong, who also publishes a fashion magazine called iLook.
'Sabotage'
Politics though is one area that remains out of bounds for most Chinese people. Officials have little time for anyone who challenges their authority.
When he announced Liu Xiaobo had won this year's award, the chairman of the Nobel Peace Prize committee, Thorbjorn Jagland, noted that China's constitution promised certain rights, including freedom of speech.
But he added: "In practice, these freedoms have proved to be distinctly curtailed for China's citizens."
China defends its current political system, saying that it maintains stability, which allows the economy to develop and helps people get wealthier.
Officials believe Mr Liu's suggestions for political reform, outlined in the document Charter 08, threaten the achievements of the last three decades of reform.
"Liu Xiaobo did everything possible to sabotage China's development and stability," reads a note from the Chinese embassy in Norway to foreign diplomats.
That note appears to urge those diplomats not to attend Friday's Nobel Peace Prize ceremony.
The result of this approach is a "police state", according to the artist and government critic Ai Weiwei.
"People can be monitored, their phones can be tapped and you can be followed. They can find you, they can intimidate you or scare you – or wrongly accuse you," he added.
Red line
There are people, like Liu Xiaobo, that seek to push the political boundaries.
Even at the shop Brand New China there are clothes on sale by designers who have tried to add a touch of politics to their work.
One has a collection of clothes that features pandas – not cuddly images often used by the government to represent the country, but angry and unhappy bears.
Social commentary or high fashion?
The problem for anyone getting involved in politics in China, according to Hong Huang, is that you never know how far you can go.
"I think every country has a line that you cannot cross. The problem in China is that that line is a moving target," she said.
"There are times when you think the line has moved far away, but the next thing you know, you are standing right on it."
Best Ways to Get Around in China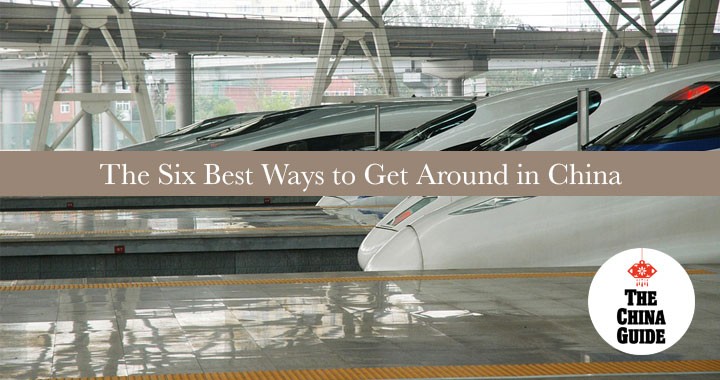 Navigating a new country, especially one as big and as different as China, can be a scary prospect. You may be wondering how you'll get from point A to point B during your travels, and which forms of transportation are the most reliable. Fortunately, China has some of the best transportation infrastructure on the planet, from world-class bullet trains to easy-to-use subway systems. Below, you'll find some important information about the best methods for traveling in China to help you navigate during your journey.
Between Cities
By Train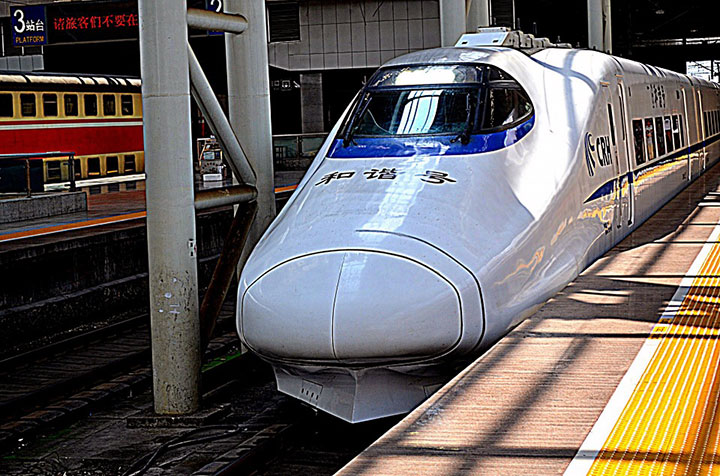 The high-speed train system in China is very advanced and constantly growing. You can get to most tourist destinations and big cities via bullet train, and it's much more economical and reliable than flying. Taking a high-speed train between cities will also allow you to enjoy some unique and scenic views of the Chinese countryside. One of the most scenic high-speed train routes is the railway to Kunming, which takes you past peaceful villages and beautiful karst peaks.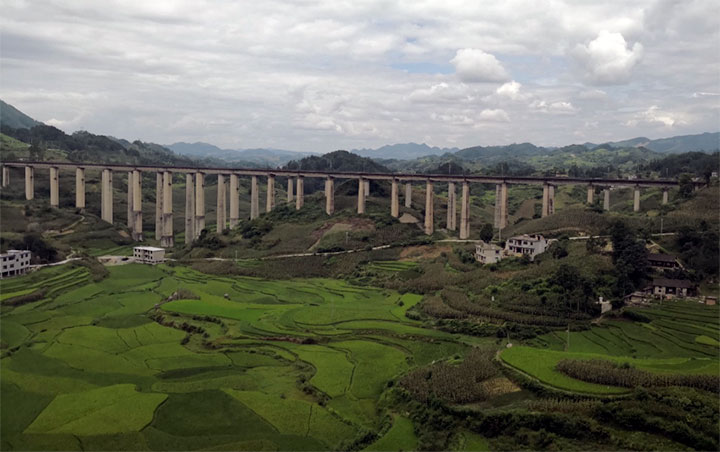 A high-speed train from Beijing to Shanghai or Xi'an (three of the most visited cities in China) takes around 4-6 hours. Please note that tickets aren't issued until 22 days before the date of the trip, although you can reserve them before that. High-speed trains are those that begin with the letters G, C and D.
China's bullet trains are new and in very good condition, and many stations have signage in English, so they're pretty easy to navigate. The bullet train system is also very efficient; delays and cancellations are rare. Be sure to bring your own snacks, as the food and beverage offerings can be limited. There is drinking water on high-speed trains, but it's piping hot, so bring your own if you prefer cold or room-temperature water.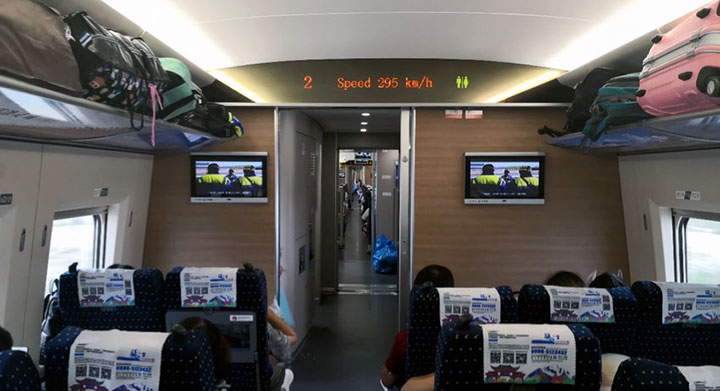 China has lots of normal trains, as well, although they take a lot longer and vary in terms of service and quality. If you're up for an overnight adventure, however, regular trains are very economical.
Read more about traveling by train in China here.
Flying
Flying is still the best way to get to destinations that are very remote or far away. It's important to note, however, that flights are regularly delayed or canceled, especially during rain season, and they can be expensive during peak tourist season.
Driving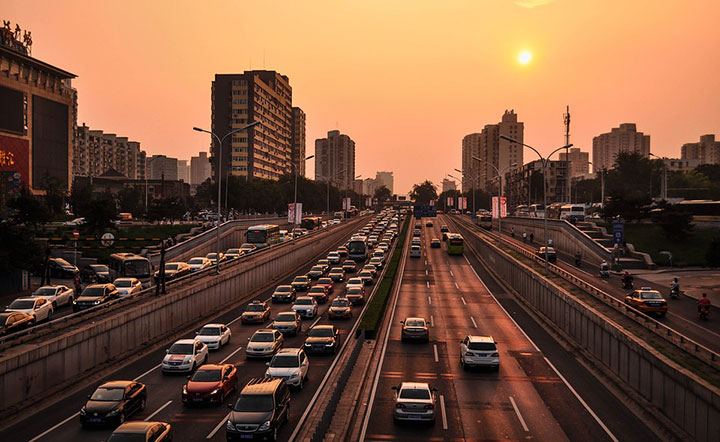 If you want to visit a destination close to a city, like the Great Wall near Beijing, you can book a taxi or private car. Taking public transportation, like buses, is cheaper, but the process can be complicated and difficult to navigate if you don't speak Chinese. Sometimes a taxi or private car is the best option.
You can't rent a car in China with a foreign driver's license, and the process of applying for a temporary Chinese license is kind of fussy. That, and traffic in China is notorious for being chaotic and crazy. That said, if renting a car is a must while you're in China, you can read more about that process here.
In Cities
Subway
Many cities in China, including Beijing, Shanghai, Guangzhou, Xi'an, Chengdu, Chongqing, Suzhou, and Hangzhou, have cheap and efficient metro systems. The subway is the cheapest way to get around and it's very intuitive. In many cities you can buy a public transport card that can also be used on public buses. Signage and announcements are all in English, so it's easy to figure out which way to go. Most tourist sites in Beijing, for instance, can be reached by subway. We recommend avoiding the subway around rush hour, however, as it can get very crowded.
China's subway systems are often huge and growing rapidly; Shanghai's metro system is the world's largest rapid transit system by route length, while Beijing's is the world's busiest rapid transit system.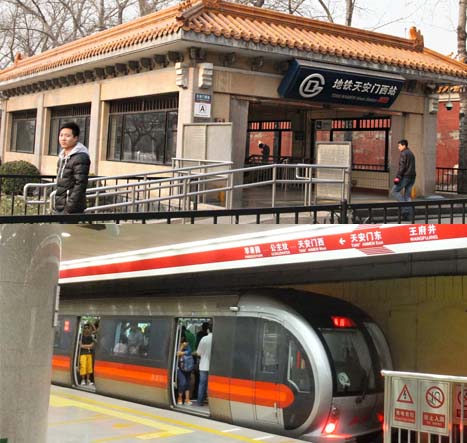 Beijing Subway
Taxis and ride-sharing are also very common in China, and you can easily find a cab outside most major attractions and transportation hubs. The staff at your hotel can always call you a cab if you need one as well. Outside of these locations, though, hailing a cab can be difficult without the use of Didi (the Chinese version of Uber), which requires a Chinese phone number. If you plan on getting a Chinese SIM card during your stay (read more about setting up your phone while in China here), it's a good idea to download Didi, which has an English version, so that you can reserve taxis more easily.
Please note that taxi drivers rarely speak English, so be sure to have your destination written down in Chinese characters.

Taxi
By Bike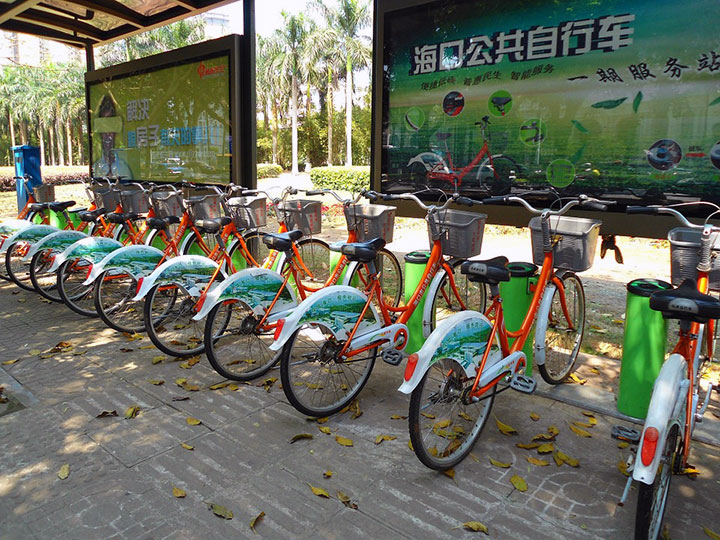 Bikes are everywhere in China! There are numerous bike rental companies in major cities throughout China, and they're a fun, inexpensive way to tour any city. Cycling allows you to cut past traffic jams and see the sights at your own pace. In destinations such as Dali and Yangshuo, cycling is a fantastic way to get out of the city and explore the surrounding countryside.
If you are using a Chinese SIM card, you can simply rent a bike yourself using your phone, or your guide can help you figure it out. Bike lanes are ubiquitous, although riders need to watch out for rogue cars and motorbikes.
The China Guide is a Beijing-based travel agency that customizes private tours, educational student tours, and incentive trips across China. We have more than ten years of experience creating tours for all kinds of travelers from the United States, Germany, France, Spain, the United Kingdom, Canada, Australia, and beyond. We promise all our tours have no hidden fees, no factory stops, no touristy restaurants, just memorable experiences! Learn more about us or contact us to start planning your perfect China trip.
Source https://www.lonelyplanet.com/articles/getting-around-china
Source https://www.bbc.com/news/world-asia-pacific-11949981
Source https://www.thechinaguide.com/blog/the-six-best-ways-to-get-around-in-china