10 Best Website Design Inspiration Sources to Get You Started
According to HubSpot, nearly 90% of web visitors tend to leave a website if they find it poorly designed. This only goes to show how much website design directly impacts your conversions.
However, creating an appealing website design can be challenging due to the unlimited design possibilities. There are numerous aspects to consider, such as the website layout, UX design, and current web design trends.
If you need some inspiration, here are the ten best website design inspiration sites to help generate some design ideas.
Top 10 Website Design Inspiration Sources of 2021
Here are our recommendations for the best website design inspiration sites to help you put together your website design ideas.
1. Behance
Behance is a social network website meant for showcasing and discovering creative work. A wide range of design works is displayed on the page, from graphic to web design ideas.
Furthermore, this platform has one of the largest and most active creative communities in the world.
It has a detailed filtering system, including color, location, or time frame filters. For example, you can search for the most viewed dominantly blue web designs in the United States for this week.
The Tools filter allows you to search based on the software or hardware tools used to make the design, such as Adobe Photoshop or whether a graphic tablet was used.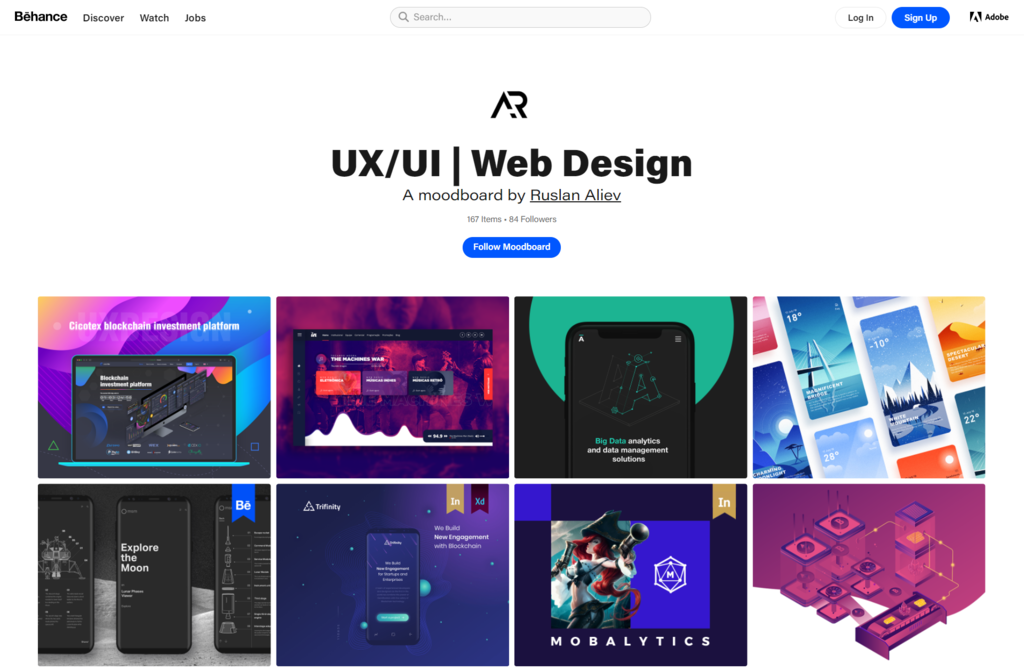 Behance allows you to group your website design inspiration and references with its Moodboard feature. It lets you collect your favorite designs and organize them into boards.
Adding other people to be co-owners when using Moodboard can help you share ideas more efficiently. Make sure that your team members register as members first to be able to grant access.
The member registration is free. A member's benefits include creating Moodboards and customizing their feed to only show the topics and creators they follow.
Detailed search filters. Includes hundreds of filtering options to help you find the closest results no matter your query.
Curated inspirations. Provides a daily "Best of Behance" design collection, selected by Behance's curators, which can be useful for designers as their daily supply of design inspiration.
Insightful Tools filter. Helps people discover the potential works they can create using a particular tool.
Massive library of website designs. The abundance of references can make a user feel somewhat overwhelmed.
2. Best Website Gallery
Best Website Gallery is a collection of personal picks by designer and developer David Hellman. Hellman himself uses this site as his visual bookmark collection, while web visitors can use it as a source of website design inspiration.
Its library consists of "Site of the Day" collections. Every review page shows tags of styles, frameworks, and services used in the said website, allowing web designers to get insights on the elements needed to create such a site.
If you want to see other examples of websites that use a similar style, framework, or service, you can simply click on the tag to see the results.

The search filter includes search options by color, style, CMS, and framework. The CMS and Framework filters are valuable for web designers to estimate the possibilities of creating a website on a particular CMS such as WordPress or Drupal, or frameworks such as jQuery or Bootstrap.
Meanwhile, the Style filter covers many variables, including design elements like background videos and sticky navigation, website types such as portfolios or case studies, and design styles like brutalism or minimalism.
This site also has a links archive that contains articles from external sources related to web design.
CMS and framework filters. Helps web designers to get insights into web design possibilities on particular CMS and frameworks.
Full homepage design screenshot. Each "Site of the Day" review page contains notable screenshots of the website, including a full-window screenshot of the homepage, providing helpful insights about its website design choices.
Limited color filter. There are only 16 color options provided, including monochrome and colorful options. If you want to find website design inspiration in lime green color, for example, you need to find it using green or yellow color filters.
Less frequent content update. Even though it features a "Site of the Day" option, the content update doesn't happen daily.
3. Awwwards
Awwwards is a showcase of world-class talented web design and web development portfolios. It runs an award system, with web design experts from all over the world as the jury. This results in high-quality, inspiring website design examples featured in its library.
These experts evaluate the submissions based on a set of criteria, including design, usability, and content. With a transparent scoring system, all web visitors can see each jury member's scoring for each benchmark.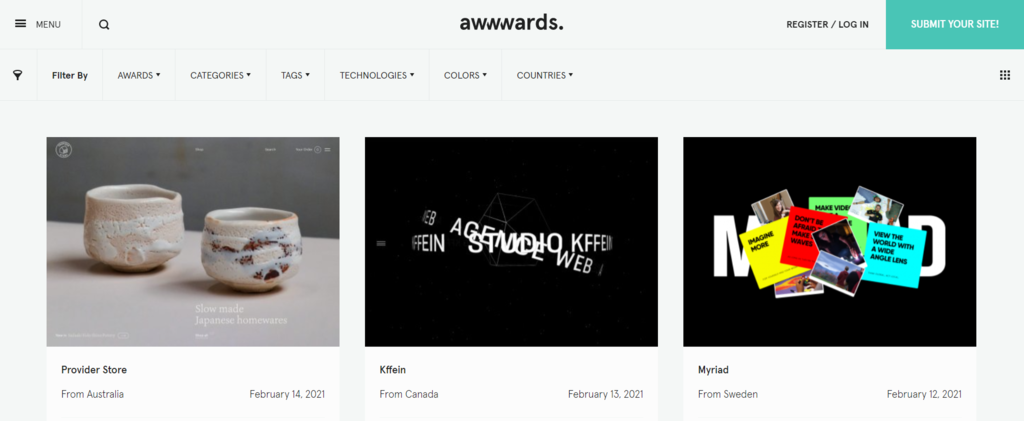 Awwwards has a detailed filter system that can help visitors to find website designs accurately. The filters include Awards, Categories, and Technologies.
For example, the Awards filter provides you with a selection of websites based on the platform's award winners, such as "Sites of the Year" and "Mobile Excellence". This gives you more insights into the best practices in modern web design.
Meanwhile, the Categories filter helps find website design inspiration based on industry, like eCommerce, corporate, and blog-based.
Awwwards also has an extensive tagging system that helps find web design inspiration with similar elements. For example, when you see an entry with a great UI design and social media integration, simply click on the Social Integration tag to get more inspiration on the subject.
The Collections section provides you with a selection of archives based on specific topics, such as "Menu Inspiration" and "Best of Navigation". Each collection is picked by the professional Awwwards team, ensuring the quality of each selection.
High-quality website design ideas. All websites showcased here were evaluated by some of the best website design experts. Therefore, it provides you with the best practices in web design in a convenient and unique way.
Detailed search filters and extensive tagging. Helps you find web design inspiration that matches your needs and niche.
Informative content. Provides such content as learning resources, in-depth articles on the winning sites, and reports on web design trends.
Limited color filter. The filter only provides ten color options, which means you'll need to explore the search results yourself to find web design inspiration with the exact color you desire.
4. Abduzeedo
Abduzeedo is a design-focused digital publication. It's one of the most-visited websites for design inspiration and tutorials.
The website provides insights from various design perspectives, including UI/UX design, branding, and editorial design. This allows designers to find inspiration from multiple forms of design, from graphic design to prints. This also helps them to create a more well-rounded solution.

The Tutorial page provides helpful learning resources such as 3D effects tutorials, Photoshop design tips, and the SwiftUI source code that you can apply to your website to get the look of an inspiring application.
The Collections page offers content based on topics, such as Design and UI/UX. It also has an Interviews page which consists of insightful interviews with top designers and an Office page with its office inspiration and gadget reviews.
Abduzeedo also offers ABDZ Weekly Digest, their free weekly newsletter, to keep you up-to-date with the latest design news.
Multi-discipline design inspiration. Contains inspirations from various design fields, including visual design ideas and design-related articles, providing you with visual and design-oriented inspiration.
Lack of a dedicated section for web design. There's little information about the process that goes into designing a website. To find more content about web design, you'll have to find it yourself.
5. Designspiration
If you're familiar with Pinterest, then Designspiration is like a design-focused version of it. It allows you to save design inspiration articles and organize them into collections.
Sign up to save images, create custom collections, and adjust your home feed to only show topics that you like.
On Designspiration's homepage, you'll find four tabs – Home, Popular, Everything, and Topics. Home contains the most recent posts from people you follow, Popular has the currently-popular images, Everything includes the most recent design entries, and Topics provides topic-based collections.
Topics offers collections based on various visual art fields and include several collections related to web design, such as landing pages, website templates, and responsive web designs. This section can help you explore web design inspiration in a more organized way.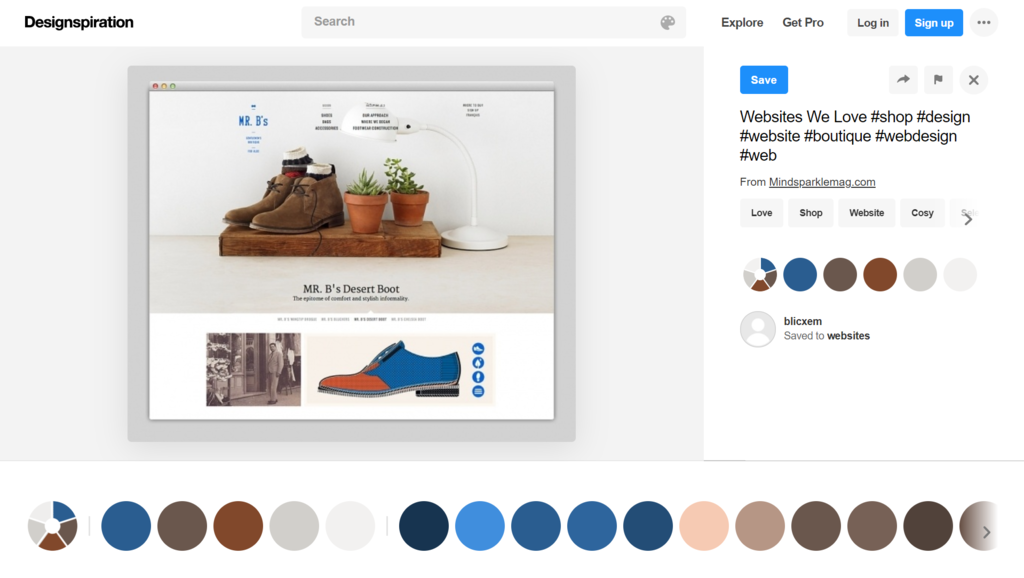 Click on an image, and you'll see a page that shows the source website, tags, and the color palette. The color palette can be your source of inspiration in building color combinations for your website.
Choosing color palettes is essential because it helps you maintain consistency across all your designs. Also, some color patterns carry particular meanings for you to explore as well. Click on any color in the palette, and it will show you other images in the same hex color code.
The search bar lets you pick colors from the color spectrum, resulting in more comprehensive color options, allowing you to find design inspiration in more accurate colors. Select up to five colors to search images based on color palettes.
Designspiration offers a premium account for $5/month. It will grant you access to create a Vision mood board, and it's 100% ad-free. Vision boards itself is a digital mood board consisting of images, text, and objects that are useful for pitching ideas or giving presentations.
Search based on palettes and hex color code. Useful to find design inspiration with the exact colors you desire.
Search results show multiple forms. When you search a keyword, the search results will appear in four tabs – Saves, Collections, People, and Stock Photos. It provides multiple references for your queries.
Free membership comes with advertisements. Only the premium account is ad-free.
Lackluster search engine. There's no detailed filtering system. However, it does have an exceptional color filter.
6. siteInspire
SiteInspire is a website that showcases the best website and interactive design.
Its search filter has an extensive tagging system, which helps you find the exact inspiration you want to look for by using the multiple tags provided. The tags cover Styles such as video background, grid layout, and unusual navigation, Types such as portfolio, shop, or corporate website, and Subjects like automotive, government, or food and drink.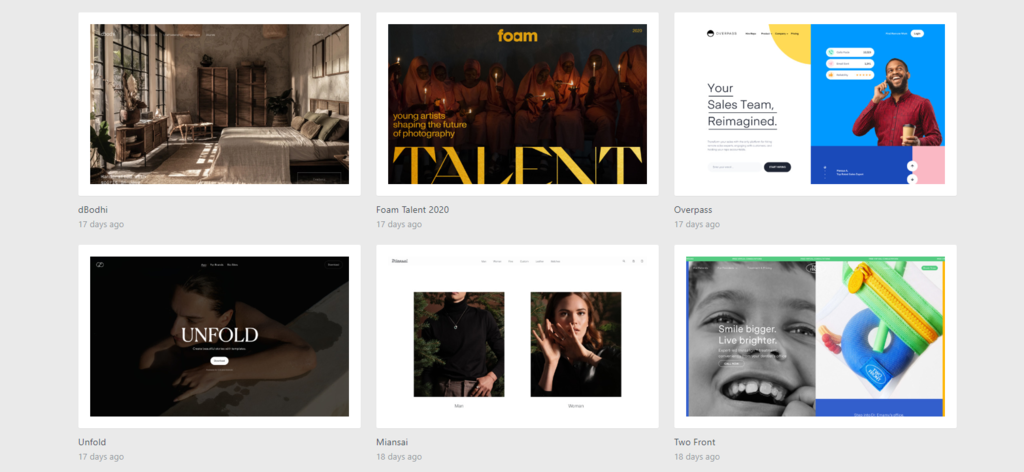 The web design itself is simple and organized with a neutral color background, allowing you to focus on the web design showcase.
If you sign up as a member, you'll be able to save and add your favorite website designs to your collections, which is useful when searching for web design inspiration for future reference.
SiteInspire also has a Directory page that can help you explore web designs based on their web designers or design agencies.
Detailed tagging system. Search with multiple tags to find the most accurate results of your queries.
Lack of other content. This website focuses on showcasing the best website design inspiration only.
7. The Best Designs
The Best Designs is a website that provides inspirational website design examples. Visitors can filter the design entries by style, color, industry, or genre, helping them to find the closest web design inspiration to their query.
On the homepage, you'll find a featured "Design of the Day" that displays multiple web page screenshots for the winner. This helps visitors understand what makes a website's design unique and inspirational.
It also has a dedicated tab for reviewing high-quality WordPress themes available on the market.
Its Collections tab consists of listicles of the best web design inspirations. For example, the "41 Websites & Themes with Beautiful Landscape Photos & Video", which shows web design inspiration for visitors who are attracted to nature-related visuals. This article provides insights on layouts that highlight landscape photos and videos and ideas on how a nature-related site can look like.
Multiple screenshots to showcase a website. Visitors don't have to click anything or navigate to another page to get the website design ideas.
Insightful WordPress themes review. Informs people about the capabilities of mentioned website themes and provides web design inspiration for other platforms' users.
Less inspirational website design. The Best Designs' website design itself is rather plain for a website that provides web design inspiration.
Less up-to-date content. Even though it has "Design of the Day", this website doesn't update daily. This means there is less frequent content for you to get inspired.
8. Dribbble
Dribbble is a platform where designers can share their works, grow their skills, network with each other, and find creative jobs. It always has new design entries, making it one of the best places to find web design inspiration.
Dribbble's comment section, titled Feedback, is a valuable source for learning from other users and gaining insights into what kind of designs people appreciate.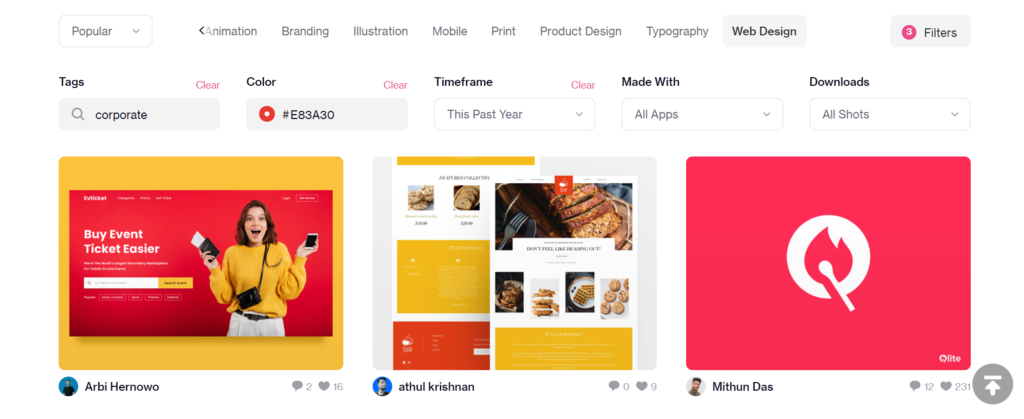 This website has a detailed search filter. There are also several design fields to choose from, such as product design, typography, and web design. Enter your keywords in the search bar, then apply the filters to get more accurate results for your query.
The filters include Timeframe, Made With, and Color. For example, search for "mobile web design user experience made with dreamweaver this past month", then select the color or enter the hex code.
In the Learn Design section, improve your design skills by joining webinars or static online courses taught by design industry experts. This can help generate some design ideas and also helps you to hone your design skills.
This platform offers a Pro plan for $5/month and a Pro Business plan at $15/month. The Pro plan includes instant design portfolio creation and access to shot scheduling, which allows you to upload your design works at a designated time.
The Pro Business plan includes all the previous plan's benefits, plus business-related features such as access to the Project Board, which provides you access to contract work job postings.
Detailed search filter. This helps find website design ideas more accurately.
Massive source of inspiration. There's a wide range of design works, from graphic design to web design. That means you'll have more materials to get inspired from.
Too many exciting designs. Dribbble can be distracting for some people due to its abundance of content.
9. Brutalist
Brutalist is the opposite of other web design inspiration sites – this website aims to share non-traditional web design ideas. It showcases a selection of websites with bizarre layouts, intriguing navigation, and unrefined web design. If you want to find unique web design ideas, Brutalist is one of the great places to start.
Websites featured in Brutalist belong in niches that may not appeal to the general public. Most of them completely ignore optimization tips and best practices of web design. However, depending on your website's intent, this site can give some inspiration to provide a memorable experience on your website.
This website is a straightforward showcase, with each screenshot of the featured websites linked to the respective site. The only other activity that web visitors can do in Brutalist is to submit their own site through a submission link on Brutalist's homepage.
Unique library of web designs. It's an excellent website for web designers who want to get insights into expressive web designs.
Lack of other content. This website's sole focus is to showcase sites with unique web designs.
No social media. The only way to get inspiration from Brutalist is through the website. Interactions tend to be one-way, so if you're looking for some discussion about non-traditional website design, you'll have to find it on other platforms.
10. TemplateMonster
TemplateMonster is a marketplace that sells website templates, themes, and other digital products related to web design. It's an excellent source for website design inspiration since quality website templates usually apply the best website design practices.
Use the resources in this website as the starting point in creating your website design. Take inspiration from a theme, then make it to match your needs and niche.
TemplateMonster provides website templates and themes for various platforms – including WordPress, Shopify, and Bootstrap.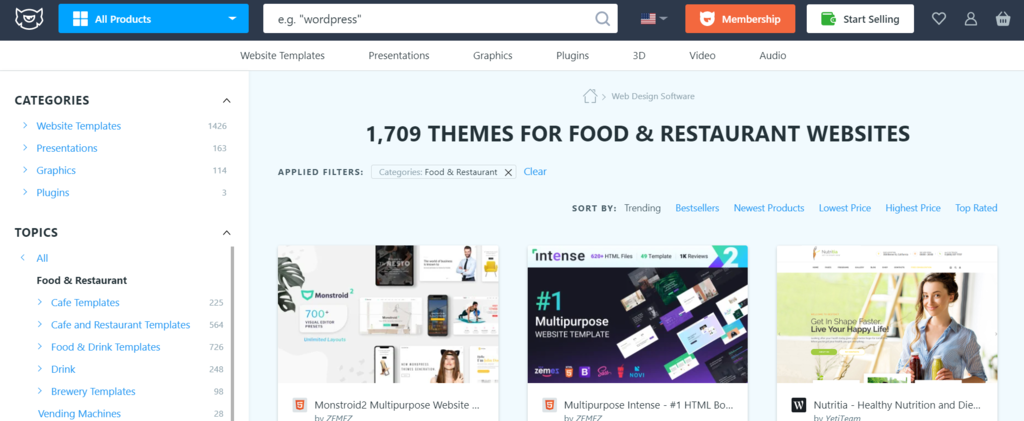 This website also categorizes its products based on industry, which is helpful because different industries may need different design approaches. There's a wide range of industries covered here, from beauty to sports.
TemplateMonster also offers ONE Membership, the benefits of which include access to more than 80,000 premium items, commercial license, and technical support. The monthly plans start from $7.40/month, and the one-time fee costs $599.
Massive library of website design resources. This website offers various design components like logo templates and UI elements. It provides inspiration for various elements of website design, such as ideas for the best font.
Extensive design options based on industry. TemplateMonster ensures the various needs no matter the client type.
Lack of search filters. Since this website's primary purpose is to sell products, the search feature is product-based. Visitors can't make queries based on design-related queries such as website type, design tool, or colors.
Conclusion
There's a massive amount of web design inspiration out there for any kind of website idea. However, it may overwhelm you when you're just about to build a new site.
To help you find the best inspiration for website design, we have listed the best design websites for you. Here's the summary of the list:
Behance – offers all the necessary tools to collect ideas for web design projects.
Best Website Gallery – great if your primary focus is on the web development side.
Awwwards – world-class entries with an insightful, transparent scoring system.
Abduzeedo – multi-discipline design news and interviews.
Designspiration – easy to save and organize images, extensive color filter.
siteInspire – includes a highly detailed search tool.
The Best Designs – particularly helpful for WordPress users.
Dribbble – highly active community from around the world.
Brutalist – eccentric library of websites.
TemplateMonster – resources to learn from the established design components.
We believe that with the resources we've provided, you'll be able to create a great website design that suits your needs and niche.
If you have any suggestions yourself, feel free to leave us a comment below.
Discover
website Ideas & inspiration
All our packages come with features that add value to any modern website design contest. While choosing a package, think about the variety of designs you would want to see, the number of designers you would want to compete for your contest and of course, your budget. Our higher-priced packages give you more design options and better support. When you choose a bigger package, the prize money for the winning designer is bigger, too which will attract more experienced designers to participate in your contest, so you will get more high-quality website designs to choose from. So no matter what package you choose, you will get the design you will love. If you're still unsure, contact us for a free design consultation.
Can I use my own images in my design?
Yes. You can use your own images by uploading them to the brief of your contest. Images could be of your logo, product photos or reference photos. To get more accurate results, designer may also use stock images in your contest, which may be purchased from a third party. If a designer uses stock art in a design, they'll tell you which images they are and use watermarked versions of them in their entries. Once you choose the winning design, you'll need to purchase the stock art and provide it to the winning designer so they can complete the design.
Do I get the copyright of the design?
Copyrights are owned by the designers for their respective designs until they transfer the rights to the contest holder. Whenever a contest holder declares a designer as a winner for a contest, the copyright and ownership to that winning design are transferred over to the contest holder. All the exchange of files and transfer of copyrights and ownership happen during the Design Handover stage. Contest holders can always print the Design Transfer Agreement for their records or access it at any time through your Design Handover page.
Can I work with my designer once my contest ends?
Yes! Whenever your web design contest gets over, you can start a 1-to-1 Project with your winning designer.
Is there a way to make my website design contest confidential?
Yes, you have the option to make your modern website design contest confidential by selecting "Non-Disclosure Agreement (NDA) & Search Engine Privacy" add on while launching the contest. This will automatically attach a standard NDA template to your contest. If you prefer, you can also upload your own NDA. Making a contest private ensures that no designers can view the brief without signing a non-disclosure agreement (NDA). Also, the brief does not appears on search page results as the web crawlers can not crawl the page. So your contest is protected from search engines as well.
How many web page designs are included in your package?
You would get one uniquely designed webpage with your modern website design package. You can purchase additional webpages at the time of posting your contest and pay the extra cost per web page.
Is there really a 100% money back guarantee?
Designhill offers a 100% money-back guarantee within 60 days of payment on all Web Design Contests, except those with a guaranteed prize and those that have entered selected a design as a winning design. It does not matter if you have signed the Design Transfer Agreement or not. Once you have selected a winner you waive your rights for a refund and thus can no longer ask for any refunds. You can also call us anytime to help you rewrite your brief, reopen your project to ensure you get a good result and help you pick a winning design. Remember, if we refund your contest, you aren't legally entitled to use any of the designs submitted to your contest.
How can I get website design ideas?
You can browse through thousands of unique and modern website designs created by top designers from around the world. You can message the designers to speak to them or even hire them if you like their work. Find the best website ideas and inspiration on Designhill.
As featured in.
Latest Posts on website Ideas & Inspiration
The global pandemic has transformed the lives of so many individuals in the working population. As businesses shift from tradition.
Are you planning to start creating and selling your art through NFT marketplaces? If so, the first thing you need is a logo to pro.
There are numerous options for baby boomers or budding entrepreneurs to get started with something successful in the business indu.
The real estate industry is dotted with hundreds of new and established companies. And, for these companies, the foremost way to c.
Infographics are one of the easiest ways to grab audiences' attention instantly. Unlike blogs, infographics provide you the key de.
A table shows your data/information in an organized way with columns and rows. It let users quickly pick the required information.
One of the oldest tricks in the ever-changing marketing playbook, the brochure is still as effective a marketing collateral as any.
Does your brand appear consistently across your company and all your marketing channels and platforms? Can your employees and part.
Designs play a vital role in the stationery business; but unfortunately, many entrepreneurs do not take their stationery designs s.
Even if the digital revolution is ruling the modern marketing strategies, the conventional techniques, such as brochures, are stil.
Small business entrepreneurs have many opportunities that they can explore successfully; all they need is a great small business i.
A memorable logo design is essential for running a successful business these days. Such a logo becomes an effective tool to build .
See what our happy customers have to say!
Check out our customer reviews ( 4.96 / 5 average from 37527 ratings)
"The website design contest worked well. The only complaint I have is that it should be more clear that one still needs to find someone to build the website after it is designed. I have not done this before and assumed I would be left with a functioning website, which is not the case."
The website design contest worked well. The only complaint I have is that it should be more clear that one still needs to find someone to build the w. READ MORE
testimonial
Popular Graphic Design Inspiration Categories
Report Design
View Service
A design you'll love or your money back. It's that simple!
World's No.1 Graphic Design Platform
Quick turnaround time
100,000+ Satisfied Customers
70,000+ Professional Designers
Receive dozens of designs to choose from
Receive print and web-friendly art files and full copyright
Complete Copyright & Ownership
24×7 Free Customer Support
100% Money Back Guarantee! No questions asked!
Have some questions? or did not find what you were looking for? Don't worry! We can call and help you right away!
Likes
Designhill is world's leading creative marketplace that caters to the creative needs of businesses of all sizes and individuals alike. You can source high quality designs from a global community of professional designers and buy unique products.
Money Back Refund Policy
Our Refund Policy
1.1) Contest refunds – Contest refunds – Contest holder/Client is eligible for and can request a full 100% refund in respect of a contest if: (a) He/She requests a refund in writing using their registered email id ("Refund Request");(b) He/She has not selected a winning work from the designs submitted (if any). It does not matter if the Contest holder/Client has signed the Design Transfer Agreement or not. Once the Contest holder/Client has selected a winner they waive their rights for a refund and thus can no longer ask for any refunds. ;(c) The contest is not a guaranteed contest; and(d) The refund request is made within 60 days of launching the relevant contest.(e) He/She has signed the Non-Use and Indemnity Certificate.
1.2) Graphic Design Services Refund – If you're not happy with how the job went, you can raise a dispute. Disputes will be fairly judged by our Design Experts. You will receive a full refund if we feel the designer has not provided the level of service you paid for.
1.3) Graphic Design Subscription Refund – We generally offer a 1st free task to all our clients to try our graphic design subscription service, however, after signing up if you are not satisfied you can opt out of your monthly subscription.
1.4) Exceptions – Notwithstanding the terms above Contest holder/Client is not eligible for and will not receive any refund where: (a) The contest is guaranteed and therefore ineligible for a refund; or(b) The Contest holder/Client has already selected a winner and has started the Winning Work.
10 Most Beautiful Travel Website Designs for Your Inspiration
"There is such a lot of world to see." This was an overnight hit resignation in China. I think most of us have not yet had the courage to quit our jobs and travel all over the world. But traveling is always one of the best ways to relax.I like traveling a lot, and I often go to some travel websites to discover the best places for my traveling. Also, I found a lot of inspiration for my design work. Here I collected 10 best travel website designs with different themes for you, hope you guys enjoy it.
9 travel website design tips
Users need to focus on main information
Display with the unique and exquisite background photo
Complete and detailed hotel information
Reduce the error when switching photos
Special information should be marked specially
Vivid illustrations comment page
Mobile-friendly
Reduce the input box and the required items
Authenticity
The following 10 high-quality travel website design examples are listed based on the above design principles.
1. Airbnb
Airbnb is a travel rental community, for people to lease or rent short-term lodging including vacation rentals, apartment rentals, homestays, hostel beds, or hotel rooms. You can enjoy local cuisine and culture in London, Paris, Japan, Rome and other countries. According to the official website,the community platform offers millions of unique lodging listings in 65,000 cities in 191 countries. Airbnb was called "The eBay of entire house" by Time magazine.
UI Design: The overall style of the site is about showing beautiful photos all over the world, the photos not only present the local culture from different places but also show the exquisite interior design of the rentals.
User Experience Design: The booking information is complete and detailed, and the CTA is placed visibly. In addition, each item has comment area to improve the authenticity of the entire site.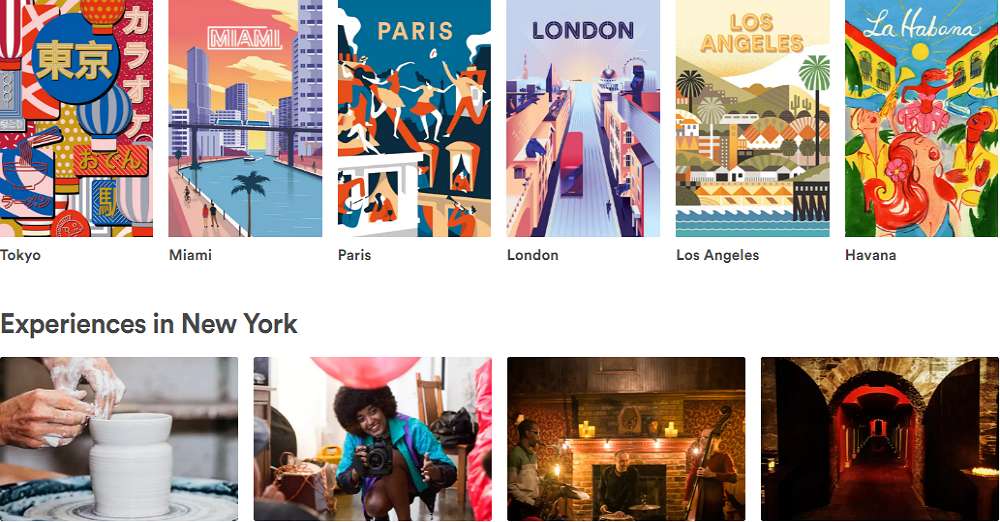 2. Another escape
Another Escape is an outdoor lifestyle, creative culture and sustainable living publication that explores the stories of passionate people, alluring landscapes, and intriguing ideas. It covers a disparate selection of subject matter all deep-rooted in exploration, creativity, innovation, and discovery, and aims to be a source of inspiration for those who seek an active and considered lifestyle by encouraging an optimistic, forward-thinking and responsible mindset.
UI Design: The design style of the entire site is based on outdoor life, a large mountain background is really stunning, you can scroll down to see more outdoor adventure-themed photos.
User Experience Design: The entire user experience of the website is well designed. Although the navigation bar is not on the top but placed in the right location which you can see it obviously, also, you can click the navigation bar to see more information you want to know.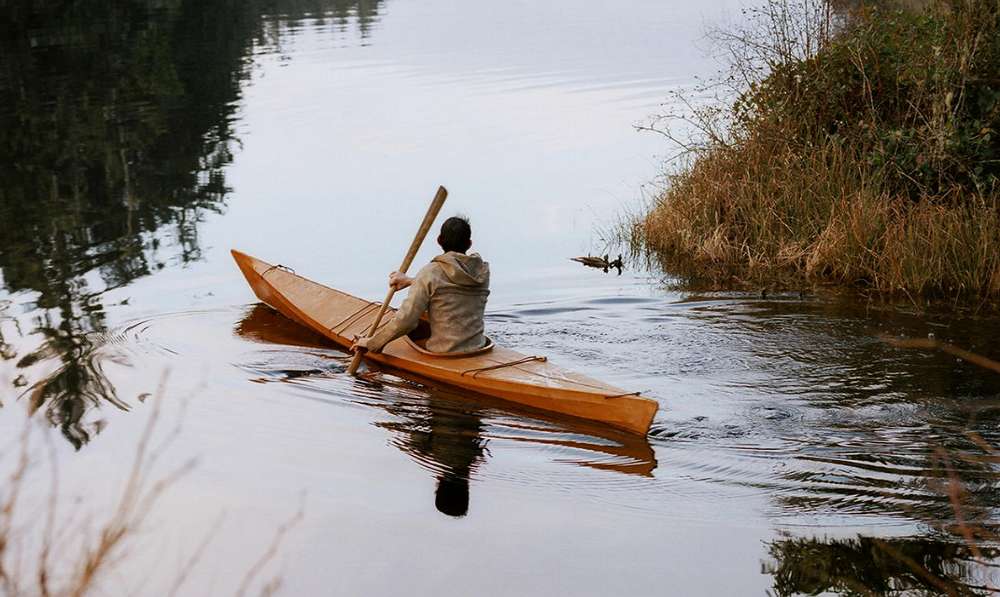 3. Design hotels
Design hotels unlike Airbnb, is a publicly traded company providing hospitality services to a network of over 300 independently owned small boutique and luxury hotels in over 50 countries worldwide. You can choose one of your own unique hotels at the best price.
UI Design: The visual structure of the pages is not cluttered; it is well balanced with an emphasis on huge photos. The rest of the UI exists like the frame for the photo, which helps to draw attention to the beautiful design hotels.
User Experience Design: The layout of the entire site highlights important information, such as hotel listings, hotel sales, and more. Users can see what they want to know at a glance. The CTA is also well placed and visible. What's more, the open speed of the website is really fast, and the booking process is easy.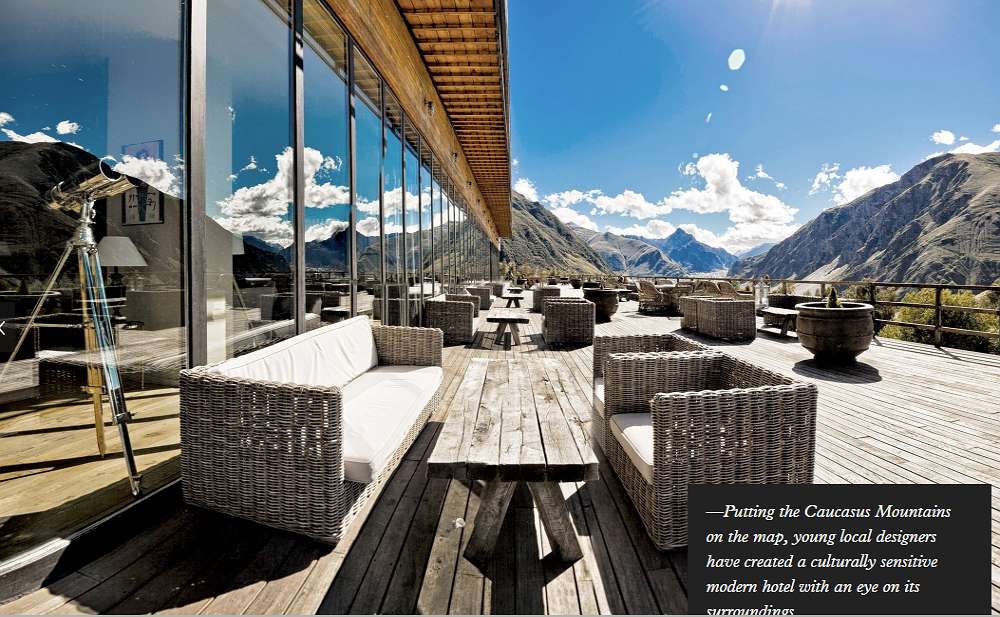 4. VisitFinland
Want to see the Northern Lights? Want to see the real Santa Claus? Want to see the Wild Nature? This is the official travel website of Finland, provideing all travel information about Finland.
UI design: All the main information are showed by big amazing Finland view photos. The homepage design based on white color and with special animated map make the site design more interesting and unique.
User Experience Design: The website provides complete tourist information in Finland, and tells users what the hot items are, what items are worth watching. Users can scroll down the page to see the specific details. It provides different language selection for different needs. It's one of my favorite sites.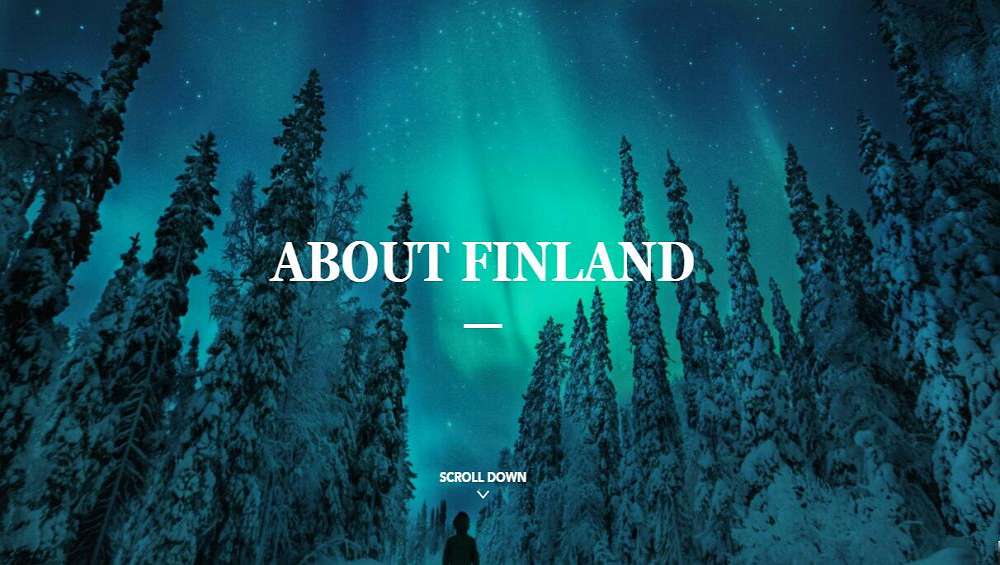 5. The Yacht Week
If you are tired of forest and land adventure, this site can provide you with the best yacht adventure. Wake up every day with a new journey, new islands, waiting for you to explore. And you can sail, party and live on a yacht with your friends and hundreds of other Yacht Weekers
UI Design: The design theme is about sea life, the main color is blue and white. Of course, the main information is also highlighted in the form of showing photos and persuasive video guide.
User Experience Design: Although the text of navigation bar is small, but the overall structure is complete. You can feel free to get the information you want with just a few clicks. The site also provides specific booking tutorial.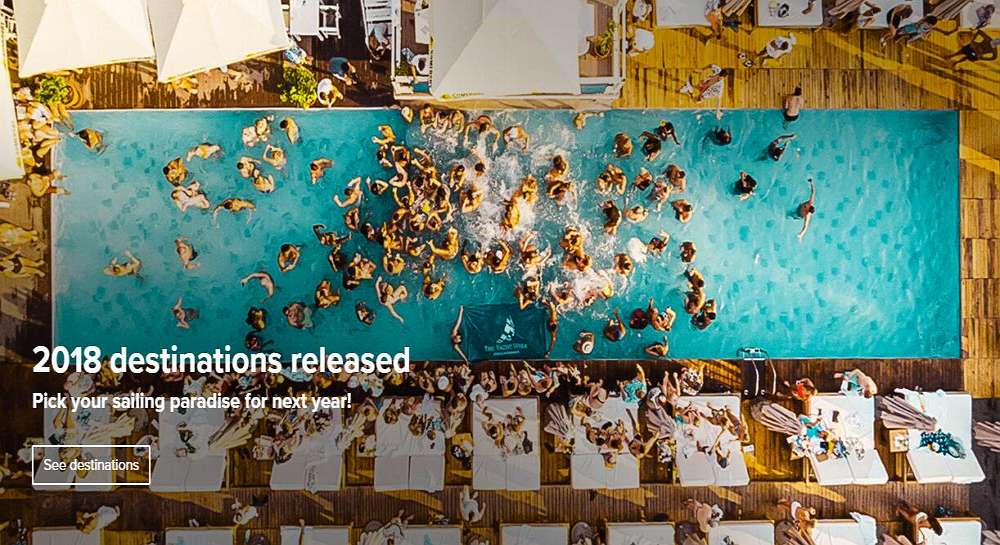 More travel website examples:
6. Pitch Tent- Camping and exploring the best of what the UK countryside has to offer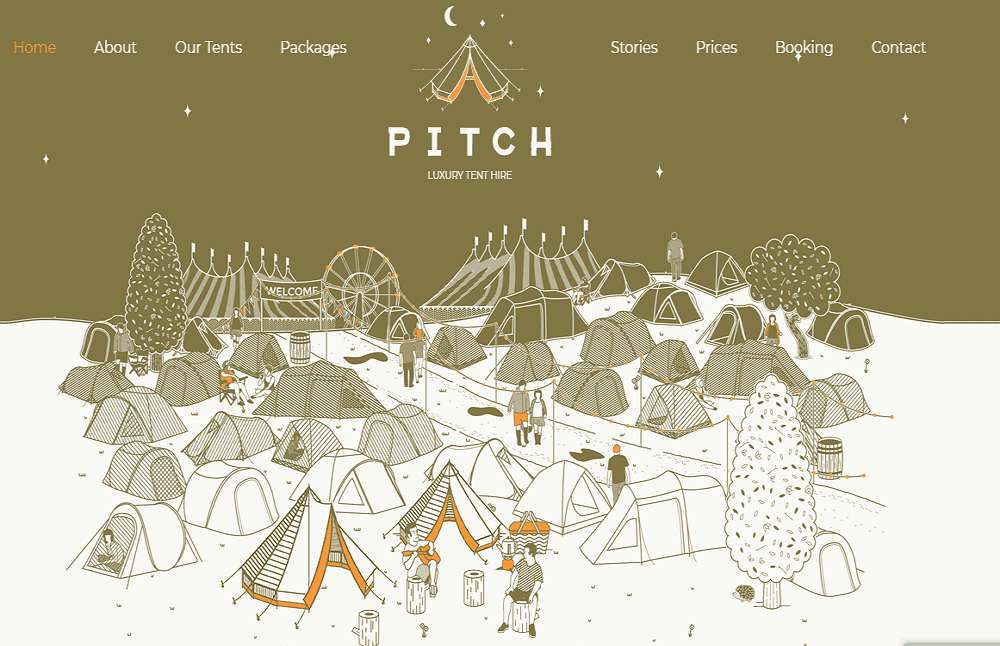 7. Parley Manor – Wedding travel website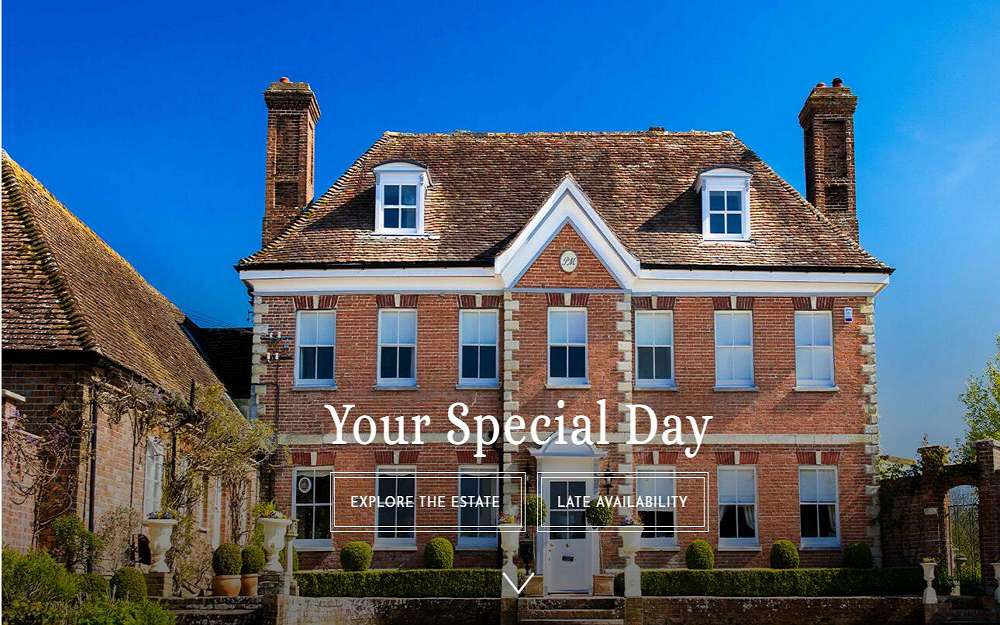 8. Jackaroo Caravans – RV travel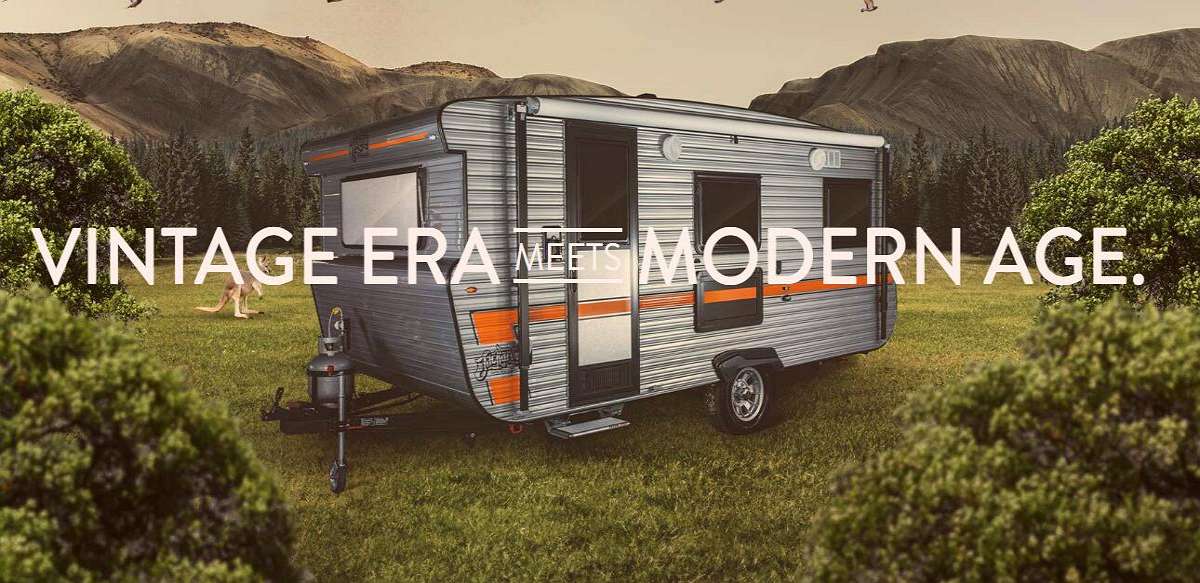 9. Turneffe Island Resort – Island resort on the coast of Belize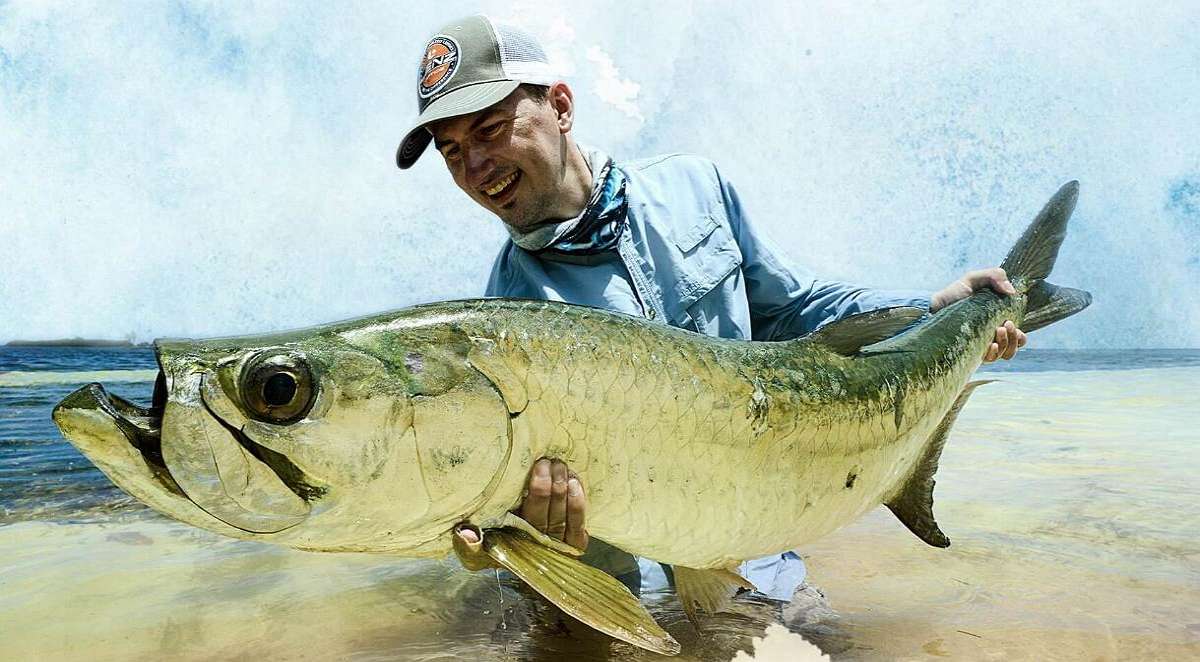 10. Outlines – Journeys beyond the map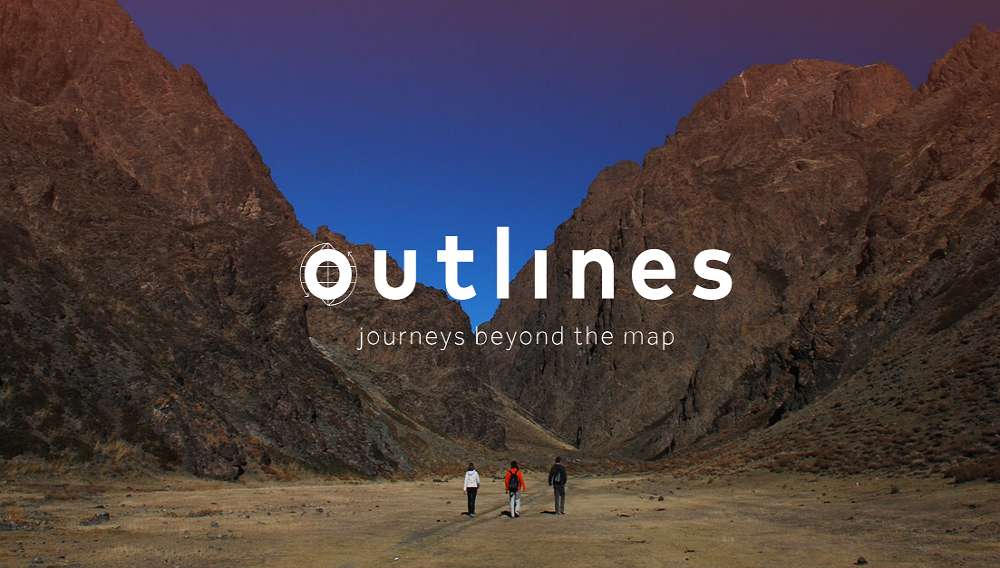 Takeaway
How to design an amazing travel website efficiently by using web design tools?
Now that you have mastered the basics of travel website design principles, and with above exquisite and beautiful website designs inspiration, the only thing you need is an excellent design tool to make your imagination become reality. Here I recommend one of the best web design tools-Mockplus, which makes the prototype faster and easier for just five minutes with no coding knowledge needed. The best features for web design include:
3000 icons (including vector icons) and 200 built-in components
There are web projects, free projects, as well as custom projects for a variety of options
With easy drag and drop to complete the interaction
Short learning curve
8 kinds of preview for you to choose, easy to publish and share
The new "Repeater" and"Auto fill" function can reduce a lot of repeat time
Team collaboration allows you and your members to communicate without barriers


Conclusion
Travel website design is all about the stunning big photo to showing the people the best places. Designers should consider these specific needs from users. Hope you can learn something from above.
Summer ye
In- house content editor, specialize in SEO content writing. She is a fruit lover and visionary person.

Mockplus Cloud
A design handoff and collaboration platform to streamline your entire product design workflow.

Mockplus RP
A fast and free online prototyping tool that makes your ideas fly.

Mockplus DT
A vector-based UI design tool enables you design in the way you want to.

Mockplus DS
Your single source of truth to build, maintain and evolve design assets in one place.

Free prototyping, design handoff and collaboration
Source https://www.hostinger.com/tutorials/website-design-inspiration
Source https://www.designhill.com/i/website+ideas+inspiration
Source https://www.mockplus.com/blog/post/travel-website-design