Salt River Rafting
Is this a popular destination for white water rafting?
When does the season begin and end for Salt River rafting?
***TRY TRUCKEE RIVER RAFT IN TAHOE: Uncover Truckee River Raft in Tahoe in our rafting review feature. Truckee River Rafting.
Salt River is a popular getaway and rafting destination for residents of Arizona and nearby states. Although many rafters don't go out of their way to visit this location if they live too far to get there reasonably, it's a great option for those who are close enough to make it to this beautiful river.
***VISIT ROYAL GORGE WHITE WATER RAFTING: Uncover Royal Gorge whitewater river rafting in our review feature. Royal Gorge Rafting.
This is the only whitewater rafting option in the Phoenix, Arizona area, and it provides Beginner to Intermediate thrills with a few Expert possibilities. The season for Salt River rafting begins in March and ends in May, although other times of the year may work out better, depending on weather and crowds.
***YOUGH WHITEWATER RAFTING: Experience Ohiopyle whitewater rafting in our Yough River feature. Ohiopyle White Water Rafting.
In this article, we've broken down some of the basics of rafting this river. Check out the information we've gathered below to help you decide whether or not this river is the right destination for you.
JUMP TO A SECTION:
Salt River Rafting Basics
Before you can get started planning your trip, it's important to brush up on the basics of Salt River whitewater rafting. Read through this section to learn more about what you can expect from the trip. The more you inform yourself ahead of time, the more likely you'll be to plan the best possible Salt River trip for your needs.
***GLACIER RAFT CO IN GLACIER NATIONAL PARK: Discover the West Glacier with Glacier Rafting Company in our Glacier National Park raft feature. Glacier Raft Company.
Remember, too, if you're bringing along friends or family members, you should always consider their needs as well. While you may be able to handle a more expert level rafting experience, for example, you may be bringing kids or friends who are still beginners. Choosing the best rafting excursion for everyone on the trip is one of the most crucial parts of the planning process.
Option #1
Difficulty: Intermediate, although trips are available for Beginner to Expert classes
Salt River contains a wide variety of different rapids areas. Depending on the skill level of you and your friends or family, you may want to choose a trip that encompasses one part of the river over another. Some areas are better suited for experts, due to their increased speeds and difficult rapids. However, much of the river is ideal for beginner to intermediate rafters and can easily be managed by those who are new to the hobby. Choose a tour with a guide if you have any concerns about the members of your group.
Option #2
Location and how to get there:
The Salt River is located east of Phoenix, Arizona. When leaving Phoenix, take Highway 60 East. At Apache Junction, turn left onto Highway 88 to head Northeast into the Superstition Mountains. The Salt River is located just off of Highway 88 to the Northeast of Phoenix .
Bear in mind that, if you're going to be rafting with a tour group or company, you may need to find a different location to begin your trip. You will probably be looking for the outpost or rest area belonging to the company you'll be working with. Check the company's individual website for more detailed directions.
Option #3
Duration of the trip
There are many trip durations available when touring the Salt River . Pick one depending on the stamina and abilities of everyone involved in your party.
Half-day trips are one of the best options for the Salt River. They give you the chance to experience the Class III and Class IV rapids on the river without wearing yourself out if you're inexperienced.
You can also choose to do a full-day excursion if you're looking for something more challenging.
Some trips are available in two-day, three-day, and four-day options as well . For these trips, you'll be camping overnight along the Salt River, so be prepared for sleeping outdoors.
Last but not least, you can always opt to do a "sprint," or a short distance over the course of just a few hours.
The Salt River is easily accessible from Phoenix, Arizona, and is a good day or weekend trip from many other major cities in Arizona as well. This river is a beautiful, clear, and fresh body of water that has enough rapids to keep outdoorsy individuals entertained without being too difficult to manage for newcomers to the hobby. There are different types of rapids along the river, some of which are perfect for floating . Other portions of the river can provide a more intense experience for those interested. If you don't choose to raft on the river and prefer something a little easier for yourself and your family, there are many sections available for tubing as well. Check along the river for rental stalls and shops where you can find tubes and family rafts for this experience. Otherwise, if you do plan to raft, there are plenty of rafting companies available in and around the area to help you plan the perfect getaway.
Salt River is a popular local whitewater rafting destination, so it's great for those who may live in Arizona and who want to find a nearby attraction for their vacation getaway.
The Salt River has a little something for everyone, so you don't have to feel excluded just because your skill level may not match that of the rest of your group.
Those who are looking for group rates and get-togethers on the Salt River can easily find many different companies and tour guides who are willing to provide discount group rates and make your event a memorable one.
The Salt River may be difficult to raft depending on the weather, particularly when temperatures climb well over 100 degrees Fahrenheit in Arizona during the summer months.
Although the Salt River isn't as popular with tourists as it is with locals, there are times of the year when it may be very packed with guests and visitors, and it may be too crowded to really enjoy a true whitewater rafting experience.
Those who are looking for extreme, intense thrills may want to look elsewhere, since this river is overall more of an intermediate class experience with just a few short expert areas.
Conclusion
Here are a few good reasons to try Salt River for white water rafting, at least once:
The river is family-friendly in many locations, so you can find something safe for young kids to experience along with you. This can encourage your kids to spend time outdoors and foster healthy activity choices at the same time.
The river is conveniently located for those who live in Arizona. It's not difficult to find, and it's close enough to Phoenix that you don't have to camp in the wilderness if you choose not to.
There are a lot of tours available for this river throughout the year , with options at every skill level.
The river is beautiful and provides tons of natural beauty and scenery for you and your group to enjoy together.
If you're looking for an off-the-beaten-path whitewater rafting adventure, consider heading to the Salt River in Arizona. This location may quickly become one of your new favorite places to vacation, and you're sure to create memories that will last a lifetime for you and everyone traveling with you, too.
We routinely make an effort to implement our editorial practices and policies throughout our web site. This includes investigating every one of our posts thoroughly and always doing our utmost best to showcase the most reliable details possible for our readership. Feel free to browse our About Us Page for more information.
RaftingAddict.com is devoted to providing you all the best inflatable rafting posts from around the internet!
We've done all the searching, studying and curating just for YOU : the curious, soon-to-be rafting addict who needs a fantastic website to help launch their very own rafting adventure obsession!
Get awesome inflatable raft content and articles, rafting resource guides, some of the finest inflatable raft and paddleboard product reviews, rafting resource guides and so much more.
See the very best inflatable raft content articles on the net today on RaftingAddict.com, and don't forget to share us with your family and friends! Thanks for exploring our website and we sincerely hope we're able to help you feed your rafting addiction today!
JUMP TO A SECTION…
Thank you for checking out RaftingAddict! When you purchase through site links on our website, we might earn an affiliate commission, at no extra expense to you. Please be sure to enjoy our website!
Copyright © 2022 by RaftingAddict.com.
RaftingAddict.com is a participant in the Amazon Services LLC Associates Program, an affiliate advertising program designed to provide a means for sites to earn advertising fees by advertising and linking to Amazon.com. Additionally, RaftingAddict.com participates in various other affiliate programs, and we sometimes get a commission through purchases made through our links.
PLEASE REMEMBER: Without the proper training and preparation, rafting, like various other action sports, can quite possibly become a dangerous activity which can cause injury and/or loss of life. RaftingAddict.com shall not be held liable for any accidental injury or damage to property that results from the use of the information and facts on this web site or the products featured. Please be aware of your own capabilities and limitations with regards to the activities and the gear presented within our site. Always be conscious of the potential risks involved and make sure that you consult with an experienced raft operator before undertaking any activity that may beyond your own limitations.
How much experience is need for salt river rafting
By Molly • December 29, 2015
So, you've booked your Salt River rafting trip and you're all packed up and ready to go. But, what should you expect when you arrive for your trip? This is remote location and the nearest town and gas station is one hour away. We have no running water, no electricity, and no cell service. We do not have any credit card processing so be sure to bring cash for last minute purchases. Refer to this step-by-step guide to be sure you're prepared.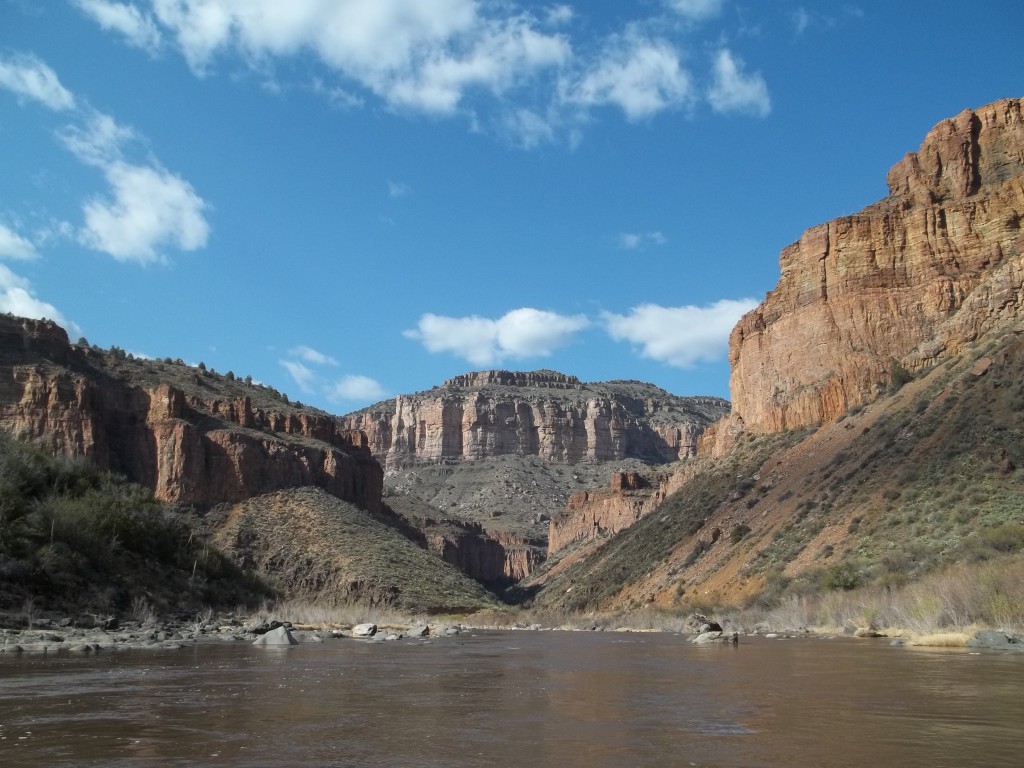 1. Check In
Arrive to the Salt River Office at the meet time listed on your confirmation (9:30 or 11:45) for your Salt River rafting trip. Because the Salt River Office has no direct address, it could be difficult to find so leave about 15-20 minutes earlier than what the directions say. Be sure to print out the directions before you leave, as there is no cell service in the canyon. Once you arrive at the parking lot, park your car and walk over to our check-in area.
2. Fill Out Waivers
When you arrive at the check-in area, check in with our friendly Salt River rafting office staff. They will hand everyone in your party a liability waiver that each of you must fill out. You can also download and print your waivers prior to your trip. They will be attached to your confirmation email that you will receive right after you book your trip. Just bring the filled out waivers with you and hand them to the office staff when you check in.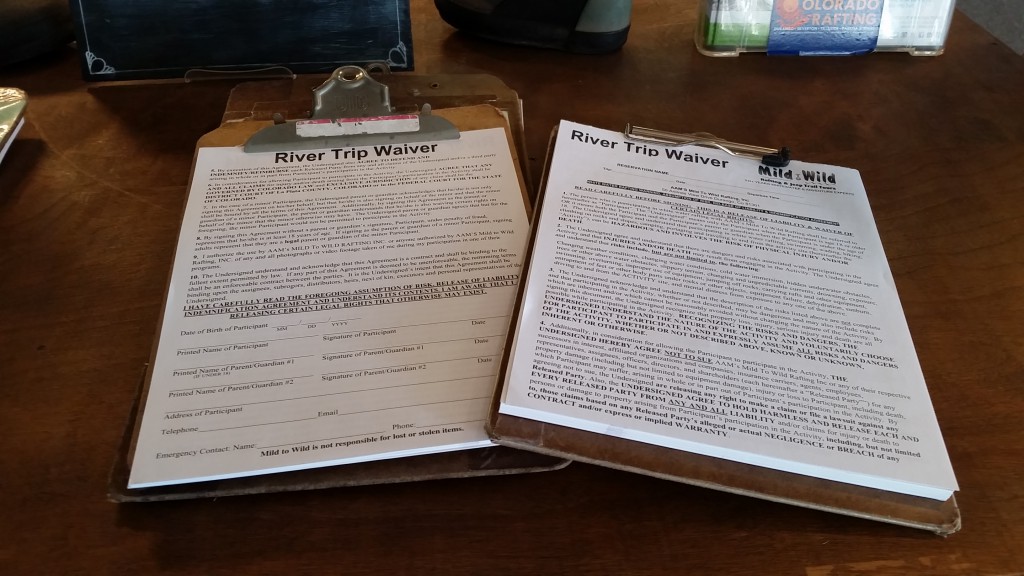 3. Gear Up
Once everyone is checked in, our staff will direct you to the guides who will give you your gear. We provide a free wetsuit and wetsuits boots and will get you sized properly there on location. Since this is a remote location with no permanent building allowed on the tribal lands, our office is temporary and in trailers. So, it is handy to come to the river with your swimsuit on under your clothes so that you can just get into your wetsuits. There will be an area for you to change. Once changed into your wetsuits, you will lock your belongings in your car and leave your keys with our office staff so you don't have to keep track of them while you're on the river.
4. Safety Orientation
Once you are all geared up, you will be shuttled to the river for your Salt River rafting safety orientation and paddling instructions. While the guides unload the rafts, the trip leader will give you a safety speech about what to do in certain situations as well as instructions on how to paddle. He or she will then match you up with your guide for the day.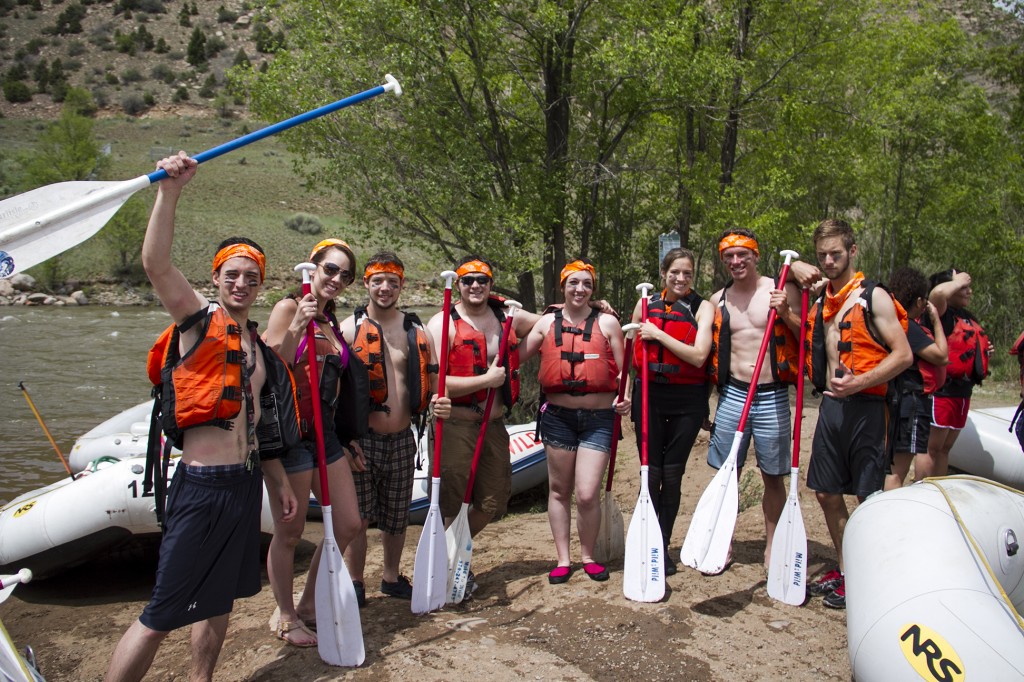 5. Hit the River!
Once your group gets out on the river, you will have a chance to practice your paddling skills together with your guide's instructions. Tackle "Baptism," "Island," "Kiss and Tell," "Bump and Grind," "Grumman," "Mother Rock," and "Overboard" rapids! Break for a delicious hot grilled steak lunch with yummy sides of pasta or potato salad. Then get back on the river for "Exhibition," Cibecue," "Three Way," and the exhilarating "Mescal Falls" rapids!
6. After Your Salt River Rafting Trip
Once you've completed your Salt River rafting trip, you will be shuttled back along Apache Road 1, which can be as exhilarating as the rafting itself! You will arrive back to the parking lot at about 3:00-4:00pm. Once you get back to the parking lot, you will change back into your clothes and take your gear to your guides. You will have an opportunity to see your photos from the trip and purchase them. Take some time to browse our Salt River apparel and souvenirs before you leave!
Start planning your summer vacation! Explore with us on a Colorado jeep tour, a Mesa Verde discovery tour, a ride on the Durango train, or another raft trip on one of our other rivers in Colorado or Utah!
What To Expect On Your First Arizona Salt River Rafting Adventure
At Wilderness Aware Rafting, we offer Guided Arizona Salt River Whitewater Rafting trips. Depending on how much adventure you're seeking we provide half-day, full-day, and multi-day expeditions. We've been giving guided rafting tours for quite some time now, and have the testimonials as proof as to how much our trips are enjoyed by our customers.
One of the most frequently asked questions is what can people expect from scheduling a rafting trip on the Arizona Salt River? For those that have experienced it, there is little more that can be said which you wouldn't already know. But for the virgin salt river rafter, there is a lot you may have not considered or thought of. Read on to find out all you need to know before suiting up, grabbing your paddle, and hucking that rubber!
The Arizona Salt River
The Arizona Salt River is located in the White Mountains of Arizona, and is a confluence of the White and Black Rivers. The mouth of the river begins in Phoenix and is called the Gila river. The Salt River flows for over 200 miles and sits at an elevation of 11,400 ft. The river is fed by a number of perennial streams which begin as springs and run along the Mongollon Rim and the White Mountains. Its had numerous names of the years, including; Assumption, Black River, Rio Salado, Blue River, and River of the Rafts.
Salt River Flora and Fauna
There are a number of fish species that inhabit the river which would make any angler excited. These include; Largemouth Bass, Smallmouth Bass, Sunfish, Channel Catfish, Flathead Catfish, Carp, Rainbow Trout, Yellow Bass, Crappie, Blue Catfish, Yellow Perch, Walleye, Tilapia, Black Crappie, Desert Sucker, and even Bullfrogs. In total there are about 30 prime fishable miles in the Salt River which gives fishermen plenty of options for either sitting on the bank with bobbers or tossing on the waders for fly fishing. If your skilled enough, you could even do some handfishing.
For those that love to view wildlife, there is plenty for you to enjoy as well. For bird lovers, the Salt River is a haven for some of the most beautiful species in Arizona. Birds you can expect to see are Bald Eagles, Ospreys, Peregin Falcons, Harriss's Hawks, Herons, Egrets, Waterfowls, Black-Chinned and Costa's Hummingbirds, Vermilions, Ash-Throated Flycatchers, Bell's Vireos, Lucy's Warblers, Hooded Orioles, Phainopeplas, Northern Mockingbirds, Western Bluebirds, American Robins, and Cedar Wax Wings.
For those that love to view wildlife, there is plenty for you to enjoy as well. For bird lovers, the Salt River is a haven for some of the most beautiful species in Arizona. Birds you can expect to see are Bald Eagles, Ospreys, Peregin Falcons, Harriss's Hawks, Herons, Egrets, Waterfowls, Black-Chinned and Costa's Hummingbirds, Vermilions, Ash-Throated Flycatchers, Bell's Vireos, Lucy's Warblers, Hooded Orioles, Phainopeplas, Northern Mockingbirds, Western Bluebirds, American Robins, and Cedar Wax Wings.
If you're looking to see larger animals, you won't be disappointed here either. The Salt River is home to a great number of species, including; Bighorn Sheep, Deer, Javelina, Coyotes, Foxes, Raccoon, Skunks, Beavers, Gopher Snakes, Coachwhips, Western Diamond Back Rattlesnakes, Dessert Spiny Lizards, Zebra-Tailed Lizards, and many others.
For all the aspiring or actual botanists out there, let's not let you think you're forgotten either. While rafting on the Arizona Salt River, you are likely to see any number of beautiful plants that will line the banks and dot the hills. These include; Ocotillo, Hedgehog Cactus, Cholla, Prickly Pear Cactus, Sotol, Bufflegrass, Cheatgrass, Fountaingrass, Jointed Goatgrass, Quackgrass, Red Brome, African Mustard, African Rue, Dalmation Toadflax, Field Bindweed, Hoary Cress, Cottonwoods, Tamarisk Cedar Trees, Diffuse Knapweed, Russian Knapweed, Leafy Spurge, Onionweed, Malta Starthistle, African Sumac, Camelthorn, Russian Olive, Sweet Resinbush, Tree of Heaven, Feathered Mosquitofern, and a great number of others. There will literally be more to see than capable of, and if it's your interest, there is plenty of time to hike around and have a closer inspection if desired.
Salt River Rapids
The length of your trip will determine exactly how far down the Salt River you will go, and which rapids exactly you can expect to conquer. For Half Day trips you can expect to rip through; The Class II Kiss & Tell Rapid, Class II Bump & Grind Rapid, Class III Grumman Rapid, Class III Mother Rock, Class III Overboard Rapid, and the Class II Camp Rapid.
For Full Day Trips, you will go through all the rapids listed for the half-day, as well as; The Class III Exhibition Rapid, Class II Cibecue Rapid, Class III Three-Way Rapid, Class II Salt River Draw Rapid, and the Class IV Mescal Falls Rapid. When you're not hucking rubber through the knuckle whitening rapids, you'll have the chance to take in the views, relax, and enjoy the serenity of the river. There are plenty of spots to stop to go hiking and venturing through the landscape which lines the Salt River.
For Multiple-Day trips (2-5 days) you'll go through the same rapids, but will be at a more leisurely rate depending on how long you intend to stay. You'll have the opportunity to take in all that this wonderful region has to offer, hiking through various canyons and over the numerous bluffs the surround the area. Not to mention, you'll have the opportunity to camp out under an amazing Arizona Star filled night. You'll be more than well fed and taken care of by your guides, leaving your only concern to be not wanting to return home. We call these longer vacations "river time" which is what we call the state of mind only achieved on an extended stay on the river. This gives you the time to contemplate life, stop contemplating life, spend time with friends and family, and truly receive that "into the wild" feel.
What You'll Want To Bring
What we recommend bringing is dependent on the duration of your trip. For single day trips, you will want to bring the following:
Swimming suit or a pair of shorts that quickly dries
Tennis shoes or sandals that will remain secure on your feet. (No flip flops, you wont be happy if you lose your shoes)
Sunglasses with a securing strap to ensure they don't fall into the river
Waterproof sunscreen
Hat or visor
A fleece jacket or warm insulating layer to wear under wet suit in case you become chilled
*NOTE* Do not wear anything cotton, as it will not dry and only makes you chilled if worn wet
For multiple-day trips, you will want to bring what is listed above for single days, but as well as the following:
Warm sleeping bag and sleeping pad
Personal tent
Another warm jacket preferably wind proof
Rain jacket or a poncho
Dry shoes to wear around camp and to hike in
A towel to dry yourself
A change of clothes to wear at camp
Toiletries
Headlamp and Flashlight
Plastic trash bag to store wet items
Insect Repellent
Favorite or preferable drink, whether soda or alcohol
Your favorite book for downtime, or camp worthy toys for your kids
Hopefully this will have given you a clear idea as to what you can expect from taking an Arizona Salt River Rafting trip. We hope you'll join us soon, as we would love to create some very memorable moments for you, your family, and friends!
At Salt River Rafting Arizona, we love providing the best guided whitewater rafting trips on the Arizona Salt River. If you want to schedule a trip with us, such as a full-day rafting trip, or half-day rafting trip, please be sure to contact us! We'd love to provide you with one of your next greatest experiences and memories!
Source https://raftingaddict.com/saltriver/
Source https://mild2wildrafting.com/rafting-blog/salt-river-rafting-what-to-expect-when-you-arrive/
Source https://inaraftaz.com/expect-first-arizona-salt-river-rafting-adventure/