Where is the highest bungee jump in south africa
Updated July 29, 2021
When you are in South Africa, nothing seems impossible. Its has a plethora of adventure activities to choose from. Right from Skydiving in Cape Town to Shark cage diving in Mossel Bay to jumping from Bloukran's – highest bungee jump bridge in the world and experiencing the adrenaline rush.
Bungee Jump in South Africa has always been on my bucket list. After doing activities like Parasailing in India, Paragliding from one of the highest mountains in Turkey (Check my paragliding experience here) it was time to let the adrenaline kick in!
bungee jumping south africa
When my friends and I decided to embark on our South African journey, we knew that South Africa bungee jump was something we will not miss at any cost. Accordingly, after spending a few days sightseeing in Cape Town & Knysna we headed to Tsitsikamma for the much-awaited bungee jump in South Africa.
Table of Contents
Bloukrans Bridge Bungee Jump
At 216 metres Bloukrans Bridge is the highest bridge in South Africa. Bungee Jumping from Bloukrans is the 3rd highest after Macau (233 metres) and Switzerland (220 metres) but the highest commercial bridge bungee jump, above the Bloukrans river, in the world. It is located at Tsitsikamma on the South African Garden route. Face Adrenaline officially operates it from 1997.
Is Bungee Jump Operational now?
Though there are multiple places to bungee jump in South Africa, bungee jumping in cape town is not possible and the best option to bungee jump is in Tsitsikamma. Face Adrenaline is operational even in these times with proper Covid protocols in place. In fact they are running a 30% discount for winter.
How to reach Tsitsikamma?
We were heading from Knysna and the total drive took 1.5 hours. Best option is to rent a car and drive it or hire a guide for your total stay in South Africa
From Plettenberg: 1 hour
From George: 2 hours
From Cape Town : 6 hours
Face Adrenaline Opening hours
The highest bungee jump in South Africa is operational all days of the week.
Opening time: 10 am
Closing time: 4 pm
They take people in batches of 20. So the earlier you reach, the faster you can go for your bungee jump.
Bloukrans Bridge Bungee Jumping Prices
The cost of the jump is 1,400 ZAR. If you opt for the photos & video option then its costs additional 400 ZAR.
We were allowed to bring our mobile phones to the jump site in case one doesn't want to opt for the photos clicked by Face Adrenaline team.
Trust me you want those pictures you remember the day forever!
Also read: Skydive in Capetown experience : the only guide to Sky diving in South Africa
The adventure begins!
If you thought you will reach the bridge and go for the jump then my friend it's not that easy.
Firstly, they give you a briefing about the bridge & the jump. If that didn't scare you then you proceed towards the Zip line.
Wait! Zip line? I thought we came for the Bungee Jump right?
They take you to the very centre of the bridge through a zip line. Imagine 216 metres above the sea level, a small river flowing below and the majestic sea on the other side. You get the picture!
bungee jump south africa
Bungee Jump in South Africa!
Upon reaching the center of the bridge, they decide the jump numbers. As per my understanding it was on the basis of the persons weight. I wanted to go ASAP as I couldn't bring myself to see other people jump nor did I want to chicken out (1400 ZAR remember!) at the last minute. I waited till almost the end of the batch before they finally decided to let me jump!
They played some DJ music to calm our nerves. Like that would have helped!
Someone started putting the safety straps in place and all I kept thinking was get over with it soon so that I can jump. I inched slowly towards the edge turned back and asked our guide if he was sure that he had all the safety checks in place. Nervous you can imagine.
south africa highest bungee jump
Ok, now I am at the edge looking down, arms stretched waiting for them to give me the final signal. I took a Deep Breath and the signal came 1,2,3, BUNGEE, and I JUMPED!
african bungee jumping
bungee jumping in africa
I cannot explain the rush that I felt. I had my eyes wide open the whole time screaming at the top of my lungs.
The free fall lasted for about 5- 8 seconds and then I was bouncing in the air after reaching the bottom. Ok! so this went on for eternity and I felt like a pendulum clock to be honest.
Finally, I came to a standstill, hanging upside down facing the river below, taking in the incredible view of the river below me and the sea on the other side, and my mind begins to act funny. Now this was the part that actually scared me as I kept feeling that the safety on my ankles if going to come off any moment!
I kept waiting… waiting… some more waiting….
Finally, one of the crew members came to fetch me up. It was all I could do and not grab him the moment he arrived… The crew member was kind enough to keep me engaged the whole time by asking me about where I was from, what do I do for a living etc and before I knew it I was back on the bridge.
highest bungee jump in south africa
Once back I couldn't believe that I did it! Faced my fears and overcame them. Highest Bungee Jump in the world from a bridge, TICKED OFF!
Good to know for African Bungee Jumping
We had made the booking online the previous night to ensure that we get into the first slot in the morning.
Preferably wear jeans, a full sleeve t -shirt or shirt and a jacket as it gets pretty cold on the bridge.
Wear closed shoes that cant fall off when you jump.
Do not wear your sunglasses or a hat or cap when you jump.
The bungee fall doesn't hurt but try to stretch before the jump if you can.
There is a very narrow steel walkway that is used to walk back after your bungee jump. Since it's a steel net, you can look down into the valley. So whatever you do, don't look down..
Places to Bungee in South Africa
Apart from being a perfect holiday destination, South Africa has an abundance of adrenaline activates. South Africa bungee Jump is famous all around the world and there are a few more places where one can attempt to Bungee Jump.
Krugersdorp Bungee Jump
Do you have acrophobia? If yes, this is the perfect place to dive into the air and take the plunge. This is the perfect place for first timers to check their mettle. There are a few cafes surrounding the jump site and one can also opt to stay there from the various accommodation available.
Graskop Bungee Jump
Launched off the top of a waterfall, the big swing is also a preferred option to bungee jumping in South Africa. The participants free fall to 70 meters before being pulled by the rope. This is also the world's highest gorge swing. Unlike a bungee jump where one falls face first, here the participants jump in an upright position.
Play at Heights Bungee Jump
Play at Heights in Sandton, Johanessburg is a vertical tower from where bungee jumping is conducted.
Gouritz Bridge Bungee Jump
Another great spot to bungee jump in Johanessburg is the Gouritz Bridge bungee jump. With a 65 meters bungee fall, its the perfect spot to bungee in south africa. Jump into the wilderness and watch the gouritz stream run below.
About Face Adrenaline
Booking Link : https://faceadrenalin.activitar.com/services/5097
If you ever decide to come to South Africa you must give this a shot.
Conclusion
Bungee jump in South Africa is something one must not miss at any cost.
As it is rightly written at Faceadrenaline that
"FEAR IS TEMPORARY BUT REGRET IS PERMANENT"
The Best, Tallest, Scariest Bungee Jumping in South Africa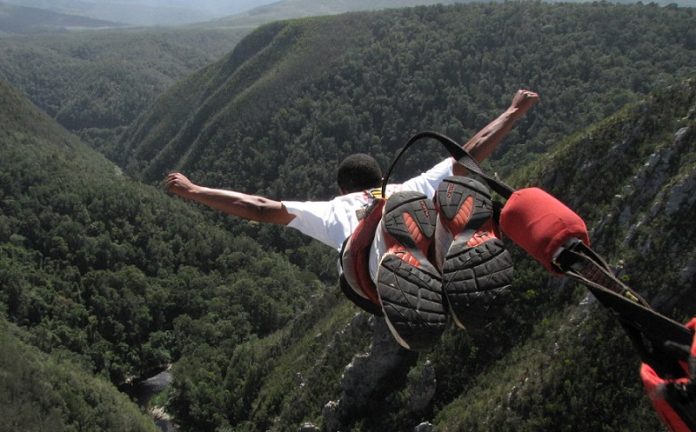 If you're looking for adventure, Downhill Adventures is one of the bungee jumping operators in South Africa that you can contact. (Image: Downhill Adventures)
One of South Africa's tourism attributes is that it has the third highest commercial bungee jump in the world. Here's more information about bungee jumping and bridge swinging in the country…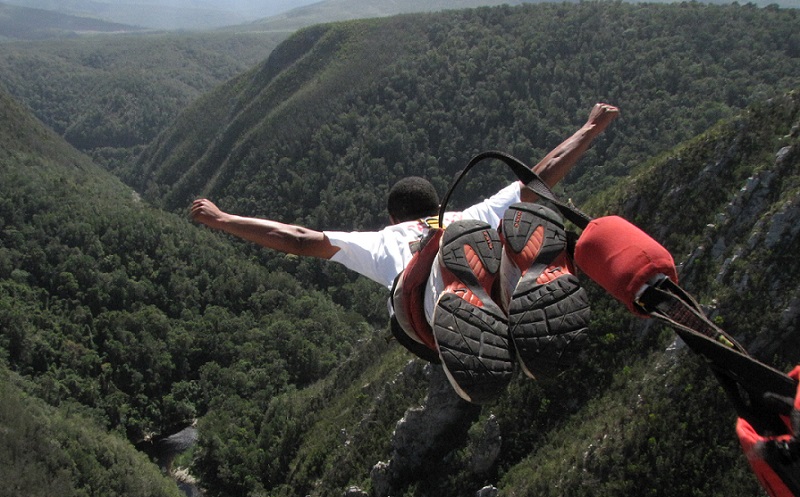 If you're looking for adventure, Downhill Adventures is one of the bungee jumping operators in South Africa that you can contact. (Image: Downhill Adventures)
Weehah! South Africa has the third highest commercial bungee jump in the world – it's official. At 216 metres, it's not for the faint of heart.
The jump is run by Face Adrenalin, at the Bloukrans Bridge on the border of the Eastern and Western Cape.
The same company also offers a range of jumps on the much lower Gouritz River Bridge near Mossel Bay, also in the Western Cape. Here you'll also find South Africa's only commercial bridge swinging operation, run by Wildthing Adventures.
Abseil, rapp jump
Hang out a kilometre high over Cape Town, over crashing waves at Knysna, or rapp jump down skyscrapers in Johannesburg or Durban.
Not sure of the difference between bungee jumping and bridge swinging? With bungee, you jump off a bridge (or other high fixed platform) with giant elastic bands usually, but not always, tied to your feet.
Bridge swinging, on the other hand, involves jumping from one bridge while tied in to climbing ropes suspended from an adjacent bridge.
Bungee jumping operators
Big Rush, in Durban, is recognised by Guinness World Records as the tallest swing in the world! It is to be found at the Moses Mabhida Stadium, which has plenty of other attractions on offer. The big swing is located inside the Stadium, launching from the iconic arch. Everything else you need to know can by found on the Big Rush website.
Rope Swing Jump- Big Rush, Moses Mabhida Stadium Durban

Trying this rope swing was how I wrapped up with my 2015! Go big or Go home as they say!

Posted by Yassine Khalfalli on Sunday, January 10, 2016
Cape Xtreme presents tours of Cape Town and overland tours. Included in the adventure activities are white water rafting, quad biking, shark cage diving, bungee jumping at the Bloukrans River Bridge, and trips to the Kruger National Park, Mozambique, and Kenya.
Cape Town-based Downhill Adventures has a number of bungee jumping options. There's a two-day trip that includes jumps off the Gouritz and Bloukrans Bridges, a one-day option that includes a visit to the Gouritz Bridge, and a combo Great Shark-Jump option that includes cage diving with Great White Sharks and bungee jumping at the Gouritz Bridge. Bridge swinging, single or tandem, is also part of the deal.
Face Adrenaline presents bungee jumping at the 216-metre-high Bloukrans Bridge on the Garden Route, the highest commercial jump site in the world. They've been doing it since 1997 and that experience makes Face Adrenalin hard to beat. They also offer the Flying Fox – a 200-metre-long cable (foofie) slide.
Living on the Edge Adventures hosts Bungee Mogale, which operates off the Kings Kloof Bridge in Krugersdorp / Mogale City. People between the weights of 40 and 120 kilograms are able to do the bungee jump, but no tandem jumps are allowed. The height of the jump is about 50 metres – plenty high for adrenaline seekers!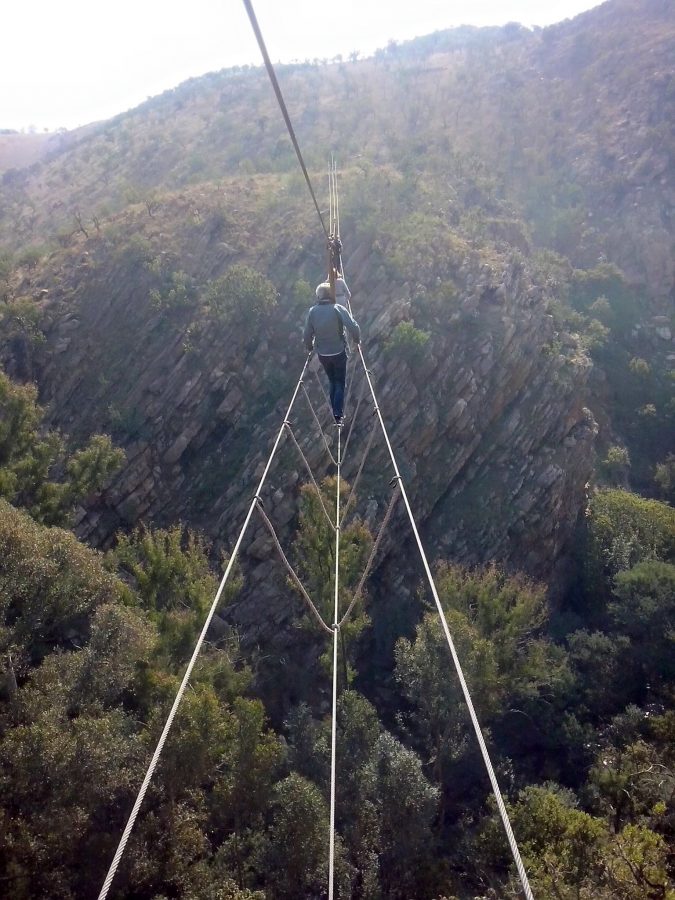 Source: FB/Bungee Mogale
Orlando Towers in Soweto, Johannesburg calls itself a vertical adventure centre, and it's hard to argue with that description. They offer bungee jumping, climbing, abseiling, rap jumping, and swinging. The Towers, with their eye-catching paintings, were once part of one of the most advanced power stations in the southern hemisphere. They no longer function as a power station, but with all their exciting offerings there is still electricity in the air!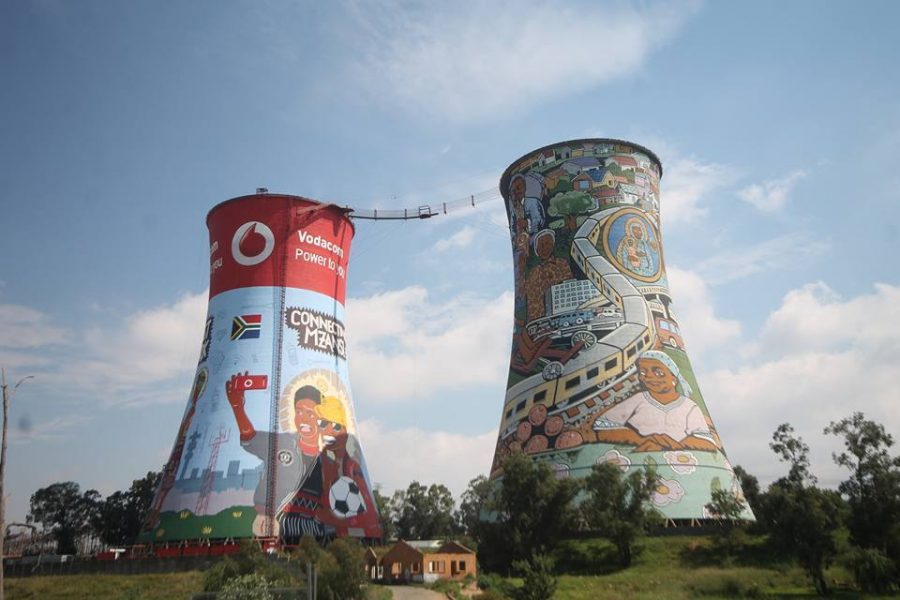 Source: FB/Soweto Towers
The Big Swing, located at the Panorama Gorge in Graskop, Mpumalanga, features a freefall from a height of 80 metres, which crosses the Gorge at a sensational speed.
Wildthing Adventures offers bridge jumping, which involves a big fall in a body harness before swinging between two bridges. It happens at the Gouritz River Bridge and has attracted visitors from over 70 countries. The record for the oldest jumper belongs to a 91-year-old man, the youngest to a five-year-old boy. Wildthing also presents other adventure activities, such as mountain biking, white water rafting and canoeing.
Bungee Jumping In South Africa: 5 Best Spots For Adventure Seekers In 2022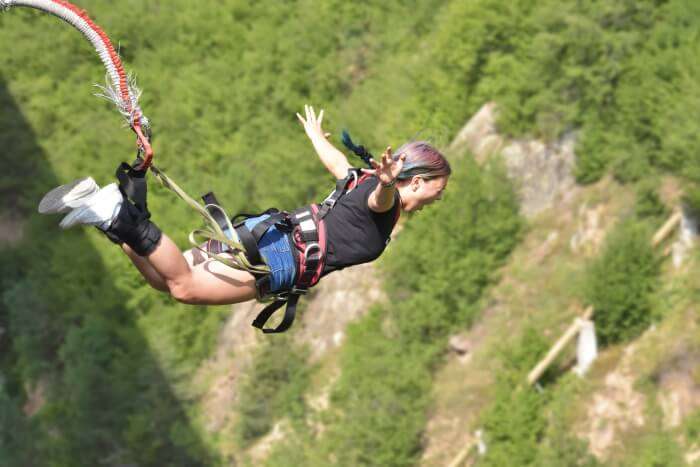 A country with ethnicity, vibrancy, and vitality, South Africa boasts of endless diversity when it comes to magnificent coastlines or serene deserts, with wildlife thriving in its lands. With villages prospering and cultural heritage being reserved, the country's roots are still deep and strong with beehive styled huts and archaic architecture.
A rainbow nation, a safari superpower, a cultural divinity and an enticing land of dreams, that's South Africa for you!
The main cities are known for a myriad of bars, clubs, and shopping districts with entertainment and modern-age charm. To get your adventurous juices flowing, this enthralling destination offers you to indulge in thrilling activities. You can experience sky diving, water rafting, and last but not the least, bungee jumping in South Africa.
There's a certain magic to bungee jumping that is so much more than just being adventurous and jumping off a bridge – it's a sense of satisfaction, comfort, and peace that you get in that 10 second fall of absolute chaos. Read on to know more about it!
5 Best Bungee Jumping In South Africa
South Africa can be considered as the ideal holiday destination. A land of dreams, hopes, and undying charm so falling in love with it is inevitable. Besides being a perfect holiday destination, it lets you get engaged in thrilling adventures. Read on to know the top experiences of bungee jumping in South Africa!
1. Bloukrans Bridge, Storms River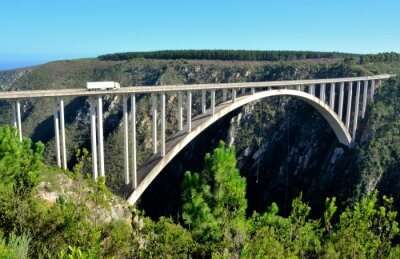 Bloukrans Bridge is the spot where you can experience the highest bungee jumping in South Africa. This exclusive and thrilling adventure awaits every adrenaline junkie out there. Standing 216 meters high, this bridge will give you chills right down your back. Being the kind of person who likes to live on edge, you'd only want to try it even more.
An exhilarating feeling after the 7 second free fall is assured. The professional staff here will take care of your safety and will cheer you up as you prepare yourself to plummet, making sure you are all smiles and excited before and after the jump. Buckles and loops and belts are what you'll hold on to as you'll be falling and suddenly the beauty of this picturesque location will hit you.
Tips:
You can leave your shoes on the bridge
Watch the horizon and don't look down
For safety reasons, each bungee cord is used for 100 jumps so you don't need to worry
2. Bungee Mogale, Krugersdorp
A minute of pure adrenaline rush that will help you overcome your acrophobia and just go for it. The Krugersdorp bungee jumping site is absolutely perfect if you're a first timer and a little afraid but it's just as good if this is even your fifth jump, for it never loses its charm.
Besides that, there are provisions of a 320 m foofie slide, bridge swing, burma bridge, and a combination of various other packages. You also get to avail the facility of top-notch accommodation as well as deliciously prepared dishes at a stunningly decorated restaurant and of course.
Tips:
Make sure you jump with a reputable company with high safety and risk management procedures in place.
As the place is near cafes, don't eat before your jump
3. Orlando Towers, Soweto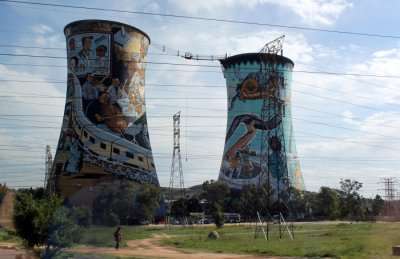 This place offer you an adrenaline intensive wild bungee set up between two cool towers of a power station, which is no longer in use. Hardly any distance from the N1 highway, it's an ideal location. Being vibrant, modern, and out of the box, this location promises you to get surprised through the 100 m drop.
The assistance provided is kind and reassuring while maintaining a professionalism. With crowds cheering you up and the inner feeling of beating boundaries you've set for yourself, once the fall is done, you'll never feel more content.
Tips:
Make sure to use a reputable company for the jump. Your safety is so important.
Wear comfortable clothes – no skirts or dresses
Jump head first
4. Play At Height (Sandton)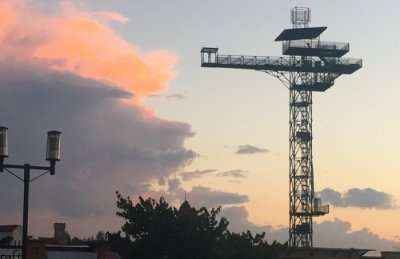 Perhaps while you're driving along the Witkoppen road in four ways, then do not miss visiting Play At Height at Sandton if you want to experience the best bungee jumping in South Africa. With additional activities such as abseiling and rock climbing, it's your ideal destination to let your wild side out.
The 360 panoramic views encompass the north rising higher with the Magaliesberg Mountains, the Southwest encompassing of the North cliff Ridge, Montecasino back facing the southern side and towards the east, a brilliant view of the new Mall of Africa. Undoubtedly, the sunset is the perfect time to be here.
Tips:
Don't believe the myths and listen to the jump master
Wear comfortable clothes
5. Graskop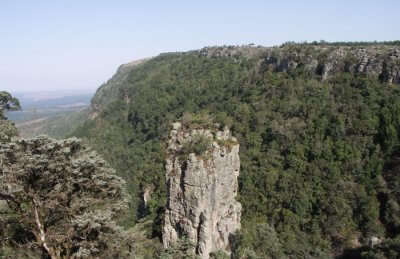 This is a peerless fall from a height of 18-19 storeys of the foefie slide. As you take off much like a pendulum, the line will take you across the entire width of the gorge in a single sweep. As you jump off, catch the beauty of the spectacular Graskop falls, feeling like a free bird.
Besides this, there are various other activities. The sheer and vertical cliffs around Graskop and Sabie lend itself to exhilarating rock climbing and abseiling. Accompanied by some fun archery, a breathtakingly beautiful hot air balloon ride that makes you witness the scenic limitless sky. For a fun, active, and adventurous day, Graskop is an ideal place.
Tips:
Keep your eyes opened to catch the glimpse of stunning valleys
The place offers numerous other adventure also such as archery
To have pure laughs and precious memories in your trip to South Africa, try bungee jumping without a second thought! With these perfect locations to fulfill your desire for bungee jumping in South Africa, your excitement and wild side will be fueled till satisfaction.
Disclaimer: TravelTriangle claims no credit for images featured on our blog site unless otherwise noted. All visual content is copyrighted to its respectful owners. We try to link back to original sources whenever possible. If you own the rights to any of the images, and do not wish them to appear on TravelTriangle, please contact us and they will be promptly removed. We believe in providing proper attribution to the original author, artist or photographer.
Please Note: Any information published by TravelTriangle in any form of content is not intended to be a substitute for any kind of medical advice, and one must not take any action before consulting a professional medical expert of their own choice.
Frequently Asked Questions About Bungee Jumping In South Africa
Where is the highest bungee jump in South Africa?
Bloukrans Bridge located on the Garden Route in South Africa is the highest bridge for bungee jumping in Africa and also in the world.
How much a bungee jump cost in South Africa?
A bungee jump in South Africa costs 150 Rand, that is, INR 740.
Which is the best place for bungee jumping in South Africa?
Bloukrans Bridge at Storms River, Bungee Mogale in Krugersdorp, and Orlando Towers in Soweto are the most popular bungee jumping spots in South Africa.
Is bungee jumping popular in South Africa?
Yes, it is one of the most popular adventure sports here.
Is it safe to for a bungee jumping in South Africa?
However, there had been incidents of misshapen at these spots, these jumping centres are hub for adventure freaks. You need to follow the guidelines explained to you by them and do take a fitness test before going for this adventurous expedition.
Source https://touristtotravellers.com/2019/08/31/bloukrans-bridge-bungee-highest-bungee-in-south-africa/
Source https://www.sapeople.com/2017/08/19/bungee-jumping-south-africa/
Source https://traveltriangle.com/blog/bungee-jumping-in-south-africa/