What is Bungee Jumping?
If you want an adrenaline rush like no other, bungee jumping is for you! The story of bungee jumping takes us on a global journey spanning hundreds if not thousands of years, from a tiny island in the South Pacific to Oxford University via the Clifton Suspension Bridge and then on to New Zealand. Read on to find out the answer to 'what is bungee jumping' and perhaps most importantly 'what are bungee jumping cords made of'.
Who first stood on a tall bridge and wondered how great it would be to jump off with not much more than a big rubber band stopping you from slamming into the surface below at breakneck speed? Whoever it was started a craze for bungee jumping that spans the globe.
Here, we'll tell you everything you need to know about what bungee jumping is, including the amazing facts behind the highest bungee jump in the world as well as finding out what is tandem bungee jump. Strap in for the ride of your life…!
The Fascinating History of Bungee Jumping
Young woman on edge of bungee platform (Photo: Darryl Leniuk via Getty Images)
It all starts on Pentecost Island, one of the 83 islands that make up the nation of the Republic of Vanuatu in the South Pacific. It is 1,750km east of Australia and 540km west of Fiji. It's remote. Very remote.
The story goes that a local woman who was mistreated by her husband tried and failed many times to run away. One time, she climbed up the tallest banyan tree on the island and tied a vine (known as a liana) tightly around her ankles. Her husband followed her up the tree and she jumped, yet the vine managed to break her fall. Her husband jumped after her, plummeting to his death.
Her exploits evolved into the ritual of land diving, said by some to be the predecessor of bungee jumping, which takes place during the yam harvest season in late spring. The island's men construct wooden towers up to 30 metres high and tie two vines around their ankles. For the first-timers it is the ascent from boyhood into manhood, while for the more experienced it's believed that it can ward off evil spirits, cure illnesses and even ensure a bumper yam harvest!
Thousands of miles away, on April 1st 1979, David Kirke and Simon Keeling – members of the Oxford University Dangerous Sports Club – jumped off the Clifton Suspension Bridge in Bristol tied to crude elastic cords and were promptly arrested. A decade later, New Zealander AJ Hackett opened the first commercial bungee jumping site at the Kawarau Gorge Suspension Bridge on New Zealand's South Island.
So that's the potted history of bungee jumping. Now you know how it came to be, but exactly what is bungee jumping?
Bone-Jarring Bungee Jumping
Young couple bungee jumping, and screaming (Photo: Darryl Leniuk via Getty Images)
Put simply, bungee jumping is an activity that involves jumping head first from a high place – a bridge, a building, a dam or crane or even a helicopter or hot-air balloon – while attached to an incredibly strong elastic cord. The cord length, which is calculated exactly depending on your weight, prevents you from hitting the ground and instead allows you to bounce back up into the air. This essentially answers the most basic elements of the question 'what is bungee jumping'.
Usually, you are attached to two harnesses, one around the ankles and another around the body for additional safety. There are incredibly rigorous guidelines and standards governing bungee jumping and over the years, millions of bungee jumps have taken place all over the world.
While most people do it alone, many ask what is tandem bungee jump? A tandem jump is no different to a solo jump – you have the same harnesses – but the only addition is that they are connected together and you are face to face with your jumping partner.
What are Bungee Jumping Cords Made Of?
Bungee jump cord in action (Photo: mayo5 via Getty Images)
Sometimes known as a shock cord, the cords used for bungee jumping are natural or artificial rubber strands wrapped in heavy-duty woven cotton or polypropylene fabric, a synthetic thermoplastic polymer which is soft and lightweight and also, crucially, incredibly strong.
The rubber strands spring back to their original shape, they have amazing tensile strength and can take very heavy loads without breaking.
So now you know the answers to 'what are bungee jumping cords made of' and 'what is bungee jumping', how high do you think the highest bungee jump in the world is? You might be shocked at the answer!
How High? No Way!
Taking the leap of faith (Photo: Mayte Torres via Getty Images)
To be the best in the world at anything you need to go to extremes and the highest bungee jump in the world is no different.
The official record books have a number of different highest bungee jump in the world records and unsurprisingly some of them feature AJ Hackett.
Highest Bungee Jump From A Building In December 2006, AJ Hackett jumped off a 233 metre high platform at the Macau Tower in Macau, China and bungeed 199 metres.
Longest Unstretched Bungee Jump Cord German Jochen Schweitzer used a 284 metre bungee cord jumping from an SA 365 Dauphine helicopter hovering 2,500 metres over the town of Reichelsheim in southwest Germany.
Longest Stretched Bungee Jump Cord This record belongs to Frenchman Gregory Riffi whose 249.9 metre bungee cord stretched to an amazing 610 metres when he jumped out of a helicopter over the Loire Valley in France in 1992.
Highest Tandem Bungee Jump This world record belongs to AJ Hackett and Australian TV presenter Grant Denyer who jumped from a helicopter hovering 300 metres above Australia's famous Bondi Beach in New South Wales in November 2005. The cord stretched to 250 metres.
So now we've answered the question 'what is bungee jumping', are you ready to take the plunge?
What is a Tandem Bungee Jump?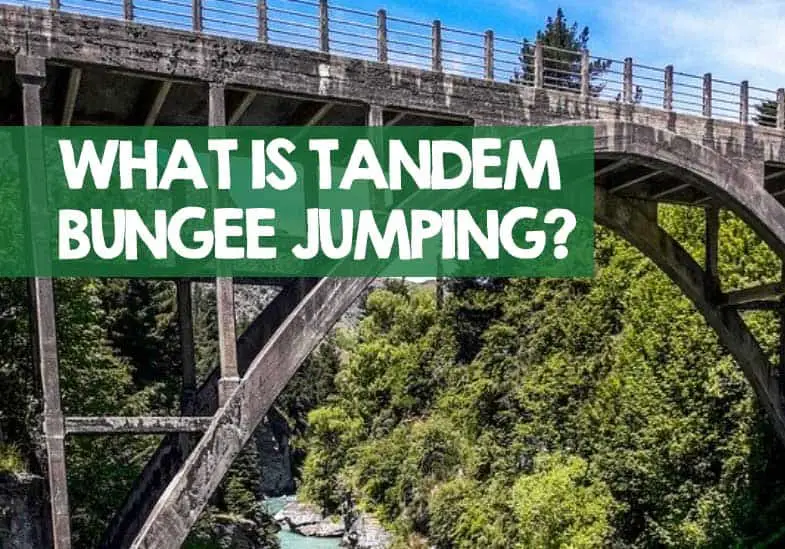 You will have already heard of bungee jumping, but did you know there are some locations where you can double up with a friend or loved one and jump into the void together? Tandem bungee jumping is now available all around the work, but what exactly is it and how does it work?
What is a tandem bungee jumping? A tandem bungee jump works the same way as a solo jump, but the operators will attach you as a pair. You can share the bungee jump experience with a loved one, or there are some operators will let you jump in tandem with an instructor.
It's a perfect way to enjoy bungee jumping is you're scared to do it by yourself or want to share the massive rush you will get from jumping in freefall from a tall building, bridge, or crane.
Many of the operators actually say it's a great way to get closer to a loved one! It's something that you can share together and remember for the rest of your lives.
How tandem bungee jumping works
A tandem jump works exactly the same as a solo bungee jump aside from there being two of you on the one cord. It does not mean that you will be jumping separately on different cords.
This is a very simplistic overview of how it works:
The bungee operators will weigh you both twice to calculate how much cord will need to be let out during the jump.
They will then ask you to face and hold each other standing up.
The bungee harnesses will be attached to your legs and ankles, and then connected together.
You will then be taken up to the jump point harnessed together.
Final safety checks will take place.
Then the two of you jump!
You can see a video of a tandem jump in action below.
Is tandem bungee jumping safer than going solo?
One of the reasons you want to go in tandem could be down to fear and wanting someone to share the experience with you. Bungee jumping is scary for first timers, but the reality is that statistically it's quite safe.
You can see a list of the fatalities recorded over the last few years in this blog post on recorded bungee deaths.
As far as tandem jumps go, I was only able to find two recorded fatalities that occurred when jumping as a pair.
July 2015: British holiday maker killed in a tandem bungee jump accident in Spain (see news report).
June 2015: Woman died in France during a tandem bungee jump with her partner (see news report).
Is it safer? No, it's really no different as the mechanics are completely the same. The only thing you need to make sure to do is to keep hold of your partner and avoid any clashes of heads.
Handy Hint: We wrote a guide for first-time bungee jumpers which contains tips on how to prepare yourself and make the first jump.
How much does tandem bungee jumping cost?
How much you pay for a tandem bungee jump will depend on what country it is in, the location (pay more for a great view!) and how high the jump is.
I recently published a guide to global bungee jumping prices. Most operators won't charge you exactly double for the tandem jump but will often give you a discount for two jumpers going at once.
Typical tandem prices are:
India: tandem costs £40 / $50 as a pair
New Zealand: tandem costs £233 / $300 as a pair
UK: tandem costs £98 / $125 as a pair
USA: tandem costs £155 / $200 as a pair
Can anyone jump on a tandem bungee?
The restrictions on bungee jumping will vary drastically from country to country. For example, in the UK you cannot jump if you are under 14 years old.
To find out if you are old enough to bungee in tandem read this guide to age limits depending on the country or location.
Each bungee operator will have to adhere to the legislation in their own country. As a general rule of thumb, companies tend to follow similar safety guidelines stating who they won't let jump.
For example, you cannot take part if you have:
Back, neck, or spinal injury problems.
Any recent fractures, dislocations, or bone breaks.
High blood pressure.
Neurological disorders.
Heart problems and conditions.
Asthma, epilepsy, or osteoporosis.
If you are pregnant (here's why it's dangerous).
The best tandem bungee jumping locations
Some of the best tandem bungee jumps could be very close to you. Here's a quick selection of some of the best I've come across in recent years.
UK: 160-foot London – North Greenwich Arena (The Dome)
UK: 300-foot Manchester – The highest tandem in the UK
New Zealand: 141-foot Kawarau Bridge
New Zealand: 131-foot Auckland Harbour Bridge
India: 270-foot Rishikesh Bungee Experience
Italy: 574-foot Valgadena Bridge – The highest in Europe that allows tandems
Conclusion
If you want to add some much-needed excitement and adventure to your life, a tandem bungee jump will offer you an unrivalled adrenalin rush. And who better to share the experience with than a good friend, partner, or loved one?
As you fall through the air you will experience 3 Gs of force, take in stunning views, and have a rush like no other as you and your partner plummet towards the earth.
Then just as you think you're going to hit the floor you feel that initial pull and then the ride back up and the bounces as the bungee cord springs into action.
If you want to try bungee jumping and don't think you can do it yourself, then consider going tandem. Or perhaps you just want a shared memory for a lifetime.
For either reason, I can't recommend tandem bungee jumping enough. Get out there and have a go!
You might also like…
I frequently blog about extreme sports, with bungee jumping being one of my biggest passions. Here are some related articles you might also want to read whilst you're here.
Recent Posts
Over the last month, my 7 year old son and I have started geocaching as our new hobby. Despite what you might have heard, you don't need a load of expensive gear as beginner. In fact, most people.
For those new to geocaching there can some weird and wonderful terminology and phrasing at play. Most acronyms and sayings are easy enough to get the hang of and will make complete sense once they.

report this ad
About Us
My name is Marc, and this is my place on the web where my son and I share the adventures we have in the great outdoors. That includes urban exploring, WW2 history, camping, geocaching, and anything else that we can find to do out of the house.

report this ad
LEGAL INFORMATION
Outdoorasaurus is a participant in the Amazon Services LLC Associates Program. This is an affiliate advertising program which has been designed to provide a means for websites like ours to earn advertising revenue by advertising and linking to Amazon. Outdoorasaurus is compensated for referring users and business to Amazon plus other businesses linked to on out website. As an Amazon Associate I earn from qualifying purchases.

report this ad
Tandem bungee jump for two
We'd choose a tandem bungee experience over a single bungee experience every time. You've got someone else for comfort, to hold on to, and to laugh at! Call it the Lover's Leap experience, a double bungee or a tandem jump, it's all the same basic idea of two people strapped together, and pushed off a crane on an elastic band.
We've brought all the double jumps together for you so you can compare prices and get the best deal for you and your fellow leaper.
Obviously it's not the thing for people with medical problems or pregnant women, but that goes without saying doesn't it – so if you've got weak ankles, vertigo or are easily frightened, then look elsewhere.
Several locations around the UK.
Another benefit of this tandem bungee jump is that it's available in quite a few locations across the UK. So you can buy it as a gift for someone else, and you can be quite sure there will be a location near to them. (Unless they live off the tip of the Shetland Isles or something.)
So call it what you will – Double bungee, bungee for two people, tandem bungee experience – To share a scream with someone you love (or hate), this experience is bungeetastic!
And don't forget to shout "Geronimo" as you launch into space. Though most people are too busy screaming for help to remember that. But make sure you've taken somebody with you to record the whole happening for you. Then give us a link to your video on Youtube and we might even feature it on this page to show others what to expect.
BTW, we've added a few particularly interesting non-tandem jumps, just in case you're tempted
Leave a Reply Cancel reply
You must be logged in to post a comment.
Experience with confidence
COVID-19 has caused chaos in the UK, but experience companies have got you covered. Just give them a shout to swap or postpone your experience if restrictions are tightened.
Archives
Copyright © 2022 Best Experiences . All rights reserved.
Theme: ColorMag by ThemeGrill . Powered by WordPress .
Source https://www.discoveryuk.com/adventure/what-is-bungee-jumping/
Source https://outdoorasaurus.com/bungee-jumping/what-is-tandem-bungee-jump/
Source https://www.bestexperiences.co.uk/tandem-bungee-jump/