Tandem Skydiving: Everything You Need to Know
Skydiving is one of the most popular adventure sports in the world with upwards of 3 million jumps annually. The thrill of freefalling from a great height, releasing the parachute and gently gliding towards Earth is hard to match.
There are two types of skydiving experiences you can opt for: Accelerated Freefall (AFF) and tandem skydiving. While you require legal training and certification to try AFF, tandem skydiving is ideal for those with no prior training in the field.
What is Tandem Skydiving?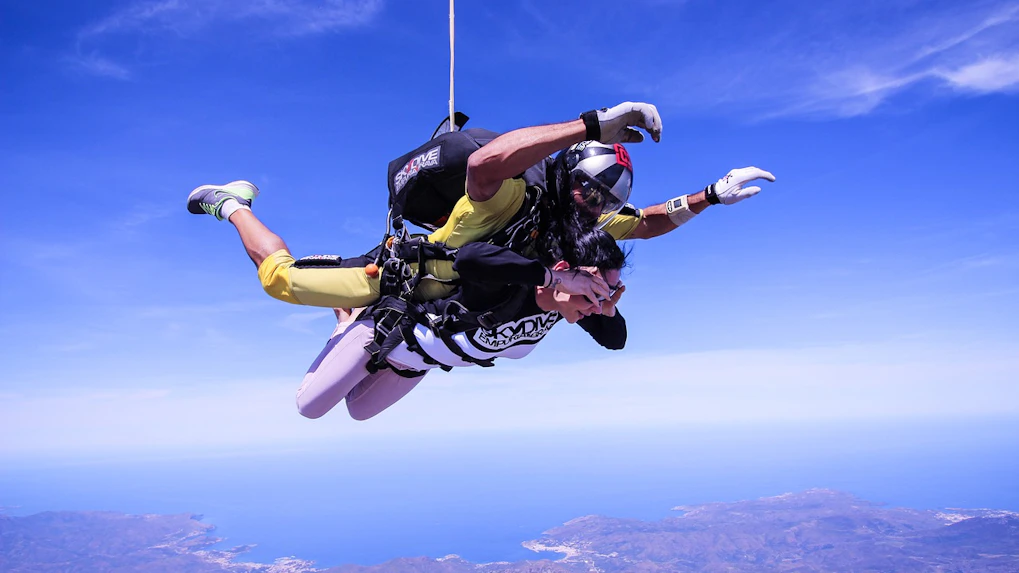 Tandem skydiving is where you jump out of a plane that has reached a particular height, with a certified instructor deploying the parachute.
Unlike solo skydiving, where you are responsible for controlling every aspect of the jump and landing, an instructor guides you from start to finish during a tandem skydive. In tandem skydiving, the instructor controls the jump in its entirety — from the different body positions and movements while skydiving, to deploying and controlling the parachute.
Tandem skydiving is generally preferred by first-time skydivers or people looking to learn how to skydive. The adventure sport is also extremely popular amongst tourists in cities like Dubai, Sydney, Melbourne.
How To Prepare For A Tandem Skydive
You can prepare for a tandem skydive by reading up on the dropzone and checking out reviews of others who have finished a tandem skydive. This is important because you need to be able to trust the skydiving center before signing any agreement or making a payment. Once you've shortlisted a skydiving center, watch videos of other skydives to get a general idea of what the experience would be like.
The night before your skydive, try and get proper sleep and avoid consumption of alcohol or drugs. In the morning, eat a light yet filling breakfast and dress in comfortable clothing before heading to the center.
Most skydiving centers require participants to be at least 18 years of age. Kids between 13 to 17 are also allowed to skydive at certain centers with signed consent forms and if they are accompanied by a parent or legal guardian.
Individuals weighing more than 200 to 220 lbs will not be allowed at most skydiving centers. This number slightly varies across different skydiving centers.
Comfort should be your priority when getting dressed for a tandem skydive. Wear loose, yet fitting clothing like t-shirts, pants or shorts because you'll have to put on a jumpsuit on top of your regular clothes. Women can avoid wearing dresses, skirts or any material that flows to avoid getting it caught in the harness or the parachute. Comfortable sneakers are ideal for a tandem skydive.
Here are a few safety instructions you must absolutely follow if you're planning a tandem skydive:
Listen to every word your instructor is saying and ask them to repeat if you have trouble understanding
After you jump, bend your body like a banana: head upwards, back arched in a u-shape position and feet pointing towards the sky
While freefalling, never touch or hold your instructor's arms. They need their arms to be free to deploy the parachute on time.
When landing, lift your knees and feet to avoid your feet from touching the ground while in forward motion
Tandem Skydiving Steps
Wondering how the entire process of tandem skydiving works? Don't worry, we've got you covered!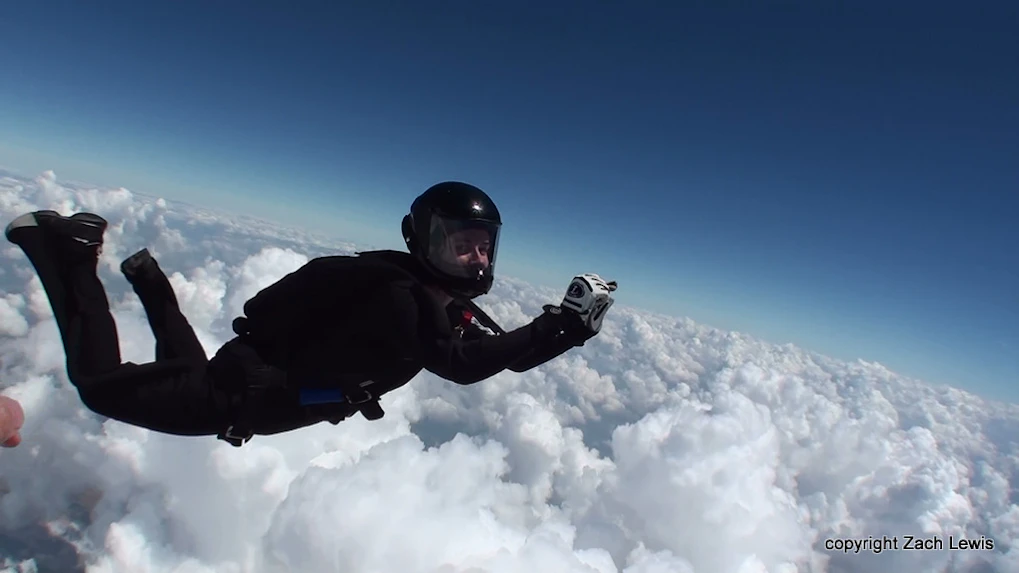 AAD: The Automatic Activation Device automatically deploys a reserve parachute when a skydiver crosses a predetermined altitude threshold at a high speed
Arch: This skydiving position allows divers to fall stably in a belly-to-earth position
Canopy: In skydiving terms, a parachute is called a canopy
Reserve Handle: This is the handle you use to deploy your reserve parachute
Container: Another term for the parachute harness that contains the primary parachute, reserve parachute and the AAD
Toggles: These are brakes attached to the steering line of the parachute and are used to steer the parachute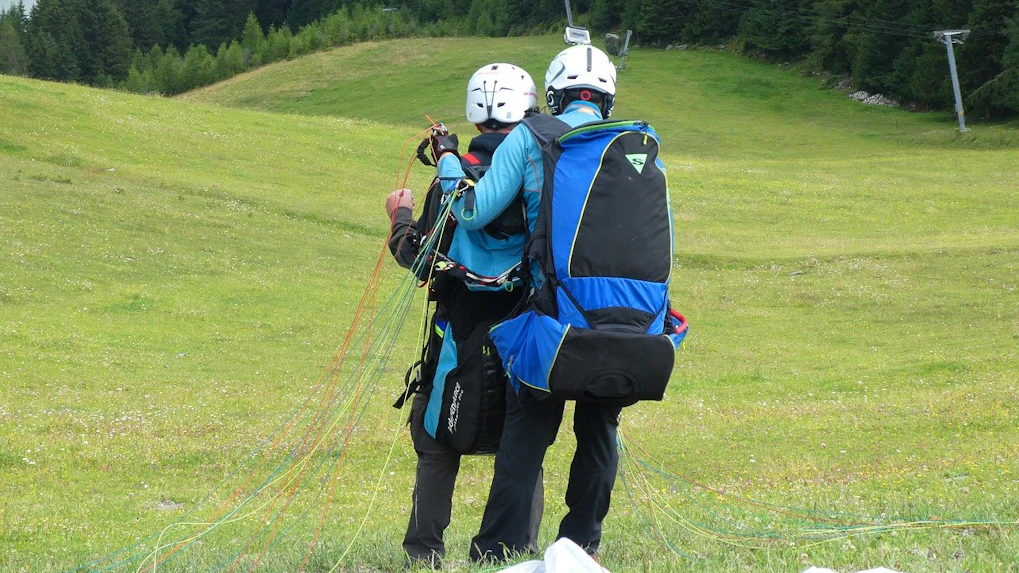 Training for a tandem skydive takes between 20-30 minutes. It includes training sessions on how to exit the aircraft, maneuvers to employ while in freefall, how to deploy the main canopy yourself and more.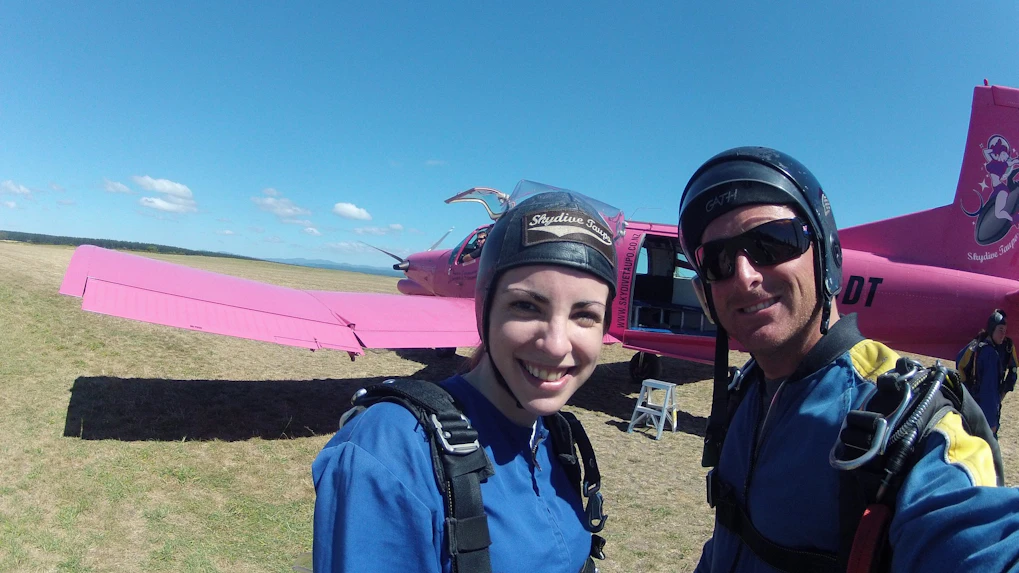 It's imperative that you get to know and trust your skydiving instructor before making the jump. This involves verifying their certification and license. A certified instructor should have a Class D license and must have completed at least 500 jumps. Once you're convinced of your instructor's legitimacy, get to know them! The more comfortable you are with your instructor, the better your tandem skydiving experience will be.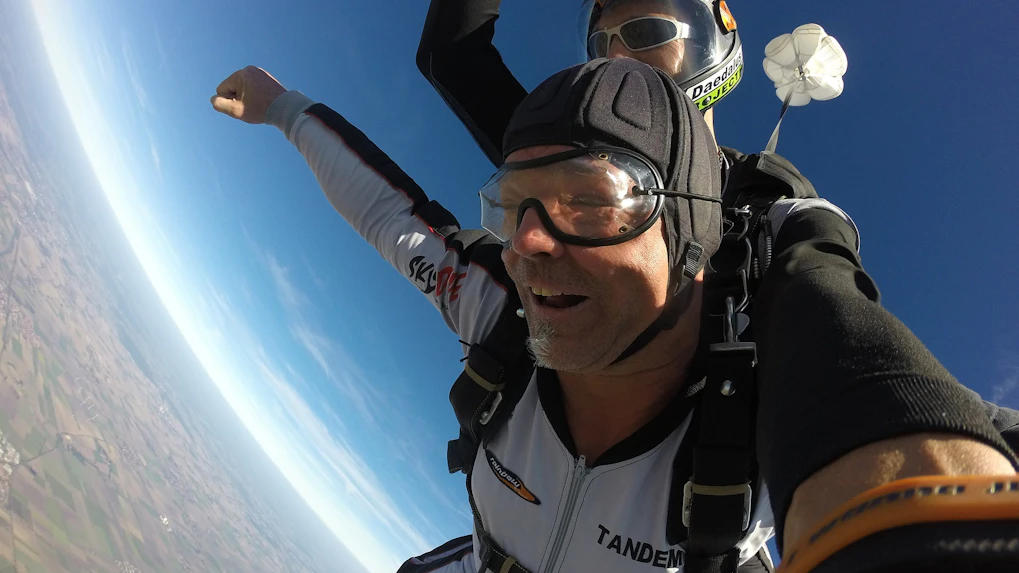 The few moments before your tandem skydive will be nerve-wrecking. There will be a million thoughts darting through your mind which could lead to panic. To avoid this, focus on the positives of the experience. Talk to your instructor and get assurance from them about the safety of the process. If you're feeling uneasy, have some water and take slow, deep breaths in frequent intervals. Close your eyes and think about the euphoric feeling of flying like a bird that awaits you.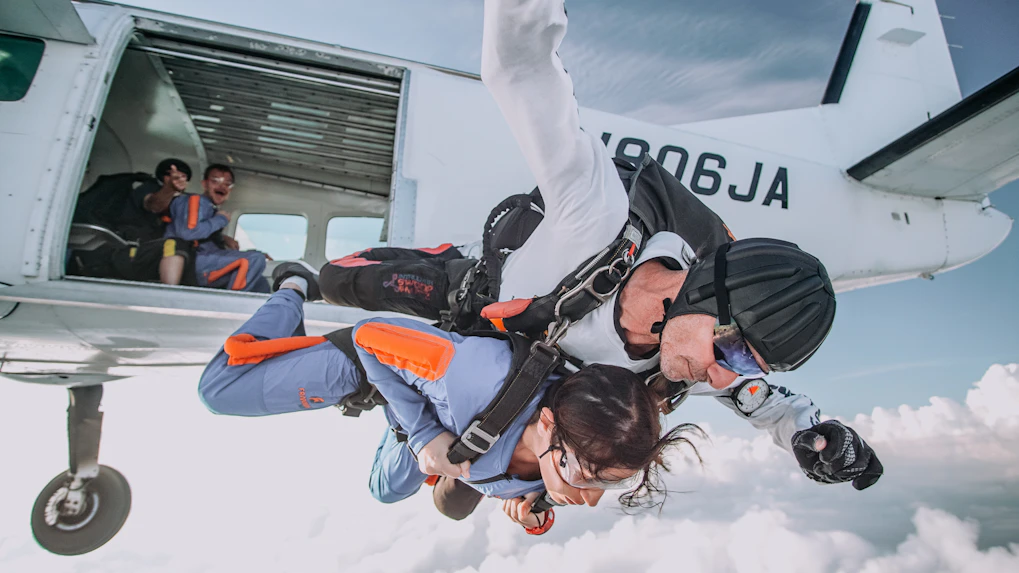 Once you jump out with your instructor, you'll experience a momentary sensory overload — this is because your mind and muscles will work overtime to adjust to the sudden pressure on your body. This will be followed by moments of absolute peace as you fall through air at a speed of more than 120 mph. The freefall part of your tandem skydive will last between 45 to 60 seconds — so make sure you make the most of it. At this point, the instructor will release the parachute and your speed will slow down considerably. The instructor will maneuver the parachute as per the wind and after 4 to 6 minutes of gliding, you'll finally reach the ground.
Tips For Your Tandem Skydive
Plan your day: Prepare to spend at least 3-4 hours at the skydiving center. The weather, most likely, will delay your skydive.
Motion sickness: If you get motion sickness, inform your instructor before the jump. Guests prone to motion sickness get nauseated during the parachute descent because of the turns. Once your instructor is aware of your motion sickness, they'll be more gentle while descending.
Avoid alcohol: Drinking before skydiving is absolutely prohibited. Most skydiving centers are strict about alcohol consumption before the jump and can even prohibit you from skydiving if they suspect you're intoxicated.
Advance booking: Book your tandem skydiving experience in advance because skydiving is a very popular attraction and walk-ins are generally not accepted. Making a reservation in advance also allows you to plan your day better.
Stay hydrated: You'll be spending around half a day at the drop zone. Carry enough snacks and water to last that long. Avoid overeating or starving yourself before the jump, though, since you'll be needing plenty of energy.
Get goggles: If you wear eyeglasses or contact lenses, check with the skydiving center staff and get goggles to protect your eyewear.
Mental preparation: Tandem skydiving is more of a mental challenge than a physical one. Taking that first step off the plane will require plenty of courage on your part and you need to be mentally prepared for it. To do this, have an honest discussion with your instructor. Talk to them about your fears and ask them about their experiences. This will not only let you trust your instructor but offer you some much-needed inspiration.
Capture photos: Your first skydive will be a momentous event and worth remembering for the rest of your life. To capture the moment, get professional videos and photos clicked when you skydive. While expensive, your skydiving photos and video are incredibly priceless and hold immense value.
Tandem Skydiving FAQs
Q. What is a tandem skydive?
A. In a tandem skydive, two people jump from an airplane together, strapped to one another. It is the instructor who controls the jump, the canopy release and the landing.
Q. What is the difference between tandem skydiving and solo skydiving?
A. The biggest difference between tandem skydiving and solo skydiving is that in the former, the student shares a parachute with their instructor while in the latter, they jump alone and get a parachute to themselves.
Q. How long does a tandem skydive take?
A. A typical tandem skydive should take you anywhere between 4-5 minutes. The first 50 seconds are spent freefalling after which the parachute is released.
Q. Can you drink alcohol before skydiving?
A. Don't consume alcohol or any drugs at least 24 hours before your tandem skydive.
Q. Can you breathe while skydiving?
A. Yes, of course. Even when you're falling at a speed of 160 mph, you'll easily get plenty of oxygen to breathe.
Q. What should I eat before skydiving?
A. Don't overeat before skydiving. Ideally, you should have a light meal, such as a sandwich, salad or healthy snacks like trail mix, protein bars, smoothies, etc.
Q. How high does the plane go when skydiving?
A. Typically, an airplane will release jumpers into the sky from a height of 10,000 to 13,000 feet.
Q. Is there a weight limit for tandem skydiving?
A. Yes, most skydiving centers require that participants weigh less than 220 lbs/100 kg. There's no minimum weight limit, though.
Q. Can you go skydiving in the rain?
A. Most tandem skydiving centers cease operations during rains. This is because there's limited visibility when it rains and the raindrops hitting your body at the speed is not a pleasant experience.
Q. Do people throw up when skydiving?
A. Typically, no. There are instances where people throw up if it's their first skydive but that doesn't happen during freefall. Instead, most cases of throwing up happen during the parachute ride. Inform your instructor if you get easily motion sick so that they can maneuver the parachute gently.
How Safe is Tandem Skydiving? 6 Reasons to Trust Your Instructor
First-time skydivers don't take the plunge alone, they're strapped to a tandem certified instructor.
Many first-time jumpers wonder how safe tandem skydiving is. After all, how can you trust that stranger that is strapped to you will get you to the ground in one piece?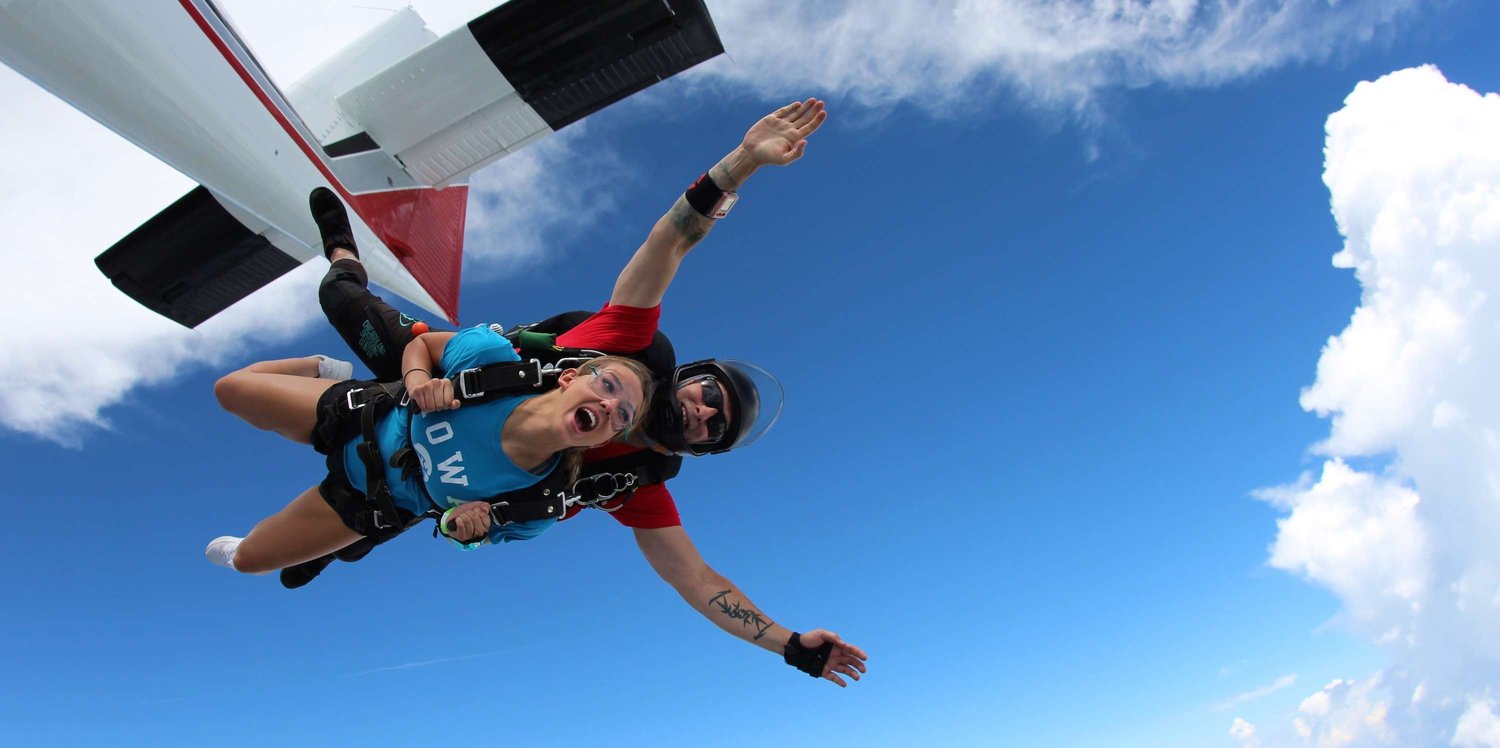 Just know that all novice jumpers are required to go tandem. That means a highly trained professional is responsible for you and all the technical aspects of the jump. Here are six reasons to put your faith in your tandem skydiving instructor:
1. Your tandem instructor made at least 500 jumps before jumping with you.
Any tandem skydiving instructor you'd be paired with for your first jump must have a proven track-record with a huge amount of jumps in order to get their tandem instructor certification.
Let's think about this… 500 freefalls. Really let that sink in. 500 jumps! That's an incredible amount of time in the air for your instructor perfect their technique.
2. Your tandem instructor spent a minimum of 3 hours freefalling.
If you were to choose our standard tandem skydiving package, you'd spend approximately 60 seconds in freefall. One jump for you equals about a minute of fall time.
Your tandem instructor spent three hours in freefall before getting their level D certification. That's a long time flying through the sky, and it's all for your safety.
"But wait, isn't a skydive longer than one minute?," Once your main parachute deploys when you near the ground, you'll spend about 5-7 minutes in slow descent as you parachute to the ground. So while your whole experience is only 6-10 minutes, remember, only 30 to 90 seconds of that (depending on the jump package you purchase) will be in "freefall."
3. Your tandem instructor made at least two jumps at night— in the dark!
When was the last time you stubbed your toe on your way to the bathroom in the middle of the night? Many of us can't even find our way around our familiar home in the dark, never mind to navigate, deploy a parachute and successfully land at night.
Any tandem jumper you'll dive with will have completed at least two leaps in complete darkness— and landed in one piece, within an exact targeted location. In fact, they really have to get quite precise! C-level certified skydivers had to land within seven feet of a target on at least 25 jumps.
These instructors are specially trained to function in the event of vision impairment and are ready to get you grounded safety, even with their eyes closed!
4. Your tandem skydiver knows how to safely land in water!
In the event of an emergency, tandem skydivers are trained to land in water. That's right! They purposely take a plunge into a body of water (parachute and all) to test their skills.
All talk aside, your partner will actually know what it was like to go for a swim and understand exactly how to get you to land safely, should you steer off course.
5. Your instructor passed four crazy hard exams.
Remember how hard the SATs were? Or those crazy finals in college? Yeah, your tandem instructor had to go through a couple of long tests themselves.
Tandem skydive instructors need to get four levels of licensing, with a written test after each level's "hands-on" training. Not only will your partner have all of the wild jump-time experience we addressed above, but they also need to study and pass a series of difficult United States Parachute Association license examinations.
6. At Chicagoland Skydiving Center, we have a perfect student safety record.
We've never had a student's life threatened since our doors opened in 1968. We're proud of our perfect safety record and assure you that tandem skydiving is safe as can be with CSC.
Check out our blog on tandem skydiving questions to learn more about our skycenter specifically, and what you can expect on your first jump.
Prepare for Your First Tandem Skydiving Experience
Never tried skydiving before? Tandem skydiving is the way any first-time jumper learns the ropes (more specifically, the pull ropes— skydiving pun fully intended!).
Read our Complete Guide to Tandem Skydiving to discover more about the safety features of your parachutes, instructor's qualifications and more. You can even download a copy of the guide, to read at another time!

Douglas Smith
Douglas Smith is CEO/President, and Guest Relations Associate at Chicagoland Skydiving Center. He has owned and operated the business since 2000. He has been skydiving since 1994, and in addition to leading the CSC Team, is currently an instructor, videographer and pilot for CSC.
The CSC Blog
Stay up to date on the latest news and happenings from CSC and the rest of the skydiving world.
The True Requirements For Skydiving Tandem Instructors
Become a Skydiving Tandem Instructor and Jump for Free
Skydiving is a recreational sport for most people but it can also be a profession for some extreme athletes or tandem instructors. Before someone can take passengers and become a tandem instructor, he must complete his tandem license. But what are the requirements and relevant courses for a tandem license?
To get a skydiving tandem instructor license, skydivers must be at least 18 years old and need to complete the following license requirements:
Completion of the tandem training course
Performed a minimum of 500 skydives (logbook required)
Hold a skydiving "D" license (or foreign equivalent)
Minimum of 3 years in the sport
"FAA class 3" medical certificate (or foreign equivalent)
Hold a USPA instructional rating
Performed at least 50 skydives in the past 12 months
Once all requirements are completed and you can get your tandem instructor license and earn money with your passion. However, the requirements are not always straightforward, I'll explain them in detail in the following (including some tips that help to pass each requirement with ease).
The Requirements for a Skydiving Tandem Instructor License
The main responsibility of the tandem instructor is to guarantee the safety of his "passenger" before, during, and after the skydive. He must always be able to do so even if the weather conditions changed or if the student panics during the skydive. He must also be able to resolve any potential parachute malfunction within seconds.
Tandem Instructors Need to Have Completed a Minimum of 500 Skydives (Logbook Required)
Skydivers will only qualify as a tandem instructor if they have completed at least a minimum of 500 jumps throughout their skydiving career. The reason behind that is to make sure that they are fully exposed to the sport and have a solid experience of different conditions.
When someone performed 500 skydives, the regulator (FAA) can be ensured that he has been exposed to many different circumstances and has the necessary skills to deploy the parachute, to steer the canopy, and to land safely. Even though tandem instructor candidates will be tested for their skills, having performed many jumps is always a great indicator of someone's experience.
It is therefore important for novice skydivers who aspire to become a tandem instructor to always log their skydives. Some people do not log their skydives regularly because they already completed their targeted skydiving license and do not plan to take an instructor's license.
It is also quite annoying to always log the jump date, location, exit altitude, length of freefall, type of jump, distance from landing, and skydiving equipment. However, from time to time some people change their minds about this, and it can be frustrating if they did not log their skydivers properly in the past.
Tandem Instructors Need to Have Practiced Skydiving at Least for Three Years
You have to be active in skydiving for at least 3 years to be eligible for the tandem instructor exam. Similar to the 500 jumps, this minimum duration guarantees your experience and that you already had your fair share of resolving skydiving malfunctions and jumping in different weather conditions.
Some people might think that it is redundant to have a minimum duration in the sport and a minimum number of jumps performed. In my opinion, the minimum duration is a very important pillar of the tandem skydiving experience, because our mind needs time to process our experience and learnings. We learn more when jumping three times a day for four days in a row than performing 12 jumps in one day.
Not having the minimum duration in the sport would also open the requirements for certain loopholes. In 2006, Jay Strokes, 50 years old, set the world record for the most number of jumps in one day. He was able to complete 640 skydives in 24 hours.
Jay was obviously already experienced but theoretically, it would be possible for newbies to do something similar. I would not have trusted my first tandem instructor if he had just picked skydiving up 3 months before our skydive.
I rather trust an instructor who jumped at least 3 times per week and for 52 weeks per year. He would then be able to accumulate 156 jumps per year – enough to accumulate the 500 jumps in 3 years. In reality, most skydiving instructors practiced skydiving as a hobby for 5-10 years before making the instructor license.
Tandem Instructors Need to Hold a Skydiving "D" License or a Foreign Equivalent
The "D" license is the most advanced and highest skydiving license. Skydivers must complete a minimum of 500 jumps, accumulate a total of 3 hours of freefall, and pass the USPA "D" license written exam.
They also need to demonstrate their advanced skills by completing at least one of the following jumps:
make two-night jumps with a freefall of at least 20 seconds, or
land on seven feet target for at least 50 jumps, or
participate in a canopy formation of a 3-stack or larger, or
complete an intentional water jump, or
perform at least 100 formation skydives (25 of which must involve at least eight skydivers)
Once passed, "D" license holders can exercise all privileges of A-C license holders and apply for all USPA instructional ratings including tandem ratings and pro ratings. They are also be allowed to jump into stadiums.
Tandem Instructors Need to Complete the Tandem Training Course
The tandem training courses are normally conducted by the companies that manufacturer the tandem equipment. Once you complete a course with one manufacturer you are also only allowed to jump with that specific equipment.
The manufacturers use slightly different systems for their harnesses and parachutes so it makes sense that tandem instructors complete a course for each system (although it sounds a little bit weird). This also means that you need to complete a UPT course to jump with a Sigma or Vector tandem system and a Strong tandem course to jump with a Strong tandem rig.
The courses normally take 2-4 days depending on the weather conditions. Every candidate needs to perform 5 evaluation tandem jumps with a TRC Examiner and 5 additional tandem jumps with an experienced jumper who has at least 100 jumps. It will cost around $425 plus the equipment rental.
If someone has already completed a course with a different manufacturer they only need to book a cross-training which costs around $250.
Tandem Instructors Need to Have an FAA Class 3 Medical Certificate (or Foreign Equivalent)
Tandem instructor candidates must hold an FAA class 3 medical certificate or foreign equivalent issued by an Aviation Medical Examiners (AMEs). The certificate ensures that the potential tandem instructor has the required physical and mental fitness to perform tandem jumps.
This includes being in a good health, having a 20/40 vision or better (with or without glasses), and being able to hear normally on a conversational level. The medical certificate can only be given by an Aviation Medical Examiner and not by regular doctors. To find the nearest AME in your area, you can check it on the FAA's website.
The certificate also needs to be renewed every 60 months for instructors under 40 and every 24 months for instructors over 40. The cost of the medical exam and certificate varies from $75 to $150 depending on the location, the examiner, and the required health checks
Tandem Instructors Need to Hold Any USPA Instructional Rating
The USPA Instructional Rating consists of USPA Coach Rating, USPA Instructor Rating, USPA Instructor Examiner Rating. To apply skydivers have to complete at least a minimum of 100 jumps and hold a skydiving "B" license.
USPA Coach Rating will allow you to teach first-time jumpers as well as train students for group skydiving skills. However, you still need to work under the supervision of an instructor. This is also the most common rating that tandem instructors receive, however, they can also complete one of the advanced ones.
USPA Instructor Rating requires a higher level of experience compared to the coach rating. It can be earned in each of the four disciplines: Accelerated Freefall Instructor (AFF), Instructor-Assisted Deployment Instructor (IAD), Static-Line Instructor, and Tandem Instructor. If someone receives the instructor rating, he can teach the first-time jumpers from their first jump until they achieve the USPA "A" license.
USPA Instructor Examiner Rating is the highest level of the Instructional Rating. It can be earned in the following five disciplines: Coach Examiner, Accelerated Freefall Instructor Examiner, Instructor-Assisted Deployment Instructor Examiner, Static-Line Instructor Examiner, and Tandem Instructor Examiner. They are eligible to train new coaches and instructors.
Tandem Instructors Need to Have Made at Least 50 Jumps in the Last Year
Tandem instructor candidates also must have completed at least 50 jumps in the last 12 months. This serves as proof that they are active skydivers and are still up to date with their knowledge.
It also proves that they are resilient and can perform multiple jumps per day. At many dropzones, tandem instructors are expected to perform at least 10 jumps a day.
Cost of the Skydiving Tandem Course/Certification
Skydiving is an expensive sport and receiving the tandem license costs between $1,250 – 2,000 just for the certificate (excluding equipment costs, the inherent costs of your own AFF course, and the cost of performing the 500 jumps). However, if someone receives the tandem license it is a great way to combine his passion with earning money.
One can also make a solid living when working full-time or creating additional income when working part-time. The average income for a full-time instructor is $50,000 a year and between $20,000- 40,000 for part-time instructors.
If you want to learn more about the average salaries of tandem instructors check out this post.
Here is the cost breakdown of the Tandem Instructor Course and Certification:
Types of Course/Certification
Cost
Tandem Training Course
$425 + Equipment Rent
Cross-Training (Per Manufacturer's Tandem System)
$250 + Equipment Rent
FAA Class 3 Medical Certificate
$75 to $150
USPA Coach Rating
$100 – Coach Pre-Course
$295 – Course Fee
USPA Instructor Rating
$650 to $750 (Depending on the number of candidates)
USPA Instructor Examiner Rating
$500
An Overview of the Course Costs
If you add the costs of learning to it, a tandem license becomes much more expensive. Each jump costs at least $25-30 depending on the dropzone and excluding potential rental costs.
Completing the AFF course and receiving the skydiving "A" license will also cost between $2,800 and $3,800. If you add the remaining 475 jumps (25 jumps are included in the AFF course fees), you end up between $11,875 and $14,250 just for lift fees.
If you look at the figures just remind yourself that you do it for fun and not for the money.
How the USPA Tandem Training Course Is Structured
The USPA Tandem Training Course can be completed within 2-4 days depending on the weather. It is composed of three phases that are called Instructional, Practical Application, Vector and Sigma Ratings.
Phase 1 – Instructional
The instructional phase (Day 1) consists of 6-8 hours of classroom and ground training such as equipment orientation, passenger harness, student briefing, ground preparations, in-aircraft procedure, exits, drogue fall/freefall, canopy controls, landings, and emergency procedure.
Phase 2 – Practical Application
Phase 2 (Day 2) will be about practical applications wherein the candidates will perform 5 jumps under the close supervision of an evaluator. They need to incorporate the different procedures that they have learned during the ground training.
Phase 3 – Vector and Sigma Ratings
Phase 3 (Day 3-4) will be about the Vector and Sigma ratings which include additional 6-8 hours of classroom or ground training. The candidates are also required to accumulate a total of 25 tandem jumps after phase 3 to receive their full license. They are already allowed to jump with customers, however, they will be "on probation" for the 25 jumps.
Once all three phases and the probation jumps are completed, you now become a certified Tandem Instructor. You can already start taking passengers and skydive full-time while making a living for yourself.
Enjoy your freefall!
Hi, I'm Kai. The first time I jumped out of an airplane and experienced free fall was one of the most amazing moments of my life. For me, skydiving does not only stand for freedom and independence but being present in the moment and being respectful to others and oneself. Now I want to share what I've learned with you.
Recent Content
For first-time jumpers, skydiving can be scary. This is because they don't know how it feels, and they rely on someone else to bring them down safely. People also often lose perspective for time.
Once you become a skydiving "D" license holder, you can apply to be a tandem instructor and make a living by jumping out of planes. But what is the salary of a skydiving tandem instructor?
ABOUT ME
Hi, I'm Kai. The first time I jumped out of an airplane and experienced free fall was one of the most amazing moments of my life. For me, skydiving does not only stand for freedom and independence but being present in the moment and being respectful to others and oneself. Now I want to share what I've learned with you.
LEGAL INFORMATION
This site is owned and operated by Kai Schmidt. Enjoyfreefall.com is a participant in the Amazon Services LLC Associates Program, an affiliate advertising program designed to provide a means for sites to earn advertising fees by advertising and linking to Amazon.com. This site also participates in other affiliate programs and is compensated for referring traffic and business to these companies.
Source https://www.go-skydiving.com/tandem-skydive/
Source https://www.skydivecsc.com/blog/how-safe-is-tandem-skydiving-6-reasons-to-trust-your-instructor
Source https://enjoyfreefall.com/the-ture-requirements-for-skydiving-tandem-instructors/