Skydiving Health Restrictions – What Are The Requirements?
Lots of people, of all ages, come to us for the full story on skydiving health requirements and restrictions. After all: This "skydiving" thing is a high-intensity undertaking, and the medical restrictions around skydiving must reflect that. If you manage a medical condition but your bucket list contains skydiving, you need to know what questions to ask – and of whom – in order to really know if it's a good idea to make that jump.
We first want to applaud you for your foresight. We only have one body to carry our soul around this big, beautiful world, after all, and we're charged with taking good care of it. If you're skydiving with high blood pressure, skydiving with a disability, skydiving with diabetes, or skydiving with any other health consideration, you want to be sure that the risks aren't too considerable. You're already walking a steeper path than most.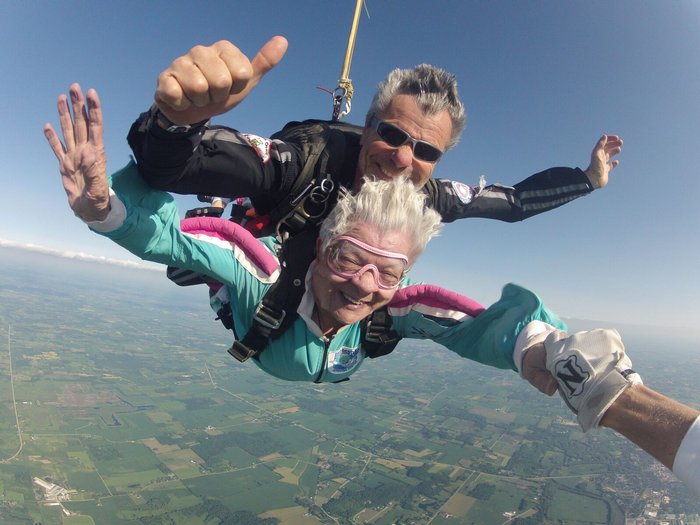 Not all older clients have skydiving health restrictions – Anna May is 83 and jumps with us every year!
To Skydive Or Not To Skydive? Making Your Health Decision
Let's take one example from the group: Lots of people skydive with high blood pressure. Should they? If we're being honest, each call has to be made on a case-by-case basis, with the input of a healthcare provider who knows you and who understands the true risks and requirements of skydiving. In our decades of experience, we've found that, if someone has high blood pressure but it's well-managed , they shouldn't automatically be excluded. It's just never as black-and-white as that. In fact, medical conditions that prevent you from skydiving are pretty uncommon. Multiple amputees skydive . We even know of blind sport skydivers . The same holds true for a paraplegic ( Jarrett Martin , for example.)
At the Right Dropzone, The Sky is Surprisingly Accessible
'Wait wait, you're sputtering, right? I had no idea that paraplegics can skydive!'
Indeed, dear reader. A big part of facilitating skydiving for the mobility-impaired leans on the skill and experience of the tandem instructors. Lots of dropzones are unable to take on the risk of jumping with disabled tandem students because they aren't comfortable experimenting with new methods – especially from planes on the cozier side of the size range. At the Wisconsin Skydiving Center, however, our long experience in supporting new skydivers of different health and abilities allows us to extend the miracle of human flight to almost all people, assessing each individual based on their unique level of mobility and how they fit into the tandem skydiving harness.
Except for our strictly enforced weight limit, Wisconsin Skydiving Center doesn't preclude anybody from jumping right out of the gate. With that said, each individual jumper with health restrictions would need to be assessed on a case-by-case basis, dependent upon things like the exact nature of the medical issue, flexibility and strength. Our Chief Instructor, Bo Babovic, personally handles all tandems that require additional attention in regards to mobility. If you have mobility issues, don't be a stranger. Come on down to the DZ in advance, spend a weekend barbecuing, sky-watching, and sunning with us to see what's possible.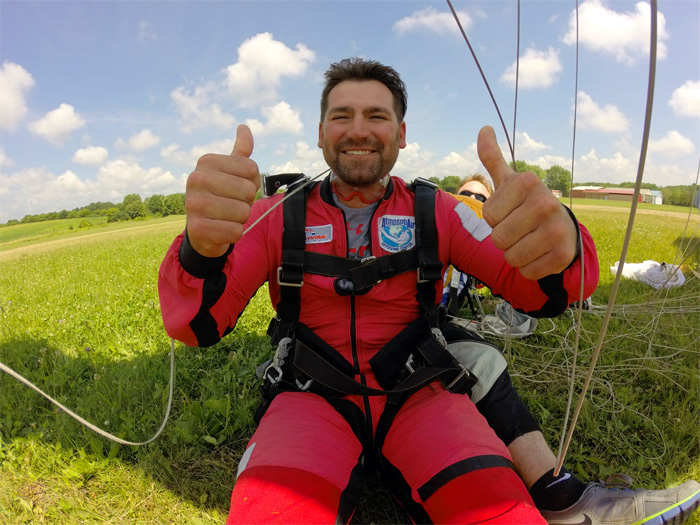 You too can make a successful skydive!
What Are The Skydiving Health Requirements?
It's Case-By-Case
Combing the internet for information on skydiving health requirements is a circular endeavor indeed. At some point, if you really want to skydive (and you do!), you're going to need to have a conversation with your doctor. You're also going to need to have a conversation with a reputable, professional dropzone with the experience and know-how to advise you – in your unique situation – thoughtfully.
It should go without saying that our advice here is not the advice of a medical professional. We have, however, seen a lot in our time and travels, and we're an excellent first port of call for information about skydiving health requirements and restrictions.
In conclusion: if you've got a special case you'd like to discuss, get in touch with us. A member of the team will be more than happy to help.
When you're thinking about skydiving and health (including mental and psychological health), the key point to remember is this: Skydiving is a sport. It can be an intense one! The rule of thumb is to address the usual suspects (high blood pressure, glasses, age, weight, diabetes, bad back/neck/knee/ankle/spleen, etc.) in the athletic context. The upshot is simple: Skydiving might not be as impossible as you'd think. And it's definitely worth it.
Skydiving Medical Conditions Explained
Heart pumping. Fingernail biting. White knuckling. Just thinking about skydiving elevates our senses and we know it will for you, too. However, an elevated heart rate means different things to different people. If you are managing health conditions, but skydiving is on your bucket list, then this article is for YOU! Here we discuss the possibilities of skydiving with medical conditions.
Is Skydiving Right For You?
The idea to skydive is exhilarating as it's a tangible thing to do. All you need to do is call your local skydiving center, make an appointment and show up. However, if you have a medical condition, this could mean something entirely different.
We must confess, we are professional skydivers, not medical professionals. The only ones ultimately responsible for the decision to skydive or not – especially if you're managing asthma, epilepsy, or high blood pressure – is up to you and your doctor. So we highly suggest internally investigating to see if skydiving is right for you first, before planning a day out to skydive.
Case-by-Case Considerations
We've known people to skydive at the age of 103, who are paraplegic, and even amputees that have gone skydiving and even take things to the next level. All such inspiring stories of people who've overcome a lot to make the dream of leaping from a plane come true and defied many odds.
We've also known those who have skydived with asthma and even high blood pressure. However, all of these medical conditions, including age, paraplegia, and amputees need not only their doctor's recommendation to try this sport but ours as well. Since each situation is unique, we take all of these considerations on a case-by-case basis.
Once you've decided that skydiving is for you, and you have your doctor's approval, the next step is to give us a call so we can discuss your options further.
Skydiving Health Requirements
There are a few other general age and health requirements here at Skydive Long Island as well.
Age: Must be at least 18 years of age or older : Not weigh more than 200 pounds (considerations may be made for those up to 225 pounds. However, additional fees will apply, and you must call to inquire.)
Vision: You may also skydive with glasses or contact lenses
Conclusion
Skydiving IS a heart-pumping and fingernail biting experience. However, our top priority is safety and we must take skydiving with medical conditions seriously. If you aren't sure about skydiving and a medical condition you have such as asthma, high blood pressure, epilepsy, mental or psychological health concerns, or any heart conditions, please consult your doctor, then give us a call so we can discuss your options.
We love welcoming people into this wonderful sport and community. However, we take skydiving with medical conditions seriously as we not only want you to enjoy the experience but to be safe for you and for us.
Skydiving for the Disabled
We at WNY Skydiving believe the sky is for everyone – this includes skydiving for the disabled. And we're passionate about making the skies accessible to people of all abilities. We even have a tried-and-tested plan in place to get you in the air. Heck, we prove it all the time!
Take for example Naomi. She is disabled, and chose to celebrate her birthday with us on August 6th with a tandem jump. It was a dream come true for her – and she was absolutely ecstatic.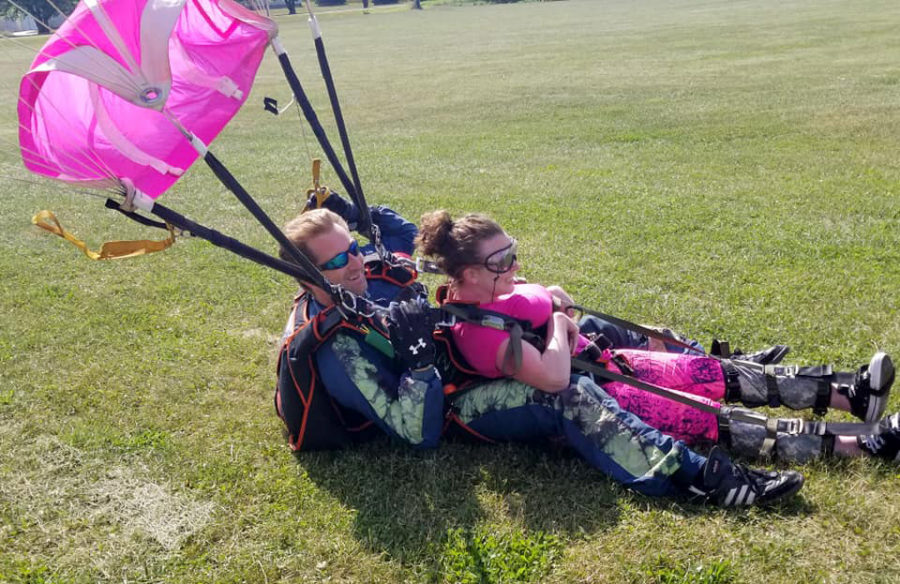 It goes without saying that the experience of skydiving changes with the skydiver's ability set. Our goal is to optimize the experience and make sure every skydiver gets the absolute most from a skydive. "Disability"? Hah. You'll be flying higher than most people can imagine, no matter what their status on the sliding scale. Here's what you need to know:
Paraplegic Skydiving
We're excited to welcome paraplegic tandem students to WNY Skydiving. We take a little extra time in preparation, but that's about the only difference from a regular tandem jump.
One thing for you to consider: there is the risk of bone injury, so it is strongly suggested you make this decision with your doctor.
If you complete that first tandem skydive, you demonstrate uncommon upper-body strength, and you're keen to progress in the sport, we have some good news: In certain circumstances, paraplegic students can tackle the lifetime challenge of a solo skydiving certification. This, of course, requires significant preparation and ongoing conversation, but we're happy to consult with you and your doctor about the possibility.
Sight Impaired Skydiving / Blind Skydiving
Great news! There are no special considerations concerning tandem skydiving for the sight-impaired. The feeling of skydiving is an incredibly novel sensation even for sighted people; sight-impaired tandem skydiving students have some pretty incredible things to say about it.
While we're unable to offer solo skydiving certification courses for blind persons (because sight is integral to the process of solo training and solo jumping), we can expand a sight-impaired tandem student's responsibilities on the skydive to parachute steering (which feels absolutely awesome).
Hearing Impaired Skydiving / Deaf Skydiving
Being hearing-impaired doesn't significantly or adversely affect a tandem skydive in most cases. That said: as in all skydiving, communication is key. The student's tandem instructor needs to be able to clearly convey to the student the procedures of the skydive. So if you can demonstrate on the ground that you're able to receive instructions via another method than the spoken word, you'll be all set.
If you're a hearing-impaired skydiving student who decides to go beyond the tandem level and commit to a first-jump course, we'd love to have you! Note that communication is critical here. You'll need a signing interpreter with knowledge of the sport of skydiving at your side for the duration of the 4-6 hour First Jump Course.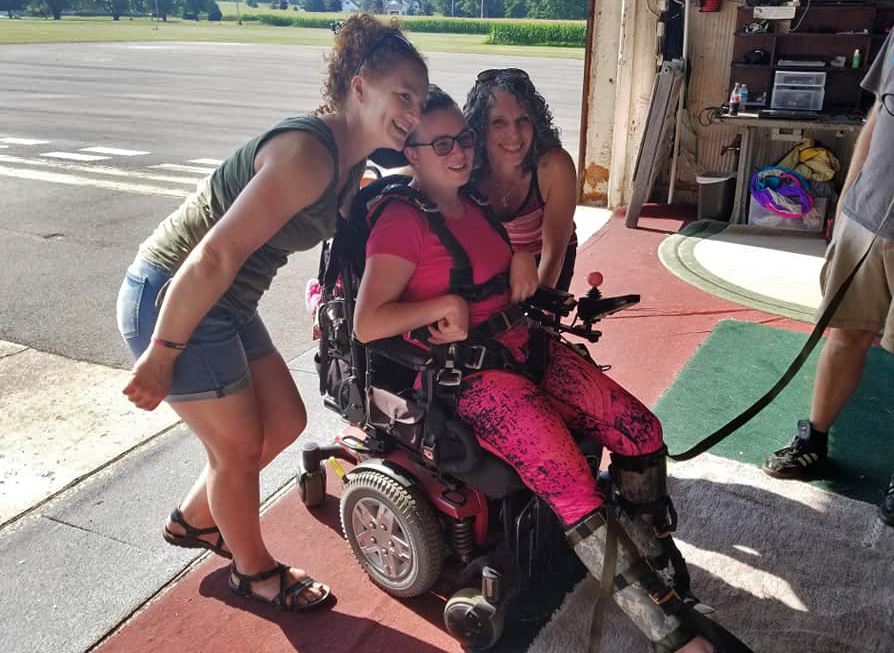 As you certainly know, each individual ability set requires its own special considerations. Please do yourself the important service of getting a doctor′s opinion. We don't know you and your situation well enough to tell you with certainty how skydiving will affect you; only you and a physician who knows you well can make that judgment.*
That said: There's a world of possibility for you to explore. Let's start the conversation!
*Each individual's ability to skydive will be determined by our Safety and Training Advisor. If we are unable to make a good determination, then a doctor's note will be requested.
Source https://wisconsinskydivingcenter.com/blog/skydiving-health-restrictions/
Source https://www.skydivelongisland.com/about/articles/skydiving-medical-conditions-explained/
Source https://wnyskydiving.com/blog/skydiving-for-disabled/