Skydiving License: How long does it take to get?
Getting your skydiving license is one of the most rewarding things you can do. Once you have your skydiving license, a whole new world of opportunity opens up!
There is no specific time frame to learn to skydive and getting your skydiving license. Some people get it within a couple of weeks of starting jumping, while others may take longer. It really depends on how many jumps you get in and how quickly you want to progress.
Here are some of the factors that affect how long it takes to get your skydiving license:
How Many Jumps?
Learning to skydive, like learning to do anything, takes time. How quickly you progress will depend on how much time you're willing to spend at the skydiving center – and how many jumps you want to get in while you're there.
Before you even start jumping, you'll need to complete ground training, which takes 6-8 hours and covers everything you need to know about flying your body and controlling your parachute.
Each jump you do is designed to teach you a new skill, so you'll have more training before each jump. Then, there's the jump itself – that takes around 15-20 minutes for the climb to altitude, around 1 minute in freefall and 5 minutes flying down.
Finally, you've got your post-jump debrief; so the whole thing takes around an hour per jump. When you consider that each jump takes quite a bit of energy out of you, you probably don't want to be doing too many more than 4 jumps per day. On the basis that you'll need to complete a minimum of 18 jumps (depending on the system you use to learn), you can work out how many days you'll need as a minimum.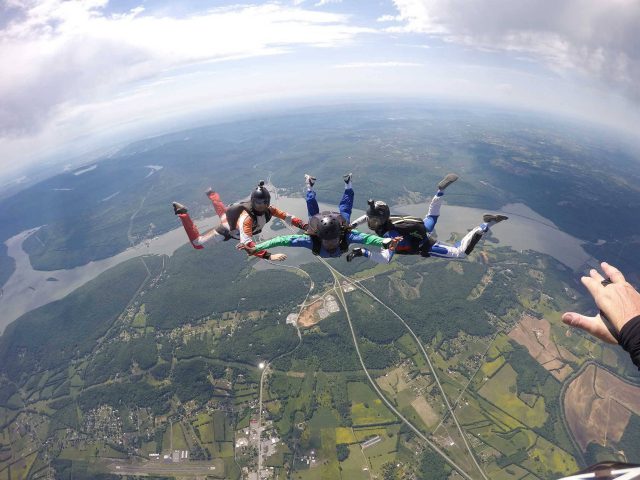 Weather Dependent Sport
Ours is a weather dependent sport. We're pretty much ruled by the weather; when it's good, it's glorious and we jump to our heart's content! But if pesky clouds start to come in, or worse still, it starts to rain, we can't jump at all. Sad times!
That means that there are some days where we don't get any jumps in. There are days where we'll jump around the weather, waiting for those breaks where we do have wall to wall blue skies. Some days, we jump from dawn til dusk (and those days are the best!).
As a student skydiver, you're even more weather affected. That's because we have certain limits, like wind speeds, in which even the pros can't jump – and those limits are lower for students because you're less experienced.
If you are stuck on the ground for any reason, you can still learn. A lot of skydiving is about muscle memory and drilling things like the emergency procedures that we need to know off by heart. Grabbing some time in the hangar to go through those things in your head or with an instructor is a good use of bad-weather time.
Skydiving License Cost
Skydiving's not a cheap sport, we won't lie… We get that you're making a big investment and depending on your financial situation, you might want to take your time, doing a couple of jumps a week rather than smashing them all out in one go.
Some students do one jump at a time, some save and do several at once. So it really is up to you and your budget. The benefit of doing them more quickly is that you'll find it easier to remember your improvement points and to make the necessary changes. But if you do want to take it a bit slower, don't worry – our instructors will make sure you receive a brief before every jump. Plus, as we said above, there's lots to learn on the ground, too.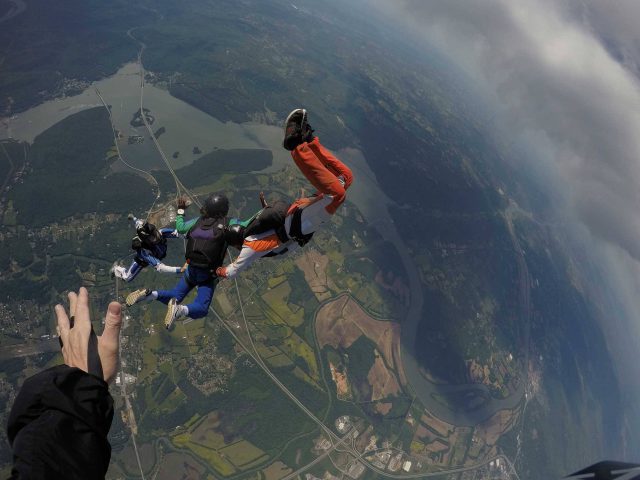 Age and agility
You'll find that things like your age and fitness levels will have an effect on how long it takes to get your skydiving license.
It's a bit of a running joke that skydiving's "just falling". The reality is that it's much more than that! In order to "fall" in a stable position and to successfully land on the ground under your parachute, you need to play an active part in getting your body in the right place and handling your equipment.
That's why skydiving is a genuine sport. People compete as skydivers against one another. They work in skydiving as a full-time job. Those who jump can viably call themselves athletes because skydiving takes as much agility and fitness as going for a run or playing squash.
If you're of a more sports-like disposition, you may find you have more endurance and can do more jumps per day and still be top of your game. You might find it easier to grasp things like the body position you need to stay stable in freefall. That can mean, in some cases, that you progress more quickly.
On the flip side, if you're less fit, you may not find those things quite so straightforward and have to spend longer working on them.
Essentially, everyone progresses at their own pace – and that's just fine! Skydiving isn't just a great sport, it's a great community and way of life. You'll love getting to know your fellow jumpers and spending time on the dropzone, so there's no need to rush! You'll get your skydiving license at a rate that makes sense for you.
So what are you waiting for? Find out more about learning to skydive and book online with us today!
How to Get Your Skydiving Certification
With a little grit, the right roadmap, and a pinch of dedication, you can make your dreams of skydiving certification a reality. Will getting your skydiving license be easy? Not necessarily. Will it be the most rewarding challenge you've ever undertaken? Undoubtedly.
As someone who has worked within the industry and walked the path from tandem skydiver to licensed skydiver, I'm well acquainted with what it takes to get that precious A License stamp. Want the inside scoop? Well, I'm happy to share. Here's how to get your skydiving certification.
Get Committed
Before you embark on the journey to get your skydiving certification, you need to decide if you really want it. Becoming a certified solo skydiver isn't going to happen overnight. You'll have to seriously commit resources like time and money to the endeavor. Which leads us to the two questions a skydiving center gets asked most often about skydiving certification: How much will it cost to become a certified skydiver? And how long will it take to get skydiving certification?
Cost to Become a Certified Skydiver
The cost of your skydiving certification will depend on the number of jumps it takes for you to pass each Accelerated Freefall (AFF) level. Because this will vary from person to person, it's difficult to give a hard and fast figure. If you were to pass each level the first time and pay jump by jump, the total cost of AFF Phase 1 (which covers your first jump course through category E-3) and AFF Phase 2 (which covers Category F through your check dive) will cost $3,760. If you are able to take advantage of package pricing by paying for your phases in full rather than level by level, the total cost will be $3,370—a savings of nearly $400.
How Long Does it Take to Become a Licensed Skydiver?
The amount of time it takes to achieve skydiving certification will come down to how much time you can give. Are you able to come out every weekend and some weekdays or just once a month? Some individuals are able to knock out everything they need for skydiving certification in three months. For others, the timeline is closer to a year. On average, it takes 4-6 months to complete all the requirements and receive an A License.
Requirements to Earn a Skydiving License
Skydive Carolina utilizes the United States Parachute Association's Integrated Student Program to train students in an AFF Program. In this curriculum, skydiving students are taught the essential freefall and canopy skills that they will need to become competent licensed skydivers.
The syllabus is broken down into jumps within eight categories (A-H). The completion of jumps within these categories works toward the 25 total skydives that are required to obtain an A skydiving license. In addition to the 25 required jumps, to receive skydiving certification, an individual will also need to learn to pack a parachute, demonstrate the freefall skills they have learned on a final "check-dive", as well as pass a written and oral exam.
Schedule Your First Jump Course
If you've decided learning to skydive is something you are ready to tackle, your first step, logistically speaking, is to schedule your first jump course.
The first jump course involves 6-8 hours of a mix of hands-on and in-classroom training that will teach you about the parachute gear and how it works, correct freefall body position, identifying and handling emergency procedures, and flying the canopy. Following successful completion of the course, you will make a skills evaluation tandem skydive with a multi-rated skydiving instructor to demonstrate the skills necessary to move on toward your Category A level one skydive aka your first solo skydive!
Skydive Solo for the First Time
It's time to shine! Even if you've accrued a few tandem skydives by now, your first solo skydive will be in a league all its own. Truly, the first solo skydive is a pivotal moment in your skydiving journey: it is when things start getting really real.
On your first solo skydive, you are no longer attached to a multi-rated skydiving instructor. Rather, you will be sporting your own parachute and jumping with two freefall instructors alongside you. These instructors will hold on to grips on your jumpsuit to help assist you as you exit the aircraft. During this skydive, you'll need to demonstrate altitude awareness, a stable freefall body position, and the deployment of your own parachute. Once you are under canopy, a member of the ground crew will use a wireless radio to provide you with additional instructions, if needed, to navigate to the landing area.
After your landing and the triumphant whoops, hollers, and high-fives that follow, you will sit down with your instructor to review your freefall video, debrief the skydive, and learn what your next steps will be.
Crush Those Categories
Now, it's just a matter of crossing things off the A license "to-do" list. Each category within the skydiving A license program will teach you increasingly intricate freefall skills like forward and backward movement, fall rate changes, and some fun maneuvers like barrel rolls and flips! Additionally, as you progress, you will continue to learn and demonstrate parachute maneuvers to prove that you can safely traverse from the sky to the ground. As you near the end of your skydiving certification progression, you will then need to work with a certified parachute rigger to learn to pack a parachute.
Finally, once you have learned to pack a parachute, completed your required exams and check dive, and accrued 25 jumps, you'll be the proud recipient of a USPA Skydiving A License!
Take the First Step
You'll need to schedule your first jump course in advance, so don't delay! If you don't see any listed here , please contact us to discuss upcoming course dates! For additional information, view the FAQs and see AFF pricing.
How To Become A Certified Skydiver
You've watched the jaw-dropping videos . You've checked out other successful students' AFF videos to get an idea of what to expect. Now, naturally, you want to put yourself in their securely-tied shoes. If you're looking for how to become a certified skydiver, you've come to the right place: Skydive Perris has one of the longest-running, most trusted learn to skydive programs on the planet. You couldn't be in better hands.
How to Get Certified to Skydive Solo
Your journey to fulfill those freefall fantasies starts with your enrolment in the First Jump Course. At Perris, we teach new skydivers using the AFF method. The method is described in this little presentation (second tab from the left) on the United States Parachuting Association website, but we'll summarize: AFF includes a ground school, eight levels of mastery and a few more supervised jumps afterward before the student nabs that coveted A-license.
We've put together some AFF videos that break down step-by-step what you'll cover in AFF training, just so you have some forewarning and forearming when you march onto the Perris campus. Research is a good thing.
How Many Jumps to Become A Certified Skydiver
Riddle me this: How many licks does it take to get to the center of a Tootsie Roll pop ? It depends on your technique, your focus and your determination. (In learning to skydive, y'know, biting will get you nowhere.) However, you do need a minimum of 25 jumps to obtain a skydiving 'A' license.
As in any well-run training program of any type, students don't progress to the next level until they've demonstrated mastery of the level with which they're currently engaged. As there are eight levels within the AFF curriculum, each with a determined set of skills to be mastered and demonstrated, you'll jump at least eight times (and that's if you're a stone-cold natural). Some people may jump a couple of times at a certain level, but it all depends on you.
Luckily, at Perris, we have a "hack": our on-site indoor skydiving vertical wind tunnel . The tunnel allows our AFF students to work on bodyflight skills in a low-stress, variable-controlled environment that makes passing in-the-sky tests a lot easier and more efficient. The tunnel is a key part of our curriculum, and you're going to be super-glad that it is.
Your next question is very probably going to be, "So–how much does it cost to become a certified skydiver?" Check it out: Skydive Perris offers a range of AFF packages to fit any budget and help control costs.
How to Become a Skydiver
You think we're borrowing a duplicated page from the Department of Redundancy Department, huh? Guess what: We're not.
Becoming a skydiver is actually a very different animal indeed from simply getting certified to skydive without a tandem instructor strapped to your back. Becoming a skydiver involves integrating yourself into the community. It involves making a second home at the dropzone and dropping deep into the culture and the living history that undergirds the sport. It involves a lot of beer-nursing and campfire-gazing and craning your neck to peer upwards. And it's the best becoming you'll ever become.
Are you ready to become a skydiver? It's not that big a leap; in your heart, you probably already are. What are you waiting for? Let's do this thing .
Source https://www.chattanoogaskydivingcompany.com/blog/skydiving-license-how-long-does-it-take-to-get/
Source https://www.skydivecarolina.com/blog/how-to-get-your-skydiving-certification/
Source https://skydiveperris.com/blog/how-to-become-a-certified-skydiver/